21 PROFITABLE Things To Look For At Thrift Stores: Best Items To Resell!
When you buy something through one of the links on our site, we may earn an affiliate commission.
Today I'm going to be sharing 21 most profitable things to look for at thrift stores to resell.
When you first get into thrift store flipping, it's best to know the types of things that can be quickly and easily resold for a profit. If you go in blindly, it's really hard to find winning items to resell.
Flipping thrift store items is a side hustle for many, but there are those who have turned it into a full-time business. You just need to know what to look for!
No time to waste?
Get dynamic and up-to-date info on what items you should search for with Zik Analytics.
It's an eBay 'SEO' tool trusted by 100,000+ sellers for discovering what people are searching for, what the items go for, and which items and niches are most profitable.
Take the guesswork out of the equation
The Best Things to Look For at Thrift Stores to Resell
We're here to help you with your thrift store flipping business.
Once you know what to look for you can keep your eyes open wherever you go, so next time you pass a flea market or yard sale (or even an online flea market), you can keep your eyes peeled and find yourself some gems.
Here are some of the most profitable things to look for at thrift stores!
Designer Clothes
Designer clothing is always in demand. If you hunt through the racks at your local thrift store you can find some great designer clothes to sell for a profit.
eBay is one of the best places for thrift store flippers to resell designer clothes, as it gets you in front of millions of buyers around the world.
Once you have found some items to sell, check them thoroughly to make sure they're in good condition.
When you are listing an item of clothing for sale on eBay, be sure to give as much detail of your thrift store finds as possible. This will help you attract the right buyers and get the highest possible resale price for your item of clothing.
Things to include in the listing:
Brand name
Size
Length
Material
Color
Whether it is casual or formal clothing
You will also need to take high-quality photos of each item of clothing.
Try to take photos in natural light – this will give buyers the most accurate picture of how the clothes look. Here's a great step-by-step guide on how to take pictures of clothes for sale.
Here's a list of more than a thousand boutique name ideas to inspire you when naming your online fashion business.
---
Vintage Board Games
Vintage board games are in high demand on eBay!
Depending on the age of the game and the condition, they can fetch between $30-$300.
If you spot a vintage game for sale in a thrift store, the first thing you will want to do is check that it has all of its parts. A complete game will give you a much higher resale value.
If you find a game for sale that has missing parts, it can still be worth money, you just need to get it for the right price. Incomplete games can be broken up and sold for parts. This works especially well for popular vintage games like Monopoly.
Scrabble
MahJong
Backgammon
Horror House
Subbuteo Hockey
Crossbows and Catapults
Ghost Castle
If you see a game that looks vintage, don't forget to check for similar listings on your eBay app to see what sort of price you could get for it.
---
Vintage Glassware
Vintage glassware is great for reselling on eBay and Etsy. Colored glass in particular is very popular and easy to resell.
Here are a few good things to look out for:
Sets of 4 or 6 glasses
Vintage glass jugs
Colored glasses
Vintage cocktail glasses
Smoked glass
Vintage crystal
Vintage cut glass
The only trouble with reselling glassware is that it's a little trickier when it comes to shipping.
You will need to make sure any glasses you sell are well wrapped and boxed so they don't break. If they break in transit you will have to refund the customer and you will have wasted both time and money.
---
Vintage Pyrex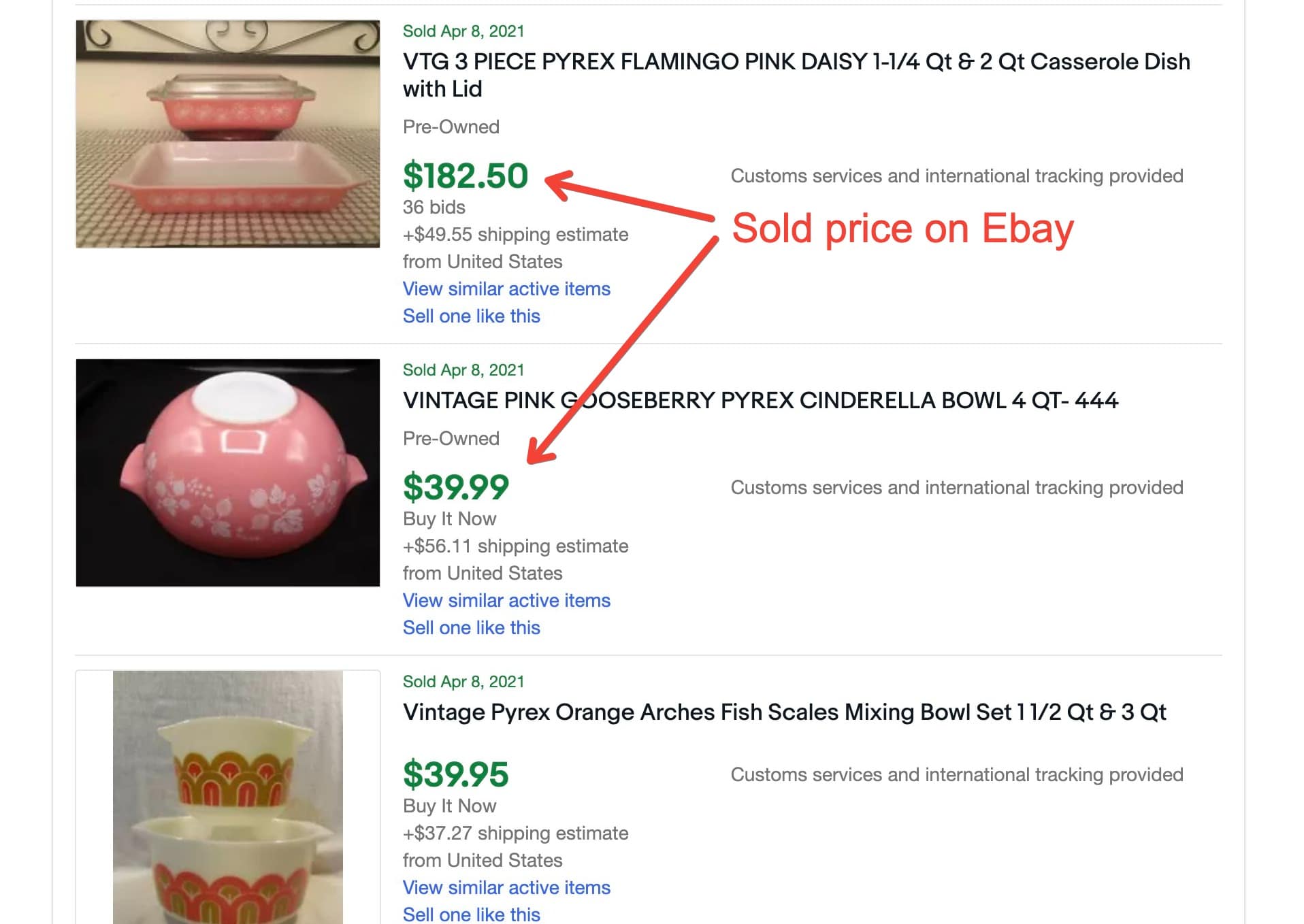 Vintage Pyrex is very popular with collectors and can be very profitable to resell if you can get it for the right price. Some of the rarer patterns can sell for hundreds of dollars each.
Since vintage Pyrex is collectible, it can be worth buying even if you only see one piece from a set. A collector who is looking to find the missing piece from their set will be willing to purchase items at a premium!
When you're scouting for inventory in thrift stores, remember to check the bottom of each piece for the Pyrex stamp to see if it is real Pyrex or not.
There are lots of vintage Pyrex patterns to look out for. To find out more about buying and selling Pyrex, visit PyrexLove.
---
Furniture
Flipping furniture has the potential to turn you a huge profit.
You can often find secondhand furniture in thrift stores for just a few dollars apiece. All it takes is a lick of paint and maybe some new hardware, and you could make yourself some good money.
The main thing that puts people off flipping furniture is the shipping costs. But you can use this to your advantage by selling things other people don't want to deal with.
People are willing to pay a high price for an item of furniture they like. For example, let's say you bought an end table for $5. Fix any minor problems, and list it on eBay for $150, which would give you a markup of 2,900%, and a gross profit margin of just over 96%.
Now that's a good profit margin.
---
Maternity Clothes
Maternity clothes are one of the best things to look for at thrift stores to resell for a profit. Mothers often give away their maternity clothes once they are no longer needed, not realizing they could be sold for a profit.
Maternity clothes are expensive to buy new, which is why the demand for them in places like eBay is so high.
You can find secondhand maternity clothes at your local goodwill store and other second-hand shops in your area. Take some nice photos of them, and list them on eBay for a nice profit.
---
Vintage Toys
Vintage and antique toys can be very valuable, and reach a high selling price on an online auction. One of the reasons they are so popular is the nostalgia attached. People love things that bring them back to their childhood!
When it comes to buying vintage toys to resell, obviously the better condition it is, the more you will be able to sell it for. That being said, don't discount vintage and antiques that are in a worse condition, as they can still be sold to people who want to restore them to their former glory.
Popular vintage toys to look out for include:
Train sets
Cast iron cars
Vintage Star Wars Toys
Tinplate clockwork toys
Vintage matchbox toy cars
Antique or Vintage pedal cars
Vintage toys that still have their box can sell for an even higher value!
Check out our list of toy company name ideas for naming inspiration for your toy flipping venture.
---
Home Decor
People are always looking for home decor items on sites like eBay. Since home decor items can sell for pennies in thrift stores, this is a great opportunity to make a nice profit.
Some of the best home decor items to keep an eye out for include:
Picture frames
Framed artwork
Wall hangings
Lighting
Candlesticks
Ornaments
Vases
Remember to check the condition of each item, as they will lose value if they are visibly damaged.
---
Silverware
If you're lucky you can sometimes find vintage silverware in thrift stores for a low price. Silver tarnishes easily, so to the untrained eye a piece of silver might not look like it's worth much, but once it's been polished it will look as good as new.
It can be tricky to spot real silver just by looking at it, so you will need to check for hallmarks to see if it is real silver or not.
Silverware is valuable, and even a single silver spoon can fetch between $10-$20. Look out for sets in particular, as they can be worth much more, but any silver you find could be worth buying to flip on eBay.
---
Books
Books are one of the best things to look for at thrift stores to resell, for a few good reasons.
They are easy to store
Books are not breakable
They are cheap and easy to ship
There's a lot of demand for books too. Books can be resold on marketplaces like eBay and Amazon. In fact, reselling books from Goodwill was Spencer's first business venture!
Not all books will be profitable though. There are a few types of books to look out for to make a decent profit.
The best kinds of books to look for are:
First Edition Books
Boxed Sets of Books
Art Books
Comic Books
Antique and Collectable Books
Photography Books
Interior Design and Decorating Books
Sheet Music Books
If you find a book that you think might be profitable, open up your eBay app and search for the title of your book. Select 'sold' listings, and you will be able to see the sale price of other copies of the same book.
You can also scan the barcode of your book with the Amazon seller app. This will tell you how much the book is selling for on Amazon.
Consider using a tool like TexTrader to help you find used books online to resell.
Try TexTrader to Find Books
---
Textbooks
Following on from books, another great thing to look for in the thrift store flipping business is textbooks. Textbooks are expensive, so there's a huge demand for secondhand versions.
The great thing about textbooks is that people often donate them without realizing the value (and you may also be interested in our list of other things you can donate to make money). This means there's a huge opportunity to profit. Some sets of textbooks sell for hundreds of dollars.
You can look out for:
High school and college textbooks
Science textbooks
Medicine and nursing textbooks
Encyclopedias
You can sell used textbooks at your local thrift stores, or on marketplaces like Amazon and eBay, as well as Bookscouter, which is specifically aimed at buying and selling textbooks.
Consider using a tool like TexTrader to help you find used books online to resell.
Try TexTrader to Find Books
---
Baby Gear
Baby gear is always in demand. It's expensive to buy new, so there's a big market for secondhand baby stuff.
Some of the best things to look out for are:
Baby carriers
Door bouncers
Bouncy chairs
Playpens
Stair gates
Baby monitors
These items may only sell for between $30-$100, but the fact that they are always high in demand and easy to find in thrift stores could enable you to sell large volumes, making you a decent amount of money each month.
---
Vintage Cameras
Vintage cameras and lenses are always in demand. Photography is a popular hobby, and both amateurs and professionals alike love to experiment with vintage cameras. Lenses can sell on their own, even without the camera, so if you see one for a good price, snap it up!
Always remember to check the lenses for dust and scratches, as this will significantly lower the resale value.
You can also keep an eye out for camera gear, such as camera bags, straps, and cases. Camera gear is expensive to buy new and can fetch a good resale price on eBay.
---
Lego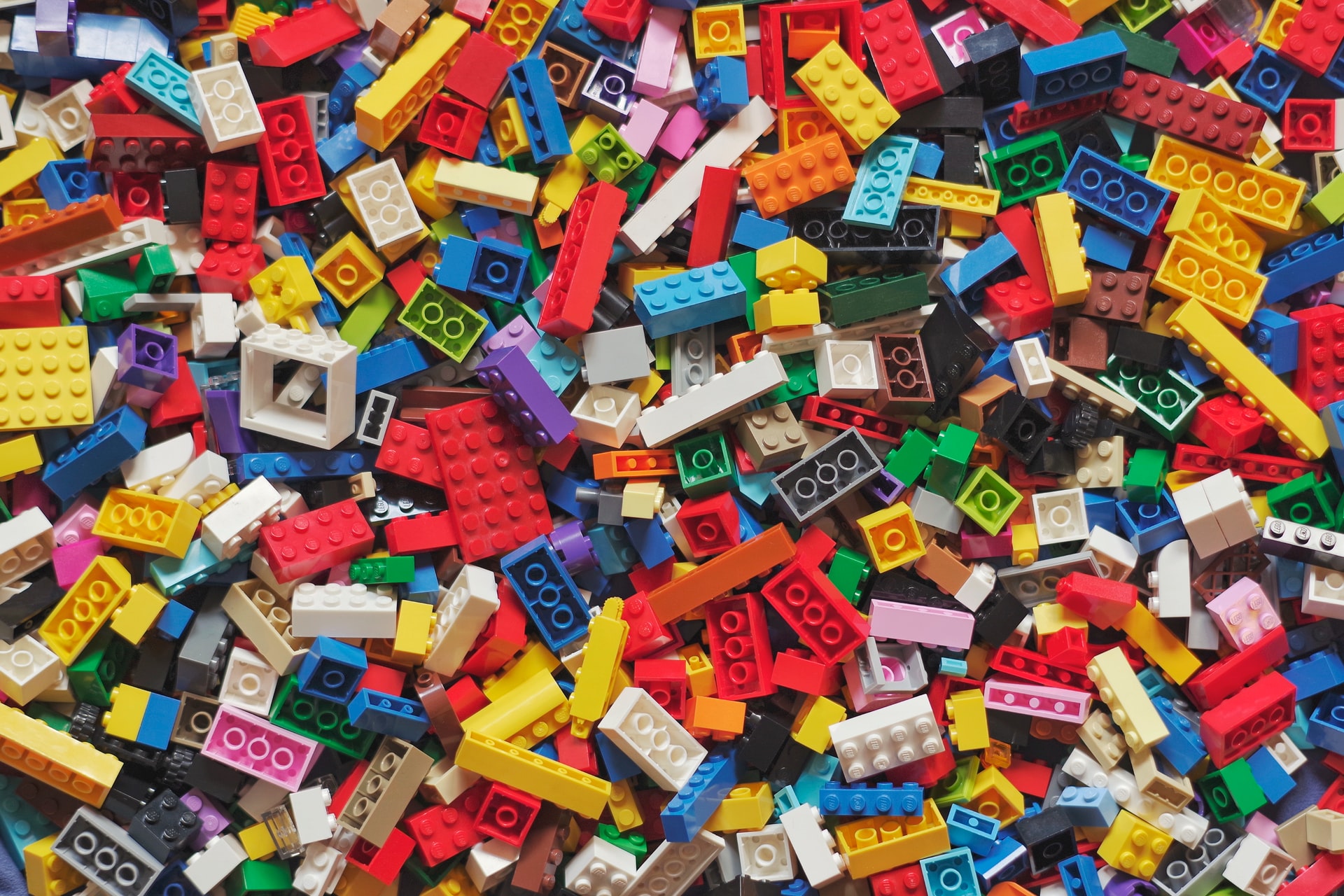 Lego's popularity has grown steadily over the last decade, and it's showing no signs of slowing down. If you can find lego for sale at a thrift store for a good price, it's usually worth buying to resell.
You can buy mixed boxes of loose legos, as well as boxed sets. Boxed sets that are no longer for sale in retail stores can become collectible and will fetch a higher price on sites like eBay.
---
China and Dinnerware
Collectible china and dinnerware can fetch a high price on online auctions from people looking to complete their collection.
You might find that there is a lot of dinnerware for sale in your local thrift store, so finding the pieces that are going to make you money is the trick.
Some of the best brands to look for at thrift stores include:
Disney
Royal Copenhagen
Royal Doulton
Limoges
Coca-Cola
Pfaltzgraff (Especially the Winterberry pattern)
You will need to examine the bottom of each plate or dish to check the marking. This will tell you who the piece is made by and which set it is from.
---
Shoes
Good quality shoes can be very expensive to buy new. You can profit from this by buying lightly used shoes from good brands in thrift stores, and reselling them on eBay.
Here are some tips for reselling shoes:
Look for good quality shoes from designer brands
Check what material they are – look out for leather or suede shoes in particular
Look out for shoes that have a specific purpose, such as orthopedic shoes, or hiking boots
Some popular shoe brands to look out for at thrift stores are:
Allen Edmonds
Johnston & Murphy
ASOLO
Nike
UGG
Birkenstock
Merrell
Steve Madden
The great thing about reselling shoes is that they're easy to pack and ship. It's also easy to take good photos of them for your listings, as you don't need a model or mannequin to make them look good.
Learn How to Find and Resell Shoes with This Complete Guide
---
Collectible Mugs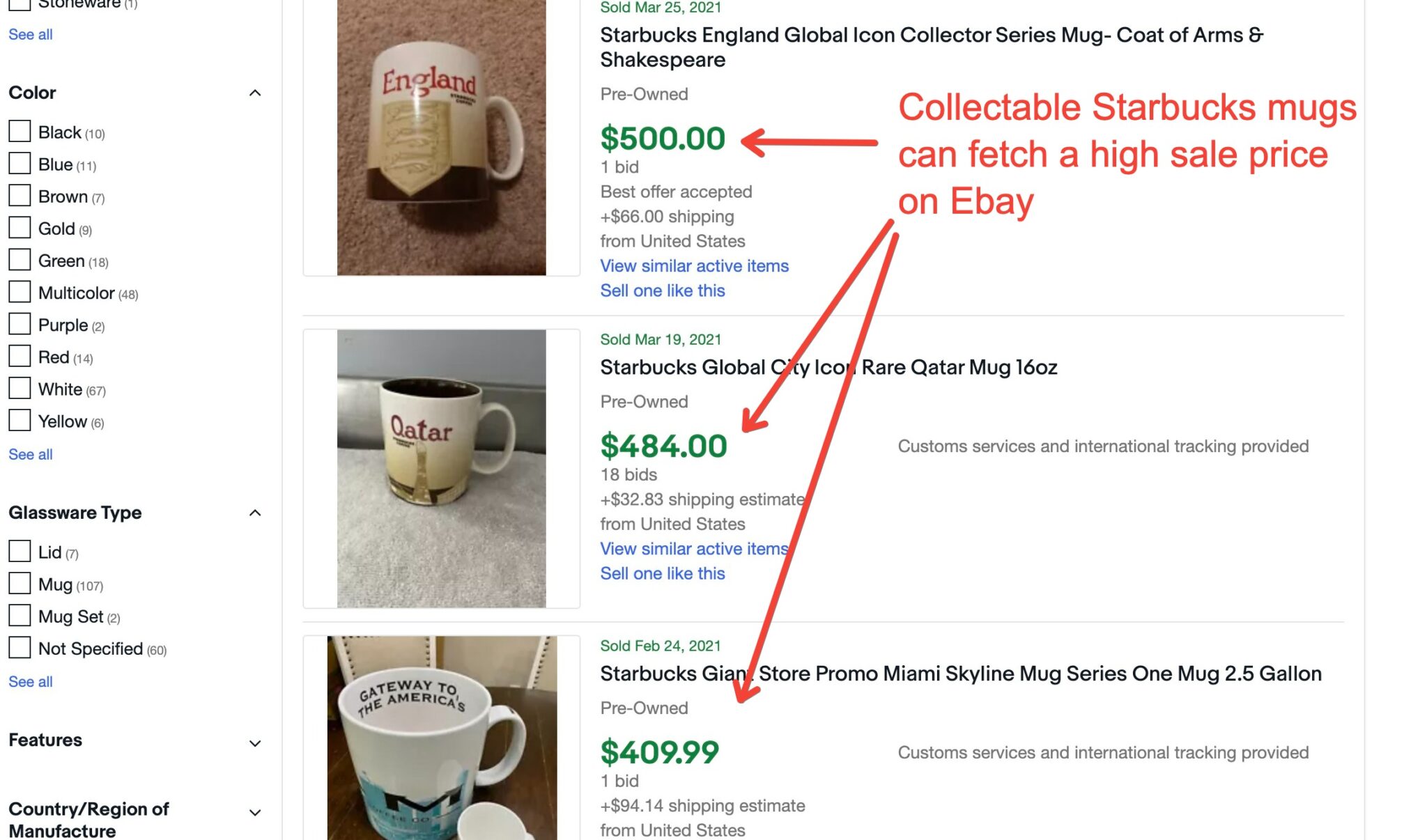 You might be surprised to know that there's quite a market for collectible mugs! Collectible mugs from well-known brands like Starbucks and Disney can fetch a high resale price on auction sites like eBay.
Since mugs are fairly small, they are very easy to pack and ship. If you can find a good collectible mug for the right price, you could make a very healthy profit.
---
Discontinued Toys
Discontinued toys are a great money maker.
Once a toy is no longer available in retail stores, if people want to get their hands on it, they have no choice but to shop on online marketplaces like eBay and Amazon.
Aside from parents who are looking to replace their child's favorite toy, discontinued toys are also sought out by collectors.
It's hard to know exactly which toys are discontinued at first glance. This is why it's so useful to have your eBay app open while you are scouting for inventory! You can simply search for the item in question and see what it has been selling for.
---
Bags and Purses
Certain bags and purses are very expensive to buy new, so if you see a bag from a well-known brand in a thrift store, it's probably worth snapping up.
Bags from outdoor brands can fetch a good resale price on eBay.
Some bag brands to keep an eye out for are:
Oakley
Patagonia
Osprey
The North Face
Leather bags and vintage bags usually have a good resale value too, so it's worth looking out for those too.
---
Video Games
Video games are a great thing to look out for at thrift stores (and for a bonus option, find out whether or not CDKeys is legit). They are easy to store and easy to ship since they are lightweight and can usually just be sealed in an envelope.
When it comes to reselling video games, you have two options:
Look for current games that people are playing now
Go for retro and vintage games from the classic consoles such as Nintendo or Atari
Any games that are recently outdated, but not yet considered vintage will not be worth much, so are probably not worth your while to pack and ship.
---
Sports Equipment & Clothing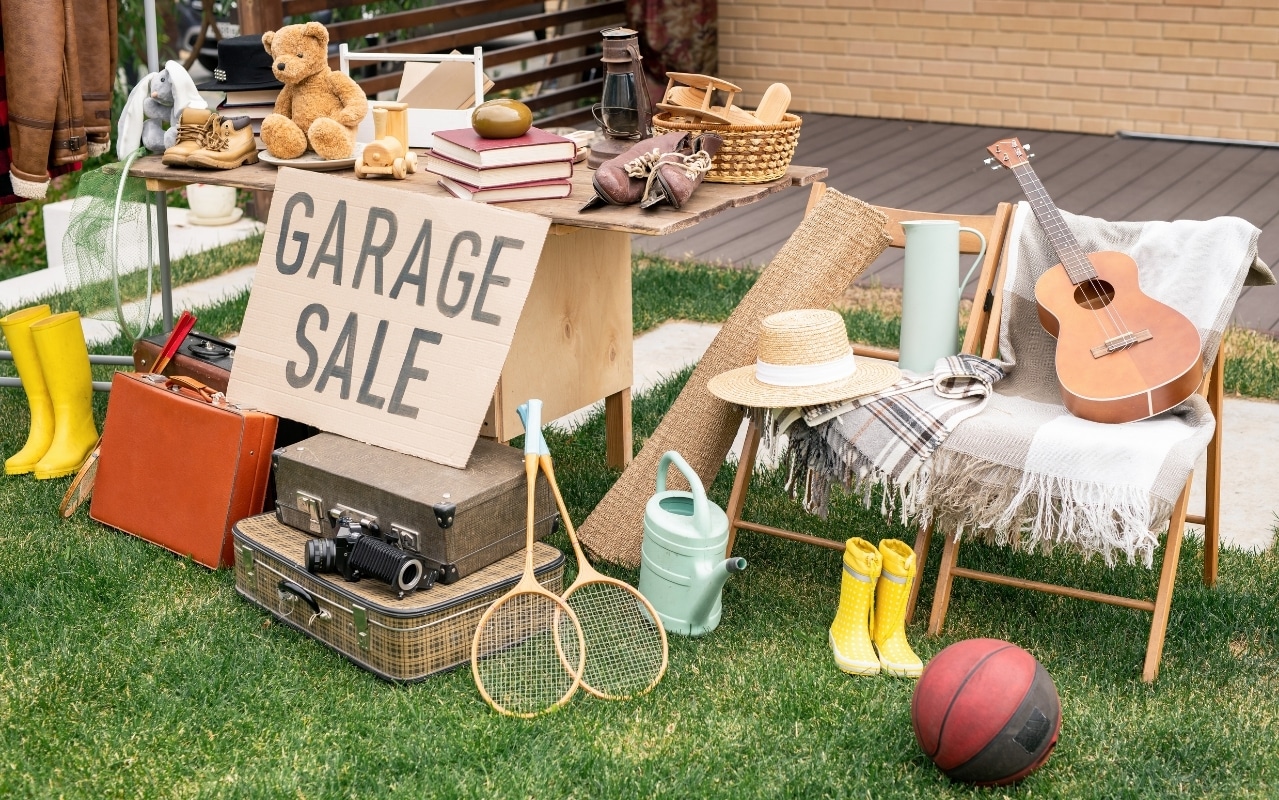 Sports equipment is always in demand. In the past year or two, the demand for home workout equipment has soared, making reselling sports equipment a great business to get into.
There are hundreds of different sports, so if you are reselling sports equipment, you might want to pick a niche to get into. With each type of sport comes endless accessories and clothing, so focussing on one sport will give you a targeted customer base that you can resell to in the future.
Some different sports you could choose are:
Golf
Tennis
Cycling
Basketball
Baseball
Exercise and Fitness
Of course, you can choose more than one (or even all) of these sports. Sports equipment is usually easy to identify in thrift stores and clearly branded, which really helps when it comes to researching the resale price on your app. Check out our list of Sports brand names for your new enterprise here..
---
Best Sites to Resell Thrift Store Items
There are lots of places you can resell items you have found in thrift stores, but your best bet is an online marketplace.
The best online marketplaces for reselling second-hand items are:
eBay is your best bet for reselling clothing, shoes, and second-hand toys. When it comes to reselling books and items that are still new in their box, then Amazon is your best friend.
Etsy is great for reselling vintage items such as vintage glassware, furniture, and home decor.
Tips for Reselling Items from Thrift Stores
You will want to maximize your profits from any items you find at thrift stores.
Here are some of our top tips for reselling:
Consider your profit margin. Take into account the time it takes you to look for each item, as well as the postage and packaging costs.
Thoroughly check the condition before you buy an item. Clothing in poor condition won't sell easily.
Look out for well-known brands – people search for their favorite brands on eBay, and are far more likely to purchase an item from a brand they already know and love.
Take great pictures. Use a white background, and take as many pictures as you need to to give a buyer a complete picture of the item.
Optimize your listing with the right keywords.
As you start to become more and more confident reselling your items, you can start to buy your packaging in bulk, and set up accounts with couriers to make shipping easy.
Thrift Store Flipping
If you're wondering what things to look for at thrift stores to resell, you can't go wrong with these items.
Thrift store flipping can be a great side hustle, and it's something that you could even turn into a full-time business if you wanted to, too.
It's a great way to earn extra money in your free time, and it's completely flexible, so it's an ideal side hustle for moms or anyone with a busy lifestyle who needs some extra cash.
If you're dreaming of leaving your 9-5, then you might also be interested in making money online. If that's the case, check out these ways to make money online without paying anything, for some ideas and inspiration.
Want to learn step-by-step how I built my Niche Site Empire up to a full-time income?
Yes! I Love to Learn
Learn How I Built My Niche Site Empire to a Full-time Income
How to Pick the Right Keywords at the START, and avoid the losers
How to Scale and Outsource 90% of the Work, Allowing Your Empire to GROW Without You
How to Build a Site That Gets REAL TRAFFIC FROM GOOGLE (every. single. day.)
Subscribe to the Niche Pursuits Newsletter delivered with value 3X per week