21 Tips for Starting a Profitable Furniture Flipping Business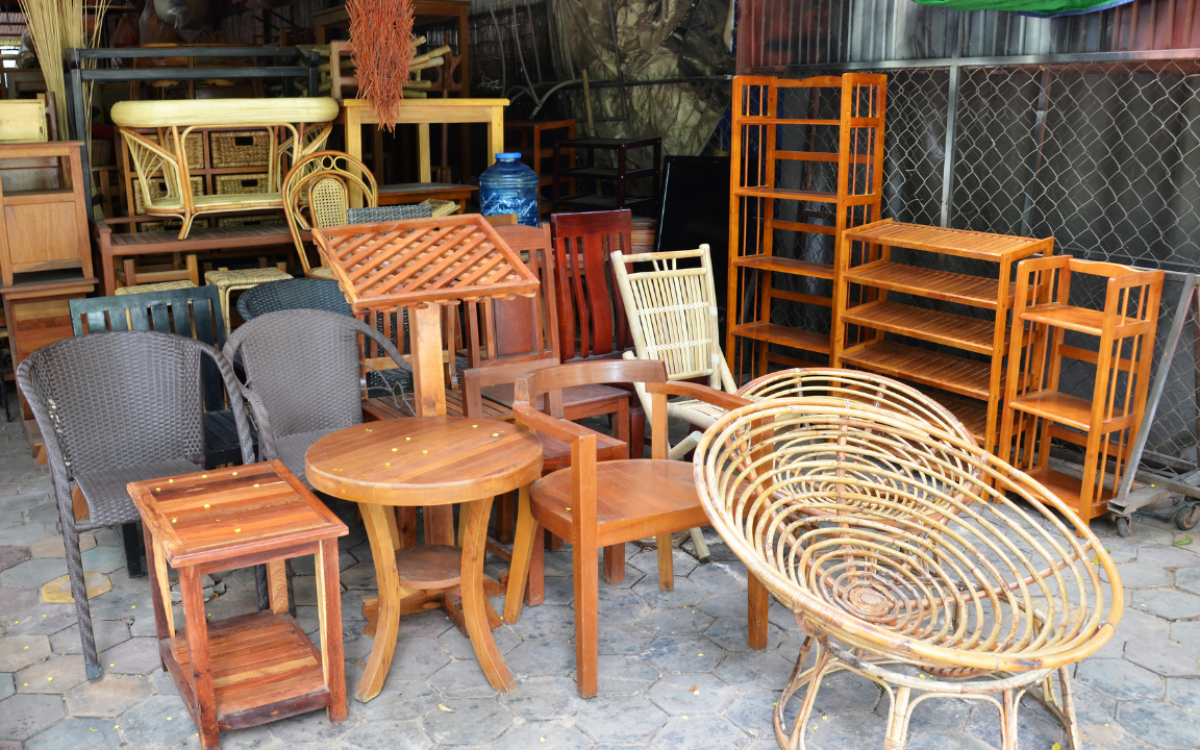 Are you considering trying out furniture flipping as a money-making side hustle or new business venture?
Furniture flipping can be an enjoyable, sustainable, and lucrative side gig. It's a business that anybody can do and comes with many perks like flexibility, being the boss, and working part-time or full-time.
In this article, we're going to break down exactly how furniture flipping works and also discuss:
How to start furniture flipping
Tips to make more money
Pros and cons of flipping furniture
Whether furniture flipping is profitable and if you can earn a full-time income from it
Startup costs required to start flipping furniture
Let's get to it!
What is furniture flipping?
Flipping furniture is selling furniture for a higher price than what you acquired it for, profiting from the difference. It's similar to other types of flipping where you buy low and sell high.
For example, in real estate flipping, you might be a house for $100,000, renovate it for $20,000 and sell it for $150,000, profiting $30,000 (before fees).
Furniture flipping works similarly.
For example, you might buy a couch for $50, spend $20 repairing it, and sell it for $150, profiting $80.
This is a good side hustle to enter because it's long-lasting. Furniture sales are a growing industry. It also has pretty decent profit margins for many furniture pieces.
You don't need to be a professional at learning how to repair furniture. Many repairs are DIY quick fixes that you can teach yourself to do by watching YouTube, and some furniture pieces won't require any repair at all.
You can also get lucky and stumble upon easy flipping opportunities that don't require any repair or renovation, like buying a brand-new nightstand and instantly flipping it for a profit.
Here's how furniture flipping works...
How does furniture flipping work?
Furniture flipping works in three simple steps:
Source furniture
Repair furniture (if needed)
Sell furniture (the flip)
Step 1: Source furniture
This is where you acquire furniture. It might involve getting furniture pieces for free or buying furniture. You can get furniture in several places, including neighborhood buy/sell websites like OfferUp, Craigslist, and other resources.
Step 2: Repair Furniture
Next, you'll repair the furniture, if needed. Not all furniture will require repair, but some pieces will. This may include fixing stitching, staining tables, painting dressers, adding fixtures like knobs to drawers, etc.
Step 3: Sell Furniture
Lastly, you'll sell the furniture, flipping it for a profit. You can often sell the furniture from the same place you bought it.
For example, you might have bought a used kitchen table from Facebook Marketplace. Then, you could resell it on Facebook Marketplace to a buyer after repair.
Furniture Flipping Ideas for Beginners
For beginners, here are some furniture-flipping ideas to consider:
Choose easy items to flip, like dressers, end tables, and armoires
Pick items that require easy transport
Start with free and/or cheap items
Choose easy-to-flip items
For beginners, consider starting with easy-to-flip items that only need a little TLC to flip and sell for profit.
For example, wood tables like dressers, armoires, and end tables often only need a stain and updated hardware before you can sell them if any repair is needed at all. These are easier to fix than couches that might need upholstery repair, for example.
Pick items that can be easily transported
Pick items that you can transport easily.
When you're first getting started, you might be working alone so you'll likely need to pick up and deliver the furniture pieces you source on your own. This means that smaller, less bulky items might be good to target early on.
If you're working with someone else or have a team, you can skip this advice if you'd like.
Source free and/or cheap items
As a new furniture flipper, your startup budget might be limited. To get you the most for your money, consider sourcing free and/or cheap furniture items.
21 Tips for Starting a Profitable Business Flipping Furniture
Check out these 21 tips for starting a successful, money-making furniture-flipping business.
1. Learning how to use basic power tools
Learning how to use basic tools and equipment will hugely benefit your furniture-flipping business. This includes getting to know and practicing using tools like wrenches, pliers, hammers, power drills, etc.
2. source free items to keep costs low
Take advantage of free supplies when possible. This can help you save money on materials.
For example, you might stumble upon sellers giving away tools, equipment or furniture repair supplies on Facebook Marketplace or a garage sale. Keep an eye out for these opportunities.
3. Look for easy flips
Don't miss out on the easy flips! These are great for beginners to practice flipping furniture and awesome opportunities for all flippers.
An example of an easy furniture flip would be finding a brand new item the seller needs to get rid of because they're moving.
You might not find these golden opportunities often but when you do, jump on it!
4. Keep trash pickup days in mind
Trash days are good to keep in mind because they are putting out furniture they want to get rid of. Walking your neighborhood or driving around residential areas on trash days could be a great way to pick up free furniture for flipping.
In my neighborhood, I've seen refrigerators, dining tables and chairs, patio dining sets, and more set out on the curb on trash day.
5. Keep storage space in mind
Storage space is one of the most important considerations with furniture flipping. It's great to find furniture you can flip and sell, but you're out of luck if you don't have a space to store those items.
Storage space can be anywhere:
Your garage
Backyard storage shed, or
A rented storage unit.
Whichever path you take, keep in mind the available space you have before investing in your next flip.
6. Keep basic tools on hand
Basic tools, including power tools, should be on hand for refinishing, repairing, and renovating furniture pieces. If you have basic household tools like a hammer, wrench, and other tools, you can use that. If not, getting tools is an important investment in this business.
Here are some examples of tools that should be on hand:
Hammer
Nails
Screws
A power drill
Painting materials (paintbrush and paint)
Sandpaper
Wood stain
7. Source furniture from many places
Join multiple platforms to source and sell furniture. Here are some examples of places you can find furniture online:
8. Be aware of insects
Insects could be living in furniture right under your nose.
Unknown to furniture sellers, sometimes bugs could nest in furniture, especially fabric-based furniture like fabric chairs, sofas, etc.
As a new flipper, you may consider avoiding fabric furniture altogether in the beginning to avoid a potential insect problem. Or, if not, inspecting furniture for bugs is a smart practice to put into play when acquiring new pieces.
9. Don't miss out on free furniture
Free furniture deals exist, but you need to know where to look. You can find free furniture using any of the platforms shared above, like, Facebook Marketplace or Craigslist.
10. Don't miss out on free materials
Free materials can be sourced from garage sales, marketplace websites, classified websites, and other places. Materials include:
Drawer handles
Fixtures
Upholstery and fabric
11. Taking photos yourself can save money
When it's time to sell the furniture pieces, taking photos is part of the process. There's no need to book an expensive photographer when you can take good photos on your own. If you struggle with taking good photos, look at free resources to help you improve, like free courses on Udemy and YouTube, or investing in a Skillshare subscription.
12. Take clear, bright photos
Here are some tips to help you take bright, clear photos:
Take photos in natural light if possible
Make sure you're capturing the image clearly
Photographs should be clear, not fuzzy or blurry
13. Respond to buyer and seller messages promptly
Strong communication is critical in the furniture flipping business (check out our huge list of furniture business names if you're interested). If you're not prompt in your communication, you risk missing out on a furniture deal for purchase or sale.
Stay on top of your email inbox and consider setting notifications or alerts, which can help you reply to messages promptly.
14. Network with other furniture flippers
Networking with your peers in this industry can be a huge help. Networking gives you the opportunity to:
Connect with others in your industry
Learn from seasoned flippers
Ask questions
Give advice yourself
Develop your reputation and build your personal brand
15. Keep an eye on in-demand or trending furniture pieces
Keep your eyes open for in-demand, trending furniture that's currently popular. This could be an opportunity to boost your sales and capitalize off of a trending item.
16. Write clear, thorough product descriptions
Put yourself in the buyer's shoes and prepare clear, thorough product descriptions for your items.
Be transparent and talk about the repairs you made and issues that remain, like chipped paint or missing hardware
Share as much information about the furniture piece as possible, including age, condition, etc.
17. Be honest when selling furniture (i.e., take photos of scratches, imperfections, etc.)
Be transparent and honest. Identify imperfections and issues with furniture pieces. Answer buyer questions honestly.
18. Don't be discouraged by small margins
Small margins are a part of business, sometimes. Don't let this discourage you. Flipping furniture can be a volume game for some pieces. For others, the margins can be more generous.
19. Take easy projects
Don't miss out on the easy furniture projects that present themself, like, finding a brand-new, finished piece of furniture that requires no work for an easy flip.
20. Be safe
Keep safety in mind at all times. Wear protective gear, including protective eyewear, aprons or jumpsuits, gloves, etc.
21. Avoid holding items for buyers for long periods
Try to limit the amount of time you're holding items for prospective buyers. Pick a time limit, like 8 hours or 12 hours, and stick to it.
Pros and cons of furniture flipping?
Here are some benefits and drawbacks of getting into the furniture flipping business.
Pros of Furniture Flipping
Easy to start
Low startup costs
Flexible schedule
First, furniture flipping is one of the best side hustles for its easy start-up and low barrier to entry.
With transportation available, you can launch this business with no out-of-pocket costs. It just takes a good eye to spot furniture flipping opportunities with the ability to pick up and store the goods, and you'll have a viable business on your hands.
Many people don't know that you can get furniture for free or very cheap.
Furniture can be big and bulky. People want to get rid of it, and it can be tough to do so instead, they give it away for free or a very low price.
You'll find opportunities to score free and cheap furniture in the Facebook Marketplace, neighborhood sites like OfferUp and some of the other sources shared above. This makes furniture flipping a low-startup business.
Another perk of this business is the opportunity to create your dream schedule. Furniture flipping can be a part-time or full-time business idea.
You're not tied to a fixed schedule. Work when you want, whether on the weekends or after work during the week, or you want to launch this as a full-time career.
Take a look at our post on home decor business name ideas for inspiration on how to come up with the best name for your business.
Cons of Furniture Flipping
Transportation required
Inconsistent income
One of the biggest drawbacks of flipping furniture is the need for transportation. You'll be picking up beds, dressers, couches, tables, and other pieces.
Transportation will be needed so you can haul the furniture to your storage facility. There are options for this, like using your pickup truck, renting a vehicle, or hiring a delivery company. Still, transportation is necessary to make this business work, whichever path you choose.
Another thing to consider about furniture flipping is the inconsistent income. This can be a very lucrative business, but income is not guaranteed, and fluctuations in earnings can happen.
Seasonality can impact the business income as well. Summers and winter time may be a busy time, as most people are moving and looking to get rid of their old furniture or upgrading their furniture over the holidays. Other parts of the year can be a lot slower. Seasonality and periods of inconsistent income impact various industries, and many businesses still thrive, despite it.
Is furniture flipping profitable?
Yes, furniture flipping can be profitable. There are furniture flippers earning a full-time income with this business. Profiting 50% or more from each furniture piece is possible.
Making a couple of hundred dollars per weekend is doable. Full-time flippers can make a full-time income, up to nearly six figures per year, like Ryan Pineda, who shared his earnings of up to $8,000/month when he was flipping couches full time.
Common questions about furniture flipping
Here are some of the most frequently asked questions about furniture flipping.
What kinds of furniture can you flip?
You can flip virtually any kind of furniture that exists. This can include couches, beds, tables, end tables, chairs, etc. One of the biggest hurdles furniture flippers can encounter is transport, so as long as you can pick up the furniture when you acquire it, it's possible to flip for profit.
What kinds of items should you look for?
According to this interview with pro furniture flipper Ryan Cron, the kinds of items you should look for are:
Flipping items $75 and under
Starting with dressers
Looking for items from the 1970s and 1980s
Solid wood pieces, as they have the best-rehabbed value
What are some things to consider with furniture flipping?
Here are a few things you should consider when starting a furniture-flipping business:
Startup budget: While you can start furniture flipping with no money out of pocket, you'll be better equipped to hit the ground and start running if you have a small budget to work with.
Transportation: Hauling furniture is part of this business, whether picking up a couch from a garage sale or agreeing to deliver a dresser to a buyer. Consider the transportation available to you, like if you own a pickup truck. If transportation is questionable, consider alternatives for transporting the furniture you'll buy and sell, like renting a moving van.
Supplies and materials: You'll want basic tools, supplies, and materials on hand, like a tool kit and other basics needed for furniture repair.
How much does it cost to start flipping furniture?
You can start a furniture-flipping business for free, depending on the materials and tools you have on hand. It's possible to source free furniture, fix up the pieces at your home then resell them for profit, making it an excellent low-cost business idea with a high-profit margin.
If you have a small budget, you can buy furniture to flip, as well as investing in tools you might not own like a power drill and other basic tools. You also want to consider the storage space required to hold the furniture while you're repairing it and storing it. If you don't have space available, investing in a small storage unit is a solution.
Can you make a full-time income from furniture flipping?
Yes, a full-time income can be earned from flipping furniture. Ryan Cron started this business and was making $2,000 to $3,000 per month, according to this interview. Ryan Pineda was making $400 a day working part-time and up to $8,000/month full-time.
What kind of furniture flips best?
The kind of furniture that flips best are:
Solid wood furniture (like wood dressers, nightstands, etc.)
Vintage or antique pieces
Trending furniture
Solid wood furniture tends to have the best resale value. The improvements made to wood furniture can be easily done by beginners, like applying a wood stain or changing out the drawer pulls.
Final Word
Furniture flipping can be a lucrative, rewarding, and long-lasting business venture to pursue. With the right skills and knowledge under your belt, sourcing, repairing, and flipping furniture can become a full-time career. Furniture will always be in demand, and creating as successful a furniture flipping business is possible.
Want to learn step-by-step how I built my Niche Site Empire up to a full-time income?
Yes! I Love to Learn
Learn How I Built My Niche Site Empire to a Full-time Income
How to Pick the Right Keywords at the START, and avoid the losers
How to Scale and Outsource 90% of the Work, Allowing Your Empire to GROW Without You
How to Build a Site That Gets REAL TRAFFIC FROM GOOGLE (every. single. day.)
Subscribe to the Niche Pursuits Newsletter delivered with value 3X per week