13 Top Sites Like Fiverr: The Best Fiverr Alternatives for Freelancers
When you buy something through one of the links on our site, we may earn an affiliate commission.
Freelancing is a great way to monetize your skills and work flexible hours from home. You can turn freelancing into a full-time career or just do it on the side to earn a little extra money.
Whatever your goals may be, the first step is building a network of clients that need your particular skill set. This is where sites like Fiverr are instrumental in kick-starting your freelance career.
However, Fiverr certainly isn't for everyone.
There is a lack of quality control on both sides, meaning there are freelancers producing subpar work and employers that are belligerent and reluctant to pay.
The platform is also skewed entirely in favor of the buyer so that some freelancers have found their profiles blackballed because of bad reviews from bad employers.
Anyone new to the freelancing community looking for a livable wage will have to compete with industry professionals and global freelancers able to charge significantly less due to their cost of living.
Fiverr charges up to 20% commission on your earnings which can be a significant chunk of potential profits.
For those reasons and more, serious freelancers are turning to Fiverr alternatives. More security, better payment terms, and a more professional environment are just some of the things these Fiverr alternatives have to offer.
13 Best Fiverr alternatives
Here's a quick overview of the top 3 picks for the best Fiverr alternatives:
Best Overall — Upwork: Well-established and trusted by both big and small businesses.
Runner-Up — Freelancer: Free to sign up and low entry barriers.
For the Experienced Freelancer — PeoplePerHour: Exclusively for professional freelancers.
Upwork
Formerly known as Elance-oDesk, Fiverr alternative Upwork has been around for a long time. In fact, it's one of the oldest freelancing platforms out there. For that reason, it's built up a trusted reputation among both freelancers and businesses as one of the best Fiverr alternatives.
The main difference between Fiverr and Upwork is the process of getting work. On Upwork you have to post bids to contend for a job.
Unlike Fiverr's system, where freelancers can set up their profile and wait for the work to come to them, Upwork's freelancers need to actively seek out jobs and compete with each other for the contract.
Additionally, Upwork uses a virtual currency called "connects." To bid for a job will cost you a certain number of connects (of which you have a set amount each month).
However, the number of connects a job posting costs is based on market demand and the worth of the contract. Better-paying jobs or jobs in high demand will cost more connects to bid.
In some ways, Upwork's system makes it more beginner-friendly in the sense that you can push to get yourself seen and break out in an industry even without prior experience.
That said, Upwork is well-regarded as a professional platform where businesses expect high-quality work.
It's worth noting that Upwork does charge a 10% commission fee. However, this is less than the 20% that Fiverr takes.
The platform also allows for long-term relationships with your clients. There's a tiered commission system in place where basically, the more you earn from a specific employer, the less Upwork will take.
Find out more about Fiverr vs Upwork to see which platform is better suited to your goals.
Check Out Upwork
FlexJobs
Job seekers of all kinds can benefit from the wide range of gigs available on FlexJobs. Moreover, rather than being strictly for freelancers, this Fiverr alternative also offers other remote working opportunities like part-time or full-time positions.
Since FlexJobs pre-screens all their job listings, you don't have to wade through ads or repeat postings to find great ways to earn money online.
Their dedicated team researches every job and company looking to hire freelancers before approving the posting so you can make an informed choice.
However, unlike other Fiverr alternatives, FlexJobs isn't free to use to find freelance jobs.
You must have a paid membership in order to gain full access to the job board, which allows you to view and apply to any of their listings on their online marketplace.
You can choose between signing up on a weekly basis, for 1 month, 3 months, or a year with the prices per week varying significantly.
At most, FlexJobs costs $9.95/week on their weekly plan, but if you opt for an annual membership you will only pay $64.95/year, which works out to only $1.25/week.
You can also try FlexJobs risk-free since they have a refund policy within 30 days.
For anyone looking for a more flexible work environment, FlexJobs is one of the most reliable places to search for legitimate jobs.
Read our full FlexJobs review to find out more about how to make the best use of this platform for remote working opportunities.
SolidGigs
Rather than being just another freelance marketplace site, SolidGigs is a lead generation website for freelancers.
The difference with this Fiverr alternative is that they don't have a job board for you to sift through and look for potential gigs. Instead, you tell SolidGigs what kind of work you do and let them send you reliable leads.
Whenever SolidGigs finds a good match for your skill set, they'll alert you they've got a lead. You can then follow up on the lead at the source and convert them into a paying client.
Furthermore, unlike other sites like Fiverr that charge a hefty commission, you get to keep 100% of everything you earn through SolidGigs. However, that's only because you do have to pay a membership fee for their services.
Still, $21/month for an annual subscription, or $35/month for a monthly subscription is a pretty reasonable rate.
The cost of your membership stays the same no matter how much extra income you bring in thanks to SolidGigs leads.
In addition, you can try their platform for free for 7 days and cancel if you don't think it's for you.
Membership with SolidGigs also grants you access to their videos, lessons, tools, and templates designed to help develop your skills and boost your career.
Check Out SolidGigs
Toptal
Toptal stands for "Top Talent", which is fitting considering the website only approves the top 3% of the freelance talent worldwide.
Any business looking for a premium-quality freelancer that is willing to pay top dollar is sure to be looking on this freelance website.
As far as freelance marketplaces go, Toptal is really only for the experienced freelancer (check out Toptal vs Upwork). You have to pass a rigorous five-stage screening process to be approved for the website. This includes:
Language proficiency test
Personality assessment
Professional skill review
Live screening
Test projects
In addition, Toptal doesn't have as broad a range of jobs for various skill sets as other sites like Fiverr offer (but you'll probably want to check out our full Toptal review).
For example, freelancers that specialize in writing, graphic design, or social media campaigns aren't going to find work on this platform.
On the other hand, if your talents are in things like tech or finance, this is a great place for you to market yourself.
Check Out Toptal
Freelancer
Besides Upwork, Freelancer is one of the big names that come to mind when most people are considering sites like Fiverr. The platform, founded in 2009, is another well-established market for freelancers.
There are over 50 million professionals signed up on Freelancer and more than 1800 categories of work.
For businesses, there is a deep pool of talent to pick from. Unfortunately for freelancers, more people mean more competition.
However, Freelancer stands out from other sites like Fiverr because of the way it encourages long-term relationships.
To that end, there is often a better chance of repeat work once you've established a few clients that are happy with what you've produced.
In addition, Freelancer has a flexible payment structure. You can set an hourly rate or agree on milestone payments with the employer. This makes Freelancer particularly suited for long-term projects.
Comparatively, Fiverr has a reputation for quick turnaround, making it the preferred option for businesses and freelancers that are looking for small one-off jobs.
One thing worth noting about Freelancer's bidding system, is that your bid position depends on your experience in the field rather than the order in which your bid was submitted.
For example, if you submit a bid for a job in digital marketing 10 hours before someone named John, but John has more feedback in that field than you, John's bid will be bumped above yours. This makes it hard for newbies to win contracts.
Check Out Freelancer
PeoplePerHour
A UK-based alternative to sites like Fiverr, PeoplePerHour is a globally active freelance marketplace trusted by more than a million businesses.
One thing that sets this platform apart from sites like Fiverr, Upwork, and Freelancer is that you need to fill out an application to sign up.
On the other websites, anyone can make a profile and start bidding for work or setting up gigs, but PeoplePerHour has a slightly higher entry standard.
In order to join, your application is reviewed by a team of moderators. They will assess your skill and ability and deem whether or not you are presenting yourself honestly in your profile.
The process adds an extra layer of security for potential clients. Fortunately, this means that most freelancers can charge more at the base level since they are verified professionals in their industry.
In addition, the platform uses a ranking system called CERT which stands for:
Community
Engagement
Repeat Usage
Trusted
All freelancers start off designated as CERT1. As you complete jobs and receive feedback from clients, you can progress to CERT2, 3, 4, and to the highest level, CERT5.
CERT rankings can help distinguish you in a pool of talented freelancers and also helps businesses find a good match for their projects.
As a freelancer, you also benefit from PeoplePerHour's extra security measures. As much as they aim to protect the client, they also take care of the freelancers.
PeoplePerHour takes a deposit from the client before you start a new gig. This means you are guaranteed to get paid for your work—something that isn't always true on other sites like Fiverr.
Check Out PeoplePerHour
Truelance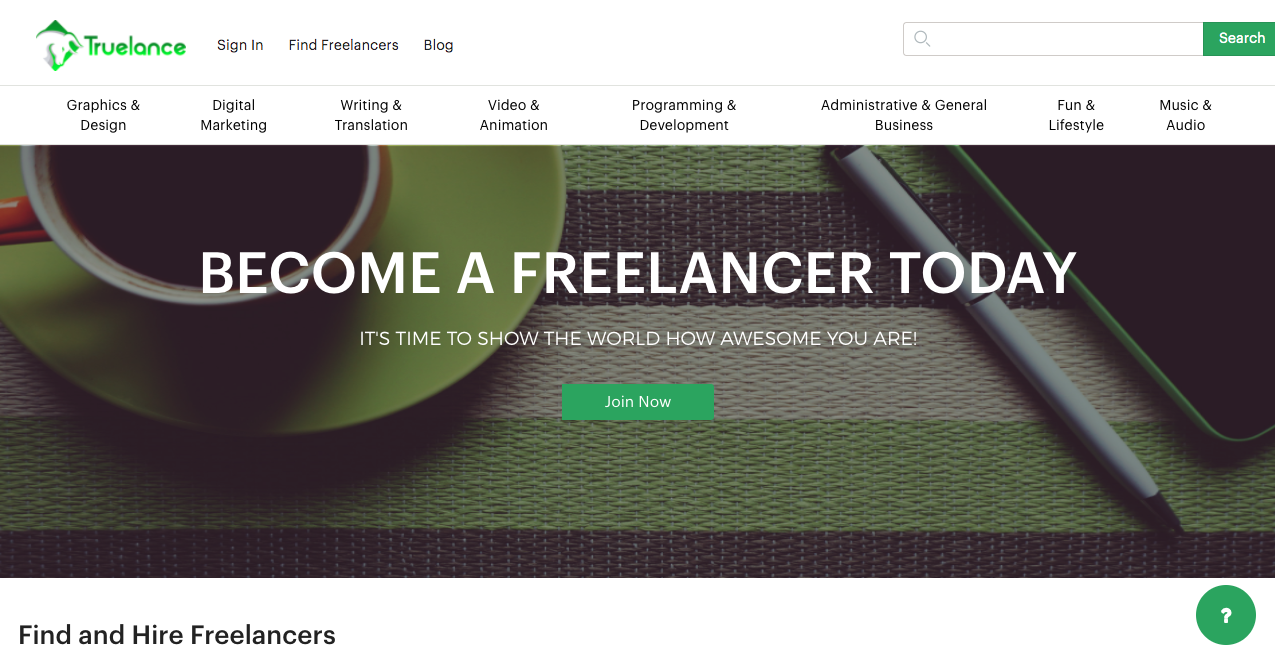 Offering jobs in graphic design, writing, accounting, virtual assistance, and more, Truelance is one of the newest sites like Fiverr to pop up. In some ways, it's also the most similar.
Like Fiverr, Truelance prioritizes offering low-cost gigs over providing a high standard of work.
The benefit of this is that anyone looking to get started in freelancing can sign up even if they don't have any credentials in their field.
Unfortunately, the other side of that is the platform has over a million freelancers working for low wages (often because they are working remotely from places with a low cost of living).
The competitiveness in pricing on this Fiverr alternative means it can be hard for local freelancers to undercut their bids.
In comparison to Fiverr, the platform is also more conducive to custom projects. On Fiverr, freelancers set up their gigs with few to no customization options. Truelance is a much better option for providing work on a feedback basis.
One major thing to highlight to freelancers about this platform is the 30-day refund policy. In an effort to be buyer-friendly, Truelance offers a 30-day refund for any buyer not satisfied with the work they've received.
If that happens, the platform holds you responsible for 5% of the project cost.
Check Out Truelance
Guru
Like other Fiverr alternatives, Guru is free to join; however, you have the option of signing up for a paid membership with extra benefits.
A talented freelancer may opt for the paid service as it includes discounted job fees, more bids, search boosts, and more perks to help you maximize your profits.
An experienced freelancer already earning an income might think Guru is a great freelance marketplace to get more gigs. The platform has close to a million employers and less competition than big sites like Fiverr and Upwork.
Once you sign up with Guru, you can set up your profile and begin the search for your next freelance gig.
One major benefit of Guru is the user-friendly search function that makes it easy to find suitable jobs. In fact, the whole website is pretty clean and intuitive, so it's easy to navigate.
When you're creating your profile on Guru, it's important to use keyword-rich text that highlights the services you provide to have a better chance of securing a gig from anyone hiring freelancers.
Additionally, once you're hired, Guru has integrated tools to help you keep track of the time you need to bill your employer.
You can also collaborate with a team or your client all from their website, as you can easily chat and share files.
Check Out Guru
Outsourcely
Targeted towards startups looking to hire remote workers, Outsourcely is another great Fiverr alternative for anyone looking to earn money online.
However, unlike Fiverr, Outsourcely is geared towards filling long-term positions rather than just one-off gigs. So, if you're just looking for a side hustle, it might not be the best option for you.
That said, Outsourcely treats its remote workers very well. You get to keep 100% of your earnings as the freelance website charges no commission fees whatsoever.
With that in mind, anyone looking to use freelancing as a way to work from home full-time might prefer Outsourcely to other sites like Fiverr.
Signing up and creating a profile to showcase your skills is free and easy.
Once you're registered as a freelancer with them, you can browse job listings and apply to any you think would be a good fit.
If an employer likes the look of your profile, they can set up an interview via the platform's free video call service and you can discuss terms.
Check Out Outsourcely
FreeUp
FreeUp is another exclusive freelance marketplace best suited to industry professionals.
In addition to providing a range of freelance services like digital marketing, design work, and copywriting, FreeUp also specializes in virtual assistant jobs.
To sign up with FreeUp, you have to get through their strict screening process. Once you've submitted an application, you will be notified in 1 or 2 days if you've been invited to interview.
After the interview process, if you pass, you will have to pass a "Terms of Use and Best Practices" test specific to the FreeUp platform.
After gaining access to the FreeUp community, you can browse open jobs and apply.
You are able to set your hourly or fixed rate on your profile for any potential employers to see. Once you've completed a couple of gigs, you can set up automatic payments on FreeUp to get paid weekly.
Check Out FreeUp
1840 & Company
Unlike other freelance websites, 1840 & Company is a managed marketplace for freelancers. If you get approved to be an 1840 expert, you'll work with a dedicated manager that will hand-select you for contracts based on your skills and rates.
That said, being approved as a freelancer on 1840's platform isn't as easy as other sites like Fiverr, and there's an entire hiring process to get through.
Their platform is targeted toward freelancers that are already established in their niche and have a portfolio of work to showcase their skills.
Once you've applied to their website, you'll have to submit to a series of tests and interviews to determine whether you are a good fit.
Comparatively, the company also vets potential employers to make sure they are serious about hiring freelancers and offering worthwhile opportunities.
Get Started on 1840 & Company
Envato Studio
If your freelance talent lies in the realm of logo design or WordPress development, Envato Studio could be the exclusive community you've been looking for (and you may also want to make use of Envato Elements).
A trusted name in the digital world, Envato originally launched their freelance website in 2013 under the name Microlancer.
Today, Envato Studio is a group of handpicked, experienced freelancers specializing in a variety of gigs, including graphic design and digital services.
While you can't simply sign up to be a freelancer with Envato Studio, you can use one of the links on this page to register your interest in becoming an Envato service provider.
As Envato is quite exclusive, you should be a professional in your industry with adequate freelance experience if you want any hope of being invited to the team.
The benefits of being part of Envato Studio are well worth it. You get to use their marketing and reputation to secure top clients and spend less time trying to sell yourself.
You also have complete control over when, where, and how much you want to work.
Additionally, if you work through Envato, you don't have to worry about handling admin issues or basic customer service. You can rely on Envato's team to handle issues with clients and fill out paperwork.
You get to spend more time doing what you love to do. Plus, Envato secures payment from the buyer on your behalf, so you don't need to track down overdue fees.
Check Out Envato Studio
Hubstaff Talent
Plenty of sites like Fiverr charge either a membership fee or take a commission on any paid work. Before Hubstaff Talent, there were no completely free marketplaces for businesses or freelancers.
For that reason, the founders created the platform with the aim of providing a free service for both parties.
You will need to sign up for a free account and complete your profile before you can begin.
Once your profile is approved by their team, you can begin applying for jobs.
Hubstaff Talent focuses on providing a remote workforce for a variety of different companies. The benefit of this is that there are one-off gigs, part-time positions, and full-time remote working opportunities to be found on the job postings through this platform.
Furthermore, Hubstaff isn't reliant on the dreaded bidding system like so many other sites like Fiverr. Instead, you can showcase your skills on your profile and wait for companies to come to you.
Check Out Hubstaff Talent
Bonus: Build Your Own Website
Building a freelance network through Fiverr alternatives can seem like the easiest option, but that isn't always the case, especially if you are already established in your industry.
Rather than spending time writing proposals to submit to potential employers, use that time to design your own website.
You can talk about yourself and your talents or achievements in way more detail than you'd be able to on a simple website profile.
Additionally, you can customize your site in a way to showcase certain skills like writing, graphic design, website building, photography, etc.
You can lay out what professional services you have to offer and then market your website through social media channels and build your freelance business that way.
To get inspiration for your website, take a look at some successful personal website examples and create your own spin on the things about them that you like.
The great thing about building your own website is that the possibilities are endless.
If you're just starting out in your freelancing career, you might think that a website is a big investment. To that, I'd say look at it as investing in yourself. A good website can mean long-term financial benefits for you.
So, how much does it cost to start a website? The good news is there are lots of affordable options for someone just starting out.
As you grow your brand, you can look at investing more into your site and scaling up to match your business.
Conclusion
The gig economy has grown rapidly in the last few years, partly because of the COVID-19 pandemic, and partly because it's the way of the future.
Fiverr alternatives like Upwork and Freelancer have been steadily accumulating more and more clients as small businesses look to hire remote workers and experienced freelancers for a variety of different jobs (be sure to also check out our Dynamite Jobs review for another great option).
If you want to learn how to make money on Fiverr, it's all about delivering quality services with fast turnaround and maintaining perseverance.
In most cases, you won't be able to quit your day job overnight, but if you continue to market yourself and offer unique services or competitive pricing, you can definitely build a steady income.
Whatever platform you find works best for you, the most important thing to build your freelance career is to market yourself. Be proud of your skills and consistently deliver high-quality work.
If you take pride in producing well-polished projects, you can score repeat clients and build recurring relationships with employers.
Want to learn step-by-step how I built my Niche Site Empire up to a full-time income?
Yes! I Love to Learn
Learn How I Built My Niche Site Empire to a Full-time Income
How to Pick the Right Keywords at the START, and avoid the losers
How to Scale and Outsource 90% of the Work, Allowing Your Empire to GROW Without You
How to Build a Site That Gets REAL TRAFFIC FROM GOOGLE (every. single. day.)
Subscribe to the Niche Pursuits Newsletter delivered with value 3X per week