Mautic vs MailChimp: Out with the Old Email Marketing Tool, In with the New?
When you buy something through one of the links on our site, we may earn an affiliate commission.
With an industry as vast as email marketing, you can always expect new players in the game. That reason is precisely why we have whipped up this Mautic vs MailChimp review.
It hasn't been long since email marketing was back in full force. What seemed to be an afterthought replaced by online messengers is now one of the best ways to reach out to your target audience.
With the profit that email marketing tools rake in for businesses, it's only a matter of time when everybody wants a piece of the action. Mainstays like Aweber and MailChimp have stood the test of time and are sitting on top of the totem pole when it comes to the top email marketing platforms. However, there will always be competition chomping at the bit, offering features and services not available in the established tools.
Among the up and comers, Mautic is an email marketing platform to watch out for. As with most new tools, the people backing them up are young, feisty, and have something to prove. However, going up against a tool like MailChimp, it will need more than willpower and determination to dethrone one of the most well-known marketing software on the market.
In this Mautic vs MailChimp post, you will learn the following:
Features and services that separate each from the other
The pros and cons of each email marketing tool to help you make an informed decision
A comparative look between both tools and a verdict on which tool is better depending on what the users wish to achieve using them
Mautic vs MailChimp: Youngblood against old school
It is normal for every industry to have newcomers trying to shake things up. As is the case with Mautic, it attempts to upset the status quo by offering something unique and different that MailChimp doesn't. However, it is just as common as most of these startups flame out from the start and never to be seen or heard from again.
Therefore, the question begs to be asked: which between the two is Mautic?
Mautic Review: an open marketing automation tool
Unlike most marketing automation tools you've encountered, Mautic is an open source version of marketing automation. To use the software, you need to install it in a server which requires technical expertise and knowledge. You may need help from a professional if you want to employ open software as part of your business workflow.
Open source: it's not as bad as you think

At the onset, Mautic initially becomes problematic to use for marketers without any knowledge about hosting and server. If you're focused on generating results from a tool that is ready to use out of the box, then Mautic may not be for you.
However, you also need to consider the advantages of open source development. It's easy to judge the tool based on your bias without fully understanding its benefits. Mautic as an email and marketing automation platform has a lot of great things going for it, namely:
The software is FREE – Similar to WordPress, all you need to do is download the program and install it into your server. You only have to pay for maintaining your server as the software is free of charge.
The software is regularly updated by a passionate community – Again, Mautic bears similarities with WordPress. The software is continuously revised and reworked by a dedicated team of developers and programmers to help build better features and improve its usability. If you happen to be a developer, you can also collaborate with others to tweak the features of the software and make it more useful to everyone.
Full ownership of your data – Let's face it – if you subscribed to a marketing automation tool, you don't entirely "own" the data stored in your account. Sure, you can migrate it from one platform to another. However, you are at the mercy of the site owner where you store the information of your subscribers and customers. If they decide to close shop, you need to export your data and transfer to another software, which is unnecessary work on your part. With Mautic, you don't have to worry about losing your data. You decide whether to move your data or keep using Mautic for as long as you want.
Once you get over the initial speedbump of installing it to your server, Mautic is pretty much smooth sailing moving forward. As mentioned, you are better off hiring a professional to help you install and deploy the tool for you on your server. Granted, you still need to familiarize yourself with its interface, but it is exactly just like your standard marketing automation platform and then some.
Open marketing: unlock the potential of your marketing campaigns
Most marketing tools hosted on the cloud are fixed and rigid. There's only so much you can customize with them. With an "open" marketing tool like Mautic, you are privy to a lot more features not available on other software. They will help make the most out of your campaigns in the hopes of converting more of your subscribers into new customers or repeat buyers.
Below are features that you can leverage on Mautic to help supercharge your marketing efforts:
Website tracking
Put each of your visitors under a microscope by understanding their behavior and from which online channel they came from. Once you've captured a visitor using Mautic, you can drill down the data based on how you can convert them into a known contact based on how they engage and interact with your site.
From there, you can develop multi-channel campaigns using personalized messages sent to visitors based on specific triggers you set up using the tool. Over time, analyze the performance of your website tracking campaign to get insights on how to engage with your audience much more effectively by refining your triggers and messages.
Dynamic content
You can show specific content to users depending on their level of engagement with your site. The purpose is to help you bring them down your sales funnels so you can convert them one at a time. You can show different variations of landing pages to the same group of visitors that meet the exact buyer persona you developed for the campaign.
Use this opportunity to create mailing lists specific to people at different stages in your sales funnel.
Lead scoring
Create a system to analyze how close is a website visitor is to converting into being a customer. Set different parameters in your scoring system that Mautic will automatically consider when somebody visits your site or signs up to your list. About the account scores, you can create dynamic content to personalize your message and increase your chances of conversion. You can also create triggers based on the points they accrue in real time. For instance, if a user reaches specific points, you can set Mautic to move the user to your CRM or send them an email automatically.
Multichannel communication
Control the messages you send from Mautic using its multichannel feature. You can customize the message you send based on different factors and conditions before sending them out. Choose from social, email, SMS, and others and set them up using the software's visual workflow creator. Analyze the performance of the triggers you created and see which channels yield the best engagement and conversion. From here, double-down on the channels that worked so you can maximize your efforts to turn visitors into customers.
Deep integration with popular tools
Mautic allows you to connect with your favorite business apps so you can improve productivity by gathering data from these tools to Mautic. Doing so will enable you to see and put all the relevant information to action from a single dashboard instead of opening different browser windows for the various apps.
Below are the different types of integrations available at Mautic:
CRM – Salesforce, Hubspot CRM, Zoho, etc.
Workflow – Gmail, Zapier, GoToMeeting, etc.
Social – Twitter, Facebook, LinkedIn, etc.
CMS – WordPress, Drupal, Typo5, etc.
E-commerce – WooCommerce
MailChimp Review: your tried-and-true marketing platform
While Mautic tries to revolutionize marketing in its way, MailChimp sticks to the standard marketing automation fare to great effect. After all, why fix your email marketing if it ain't broke?
Hosted in the cloud, MailChimp is easy to use from the get-go. Just sign up for a free account, and you can collect an email address or two using its opt-in form feature and send campaigns in an instant. You don't need to learn how to install the marketing automation platform on a server and have someone else do it for you.
Better yet, you can send emails and build campaigns for the first 2,000 total subscribers in your account. While you can't use premium features of the tool, MailChimp is still useful for businesses who have no existing subscribers and customers and want to build one from the ground up without the unnecessary costs.
On the flipside and as mentioned earlier, tools like MailChimp are not as flexible as the ones hosted on the cloud. While you can add your personal touch on the emails you send, you are still hamstrung by the limitations of the tool. For instance, you are storing your data in the tool's database.
As a result, you don't have full control over the information you gather and develop. This problem of digital sharecropping is persistent among most tools and not an indictment on MailChimp. However, this point merely proves the limitation that is inherent in cloud-based software.
Email campaigns and marketing automation made easy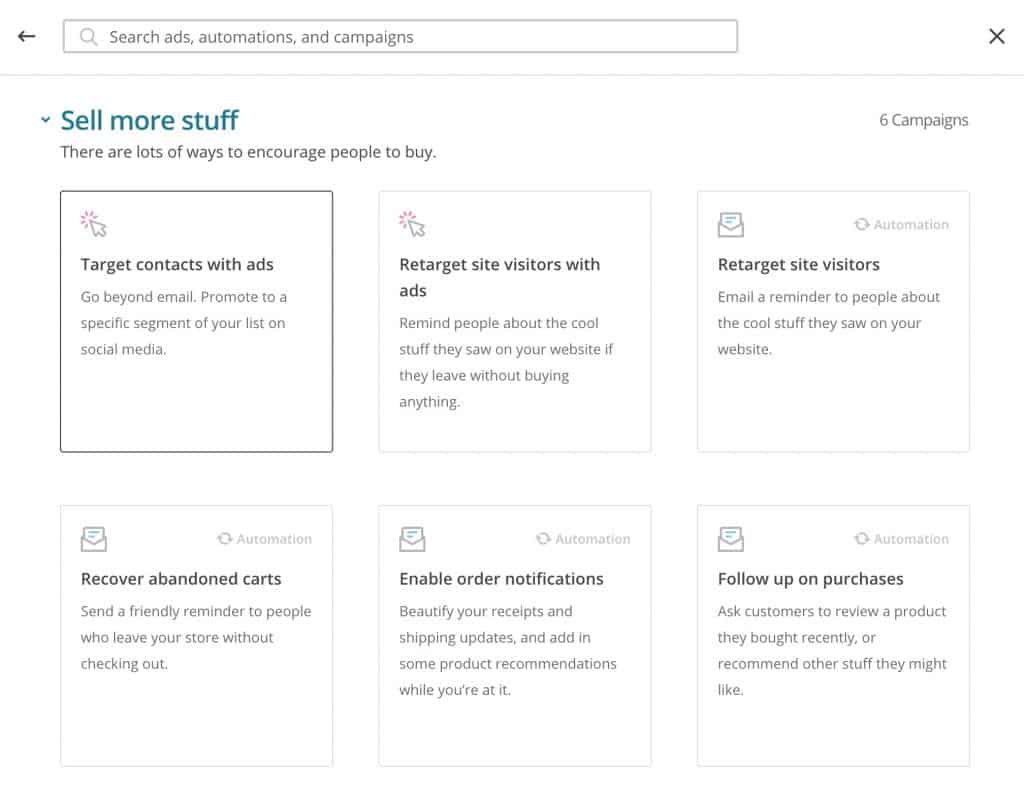 Despite its shortcomings, MailChimp remains a tremendous introductory email marketing platform for every type of business. It's easy to develop and launch email campaigns to your subscribers and offers a variety of data to help you make sense of your campaigns.
Back then, MailChimp only offers email services to help you reach out to your subscribers. However, throughout the years, it has adapted to the demand of the market that it now offers marketing automation features to help you simplify your business processes.
Below are some of the advancements it has made since its inception, all of which helped MailChimp maintain its position as one of the top email platforms in the market:
Create triggers to acquire highly targeted subscribers and leads
The problem with email marketing is the ability to create personalized messages to specific people in your email. Personalization, in this case, is not limited to including their name in the subject and body. To increase your conversion rate, the message of the content you send to your subscribers must be in line with their values and beliefs. You need to find a way to not only send personalized messages but also attract people who are most likely to become your customers.
Through marketing automation, you can send the best messages to the right people by setting up triggers. MailChimp will then send emails to people on your client or leads list based on the website behavior, previous purchases, personal preferences, and other factors. You can develop different automated and drip campaigns that suit your goals. For example, you can create a trigger for subscribers who haven't opened any of your emails for the last 30 days to send an email that asks them why they're not engaging with your messages. You can then incentivize the email by offering a freebie or discount code to your shop to compel them to action.
Use ads to improve marketing efforts
There's an assumption in which ads are expensive. In essence, they are – you need to shell out cash to launch ad campaigns. However, you also need to consider the potential rewards that you can reap if you execute a well-developed ad campaign.
With MailChimp, you can create ad across different platforms to reach out to potential customers similar to the ones you have or extend your visibility across different ad platforms.
MailChimp offers help to these ad networks:
Google – The search engine's remarketing program lets you reach out to previous visitors who didn't engage with your site in the hopes of getting them to perform your desired action on your site. The ads will appear on websites and apps that are part of the Google Display Network, arguably the most extensive ad network to date. If done correctly, your previous visitors will see your best-selling products and most popular content for them to purchase or read.
Facebook – It only makes sense to launch ad campaigns on the most significant social networking site in the world. With over billions of active users, you need to find the right people to target with your ads. When targeting the audience for your ads, fashion the ad filters based on the profile of the contacts in your list to increase the chances of conversion. Facebook will show items from your online shop or landing pages of your online businesses in carousel view so people can choose which among your services or products to check out. The ads will work perfectly alongside your Facebook Giveaway campaign, if you have one.
Instagram – As the premier visual networking site, Instagram requires advertisers to feature the best images of their products to encourage your visitors to purchase from you. Similar to Facebook ads, you need to narrow down the people who will see your ads. To analyze the performance of your ads, you can refer to the data available from MailChimp to understand how you can improve your ads for better conversion.
Landing page creation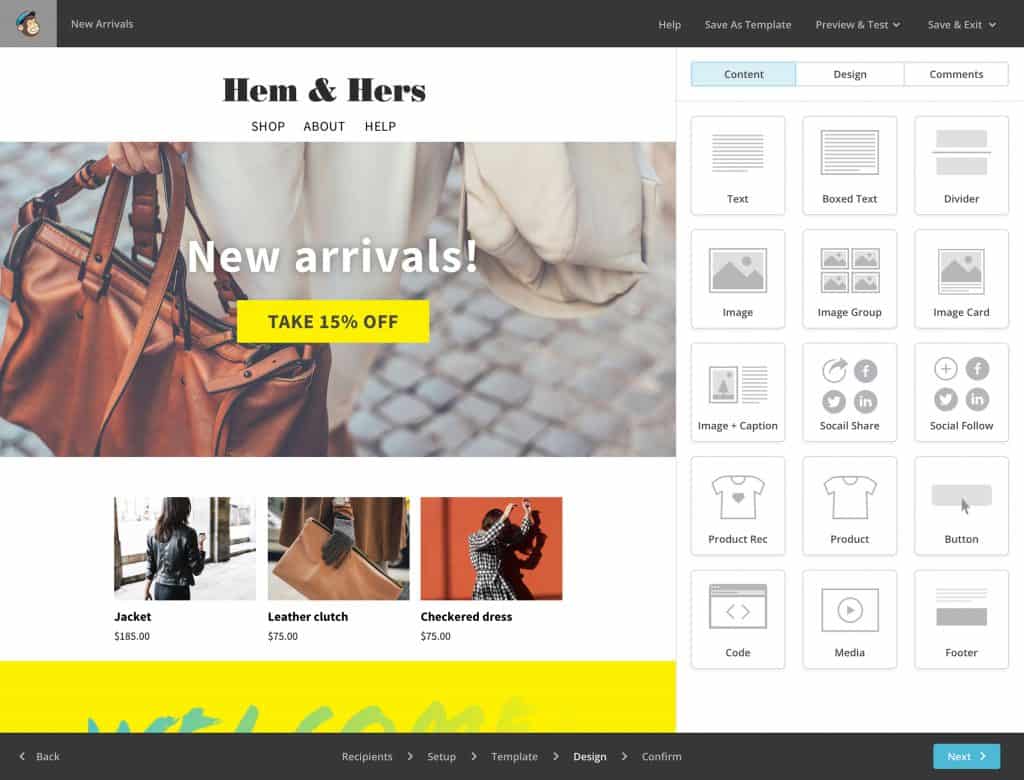 MailChimp understands the ability of its users to convert their visitors into leads or buyers. Therefore, the software has launched the landing page builder as one of its latest features.
Instead of using third-party tools to generate your sales pages, you can do it straight from MailChimp. What makes its landing page creator appealing is the drag and drop builder. Similar to its email campaign builder and, to an extent, Thrive Architect, you can choose different elements that you want to include on the page and drag them to the desired location on the page.
You don't need any design or programming experience to create a beautiful landing page guaranteed to convert any visitor. In fact, you can choose from two templates to help you build your landing page without starting from scratch. The templates give you a head start on how you want your landing page to look like so you can focus on garnering more leads and processing more transactions.
Mautic vs MailChimp: a head-to-head comparison
Comparing Mautic to MailChimp is like comparing apples to any other fruit except oranges. It doesn't feel right that they are pitted against each other because their similarities start and end with being a marketing automation software.
They both give you the ability to develop and implement email campaigns and track their progress. You can create different triggers on both software based on the behavior of your website visitors.
Aside from those similarities, Mautic and MailChimp are built on contrasting principles. The former is an advocate of the open marketing school of thought in which you have full control of your data, and you can host the software from your server. You will most likely require technical assistance to set up the tool.
Other than that, the world is your oyster if you use Mautic. The ability to create personalized messages to highly-targeted visitors prove to be a valuable commodity in today's world where even the slightest advantage matters. Not to mention, you can customize the software based on your preferences and preferred settings.
Again, it will require you to know coding and programming to pull this off, which goes to show that Mautic may not be for everybody.
On the other hand, MailChimp is built with ease and convenience in mind. Why bother with learning how to install your email marketing software on a server when you can sign up for free and build opt-in forms and landing pages in a matter of minutes? Also, signing up for your first 2,000 subscribers is free.
You don't get to unleash the tool in its fullest potential (you have to pay to get these features), but there are no strings attached either. The tool will prove to be rigid once you start understanding how email marketing works when your company gets more prominent and the demands for your services and products keep increasing.
However, to get there, you need to grow your business first, and MailChimp seems to be the easiest way to do it.
Mautic vs MailChimp: pros and cons
Now that we've talked about some of the features of each, let's get into a pro and con list.
MailChimp
First we'll look at Mailchimp pros and cons.
Pro: intuitive and accessible email marketing tool, even people without any understanding of developing and implementing email campaigns will easily catch up with this
Con: flexibility issues will prevent you from making the most of email marketing (i.e., limited segmentation features, no automation workflow, etc.)
Pro: easy to create emails and landing pages, even a design-challenged person can create an email campaign that converts using the tool's drag and drop builder
Con: customer support seems to be lacking; you can only reach out to their support team via email. If you have pressing concerns, you'll have to wait for their reply. Only paying customers can reach out to their through online chat and phone call.
Mautic
Now let's start with Mautic.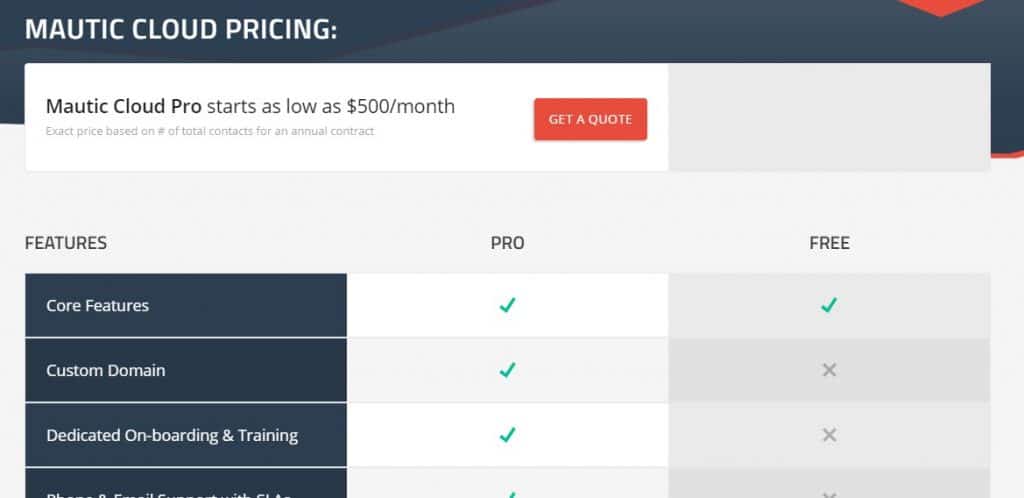 Pro: Mautic is arguably the most flexible and customizable email marketing software given it's an open source tool. You will have full control of the data you gather, and only you can decide whether to migrate your data to another platform or not.
Con: Difficult and confusing to set up for most. Unless you don't have any experience with installing open source tools on servers, then you're better off with cloud-based tools instead.
Pro: Bang for the buck. You can use the tool for free if your subscribers don't go over 5,000. You can also send 1,000 emails a day, and you have limited availability on premium features.
Con: Unreliable customer support. Similar to MailChimp, only premium users have access to their email chat and phone support. However, you will rely on the community to get answers to your problems with the tool.
Final word
Both tools represent the different schools of thought that persist in email marketing. One is all about making introducing email marketing in the most straightforward and efficient way possible. The other is about showcasing the real power of marketing automation by making it open source and paving the way for greater flexibility.
Again, while Mautic and MailChimp are tools to help you reach out to your audience using the power of email, it is impossible to do a comparative study given their fundamental difference. Startups and small businesses will gravitate towards MailChimp while Mautic will attract companies looking to leverage the true power of marketing automation.
It doesn't matter which features from either tool you enjoy the most – the fact that their respective target audiences are different from each other makes the Mautic vs MailChimp argument moot.
How about you? Do you have any experience in using either Mautic or MailChimp in your email marketing strategy?
Check out our articles comparing Flodesk vs Mailchimp or Sendlane vs Mailchimp for another perspective.
Want to learn step-by-step how I built my Niche Site Empire up to a full-time income?
Yes! I Love to Learn
Learn How I Built My Niche Site Empire to a Full-time Income
How to Pick the Right Keywords at the START, and avoid the losers
How to Scale and Outsource 90% of the Work, Allowing Your Empire to GROW Without You
How to Build a Site That Gets REAL TRAFFIC FROM GOOGLE (every. single. day.)
Subscribe to the Niche Pursuits Newsletter delivered with value 3X per week