Looking for Rytr Alternatives? Check Out This List Of 9 Great Options
When you buy something through one of the links on our site, we may earn an affiliate commission.
You're on the hunt for Rytr alternatives that work for long-form or short-form content (or both)? We can help with our list of 9 AI writing tools that may guide you in the right direction in finding something more suitable for your needs.
Rytr is one of the most popular AI writers currently available. It's reasonably priced and has many features to aid content creation. But, Rytr is not perfect and is not appropriate for all users. For instance, it does not work for long-form content.
This article will overview each Rytr alternative, its key features, and how much you'll need to pay to use it.
In a hurry?
Jasper is the best choice for a Rytr alternative. It offers tons of features to assist your writing of both short and long-form content, and now it even has an AI art tool to help take your content output to another level in every way. And as a Niche Pursuits reader, you can try it for free!
---
Rytr Overview
Rytr AI writing assistant was launched in 2021. It's a reliable tool with a lot to offer at very competitive pricing.
Rytr is powered by GTP-3 technology, an industry standard. However, Rytr doesn't stop there. It uses its own proprietary AI technology, adding a layer on top of GTP-3, offering its users fewer limitations.
The main drawback of using Rytr (or any other AI writing tool, for that matter) is that the information it provides in the content isn't necessarily accurate. Rytr frequently makes up facts. Its generated content is pretty hit or miss. Sometimes, a passage will be both fluent and interesting. Or you'll see the same thing repeated three times in a row but in different wording.
Rytr is not the best AI writing tool if you want assistance writing long-form articles. You can use it to construct brief paragraphs and outlines and to generate short-form content, but it cannot produce longer content.
You can try Rytr for free before subscribing to a paid plan.
Rytr's basic plan is pretty reasonable. It is available for $9 per month (paid annually). And even if you opt for unlimited word credits and priority assistance, Rytr's most expensive subscription will still only cost you $29 per month (also paid annually).
If you're looking for an entry-level AI writing tool, then Rytr is the one for you.
And if you want to know more about Rytr before looking at alternatives, read our Rytr review.
Our List of Rytr Alternatives for You To Check Out
We'll discuss the basics in our choice of 9 alternatives, which should help you decide which one is best for you.
Jasper.ai
Jasper ai (formerly known as Jarvis ai and Conversion ai) is the most potent AI copywriting tool available and is at the top of our list of Rytr alternatives. It's built on top of GPT-3 and supports almost all writing use cases. But, arguably, Jasper's Boss Mode is the only way to use the tool, and it's pretty pricey.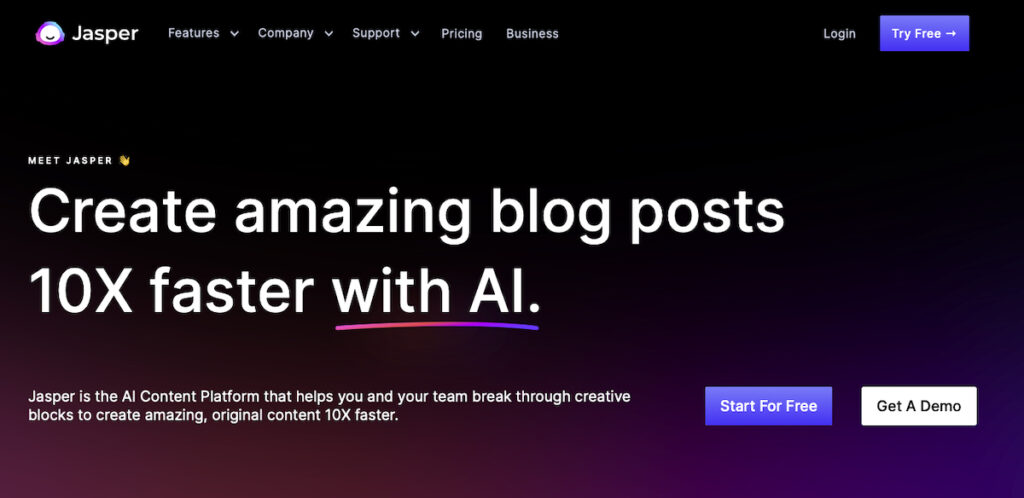 Beginners may find it a little intimidating, but you learn more about the tool the more you use it. The team has created many pre-made templates to help you get started. These include generic marketing copy frameworks like AIDA and platform-specific content for things like Google Ads and Instagram captions (don't miss our list of the best ad copy generator tools).
Jasper ai provides many functions, including document management, speech recognition, natural language processing (NLP), multilingual support, SEO optimization, plagiarism detection, and more.
Jasper also has a vast collection of user-created recipes in its library.
Another excellent plus is that it directly integrates with Surfer SEO (a popular content optimization platform). This significantly improves your chances of ranking for difficult-to-rank keywords if you're writing for SEO.
Key Features
Jasper's algorithm and language models are trained to produce high-quality content.
It has more than 50 copywriting templates.
It can generate comprehensive blog posts, lengthy articles, and essays, but they do require manual input.
Using a Google Docs-like editor, Boss Mode is a sophisticated feature of Jasper that guarantees five times faster ai content development. It also allows you to use multiple AI copywriting tools for the same article simultaneously.
Jasper provides native integration with Surfer SEO to generate SEO-optimized content.
Third-Party Integrations with Grammarly and Grammarly Business to correct grammatical errors, Copyscape to check for plagiarism, and Surfer for SEO.
Available as a Chrome extension.
Content Recipes allow for the automatic creation of unique content.
It supports 25+ Languages.
For the full picture of this amazing tool, read our Jasper ai review.
Pros and Cons
Consistently generates quality ai content

Blog post generator

50+ copywriting tools & use cases

Multiple integration options

SEO-optimized content

Excellent helpdesk and software training 
Steep learning curve

Technical subjects can be a little tricky 

Jasper's junk content is expensive – you lose credits for every word it generates

Necessary to do plenty of research and edit finished articles

You have to pay extra for plagiarism detection
Jasper ai Pricing
Jasper ai has three price tiers: Starter, Boss Mode, and Business. You can try all three options for free too!
The Starter plan begins at $29/month ($24/month if you pay annually). You get 20,000 words/month and 50+ AI templates (including an AI art generator).
Boss Mode plan begins at $59/month ($49/month paid annually). You get a Google Docs style editor, Compose and command feature, increased amount of content input, and long-form content generation.
Business plan - contact Sales for a quote.
The Starter and Boss Mode plans are on a sliding scale. The price goes up based on how many words you want to be able to generate per month.
---
Scalenut
Scalenut ranks second on our list as one of the best Rytr alternatives for AI writing assistance and SEO content optimization. It is ideal for all audiences, including those who publish long-form material, copywriters, and marketers.
Its AI writing algorithm combines SEO and NLP methodologies, allowing you to write exciting content and improve your page rankings. You can create search-engine-optimized content using Scalenut's SEO Assistant. You enter your keyword and are presented with a document editor built around it. Scalenut's AI Connectors and Operators can give more directions about your content than a straightforward compose button would allow.
Key Features
AI Copywriter. More than 40+ use cases, including copywriting frameworks, headline generators, product descriptions, meta descriptions, etc.
Creates a comprehensive SEO report for your chosen keyword. Includes a summary of the top 30 ranking URLs, including information on their length, readability, content quality, and other factors.
SEO Hub is a complete ai content research and production tool. It offers real-time SEO parameter tracking and comprehensive coverage of all ranking variables,
Cruise Mode. You'll get a complete research-driven first draft of content. Enter the information you require, include target keywords, design the flow and let your AI writing assistant write the content.
NLP Terms. Scalenut can suggest essential terms that can be added to the material to increase its rankability..
Topic Clusters. Use this tool to organize your content calendar. It can generate a list of LSIs and related keywords you can use to write pillar articles etc.
Read our full Scalenut review for more about this new AI-powered writer.
Pros and Cons
Clean and modern and easy to use UI/UX

Powerful AI

Engaging content

Many Use Case
Can be repetitive

Content needs quite a lot of editing

Users can't customize any of the frameworks and templates
Scalenut Pricing
Individual Plan at $29/month: you get 10,000 AI words, 5 SEO reports, 40+ tools, 24/7 chat, and email support.
Growth Plan at $79/month: you get unlimited words, 20 SEO reports, 30 topic clusters, cruise mode, etc.
Pro plan at $149/month; this one's for large teams, businesses, and agencies.
---
Copy ai
Copy ai is a very straightforward AI writer featuring one of the best interfaces in the business. However, the output isn't as qualitative as, for example, Jasper.ai, but it's a good Rytr alternative.
It's built on GPT-3 artificial intelligence and has an easy workflow. Copy ai is ideal if you have writer's block and need to jumpstart your writing process. It has over 90 templates and easy processes. The AI's toolbox is relatively clear-cut. (The starting guide will help you understand exactly what each button is for.)
Key Features
Copy ai is focused on short-form content. Use cases are split into three groups.
Social Media Manager: Templates for just about any social media post, including descriptions for Pinterest, Tiktok scripts, Facebook, and LinkedIn postings.
Email Marketing: Ranging from targeted lifecycle emails to cold outreach emails.
Blog writers: Copy ai claims to improve the efficiency of your blog post writing process by producing material that is more likely to rank well. Various blog types are available, including Listicles, Thought Leadership, Feature Stories, etc.
Copy ai also offers extra tools and add-ons. These include a verb booster, grammar checker, sentence simplifier, and other tools that can help you improve the Ai-generated content.
To find out if it's really as good as people say, read our Copy ai review.
Pros and Cons
90 templates (including some fun templates)

Supports 25+ languages 

Effective for overcoming writer's block 

Among the best user interfaces
The quality of the ai content output could be better 

Limited capabilities for blog content
Copy ai Pricing
Copy ai offers two plans.
Free plan. 2,000 words/month, the Blog Wizard tool, 90+ copywriting tools, unlimited projects, and a 7-day free trial of the Pro Plan.
The Pro plan costs $49/month or $36/month, billed annually. It includes everything the free plan gives you, plus unlimited projects, 25+ languages, and access to the newest features.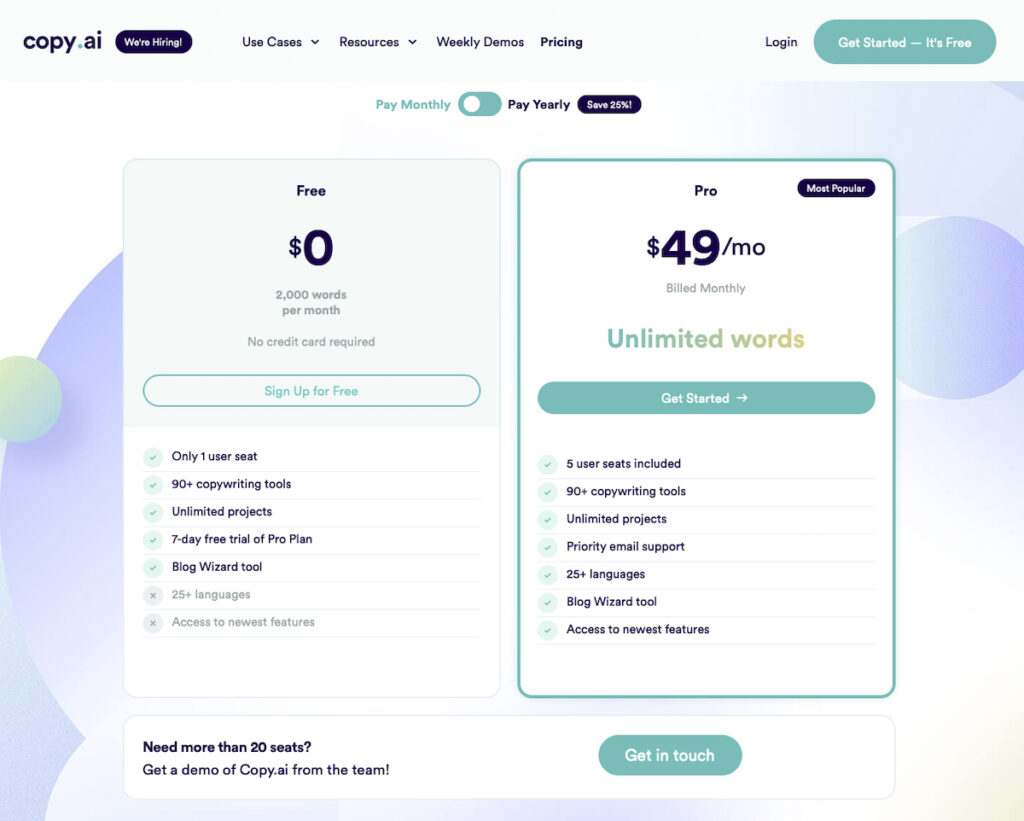 ---
Shortly ai
Shortly ai creates long and short-form content in seconds using potent editing commands. If you want to write long-form blog content easily, Shortly ai is also one of the great Rytr alternatives.
It creates long- or short-form content using the GPT-3 neural network. The AI is trained to write over 500 billion words.
Jasper ai recently purchased Shortly AI to incorporate its functionalities within Jasper to generate long-form material better. Shortly aiI is, however, currently running as a stand-alone product.
The interface for Shortly is simple to use and understand. You just open a text editor, type a few instructions, and Shortly ai will begin writing your long-form material.
Key Features
Marketing copy like the AIDA Framework
Templates for questions & answers
Creates article briefs and content outlines
Generates any product description fast
You can see all the tools in the sidebar
Read more about Shortly ai to find out if it is the best writing assistant.
Pros and Cons
User-friendly

Very fast

Helps you write articles, blog posts, ad copy, emails, long form content, etc.

Integrates with Grammarly to check for errors
Often delivers junk content and grammatical errors and goes off-topic sometimes

Shortly AI only supports English

Few integrations

Content needs plenty of editing
Shortly ai Pricing
Shortly AI offers two pricing choices.
The monthly plan costs $79/month. No limits on word usage
The yearly plan costs $65/month, billed annually.
Shortly ai also offers a free trial (only 300 words) for a limited time (although 300 words are hardly enough to test the AI).
---
Frase
In the world of AI writing, Frase is an all-rounder. It can research your topic, generate content for you on a given subject, and even provide recommendations for keyword optimization. These features make it one of the best Rytr alternatives.
Frase also offers an AI writing assistant to help you in creating text. The NLP (natural language processing) based features include task management, research, SERP analysis, content creation, and content optimization.
Key Features
Research topics and keywords. Enter a keyword to receive summaries of the SERP, topic, and user intent.
Thorough LSI keyword suggestions in the content it produces to help you rank your articles. It gives you a clear picture of how your material compares to that of the opposition and offers information and suggestions for how to make it better.
Ten or more content templates.
A complete document editor.
Lightweight task management systems.
SEO checker.
Grammar corrections.
Because of the tool's stacked toolset, using Frase can be confusing at first. You can complete your first draft in 30 minutes if you follow the procedure that is already set up. However, if you ever stray and experiment with this ai tool, you can find it challenging to get back on track.
The starting manual can sort this issue out. And to be fair, it becomes easier to manage after using Frase for a while.
This Frase review will give you a much more in-depth view of the tool.
Pros and Cons
Research tools

Several additional tools for content writing

Keyword optimization feature
Deceptive pricing

The UX can become confusing

Focuses on ten things simultaneously.

Sometimes generates results that are irrelevant (using up your character credits)
Frase.io Pricing
Frase pricing is rather deceptive, and it's based on characters, not words. And without the Pro add-on, all plans offer about 20k characters/month of AI writing.
Solo plan at $14,99/month. Write and optimize four articles/month, generating 20,000 characters/month.
Basic at $44.99/month. 30 articles/month, generate 20,000 AI characters/month (you only have 20k characters to generate 30 articles)
You will need to spend an additional $35 per month if you want the Pro Add-on with unlimited characters and other premium features. So, you really have to pay the extra $35/month if you want to use Frase properly!
---
Copysmith
Like Rytr, the Copysmith AI writing platform gives any content writer access to various tools and functionalities. You can use it to create marketing content, long-form blog posts, online copy, and more. Copysmith also offers integrations, such as a built-in plagiarism detector and an SEO keyword integration by Frase.
Key Features
Content Ideas. If you're a content creator, you can get some inspiration. Offers suggestions for collaborations, inventions, sponsorships, and more.
Content Rewriter.
Blog Idea. Find blog ideas fast. Combine with other blog writing templates, the Blog Outline or Intro Generator.
Product descriptions. Write appealing, high-quality descriptions that do your products justice.
Integration with external applications, including Hootsuite, Shopify, Google Ad, Zapier, etc. Users can optimize their workflow without leaving the platform.
SEO add-on. Copysmith is partnered with Frase SEO so users can discover SEO-optimized keywords for any type of artificial intelligence-generated content.
Plagiarism Checker.
This Copysmith ai review discusses its long-form content creation abilities.
Pros and Cons
Specialized audience engagement tools 

Includes plagiarism and keyword integrations

User friendly
The best and most useful features require more expensive subscription levels 

Very limited credits in the affordable plan

The generated content still needs plenty of editing
Copysmith Pricing
Copysmith provides three options and a free three-day trial. Note that each credit averages around 400 generated words.
Starter at $19/month. Includes Integrations, in-app support, 75 credits (40,000 words/month), and 20 plagiarism checks/month.
Professional at $59/month. Includes Integrations, in-app support, 400 credits (260,000 words/month), and 100 plagiarism checks/month.
Enterprise – contact the sales team for a quote.
---
Anyword
Anyword's AI copywriting tool creates text for ads, landing pages, emails, blogs, and other short-form content. The tool is a marketer's dream because it makes increasing conversions and generating sales easy.
Anyword was the first program to offer the predictive performance score feature. This tool can evaluate your generated copy's potential (engagement, conversion, influence, etc.).
Anyword's predictive analytics and customer persona allow teams to optimize engaging texts for various channels such as Google, Twitter, Instagram, and LinkedIn. And you can modify call-to-action (CTA) buttons, headers, product descriptions, and more across landing pages.
Anyword is one of the better Rytr alternatives.
Key Features
Predictive Performance Score: This shows how likely a specific audience will engage with your material.
Custom Mode: You can quickly teach Anyword's AI writer to write in your company's tone or even to imitate your rivals.
Current Keyword Library: You can tell the AI engine to use popular keywords like Free Shipping, New Arrivals, etc., in your content piece whenever it makes sense.
Read our Anyword review to see if it is indeed the best AI writing assistant for copywriters.
Pros and Cons
User-friendly interface

Offers a free plan that lets you test most of the features before purchasing a paid plan 

Provides cutting-edge features for AI copywriting 

Predictive Performance scores can be useful

Keyword library saves time
Best for short-form content. So if you want to use it for blogs, it's not the ideal option 

The application lacks a guided content research feature 

It does not have intuitive features like Scalenut's topic cluster tool 

No tools have plug-and-play integrations – you have to use APIs
Anyword Pricing
Free plan includes 1000-word credits, blog post wizard, basic AI copywriting tools, and single-language support.
Basic plan at $16/month. Minimum of 15,000-word credits plus all the features in the Free plan. Price works on a sliding scale - the more words you use, the more you pay.
Data-driven plan at $83/month. Minimum of 30,000-word credit, plus all the features in the Basic plan, predictive performance score, a blog post wizard, and multi-language support.
---
Article Forge AI
Article Forge is an AI writing tool that has undergone several updates. It makes some pretty bold claims with its latest version. It boasts that it can produce long-form, original, SEO-optimized content. The most recent modification supports 1,500 - 4,000 word long-form articles, and you can add relevant subheadings.
Article Forge does not use GPT-3 artificial intelligence; it uses its own AI-powered algorithms developed in-house (check out Article Forge vs WordAi to learn more). Despite not using GPT-3, Article Forge's content isn't bad, but it does require some rather brutal editing.
For most other AI writers, including Rytr, Jasper, Copy.AI, and others, you must enter a keyword or phrase and write alongside it. Article Forge will generate the article for you, so rather than writing jointly, you see the finished work.
Using an article generator has some drawbacks. Although you receive a completely written piece, you have far less fine-grained control over the final product. Only one option is left if the article generator takes a route you don't like. Start over. As with any AI writer, the more detailed the input (keywords), the better the output
Key Features
Smooth process: From the idea for the content to the WordPress upload and SEO automation.
Enhancement of your content: Article Forge enhances your content with links, photos, and even LSI keywords.
Multiple Language Support. Article Forge supports seven different languages.
Integrations with SEO software. Article Forge can connect to Word.AI, SEO Autopilot, or RankerX.
This Article Forge review looks at whether it is worth its price.
Pros and Cons
Reasonably priced

Focuses on bulk content generation

Smooth editing workflow 

Five-day free trial
The quality of AI content varies (hit or miss). 

UX is confusing at first

Articles sometimes contain fluff or wildly inaccurate facts

You have to provide credit card details to sign up for the free trial
Article Forge Pricing
Currently, Article Forge only offers two plans - Monthly/yearly and the Business Plan.
Monthly Plan at $27/month or $13/month if paid annually. You get the AI-powered writer, 25k words/month; you can generate 1,500+ word articles. The content passes Copyscape, automatically posts to blogs, bulk article generation, and API access.
Business Plan - you'll need to contact the sales team for a quote.
There's a five-day free trial for ArticleForge. You will be billed after the trial expires if you don't very clearly cancel.
---
Smart Copy by Unbounce (Previously Snazzy)
Chris Frantz and Adam Kaczmarek introduced Snazzy ai in 2021, and it quickly gained a solid reputation and buzz. After only a few months of operation, Unbounce purchased Snazzy, and the AI copywriting tool was renamed Smart Copy.
The Unbounce team is focused on integrating both pieces of software (Unbounce and Smart Copy) to assist marketers in running effective campaigns. This implies that you may anticipate additional third-party integrations and new software capabilities.
The product is geared towards sales content and conversion copywriting, as you might expect from an AI generator integrated into a landing page platform.
Technically, you could also use Smart Copy to produce material for SEO (if you're also utilizing a tool like Surfer). It works best for producing taglines, landing page text, and Google Ads copy and saves you a ton of time. And it also works well for SaaS and services businesses.
If you write for organizations with many landing pages, creating copy for every page is challenging. Smart Copy resolves this problem - its AI is programmed to generate copy that converts the best.
Key Features
Smart Copy uses a minimalistic style for its product and keeps the page user-friendly.
40+ template options to create content or generate ideas you can build on. Templates include landing pages, ads, ADIA copywriting, unexpected options, viral growth ideas, funny 404 pages, and more.
The Refine option. Choose to create short, medium, or long-form content using the option to refine content, which gives you control over the article's length and tone.
Profile Builder.
Generate landing page copy.
Content Expander.
Remix Feature (paraphrasing tool).
Supports 6 Languages.
Smart Copy Chrome Extension.
Pros and Cons
A free plan is available

You can test the paid version with a free trial 

Offers dozens of templates

Useful

training resources

to help you use the software properly
Can generate irrelevant content

Content needs editing and fact-checking
Smart Copy by Unbounce Pricing
Unbounce's Smart Copy software has two paid plans and a free option that gives you up to 10 credits a week (refreshed weekly) and one project. Before we get into details - the credit system works on actions, not word count. Basically, you use up one credit every time you click an action button, for example, the "Write More" button, to expand, remix, or write content.
Essential at $8/month, billed annually. Gives you 45+ templates. 200 credits/month, 3 projects, and built-in Grammarly.
Unlimited at $40/month, billed annually. This plan gives you access to all the tools, unlimited credits, and unlimited monthly projects.
---
Final Thoughts: Rytr Alternatives
I hope you have found a suitable option now that you've checked out all the Rytr alternatives.
If you're still having trouble finding your ideal replacement program, I advise you to sign up for their free trial or the free plan. You'll be able to compare the software to Rytr after testing it and then make an informed choice.
Although, if you are looking for some quick advice, I'd recommend you go for Jasper ai. Going by the caliber of its AI-generated content, Jasper ai is one of the best Rytr alternatives out there. It offers an impressive set of features and better content quality.
Want to learn step-by-step how I built my Niche Site Empire up to a full-time income?
Yes! I Love to Learn
Learn How I Built My Niche Site Empire to a Full-time Income
How to Pick the Right Keywords at the START, and avoid the losers
How to Scale and Outsource 90% of the Work, Allowing Your Empire to GROW Without You
How to Build a Site That Gets REAL TRAFFIC FROM GOOGLE (every. single. day.)
Subscribe to the Niche Pursuits Newsletter delivered with value 3X per week