Top 26 Most Successful Etsy Shops + Tips For New Sellers
When you buy something through one of the links on our site, we may earn an affiliate commission.
The most successful Etsy shops aren't just about the products. Great customer service, branding, and marketing are all behind the thousands of five-star reviews.
If you're feeling inspired to launch an Etsy shop of your own, take a look at some of the most successful Etsy shops and learn from the best. 
1. Planner Kate | Personal Planner Accessories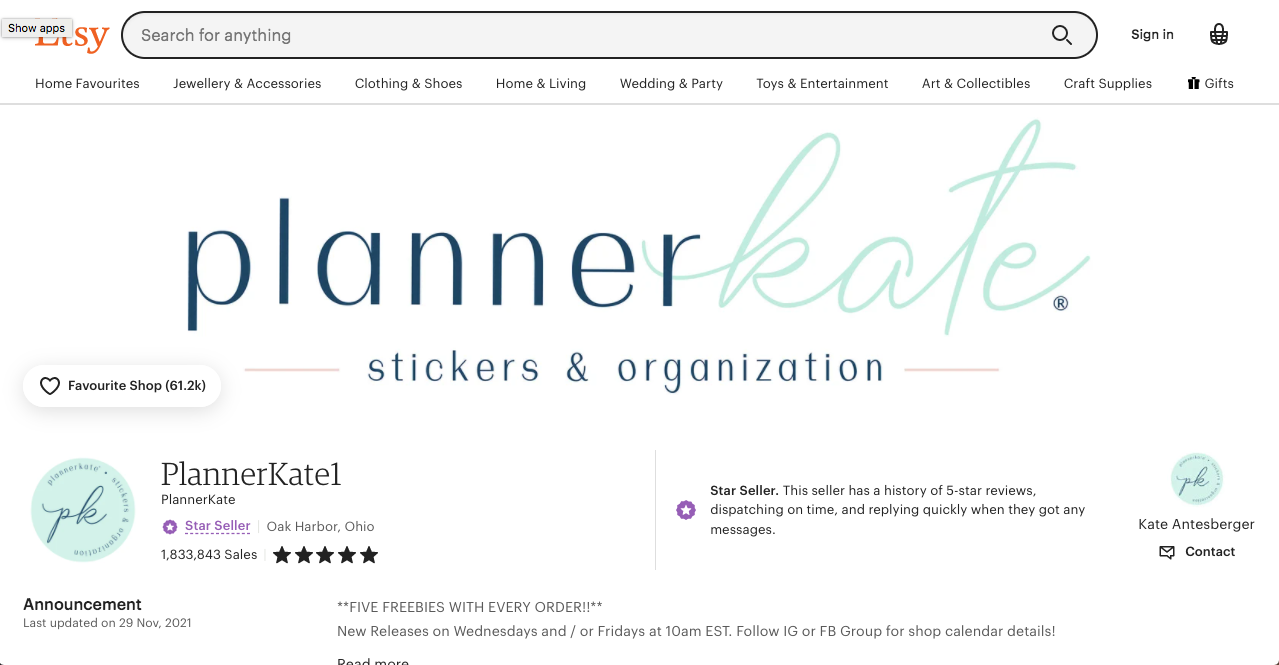 With over 1,833,983 sales since launch, Planner Kate holds the crown for one of the most successful Etsy shops ever. 
As the name suggests, you'll find an assortment of cute and colorful planners for sale here as well as stickers and accessories to help keep you organized. 
Based in Ohio, Kate has cultivated a mass following by using social media to promote her brand. She also keeps her customers happy by providing great customer service and things like freebies in every order. 
Etsy Category: Craft Supplies & Tools
Best Seller: Holiday Sticker Pack
Sales: 1,834,389+
Admirers: 61,236+
2. Bead Boat | Jewelry Supplies
Offering jewelry supplies and tools, Bead Boat is another hugely popular Etsy store. The brand has capitalized on the fact that jewelry is often one of the top-selling categories on Etsy.  To that end, they sell finished jewelry as well as everything you could need or want to make a statement piece on your own. 
This Etsy shop has more than 8000 products available and keeps customers coming back thanks to their honest product descriptions, fast shipping times, and quality products. 
Etsy Category: Craft Supplies & Tools
Best Seller: Tarnish Resistant Gold Wrapping Wire
Sales: 1,443,148+
Admirers: 58,363+
3. ModParty | Party Decorations & Favors
For any upcoming celebration, you can count on ModParty to have everything you need to make the event memorable. The store sells gifts, favors, and decorations and although they specialize in weddings and baby showers, you'll find things for every occasion.
ModParty's success is thanks to attractive product photos and engaging social media pages. You'll find ModParty on TikTok, Pinterest, Instagram, and Facebook. Furthermore, you'll get access to exclusive discounts by following the store's social media.
Etsy Category: Paper & Party Supplies
Best Seller: Satin & Lace Personalized Bride and Bridesmaid Robe
Sales: 1,266,732+
Admirers: 114,486+
4. Caitlyn Minimalist | Jewelry
Above all, Caitlyn Minimalist focuses on delivering products that are high-quality, elegant, and simple. Additionally, most items are personalized for you or your loved one. 
Based in Los Angeles, the owner of this Etsy shop uses gold and silver to handcraft incredible jewelry that she makes to order. With more than 200,000 "admirers," Caitlyn Minimalist is doing something right. 
Etsy Category: Jewelry
Best Seller: Personalized Minimalist Letters Necklace
Sales: 1,544,252+
Admirers: 255,807+
5. I Love Lotus | Healing Crystals
Once the domain of hippies and homeopaths, healing crystals have become wildly popular with the masses in recent years. The boom has meant that I Love Lotus has become one of the most successful Etsy shops thanks to its wide range of crystals. 
Here, you have the option of buying raw crystals or crystals that have been made into jewelry. Reviews say I Love Lotus products are affordable, high-quality, and come exactly as described. 
Etsy Category: Home & Living
Best Seller: Smoky Quartz 1/2″ Tumbled Stone
Sales: 743,711+
Admirers: 79,134+
6. Twist Stationery | Stationery & Greeting Cards
You'll notice that craft supplies and jewelry are among the best-selling products on Etsy. Selling stationery supplies, greeting cards, invitations, and gifts, Twist stationery has had over 280,909 sales. 
Though the shop is based in the UK they sell all over the world. Repeat customers are happy that items are shipped on time and the company is always quick to respond to any issues. 
7. New Moon Beginnings | Healing Crystals & Gifts
This Pennsylvania-based brand sells everything from bath bombs and candles to tea infusers and handmade jewelry. But the stars of the show are the beautiful healing crystals and stones they offer. It's the perfect one-stop-shop for any Reiki enthusiasts.
Furthermore, the store boasts more than 100,000 reviews. To that end, customers are especially impressed with the brand's packaging and helpful information cards included with each item. 
8. K Jewelry Metal | Jewelry Supplies
King Jewelry Supplies has managed to build up a great reputation as an honest Etsy seller. Customers repeatedly praise the brand for delivering a product exactly as it was described on their page and responding to any issues in a timely manner. 
Based out of Turkey, this Etsy shop sells everything you need to make beautiful jewelry at home. Indeed, they have over 14,532 products in their catalog and boast just under a million sales. 
9. HeatherRobertsArt | Digital Designs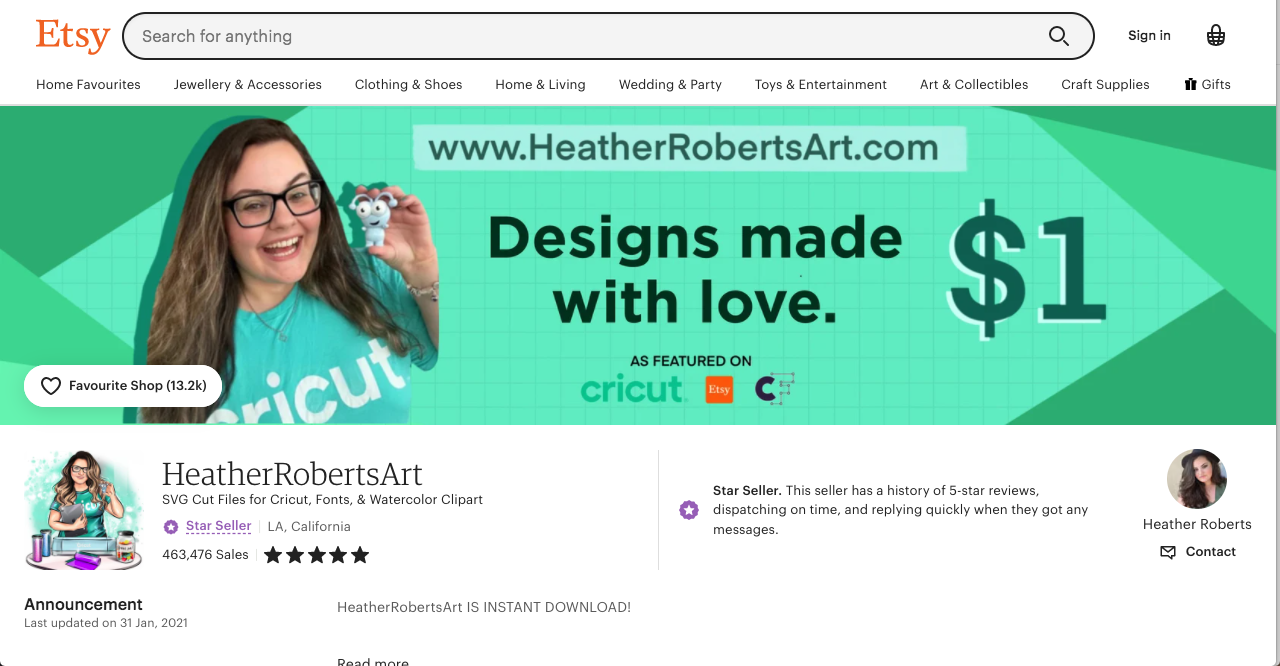 One of the most successful Etsy shops selling digital downloads rather than physical products is HeartherRobertsArt. This Etsy store specializes in providing SVG cut files for Cricut hobbyists, font designs, and watercolor clipart. 
Since HeatherRobertsArt sells digital files, there's no need for buyers to wait for their product to arrive—they can download the file instantly after purchase. Lots of people have praised Heather Roberts for her unique designs as well as quick responses to any messages. 
10. World Incense Store | Crystals & Incense
In order to stand out in a crowd of Etsy shops selling healing crystals and incense, World Incense Store offers free shipping on every order, no matter the price of purchase. Hence, you can find a range of items here from pocket crystals to hand-crafted pendants. There's also something for every budget with some of the cheaper stones available for less than $5.
World Incense Store boasts plenty of happy customers, many of whom pointed out that the seller included surprise freebies in their orders and was helpful and pleasant during their communications. 
11. Happy Kawaii Supplies | Craft Supplies
The perfect Etsy shop for anyone that loves crafting. "Kawaii" means "cute" in Japanese and this shop certainly stays true to its name.
They sell small decorations to adorn your next craft project as well as specialty fragrances to use in candles, soap, or beauty products. These fragrances are all extra sweet with scents like cherry cola and strawberry cupcakes. 
12. Seedville USA | Flower & Vegetable Seeds
As their name suggests, Seedville USA stocks a variety of flower and vegetable seeds for every green thumb. Buyers have been leaving rave reviews about the quality of seeds available as well as fast-shipping times and beautiful packaging. 
13. Your Wedding Place | Personalized Wedding Gifts
Shop owner and designer Kristina Martin stands out on Etsy thanks to her excellent customer service, competitive pricing, and quality products.
She sells a wide range of classic gifts for wedding parties and offers an option to personalize just about any product. You can find everything from wallets, to wine tumblers, to pocket knives available here.
In addition, you can often get your personalized gift last-minute thanks to the store's three-day delivery option on certain items. 
14. LuFF Design Studio | Digital Designs
Based out of Victoria, Canada, you can find LuFF design studio on Etsy, Facebook, Instagram, and Pinterest. Their social media is where they post their designs and all of the creative ways to use them, as well as giveaways and promotional offers for their followers.
Everything at LuFF Design Studio is 100% digital and available for download in your preferred format. You can use these designs to print out for crafts, with your favorite cutting tool, or as iron-on transfers. 
15. Digital Curio | Digital Designs
Online since 2014, Digital Curio designer Kate Rose specializes in commercial-use clip art and graphics. With more than 3,000+ different designs available, buyers can take advantage of bundle purchases which grant them access to multiple downloads for a low price. 
Being so well established in the Etsy community, Digital Curio benefits from repeat buyers that know they can count on good customer service and excellent quality. 
16. My Porch Prints | Digital Designs
This family-run brand specializes in creating printables for junk journals and general crafting. Most of their designs follow a vintage/romantic theme and have all been well received by buyers all over the world. 
To make the most of this side hustle, designer Stephanie relies on her husband to help with customer service and marketing, as well as her daughter to help come up with the beautiful designs.
You can also follow their blog, What's on My Porch, or Facebook page for daily craft inspiration. 
17. HoorayDays | Party Supplies & Gifts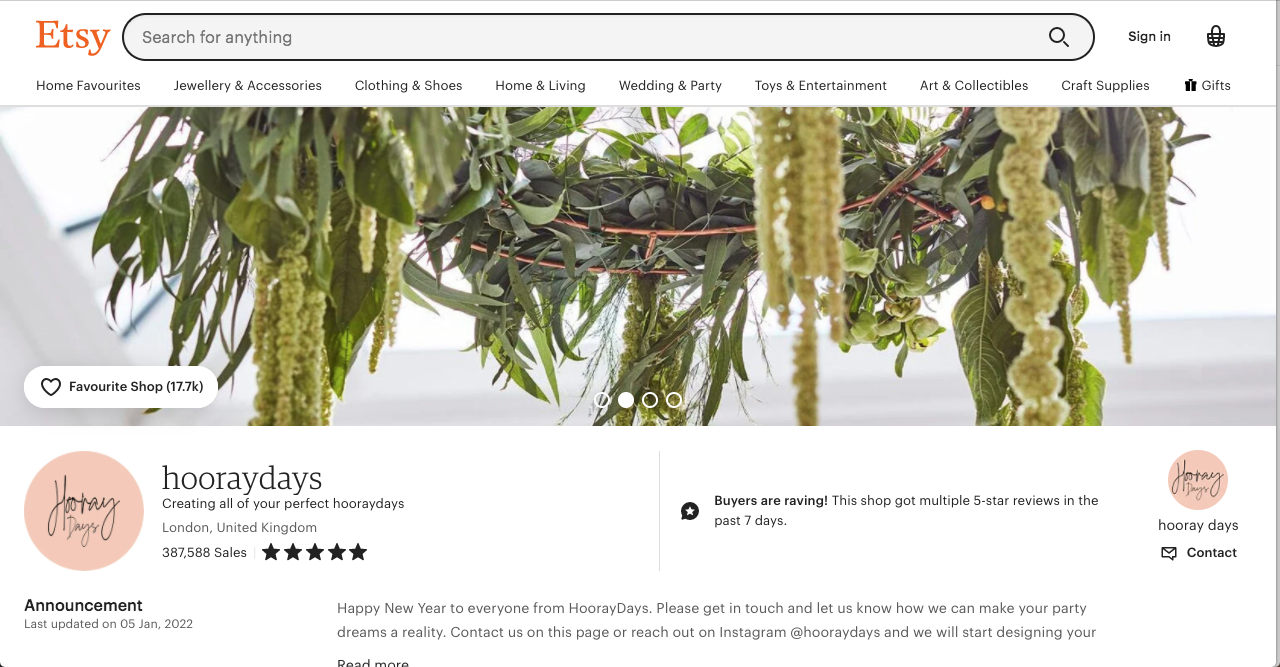 Previously known as That Perfect Party Company, HoorayDays is co-owned by two women with a passion for helping make your special day perfect. They offer a variety of products for every occasion as well as personalization services for certain items. 
They aim to provide high-quality products for every budget and customers are constantly impressed with their purchases.
Additionally, this Etsy shop gets extra points for using recycled packaging and offering products that you can use again and again. 
18. Design My Party Studio | Digital Designs
This party supplies store is a little bit different than what most people might expect. Everything in their shop is completely digital and comes as a downloadable file. The bonus of this is that some of the store's designs are editable which means you can personalize them for your event. 
Design My Party Studio sells designs for invitations, wedding decorations, holidays, pregnancy announcements, and more.
Additionally, they have a special section for kids where you can download fun designs to use with little ones. 
19. Glitter Moonshine SVG | Digital Designs
Run by a self-proclaimed crafty mom, Glitter Moonshine SVG is one of the most successful Etsy shops selling digital designs to use with your Cricut or other cutting machines.
Designs are available as SVG, PNG, EPS, or DXF files which makes them suitable for all your crafting needs. 
Buyers have used the designs to start their own T-shirt businesses and have praised the store for high-quality images and outstanding customer service. 
20. Yakutum | Jewelry Supplies
Offering worldwide shipping, this Turkey-based jewelry supply shop has been on Etsy since 2008. You'll find over 24,000+ products available including premade jewelry and high-end materials like gold and raw brass.
Additionally, items at this shop range in price from $0.16 to $1,949.28 so there's something for every budget. 
21. Domed Bazaar | Jewelry Supplies
Domed Bazaar is the top-selling brand in China and one of the most successful Etsy shops worldwide. They sell a range of jewelry supplies like chains, charms, pendants, and wire.
They also offer a section of reduced items so you can snag a bargain on their discontinued stock. 
At the heart of Domed Bazaar is customer satisfaction. Their goal is to create repeat customers by delivering excellent quality products, exactly as they have been described, at an affordable price. 
22. Silver Post | Silver Jewelry, Crystals & Minerals
Originally just a shop for silver post earrings, this Etsy store has grown to include wood-framed butterflies, smudging supplies, stone carvings, science kits, and crystals of all shapes and sizes. However, their best-selling items are their beautiful handmade jewelry.
This family-run business has been on Etsy since 2015 and made its mark delivering quality products at a great price.  
23. Unmeasured Event | Digital Designs
If you're looking for customizable, easy-to-use templates to create beautiful graphics for a special event, Unmeasured Event is the best Etsy shop to check out.
The brand caters to a variety of budgets and makes the whole process simple for the buyer. Furthermore, you can even try out the design before buying to see if you like it. 
24. Party Touches UK | Party Supplies
From baby shower keepsake puzzles to giraffe-shaped donut holders, Party Touches UK has it all. This party shop prides itself on making your next event unforgettable.
With that in mind, customers are satisfied that the product description is an exact match for their items and any questions they had were responded to in a timely manner.
Additionally, several reviewers were excited to report that their items were shipped right away and arrived quickly and well packaged. 
25. CRC Beads Shop | Jewelry Supplies
Selling wholesale gemstone beads for personal or commercial jewelry projects, CRC Beads Shop carries all shapes, sizes, and colors. 
On average, customers have given CRC Beads Shop five stars across the board and highlighted their helpful and responsive customer service.
Furthermore, buyers stated that the items delivered matched the pictures and arrived within the given time frame. 
26. Blingee Thingee | Craft Supplies
If you thought bedazzling was a thing of the past, Blingee Thingee's tens of thousands of shop admirers would prove you wrong. To that end, the shop specializes in selling rhinestones and flashy gems for craft projects like bedazzling phone cases, shoes, and more. 
The Etsy seller behind the scenes focuses on offering competitive prices and fast shipping options. She's also on hand to help with any questions and offer advice on the best products for your needs.
Super fast delivery is a highlight in the reviews as is the stand-out quality of the items. 
How to Be One of the Most Successful Etsy Shops
Learning how to make money on Etsy is part passion and part research. By looking at the most successful Etsy shops you can get an idea of what items sell well and what qualities Etsy shoppers are looking for from star sellers. 
For instance, you'll notice that some of the best-selling items on the platform include:
Craft Supplies
Jewelry
Digital Design Downloads
Party Supplies
Crystals & Gemstones
The first step to launching your own brand on the platform is deciding some of the different things to sell on Etsy. 
Once your shop is up and running, you want to ensure you are providing a stand-out experience for your buyers to keep them coming back.
For example, the top sellers on Etsy all have certain qualities in common when you read their five-star reviews:
Fast shipping/delivery
Excellent customer service
Affordable pricing
Accurate product descriptions
High-quality images
Social media presence
Etsy SEO and Keywords
Another important part of selling on Etsy is understanding Etsy SEO and keywords. Your product title plays a major role in attracting potential customers.
In order to maximize your revenue, you have to make sure that people who are interested in your products can find your shop.
Tips to focus on for better Etsy SEO:
Use long-tail keywords. The more specific you can make your keyword, the more likely someone searching for your product will find an exact match. Long-tail keywords will include three to five words instead of just one. 
Don't use the same keyword too often. Even if several of your items belong in the same category, mixing up the keyword allows you to reach a wider target market. It's also important because Etsy's search algorithm will only display one or two results from each shop per search. 
Use all 13 tags. When you're creating a product listing, the tag section isn't mandatory. However, the tags will help improve your SEO score and as a result, have a big impact on how well your store does. You can consider using an Etsy tag generator to make sure you've selected the best tags for your items. 
Front-load keywords. Always use your keywords at the beginning of your title, description, or shop sections to maximize the chances of Etsy recognizing your product fits with a potential buyer's search. 
Maximize inbound links. Promoting your page on social media and blogs will create inbound links to your shop page. 
Start Your Own Shop Today!
As far as side hustles go, Etsy is a great platform to get started selling online. It's affordable to get started, customizable, and an established marketplace for shoppers. 
Following the example of the most successful Etsy shops is a great way to kickstart your own brand and become a star seller. 
And if you want to learn more techniques on how to stand out from your competitors, check out an Etsy Masterclass taught by an experienced Etsy seller where you can learn helpful marketing, sales, and social media tips.
Take an Etsy Masterclass
Want to learn step-by-step how I built my Niche Site Empire up to a full-time income?
Yes! I Love to Learn
Learn How I Built My Niche Site Empire to a Full-time Income
How to Pick the Right Keywords at the START, and avoid the losers
How to Scale and Outsource 90% of the Work, Allowing Your Empire to GROW Without You
How to Build a Site That Gets REAL TRAFFIC FROM GOOGLE (every. single. day.)
Subscribe to the Niche Pursuits Newsletter delivered with value 3X per week