How to Start a Sticker Business That Makes Money [In 6 Easy Steps]
When you buy something through one of the links on our site, we may earn an affiliate commission.
If you're looking for a creative side hustle that's easy to get into and doesn't require a huge upfront investment, then selling stickers could be perfect for you. In this article, we're going to be walking you through exactly how to start a sticker business, so that you can hit the ground running and start making a profit as soon as possible.
Selling stickers is a fairly low-cost business to get into. Stickers are cheap to post and offer great profit margins for small businesses. If you can draw, then you can create your own designs to sell.
However, even if you're lacking in artistic talent you can still create stunning stickers that people will want to buy. Keep reading to find out how to start your sticker business, and why it should be the next side hustle on your list to try!
3 Reasons To Start a Sticker Business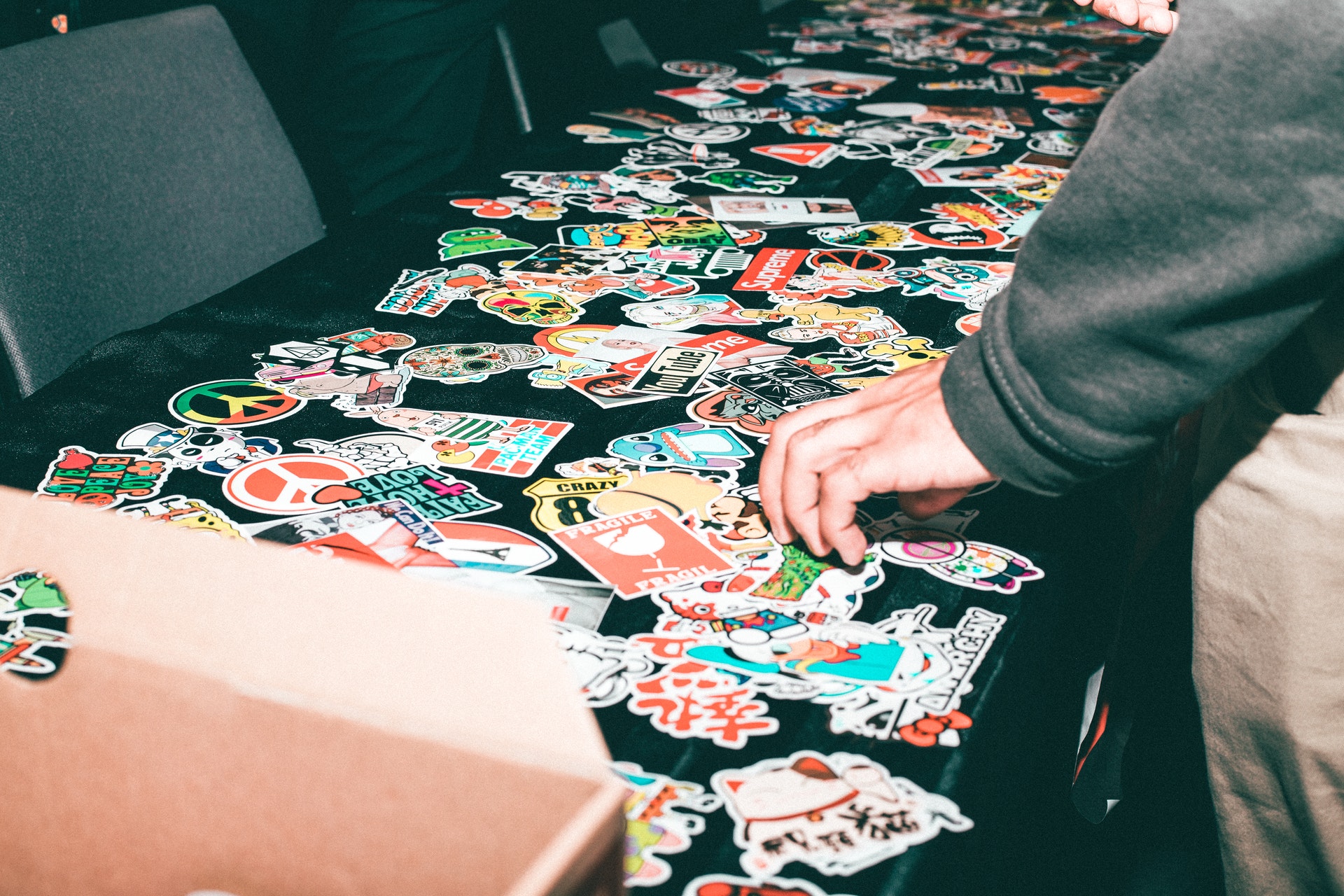 There are tons of benefits to starting your own sticker business. Aside from being fun and creative, here are a few other great reasons to start a sticker business:
It's a really easy business to start with very little initial outlay. You just need to check in on your orders every few days and pack them up to post (unless you choose a dropshipping business model).
There is a niche for almost every topic you could think of. This means you'll be able to create a sticker shop brand around something that you're passionate about!
Creating stickers is a very quick process which means you can launch your sticker shop business as a side hustle. You only need a few hours per week to list new designs, reply to messages, pack, and post orders. You should also allow some time to create social media content to promote your brand.
How Much Does It Cost To Start a Sticker Business?
Starting a sticker business could cost you anywhere from $100 to over $1,000. It really depends on the business model and equipment that you choose.
While starting a sticker business is more affordable than many other types of businesses, there are a few startup costs that you need to bear in mind.
If you don't already have a good quality printer then you will need to invest in one. Streaky stickers with poor coloring will not sell. You may need to get a higher-quality printer that can manage printing onto vinyl stickers.
If you're producing die-cut stickers yourself you'll need a cutting machine. This will enable you to create stickers of all shapes and sizes. Popular brands of cutters include Silhouette or Cricut.
You will also need to buy:
Ink for your printer
Good-quality sticker paper
Postage and packing materials
Many small businesses start off with the bare minimum and buy equipment that is more of an investment as they go.
If you design the stickers yourself and have them printed and sent by a third party like Redbubble or Printful then you will have almost no setup costs. However, your profit margins will be lower than they would be if you were printing the stickers yourself.
How to start a Sticker Business in 6 Easy Steps
There are multiple ways to start a business selling stickers. The method you choose for your sticker shop will depend on your own time commitments and how much you're able to invest.
Like more traditional sticker businesses, if you are happy to take an active role in selling stickers then you can buy the equipment, create the stickers and post them yourself. You'll make more money but it's also more work.
If you're unable to buy the equipment, you also have the option to have your stickers printed in bulk by a printing company.
If you want to generate passive income selling stickers then consider uploading your designs to a print-on-demand service. You'll only get a commission for using your design to create stickers, but you won't have to do anything once your design is on the platform.
Whichever business model you choose, there are some basic steps you will need to follow to create a successful sticker brand.
1 – Pick a Niche
Successful sticker businesses will tell you that choosing a specific niche topic allows you to target your ideal customer and connect with them. If you cast your net too wide with your sticker business, you will risk confusing your potential customers.
If you only focus on one or two topics for your custom sticker business then your customers will know what to expect when they go to your website and will be much more likely to browse and buy multiple items.
When choosing a niche you can go for something broad like "travel" or "fashion", but niching down, even more, will help you to reach your target audience. Instead of travel, focus on one specific type of travel such as:
Backpacking
Camping
Solo travel
Instead of fashion, focus on the type of fashion. If you really want to stick to a broader niche, then try creating collections of custom stickers around the more specific niches within your umbrella topic.
You might also want to consider offering:
Customized stickers
Photo stickers
Offering personalized stickers can set you apart from your competition, giving you a unique product of sticker design to promote to your audience.
2 – Choose a name for your Sticker Business
If you're planning to launch your own sticker business you will need a name for your brand. It could be anything, but the best ideas that encourage brand recognition usually relate to the niche.
If you were selling travel-themed stickers, for example, then try to think of a name that incorporates traveling in some way.
Choosing a name that's relevant to the niche that you want to sell in will help potential customers to know what your business is about before they even click on your website (you can learn more in our guide on how to name your business).
This has the potential to bring in customers that click on your website or social media out of curiosity when they otherwise would have ignored it.
3 – Hire a Designer (Or design them yourself)
When thinking about launching a sticker brand to sell stickers online, one of the first questions you're likely to have is where you'll source the designs for your product idea. There are multiple options and, as we said earlier, you don't need to be an artist to launch a sticker business.
If you're artistic, then you could design your own stickers. However, if not you could use design software like Canva Pro to design your stickers using copyright-free graphics. Just make sure they say you can use them for commercial purposes.
You can even create entirely text-based stickers, using multiple fonts and colors in Canva to create sticker designs.
Start Your Free Canva Pro Trial
If you don't feel comfortable creating your own sticker design ideas then you could hire a freelance graphic designer to create them for you as part of the production process. Graphic designers range in price from a few dollars to hundreds.
You can find affordable designers on:
Fiverr
99designs
Freelancer
Upwork
Often, graphic designers and artists that are new to the industry and looking to build a portfolio will advertise on Fiverr. This makes it one of the most cost-effective and affordable options out there for designing stickers.
Find a Graphic Designer on Fiverr
You can also purchase commercial licenses for graphics on CreativeMarket. Here, you can browse thousands of sticker designs simply by searching your niche.
4 – Create a Website
It's easy to set up your own sticker website and you don't need to hire a designer. The most affordable (and easiest) option is to use WordPress with WooCommerce. You will just need to pay for hosting, which starts at just $2.95/month with Bluehost.
Get a discount on Bluehost hosting here
Running your own WordPress site will give you full control over the design of your website. You will also find it easier to sell if you decide to sell your new business one day.
Shopify is another cost-effective option for building a website you can sell stickers from. It's much more expensive than WordPress at $29/month, but it's wonderfully simple to use.
Having a Shopify store will also allow you to take in-person payments if you ever decide to sell your stickers at craft fairs or other in-person events.
5 – Master SEO
When starting your own website it's tempting to think "build it and they will come". But actually, that's not true at all!
You will need to put the work in to get your new sticker business's name out there.
There are several different ways, including posting on Pinterest and creating social media profiles to promote your stickers. However, one of the best ways to bring a steady flow of customers to your website is simply to master SEO.
If you've done your SEO properly, when Google crawls your website, it'll know what your business is about and will show it to the right people.
SEO is a huge topic in itself so you should put plenty of research into this when you build your website, but there are a few basic techniques that you can start with.
A key part of SEO is targeting the right high-volume, low-competition keywords. You can find these by using SEO tools like Ahrefs, Semrush, or Keysearch.
Keywords you could target include:
(Your Niche) Stickers
(Your Niche) Laptop stickers
Funny stickers
Cute stickers
Planner stickers
Stickers for water bottle
Adding plenty of relevant keywords into your content will help Google understand what your business is about.
Building a good backlink profile is important too. Backlinks from authoritative sites will help search engines judge whether your site is trustworthy.
You can build backlinks by:
Guest posting on other sites in your niche
Broken link building
HARO link building
Internal link building (you can make this easier using LinkWhisper)
There are lots of other ways to build backlinks, but these are some of the most popular for new businesses.
6 – Build a Following on Social Media
Social media has the power to skyrocket a small business, so it's absolutely worth investing the time in some sticker marketing in this way. You only need one post to go viral to be flooded with orders.
The best platforms for a sticker business will most likely be:
TikTok
Instagram
Facebook
Pinterest
You should think about where your target audience is hanging out, and focus on those areas.
For example, if your niche is travel and outdoors, you may want to create a Facebook page and join some of the many travel-related Facebook groups. Here you can start to get the word out about your brand by interacting with group members.
If running multiple social media accounts feels overwhelming, then focus on one or two that you feel comfortable with. Show up consistently and produce great content that your target customers will love, and you will see your following and business grow.
TikTok is also a great tool for business owners. The videos here are less polished, and fast-moving trends make it easy for you to reach your target audience.
You can create TikTok videos showing:
The process you go through to print and package your orders
How you create new designs (if you create them yourself)
Introductions to your brand
Behind the scenes/day in the life of your business videos
Show off your new collections
TikTok has over 1 billion users, so a TikTok video going viral can mean big things for a new business! Want to know how to achieve this? Check out our guide on how to make a viral video on TikTok.
There are lots of ways to make social media work for you. Just try something that you feel confident doing, try your best, and learn as you go.
Selling Your Stickers
Once you have a name for your business, a niche, and some designs ready to go, it's time to think about how you will sell your stickers.
There are many facets to this. You need to think about how you will create your die cut stickers in terms of printing and cutting them. You also need to think about where you're going to sell your stickers, which means what platform (or platforms) you intend to use.
Of course, the options that you choose will vary in how involved they are, how much they cost, and how much of an active role you will need to take. It also might mean that you need to spend more money to start with, but it'll make it affordable in the long run, so there's a lot to consider.
Where to Get Stickers Made
Of course, we need to start with one of the most important things to consider: how you're actually going to get your stickers made. There are several options here, each with varying levels of risk, involvement, and reward.
The first option is to upload your design to a print-on-demand website like Printful or Redbubble. This would mean you're dropshipping your stickers and therefore don't need to carry any stock or equipment yourself. We'll dive deeper into that in a minute.
The next option is to produce the stickers yourself.
To do this you will need:
A high-quality printer
Cutting machine
Vinyl sticker paper
The setup costs are obviously much higher to launch a sticker business this way. You will be responsible for the quality control and shipping of your products. However, this business model has the benefit of offering high-profit margins.
Another method that could work well for you if you don't want to invest in equipment, is to have your stickers printed in bulk from a sticker printing company like Sticker Ninja.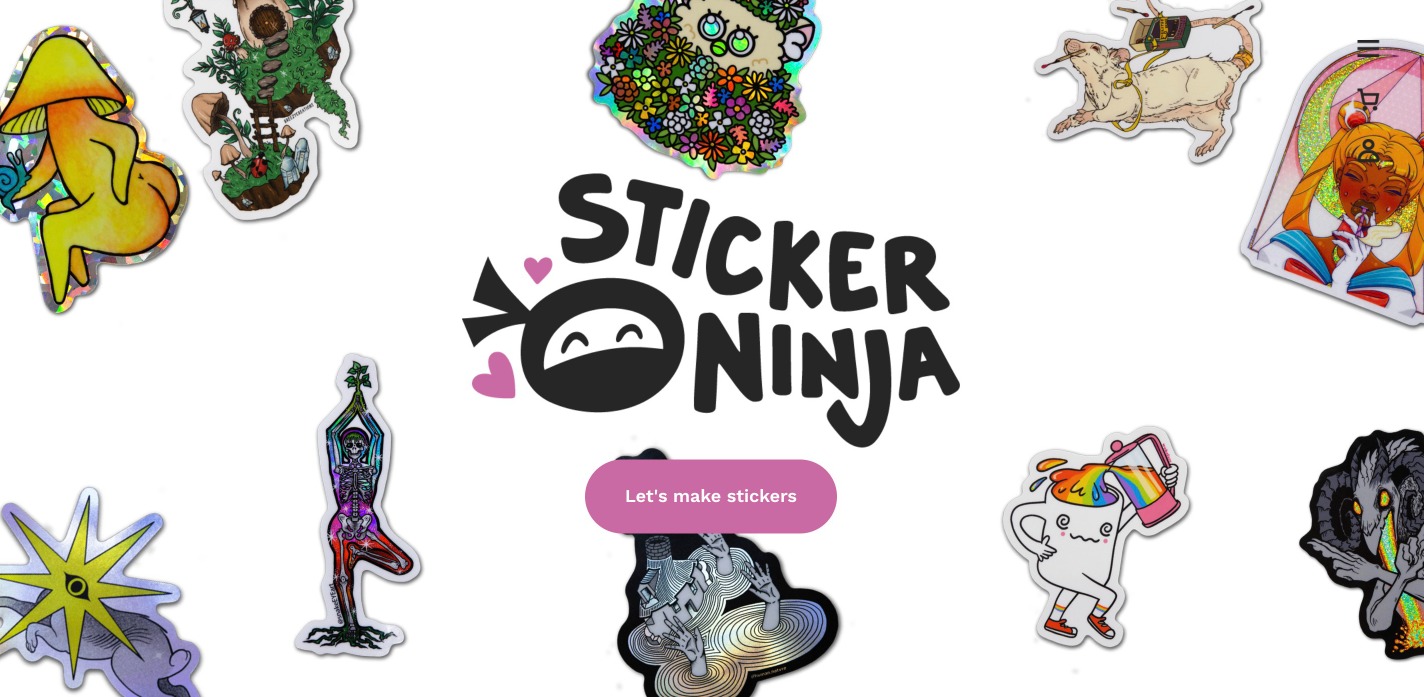 Sticker Ninja offers custom sticker printing including:
Holographic stickers
Vinyl stickers
Vinyl decals
Die-cut stickers
Clear stickers
Product label stickers
And more!
You then store and ship the stickers sold yourself. This method also offers high-profit margins, however, you will need cash to invest in your inventory upfront.
1 – Sell Stickers On Your own Website
Regardless of which method you choose for printing stickers, you will need to think about where they are sold. If you want to be fully hands-on in setting up your sticker company then setting up your own website offers the most control for your small business.
There are two main options when it comes to selling stickers yourself.
Create your own self-hosted website
Use a dedicated eCommerce platform to create your sticker shop, like Shopify or BigCommerce
Shopify is one of the most popular ways to launch an online shop. You can use Shopify to create your website and online store.
All you need to do is take photos of your sticker designs, upload them to the website and add descriptions. When you get a sale, Shopify will send you an alert so that you can get the order ready and ship it to the customer.
Shopify is a great way of creating your own online store to sell your custom stickers but it can get quite expensive depending on the plan that you need. Shopify Basic costs $29 per month, as well as a 2.9% commission and a $0.30 transaction fee. The plans can go up to $300+ per month, depending on your business needs and how much you're selling.
These costs may be too high if you're just starting out with your sticker business.
2 – Sell Stickers on Redbubble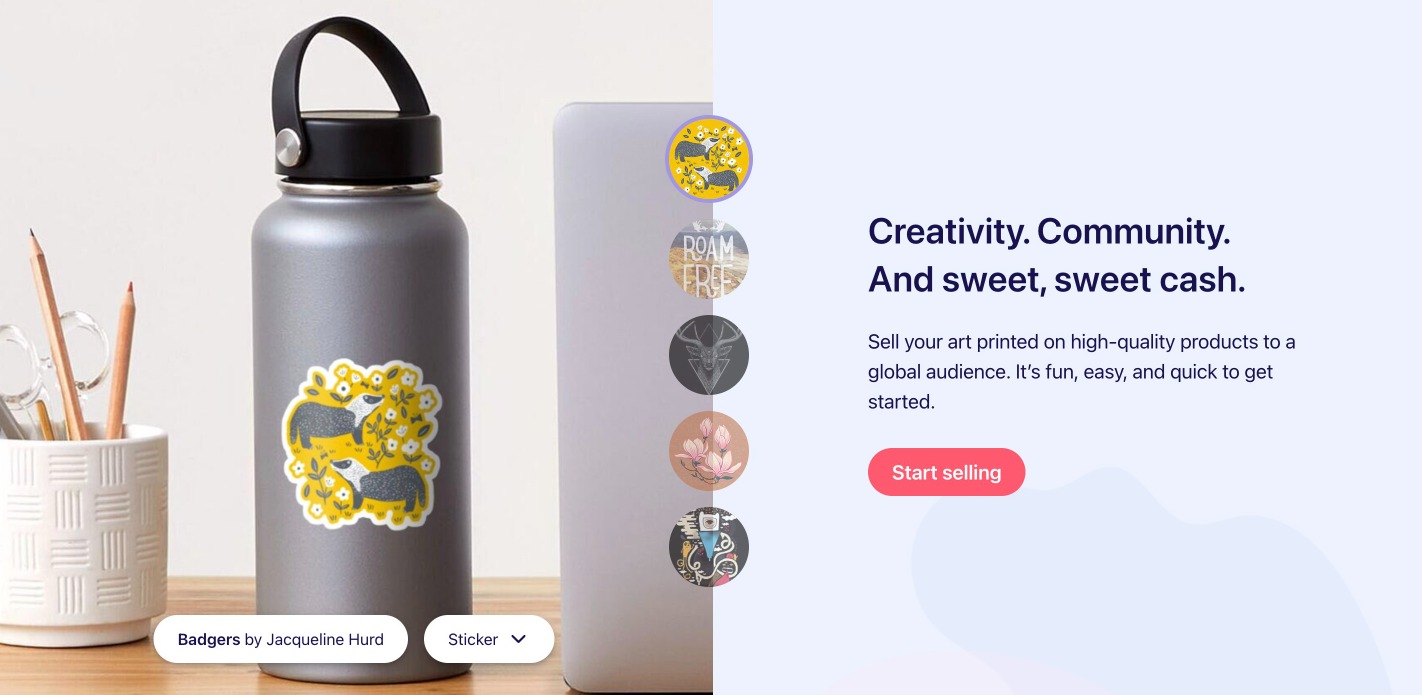 If you want to sell stickers online without any involvement at all then print-on-demand services are the perfect option for your small business.
Redbubble is one of the most popular print-on-demand services for sticker products. When you sell with Redbubble you only need to upload your design to the platform and do some basic SEO to ensure that you'll show up in the search, then your job is done.
When you upload your design you will be told the base price and you can choose your markup. So if the base price (the price that Redbubble sells the stickers for) is $2 and you set your markup at 50% then the customer would pay $3 per sticker and you would get a third of that.

Redbubble doesn't take any fees out of the markup on your sticker products. However, if you set your markup too high then you won't sell any.
If you have paid a designer then you will need to take the amount that you paid them into account when you set your margin.
If you created your own designs then everything you make will be a profit. Do some research into what price stickers in your niche are selling for before you start selling on Redbubble.
3 – Dropship Your Stickers
Dropshipping is another way that you can sell your stickers without needing to invest in lots of equipment. You design and sell the stickers yourself, but when you get an order it's passed onto a print-on-demand company to print and dropship to your customers (or you can learn how to do it yourself by checking out our Low Hanging System review).
It's similar to Redbubble, but what makes it different is that with dropshipping you are selling the product yourself under your own brand rather than on a marketplace.
Printful is one of the most well-known print-on-demand companies. You can connect your online store to Printful, or create custom designs using their app.
After this, you promote your custom stickers as normal on your own website and when a customer places an order it will automatically be ordered and sent to the customer through Printful.
Printful doesn't charge for membership but charges a small fee for production, fulfillment, and shipping. Each product has different production, fulfillment, and shipping costs so you'll need to do your research if you choose this option.
Check Out Printful
Another option is Gooten, which operates in the same way as Printful. There are no membership fees, but they also charge for the production, fulfillment, and shipping of your order.
Again, the cost of this depends on the exact item you choose so you will need to do your research.
If you like the hands-off approach of print-on-demand and want to have your own brand and online presence then dropshipping could be a great option for your small business. Check out our guide on "What Is Dropshipping?" for more information on how to get started.
4 – Sell Your Stickers on an online Marketplace Like Amazon or Etsy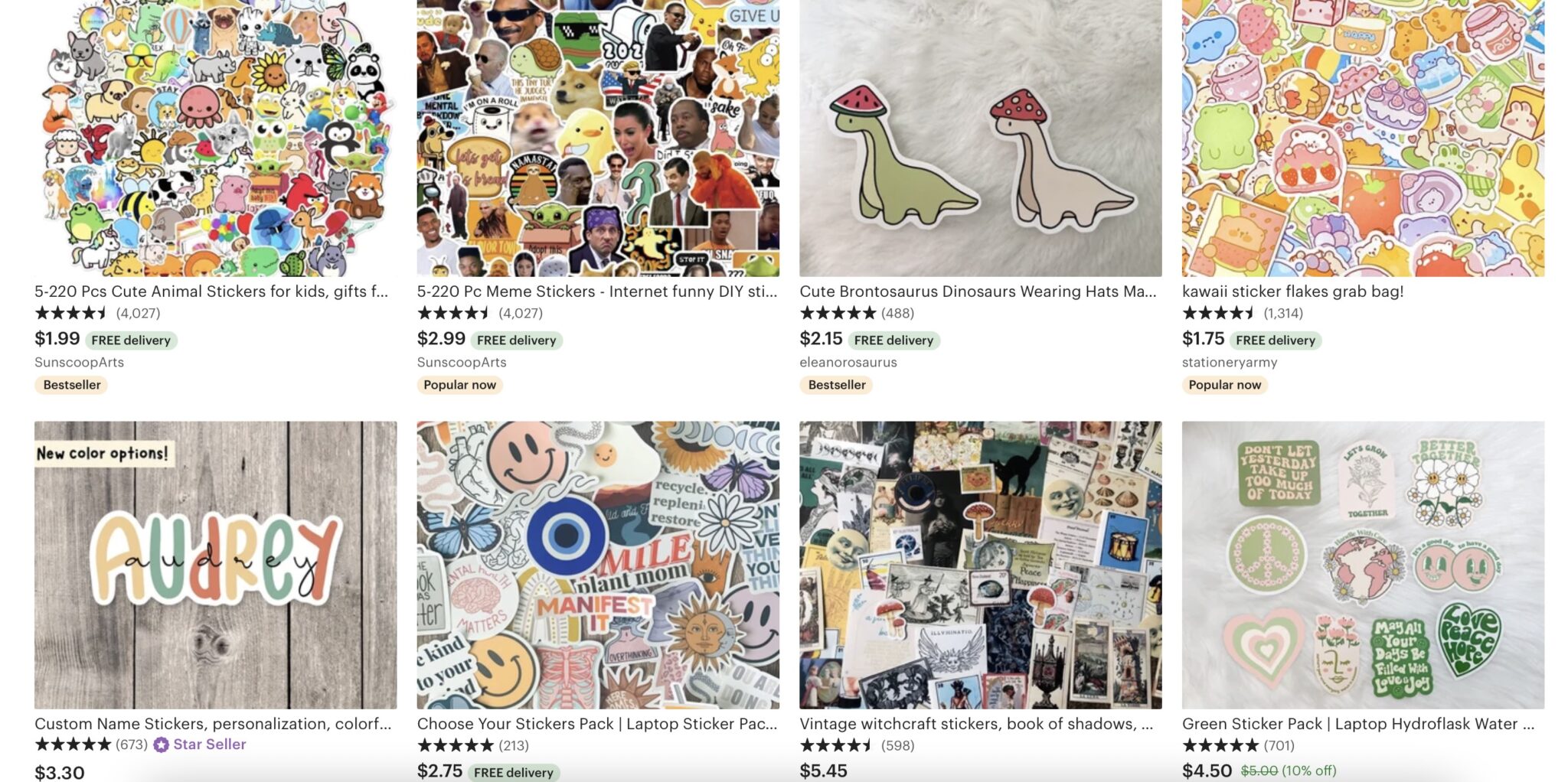 Selling your stickers on a marketplace like Etsy is a great option for anyone starting their business on a shoestring budget. These marketplaces have a ready-made audience of loyal customers, so it's a great place to get your sticker designs in front of more eyeballs!
If you sell stickers on an online marketplace like Amazon or Etsy you can still choose whether you want to manufacture your own stickers or use a print-on-demand service. As a small business owner, you can also do this alongside selling on your own website to help maximize profits.
The Pros and Cons of Starting a Sticker Business
There are a lot of different things to consider when looking into starting a sticker business. There are so many ways of launching your business with each having different benefits and costs.
Before deciding to launch your small business, you should consider the pros and cons.
Pros:
Selling stickers is a fun and creative side hustle
Easy to start
Possibility for passive income using the dropshipping/print-on-demand business model
Set your own hours
No prior experience required
Low startup costs
Cons:
If you don't have any artistic skills then you may have to pay a designer to start selling stickers
Dropshipping or print-on-demand can result in high fees for sticker businesses
It can take some time to see success with your sticker ideas
How to Start a Sticker Business: Final Thoughts
Now that you know exactly how to start a vinyl sticker business, it's time to get started with your own sticker shop!
A sticker business can make the perfect side hustle, and it has the potential to grow into something bigger too!
As we discussed, there are plenty of ways to start your sticker business on a budget.
If you want to make money selling stickers but have no money to invest upfront, then your best option is to sell stickers via printing companies such as Redbubble.
You can also take advantage of print-on-demand sites like Printful and sell your stickers on Etsy (see our comparison of Printify vs Printful). This way you can have your sticker business up and running for almost no money!
If you've got a bit more money to invest, then building your own website using WordPress and WooCommerce is the best option for your small business. You can still decide whether to print stickers yourself or use a dropshipping company, but having your own website will strengthen your brand. This is essential if you want to scale and sell your business one day!
Want to learn step-by-step how I built my Niche Site Empire up to a full-time income?
Yes! I Love to Learn
Learn How I Built My Niche Site Empire to a Full-time Income
How to Pick the Right Keywords at the START, and avoid the losers
How to Scale and Outsource 90% of the Work, Allowing Your Empire to GROW Without You
How to Build a Site That Gets REAL TRAFFIC FROM GOOGLE (every. single. day.)
Subscribe to the Niche Pursuits Newsletter delivered with value 3X per week