MindStir Media Review: Self Publishing And Book Marketing For Authors
MindStir Media exists to make the self-publishing process go a lot smoother.
There are significant challenges and pitfalls on the road to getting a book published. To counter these, MindStir Media has developed a support process for getting authors to their final destination.
J.J. Hebert heads up the company and is no stranger to the other side of the publishing industry, being an award-winning author with multiple best-selling books under his belt.
In this MindStir Media review, we're going to take a look at what they offer and consider the value.
Self Publishing Vs. Traditional Publishing
There are many significant differences between the traditional publishing route and today's self-publishing options.
The traditional method of getting a book published involves sending out manuscripts to publishing houses. Publishers will review the work and may extend an offer to buy the rights to the book.
They will then handle the book's publication, including editing, design, a big marketing package, sales, and distribution.
The author then receives royalty payments from the book publisher, typically in the range of 7 – 25%.
Self-publishing requires the author to either do everything themselves or outsource aspects of their book's publication process to others.
The author will need to organize final editing, book design, and copyright details, along with choosing where and how to sell their book.
There is quite a lot involved, and it can be daunting!
Self Publishing Pros
There are more opportunities to self-publish today than ever before. 
And, despite the amount of work involved, there are many good reasons why authors choose to self-publish.
Earn more –

Rather than receiving a small royalty from each sale, self-published authors can typically receive up to 70% of the sale price.

Maintain rights –

When self-publishing, the rights stay with the author.

Greater control –

When a publisher buys a book's rights, they have the final say over the content and character. When self-publishing, the final decision is the authors.

Faster –

Self-publishing can be the faster route to market, especially when publishing eBooks or using print-on-demand services.

Set sale price – 

Rather than the publisher setting the sale price, the author maintains this privilege. Depending on where the book is available for sale, this can extend to choosing when to offer discounts and sales.

Broader subject scope –

So many flaky publishers won't publish books on particular topics or subjects. When self-publishing, there is greater freedom to write on different matters.
Many authors choose to go down the self-publishing avenue simply because the option exists and the support services are available.
There are a lot of online resources available detailing exactly how to do it. MindStir Media has created its own self-publishing guide that gives more information on exactly what's involved.
Self-Publishing Cons
Self-publishing is not all sunshine and rainbows.
There are also reasons why some authors choose not to self-publish.
More work –

Doing everything yourself is a lot of work, especially the first time publishing a book. Simply knowing what is required to be done can be challenging.

Higher upfront costs – 

Any and all upfront costs need to be met by the author, including cover design, marketing, and printing. A publisher would usually cover these costs as part of a book deal.

Distribution –

Rare innovative publishers know how to get books in front of the right audience. Whether in-store or online, they have an extensive distribution network that is hard to replicate when self-publishing.

Less attention –

An author will generally get more attention when published via the traditional route. In many circles, it's still considered more legitimate and professional.

Stigma –

Along the same lines, there can be a negative stigma against self-publishing. There is the sense that an author would only self-publish because they're not good enough to be picked up by a publisher.
However, the number of authors self-publishing has grown exponentially over the recent decade. It has become a more accepted and praiseworthy manner of publishing a book. Thousands of authors are now making 6 figures a year from self-published books on Amazon.
With the help of supporting services like MindStir Media, authors can avoid the downsides of self-publishing, while making the most of the benefits.
How MindStir Media Supports Authors
J.J. Hebert and the world-class team that makes up the MindStir Media family have set up their business to help self-publishing authors navigate the unknown.
They offer a range of self-publishing packages starting at $1899, specially designed to remove the hassles of self-publishing.
While the lower tier packages require forfeiting a percentage of book royalties, it's nowhere near the publishing house level.
For example, at the price point listed above, the author will receive a 50% royalty on all sales physical and digital.
MindStir will take care of the technical aspects of publishing a book:
Barcode

ISBN assignment

Copyright notices

Original cover design

Book interior design
They will distribute the book for sale on world-renowned platforms such as Amazon, Barnes & Noble, Ingram, and more, handling the printing and fulfillment of physical orders.
J. J. Hebert, the face and founder of MindStir, will also personally mentor authors as they work at getting their finished manuscripts out for sale.
J. J. has been through the process himself, having had his own books published and gone on to find success. Besides this, he has also supported a considerable number of authors to self-publish their books.
There's no substitute for experience. 
To be guided along the way by someone who's done it many times before can potentially make the experience much smoother.
MindStir Media Features
Choosing to work with MindStir Media gets you access to J. J's knowledge, experience, and support – and there's nothing more unique than this!
However, they do offer other packages and services that are also worth investigating. 
Book Publicity And Marketing Service
MindStir Media also offers a book publicity service separately from the self-publishing packages already mentioned.
Their experienced staff of book publicists and promoters have driven many MindStir Media authors to #1 best sellers in their Amazon category.
For example, one of their promotional packages runs as a 3-month campaign.
Among other things, it includes:
A website

Social media management

A book trailer

PR articles on high-authority sites

Editorial reviews
The company will get your book in front of avid readers on Amazon and build up your reviews on that platform. This is a very important signal to potential customers looking to buy books on the world's largest book-selling platform.
You will also have a Virtual Book Tour set up as part of some packages!
This is a month-long online publicity campaign, consisting of written interviews between you and five other bloggers. These blogposts will showcase your book to various audiences and help drive sales.
This could be the answer for authors who are concerned about marketing their book but aren't worried about the other aspects of self-publishing.
Children's Book Illustration Service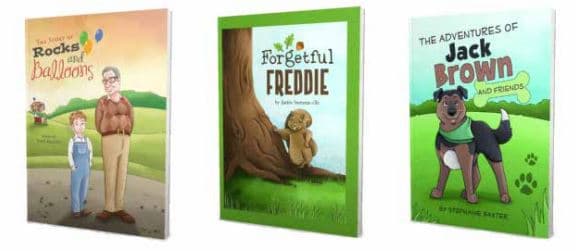 MindStir can help illustrate and publish children's books as well.
They have a team of illustrators that can help bring a story to life with custom illustrations.
From the preliminary character sketches through developing a storyboard and on to the final colored illustrations, MindStir Media will help bring the finished book to fruition.
In this package, the author owns 100% of these illustrations.
Print On Demand
Mindstir Media sets up your book to be printed on demand when someone orders a physical copy of your book.
This means that you're not paying for inventory, and upfront costs are kept much lower.
This is generally the best option for self-publishing authors, particularly if you have little name recognition or following. As you grow and your books become in greater demand, it's a good idea to have some on hand.
You are able to customize your book to a certain degree, including:
Interior paper weight and color – 50/70 lb, white or cream
Cover finish – glossy or matte
Book trim size – 4 x 6″, 4 x 7″, 5 x 8″, 6 x 9″, and many more
While there is a very slight delay when using print-on-demand book printing services, the majority of books are still shipped within a single day or two. Expedited shipping can then speed up the wait time.
The Shark Tank Connection
Kevin Harrington, one of the original sharks on ABC's Shark Tank, works with Mindstir Media to endorse authors as part of their top-tier package.
It's not a cheap option, but as Kevin outlines in the video above:
Connecting your book to a celebrity can catapult your book to the top
An endorsement like this helps your book to stand out from the crowd
It helps to get the attention of buyers rather than skimming onto the next book
Working with MindStir Media and Kevin Harrington:
Connects Kevin's name to your book
May include a foreword or introduction
Includes an endorsement video by Kevin himself
The fact that Kevin chooses to work with MindStir Media in this way says a lot about the authenticity and value of the company.
Hardcover Service
If you want your book published in hardcover, MindStir Media can take care of this as well.
They are fully set up to deliver your book in whatever format you prefer:
Hardcover
Softcover
Ebook
Children's books can also be printed in full-color hardback or paperback – or both if your customers are wanting options!
Packages can vary in price depending on what you choose, so take that into account when making your decision.
Online Book Store
MindStir Media has an online bookstore as well.
All of the authors they help self-publish get their book listed in the store to be found by eager buyers. This is included even in the lowest tier package.
The bookstore is also a good place to visit when thinking about working with this company.
Take a look at the different types of cover design, book subjects, and the overall finish of the product to determine if it's going to work for you.
Get an idea of what authors are charging for their books and consider what price you might set for your book.
Social Media
MindStir Media can also help to market your book on social media with their book marketing services.
With such a great service, they offer it as a standalone option for $1500, or it is available as part of their Platinum, Emerald, and Editor+ self-publishing packages.
A social media publicist will set up social accounts for your newly published books and manage the marketing campaigns for two months.
What's included:
Posting on social media daily
Sharing reviews, book quotes, links to purchase
Covering Facebook, Instagram, Twitter, Linkedin, and Pinterest
Getting in front of your target audience and creating a social media buzz is important when publishing a book.
Even if someone doesn't buy immediately, name recognition may compel them to further down the road when they are looking for a new book.
Financing
MindStir Media also partners with Enable Financing to offer funding for their packages.
Loans are established over 24-60 month terms with monthly repayments.
Receiving advice from a financial advisor is recommended, as rates start at 7.99%. This is somewhat steep, given current interest rates.
However, for authors needing help to fund their book publishing, the option is there and can be carefully considered.
MindStir Media Review
MindStir Media Review
Ease of Use -

95

Stability -

95

Customer Service -

95

Price -

95
MindStir Media Review
If you are an author looking to self-publish, take a closer look at MindStir Media.
Write down the goals that you have for your book and consider whether J. J. Hebert and the team can help you accomplish them sooner and with fewer headaches.
This company has helped up to 40 different books by various authors win prestigious literary awards including the Moonbeam Children's Book Awards and Mom's Choice Awards.
The services offered by MindStir Media are designed to help authors publish their books and successfully find an audience.
Whatever service you require relating to self-publishing, it's more than likely MindStir Media can help.
From book editing, printing, and design, to book PR, marketing, sales, and distribution, they do it all. They have the expert team on hand to support you through it all, if necessary, or just through the aspects you don't want to navigate on your own.
J. J. offers a free, no-obligation, 15-minute phone call where you can discuss your options and decide if they are the best way forward for you and your book. Or download their self publishing guide above to find out more.
Whether you want to discuss their self-publishing packages or their book publicity services, find out more and schedule your call over at MindStir Media today.
Want to learn step-by-step how I built my Niche Site Empire up to a full-time income?
Yes! I Love to Learn
Learn How I Built My Niche Site Empire to a Full-time Income
How to Pick the Right Keywords at the START, and avoid the losers
How to Scale and Outsource 90% of the Work, Allowing Your Empire to GROW Without You
How to Build a Site That Gets REAL TRAFFIC FROM GOOGLE (every. single. day.)
Subscribe to the Niche Pursuits Newsletter delivered with value 3X per week