Salesbacker Review: Automate Your Amazon FBA Feedback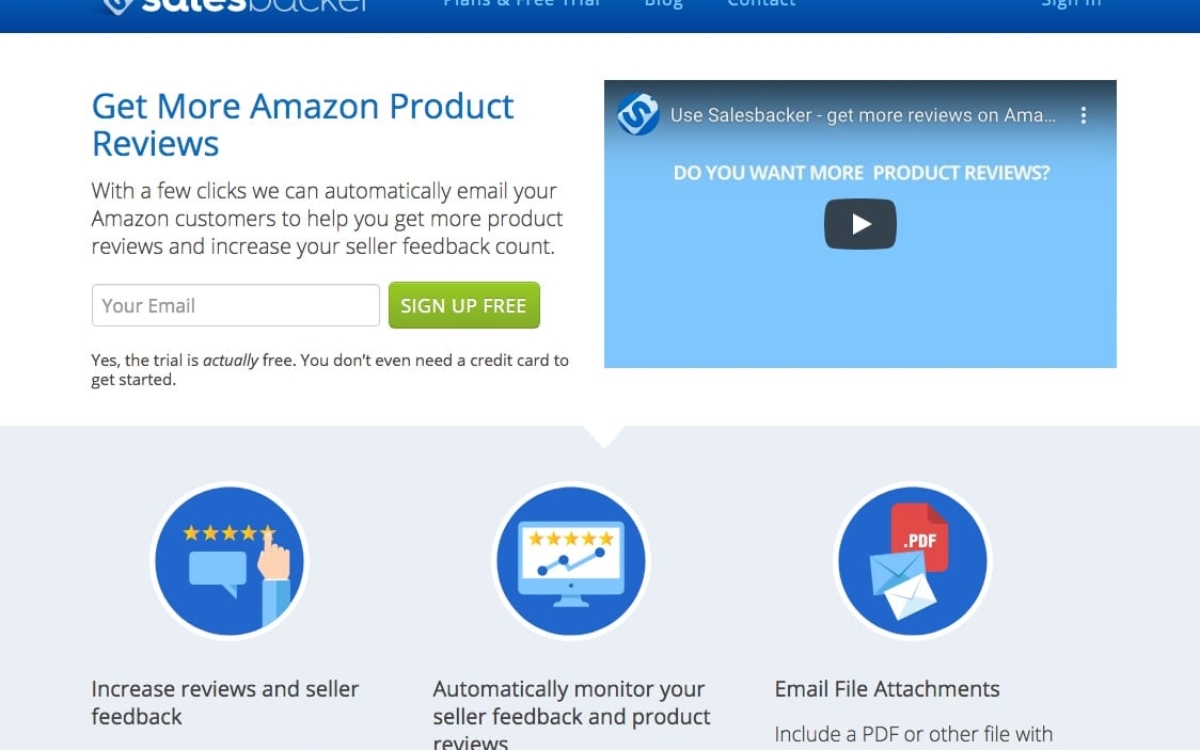 When you buy something through one of the links on our site, we may earn an affiliate commission.
We talk a lot about affiliate marketing here on Niche Pursuits, but Amazon FBA is another huge business opportunity in its own right!
As a quick refresher, Fulfillment by Amazon (FBA) is a program through the e-commerce giant Amazon.com that helps you sell your own physical products. You create the listings for each of your products, but Amazon fulfills the orders for you (hence the name!).
There's a steeper learning curve to selling physical products compared to digital products, because you still have to handle sourcing, finding a manufacturer (or manufacturing the products yourself), creating a listing, and of course, making sales! But at least when you're an FBA seller, you have a ready audience of millions right there on the site, and you don't have to handle payment processing, shipping, and other logistical headaches.
When it comes to selling products on Amazon, you can either create your own product or you can "private label" existing products under your own brand. The private label approach is similar to affiliate marketing, in that you aren't reinventing the wheel – you're just using your marketing and branding expertise to sell existing products and make a profit.
With all that said, I want to share a key tool in your quest to succeed as an Amazon FBA seller: Salesbacker.
Salesbacker is an Amazon email automation tool for Amazon sellers, which is a fancy way of saying that it uses automated messages to encourage buyer reviews and feedback ratings from Amazon customers on your Amazon product listings.
Interested in learning more? In this Salesbacker review, I go into detail about how Salesbacker works and how it can give your Amazon FBA business a huge boost!
Get a 60-day trial of Salesbacker right now!
Check out Salesbacker FREE for 60 days!
Sales Backer Review
Ease of Use -

98

Stability -

95

Customer Service -

95

Price -

90
Summary
If you have your own Amazon FBA business, a feedback service can make a huge difference in getting more reviews and ratings on your product listings. Salesbacker is an option that helps you automate the process of sending messages to your customers. It's a simple and streamlined way to provide a better customer experience – and hopefully win you more positive reviews on Amazon! Try Salesbacker free for 60 days!
Pros
Great email automation tool for Amazon FBA customers to encourage more product reviews and feedback
Accessible tool you can start using right away
Free to use for up to 120 emails per month
Comes with nice-to-have features like pre-built templates and merge tags
Once you set it up, Salesbacker keeps working for you without any intervention or ongoing attention needed
Cons
Limited trigger options
Gets pretty pricey as you jump to higher plans
Lacks some of the tracking features of tools like Feedback Genius
---
What is Salesbacker?
Salesbacker is a freemium email automation tool for Amazon sellers started in 2015 by entrepreneurs Chris Guthrie and Norbert Hendrikse, two entrepreneurs with a background in e-commerce. Both saw the need for a tool that could help business owners automate the process of getting more product reviews and seller feedback ratings on Amazon.
Ever since, Salesbacker has been the go-to solution.
Along with a product research tool like Jungle Scout to help you find profitable Amazon products, Salesbacker is the perfect tool to increase your FBA profits, because it helps you scale your outreach to Amazon customers through automation.
Generally speaking, if you don't implement any of your own communications with Amazon customers, you can expect a rate of 1 to 3 percent of your sales resulting in buyer feedback. This isn't all that much, especially when you're first starting out and your listing is a ghost town.
Fortunately, with Salesbacker's pre-built email campaigns, you can increase the amount of feedback and engagement your listings get from Amazon customers – and you can also set up email alerts whenever you get a negative review, allowing you to address any concerns in real time.
Why Do I Need Salesbacker?
If you're an experienced Amazon seller, you might be wondering why you need to send emails to your buyers at all – we know Amazon already does this for users.
You've no doubt gotten these automated "rate your experience" emails from Amazon Marketplace – I know I have!
So, why should Amazon sellers send their own messages to their customers?
Well, first of all, Amazon's cookie-cutter email isn't customized to your buyers AT ALL. Even with pre-built automated emails, you can provide a more tailored and personal experience with your own messages than Amazon would.
Second, most of us have been shopping on Amazon for years, and it's SUPER easy to tune out these official Amazon feedback emails. I hate to be the bad guy here, but I legit ignored that Amazon email above asking me to rate my transaction… To most shoppers these days, it's basically like spam, and we don't think about it!
Third, sending out your own message(s) provides additional touchpoints with your Amazon customers. We all know that response rates can be stronger with the second email in a series rather than the first one. For whatever reason, it can take a while to move people to action, and a single email often isn't enough. I've seen this firsthand in email campaigns I've run.
Our Experience With Salesbacker
Spencer has used Salesbacker for years with his Amazon FBA business, which is why we're so excited to share it with you!
Spencer's favorite thing about Salesbacker is how simple the tool makes every step of the process for Amazon sellers to get reviews and seller feedback. Aside from overall ease of use, Salesbacker comes with built-in email templates that allow you to get a campaign going right away.
Then, once you have it all set up properly, Salesbacker is incredibly reliable – it can pretty much run on autopilot without you needing to go back and change anything. There aren't many tools that you can just set and forget, but this is totally doable with Salesbacker.
With all that said, let's dive into Salesbacker and how it can enhance your FBA customer experience.
Can Salesbacker Help My Customer Experience?
There are two different ways to think about customer experience: how your customers see it and how Amazon sees it.
Technically, for Amazon's purposes, any sale that goes through will reflect well on your account, even if the buyer doesn't leave a glowing positive review – or any review at all!
In other words, positive buyer reviews don't directly factor into the Order Defect Rate (ODR) that Amazon uses to measure your customer experience. Instead, Amazon uses three factors over a rolling 60-day time period to determine your ODR:
Negative feedback rate
A-to-z guarantee claim rate
Credit card chargeback rate
These give Amazon a great snapshot of customer satisfaction. Too many one-star ratings, claims, and chargebacks will signal to Amazon that your account isn't providing a good experience for Amazon customers. But most of these factors are "behind the scenes," whereas positive reviews are front-and-center as social proof for future buyers.
Honestly, I think the biggest benefit of using Salesbacker is that it creates a halo effect with more reviews, where most of your buyers see that other buyers had a good experience and are more inclined to make a purchase themselves. As long as you can continue to provide a quality product and customer service, this is a HUGE benefit to your business.
Those reviews are also a factor in Amazon's search algorithm, which means more good feedback can help your product show up higher in the search results for your product type. From there, it's a positive feedback loop of good reviews leading to more people seeing your product, buying it, and leaving their own good reviews!
The bottom line? There's clearly a lot of value in soliciting more (hopefully positive) feedback with a tool like Salesbacker, but it's not directly applicable to how Amazon calculates your customer experience or determine your account's standing.
Is Salesbacker Safe to Use?
All of us are looking for an edge in our online businesses, but the last thing we want is to violate Amazon's policies. Just like a Google search penalty or a blacklisted AdSense account, it can be a catastrophe for your business to get on the wrong side of Amazon!
That's why I want to be upfront about this: it is possible to violate Amazon's seller code of conduct with a tool like Salesbacker if you aren't careful – you could even get your account disabled.
How?
Well, it explicitly states on Amazon's terms that you can't solicit positive feedback or reviews from your buyers, and you also can't try to "bribe" them by offering them something of value in exchange for a good review.
You can request reviews and seller feedback in a neutral way, but that's the extent of what you're allowed to do. Here's what it says, right from Amazon:

Improving Customer Experience
So, does that mean Salesbacker is a bad idea?
Not at all!
You just need to understand what Salesbacker is actually FOR and how to use it properly.
The whole point of Salesbacker is to provide a good customer experience, by letting them know you care and want to make sure everything has gone well with their purchase. There's nothing wrong with subtly reminding customers that you'd appreciate a review if they were happy with the product and the transaction, but you aren't permitted to send out messages specifically asking for a positive review from your customers.
Here's another benefit of Salesbacker: If you receive ANY negative feedback below a certain threshold that you specify (such as 3 stars), Salesbacker will alert you, giving you another chance to provide a good customer experience. Remember, you can't influence a buyer to change their review or seller feedback, but you CAN provide them with quality customer service as soon as you're aware of their negative review or rating, either with a public comment replying to their review or with a private message.
Many customers will update their reviews and ratings to reflect the seller's positive response to their issue or concern. In the end, all you can do is try to make every customer happy – but through enhanced communication with your customers, Salesbacker makes it much easier to offer the best customer experience!
How to Use Salesbacker
Want to learn how Salesbacker works in practice? Let's do it!
First of all, you can sign up for Salesbacker totally free – get your free 60-day trial right here!
Check out Salesbacker FREE for 60 days!
Then, once you've signed up, you can enter your information to connect Salesbacker to your Amazon seller account. By doing this, the tool can monitor your Amazon product listings and message your customers for seller feedback.
After this has been set up, you now have a few options: you can use one of the pre-built campaigns that come with Salesbacker, or you can create a brand-new one on your own.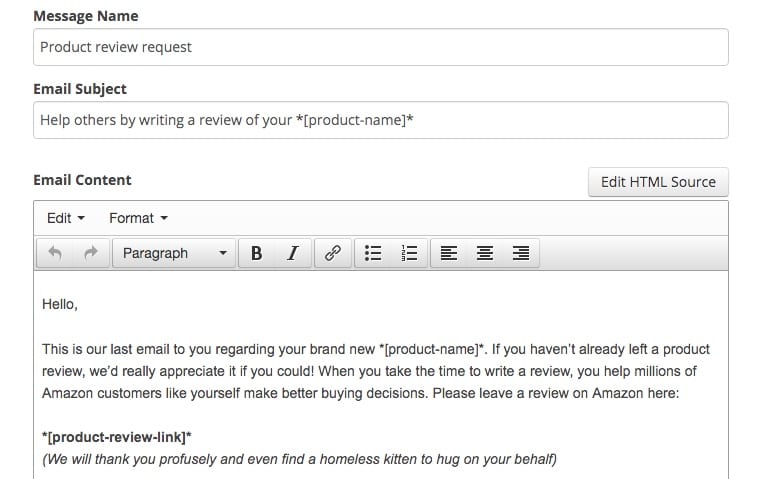 If you've ever used an email automation tool like MailChimp before, you'll be right at home with Salesbacker. The tool allows you to create a series of messages, even personalizing each one with merge tags for things like customer name or product name.
It also lets you define the triggers for each email to get sent out. The three possible triggers are when an order has been:
Confirmed
Shipped
Delivered
With each one, you can specify how much time after the trigger has occurred (either immediately or by "number of days") before the email is sent.
Just as important as the triggers, Salesbacker also allows you to omit certain customers from receiving email alerts about seller feedback. You can have it skip sending emails to someone who has purchased your product with a coupon or discount, and you can also choose not to send email alerts to someone who has left seller feedback of 3 stars or less.
There are many ways to structure your campaigns. One approach is to send a message right after a customer orders as a confirmation email, and then another message after the product has been delivered. Be careful about sending too many follow-up email alerts – you want to come across as helpful, not spammy!
As far as your customization options, that's basically the extent of what you have to work with. Ultimately, Salesbacker is a simple tool that solves a simple problem. The features you get with Salesbacker should be more than enough to get the job done!
Salesbacker Features
So, what does Salesbacker actually offer?
In all paid plans, Salesbacker includes these features:
BSR (best seller rank) tracking
Message automation to encourage feedback and reviews
Detailed analytics for your emails
Canned email responses and templates
File attachments up to 7 MB in size, so you can send your buyers bonus goodies
These features come with every paid plan. However, there are a few notable features missing that you should know about.
Salesbacker doesn't really have email analytics options, so you won't be able to track open rates, clickthrough rates, or A/B test your emails.
It's also not possible to specify when delivery takes place, beyond the timing you set from your triggers. And its focus is on the US marketplace, so if you're selling internationally, you'd need to handle that another way.
If any of these features are important to you, I'll go over some alternatives that might be a better fit later in this Salesbacker review.
Salesbacker Pricing
When it comes to price, Salesbacker has a really attractive pricing model.
For one thing, if you sign up with this link, you'll get a 60-day free trial that lets you send up to 10,000 email alerts – and it also comes with a special bonus specifically for Niche Pursuits readers!
After your 60 days are up, you can continue to send up to 120 email alerts per month for FREE with Salesbacker's free plan! If you're still a small operation that's finding its groove, this is probably the best free plan of any Amazon feedback tool.
Of course, once you have a thriving Amazon FBA business, you'll want to send a lot more emails and take advantage of all the premium features Salesbacker has to offer.
Salesbacker Monthly Plans
All of the premium features are included with the paid plans – the only other difference between each of the paid plans is how many emails you're allotted per month, ranging from 1,600 up to 40,000.
The pricing for these Salesbacker plans ranges from free to $19/mo for 1,600 emails, $39/mo for 4,000 emails, $79/mo for 16,000 emails, and $159/mo for 40,000 emails.
Remember that you're able to change how many email alerts get sent based on the criteria and triggers you choose, so you should be able to find an optimal number that makes sense for your business.
Check out Salesbacker FREE for 60 days!
Salesbacker Alternatives
As popular as Salesbacker is, it's not the only Amazon email game in town!
I wanted to touch on a few competitors you're likely to come across in the Amazon feedback space, so that you get a sense of how they compare. The top choices are Feedback Genius, Feedback Five, Kibly, and AMZFinder Pro.
Feedback Genius
Like Salesbacker, Feedback Genius is one of the other big dogs in Amazon email automation.
Feature-wise, Feedback Genius is a little more robust than Salesbacker. It includes an A/B test function for your emails, which is nice, and it has some more in-depth triggers because it can tap into tracking information from the major parcel services, including FedEx, USPS, and UPS. Feedback Genius also lets you add marketplaces to your account for an additional $10/mo each.
In terms of pricing, Feedback Genius is more expensive than Salesbacker. It also has a free plan, but only lets you send 100 emails per month.
Feedback Genius's most basic paid plan is $20/mo for 1,000 emails, which is also less than Salesbacker's 1,600 emails for $19/mo. Lastly, Feedback Genius's plans cap out at $250/mo for 60,000 emails, which far exceeds what Salesbacker offers.
So, if your business is doing massive volume or you want to create more complex triggers, Feedback Genius may be a better fit for you!
FeedbackFive
There are a few other Salesbacker options to consider besides Feedback Genius. One is called FeedbackFive.
FeebackFive is a decent choice if you're particularly budget-conscious. Aside from its free plan – which includes 50 emails – FeedbackFive has a basic plan of $9.99/mo for 250 emails. This plan restricts some of the features you can get with more expensive FeedbackFive plans.
FeedbackFive has some pretty good features for its price point, including dynamic content, precise automation, and email segmentation.
Kibly
Kibly comes up often in the Amazon email space, but it's on the low end in terms of pricing and reliability.
Like Salesbacker, Kibly has its own free plan. It also includes A/B testing, its own version of merge tags, with 14 shortcodes to personalize your emails.
In the end, Kibly does have a pretty solid feature set. There have been concerns about its business practices, so I wouldn't necessarily recommend Kibly, but you may have a different experience, so I wanted to include Kibly in this Salesbacker review anyway.
AMZFinder
AMZFinder Feedback Request System is another feedback and review software solution for Amazon sellers. Like the other services, this lets you send feedback and review request emails. It also lets you manage reviews and orders to help you improve store's customer ratings.
This tool is split into two functions: customer email and review management.
On the customer email side, the starter plan includes unlimited marketplaces, automation, and 2000 monthly emails at $19/mo, which is the same price as the entry-level Salesbacker plan. AMZFinder also offers a free trial.
On the review management side, AMZFinder includes a review management dashboard, lets you manage multiple marketplaces, and makes it easy to post public comments on customer reviews directly.
It has a pretty thorough set of features, though the customer email plans are independent from the review management plans.
Should I Choose a Salesbacker Alternative?
I think this comes down to the specific features you need. For a good combination of price and ease of use, Salesbacker makes sense, but for a more sophisticated feature set, one of these other choices may be best.
If you want a more complete picture before you pick the Amazon feedback service you want to use, don't be afraid to do a little research on some of these Salesbacker alternatives. Hopefully, this summary helps you make the best decision for your business!
Salesbacker Review Wrap-up
I hope this Salesbacker review has given you a much clearer understanding of how Amazon email automation tools work. There are so many benefits to getting a lot of positive reviews on your products, including social proof for potential customers, a safeguard against the occasional negative feedback, and improved rankings in Amazon search.
In a nutshell, the most compelling thing about Salesbacker is simplicity. You may be surprised how easy it is to get started compared to any other Amazon feedback tool!
Ultimately, Salesbacker is just simple enough to offer the functionality you need to prompt buyers to leave feedback on your product listings, without the added expense or complexity of a tool like Feedback Genius. If you're in the business of selling products on Amazon and you need an FBA email provider, Salesbacker is a great option!
Ready to try? Claim your 60-day trial of Salesbacker – no credit card required.
Check out Salesbacker FREE for 60 days!
Anyway, that's just what I've seen… I want to hear from you too! Have you used Amazon feedback services before? Do you have one that you swear by? Let us know in the comments!
Want to learn step-by-step how I built my Niche Site Empire up to a full-time income?
Yes! I Love to Learn
Learn How I Built My Niche Site Empire to a Full-time Income
How to Pick the Right Keywords at the START, and avoid the losers
How to Scale and Outsource 90% of the Work, Allowing Your Empire to GROW Without You
How to Build a Site That Gets REAL TRAFFIC FROM GOOGLE (every. single. day.)
Subscribe to the Niche Pursuits Newsletter delivered with value 3X per week