KDSPY vs Publisher Rocket: Which Platform Is Better for Kindle Book Keyword Research?
When you buy something through one of the links on our site, we may earn an affiliate commission.
You can't wait to get started with your new Amazon book publishing business, but you know that keyword research is important for your sales. KDSPY and Publisher Rocket both promise to help you find the perfect keywords for your new book, but which is better?
We will evaluate every aspect of KDSPY vs Publisher Rocket to determine which one is worth your time and money.
If you have been on the fence about which tool to purchase to grow your business, let's get started!
Bottom Line: KDSPY vs Publisher Rocket
Let's take a closer look at which of these tools is the most highly recommended before we dive into the specifics of where each platform shines. Here is the bottom line upfront:
KDSPY: Outdated user interface with solid keyword research and category research capabilities
Publisher Rocket: Sleeker user interface with quality keyword, category, and AMS keyword research capabilities
Publisher Rocket is a bit more expensive but it's worth the extra investment overall when you think about all of the additional capabilities it has.
GET PUBLISHER ROCKET HERE
What to Look for in Kindle Keyword Software Tools
Before you can start shopping the many programs and tools that are available to you for keyword searches on Amazon, you need to know what areas you should be looking at. A good software or tool needs to be evaluated based on the following categories:
User interface
Keyword ideas and category research
Competition analyzer
AMS keyword research functions
Type of software
Customer support
International market availability
Price
We will be breaking down each of these categories in more detail so that you can see which tool is best for your research.
User Interface
When it comes to how the program looks and functions on your computer, which interface is the better option? The answer often comes down to personal preference as the design of a program does not necessarily affect the quality of the keyword research.
However, I think that there is a huge difference between the user interface for KDSPY vs Publisher Rocket.
KDSPY
In general, the user interface for KDSPY looks a little outdated. It certainly gets the job done just fine, but it lacks the sleek interface that accompanies the Publisher Rocket platform.
Take a look at what the search results look like for KDSPY and you'll notice that just about everything is found in black and white.
Publisher Rocket
On the other hand, Publisher Rocket's user interface definitely looks a bit sleeker and is generally more appealing than the no-nonsense version offered by KDSPY.
It uses a more modern font, is super clear and easy to read, and incorporates color to make things a bit more visually interesting.
KDSPY vs Publisher Rocket: Keyword Search
Keyword research is the entire reason why you would turn to either one of these programs to help you place your new book in the Amazon marketplace. It makes sense that we would need to dive into the features they offer.
KDSPY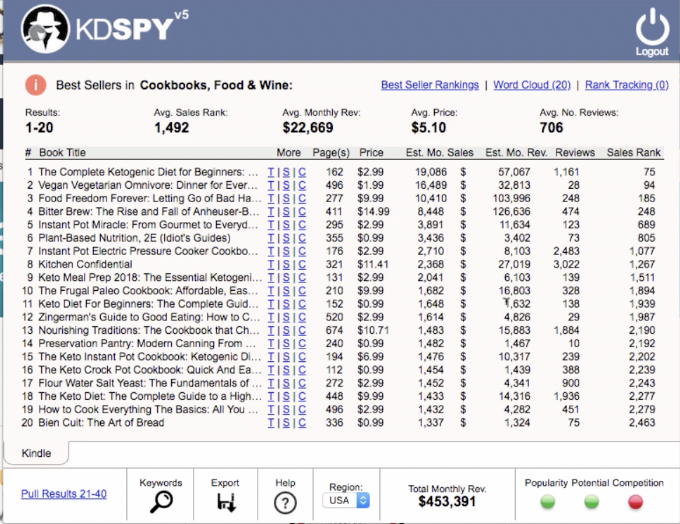 KDSPY has a couple of unique features that set it apart when it comes to keyword research. This extension is known for category research, highlighting which areas have the least and the highest amount of competition.
One of the things to note is that KDSPY gives you a rating in the following categories:
Popularity
Potential
Competition
It is based on a "stoplight" system with green representing a strong area that you should consider and red issuing a warning that competition might be fierce.
As you can see in the example above for cookbooks, this niche is popular and has a lot of potential (green lights) but competition will make selling your book a bit more challenging (red light).
You can also search via seed keywords that you brainstorm and KDSPY will give you a list of ideas based on the seeds. Each keyword will be ranked on the stoplight system, but you should keep in mind that they do not provide Google or Amazon search numbers in the data collection.
One unique feature about KDSPY is their Word Cloud function which compiles the most popular titles for books in a given category and shows you which keywords they incorporate.
Keywords with the most popularity are displayed as larger than others, allowing you to target the perfect keywords for your next title.
In the example below, you will see that the top keywords are ketogenic, pot, diet, cook, and recipes under the Cookbooks, Food & Wine category.
Publisher Rocket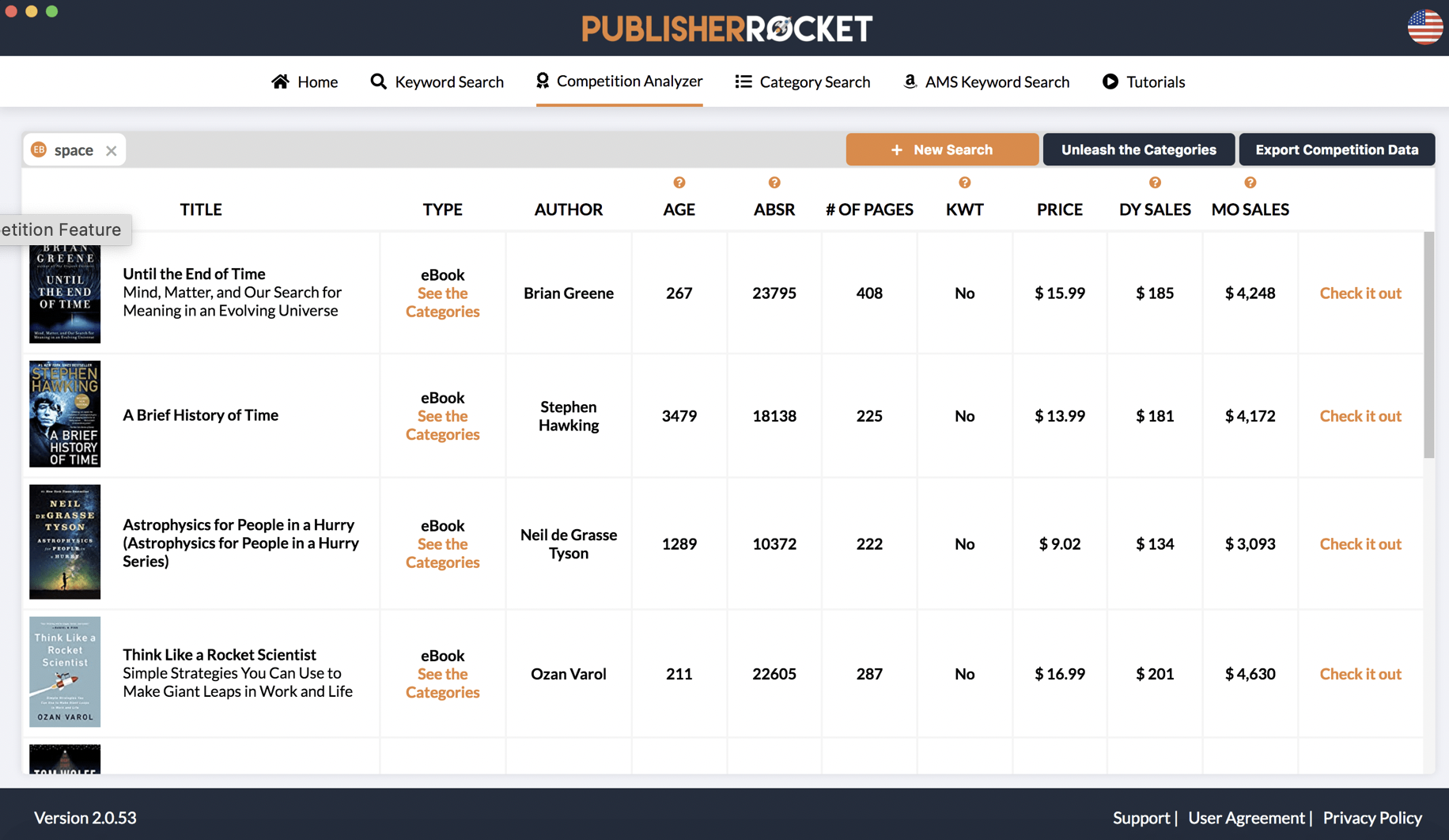 Beyond the sleek user interface, Publisher Rocket is a powerful program that can show you every detail you need for marketing purposes. It includes popular research categories such as:
Number of competitors
Average monthly earnings
Google and Amazon searches per month
Competitive score
To access the robust research that Publisher Rocket reviews for you, all you have to do is enter in a seed keyword and click the button.
Categories will populate based on Amazon's A-Z and you should keep in mind in a Publisher Rocket review that they have access to all Amazon categories, including those for short stories.
Many users prefer the interface offered by Publisher Rocket because they give an actual score for how competitive certain categories are considered. Instead of the stoplight system, each one is ranked on a scale from 1 to 100 with higher scores indicating more competition.
This gives you the freedom to see for yourself just how competitive a specific niche will be as well as what it will take to get your new book to rank on Amazon.
Category Research
In addition to a robust keyword search function, you also need to conduct category research to get the best results. Here is what you can expect from each of these platforms.
KDSPY
Kindle Spy is well-known for its impressive results when it comes to category research. If you are not yet sure what topic you want to tackle with your next Amazon book, then KDSPY can narrow down the competitive landscape for you.
When conducting category research, you can see:
Average rank
Monthly revenue
Average sales price of each book
Number of reviews for each book
Much like the seed keyword function, category research is also rated on the stoplight system with green lights being the easiest to rank for and red lights being the most challenging.
Unfortunately, you still don't get access to the same level of detail that you do via Publisher Rocket. You can only see how many sales are required to rank in the top 20 books in the category as opposed to how many Amazon searches or Google searches each category has per month.
Publisher Rocket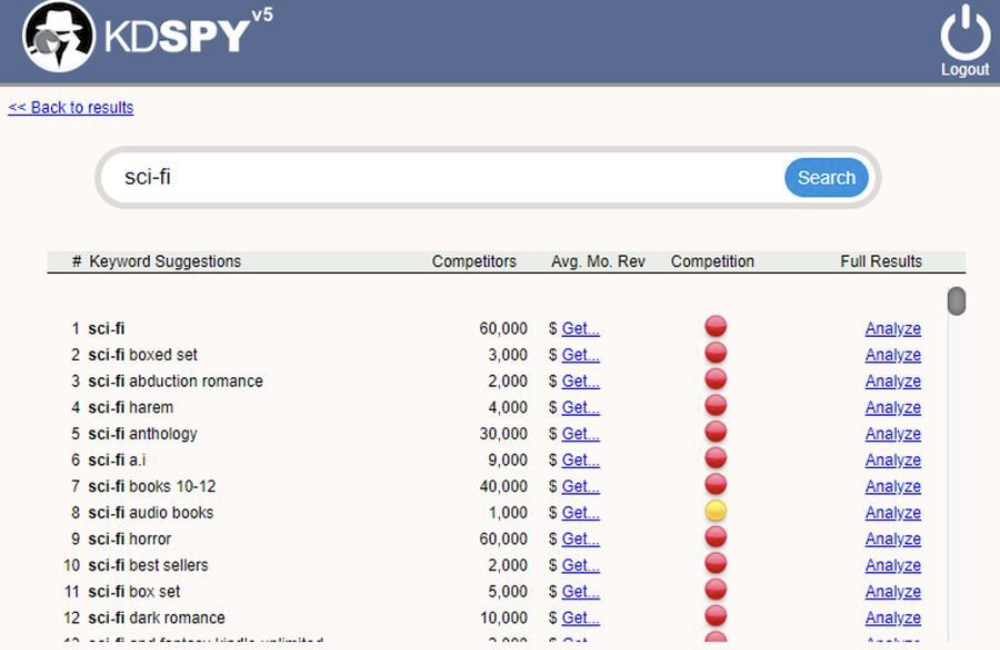 When it comes to KDSPY vs Publisher Rocket, their category research is mostly the same.
The great thing about Publisher Rocket is how easy it is to read and digest the results from your category research. It lists each individual category on the left-hand side of the screen with more columns on the right for research on:
ABSR of top-selling book
Number of sales needed to become the best seller
ABSR of 10th book
Number of sales needed to rank at #10
It's a pretty straightforward system that won't take you much time to interpret.
You should look for categories that have a moderate amount of traffic, which demonstrates that there are readers looking for this type of material.
However, you don't want them to have too much competition or it will be a challenge to rank on the bestseller list with your Kindle book.
Unlike KDSPY, Publisher Rocket does not include reviews or average monthly income on their basic category research page. Once you click through to a specific category, you can more easily view this information for individual books, though.
Competition Analyzer
Keeping tabs on your competition is important if you want your new book to rank in the Amazon search ratings. What tools are available on each platform when it comes to competition analysis and tracking bestsellers in a specific category?
KDSPY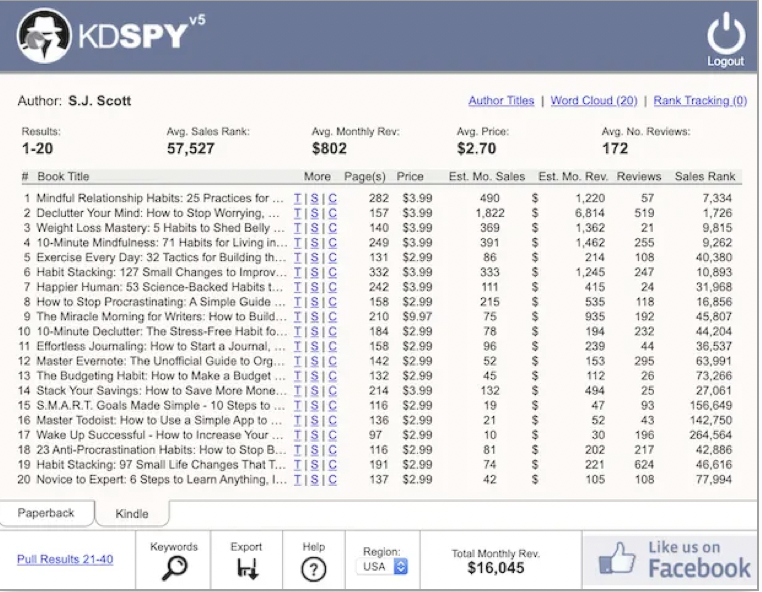 Competition is one area where Kindle Spy truly shines. Users can analyze competition based on items such as Kindle keywords or category, and it will break down information into:
Pricing of the competing book
Estimated sales
Number of reviews
Average review score
While this is certainly a major draw, the area where they shine brightest is in their analysis of a given author page. Head over to a specific author page and activate the KDSPY extension to see a full list of the author's Kindle books, paperback books, and hardcover books. They even incorporate audiobooks into their ranking.
Author analysis breaks down their estimated sales and revenue for each individual book.
You can also track a specific book's sales over a 30-day window by clicking the blue T column. It will compile sales data for that particular book over the next 30 days, giving you a handy chart to reference with estimated daily sales and monthly revenues.
Publisher Rocket
Publisher Rocket also has the ability to track your competition, but it isn't quite as straightforward as the system through Kindle Spy. In our Publisher Rocket review, we found that it takes just a bit more work but has some different information than what KDSPY offers.
Head over to the Competition Analysis tab and enter the description of the book. It will show you the age of the book, the estimated number of daily sales, and the estimated monthly sales for the book.
Age of the book is a unique feature that can tell you a lot about a competitor or the genre as a whole. A new book may have more immediate sales if there was a lot of media attention or a loyal following for the author on Amazon KDP.
An older book that still maintains bestseller status could indicate that the genre is going to be more difficult to rank for (though not impossible).
It also gives you a small thumbnail of what the cover looks like, a function that KDSPY lacks. This is great if you are unsure what direction to take your cover design in if you want to compete in the market. After all, many readers do indeed judge a book by its cover.
AMS Keyword Research Functions
Running advertisements for your new Kindle book is an important part of the marketing process. You will need to choose and analyze keywords that target your specific genre and category. Tools like KDSPY vs Publisher Rocket can help with these research functions.
KDSPY
KDSPY is not designed to perform research for AMS keywords, though there is a way around the shortcomings.
Many users would argue that the keyword research for advertisements is the same as the keyword research for your new eBook, paperback, or hardcover book.
As a result, you can click on the Keywords tab, enter your keyword, and get the results you have been looking for. While this can be helpful, the keywords are not necessarily tailored to what will have the most impact on a marketing campaign, so proceed with caution.
Publisher Rocket
If you know that you are going to want to run advertisements on Amazon, then you might want to lean more toward Publisher Rocket. They have an AMS keyword research function that can be sorted according to the following categories:
Amazon suggestions (A-Z)
Search results
ASIN or ISBN
Author
Category results
When you are finished reviewing the data on your screen, the results can be exported to an Excel spreadsheet so that you can save them directly to your computer.
Type of Software
One important thing that users will want to keep in mind is the main difference in the types of software for KDSPY vs Publisher Rocket. This may influence your decision to go with one over the other depending on your technical requirements.
KDSPY: Browser Extension
KDSPY functions as a browser extension which means that it does not take up much room on your computer. It automatically runs in the background as you are searching on Amazon, and all you have to do to activate it is to click the Kindle Spy extension on to see the results.
It is fast and simple to install as well as implement.
However, the KDSPY browser extension can only be used in Google Chrome and Firefox.
Publisher Rocket: Software
Publisher Rocket is not available as a browser extension as it is a software installation. The program will be compatible with both Windows and Mac computers.
It is worth mentioning in a Publisher Rocket review that they also have an app you can download to make searching even easier.
Winner: Tie (different types of software altogether)
Tutorials and Learning Materials
How easy is it to learn how to do what you need to do with your keyword suggestions on each of these platforms? Let's take a look at the support available for each.
KDSPY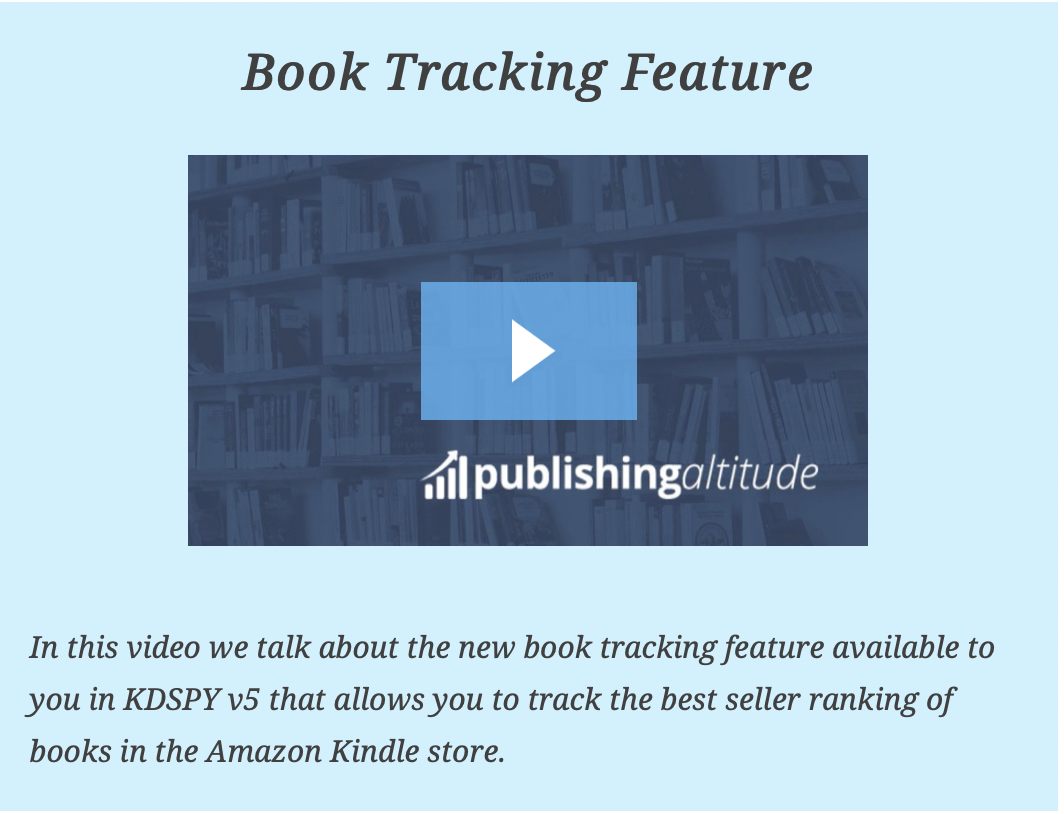 Publishing Altitude, the company created by Wesley Atkins that owns KDSPY, has a well-rounded tutorial section on its website.
Watch videos that walk you through the steps required from installation to your first few forays into the tool itself. They even have troubleshooting videos to watch if you are struggling with a specific issue.
Publisher Rocket
If you aren't that tech-savvy, fear not because Publisher Rocket has a number of great tutorial videos just like KDSPY does. Their videos are made by the creator of the platform, Dave Chesson.
This ensures that you are getting up-to-date and accurate step-by-step instructions for how to navigate the platform.
They also have a printable PDF with all of the steps you need to get started using the platform.
International Market Availability
What markets do these tools target? Let's take a closer look.
KDSPY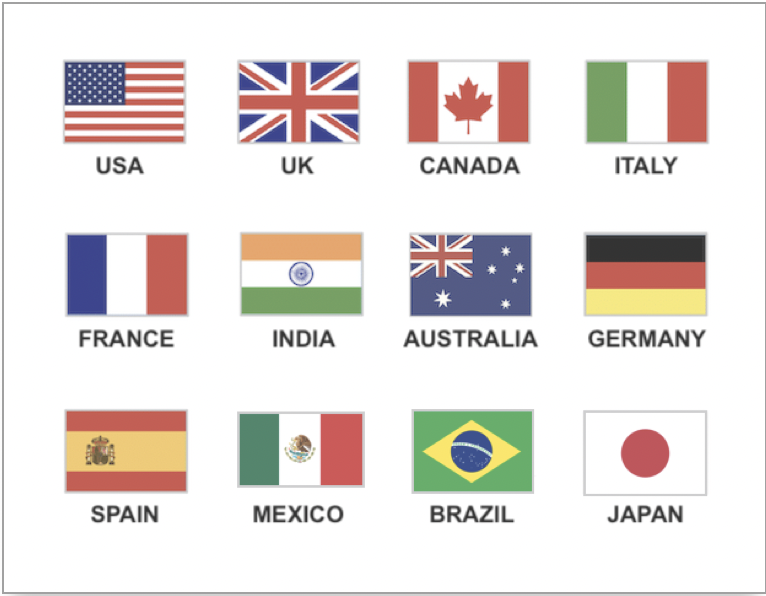 KDSPY has quite an impressive list of countries where you can analyze country-specific data, giving you more global access to the competition analysis. As of right now, they serve 12 countries including:
United States
United Kingdom
Canada
Mexico
Italy
France
India
Australia
Germany
Spain
Brazil
Japan
Publisher Rocket
At the moment, Publisher Rocket only analyzes a handful of Amazon marketplaces compared to the more extensive offerings from KDSPY. They serve the United States, United Kingdom, and the German eBook marketplace.
Price
For many users, the price is the ultimate deciding factor. Can you afford to invest in either one of these tools, especially if you are at the beginning stages of publishing short stories or no-content books on Amazon?
KDSPY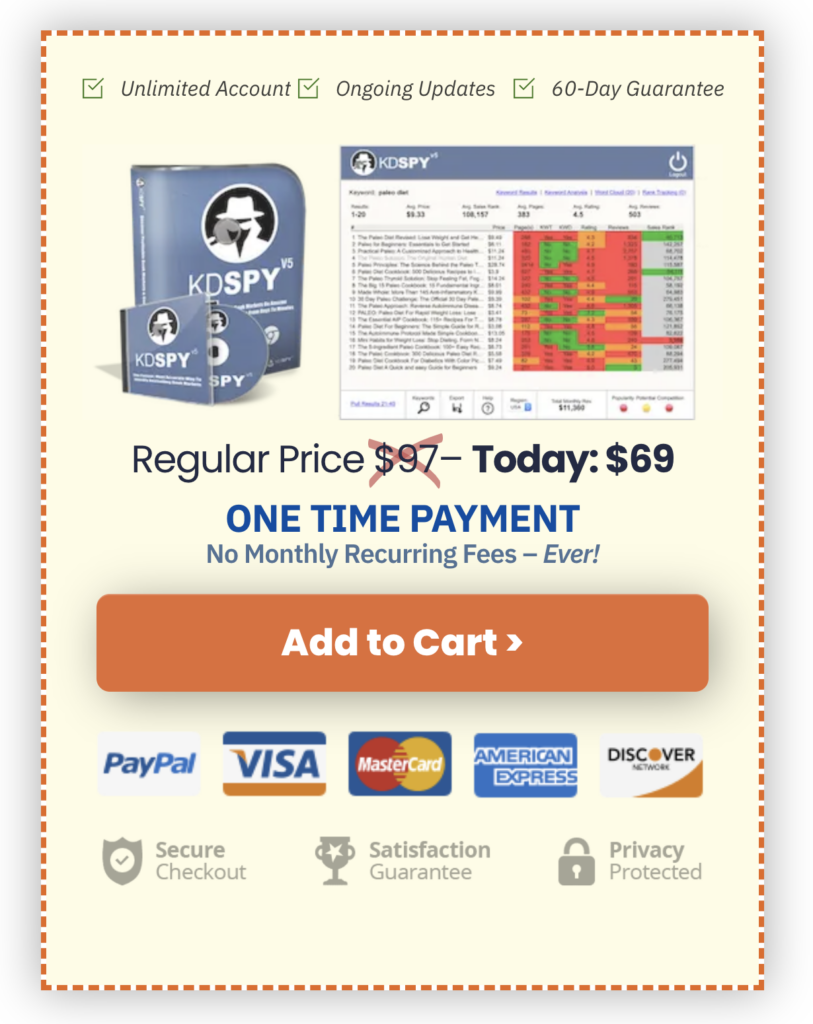 KDSPY costs a one-time payment of $69.
But it's a lifetime license so you can avoid the hassle of ongoing monthly payments. With your license, you get ongoing updates and a few bonus features:
Book Publishing Cheat Sheets
Creating an Author Website Course
Book ROI Tracking Spreadsheet
They also have a 60-day money-back guarantee so you can get your money back if you aren't satisfied with the program and its offerings after trying it out for yourself.
Publisher Rocket
Publisher Rocket and KDSPY differ in price with the latter costing $30 less at $69 for lifetime access. This also grants you access to future updates and their support system.
They do mention that they may switch to a monthly subscription-based pricing model soon, so you may want to jump on board with lifetime access while you can! Monthly subscriptions can really eat into your business budget when you could pay one lump sum fee and own the program for life.
They also have a money-back guarantee if you aren't satisfied with the program after trying it out. However, it isn't quite as long as KDSPY's policy. You have 30 days to request a refund from their customer service department.
KDSPY vs Publisher Rocket: Which is Right for You?
We've come to the end of our KDSPY vs Publisher Rocket review and it's time to answer the question: which program is the right choice for your Amazon KDP book publishing business?
Publisher Rocket seems to be the clear winner if you don't mind spending the extra $38 price difference between the sale price of KDSPY and the list price of Publisher Rocket (but you may also want to check out our list of Publisher Rocket alternatives). This seems like a small price to pay when you get so much more.
Publisher Rocket is the more robust platform, winning in categories such as:
User interface
Keyword research
Competition analysis
AMS keyword search
If you want an easy-to-use program for finding Kindle keywords, and more and have room on your computer for the software, then Publisher Rocket is the obvious solution!
GET PUBLISHER ROCKET HERE
For those who are on a budget, KDSPY is still a great option though it lacks some of the bells and whistles of Publisher Rocket.
It is a basic tool that gets the job done, but Publisher Rocket offers you room to grow and expand with their use of Amazon ads. The only feature that Publisher Rocket doesn't have that would be a nice addition is the Word Cloud function found on Kindle Spy.
Want to learn step-by-step how I built my Niche Site Empire up to a full-time income?
Yes! I Love to Learn
Learn How I Built My Niche Site Empire to a Full-time Income
How to Pick the Right Keywords at the START, and avoid the losers
How to Scale and Outsource 90% of the Work, Allowing Your Empire to GROW Without You
How to Build a Site That Gets REAL TRAFFIC FROM GOOGLE (every. single. day.)
Subscribe to the Niche Pursuits Newsletter delivered with value 3X per week