Hey everyone, this is a quick intro by Spencer.  This is a guest post from Neil Lassen discussing the possibility of starting a publishing company by creating books with little to no content.  These "no content books" were a new concept to me just a few months ago.  But if you think about it, lots of journals or otherwise "blank page" type books exist.
Neil is the creator of 2 software tools – Merch Informer and his newest one Book Bolt.  You can get 20% off Book Bolt here when you use coupon code: NP20
With that brief introduction, I'll let Neil take it away!
Hello Niche Pursuits, its me again! I will spare you the long introduction and get straight to the point. I have been involved in internet marketing since 2012 and was heavily into building Amazon affiliate sites.
This all changed 3 years ago when I landed on a little program called Merch by Amazon that allowed me to sell print on demand clothing on Amazon without holding any inventory or risk.
I even wrote a pretty long and detailed post for Spencer on how to start a t-shirt business on Niche Pursuits!
I still continue to sell print on demand shirts on Amazon but as entrepreneurs we are always looking for new opportunities on how we can expand our businesses and take advantage of new sales outlets.
For the past year I have been selling no content books via print on demand books on Amazon and average from 1200-1800 books sold every month.
This equates to $2400-$3600 each month for something that took very little time to get set up and running.
The reason this works so well with such little time invested is that
People are unaware that you can sell print on demand books on Amazon, and
Everyone thinks that in order to sell books you have to be…a writer (which could not be further from the truth).
Today I want to show you how you can replicate my entire process. Then use that process to start earning your first $1000 a month through selling print on demand books without being a writer.
If you follow this entire guide and take action step by step, you should start seeing the royalties start flowing into your account!
How to Start Your Own Publishing Company with Kindle Direct Publishing
The original program that I started using to sell on Amazon was called Merch by Amazon and launched around 3 years ago. This allowed you to sell clothing on Amazon by just uploading a design.
Amazon then did all the hard work for you (printing, selling, customer service, inventory).
Very quickly after jumping in I was hooked and spent all day getting designs created and uploading them. Then I learned you could do the EXACT same thing through Kindle Direct Publishing (KDP)!
It had all the best parts of the Merch by Amazon system without hardly any of the downsides. You still don't have to have any inventory. Amazon still does all the customer service, printing, and customers.
With KDP though, there are ZERO barriers to entry.
There is no application process, questionnaire to fill out, or waiting time to get started.
That means that if you are reading this guide, you can follow along and by the end have your first product up for sale on Amazon.
Selling KDP books through Amazon is a crazy good opportunity because of the low barrier to entry. As well as the the fact that hardly anyone is talking about it.
That being said, I need to be up front with everyone reading that this is going to require some real work and is not going to be a "get rich quick" method.
After all, we are creating a real publishing company through Amazon using KDP.
This is going to require that you put in the work, put in the time, and put in the effort. It is a business, and should be treated as such.
There are lots of people who treat internet marketing as a hobby, and that is why they make "hobby" money. Once you start treating it as a business, you will see business like returns. If you are willing to put in the research, list your products, and create these books you are going to see the royalties start flowing!
What is KDP?
Amazon KDP is short for Amazon Kindle Direct Publishing. It launched over 10 years ago in 2007 which allowed authors to take a different route to release their book.
Traditional publishing is what most book authors used to opt for. This is where you find a publishing house that releasing your book and makes use of their sales channels.
This can take a LOT of time. A lot of money. And even more of a headache. What KDP did was open up another avenue to release your book: self publishing.
KDP allows you to self publish books without help from a publishing house and lets you control the sales channels and royalties that you recieve when someone purchases your book.
This also lets you take advantage of Amazon's customer base, which is staggeringly large.
Up until this year, if you wanted to self publish a book through Amazon, you could use another Amazon company called Createspace. They decided to merge Createspace into KDP and you can now produce paperback books through your KDP dashboard.
This means that in order to get your first book online, you need the following:
Book cover
Interior file
Title
Keywords
Why Use KDP For No Content Books
Amazon was founded on selling books. That is all they sold and they became incredible at it. In fact, today Amazon ebook sales account for 83.3% of all ebook sales on the internet and for printed books, Amazon controls nearly HALF of the US market.
For every printed book sold, Amazon has a 1 in 2 chance of being the sales change. They completely dominate the book space and have all the traffic, customers, and eyeballs that your books need.
Now, if you read the title and are thinking to yourself: "How the hell do you sell a book without writing anything?"
This is where the no content/low content part of the equation comes into play.
When we say no content or low content books, think of books that have a simple or artistic cover, but that the interiors are blank or nearly blank.
An example of this would be notebooks, journals, planners, graph paper, log books, etc. No content books may sound strange but are surprisingly common! We can use KDP to upload a design (or use a design if you have done print on demand before) and sell brand new products with them.
You can even use the same design to sell multiple different products on KDP, but more information on that in a bit!
If you upload designs to KDP as a print on demand method, you also get benefits that you will not get with a lot of other POD (print on demand) platforms. This makes the opportunity even better!
There are no sales minimums (payouts every month)
No upload limits (upload as much or little as you want)
No removal period (what you put up with still up for sale forever)
Backend Keywords
Multiple products (you can use the same cover for multiple types of books)
Starting Your KDP Print on Demand Company for No Content Books
In order to start this business, you will need a few things and some understanding of how Amazon works.
You need to have:
Research Abilities
KDP Account
Designs (artwork for covers)
No/Low Content Book Interiors
Research First – The Key To Success
First and foremost you must have a good understanding of what people want to buy, what they are currently buying, and how you can come to the market with something that the market wants.
This is called research, and is very similar to how you would research keywords for affiliate websites.
Without research, you will be shooting in the dark and will quickly become frustrated with your efforts. However, if you practice what we are going to talk about, you will soon see areas in the market where you can offer customers something that they want!
If they want something they can't find and you can offer it, that is the magic formula for sales (crazy right?).
I create products that customers want by looking at what customers are already buying.
That is the best way to find a profitable niche where I know selling low content books is likely to do well. Don't make niche ideas harder than they need to be!
Sales Rank
Before we get into research lets discuss how Amazon works and what you need to understand.
Every product on Amazon has something called a best sellers rank. This sales rank will be shown on every product under the product details.
This is a number that will give you an idea of how many sales that item is receiving that is relative to the other products in THAT category. They move in unison.
To find this number, go to a book and scroll down to the product description and you will see a box that includes the sales rank, reviews, and ASIN: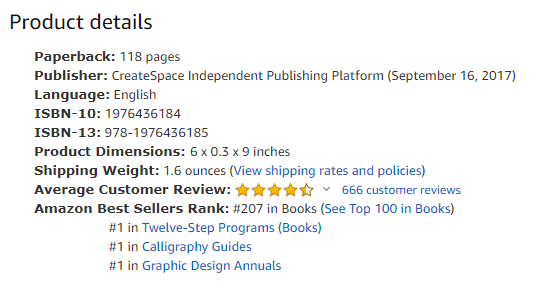 A very rough estimate is that a sales rank of 100,000 equates to around 3-7 sales a day (if the sales rank were to remain consistent). This is VERY different than sales rank estimates in other categories on Amazon.
Remember, it is relative to other products in the same category and move in unison.
The lower the sales rank on the books, the most sales those products are receiving. The more you dive into this, the easier it will be to quickly estimate on the fly how competitor products are doing.
Niche Research – The Fun Part
Now that you have a general understanding of how sales rank works, lets talk about niche research.
Niche Research is a LOT like the process when it comes to affiliate websites. It is all about finding keywords and products that customers actually want to buy.
You are looking for opportunities that YOU can put something for sale that is different but in the same profitable niche and start getting sales.
Keyword Research
To get started doing your research, go over to Amazon.com and type in any niche you can think of off the top of your head in the search bar. This should include a modifier at the end for the type of low content book you want to create.
For example, search for a keyword and include "notebook" or "journal" at the end and hit search.
For this example, I will use: "Nurse notebook" as a starting point.
Niches where the customer is passionate about their work or hobby typically sell best because you can connect to the customer on a different level. Not everyone will find a "funny cat journal" funny or care enough to click the buy button.
But when it relates to what that person lives and breathes every day at their job? Well, you have a winning formula there!
After you click on search, this will bring up the products page for this keyword. You will see a bunch of different notebooks, some bundles, and even some some medical templates.
If you go down to the bottom of this page, you will see that there are 7 pages worth of "nurse notebooks."
After you click on the second or third page, you will see in the top left hand corner of Amazon how many products there are.
That is a LOT of results!
You will also notice that not every notebook on the page is actually relevant to what we are trying to accomplish here. Many of them do not have a graphic cover, many of them are printed with lots of text inside and contain actual clipboards.
Start opening up tabs ONLY on actual notebooks that are relevant to what we are trying to do.
I have highlighted in the screenshot below that on the front page there are 3 examples of this:
Start opening up all of these products in different tabs and taking a look at how they laid out their titles and description. If you have the "see inside" option available on the books, click on that and see what their interiors look like.
A lot of time you will see things like this:
This is a simple lined notebook page. This means you can EASILY create a product in the same niches because I will show you how to get these in a minute.
There are 50,000+ results for Nurse Notebook out there on Amazon, and not all of them are this type of notebook. You will have your work cut out for you. Open up each product and check out the sales rank.
If the sales rank is relatively low (I would say anything beneath 500k sales rank), I will then put this niche into a spreadsheet to take a look at later.
You will notice that a lot of these books have covers that seem to be very simple! This is also good news. You can go into those same niches with your own unique phrases/designs and start making sales too.
I will typically go through 5-10 pages per keyword that I think of. I'm taking note of every single product, of how well it is selling on Amazon, and adding them to spreadsheets.
This is also a numbers game at the end of the day.
You can put up your first book and make sales on it. But you are not going to make life changing money on one single book. At least most people won't.
You will get to a point if you put in the effort that you have hundreds of even thousands of designs up on book covers and they are each selling every few days.
This is when things start to ramp up and the money starts to really add up and get big!
Author Research
While doing the research above, you will probably start to come up on the same seller over and over again. There are some pretty decent authors in this space and the good part is that you can see what they are doing!
If you come across a book that seems simple and is selling well, you might want to check out who is selling it.
This is yet another way to come up with niches to research that someone else may have found before you.
Take the screenshot I showed you above with the book "coffee, scrubs and rubber gloves":
If you click on the author name right under the title, this will bring up the author page with all the other books they have put up on Amazon.
Sometimes you will notice that they have posted actual books as well, while other times you will notice a lot of low content book ideas!
Right away we can see some new ideas. The first thing I notice is the first notebook just has a "marble" cover. No words or anything so something I might look into would be different patterns. I also notice some adult coloring book options.
These are a gold mine if you are willing to put in the extra effort.
Now, once you are going through these results, start adding them to your spreadsheet one at a time, after you check them out, clicking on interiors, seeing how well they are selling.
Note: When you are looking at author pages, you need to select paperback books from the top. This is because no one is going to buy a kindle version of a notebook. No one can write in a kindle version!
This process can take a long time, but it is incredibly important to uncover niches that buyers are buying in!
If you scroll to the bottom of the author pages, you will see how many pages of books they have to offer. In this case, there are 60 pages to go through!
The goal when you first start should be to get a spreadsheet of around 100-200 ideas that you can use to turn into your own books.
If you do what I laid out above for both author pages and keywords, you should be able to find 100 really good ideas that you can start making money from.
Speed Up the No Content Book Research Process
Everything I outlined above is what I did when I was building up my low content book catalog. This got me to my first $1,000 a month with this method but it was taking FOREVER to go through all these listings.
Half the listings I looked at were "duds" and it was taking hours and hours every day to find the real gems that people wanted to buy but did not have that much competition.
Since I still work on other businesses in the print on demand world, this KDP publishing business was just taking up too much of my time. I needed to keep everything running but had to find the time to do it.
My business partner and I decided to come up with a better way and created our own software to take everything I talked about above, and boil it down to under an hour to do everything.
That includes finding all the niches that are profitable and putting them into spreadsheets so that we had them handy for when we started creating covers.
At the beginning of 2019, Book Bolt was born! We also decided to develop a software inside of Book Bolt to assist with listing the products and a drag and drop designer (since I am artistically challenged) to create the perfectly sized covers. But more on that later.
Book Bolt lets you pull the top selling notebooks and journals for any keyword or any best sellers by author. This will give you the ability to see the sales rank and the ability to download everything in an organized spreadsheet.
As time went on, we decided to add a keyword tool as well because this is the starting point for the entire research process (coming up with keywords to take a look at the results). Using the nurse example from above, you can see what it looks like inside of Book Bolt.
I then use all of the information I get to send to my designers or if it is a simple concept, use the included design software to create them myself.
Everything I talked about in this article can be done manually, or you can try out the 3 day trial of Book Bolt that we give everyone.
We have spent a lot of time making sure the workflow and tools make it the most comprehensive KDP research tool available on the market. To thank everyone that has made it this far in the article, please use coupon code NP20 for 20% off the lifetime subscription if you want to give it a go.
Check Out Book Bolt Right Here
One of the biggest challenges that new sellers face when it comes to POD (print on demand) is that it is incredibly hard to find niches where they can be successful selling.
With Book Bolt we have created a keyword tool that is included to give you a list of niches that are shown to make sales. We pull these from Amazon auto suggest only in the book category.
Amazon KNOWS what keywords people search for that convert (this is why they suggest them). You start by typing out a keyword, and if Amazon starts to recommend an ending to that original keyword, they know that their chances of making a sale drastically go up.
You can use this data as a starting point to find niches to start researching (like we did above).
If you use everything that I laid out above along with the keyword tool, you will make sure that all of your research is rock solid!
How To Make Your Own Publishing Business – Getting Your KDP Account
Now that you have all the research taken care of, it is finally time to get started using that research to get books up for sale!
First, you need a KDP account. This is incredibly easy because there is no barrier to entry. You can simple sign up for KDP right here: https://kdp.amazon.com/
Once you click on the link and sign up, you will see your name in the upper right hand corner of the screen:

Before you can actually start putting your products up for sale, you need to fill out some required information for Amazon.
This requires some author information, how you will get paid, and tax information: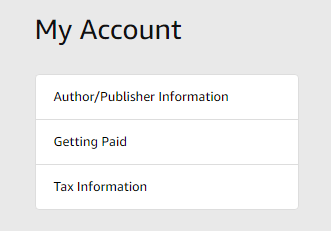 First, it will ask you to fill out your Author information. This is simple to do because it just asks for your information such as name, country, phone number and address.
Keep in mind that this needs to be your REAL information. If not, you will not be able to get the royalties that your account creates!
Second, fill out the getting paid part of the account. You will want to fill out your banking information.
KDP will send a direct deposit to your bank for royalties that your account earns. Each month you will get a bunch of emails from these monthly deposits (they send one for each locale) and are always nice to see rolling into your account.
Lastly, you will have to fill out the tax interview. This it to tell them if they should be withholding any money from your royalty payments or not based on if your country has tax treaties with the USA.
Fill out all of the answers truthfully and then finish up by signing the document. Once you are done with this last section, you will have green check marks for everything.
This lets you know that everything is complete.
Getting Cover Designs/Artwork Created
You now have your KDP account fully set up and are ready to start uploading some no content books!
Before you can upload books, we need to create some!
If you do not have any designs, we will either have to create them ourselves, or outsource them!
For more complicated cover designs, I always outsource. I have found outsourcing on upwork will allow me to get artwork created for $2-$5 per design.
However, for the designs that are going to be a bit more simple, it makes sense to do these ourselves since it is really easy. If you already have Photoshop or Illustrator, you can download templates from here: https://kdp.amazon.com/en_US/cover-templates?ref_=kdp_ts_pb_cov.
If you do NOT have Photoshop or illustrator, I will show you how to create these designs using the Book Bolt software we discussed above. (If you're interested, you can always get both Photoshop and Illustrator in an Adobe CC subscription right here.)
The reason we want to use these templates or Book Bolt is because we have to create Book Covers.
Each book cover is going to need to be tweaked to make sure that they are the right size for the book you are uploading depending on the number of pages of your book.
With more pages inside your interior, the bigger the spine of these books, which can throw everything out of whack if you do not do them properly.
Grab the 3 day trial of Book Bolt so that you can follow along. (Or Use Coupon Code: NP20 to get 20% off).
Log in to the software and then from the upper right hand menu, select the Book Bolt Designer.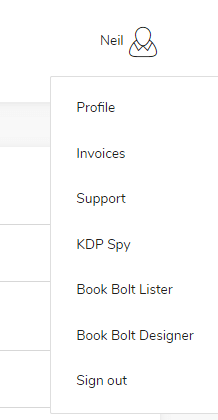 This will open up a selection page inside of the designer that looks like this:
Select if you want to create a cover or an interior. For this example, we are going to start off creating an interior.
Then select a trim size. The drop down menu will include all of the trim sizes that KDP offers (to make sure that everything is in the right dimensions). The most common template is 6X9.
After I select the trim size, give the book cover a page size. 100-120 pages is the typical length of a no content book.
Click on submit and it will open up the perfectly sized template for you to add your artwork or text:
To make sure that the book covers actually pass the KDP process, we have to make sure that they do not have a transparent background. To do this, you can select a product color from the left hand menu.
As you can see, I made the background of this cover black.
Now, we need to either add artwork or text to the design.
To add text, you can use the text menu on the left hand side. To add images, select the images tab and then drag and drop your images into the box to upload them:
You can see that I have uploaded two designs. Because Halloween is coming up and we discussed the nurse niche earlier, I have combined the two for this example.
Simply click on the image once it is uploaded to add it to your cover.
The right side is your cover, and the backside is the back of the book. The spine in the middle is where you can add the name of your book if you want.
NOTE: The cover of your book MUST match whatever title you give it when you upload to KDP. If you are uploading a cover without text on it, you will need to add a title to the spine of the book.
Since the cover example I am showing has text on the cover, we do not need to add it to the spine.
That's it! All you have to do now is download the cover to your computer. It will download as a PDF which we can upload straight to the KDP platform.
Thinking About Interiors
You now have a cover to upload to KDP! We are just missing one more part of this puzzle which is the interior. Interiors are another way you can differentiate yourself from everyone else by offering something new!
Think of interiors as its own niche.
We have a nurse related design, but the interior can be anything. It can be a journal, it can be a notebook. It can even be a workout log, a diabetes planner, you name it, you can use the same cover for LOTS of different books.
We put together some FREE interiors for everyone that they can download and upload to KDP.
Head on over to our interior wizard here: https://bookbolt.io/interior-wizard/
Click on the blue interior wizard button on that page which will open up a selection of 48 different interiors that you can use with your cover.
That means that for your ONE book cover (and one size of cover, remember we selected 6X9), you can create 48 different books to be selling on Amazon.
Select the template that you want to download. Select bleed or no bleed (I always select bleed) and then enter in the dimensions and pages of your book. The size of your book (6X9 in this case) and the pages MUST match what you selected for your cover so that everything matches up.
Then click on download and you will have a PDF ready to upload as your interior on Amazon.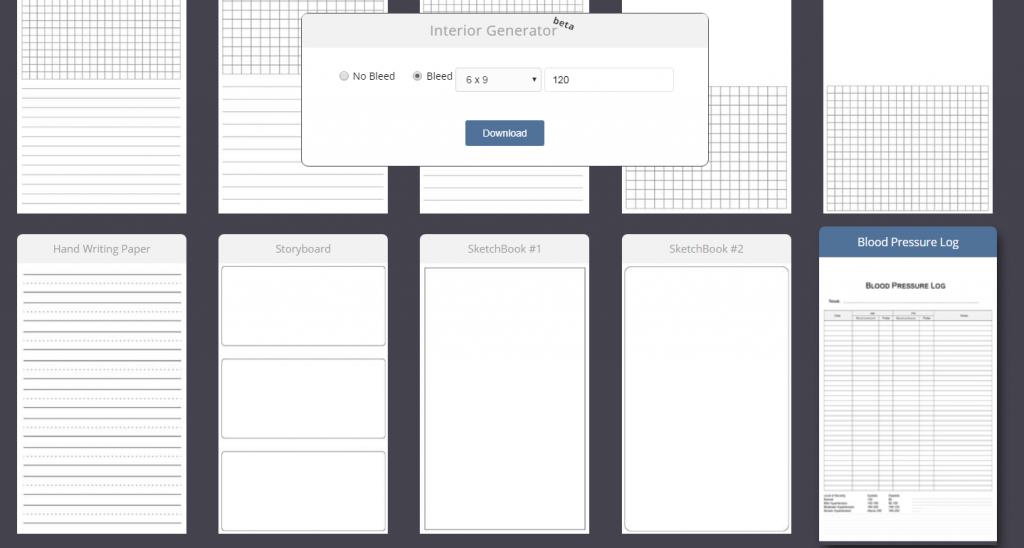 Note: Bleed and no bleed relate to how the book will print. I always select bleed for the templates so there is no hiccup when uploading them to the KDP platform.
We now have our cover PDF, our interior PDF and a KDP account. It is now time to get these items for sale!
Uploading Your No Content Book to KDP
Head over to the KDP account you created and log in. At the top of the page you will see two options. You can either upload a kindle ebook or a paperback:
Since these are print on demand books and NOT ebooks, select the paperback option.
You are then presented with 3 different tabs. Once you fill all these tabs out, your product will be live for sale on Amazon for anyone to purchase:
This process can be a bit time consuming (we will go over a faster way in a second here). Let's go over how to do everything manual first.
First, you will be asked to pick a language. Since we are selling these on the main Amazon.com market, select English.
You will then be asked to give your book a title and a subtitle. The title box MUST be filled out with exactly what is on the cover of your book. The subtitle however can be used as anything you wish.
I typically use the subtitle to add in a few keywords and keep it short and sweet to what the book actually is.

Notice how the subtitle describes the interior template that we selected above and includes that keyword?
The next few boxes that KDP asks you to fill out are the series and edition number. Skip these because they are not needed.
Also skip the contributor section. You are not adding additions (these are no content books!) and you do not have another author that helped you create these books.
That being said, you do need to add an author. You can use pen names for these and they do not need to be your real name.
For this book, we will make the author name "Nursing Essentials." Since this is two words, split them up by first and last name. The first name will be "nursing" while the last name will be "essentials."

You can add different pen names for each book that you put up for sale on Amazon.
Next, you will want to fill out the description. I always keep this form short but give the customers an idea of what is in the book. This is where you can build off the subtitle a little bit and let them know all the options that you used for the interior.
Tell them what the book is good for. Simple is the key!
The next box asks about copyright and if you hold the necessary publishing rights. If the image you are uploading (or the text) was created by you and you own the rights to it, go ahead and select that box that you own the copyright and the publishing rights.

Now we are finally at the keyword box. This is where you can really play with things and how your products end up ranking on Amazon!

You have a total of 7 keyword boxes here and can enter into 50 characters for each of them. The goal is to get keywords here that will get your books to the front page of the target audience. If you do that they should be buying them.
You can do this by getting a list of keywords from your spreadsheet research. As well as using the keyword tool inside of Book Bolt.
KDP suggests that you do not use the same keywords that you put in your title or descriptions. You can get further keywords from doing a keyword search and seeing what the main keywords used are for that niche:
For the keyword boxes on KDP, these do NOT need to be in sentence format and they do not need to be separated by any comas or periods. Simply type keyword after keyword into these boxes until they are all filled out.
Once you have filled out all the keywords/phrases and put them into KDP you can click on save and continue.
Remember to select that your book does not contain adult content and that you select a category to put your book into.
For the categories, select two categories that are related to the cover. These do not need to be exact. Since there are hundreds of categories, pick two that will fit. You do not need to put that much time into this part.
On the second page, you will now need to select a free KDP ISBN. An ISBN number is given to your book as an identifier. If you were a normal book publisher on any other platform, you would have to pay for these but KDP will give it to you for free:

Assign the book and pick a publication date. Select today's date for this.
Next, you need to select some print options. This can look confusing at first but I will walk you through it: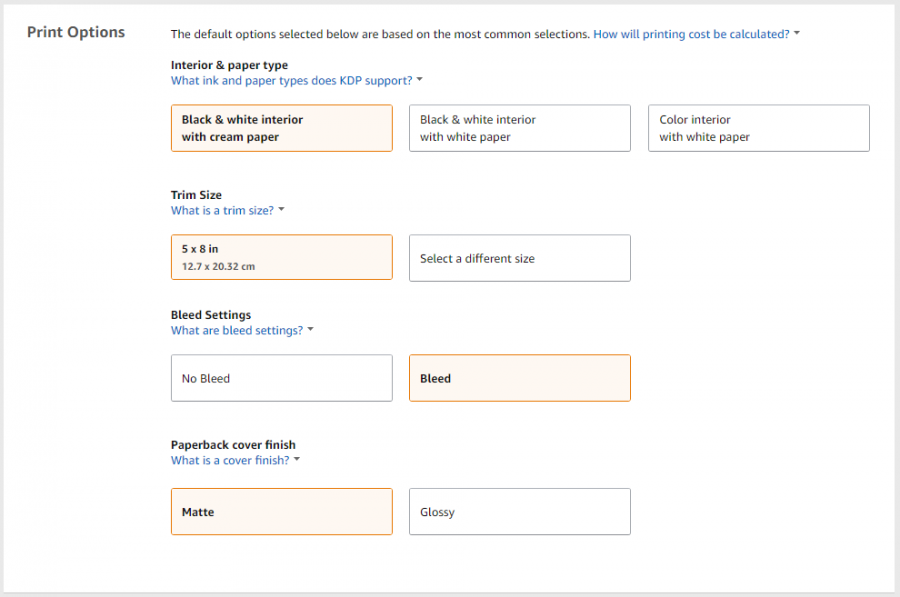 The first is the type of paper you want your book to have. I always keep it defaulted at black and white with cream paper. If you select color, your base cost for printing will be MUCH higher. 
That means you will not receive as many royalties. This also means you may have to price your book incredibly expensive. We can make sure this does not happen by just sticking with black and white interiors with cream paper.
Next, select your trim size. The trim size is going to be what your cover and interior are both sized at. Remember when we selected 6X9? Use this box to select 6X9 as well.
You also want to make sure you match up your interior file with the bleed settings. Since we selected Bleed when we downloaded our cover, select bleed here as well.
Finally, you will get to chose either a matte finish or a glossy finish for the cover. Selecting one over the other will not add any base cost so this is totally up to your preference. I think that they both look and feel nice.
Now that you have the print options taken care of, you can upload your paperback manuscript (this is your interior PDF that you downloaded above) and your cover PDF which you downloaded from the designer.
Upload both your cover and interior and give KDP a few minutes to process the files. This CAN take a while depending on the load of the Amazon servers.
If it is not done in a few minutes, continue to wait.
Note: You will want to select the button under "Book Cover" that says upload a cover you already have.
Once the processing of your files is complete, click on the launch preview button at the bottom of the page and approve your book. Then click on save and continue:
Now that you are on the last page, you get to select what you want to price your book and where you want to distribute it to!
I always select that I want to distribute to all of the territories which will give the book the best chance to sell. Then I select pricing and pick what I want to sell the book at.
Make sure to also select expanded distribution:
As you can see, by pricing the book at $7.99, you will receive $2.50 per sale. The royalty will depend on amount of pages in your book. So this is a 6X9 book with 120 pages.
Finally, scroll to the bottom and click on publish your paperback book!
It can take up to 72 hours for your book to become available. It will sit under review until someone from the KDP team takes a look at it.
Typically they go live much faster than that (about 24 hours)!
Congratulations! You have your first book for sale on Amazon for the world to see and purchase! If you did your research correctly and entered in some good keywords, chances are your book will start selling.
All that is left to do is repeat the process with more and more books to fill out your catalog!
Speeding Up The Listing Process
If you just read through all of those directions and are thinking to yourself "that seems like a lot of work," let me first assure you… it is! But it is really not hard at all.
However, there is a much easier way to do all of this.
You can use the lister extension inside of the Book Bolt software that you should now have a 3 day trial of. This listing extension is a chrome extension that allows you to hotkey all the painful stuff to a single key on your keyboard. Click on the key, and it will fill all the information out for you.
You can get to that here: https://chrome.google.com/webstore/detail/book-bolt-lister/gkkkmiljegejildfmfcnicknbcfggdjk. Install it and log in.
Once you are logged in, click on add to add a profile:
You can take ALL that information that we just filled out above and put it into the lister. I like to use this for when I am going to be using the same title description or maybe the same keywords or categories.
At the top, enter in a hotkey for this profile.
For example, you can put in Shift + R. Now every time I hit Shift + R on the KDP upload page, it will auto fill in my information for me:
This is how I can upload tons of low content books to KDP without sitting around typing everything all day.
Thoughts on Royalties
When you first look at it, you may think that $2 is a pretty low royalty.
I look at that number and think it is incredible!
These books are such low effort. After all, they do not require writing an actual story. Once you put them up, they are for sale FOREVER! You put the work in once and after you upload them, they sit there acting as a dividend paying you each and every time it sells.
There are no up front costs, no barriers to entry, and no customer service.
There is also very little competition in this space since almost no one is talking about low and no content books!
Success Stories Starting A Publishing Company on KDP
If you have made it to the end, you may still have your reservations. You might also have zero reason to believe anything I have said. Fair enough.
I understand that you can hardly ever believe any of the income claims you see on the internet these days. Everyone is always trying to get you to believe in the next big thing. Being cautious is a good thing.
I have simply found a method that involves selling books to Amazon customers without much of the work that traditional publishing requires.
Let me offer you a few examples of people who have started publishing low/no content books on Amazon over the last year.
Amy
The first is someone I have known for a while. Amy used to be big into ebay selling back in the day. She jumped onto Merch by Amazon when it came out and just recently started to dabble in low content books on Amazon last year.
Since this past spring, she has put an emphasis on using more tools, better guidance, and creating new covers that Amazon buyers are looking for.
One of the things that she says made a difference in her business is a stronger focus the past few months incorporating everything into her daily workflow.
In just a few short months, this is what her numbers look like:
Fis
Second, we have Fis. Fis created almost all of the artwork for his covers himself but is taking a different approach.
He has less than 100 books live. The majority of his sales are from just a few of the low content books that he put up on his account. As you can see the earnings look low here. But this is because he's pricing all of his books at about a break even royalty.
The thought process here is to get some sales velocity and reviews behind the books. Then he can bump them all up to full price for Q4. That great time when the majority of Amazon sellers make a LOT of money.
Finally we have a friend of a friend who is familiar with KDP and has been using the low content method for a while now.
You will notice that on the sales graph, there are occasional spikes of 600 books sold. Then it falls back down to all of the evergreen baseline books.
You will not always get a viral book, but when you do, it can be explosive!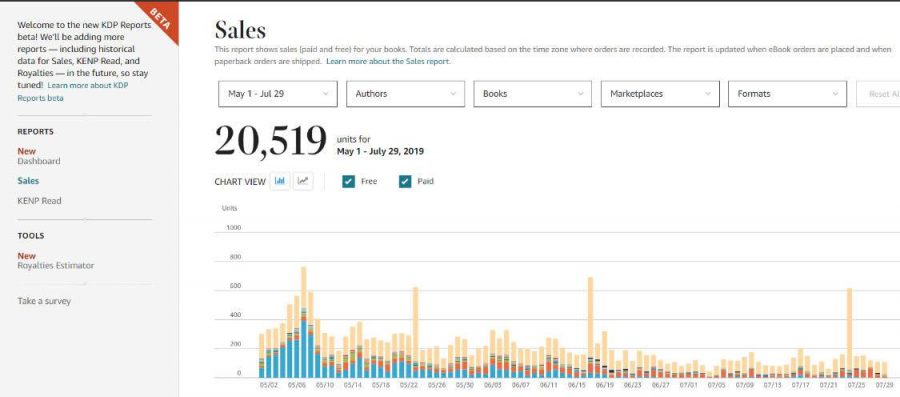 Disclaimer: If you want to see similar numbers, you will need to put in the time and work!
Do not expect to put a few books up online and wonder why you are not making a full time income. The number of quality books that you research and upload matter so out and put in the work!
Publishing low content books offers tons of opportunities right now. But as any experienced Amazon seller can tell you, it still takes work!
Wrapping It Up
That pretty much wraps up the entire low content KDP method to start your first publishing company.
You can use everything you learned above to leverage the millions of buyers and shoppers that Amazon has. Then use low or no content books to start putting more money in your pocket.
There is zero startup costs here. With just a little bit of time and effort you can start adding another income stream to your online endeavors.
If you made it to the very end, let me just say that I really appreciate the Niche Pursuits community. Thanks for letting me share this with you all! Good luck selling low and no content books on Amazon.
If you have any questions, drop them in the comments below and I will make sure to come back and answer them!
If you would like to try out Book Bolt, please use coupon code: NP20 to get 20% off.
Try Book Bolt Right Here
---