10 Pinterest Alternatives You Should Know About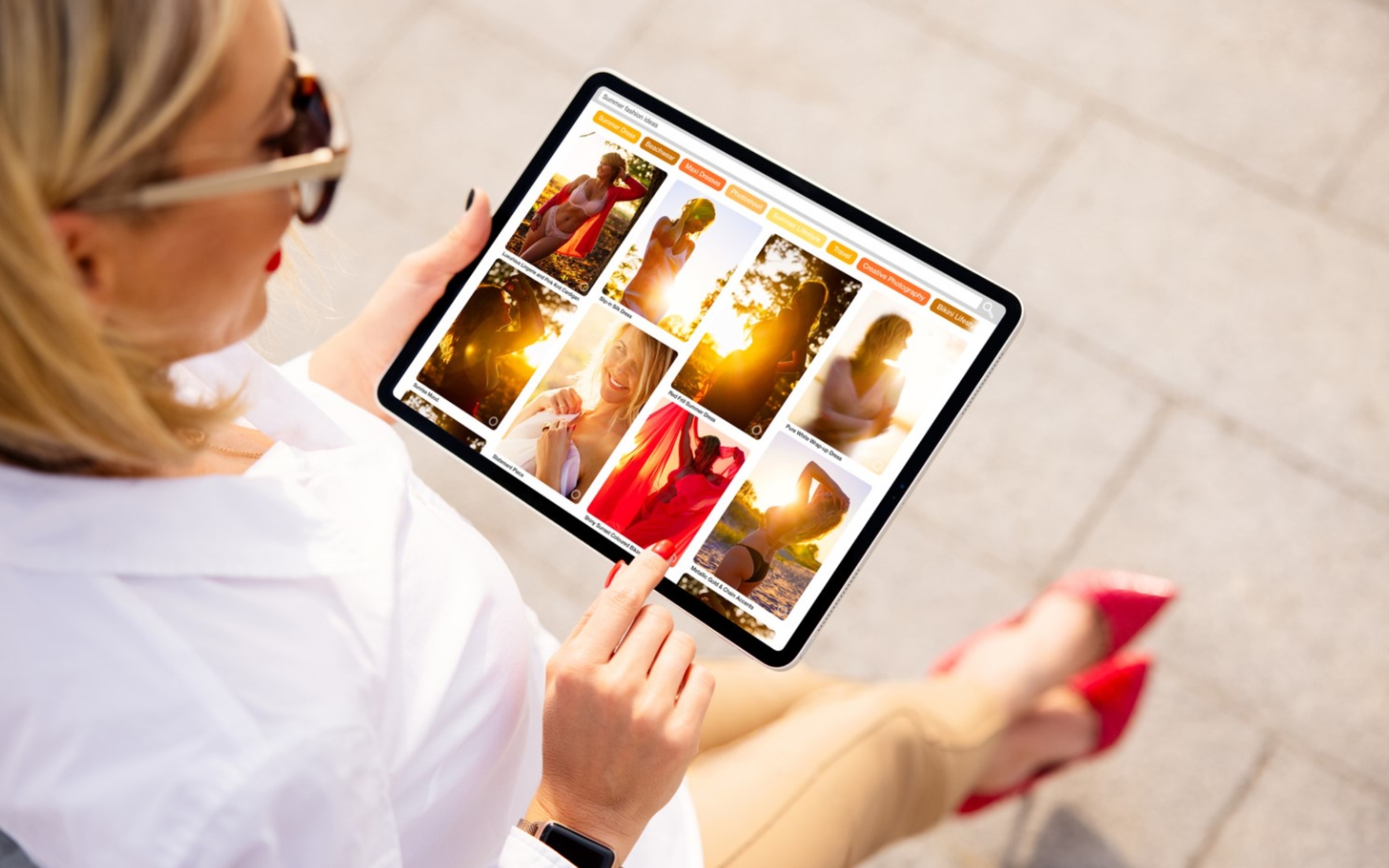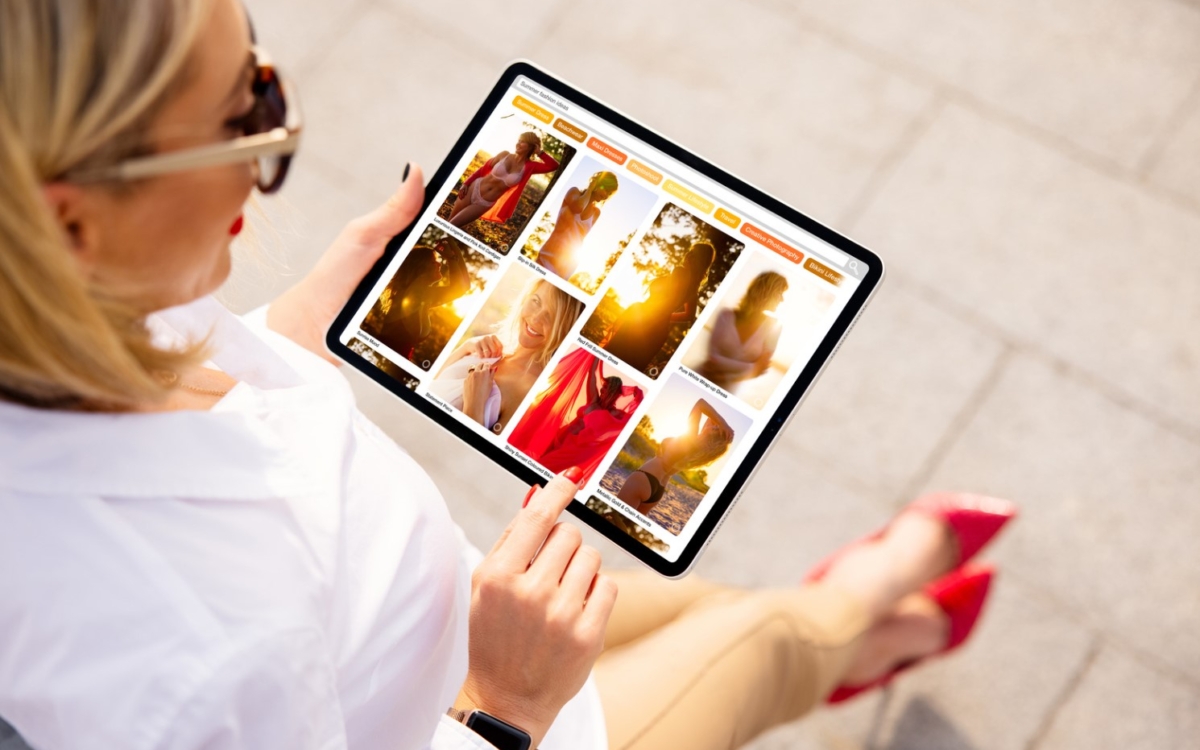 When you buy something through one of the links on our site, we may earn an affiliate commission.
The information-rich world of the internet has been known for inspiring entrepreneurs, creators, and artists alike. And by utilizing Pinterest alternatives, it's easier than ever to cast a wider net and find the inspiration you need.
Whether you're looking for new recipes, home decor ideas, fashion inspiration, or simply want to spread YOUR message to more people, these 10 Pinterest alternatives have got you covered.
10 Pinterest Alternatives for Your Inspiration
These Pinterest alternatives offer new ways to browse, save, and share ideas across the web.
1. Flipboard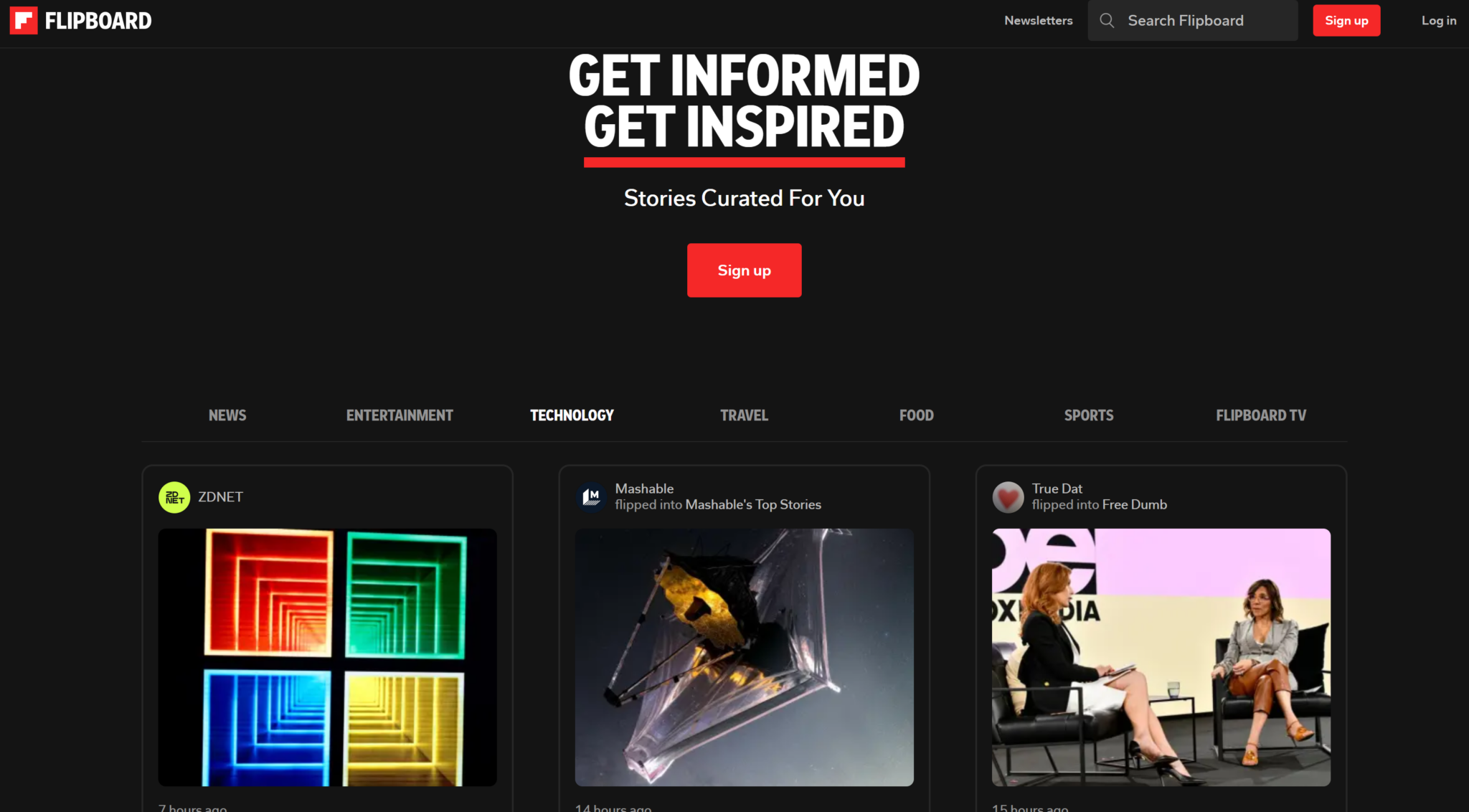 What is Flipboard? It's your next go-to platform for curating and discovering new and creative ideas, and it is perfect for those seeking a personalized experience. Flipboard offers a refreshing way to stay updated with topics that truly matter to you.
Here's what sets Flipboard apart:
Personalization power: Tailor your feed according to your interests - from technology to food recipes.
Briefing feature: Get a daily digest of stories relevant to you.
Smooth UI: Enjoy seamless navigation and smooth transitions.
Save for later: Found something interesting but short on time? Save posts for a later read.
Follow other users: Discover content curated by others, expanding your horizons.
With Flipboard, you're not just scrolling through random web pages.
It's an immersive experience where you can create your own folders just like Pinterest boards, follow specific publications, and even leverage the Editor's Picks for more inspiration.
And if you use Pinterest marketing for your sites or products, we can also show you how to use Flipboard to generate traffic to your website.
---
2. Behance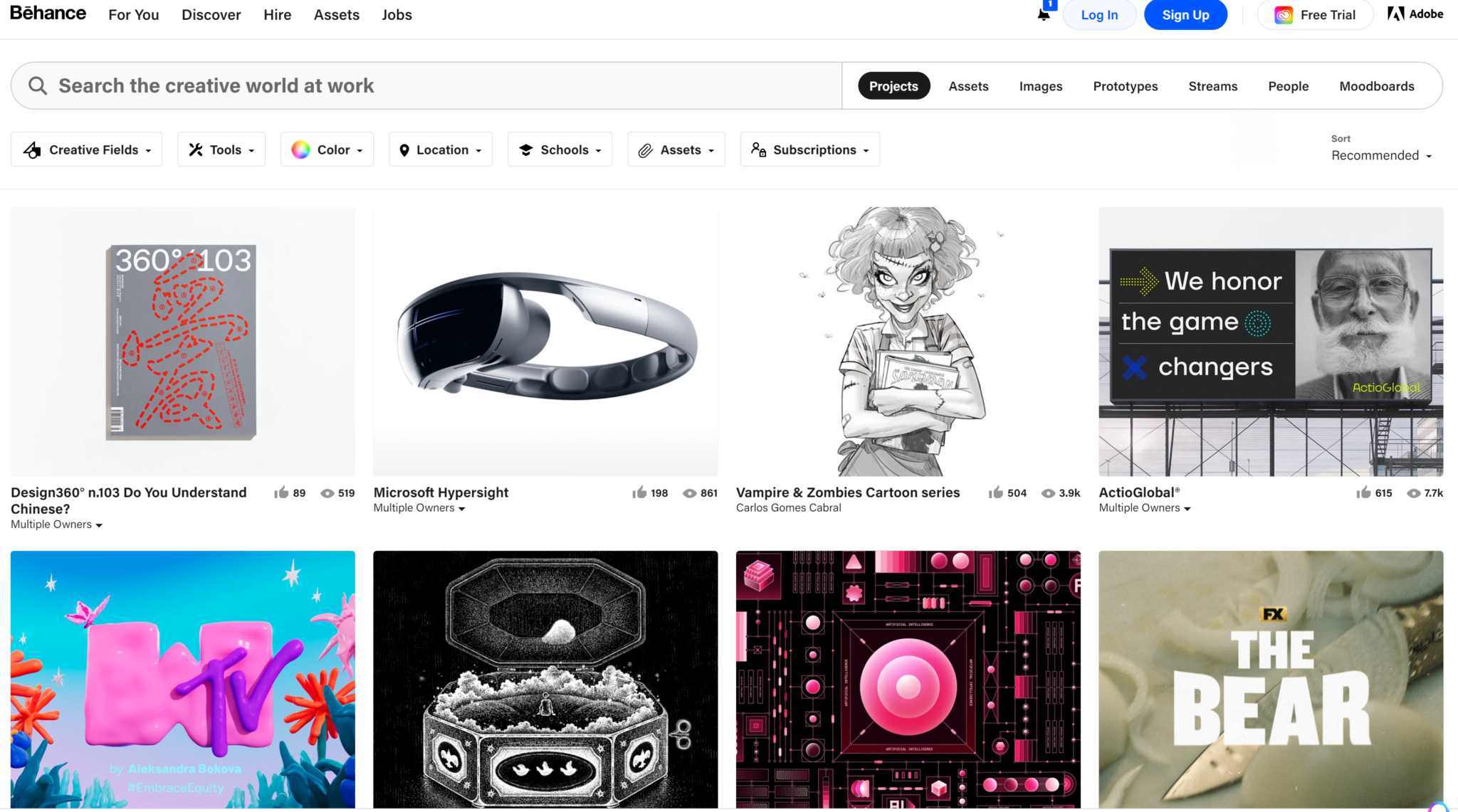 If you're a web designer, food blogger, or simply someone seeking fresh, interesting ideas, Behance may be the alternative for you. Behance is a hub of inspiration with high-quality, unique content that can't always be found elsewhere.
This platform, part of Adobe Creative Cloud, is a treasure trove for creative industries—from graphic design to game design.
Here's what Behance offers:
Dynamic Search: Find curated content in popular categories like graphic design and illustrator.
Active Community: Share your work and engage with fellow creatives.
Job Opportunities: Post and explore designer jobs.
In essence, Behance offers a similar experience to Pinterest but with a focus on the creative world, providing a curated shopping experience that can help every creative mind find interesting ideas.
---
3. We Heart It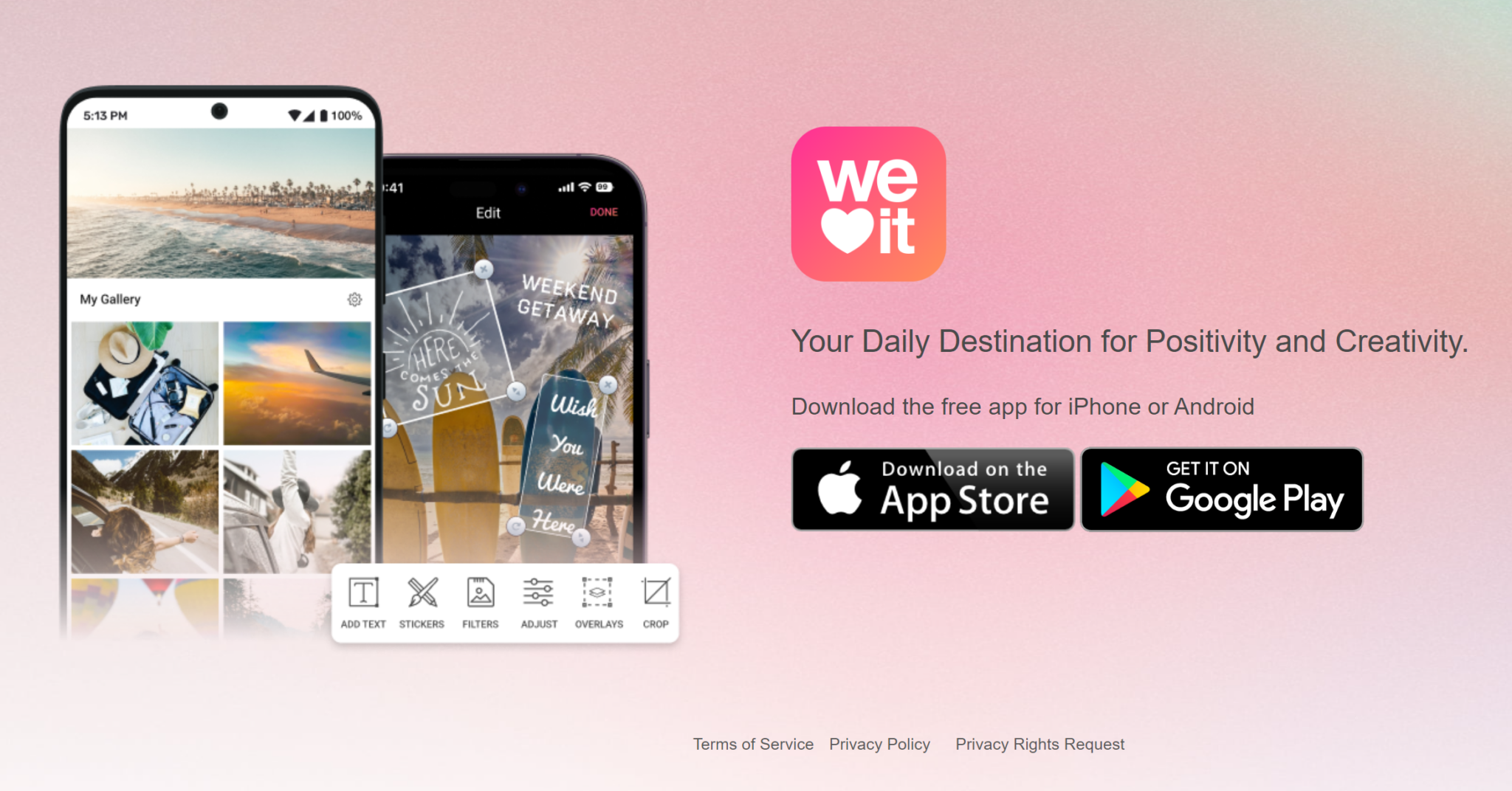 We Heart It is a site that caters primarily to young girls and college students. Imagine a platform that's a haven for visual content, a hub of creative inspiration, and a heart-forward Pinterest-like site.
Here are a few features of this posting platform with over 30 million users:
Love Button: Similar to other social media platforms, express your admiration for images with a single click.
Article Section: Browse emerging themes and engage in conversations.
No Downvotes or Negative Comments: Only positive feedback is allowed.
Think of it as an inspiration grid, brimming with different art images. Imagine you're a student seeking creative ideas for a project. You stumble upon a series of art images that spark a new idea. You "heart" them and even create private boards for future reference.
We Heart It hosts a very active community, making it one of the go-to sites like Pinterest for interesting stuff. Its focus on positivity and creativity makes it one of the best Pinterest alternatives for those looking for a kinder, more uplifting experience.
---
4. Food Gawker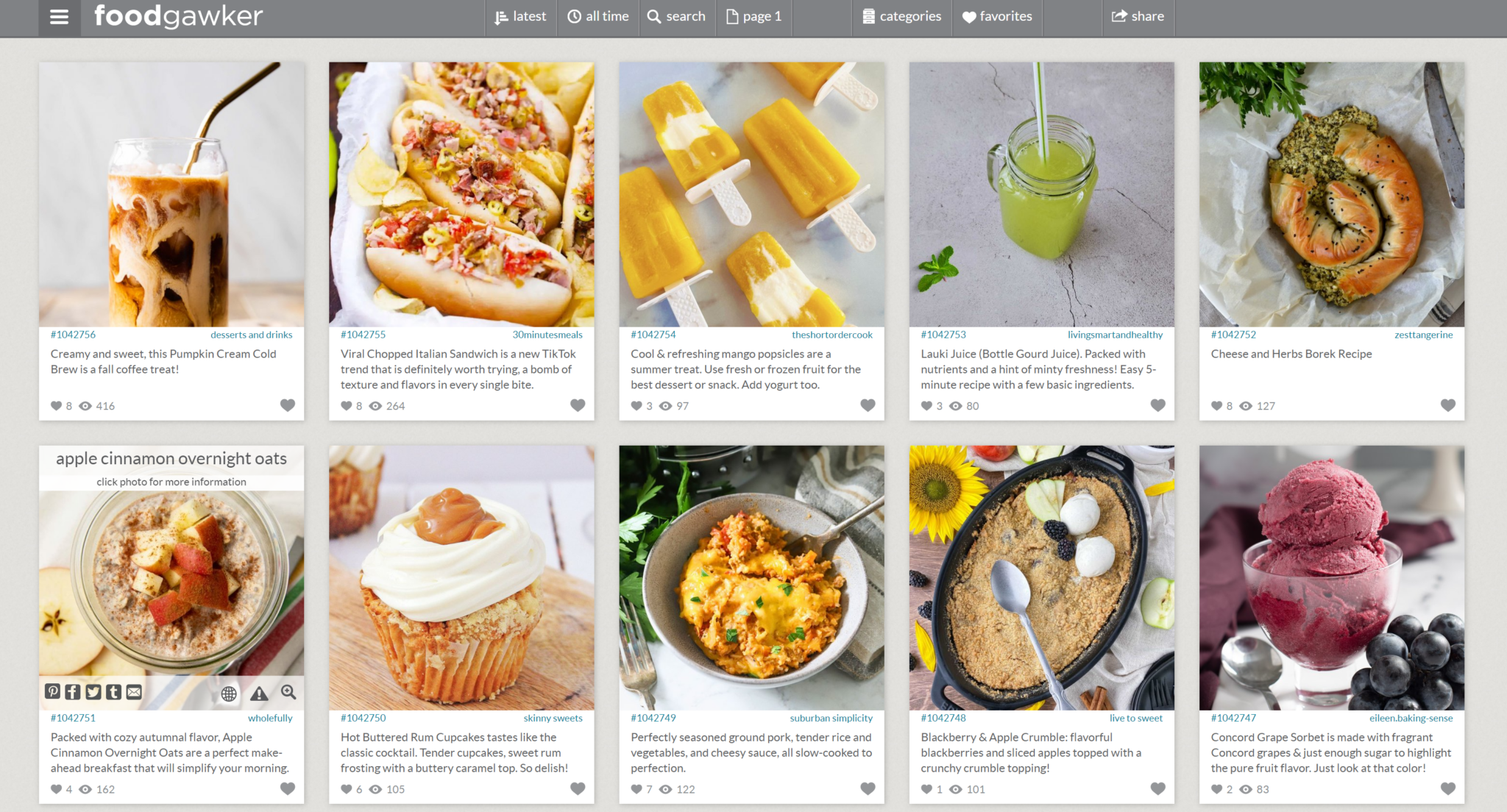 Foodgawker is perfect for food enthusiasts and culinary creators alike. This platform, part of the Gawkerverse network, allows you to explore and share delectable dishes across over 30 categories.
Foodgawker's standout features include:
Variety: Choose from categories like vegan, gluten-free, and desserts.
Quality Assurance: Each post is subject to the editor's approval, ensuring high-quality content.
Visual Inspiration: Discover new recipes, techniques, and ingredients through stunning photography.
Let's say you're a vegetarian looking for new meal ideas. Foodgawker's curated photo gallery offers a myriad of options. Or perhaps you've baked a show-stopping dessert and want to share it with the world. Foodgawker provides the platform.
Based in San Francisco, this small team of passionate editors, creatives, and developers is dedicated to showcasing the best in food, drinks, arts and crafts, weddings, design, architecture, and fashion.
---
5. Mix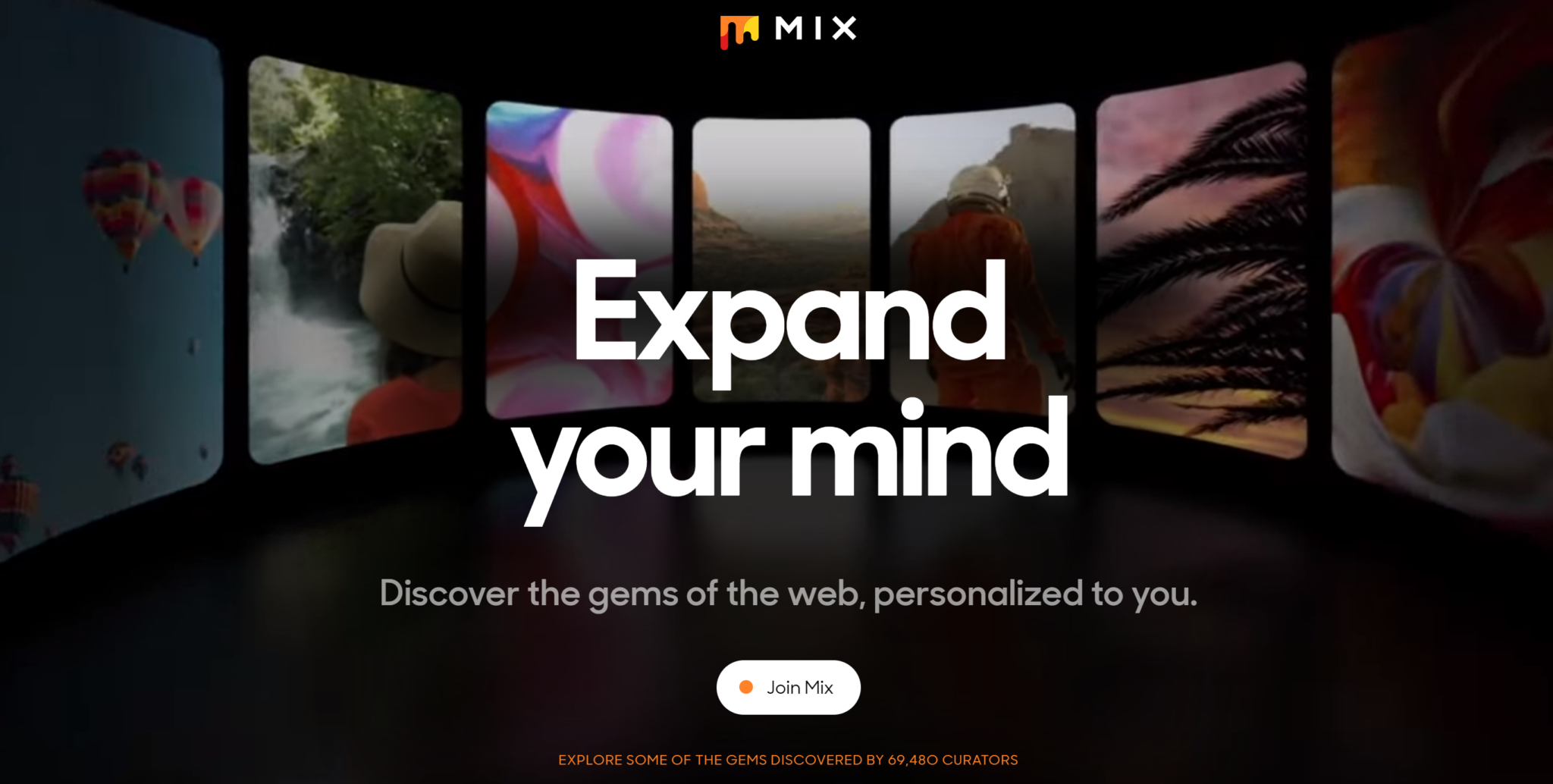 Mix, formerly known as StumbleUpon, is a content-sharing platform that allows you to share your content, follow other users, and increase your reach. It was created by Garrett Camp in 2002 and currently boasts several million active users.
Key features include:
Content Sharing: Post your own material and engage with others.
Audience Building: Regular activity can boost your visibility and drive traffic.
In-Depth Exploration: Delve deeper into topics that interest you.
If you're a frequent content creator, Mix provides an additional platform to amplify your work and connect with a wider audience.
Unlike Pinterest, Mix focuses more on deep-diving into subjects of interest, making it a compelling choice for those looking to explore topics thoroughly. So, it's best for individuals who crave more in-depth content on varied topics and want to find a community of like-minded individuals.
---
6. PearlTrees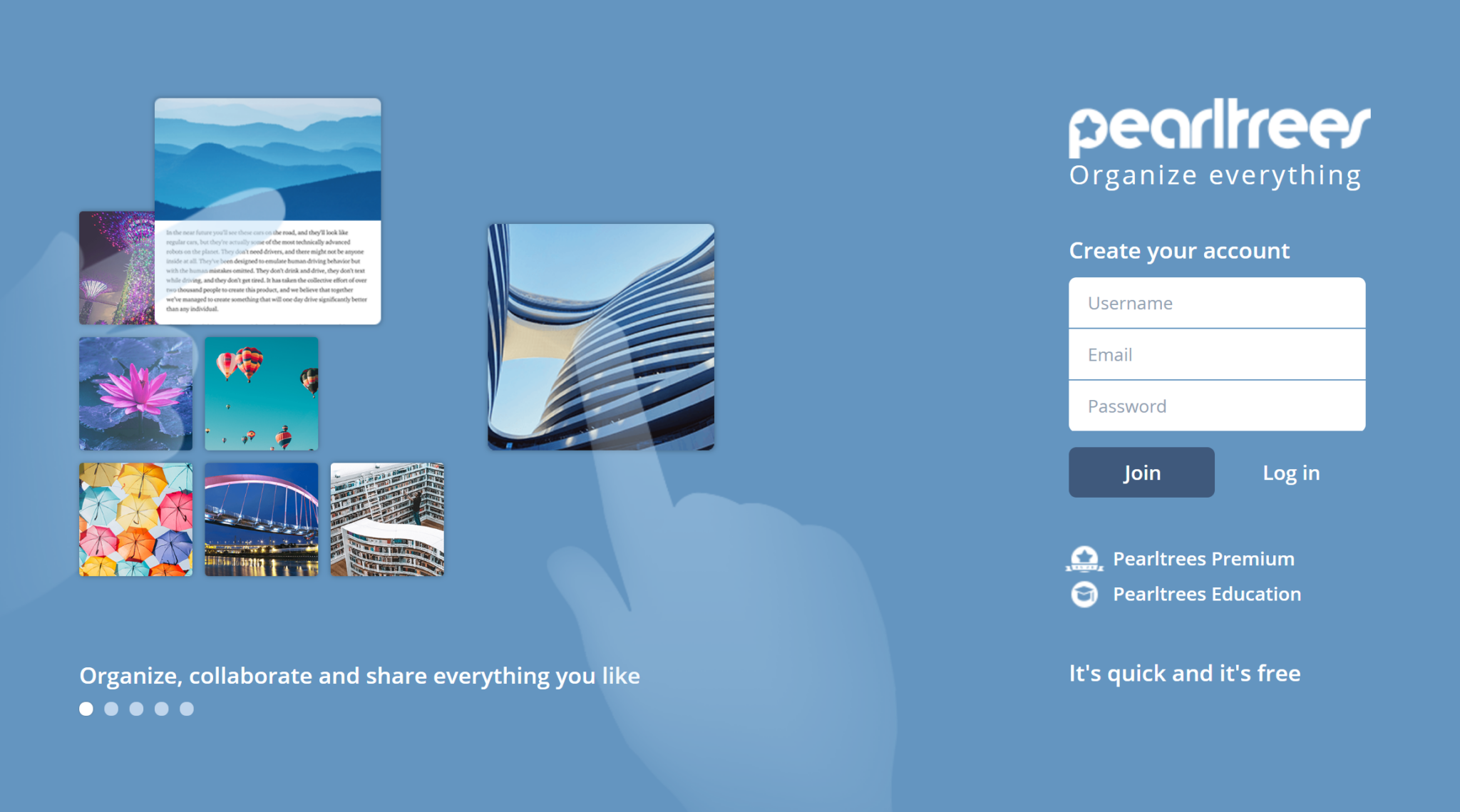 PearlTrees is a popular platform for organizing and curating your favorite internet findings. This tool, much like Pinterest, allows you to create personalized collections, but with an added twist of collaboration.
Fans of PearlTrees love the following features:
Organized Collections: Sort URLs, photos, files, and notes into different categories.
Collaborative Curation: Collaborate with others interested in similar subjects.
Premium Package: Offers extended storage, offline mode, and premium support.
As a creative outlet, PearlTrees lets you compile an online magazine of your interests. You can create a collection and invite others to add their favorite images or stock photos.
PearlTrees stands out for its social features, allowing synchronization with Twitter and Facebook and embedding collections into CMS products like WordPress and Drupal.
It's a unique way to reach your target audience while exploring a vast community of shared knowledge.
---
7. Hometalk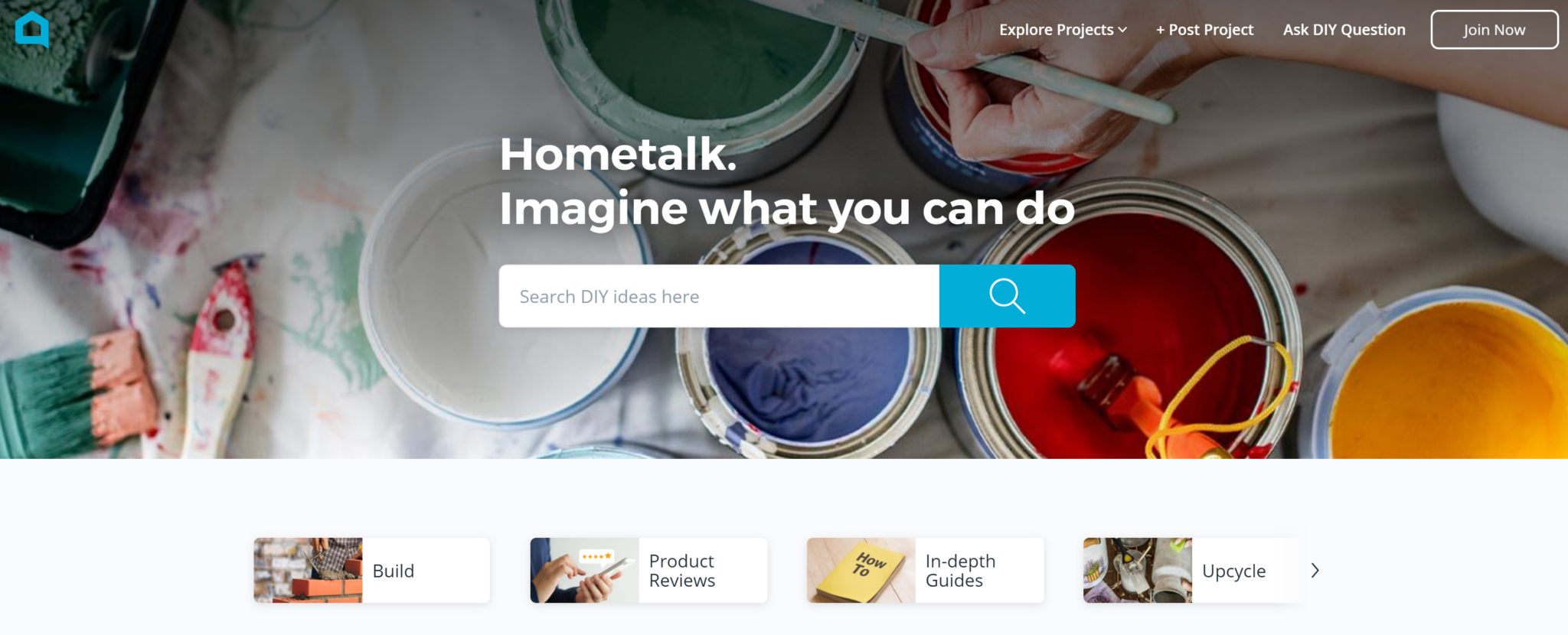 Looking for a great Pinterest alternative to fuel your DIY and home decor passion? Hometalk is the answer. It's designed specifically for your particular niche, providing an extensive library of 169,000 project tutorials.
You can expect:
Diverse Categories: From kitchens to patios, find projects that suit your taste.
Community Interaction: Post videos of your latest DIY endeavors or seek advice from fellow DIYers.
DIY Forum Tag: An interactive platform to exchange tips and tricks.
It's the best Pinterest alternative for those seeking inspiration for home-related content, from pixel art to budget-friendly patio ideas. Not just a Pinterest-like site, Hometalk is a community that values conscious media consumption and aims to empower its users to take action and create change in their homes.
---
8. Dribbble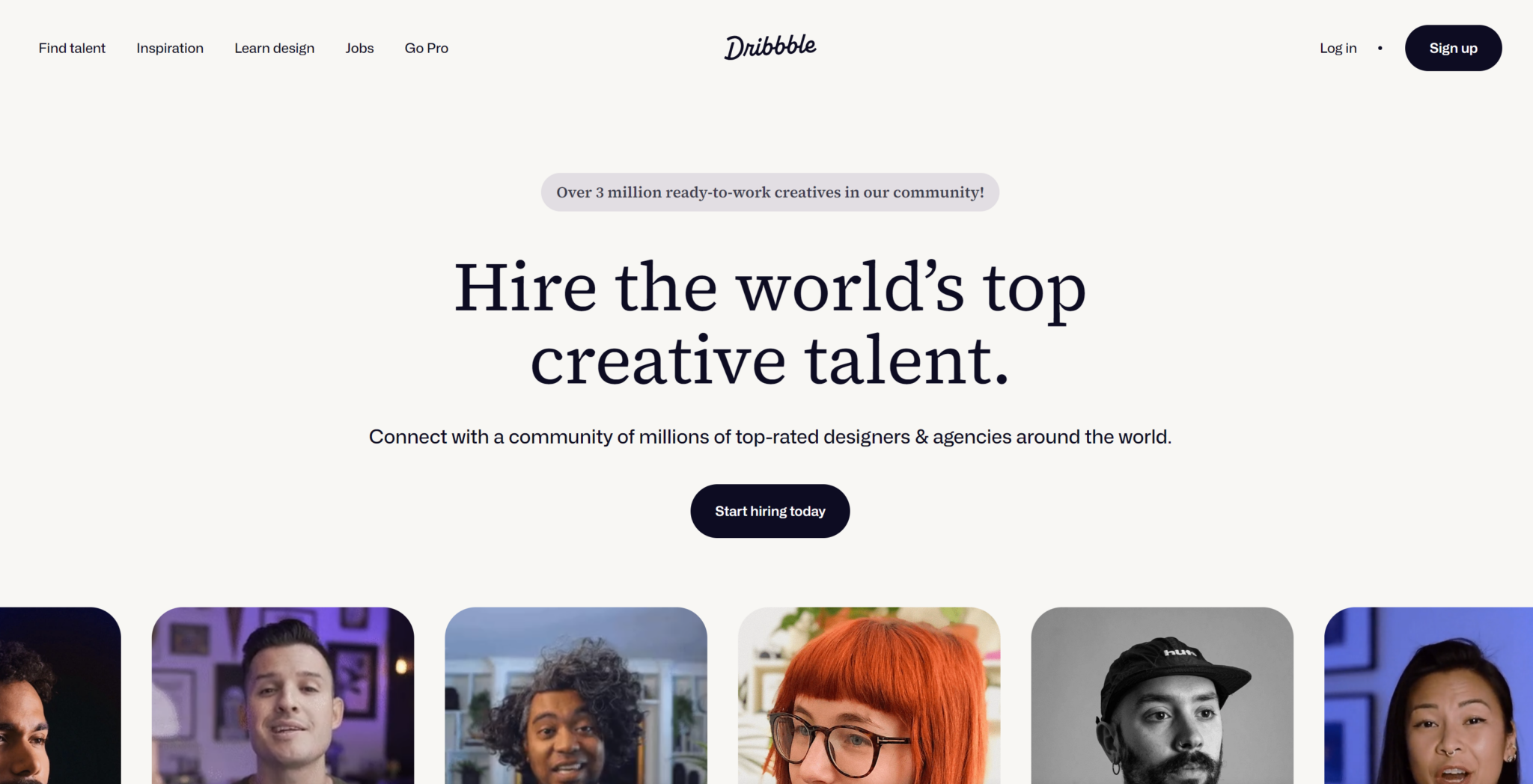 The popular site Dribbble serves as a creative hub where artists and designers come together to discover work opportunities, hire exceptional talent, and seek inspiration that extends far beyond what can be found on Pinterest. Dribbble is great for staying at the forefront of the creative industry.
This sleek platform offers:
Project Display: Showcase 'shots' of your current work.
Job Opportunities: A hub for finding remote gigs in your particular niche.
Community Interaction: Engage with other users, numbering in the hundreds of millions.
This is one of the best Pinterest alternatives that provides a seamless way to cultivate and showcase your professional growth. It empowers you to elevate your portfolio and express your passion, regardless of your creative niche.
---
9. Designspiration
Designspiration is a refreshing alternative to sites like Pinterest. Conceived by visual designer Shelby White, this platform has been providing web designers inspiration grids since 2010.
Designspiration offers:
Dynamic Content: No selfies or unrelated posts, keeping the site fresh and relevant.
Intuitive Interface: Similar to Pinterest, but with each image on its own page for deeper exploration.
Color Palette Feature: Accompanies each image, perfect for creating your own color scheme.
Flexible Search: Find designs by color or term.
Unlike Pinterest, Designspiration reveals who created and saved the image, offering further discovery options. It's one of the best Pinterest alternatives with a community that encourages sharing and discovery.
---
10. Gentlemint
Gentlemint, often dubbed as the "Pinterest for Men," is a distinctive alternative to Pinterest, focusing on content that resonates with male users. Co-founded by Brian McKinney and Glen Stansberry, this platform invites you to dive into a universe of 'manly' content.
There are some great alternative Pinterest board ideas that you can explore, such as sports, cars, gadgets, and more.
The site features:
Manly Content: A curated collection of memes, cars, food, and entertainment.
Tacks: Users can upload links to content, creating unique collections.
Social Sharing: Save your favorite images and share them easily via social media buttons.
Unlike other platforms, Gentlemint's content isn't intended for the sophisticated palate but rather for those seeking a hearty laugh through masculine-themed internet content.
Whether you're looking to share links, photos, or videos or simply explore, Gentlemint offers an engaging, targeted experience.
Final Thoughts On Pinterest Alternatives
It may be helpful to try out a few of these Pinterest alternatives if you feel you've outgrown the platform or just want to diversify your content consumption.
From design-specific sites like Dribbble and Designspiration to Pinterest-like platforms for home decor, there's something for everyone.
These alternative sites provide a refreshing change of pace and offer unique features that may suit your interests better than Pinterest does.
Want to learn step-by-step how I built my Niche Site Empire up to a full-time income?
Yes! I Love to Learn
Learn How I Built My Niche Site Empire to a Full-time Income
How to Pick the Right Keywords at the START, and avoid the losers
How to Scale and Outsource 90% of the Work, Allowing Your Empire to GROW Without You
How to Build a Site That Gets REAL TRAFFIC FROM GOOGLE (every. single. day.)
Subscribe to the Niche Pursuits Newsletter delivered with value 3X per week