9 Best Twitter Alternatives for Growing Your Audience and Online Presence
When you buy something through one of the links on our site, we may earn an affiliate commission.
Are you looking for Twitter alternatives to expand your online presence?
Twitter can be an excellent social media platform to build your community, but what are the best Twitter alternatives you could take advantage of?
In this article, I'll share 9 websites like Twitter you might want to join.
Let's dive in.
Why Choose Twitter Alternatives?
As of October 2021, Twitter has over 400 million active users and is the 15th most popular social media site worldwide.
It's true that many entrepreneurs turn to Twitter as a marketing channel for their businesses, so why choose an alternative platform?
Here are a few reasons you might consider something else:
Privacy concerns: Some people don't enjoy sharing their personal information for social networks to pass on to their advertisers.
Censorship: Many social networks censor content if it goes against their guidelines, which raises the freedom of speech debate.
Overcrowded: To be seen on Twitter, you need to be active and consistent, and even then, it can take a long time to get any traction.
Your audience doesn't hang out there: If your audience isn't on Twitter, then using it wouldn't be an effective use of your time (but if there still are some, then you'll want to find out how to make a list on Twitter).
So, is it time to swap your Twitter account for an alternative (but before you go you may want to check out some of the best Twitter accounts)?
Let's take a closer look.
9 Twitter Alternatives to Boost Your Brand's Online Presence
Whatever your reasons for seeking Twitter alternatives, you'll be glad to know there are quite a few options.
Here are 9 of the best social media sites and blogging platforms you could use instead of Twitter.
1. Reddit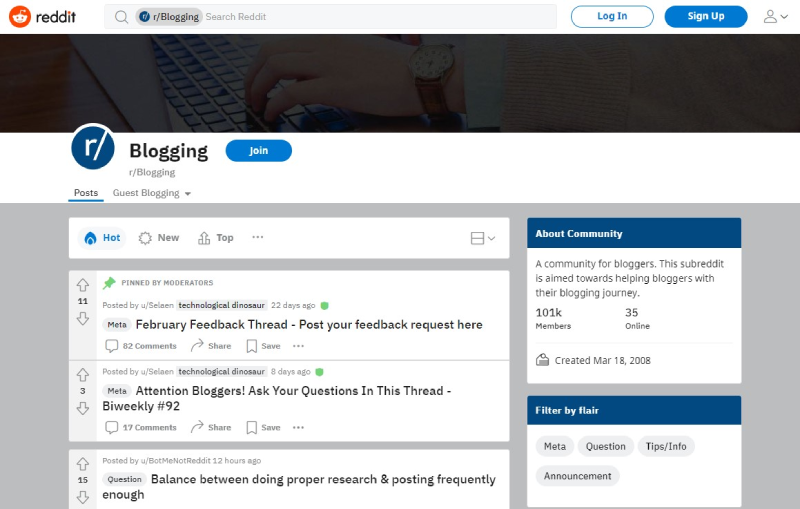 Reddit is one of the largest social media sites, with over 430 million monthly active users and more than 100,000 active communities, which makes it a great Twitter alternative.
Unlike Twitter, Reddit aggregates its information on the platform, which means content will show in feeds depending on how popular it is and what you're interested in.
With Twitter, you only ever see the tweets from users you follow, which is what makes Reddit quite different.
You can also follow one of the 2.8 million subreddits, to see popular content in specific areas of interest, share your own related content, and upvote other content you find valuable.
The site feels more like a collection of forums, as opposed to the fast-paced nature of tweets you see on Twitter.
Types of content you can share on the platform include text, images, videos, links, and polls.
Reddit has official apps available on Android and iOS devices.
Join Reddit Today
---
2. Quora
Quora is a question and answers website with over 300 million active users. It is an excellent platform for sharing your expertise on the questions users have posted.
You can use Quora to share valuable information with your market audience and get feedback on your answers. Users can upvote and downvote your answers, comment, and share them on their own feed, similar to Twitter.
There are thousands of "spaces" or topics of interest you can follow to stay informed on questions people are asking and contribute to the space to build credibility and reputation.
You can also monetize your content on Quora when you become a premium member, which costs $4.99 per month. This membership allows you access to premium content created by other paid members and an ad-free experience.
You will also get paid in proportion to how much of your content is consumed, incentivizing its members to create more premium content for its users.
Join Quora Here
---
3. Tumblr
Tumblr is a micro blogging platform with over 470 million registered accounts. You can add content, known as Tumblelogs, to your profile page, which can consist of text, images, audio, and video.
Posts are typically shorter than a regular blog, but longer than a Twitter tweet, which is capped at 280 characters. You can also share other users' content on your page or on your Twitter or Facebook feed.
It's like a combination of personal blogging platform, Twitter, Instagram, and Facebook, all rolled into one social network.
Another cool thing with Tumblr is the ability to fully customize the design of your profile page. You can make minor adjustments to the default theme, like accent colors, font styles, and page width, or you can purchase one of the professional designs available.
There's also the added benefit of using a branded domain name for your page for the ultimate branded experience.
Join Tumblr Here
---
4. Mastodon
Mastodon is a decentralized social network that is community-owned and completely ad-free. It serves more than 4.4 million users, with an average of 467K visitors per month.
It's quite different from other social networks because it isn't a single website. Instead, it's a network of community sites run by individual people and organizations, which means you can create your own for optimal protection of your own personal information.
Each community is called an instance, which can communicate with all users on the network. This has many privacy and security benefits regarding the content you share and your rights on the platform.
When you visit the Mastodon website, you'll see a list of all the instances available to join, which are categorized. Categories include general, regional, art, music, gaming, technology, and more.
Most people join mastodon.social or mastodon.online, which are communities run by the developers of Mastodon and have the highest number of users, at 720,000+ people.
Similar to Twitter, you can search for topics of interest, follow other users, and post your own content to your profile. Posts can comprise 500 words in text, longer than Twitter's 280 words. Images and also polls can be posted.
There's an official Mastodon app for iOS users and several unofficial apps for Android users.
Join Mastodon Here
---
5. The Dots
The Dots is like a combination of Twitter and LinkedIn and even dubbed "The next LinkedIn?" by Forbes, so naturally, it's one of the Twitter alternatives.
It's a social network for professionals who "don't wear suits to work", states the founder and CEO, Pip Jamieson. It's for people to find their dream job, attend business events, and connect with like-minded entrepreneurs.
Your profile page allows you to add more information, including a bio, your skills and education, projects you're working on, and work history. Posts to the community can include text, an image, tags, and category type.
You can browse other members to find connections for hiring, to find work for yourself, or simply exchange ideas.
There are also many other features on the site, like forums, a jobs board, and local events.
The Dots app is available on iOS devices only.
Join The Dots Here
---
6. Gab
Gab.com is a social network with similar features to Twitter but is known for its far right user base. The site was founded by Andrew Torba in 2016 and is billed as a social media alternative, focused on "free speech".
Gab is actually a forked version of the open source software, Mastodon, taking advantage of its decentralized benefits.
The site has a heavy political audience as opposed to marketers using it for business use, although its 100,000 active users and 4 million total users could be beneficial for the right markets.
Interestingly, the iOS and Android apps have been banned from their respective app stores for refusing to censor speech on the platform.
They do, however, have instructions on their blog on how to bypass the app stores to install the apps.
Join Gab Here
---
7. WT Social
WT Social is a microblogging and social media site and Twitter alternative launched by Wikipedia cofounder Jimmy Wales in 2019. It was created as an alternative to Twitter and Facebook.
The platform is completely ad-free and funded entirely by member donations. It reached 474,430 users as of 12 March 2021.
When you join the platform, you can choose to join a large collection of Subwikis, which are directories based on topics of interest, such as Technology, Marvel, Netflix, Cryptocurrencies, and many more.
Many of the users' posts are interesting articles from around the web, but you can also share your thoughts with text, images, and videos.
Posts you share appear on your profile and you can add a bio, a profile image, and cover photo.
There doesn't seem to be any app available for this social network.
Join WT Social Here
---
8. LinkedIn
LinkedIn is a social network for companies and professionals for networking, career development, and to help people seek job opportunities. It's like a more professional version of The Dots from this list.
If you're joining the site to look for work, your profile can be used as a public resume. You can make connections with other professionals who can endorse skills you have stated you have experience in.
For companies, they can create their own business page with details about the company, products or services they offer, post articles, and advertise job openings.
This Twitter alternative has 660 million members and gets an estimated 310 million monthly active users.
Join LinkedIn Here
---
9. Medium
Medium is a hosted blogging platform for entrepreneurs and thought leaders to share their expertise on topics in almost any field.
This alternative is probably the least like Twitter, but you can still use it to grow a large audience on Medium itself, build an email list without a website, and market your products and services.
The difference between Medium and other blogging platforms is the community aspect. With 60 million monthly average users, you can start attracting a following much quicker than if you were growing your own blog from scratch.
Features available on Medium include everything you would expect from a social media site or blogging platform, only the posts you create are typically long-form blog content.
You can add images to posts, quotes, sub-headlines, video, and even embed your podcast. Posts can be voted on, which are called claps and you can also leave comments.
Medium uses an algorithm to aggregate content, which means they display popular content throughout the site and on the home page.
Join Medium Here
Twitter Alternatives Conclusion
That concludes this post on the best Twitter alternatives. Which one will you join?
Using social media for growing an audience is a great idea, but it's best to stick to 1-2 platforms. If Twitter isn't one of them, then one in this list could be a better choice.
If you're looking for other platforms to use, you can read my post on the best Quora alternatives.
Want to learn step-by-step how I built my Niche Site Empire up to a full-time income?
Yes! I Love to Learn
Learn How I Built My Niche Site Empire to a Full-time Income
How to Pick the Right Keywords at the START, and avoid the losers
How to Scale and Outsource 90% of the Work, Allowing Your Empire to GROW Without You
How to Build a Site That Gets REAL TRAFFIC FROM GOOGLE (every. single. day.)
Subscribe to the Niche Pursuits Newsletter delivered with value 3X per week