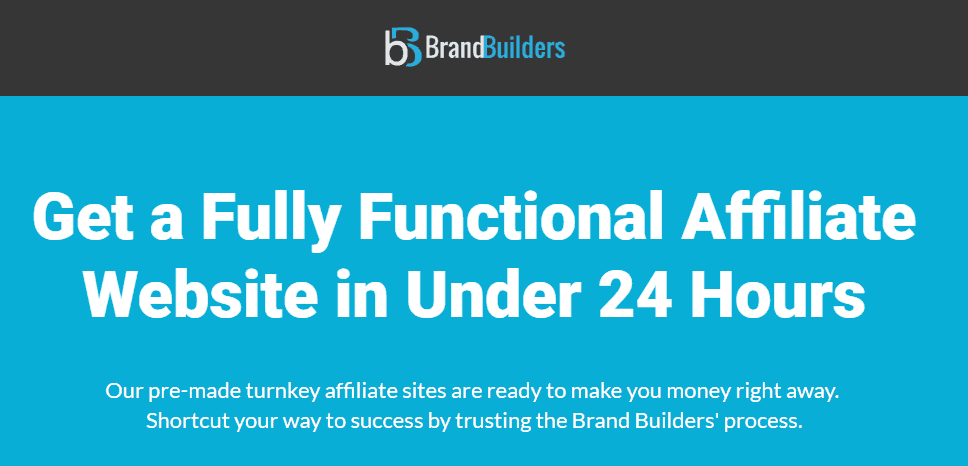 You may have heard me mention Brand Builders in the past.  Brand Builders is a service that builds a new website for you according to best practices and then hands it's off to you.
In this Brand Builders review today, I want to discuss both the pros and cons of buying a website through the service.   In addition, I'll share a success story and a "fail" story.
I also want to be very clear that I am an affiliate for Brand Builders and hold a very small ownership stake in the company, so I am compensated if you buy a site through them.
Brand Builders is not for everyone, but might be the right fit in the right situation.  Read on to see what my opinions are concerning who should consider buying a turnkey website.
If you want to see a batch of pre-made affiliate sites available for sale right now, go here.  These will likely be sold out in 48 hours.
What Brand Builders Offers
If you go to this page here, you can see exactly the types of sites that Brand Builders is offering.   The main option that I usually mention are the Pre-made affiliate websites.  However, they actually offer a few other things as well.  
Here's a quick run-down of everything.
Pre-made affiliate website
These are Amazon affiliate websites where the initial keyword research has been done, the site has been built, and the content written.  Remember, these are brand new websites, so they aren't ranking in Google or getting any traffic yet, but a ton of the upfront work has been done for you.
Now it's your job to promote the site, grow the site even bigger with more content.  The foundation is built.
See the Limited Time Batch of Pre-made sites that are available right now.
Done for You Amazon FBA Websites
If you are selling products on Amazon, then having a website that can represent your brand is smart.  In addition, these sites are built with traffic generation in mind.  
In other words, they are built so that they can rank in Google and hopefully start helping you sell more of your products.
These sites are perfect for someone that sells on Amazon, but doesn't want to have to learn or doesn't have time to build a WordPress site.
Custom Affiliate Sites
If you want some sort of custom affiliate site done, the Brand Builders can handle that too.  Reach out to them here, and tell them what you are looking for.
They have a couple of other services they offer like content creation and link building that you can see here.  However, I'm not going to review those specific services since I don't have any experience with them.
Who Should Consider Brand Builders?
I can think of 2 types of people that should consider buying a turnkey website in order to make money.   
First, someone that knows they will procrastinate OR wants to skip the first 3 to 6 months of work.  The reality is that building a site from scratch really can take anywhere from 3 to 6 months for the average person to get up and running.
Tasks that are required to get the first 10 or 15 articles up on your site (the point where a Brand Builders site is when you buy it):
Research to find a good niche
Keyword research to decide which keywords are easy to rank for and have potential to make money
Buy a domain and get hosting set up
Install and configure WordPress
Find a WordPress theme and adjust the layout and menus to your liking
Write content "briefs" telling your authors what should be included in each article and how to target the keywords
Hire an author to write the articles for you
Or write the articles yourself
Find images or create blog header images to make the articles look nice
Add affiliate links to the articles so you can make money
Interlink the articles and add other formatting like headings, etc. to content
Create a freebie/download that you can offer your visitors to get on an email list.
Set up your email list and opt in forms on the site
These are all the things that a pre-made site will already have completed.  It's a lot to do, but it's totally doable for someone that knows what they are doing.
But if you are someone that would like to just skip all this work so you can focus on the next steps for the site, this could be a great option.
The second type of person that might consider a Brand Builders site is someone that wants to quickly grow a portfolio of sites they can work on.  I know of at least one buyer where this is what they do.  
Want To Build Smart & Relevant Internal Links...Quickly?
Link Whisper makes it simple to boost your site's authority in the eyes of Google. You can use Link Whisper to:
Bring out your orphaned content that isn't ranking

Create smart, relevant, and fast internal links

Simple yet effective internal links reporting: what has lots of links and what pages need more links? 
Click here to revolutionize your site's way of doing internal links
They have a couple of sites in one particular niche and when they see a pre-built site come up for sale in that same niche they scoop it up.
Who Should Not Buy a Pre-Built Website?
Someone that thinks the site is already making money when they buy it.   These sites are BRAND NEW!
That means they are not ranking in Google yet, they are not getting traffic usually, and they are not making money.  So, if you are buying these expecting them to magically make you money, then you shouldn't buy.
However, the pieces are all in place for them to make money…in the future…with work.  If you don't do anything at all on them, they likely will get some traffic as they start to rank in Google over time.  They might even make a little bit of money.
But if you don't touch them, we are taking tiny amounts of traffic and tiny amounts of earnings.
If you want to make real money, these sites are like hot coals that have potential.  You just need to stoke the flames in put in the work!
How I Built A Niche Site That Makes $2,985 Per Month
Success and Failure Stories
I recently spoke with Allen Michael that bought a Brand Builder pre-built Amazon affiliate website last year.   He got the site and treated it like a business.  It was now his responsibility to grow the site with more content and do some promotion (link building).
He put in the work and his site is now making $550 a month, and should continue to grow and make even more than that as he puts in the effort.  It's not easy, takes real work, but it's totally doable.
Allen is a great example of someone having success with their turnkey website.
On the other hand, I spoke to someone else (that I won't name) that bought a site around the same time. Guess how much work they put into the site after buying it?  None.
Un-surprisingly, that site is not earning them $550 each month.  Instead it just gets a small trickle of traffic and makes a random sale through Amazon Associates every now and again.  It essentially makes nothing.
Don't be a failure story.
One Way to Think of Pre-Made Sites
The best way to think of these pre-made sites through Brand Builders is that:
Allows you to skip the first 3 to 6 months of work. (Doesn't allow you to skip the work after the first 3 to 6 months).
Ensures that you get started right.  The site is built and optimized and ready to go the right way.
If you want to see the sites that are currently available on Brand Builders, go here.
Overall, I hope my review of what Brand Builders offer is helpful.  If nothing else, I hope my description who should and who should not consider buying these types of sites help you make your own decision.
---