Bob Vila is One Of The Top Affiliate Marketers On The Planet?
When you buy something through one of the links on our site, we may earn an affiliate commission.
Bob Vila is a well-known home improvement television personality from the 80s and 90s. He hosted his own shows and guest starred on Home Improvement, where he played a rival of Tim Allen.
Even if you haven't seen any of his shows, you've probably seen his face if you're from North America. And his likeness and brand have been put to good use with a content site.
In fact, according to Semrush, the site bobvila.com is number 309 among the top organic sites worldwide.
It's been steadily growing over the years, and as of July 2022, it receives at least 14.5 million visitors a month (from both Ahrefs and Semrush).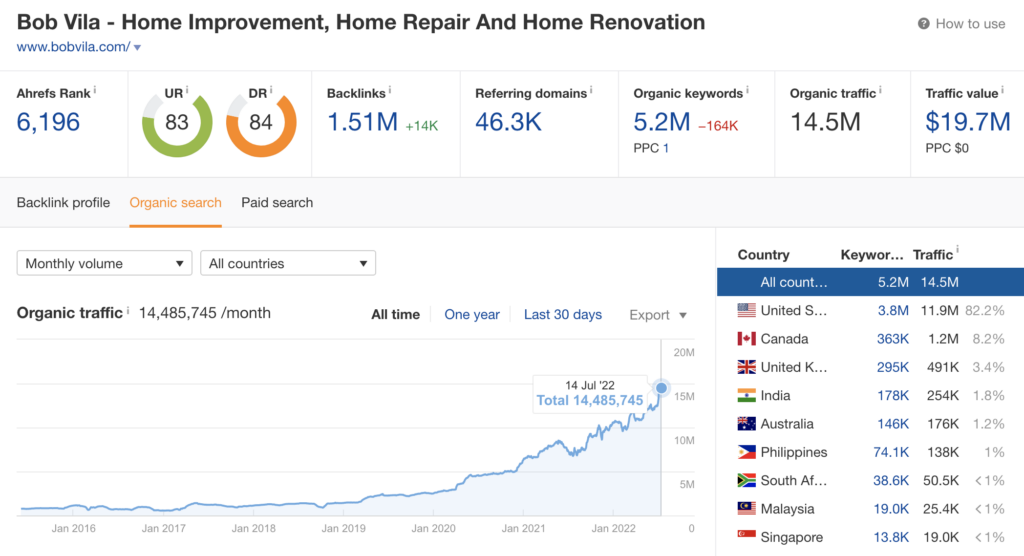 In this short and sweet article, I'll quickly cover what the site seems to be doing exceptionally well. And see what actionable takeaways we can find.
So grab a shovel and hardhat, and let's dig in.
Bob Vila 101
Bob Vila is a legitimate handyman. He got his start in showbusiness as host of This Old House after he was awarded for his work restoring an old Victorian home in Massachusetts.
His Wikipedia page is pretty interesting, particularly all the mentions of his side deals and hustles as a spokesperson for various brands.
Besides knowing his way around a table saw, Bob is also a crafty businessman.
His TV work in the home improvement niche has helped him become a trusted authority in the space, which is now leveraged with a very successful content site.
And while the About page is written as him, it's hard to imagine it's like this: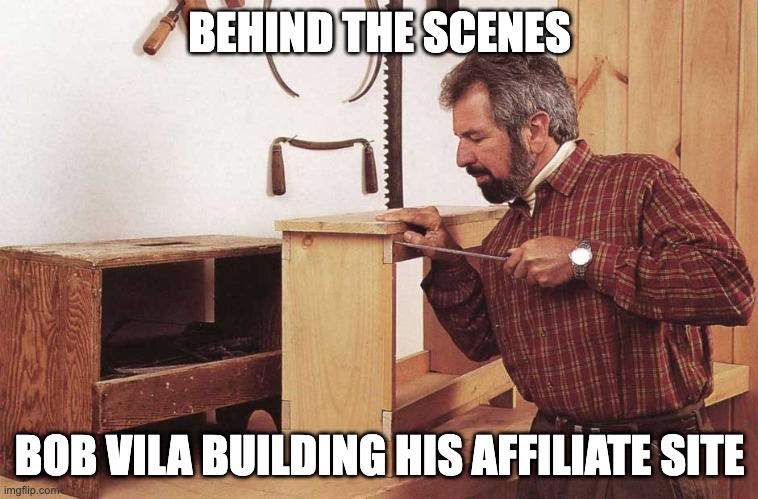 The site is owned by a subsidiary of parent company Recurrent Ventures. They own many sites in different niches like auto, outdoor, and even military.
But regardless of whatever is going on behind the scenes, at least for Bobvila.com, it's working great.
How Bob Vila Gets Traffic
Bobvila.com gets most of its traffic organically with little to no ad spend.
Some of the keywords the site ranks in the top 3 for include: pool table, Dewalt, and Whirlpool refrigerator.
As you can see, they also rank for big traffic keywords like barndominium and hammerhead worm, which aren't necessarily transactional but could include links to relevant products.
The site goes after all things home and garden. And as a result, can take advantage of social media platforms like Pinterest to promote offers and drive traffic.
Unsurprisingly Pinterest drives the bulk of its social traffic, although it also has a decent YouTube channel.
It's also interesting to note that the broad approach to the site's niche helps it avoid the typical dips in traffic from seasonality.
Bob Vila's Link Profile
The site has a DR of 84 on Ahrefs from extremely juicy links.
A wide range of the biggest sites on the planet frequently reference their work including:
Wikipedia
Merriam-Webster Dictionary
New York Times
The Guardian
CNBC
And a ton more...
But also of note is that they get lots of traffic as a source for related and relevant sites in the broad 'home' niche.
Here's an example of some:
How Bob Vila Makes Money
Bob Vila's site is arguably one of the most successful affiliate sites on the internet.
They have lots of affiliate content because here are some of their top outgoing links:
As you can see there are thousands of affiliate links on the site for various programs. And there are a lot more that this image couldn't capture.
The 'sjv.io' link is for the Home Depot affiliate program, which we've reviewed in the past and isn't great.
But when you factor in the sheer volume of traffic the site gets, it's fair to say that the ad and affiliate earnings must be great each month.
So let's look at one of their top transactional keywords to see how they tackle it.
A Standard Bob Vila Money Page
They seem to use a standard format for their money pages.
They'll offer 3 options right after the title and then jump into their article.
Interesting to note is that these pages don't include a table of contents.
After the intro, they cover the context of the topic, including 'different types' and 'things to consider when buying'.
These are the kinds of h2s that can be included in any 'Best of' post and help ensure the article includes the relevant phrases needed for SEO purposes.
Once that's done, they get into Top Picks. They'll include a few paragraphs on each product with some bullet points and a contextual CTA with links to 2 or 3 places where you can buy them.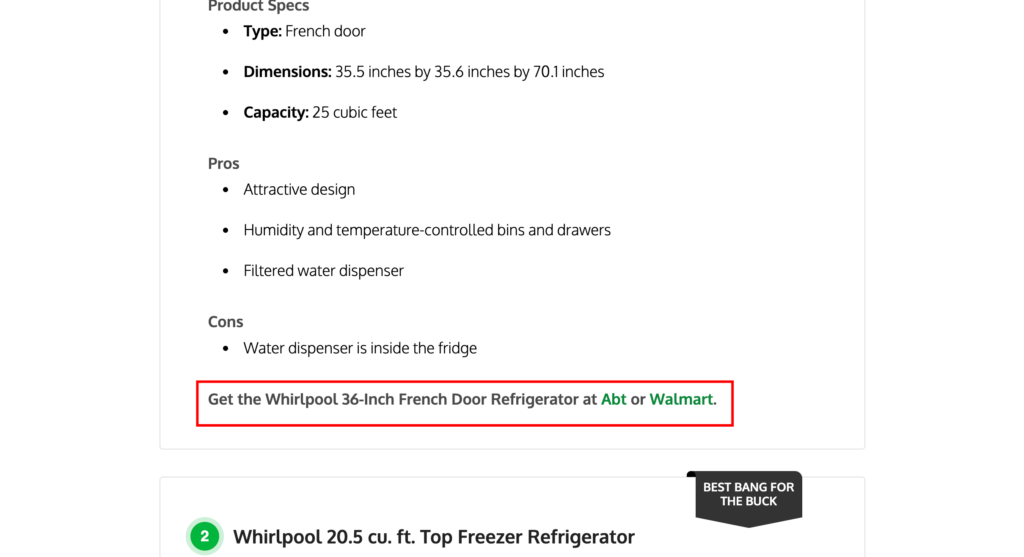 Then they provide a verdict, summarizing the top choices for the 2 categories that are probably the most interesting for readers. In this case, the overall best and best affordable option.
They then include some context on how they came to their conclusions. But it's pretty clear, at least for this article that they almost certainly never touched any of these products.
They provide general information about each item. But they likely make up for this, perhaps algorithmically, with their relatively vague criteria section for their findings.
[This isn't always the case, though; with relatively cheaper products like 'best charcoal grills', they include original photos of the products.]
This is good to consider adding to your review posts if you aren't already.
The article also includes a tasteful amount of internal links using partial-match anchor text.
And notably, like another affiliate juggernaut site we've covered, Tom's Guide, each link and CTA is green.
The post then concludes with a standard FAQ section.
Bob Vila's 'Best of' Template
Here's what these 'Best of' articles share in common:
Short and straightforward title with the primary keyword
Top 3 picks for different categories with green 'check latest price' buttons
A brief intro that again includes the primary keyword
A list of the 'best by feature'
'Different types' and/or 'What to consider' sections
'Our Top Picks' section with each product including an image, button, a few paragraphs, product specs, pros, cons, and a text CTA with a few options of where to buy
'Our Verdict' section where they highlight the 2 best options with contextual links
A 'How we tested...' section
FAQ section
The site puts this template to good use.
There are a TON of these kinds of articles on the site. And each seems to follow this same format.
And it's obviously working well for them. So maybe it could work for you too.
What We Can Learn from Bobvila.com
I was pretty surprised when I saw that Bob Vila's site brought in more organic traffic than other content sites leveraging celebrity brands like Oprah and Martha Stewart.
When you look at the site, particularly when you land on the homepage, nothing jumps out. And surprisingly, when considering its look and feel, it doesn't even load fast.
But it's clear that behind the scenes, the team at bobvila.com are crafty SEO and CRO pros.
So here are some key takeaways:
Build and leverage your brand and reputation to the max
Keep money pages clutter-free
Before your FAQ section, include a 'How we chose...' section
Consider experimenting with green links and CTAs
Include a mix of button and contextual affiliate links
Offer 2-3 different in-text options where readers can buy products discussed
Save time with a tried and true review template
Thanks for reading.
I hope this has been helpful!
Want to learn step-by-step how I built my Niche Site Empire up to a full-time income?
Yes! I Love to Learn
Learn How I Built My Niche Site Empire to a Full-time Income
How to Pick the Right Keywords at the START, and avoid the losers
How to Scale and Outsource 90% of the Work, Allowing Your Empire to GROW Without You
How to Build a Site That Gets REAL TRAFFIC FROM GOOGLE (every. single. day.)
Subscribe to the Niche Pursuits Newsletter delivered with value 3X per week