The Home Depot Affiliate Program Review: Is It Better than Amazon?
Do you want to earn money promoting products in the home improvement niche? If so, you're probably going to consider joining The Home Depot Affiliate Program.
As the largest home improvement retailer in the world, it makes sense.
But before you sign up as an affiliate partner you may want to investigate if it's even worth it. Don't worry, we did that for you.
In this article, we'll show you the ins and outs of The Home Depot affiliate program. We'll let you know what you can expect as well as the advantages, disadvantages, and even some alternatives.
Read on to find out more!

---
The Home Depot Affiliate Program Review
Ease of Use -

80

Range of Products -

80

Commissions -

65

Customer Service -

80
Summary
The Home Depot affiliate program is an attempt at providing home improvement affiliates with an alternative to Amazon. It's certainly not your best option, though. While there are a ton of products and decent support, the default commissions and cookie window are both suboptimal.
Pros
Alternative to Amazon
8% on select home décor items
Lots of products
Decent support
Cons
1% default commissions
Many home décor items are low-cost
Limited mostly to sales in the continental U.S.
24-hour cookie window
Items often go out of stock
Have to update links frequently
---
What products can you promote with The Home Depot affiliate program?
The Home Depot website is massive. There are 20 different departments on the site. And according to their affiliate page, there are over 1,000,000 online items eligible for free shipping.
Here are some of the product categories you can promote:
Appliances

Building Materials

Décor & Furniture

Flooring & Area Rugs

Kitchen & Kitchenware

Outdoor Living & Patio

Smart Home

Storage & Organization, and much, much more.
Or better yet, check out this small portion of the sitemap to get a glimpse of what's available:
As you can see, there's no shortage of options.
One great thing about The Home Depot products is you can order them by popularity or brand recognition.
But as we'll get into, depending on the product category you promote, your commissions can be as low as 1%.
What products aren't included in The Home Depot affiliate program?
Some products and offers on the site are not included in the affiliate program. These include any gift card, installation services, or custom-created products available.
In-store purchases are also not eligible for affiliate commissions. You'll want to keep this in mind.
You may be tempted to create content on patio furniture only to realize that customers tend to visit their local Home Depot store to try them out in person before buying. So, choose wisely.
How The Home Depot affiliate program works
The Home Depot affiliate program operates like any other (check out the IKEA affiliate program).
You sign up for their affiliate marketing program. Then, if accepted, you'll get a unique link to add to your content. If you can persuade your audience to click through to The Home Depot site and buy something, you'll earn a commission.
This particular program is hosted through an affiliate network. It used to be with Commission Junction (now CJ Affiliate) but is currently run through Impact Radius.
A nice thing about companies hosting their program with an affiliate network is that you typically get top-notch support from both teams of specialists. You get access to The Home Depot affiliate account managers plus any tech support from the Impact platform.
Who can sign up for The Home Depot affiliate program?
Anyone with an active website can fill out the application form.
You will need to provide personal and company information wherever applicable. You're also asked to disclose the promotional methods you intend to use as well as any other media properties that you own.
Although they welcome a variety of sites to apply, a site that somehow relates to home improvement is definitely preferable.
Getting accepted is not always easy. And The Home Depot reserves the right to deny your application for any reason they want.
The affiliate link is only good for 1 day (a 24-hour cookie window).
This short window puts pressure on your ability to effectively sell fast with your content. And if you hope to earn a commission, it also relies on The Home Depot online store to be effective at converting your traffic into sales.
In this regard, The Home Depot actually does do a fairly decent job. A study by Similarweb during the height of the coronavirus in 2020 compared the performance of competitors The Home Depot and Lowe's.
It showed that in Q1, The Home Depot fared much stronger than Lowe's, managing to convert 2.8% of its visitors into paying customers.
What are the commission rates for The Home Depot affiliate program?
You may see The Home Depot affiliate program offering up to 8% on delivery and pick-up in-store orders from online purchases. This is true for select home décor products but everything else is 1%.
The Home Depot is a brick-and-mortar company first and foremost.
This means that relative to e-commerce sites, they have higher costs and slimmer margins. It's unlikely they'll ever be eager to get more generous with affiliate commissions.
Having said that, as you can see below, they do offer 'affiliate promotions' on occasion where they raise the default commission back to 2%, where it was in 2020.
What marketing tools are provided to The Home Depot affiliates?
The standard tools are available. A daily product data feed is accessible to affiliate marketers to keep up to date.
Plus, you can add a wide variety of banner ads and text links to your site.
What is The Home Depot affiliate program payment schedule?
Commissions earned from the month prior are typically calculated by the 20th of each month.
Payments get processed via check, PayPal, wire transfer, or direct deposit, depending on your preferences.
Minimum payouts for direct deposits are $50 and $100 for checks. Anything less will carry over until you reach the minimum.
It's important to remember of course that The Home Depot only pays for a qualified sale. This means any sales transaction that a person doesn't cancel, decline, or return.
They have a return policy (which can be up to 90 days) and a strict payment processing procedure. So any and all commission payouts get pushed back until the return period is over.
How can you make money as an affiliate of The Home Depot?
Choose the right niche
With such a wide variety of items, it would be nearly impossible to promote everything. And even if it was possible, not everything is worth your time. Niche specialization is key to maximizing this affiliate program.
Home décor items aren't always expensive but they do work great with social media platforms like Pinterest. As an affiliate marketer, Pinterest is a powerful tool to promote Home Depot products and direct your target audience back to your site.
That brings us to our next important note.
Promote across channels
Home improvement products are great to promote in a variety of ways. A blog post of a product review works great. But definitely consider promoting on YouTube as well.
It's not only a great platform to discuss home improvement but can also help you become something of an affiliate marketing influencer.
Promoting across channels and in a variety of formats will almost always work in your favor.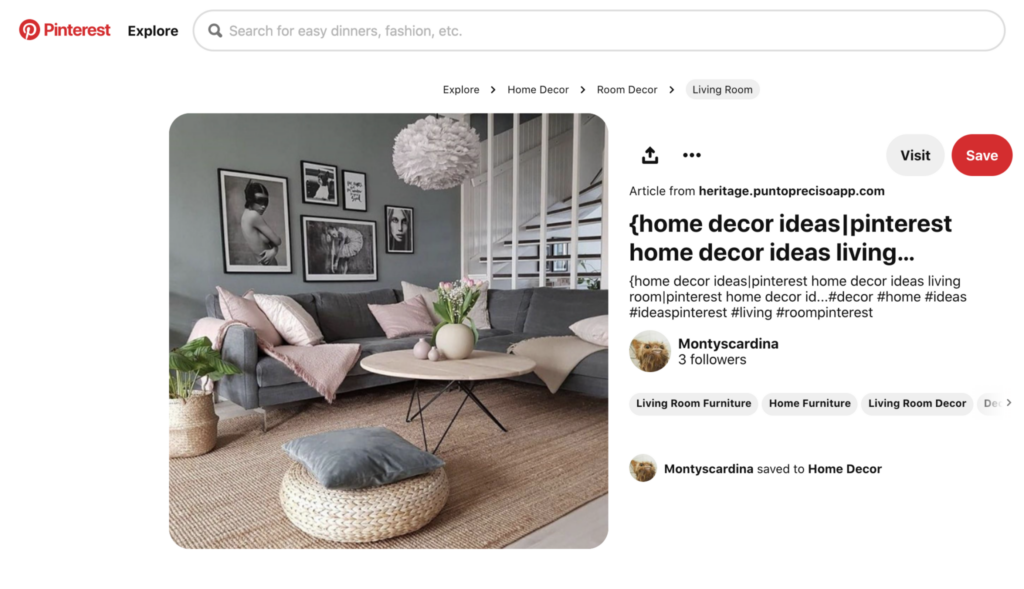 You can also try email marketing by building out a list and frequently sending out tips with links to various home décor and outdoor living Home Depot products.
And just a heads-up if you'd like to get started with different content types: There are thousands of courses now available on Skillshare to help you make the most of these strategies.
There are tons of courses available about how to create affiliate content on Pinterest, YouTube, and via email marketing from some of the most successful creators of each platform.
Learn About Content Creation on Skillshare
What are the advantages of The Home Depot affiliate program?
The program offers an alternative to being an Amazon Associate.

An 8% commission on select home décor products.

A ton of different products to promote, including some exclusive and high-cost items.

The support offered by both The Home Depot team and Impact Radius is very helpful and professional.
What are the disadvantages of The Home Depot affiliate program?
A 1% default commission on most products is low.
Most home décor products are quite cheap, so you need to sell a lot to make decent money.
If you sign up for The Home Depot program, homedepot.com sales will only ship products within the continental USA. Only a relatively limited number of products are available to ship to Hawaii and Alaska.
A 24-hour cookie duration doesn't give you much time.
The Home Depot products can quickly go out of stock.
You may have to spend a significant amount of time monitoring and updating links to ensure you can actually earn a commission.
Alternatives to The Home Depot affiliate program
Amazon Affiliate Program
It may surprise you to hear, but in general, Amazon associates may actually be the better option for most affiliate marketers.
Amazon has the same cookie window as The Home Depot at just 24 hours. And yes, they do seem to continuously lower their commission rates. But they also set the benchmark for an effective checkout process, allowing for a higher overall conversion rate.
Plus, you won't miss out on a commission promoting an item your reader can then go try and buy in person at The Home Depot.
Walmart Affiliate Program
Walmart is Amazon's biggest competitor in the U.S., so it's no surprise they have a ton of products available to promote.
Walmart's affiliate program is also run through Impact Radius and offers some advantages over The Home Depot.
They have a 3-day cookie and certain categories including automotive, DIY, hardware, and tools still offer a 4% commission.
Plus, they provide a fairly decent newsletter for affiliates, providing the latest information on new products and contests to help convert traffic.
Target Partners
Target's affiliate program offers a better opportunity for affiliates than most e-commerce sites.
They may not be widely known as home improvement specialists, but Target does offer a ton of recognizable brand products in the space.
Although Target is known as a brick-and-mortar corporation, they've managed to offer a relatively generous commission structure. Their home and outdoor living category starts at 5%, with a tiered bonus structure going up to 8%. On top of that, they also offer affiliate partners a 7-day cookie.
Wayfair Affiliate Program
Wayfair is a popular furniture and home décor brand (find out if Wayfair is legit) in the U.S. Their site is clean and their affiliate program is an excellent option for anyone interested in the space.
Wayfair has a huge selection of products and the Wayfair affiliate program offers a 7% commission on all items as well as a 7-day cookie.
Is the Home Depot affiliate program worth it?
Unfortunately, when you factor in the low commissions, short cookie window, and relatively low conversion rate on the site, it's a tough sell.
The home improvement niche can be great for affiliate marketing. However, you'll want to link out to wherever you can make the most profit.
As we can see, The Home Depot isn't the best choice. You're better off directing your traffic to Target, Wayfair, or even Amazon.
Want to learn step-by-step how I built my Niche Site Empire up to a full-time income?
Yes! I Love to Learn
Learn How I Built My Niche Site Empire to a Full-time Income
How to Pick the Right Keywords at the START, and avoid the losers
How to Scale and Outsource 90% of the Work, Allowing Your Empire to GROW Without You
How to Build a Site That Gets REAL TRAFFIC FROM GOOGLE (every. single. day.)
Subscribe to the Niche Pursuits Newsletter delivered with value 3X per week