Substack Review: Is this Writer Newsletter Platform Worth Your Time Into?
In this Substack review, we will look at all you need to know about this newsletter platform.
Promoting your products and services as a business, freelancer, or marketer is never easy. But it doesn't have to be a dreadful process. There are so many technological tools and methods that can aid in making your promotional efforts seamless.
Sending out email newsletters is one such method and there are a plethora of tools available to automate the process.
Why newsletters? For one, they have a great average open rate.
That said, you need the right tools for the process. And Substack is one solution that can not only simplify your newsletter marketing efforts but can help you make money online in the process.
The tool doesn't just help you craft compelling and converting email newsletters, but it also gives you the opportunity to earn cash on your Substack newsletters by charging readers to open them (learn more about how to start a newsletter side hustle here).
This shouldn't be a deterrent though if you're all about the free life. Substack also allows publishers to send free newsletters.
Join Substack Now
So let's find out in our Substack Review if Substack is really worth it.
---
Substack
Ease of Use -

85

Monetization Options -

70

Platform Fees -

40

Performance -

75
Substack Summary
Substack is a SaaS (Software as a Service) platform that allows writers to monetize their newsletters via a subscription model for various prices starting at $5 per month.
Pros
Simple and minimalistic design
Easy to use
Data portability
Analysis and audience statistics available
Cons
Insane amount of fees
Few integration options
Preset minimum subscription fee for your readers
What is Substack?
Substack is a SaaS (Software as a Service) platform that allows writers to monetize their newsletters by locking the content and opening it up only via a paid subscription model. The solution offers everything needed for the entire process from payment processors to analytics to design services.
Who Is Substack For?
Substack is built for writers looking for various ways to boost their personal brand, amplify online visibility, and monetize their skills through a subscription model.
The solution also enables writers to prioritize their readers rather than ads or products with regard to monetization. And with various features like the drag-and-drop function for inserting media files, it's great for authors that want to cut down on design costs in their content.
Substack Review: Pros and Cons
Every tool, no matter how great, has its pros and cons. Let's have a look at Substack's:
Pros
Data Portability: With the Substack newsletter platform, it is super easy to export your email lists, posts, and any other email data from its settings page. This enables you to quickly import them to your various email services. There's even a Substack importer that allows you to send your data on the platform to WordPress.
Newsletter Subscription Options: You can either send your email newsletter for free or for a price. You're not forced to put a premium on all content.
Simple to Use: This platform is easy to grasp for beginners and even includes drag-and-drop functions that you can use to add visual and engaging content like audio files to your newsletters. In summary, you can have an aesthetically compelling newsletter in a couple of minutes.
Works for Any Niche: Substack allows you to craft and monetize content for literally any niche on the planet. From food content to faith content to legal content, the options are limitless.
Minimalistic Design: Unlike most of its competitors this platform provides a very minimalistic writer interface, which for most authors, is perfect.
Cons
Insane Number of Fees: This is the major downside to the Substack solution. It has so many fees that feed into your profits and leave you wondering. There's the 10% fee from the platform itself, a $0.30 transaction cost, and a 2.9% charge from Stripe deducted from your monthly profits. It adds up and can get pretty annoying.
You Profit from a Single Model: The only way you can make money via the Substack platform is through premium content your readers subscribe to. While this is great, it means you can only make a sizable amount with a high number of readers. What happens when you have zero newsletter subscribers and a teeny tiny email list? You have to build them and that takes a lot of time.
Little to No Integrations: For a tool like this, it is disheartening to know that they don't offer integrations to any of the popular tools you may expect. That said, they offer integrations to Google Analytics, MailChimp, Patreon, TinyLetter, and your social media accounts.
High Minimum Subscription Fee: Substack charges your readers a minimum $5 subscription-fee to access your newsletter content. That's quite high and can dissuade a lot of readers from signing up.
Substack Review: Ease of Use
Substack offers a minimalistic design as you can see above and it has a very "Ghost CMS"-like feel. Even if you're a complete beginner with anything tech, the platform is very easy to navigate and use. You can check the number of subscribers you have, view newsletter statistics, and your posts.
Your mailing list can also be filtered to show free or paid users.
Here's a view of Substack's dashboard:
Setting up your account is also very quick and basic. At signup, you're asked to integrate your social media accounts or skip and then you have to include your email:
That's all. Signup and publishing are also free. You only get charged when you start making money off the platform. After the registration process, you have the option of importing your email list via platforms like MailChimp, TinyLetter, and Patreon. Alternatively, you can use a CSV file.
Once that's through, you have to input any subscribers you already have manually in the fields provided.
With regards to writing posts, here's what their content area looks like:
As the image above shows, it's every author's delight, simplistic and straight to the point with no distracting or excess functions.
Substack Review: Features
If you're looking for a bunch of fancy features then Substack isn't it for you. The solution is as basic as a content platform gets. It does have a drag-and-drop function, but that's as sleek as it gets. That said, let's see what Substack does actually offer:
Add a Custom Domain
Substack now allows writers to connect a custom domain via the platform for a one-time fee of $50. After payment, you can use this feature to delete or add custom domains as you choose.
To access it, visit the settings page and choose "set up a custom domain." This feature solidifies your branding so you don't have a ".substack" behind your publication URL.
Ample Pricing Options
Not every author wants to charge for their content. Some simply just want to spread the word about an ideology or belief. Substack caters to such people. As a writer, you aren't forced to monetize your content via the subscription model when you join the platform. You can opt to give out your content for free.
However, if you want to make money online via your knowledge and writing skills, Substack allows you to charge your readers starting from $5 monthly or $30 annually. Other options include:
$7 per month
$10 per month
$30 per month
$75 per month
Valuable Audience Statistics
One of the strongest positives of the Substack tool is that it enables you to grow your audience through in-depth and valuable statistics. Here are some of the aspects you can discover in your audience from your dashboard:
Which paid subscriber opened the most emails
The subscribers getting close to their subscription renewal date
Subscribers that signed up via a post on Twitter
Which subscribers shared and commented on your email newsletters the most
Your longest subscribed readers
Minimalistic Text Editor
Substack has a simplistic text editor that allows you to focus on just content creation without any side distractions.
Publishing Content
As we've already seen, Substack's editor isn't anything too fancy. It's straight to the point. To get started, you just need to navigate to your dashboard and hit "New Post" on the right-hand side of your screen.
You'll then be directed to the text editor where you can begin content creation. The text editor is as basic as it gets and offers very simple functions.
Here's what Substack's text editor can do:
Underline, italicize, and bold
Embed and link
Insert pictures
Add lines
Add headers
Create lists with bullet points and numerals
Add quote
You can also choose who can see the post by clicking the "settings" button underneath. When you're done writing, the "publish" button is below the text editor. You just need to hit publish and you're all set.
Substack Review: Alternatives
Even though Substack is a wonderful solution for several sorts of writers, it isn't suitable for everyone. Here are some additional alternatives to consider if you're looking for something different.
Medium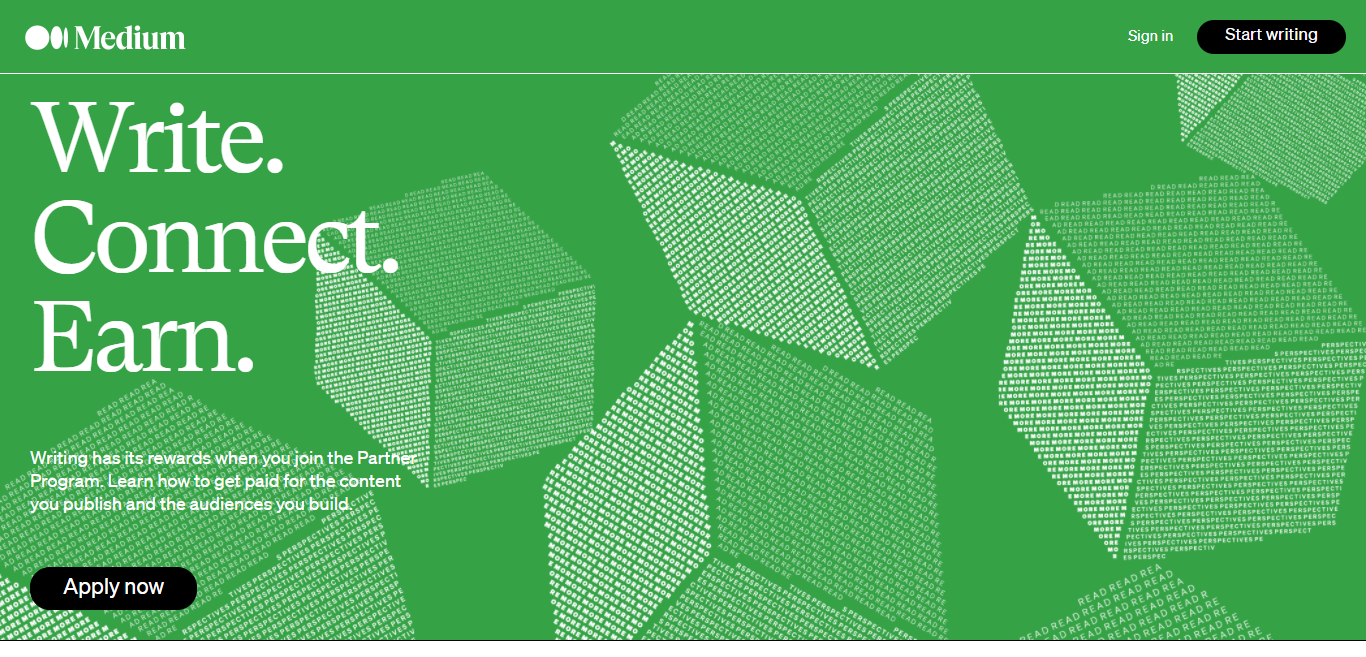 Medium.com is a publishing platform that works as an interactive blog and allows authors to post articles of any length. It also includes support for images and other media types with the possibility of monetization. It also has some unique editorial features such as Medium Collections (groupings of author articles on similar topics for readers).
Medium makes writing and reading content simple by using a minimalistic design similar to what you have on Substack. You can focus on writing your thoughts rather than learning how to upload files or format text without being distracted by numerous functions.
With regards to monetization, Medium allows you to charge your audience either by minutes spent reading or by referring readers and earning via a percentage of their membership fee.
That said, to be able to earn via this platform, you have to first publish a story, get up to 100 followers, satisfy their editorial requirements, and wait for the approval.
In comparison to Substack, Medium offers some strict monetization processes with so many steps to pass. However, it has way more readers (over 100 million) that you can reach compared to Substack.
Join Medium Now
Patreon
Patreon enables content creators such as YouTubers, writers, and podcasters to make money by connecting them with readers interested in paying a subscription for access to their content.
As a creator with Patreon, you can set numerous subscription tiers that allow your audience to choose an amount they're comfortable paying. The platform also offers content creation tools as well as management tools that allow you to communicate with your readers, monitor income, and transfer profits to you.
Join Patreon Now
Ghost
Ghost is a platform that allows content creators (especially writers) to create, publish, manage, share, and monetize their content. The platform also comes with conversion tools that display popups with subscription plans to convert your readers into paying subscribers.
The platform also integrates with way more tools than Substack including Slack, Stripe, Soundcloud, Zapier, Shopify, and much more.
Join Ghost Now
Substack Review: FAQs
Is it True that Anybody Can Start Using Substack?
Absolutely! Substack allows anyone to open up an account, unlike platforms like Medium that have particular criteria for writers to be able to make money via the platform.
So this is a great platform for new authors who want to build a following but also want to monetize right away.
How Much Can You Earn With Substack?
The answer varies depending on the user subscribing. The majority of readers choose the minimum $5 monthly fee.
That said, your earning capacity depends on the number of subscribers that you can acquire.
For example, with 800 subscribers at $5, you'd make $4,000 before all the fees that Substack charges.
How Many Readers are on Substack?
Substack has over 20 million readers on its platform available for subscription. So there's plenty of fish in the Substack sea for you to convert into paying subscribers.
Is Substack Superior to the Competition?
Depending on what you want, Substack does just fine in comparison to its alternatives. For users who don't want a distracting space with numerous features that you'd only use once in a while, Substack is a perfect choice.
Its simple and minimalistic user interface make it a delight for most authors.
But if you're a lover of fancy features and extreme functionality, some of the alternatives listed in this Substack review are a better choice.
Substack Review: The Verdict
This is a great platform for writers looking to make money from their content. The Substack solution allows you to earn more money, with readers paying directly via subscription fees monthly or annually.
Substack has over 20 million readers available for subscription on its platform and comes with a great user experience that aims at promoting a simple and minimalistic approach to content creation. The solution offers a clear path towards earning subscription revenue and using all of its tools for managing your audience.
Unlike platforms like Medium that require you to go through a lot of hoops to start earning, with Substack, you can start right away as long as you're in a country that permits the use of Stripe.
That said, there are a couple of downsides in terms of monetization as it only offers a single method of making money (paid subscribers), and if you're in a country that Stripe does not operate in, you'll be unable to get paid.
In general, Substack is a powerful opportunity for content creators in the writer sphere to make consistent income via exclusive content and from what they love doing the most – writing.
And you get even more inspired by looking through our picks for the best substack newsletters!
Try Substack Here
Want to learn step-by-step how I built my Niche Site Empire up to a full-time income?
Yes! I Love to Learn
Learn How I Built My Niche Site Empire to a Full-time Income
How to Pick the Right Keywords at the START, and avoid the losers
How to Scale and Outsource 90% of the Work, Allowing Your Empire to GROW Without You
How to Build a Site That Gets REAL TRAFFIC FROM GOOGLE (every. single. day.)
Subscribe to the Niche Pursuits Newsletter delivered with value 3X per week