Substack vs Medium: Is Either Worth Your Time?
When you buy something through one of the links on our site, we may earn an affiliate commission.
Are you looking for a writing platform to share your ideas and are curious about Substack vs Medium?
Well, then you've come to the right place.
In this article, I'll compare and contrast both platforms. And by the end, you'll have everything you need to make an informed decision on which blogging platform, if any, is best for you.
---
Key Differences of Substack vs Medium
Medium and Substack are both popular options for publishing platforms. But the big difference between Substack vs Medium is what they specialize in offering users.
Substack is largely an all-in-one subscription email newsletter platform. It provides you with design, publishing, payment, and analytics features built-in. This helps to simplify the email marketing process for content creators to jump in and get started quickly.
Medium is an online publishing platform with a personalized recommendation system. It's like a social media platform that allows writers to share articles with the platform's large and loyal audience.
Medium's social media style algorithm is a significant feature. It helps recommend your work to readers with similar interests and profiles.
Alternatively, Substack offers limited internal marketing features. It only promotes the top posts and newsletters. If you're a Substack writer, you'll need to find other ways to market yourself off-platform to grow your audience.
Things You Should Know About Substack
Substack is great for those with an existing audience, especially if they're really loyal.
This is because Substack lets you create a free or paid newsletter to earn money. This is usually $5 a month but it can be more. You can choose to place certain content behind a paywall, available only to paying email subscribers.
With this option, content creators with at least 500 paid subscribers or more can make a decent living.
I say 500 because Substack charges at least 10% from each of your reader's payments. This is their primary business model with payments processed through an integration with Stripe.
Also, with the subscription model, many Substack subscribers have grown accustomed to receiving many high-quality emails each week from other writers they pay. 
This subscription-based model is important to consider because if you have less to say when you first start writing online, charging a monthly fee for your newsletter may be a tough sell to your audience and you'll struggle to attract readers.
For more detailed information, be sure to check out our full review on Substack.
Main Features of Substack
Substack allows you to write, design, publish and analyze content for email subscribers. 
It also includes its own content management system (CMS) for delivering and managing this content for your readers.
Substack also provides a largely censorship-free platform. This means journalists and content creators of all kinds are free to share their views on the interests they share with their readers.
Advantages of Using Substack
Simplify the process of creating and growing an email subscription newsletter.

Substack allows you, as a content creator, to monetize your email list right off the bat with premium content accessible through a paywall

No need to think of creative ways to monetize your email list with affiliate marketing or products

.

With a Substack newsletter, you can focus on what you're best at – creating the content that helped grow your audience in the first place

.

Business, politics, and culture are

very popular topics among Substack readers.

Instead of growing a list of temporary or

moderately

interested subscribers, you speak

directly

to people paying to hear from you

.

You can create your own

subscriber-only

communities and discussions

just

like Facebook Groups.

You can

really

niche down and earn a living from your passion.

With some marketing or word of mouth, you can grow a loyal fanbase of like-minded people who

validate

your work

. Think

1000 true fans.

It's a growing and evolving platform. Besides written content, Substack also lets you include podcasts in your newsletters. Plus, content creators are now able to team up and create joint publications.
There are over 20 million readers using the Substack platform.

The top 10 newsletters collectively earned $20 million in 2021.

(See our picks for the best Substack newsletters.)

Substack Pro

is an option that offers independent writers an upfront sum of money for their first year on the platform

.
Disadvantages of Using Substack
You'll likely have to build your audience off-site from scratch.

There are some limitations from the lack of third-party integrations, 

affecting the quality of the data analytics available

.

Substack and Stripe can eat into a significant share of your earnings (

10% of your newsletter subscribers' payments go to Substack, plus an extra 2.9% plus 30 cents per transaction to Stripe)

.

If you sign on for Substack Pro, the company takes 85% of whatever subscription revenue you earn in that first year

.

You may feel pressured to produce more content than you're used to

just

to please your subscribers, which may turn online writing into a chore

.
Alternatives to Substack
Ghost – A similar platform to Substack but with more tools and third-party integration to convert readers into subscribers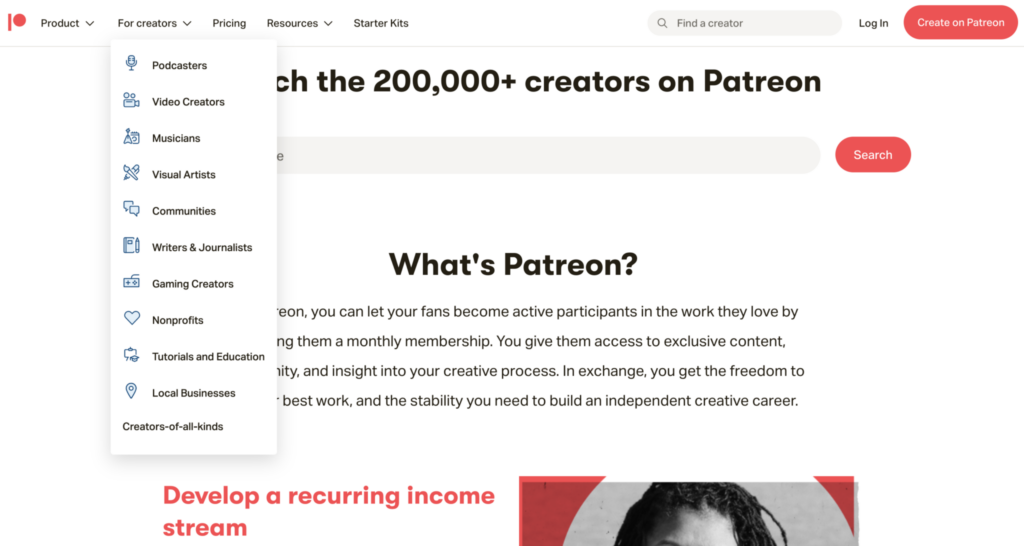 Patreon – A platform for content creators of all kinds (video, podcast, writers) to earn from their work, allowing you to share content directly to paying subscribers through multi-tiered subscription plans
Check out this article for our full Substack review.
Things You Should Know About Medium
Medium is a publishing platform that charges readers a $5 monthly subscription fee for unlimited access to articles. 
Like Substack, Medium account payments get processed through Stripe.
While readers have to pay, writers are free to publish articles as much as they wish. This ensures there's enough content to keep readers coming back. Extra incentives are also given to writers through the Medium Partner Program.
To join the Medium Partner Program you just need to have published at least one article and have at least 100 followers.
You can make money in 2 ways:
Writers earn money from engagement. If you can create great content, you can earn from the time people spend reading it. Each member's paid subscription fee gets distributed among the publications they've engaged with, and it's estimated that over 700,000 readers are paid subscribers to the platform.
The other way to make more money is through a referral-like program for Medium members. Convince readers to take out paid subscriptions to earn half of the membership fee when they become paying members.
Check out Medium
Main Features of Medium
As mentioned before, the Medium business model is pretty much social media for longer-form content. It is after all made by Twitter co-founder Evan Williams.
It expanded on the idea behind Twitter and took it one step further by creating a platform for users to flesh out and share their ideas through blog articles.
Since the Medium articles are user-created, you'll find amateurs, professional writers, and everyone in between can (and do!) publish content.
There's also a huge range of topics covered. With its recommendation system, readers can stumble upon great unknown publishers who pump out quality articles.
There are also different ways to share your ideas on the platform.
Individual writers can post blogs directly to their profiles or communities can be created around a certain topic or theme known as a Medium publication. These are very specific niche shared spaces with many contributors similar to open Facebook groups.
Advantages of Using Medium
You can very

quickly

get set up on Medium.

You can create a profile or your own Medium publication and start publishing content using their free and easy-to-use setup

.

As a Medium writer, you don't need any coding knowledge. And the default design is clean and

mobile-friendly

.

You can sometimes use Medium's high domain authority (96 on Ahrefs) to rank your articles for

fairly

competitive keywords on Google and other search engines, improving your online visibility.

The Medium algorithm recommendation system is quite advanced and can help your article get curated and show up on the homepage

. If this happens, your reach and potential earnings can grow

exponentially

.

You can continue earning money from popular articles you wrote in the past.

Certain topics like business, web, personal development, and productivity are particularly popular Medium posts. If you can write about popular topics, you could grow a healthy following.

There are popular publications with built-in audiences that accept guest submissions. This allows you to grow your brand or name in a related space you

are interested

in.

There are also lots of sites and pages on Medium that list out and filter popular publications for you. These include

Smedian

,

Top Pub

, and

Active Publications

.
Disadvantages of Using Medium
Medium offers free users access to only 5 free articles per month, so it's likely that only a paid subscriber of Medium will see most of your work on the platform.
Competition is fierce. The platform has thousands of individual writers publishing great content on a regular basis. The vast majority make less than $100 per month. 
There are no plugins for customizing your site like there are on a blogging platform like WordPress. This means your design and customization options are extremely limited.
You're not able to monetize your blog through display ads.
There aren't any native features on-site that allow you to build an email list.
Medium is blocked in certain countries like Vietnam. (Wherever this is the case though, you can always use a VPN like ExpressVPN or alternative.)
It's not always clear that you'll be able to rank on Google with your Medium post. And even if you do, unless they're a paying Medium member, it's unlikely you'll earn anything from them.
Alternatives to Medium
WordPress – The free and open-source platform has been the tool of choice to build 43% of all sites on the web.
Comparison of Substack vs Medium price and earnings potential
Both platforms' business models revolve around subscription revenue.
They'll let you post for free, but in return, they'll charge readers or you for the access.
As we've seen, Medium charges readers and Substack takes a 10% cut of your revenue.
But with Substack's paid newsletters, you set the price. You can go as low or as high as you'd like.
It's also important to remember that each writing platform uses Stripe to process payments. You'll definitely want to make sure you can accept Stripe payments in your country before you start writing.
Both platforms can help you generate money from your writing.
In general, there's a pretty big range for how much you can make. With both platforms, it'll obviously depend on your ability to go viral and keep readers coming back as to which will give you more money.
With Medium and its Medium Partner Program, only 5.4% of writers make over $100 a month. Most writers won't make very much, but some (admittedly very few) make close to $30,000 a month.  
Substack's paid newsletter is more scalable. With 1,000 fans paying you $5 a month, established writers can find it's possible to earn around $60,000. You'll want to consider the fees though.
If you really wanted, the better option to boost your earning potential further could be to actually leverage both platforms to reach more readers.
You could use Medium to grow your audience. Then, send them over to the Substack site (or a Substack alternative) to become a paying subscriber to your newsletter.
Substack vs Medium: Is There a Winner?
In the end, when comparing Substack vs Medium, both prove to be decent writing platforms.
If you love writing and have a lot to say, you could consider signing up for either. 
Both platforms have a growing number of paying subscribers. And as long as you're able to produce quality content and discuss topics people care about, you can make a pretty good living between the two platforms as a freelance writer.
But if you're really curious about Medium and Substack, you could just sign up for both, start writing and give them a try for a few months. They're both free to post so you have nothing to lose. And who knows, maybe you'll build a thriving community of happy customers. 
Want to learn step-by-step how I built my Niche Site Empire up to a full-time income?
Yes! I Love to Learn
Learn How I Built My Niche Site Empire to a Full-time Income
How to Pick the Right Keywords at the START, and avoid the losers
How to Scale and Outsource 90% of the Work, Allowing Your Empire to GROW Without You
How to Build a Site That Gets REAL TRAFFIC FROM GOOGLE (every. single. day.)
Subscribe to the Niche Pursuits Newsletter delivered with value 3X per week