Best AI Script Writer? 5 Options For Storytelling
When you buy something through one of the links on our site, we may earn an affiliate commission.
Have you always wanted to write a story or even a book but never got started? Do you suffer from writer's block? Well, no more excuses! With today's Artificial Intelligence (AI) script writer tools and their long-form capabilities to create compelling stories of any length has become much easier and faster!
These artificial intelligence apps use machine learning algorithms, natural language processing, and sophisticated story generator algorithms to expand your written text into longer stories - or write the next few sentences for you. You're no longer limited to human creativity.
The output can be surprising (in a good way) and may give you new ideas to explore in your script writing!
To help you find the best AI content generator, we took a look at the top picks and presented the results - with example output - below. I used exactly the same input prompt with all five best AI tool options tested to make the test as fair as possible.
Want the goods right away?
You really can't go wrong with Jasper. It offers a ton of functionality to help you flesh out a script worth sharing and the output is exceptionally human-like.
Start Your 7 Day Free Trial Here
Jasper - The Best AI Script Writer
Using OpenAI's GPT-3 AI algorithms, Jasper can assist you in writing various types of high quality content. This artificial intelligence script writer will make your tasks easy and fast, whether you need it to prepare marketing copy, profile sections on social media platforms, compelling video scripts, blog posts about new products, or stories.
And with 54 templates to choose from, you are sure to find precisely the best AI tool for the job!
Features
I used Jasper's "Long-Form Assistant" for this exercise and then chose the "start from scratch" option. At this point, one is prompted to provide a title, content description, the tone of voice you want Jasper to use, and any keywords to be included in the content. You can also choose the length of the generated content (small, medium, or large).
You start writing a few sentences and hit the "compose" button. Jasper immediately gets to work by assessing your input and continuing the story from where you left off.
Example of Generated Story
The bold text is my seed input. Jasper generated the rest without any further input from me. This text has not been edited.
Maria was ten years old when she moved in with her new foster parents, Suzy and Bill. Their house was on the edge of the village close to the forest. The forest was a magical place. It was rumored that the forest people sang to the night sky, and could be seen dancing at midnight.
Maria's bedroom window faced the forest. On her first night, she looked outside just as a glowing shape moved through the trees. She heard strange noises coming from behind her house, but whenever she would go out to look there would be nothing there.
One day Maria went into the forest to pick some berries for herself and Suzy. She saw a lady with long golden hair dancing in the meadow. Maria asked if she could join her, but the woman disappeared before she knew what was happening.
The next day Suzy told Maria that there was nothing to be afraid of in the forest – except for wolves and bears (of course). At night, Maria would hear strange noises and banging on the windows. Suzy said it was just her imagination, but Maria knew it was not.
One evening when Maria went to bed, she opened the window a little bit before she went to sleep. She wanted to take in some fresh air from outside. Suddenly she heard heavy footsteps coming from around the corner of the house where the forest started. The creature walked up to her bedroom window and looked inside with glowing green eyes while making strange grunting noises.
Maria hid under her blanket and did not come out until morning.
The Jasper long-form editor is interactive, meaning that you can edit what it wrote and insert your own text to guide the AI along. In the above case, however, I did not need to give Jasper any guidance. He seemed to do just fine expanding on the seed content writing I provided!
Also, I did not use Boss Mode for this exercise.
Pros and Cons
Pros
The long-form editor is interactive.
There is no limit to how much you can write.
Boss Mode gives Jasper three to five times increased vision to better understand your content writing and the pattern it should be following. In Boss Mode, you can tell Jasper what to do directly in the editor, like "expand the paragraph above." Boss Mode allows you to write more content even faster.
Content can be translated into 25+ languages.
Built with advanced machine learning.
Cons
Pricing
Jasper' Starter package begins at $29/m while Boss Mode starts at $59/m. The yearly plan gives you two months free on all plans. Jasper also offers an unconditional 5-day money-back guarantee.
Try out the best content generator with the 5-day free trial that Jasper AI is currently offering on all plans!
ShortlyAI - Turn Your Thoughts Into Stories
ShortlyAI is another excellent AI script generator for writing stories, novels, and compelling video scripts. It uses the most advanced OpenAI GPT-3 AI algorithms to create human-like content (and GPT-4 is coming).
ShortlyAI was recently acquired by Conversion AI, who also owns Jasper. But for now, it will remain a stand-alone product.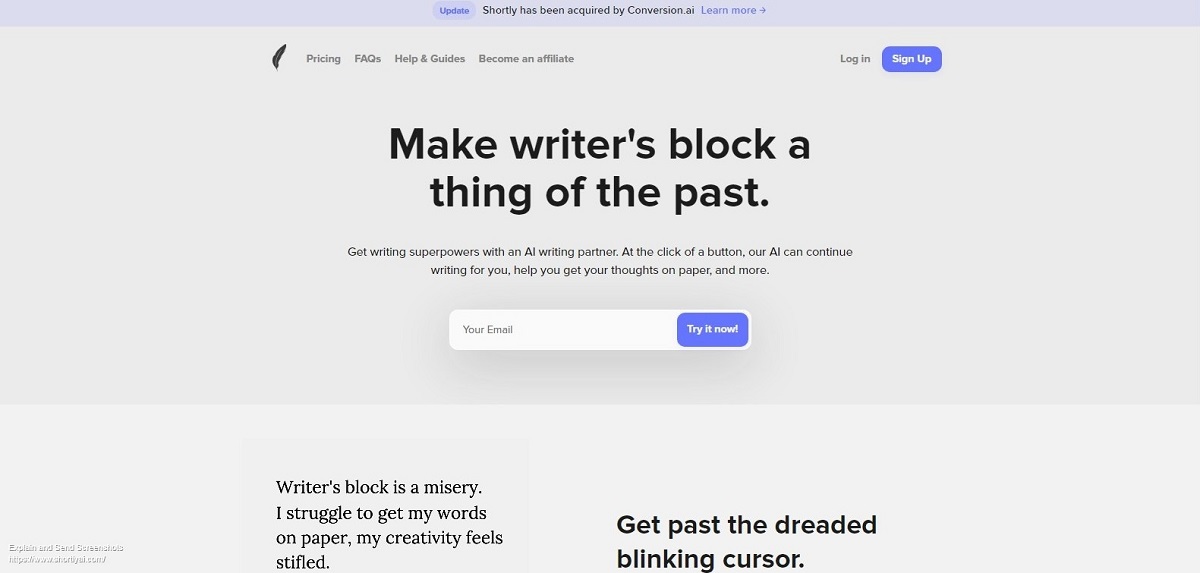 Features
One can choose between writing non-fiction like a blog post and writing fiction. I selected the latter option ("I'm writing a story") and was prompted to provide a title and start writing.
Generating text with ShortlyAI is an interactive process. You can edit the content already generated and add more text to nudge the AI along in the right direction.
In addition, you have the option to use "refine commands" to prevent the AI from looking back at the previously written text, rewrite, expand, shorten text, brainstorm, outline, and much more.
Example of Generated Story
The bold text is my input - title and starting paragraph. The AI bot generated the rest.
Title: It Came From The Forest
Maria was ten years old when she moved in with her new foster parents, Suzy and Bill. Their house was on the edge of the village close to the forest. The forest was a magical place, full of life and a high chance of paranormal activity. There were many nuns who believed in magic and spirits, despite the warning from the Church that demons and witches were real, or at least very real. The nuns and their apprentices were very skilled in magic and had written their techniques on pages torn from grimoires and never thrown them away. They were snippets of knowledge and were usually about potions, charms, and curses. Maria had grown up in the forest, constantly hearing stories of witches, witches' spells, and witches' brews. Despite being a little afraid, the forest was magical, the air was fresh and clean and the trees, the animals, and the flies all spoke by whispering. In the forest there was no war, it was good with nature, animals and the ones that lived there.
One afternoon Maria and Suzy were walking through the forest and they both ran when they saw a man coming towards them, with a familiar look and a glint in his eye. They quickly ran from the side of the road, very scared that the man was a witch who was in pursuit of them and was going to kill them. But, even though he was clearly a magical entity he was only a man who was lost.
Apart from the rather strange witchy nuns, this piece is not bad. ShortlyAI stuck to the theme of the forest. I could have edited this piece but chose not to so that it would more accurately reflect ShortlyAI's script writing skills.
Pros and Cons
Pros
The writing process is interactive.
The Refine Commands allow you to manipulate the content even more.
There is no limit to how much you can write.
Test it out with a 3-day free trial.
Built with the same machine learning infrastructure as Jasper
Cons
Having been acquired by Conversion.ai, ShortlyAI may be discontinued.
Pricing
The pricing plan is straightforward: $65/m on the annual plan and $79/m on the monthly plan.
Test Out ShortlyAI Here
Writesonic - Produce Quality Writing With This AI Script Writer
With an easy-to-use interface, Writesonic is the perfect AI script generator for those who need quick content generation. It has many features like checking readability and expanding sentences to help you create great-looking blogs, landing pages, product descriptions, create compelling stories, and more with ease.
The long-form writing assistant uses GPT-3 AI algorithms to generate content of any length.
Features
I used the long-form writing assistant to experiment with Writesonic's story writing abilities (and don't miss our full Writesonic review to learn more about the tool). One can choose to generate short (about 150 words), medium (200 words), or long (250 words) text per generation. The creativity level is adjustable. Enter more than five words to activate the writing assistant and press "write with AI."
The writing process is interactive - you can edit generated text, add your own, and highlight sections you want the AI to rephrase, expand or shorten.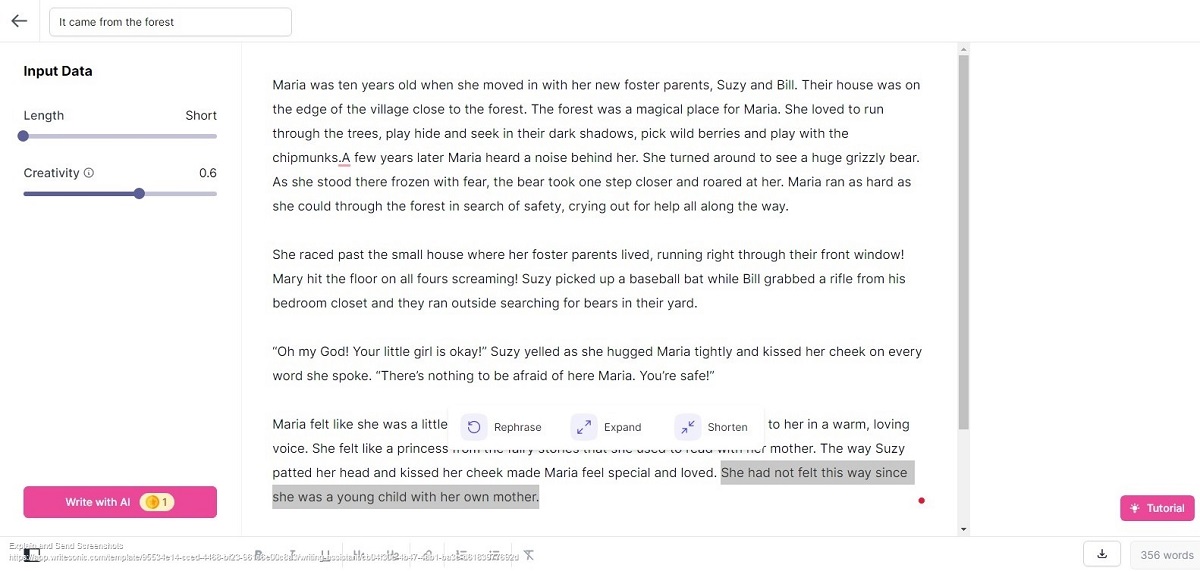 Example of Generated Story
The bold text is my starting paragraph. The rest was all generated by the AI writing assistant without any further input or editing from me.
Maria was ten years old when she moved in with her new foster parents, Suzy and Bill. Their house was on the edge of the village close to the forest. The forest was a magical place for Maria. She loved to run through the trees, play hide and seek in their dark shadows, pick wild berries and play with the chipmunks.
A few years later Maria heard a noise behind her. She turned around to see a huge grizzly bear. As she stood there frozen with fear, the bear took one step closer and roared at her. Maria ran as hard as she could through the forest in search of safety, crying out for help all along the way.
She raced past the small house where her foster parents lived, running right through their front window! Mary hit the floor on all fours screaming! Suzy picked up a baseball bat while Bill grabbed a rifle from his bedroom closet and they ran outside searching for bears in their yard.
"Oh my God! Our little girl is okay!" Suzy yelled as she hugged Maria tightly and kissed her cheek on every word she spoke. "There's nothing to be afraid of here Maria. You're safe!"
Maria felt like she was a little girl again. She loved when Suzy held her and spoke to her in a warm, loving voice. She felt like a princess from the fairy stories that she used to read with her mother. The way Suzy patted her head and kissed her cheek made Maria feel special and loved. She had not felt this way since she was a young child with her own mother.
The AI script writer did a pretty good job! It remained faithful to the initial text I entered while expanding on the theme.
Pros and Cons
Pros
The long-form writing assistant is interactive.
It generates high-quality content.
Cons
Generated content length is dependent on the subscription plan.
With a high creativity level, the AI is likely to stray from the input provided.
Pricing
The main difference in these plans is the monthly usage credits and priority support. The number of credits deducted depends on the type of content generated.
Try Writesonic Now
ContentBot - For Human-Like Stories
With over 41 templates to choose from, ContentBot caters to your every content creation need. This covers many copywriting, marketing, and other use cases.
ContentBot uses two AI engine options: Open AI GPT-3 and their own Tinyseed. GPT-3 is used for low-output, high-quality, quick content generation. Meanwhile, Tinyseed produces lower-quality output in high quantity, and it is slower.
Features
I used ContentBot's long-form AI writer feature to test its story writing capabilities (see our ContentBot review). You can select output length and language options. Then enter a title and start writing the seed content. The AI takes over when you hit the "Write for Me" button.
ContentBot allows you to edit the generated text and contribute to the writing process. In addition, there are options to change the tone of highlighted text and to check it for uniqueness (check out these Rytr alternatives).
Example of Generated Story
As before, the bold text is my starting paragraph. The rest was all generated by ContentBot (unedited).
Maria was ten years old when she moved in with her new foster parents, Suzy and Bill. Their house was on the edge of the village close to the forest. The forest was a magical place, full of warblers, owls, deer, foxes, rabbits, raccoons, and squirrels.
One evening it started to rain. The skies were gray and the wind was fierce. She heard the howling of the wolves in the distance. Maria trotted to the front porch of their house to get some shelter before her clothes were soaked.
Sheltered under the porch, she watched the rain until she eventually found herself asleep, only to be woken by the sound of wolves howling in the distance.
She then woke up in the morning to realize that it was just the sound of the wind in the trees that scratched at the windows in the bedroom.
Short, sweet, but not particularly creative writing.
Pros and Cons
Pros
Generating process is interactive.
A free plan
Cons
Generated text can become repetitive.
Not great for creative writing.
Pricing
ContentBot's free plan gives you about 250 short-form AI content pieces and two long-form stories per month. The Premium plan costs $59/m. It comes with unlimited short-form content creation and 40,000 long-form content words per month.
The Premium Plus plan costs $99/m and gives you unlimited short-form content credits while it allows you to generate about 150,000 long-form words per month.
Try Contentbot Now
TextCortex AI - Full Freedom to Write Anything You and Your Business Need
TextCortex uses advanced NLG (Natural Language Generation) algorithms to write creative content. NLG is a subtype of artificial intelligence that uses data and converts it into human-sounding language.
The TextCortex AI tool is billed to be the Swiss army knife in a writer's toolbox. It helps you write any type of content and will do 70% of the work for you.
In addition to writing stories, TextCortex can generate product descriptions, Facebook ads, Instagram ads, Google ads, blog posts, and many other types of copy text.
Features
I used the "Write with Cortex AI" feature to try out its story writing abilities. The AI script generator prompts you to write a few sentences about the content you want to be generated. The creativity level can be specified and you are able to tell the AI tool how many characters to write.
Without your further input or guidance, the AI writer will then do the rest.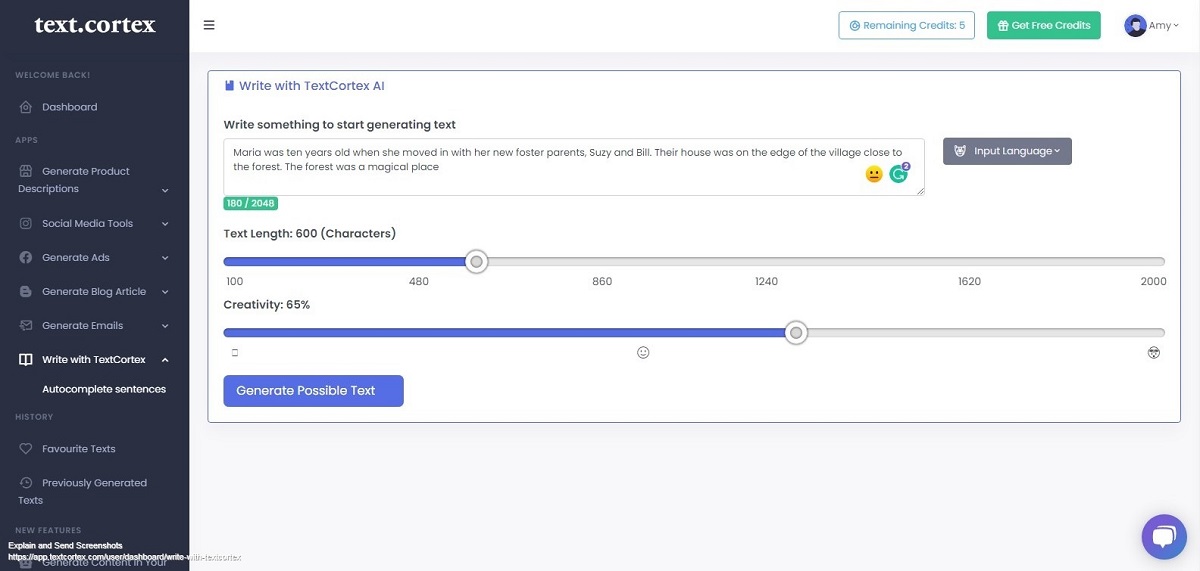 Example of Generated Story
As before, I entered the start of the story: Maria was ten years old when she moved in with her new foster parents, Suzy and Bill. Their house was on the edge of the village close to the forest. The forest was a magical place
This is what the TextCortex AI tool produced (unedited).
where they could hear all sorts of animals, including monkeys and elephants, and wild parrots, as well as birds of prey.
Maria didn't realize that her mother had left her at home and gone to work at their local bakery and would return in an hour or two. Maria slept a lot because she had nightmares about being kidnapped by some unknown stranger who would rape her in the middle of the night. She also had dreams about being locked up in prison.
This was her normal life until one day a young woman called out Maria's name, "Maria!"
Maria looked over to see Suzy running toward her. Maria was so excited to see her again.
"I missed you so much, I'm going back home now so come with me!" Said, Suzy
Maria wasn't sure about leaving her mom and sister behind though. She didn't want them to worry ever again, but she knew it was a good idea, especially since her little brother hadn't been at school for weeks. As long as she was safe, it was okay to leave home.
"Okay! Let me grab my bag and I'll be right there!" said Maria, rushing off towards Suzy
As you can see, the generated AI script is somewhat random and overall does not flow particularly well from the initial input paragraph.
One can extend the text, but there is no way to guide the AI in the editor during the writing process. The only option is to try again if you are not happy with the results.
So I put the creativity level to 100% and tried again. The results still did not impress me - it is almost as if the initial input was read but then not taken into account at all in the story's progression.
Pros and Cons
Pros
Low price and several options to choose from
5-day free trial on all packages
Support for 72 languages
Cons
The writing process is not interactive – there is no way to guide the AI
The generated stories do not necessarily continue from the input provided
Pricing
The Basic package costs $19/m on the monthly plan. The Pro package costs $49/m, and the Team package costs $49/m per user and includes dedicated support. The Enterprise API package is priced on request. The price drops by 15% on all packages with a yearly subscription.
Try TextCortex Here!
The Best AI Script Writer - Conclusion
The best AI script writer software (and AI story generator) must include an interactive long-form editor to give you the ability to contribute to the story writing and guide the AI along in the process.
Having said that, Jasper needed no guidance from me to write scripts from the example story featured here. But if I were to continue with the story writing, there would be no problem nudging Jasper to write more content while following my storyline.
Jasper clearly came out on top in terms of the content generated. And I did not even have to use Boss Mode.
Test Out Jasper Here
If you want to follow your passion and write stories, I absolutely recommend using an interactive AI script generator like Jasper. It makes the writing process fast, easy, and fun! And if you use Chat GPT as a brainstorming assistant, and Jasper as an AI script generator, you never know - AI might lead your story down some unexpected path and give you more inspiration!
Want to learn step-by-step how I built my Niche Site Empire up to a full-time income?
Yes! I Love to Learn
Learn How I Built My Niche Site Empire to a Full-time Income
How to Pick the Right Keywords at the START, and avoid the losers
How to Scale and Outsource 90% of the Work, Allowing Your Empire to GROW Without You
How to Build a Site That Gets REAL TRAFFIC FROM GOOGLE (every. single. day.)
Subscribe to the Niche Pursuits Newsletter delivered with value 3X per week