Is ZonBase a Reliable Solution To Help Grow Your Amazon FBA Business?
When you buy something through one of the links on our site, we may earn an affiliate commission.
Welcome to my ZonBase review!
With millions of customers searching, buying, and reviewing products daily, the potential to grow a successful business on Amazon is massive.
As a result, competition is fierce. There are over 2 million 3rd party sellers on the platform. Last quarter alone, they sold 58% of all goods on Amazon!
This can make standing out from the competition challenging.
That's why sellers need to arm themselves with powerful tools that give them insight and control of their business.
ZonBase claims to be just that - a powerful, affordable, and feature-rich Amazon seller tool.
But how valid are these claims?
In this ZonBase review, I will offer an honest evaluation so you can decide if this tool is right for you.
All facts will take center stage as I guide you through its features, pros and cons, pricing, and viable alternatives.
So let's dive in!
Ease of Use

Stability

Customer Service

Price

Trustworthiness of Founder
Summary
Zonbase is the Amazon research tool that helps you find winning products, estimate sales, discover high-volume search terms, and spy on competitors. It's easy to use and has fair pricing, but it also has some glaring red flags that make doing business with them a risky proposition. We recommend Jungle Scout instead.
Pros
The product and keyword research tools pull in very accurate data
Flat pricing model (as opposed to revenue-based)
Free 7-day trial so you can explore before you sign up
13 features: from inventory management, sales data updates, to a product research tool
Cons
The founder is under hot water with the FTC
Questionable reviews according to FTC and BBB
Difficult to cancel subscription/get refund
ZonBase Review TL;DR
Touted as an all-in-one solution for Amazon sellers, ZonBase promises to help with product research, listing optimization, and more.
But some issues with ZonBase could spell trouble for users.
Namely, some allegations compromise its trustworthiness - and after our findings, we highly recommend Jungle Scout as an alternative.
Not only is it a superior tool, but 8-figure Amazon seller Greg Mercer and the team have a stellar track record since opening shop in 2015.
You can read our full Jungle Scout Review here.
Plus, if you sign up for Jungle Scout now, you can take advantage of this exclusive discount for Niche Pursuits readers: claim your 30% off Jungle Scout discount here!
What is ZonBase?
ZonBase is an Amazon research tool that analyzes demand, competition, and keywords to identify winning products for your Amazon business.
There are 13 tools in the ZonBase dashboard to help you overcome every obstacle in your path to success on Amazon. Each covers a different aspect of Amazon selling, from product research to sales optimization and listing optimization.
Kevin David founded ZonBase in 2019. David is a major player in eCommerce, but not without criticism (more on this later).
Who is ZonBase Designed For?
It's for Amazon sellers who need help with the following:
Finding products
Finding mentors
Listing optimization
Product launch and PPC
Profit/loss analysis
Inventory forecasting
ZonBase Review: Product Research Tools
The product research toolset provides users with all the insights they need to make informed decisions about their product research.
ZonResearch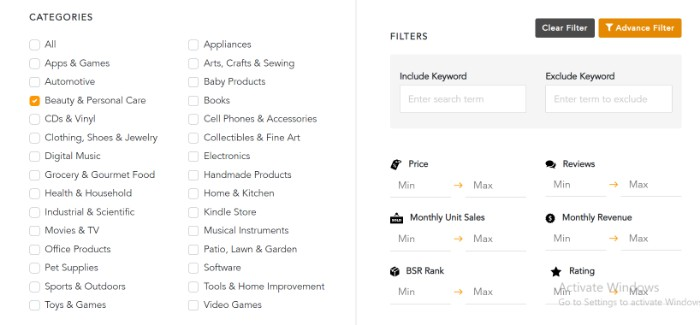 ZonResearch is a product research feature that helps you identify winning Amazon products. It uses Amazon's data to analyze over two million third-party sellers and 353 million products.
The convenient search filtering options help you identify products with:
High demand. Pick a product people are already buying.
Low competition. You want to rank on page 1 quickly without spending a fortune on building reviews.
Good profit margin. This is the difference between what you pay to acquire the product and what you sell it for, minus all your associated costs like shipping, storage fees, and more.
Chrome Extension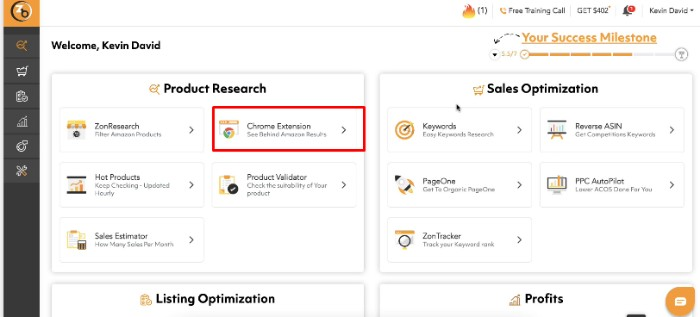 The ZB Chrome extension is a mini version of ZonBase that you can add to your browser.
This feature is excellent for on-the-go analysis or to avoid being bogged down with too much detail.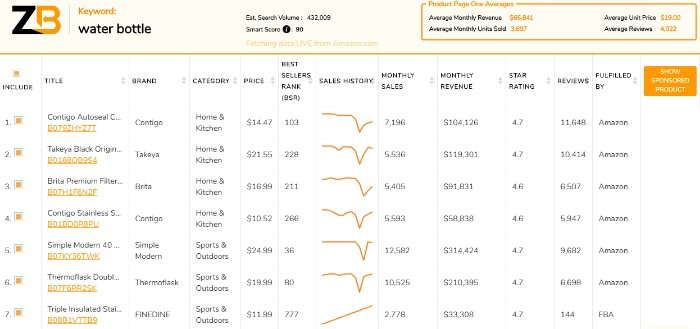 Instead of opening up multiple tabs, you can use the Chrome extension to access ZonBase data directly within the Amazon search results page.
You can see all of this valuable info at a glance:
Search volume history (trend)
Average monthly revenue
Estimated search volume
Average monthly units sold
Smart score (Gives you an idea of how well other sellers have optimized their listing)
Average unit price
Best sellers rank
Average reviews
Hot Products
The Hot Products tool provides an up-to-date list of the most trending products on Amazon.
This feature is handy for identifying products that are climbing in popularity but remain unsaturated.
To do this, the Hot Products Tool isolates products from Amazon's Top 100 Most Gifted List, with an increasing sales trend, with less than 30 reviews.
Sales Estimator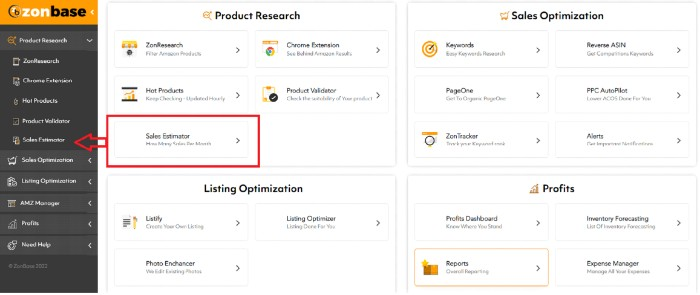 The ZonBase Sales Estimator tool makes it easy for anyone to accurately estimate a product's ASIN's average monthly sales figures.
An intuitive design lets you quickly find the details you need, such as likely sale levels, pricing, and other competition insights.

With this information, you can decide what products to choose or launch.
ZonBase Review: Sales Optimization Tools
ZonBase provides multiple sales optimization tools to help you maximize your online sales.
Keyword Tool
ZonBase's Keywords Tool is an invaluable resource for Amazon sellers that want to stand out on the most visited e-commerce web property in the United States!
The more visitors you can capture from a search, the better.
Its advanced filters allow users to choose keywords with high search volume, low competition, and the ability to include or exclude certain words.
Additionally, each keyword has a 'Smart Score' to help you figure out which are more likely to result in success.
This feature allows users to better understand their customer base and competitors' strategies. With this understanding, you'll be in a position to succeed with search engine optimization (SEO) and PPC Ad campaigns on Amazon.
Reverse ASIN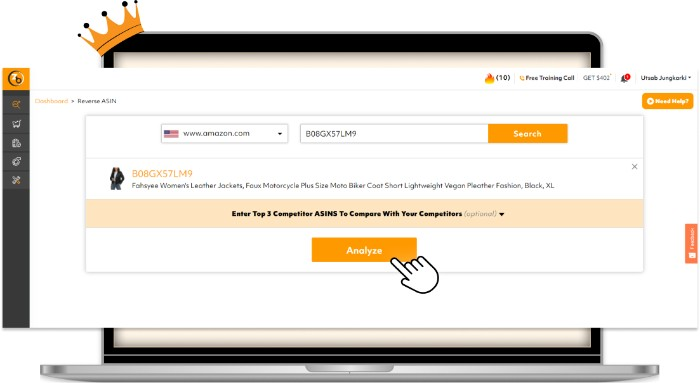 The Reverse ASIN tool is like having an inside edge in the competitive Amazon landscape.
It enables you to:
Spy on your competitor's keyword strategy.
See what works for them.
Outrank them.
Reverse ASIN searches are a great way to uncover the most profitable long-tail keywords you may have previously overlooked.
ZonBase Review: Listing Optimization Tools
Listify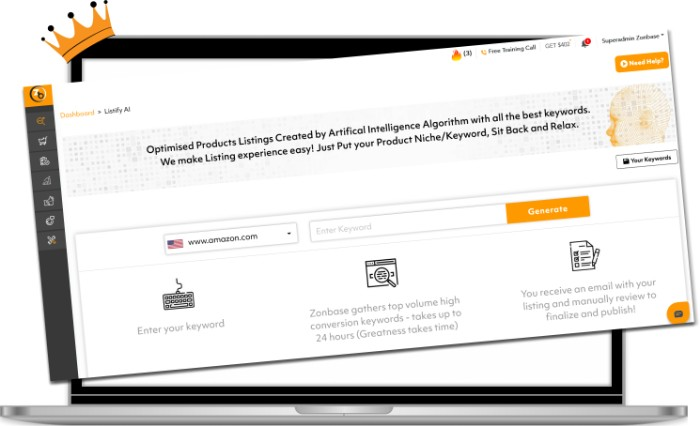 Listify by ZonBase makes creating an optimized product listing easy.
Once a field is populated with a list of keywords, it identifies the ones you have used and gives you an overview of the fields in which they are included.
This way, you can be sure that all your high-ranking keywords are part of the product listing, and your potential customers will find you more easily online.
The tool also has a nifty AI component that builds fully optimized listings from scratch, including a title, bullet points, description, and even search terms.
ZonBase Review: Done-For-You Services
ZonBase does offer a handful of done-for-you services to supplement the software.
Photo Enhancer
ZonBase offers a comprehensive photography service to help Amazon sellers make the best product images for their listings.
You can find comparable services on Fiverr for much better value.
At $647 for five photos (per one ASIN), this is one of the most expensive options from ZonBase.
Product Validator
The product validator is a done-for-you service that "checks off" the product you select for your Amazon FBA venture.
Their team claims to be experts at selecting products that can give you the "green light" before you invest in bulk.
In theory, I understand the need for this service. New sellers want to avoid these pitfalls:
Choosing a saturated product
Choosing a prohibited product (due to a variety of reasons such as HAZMAT)
Investing in a product with significant demand
That said, you'll pay up to $397 for this service.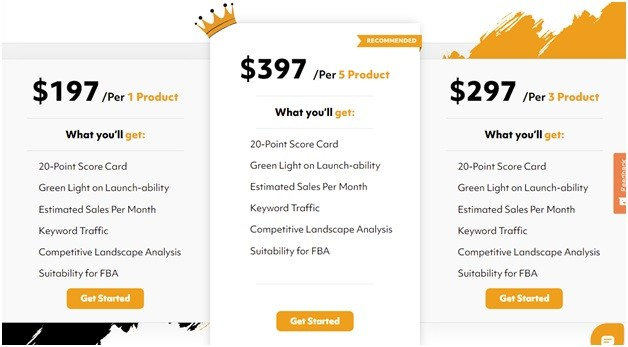 Investing in a 'done for you' service can seem attractive, especially if you're a busy entrepreneur who needs more time to learn how to do something yourself.
In the short term, it may save you some hassle and extra work. However, you still need to develop skills or knowledge that you can use in the future.
Listing Optimizer
The Listing Optimizer service promises to handle all of your product listing optimization for you.
The service includes comprehensive research on high-volume search terms, informative titles, descriptions, and bullet points that hold the attention of potential shoppers.
With packages ranging from $397 to $647, the service does cost a premium.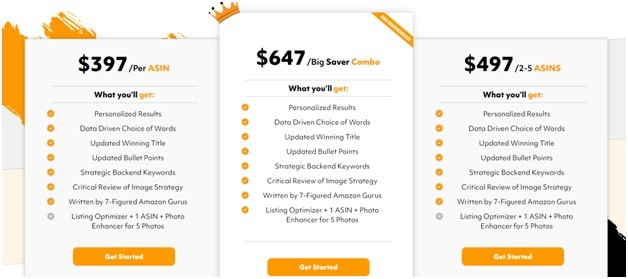 What Are People Saying About ZonBase?
Upon first glance, a 4.0 review on Trustpilot looks halfway decent.
82% of ZonBase reviews earned 5 stars.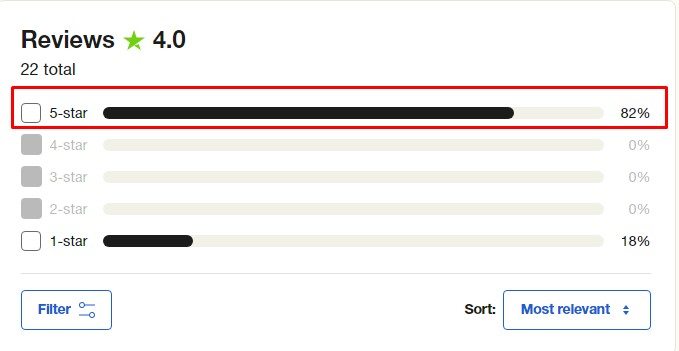 However, after further inspection, reviews from real-life clients and legal rulings tell a different story.
Trouble Brewing With The FTC
Kevin David, the founder of DK Automation (the parent company of ZonBase), is under scrutiny by the Federal Trade Commission.
An FTC complaint alleges that "DK Automation ripped off consumers by manipulating reviews and making empty promises."
The FTC claims that David goes to great lengths to manipulate reviews of his products. The FTC press release states, "Hundreds of false positive reviews were submitted to third-party review sites such as Trustpilot."
Many consumers read these reviews and believed them to be genuine.
In addition to forging positive reviews, the FTC alleged that David routinely suppressed negative reviews.
After flagging negative reviews, Trustpilot would remove the review until customers provided documentation to back up their claims.
Twitter Users
Twitter users echo the same conversation:
One user asks, "who could've seen this coming?" as if the FTC findings aren't surprising.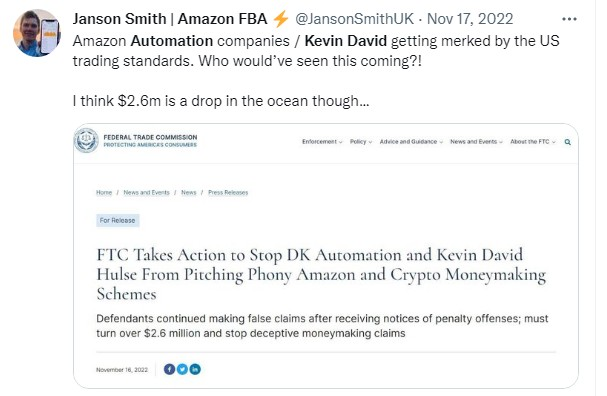 Better Business Bureau
Kevin David also operated under THATLifestyleNinja - the same moniker as his Youtube handle.

The Better Business Bureau currently has an alert under this name which reads, "BBB received a significant volume of customer reviews about this business that we were unable to authenticate."
"Because BBB cannot establish a reasonable degree of confidence about the validity of these reviews, we cannot publish them."

The Better Business Bureau
Damaging Testimonials
Keen observers would also find that some users have trouble canceling their subscriptions and collecting refunds.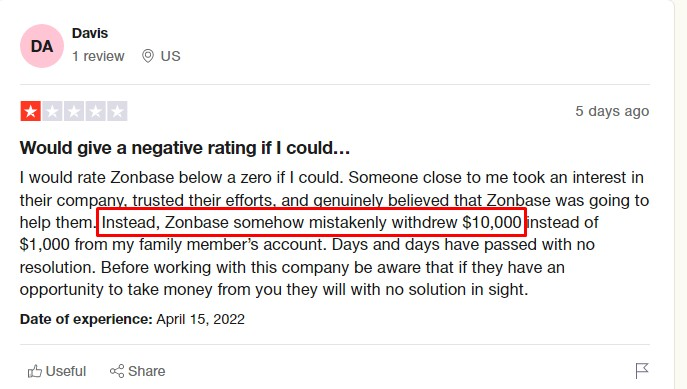 Youtube doesn't paint Kevin David in a positive light, either.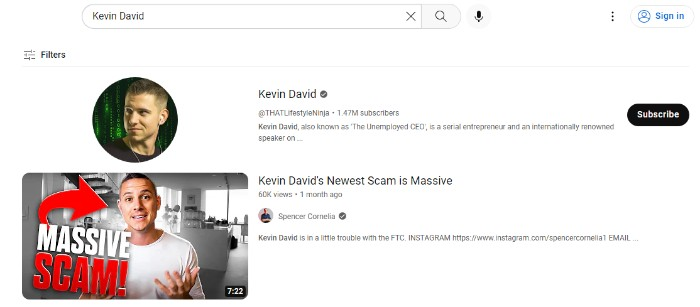 What Can We Conclude?
In particular, the sheer volume and breadth of evidence suggest a disturbing truth.
This is not merely a few isolated incidents of dissatisfied customers but rather a pervasive pattern from which many suffered.
While these allegations refer to his Amazon FBA automation services (not ZonBase), as any psychologist will tell you, past behavior is a strong predictor of future behavior.
If you're looking for a reliable Amazon business partner, it's important to steer clear of those with brazen disregard for their customers.
All of the evidence from the FTC, customer reviews, Youtube, and Twitter suggests that this individual focuses more on profit than on offering quality products and services.
ZonBase Pricing
ZonBase structures its pricing model in a way that is both favorable for customers and allows them to scale as needed without worrying about breaking the bank.
The pricing is positive for ZonBase. Unlike its competitors, it's not utilization based. So, no matter how many units you're selling, you will always pay the same rate each month!
Standard
Monthly: $47/month
Annual: $37/month
Package differentiators: This does not include the chrome extension.
Legendary
Monthly: $97/month
Annual: $67/month
Package differentiators: Does include chrome extension. You get one store integration with up to $30k ad spend/Zon PPC.
Diamond
Monthly: $197/month
Annual: $132/month
The differentiator in this package is that it includes the Amazon FBA Master Class Course and a Weekly Q&A Session with Amazon Expert (kinda similar to what you'll find with Marketplace Superheroes). You also get more store integrations for ZonPPC, Alerts, and Profits.
ZonBase Alternatives
Here are our top picks for ZonBase alternatives that are tried and true.
Jungle Scout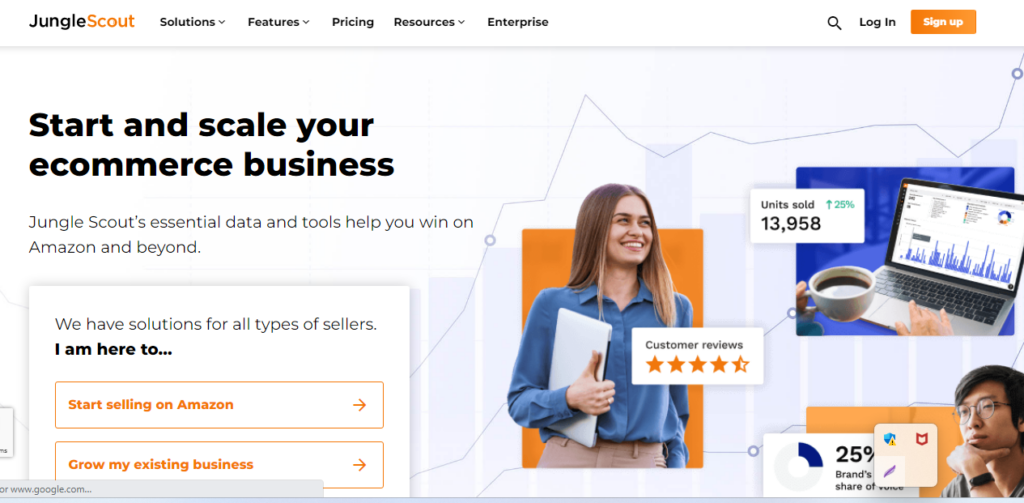 Jungle Scout is the Gold Standard for Amazon seller tools, allowing ambitious Amazon sellers to stay ahead of the competition.
All in all, if you are looking for a reliable resource to aid your entry into the world of eCommerce and Amazon selling, Jungle Scout is a great choice.
They boast over 3,000 reviews on Trustpilot with a total rating of 4.7.
Our in-depth Jungle Scout Review looks at Jungle Scout with a fine-tooth comb. It's always worked great for us!
---
Helium10

For business owners looking for an all-in-one platform to take their Amazon venture to the next level, Helium10 is worth a look.
Whether you're a seasoned pro or just starting with e-commerce, this platform allows you to switch between plans and access some of the most helpful Amazon seller courses (Freedom Ticket), optimization, reverse ASIN, and product validation tools.
What's more, there is even a free plan - perfect for those hesitant about making a significant financial commitment - that gives users limited access to most of the features.
You can experience Helium10 first-hand before needing to upgrade.
We can't cover everything here, so here's our full Helium10 review.
Find out which ZonBase alternative will make you the most money with our head-to-head review Jungle Scout Vs Helium 10.
Why Do You Need Amazon Seller Software Like ZonBase?
Choosing the wrong product for your Amazon business is a death sentence.
The harsh reality is that only 20% of products do well on Amazon, while 30% are okay, and over 50% underperform.
This business model is built off of investing in bulk. If the average Amazon FBA investment in stock is $3000, it's easy to see how investing in the wrong product will cost you a ton of money.
That's why it's critical to choose a product that already demonstrates that people want it.
Amazon seller tools like ZonBase help identify products with high demand, low competition, and predictable sales.
This evidence-based approach to selling on Amazon is the best way to mitigate risk and maximize profits.
Buying Tips For Evaluating Amazon Seller Software
When evaluating an Amazon seller tool, there are 6 key questions to consider:
Do features lead to profitability on Amazon?
How easy is it to use?
Is the software reliable, and does it offer responsive customer support?
What are other customers saying about the software?
Does it offer great value for the money?
How does the tool stack up to its top competitors?
The Verdict: Is ZonBase Worth It?
No, ZonBase is not worth it. Prudence and logic suggest that there are too many red flags to ignore.
When assessing ZonBase, it's essential to consider factors beyond the quality of the product itself. Ultimately, the FTC complaint and volume of negative experiences suggest looking elsewhere for Amazon seller software that can help you reach your goals.
David's tactics are a stark contrast to the features that ZonBase boasts.
On the one hand, ZonBase's feature set could be comprehensive enough to accomplish your needs, and the pricing model is favorable.
However, should you encounter technical difficulties or need customer service, there is significant uncertainty about how reliable the experience with ZonBase will be.
This can make investing in ZonBase a riskier proposition than going with a well-reviewed option that's been around longer.
According to Crunchbase, Jungle Scout has been in business since 2015 and has over 150 employees.
One look at their Resource Center shows they go the extra mile in supporting their prospects (even before they become customers.)
Despite the premium price tag, Jungle Scout delivers a powerful suite of tools that more than justifies its cost - and that's why we highly recommend it as a must-have tool for serious Amazon sellers.
Want to learn step-by-step how I built my Niche Site Empire up to a full-time income?
Yes! I Love to Learn
Learn How I Built My Niche Site Empire to a Full-time Income
How to Pick the Right Keywords at the START, and avoid the losers
How to Scale and Outsource 90% of the Work, Allowing Your Empire to GROW Without You
How to Build a Site That Gets REAL TRAFFIC FROM GOOGLE (every. single. day.)
Subscribe to the Niche Pursuits Newsletter delivered with value 3X per week