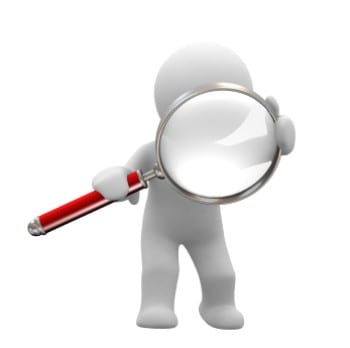 Okay, pull up a chair and get ready for this.
You've heard recently that Google is getting even more stingy than it was before about showing keyword data in Google Analytics.  And I've recently been shocked to hear from several people questioning if this means the end of keyword research as we know it!  After all, if you don't know what keywords are bringing traffic to your site, why do keyword research at all?
So, what impact does Google's "Not Provided" in Google Analytics have on keyword research?  Get ready for this…
None.
It changes absolutely nothing for keyword research.
I get it, I'm upset too that soon my Google Analytics is going to be 100% "Not Provided" for the traffic coming from Google.  But I'd have to be crazy to stop trying to get free traffic from Google!
So first, let's all just take a deep breath and review what is happening to Google Analytics.  Then lets look at what you CAN do to ensure that you continue to get that ever valuable free traffic from Google and a couple of potential ways that you can continue to monitor which keywords are bringing in the most traffic.
What is (Not Provided) in Google Analytics?
When you log into your Google Analytics account and check the keywords that are sending traffic through the search engines, most likely your highest referring keywords is (not provided).
This is actually not new.  Google began encrypting search data about 2 years ago for any of its users that searched while they are logged into a Google account.  Because the data coming from Google is encrypted for those users, no analytics program (not just Google Analytics) is able to pick up the search terms used to find your site.
However, just last month, Google is now making encrypted search the default setting for EVERYONE, whether or not they are logged into a Google account.  What this means is that the keyword data in your Google Analytics account is going to just creep closer and closer to that 100% mark.  You will now be able to see very little data about specific keywords in your Analytics programs now.  LAME!
Impact on Keyword Research
So, how does having 100% not provided in your Google Analytics account impact your keyword research for building a site?  Well, I already said.  It doesn't.
When I am building a site, I use the Google keyword planner or Long Tail Pro to discover keywords that get a certain amount of search volume and to analyze the competition in Google.  I've shown in my first Niche Site Project how I do keyword research, and I showed it again on my second public project here.
Did you ever see me using Google Analytics to do that keyword research? No, you didn't.
Want To Build Smart & Relevant Internal Links...Quickly?
Link Whisper is a revolutionary tool that makes internal linking much faster, easier, and more effective.  It makes it simple to boost your site's authority in the eyes of Google. You can use Link Whisper to:
Bring out your orphaned content that isn't ranking

Create smart, relevant, and fast internal links

Simple yet effective internal links reporting: what has lots of links and what pages need more links? 
Click here to revolutionize your site's way of doing internal links
In the end, people are STILL going to find your site by typing certain keywords into the search engines. If your site is targeting the right keywords and is optimized properly, you will be getting that free traffic from Google.
Sure, it sucks that you can't log into your analytics account and see exactly what keywords are bringing the traffic.  But you would be crazy not to try and continue to get that traffic!
I know several people have asked questions, about this subject, so I hope I've been clear.  I will not be changing how I build sites, how I do keyword research, or producing content for my site based on this change by Google to 100% encrypted data.
If you want to stop doing keyword research, be my guest.  Just means less competition for me as I get the free traffic that you will be missing out on.
How to Still Get Keyword Data
Even though you can't see keyword data in your Google Analytics account anymore, you actually can still get pretty good (not perfect) data using other techniques.  Here's a few:
Track Your Keyword Rankings – If you know how much traffic a certain keyword gets every month, and you know where you rank in Google for that keyword, you can extrapolate approximately how much that specific keyword phrase is driving to your site.  Long Tail Pro has a rank checker (you can manually check ranks), but will soon have a rank tracker that will track the data for you automatically.  Other tools also can track ranks for you.
Google Webmaster Tools – You can still see what search queries are bringing you traffic in your Google Webmaster Tools!
A few other ideas are shared in this article by MarketingLand.com about getting organic search data as well.  One of their recommendations?  Better keyword research! 🙂
Neil Patel also thinks this move will make us better marketers. And one of his 3 points about becoming a better marketer after Google moves to 100% (Not Provided)?  Research new keywords!
What Do You Think?
So, there you have it.  I hate the fact that Google's move to encrypted search is going to make getting keyword data much harder.  But this also has almost no impact on how I will do keyword research in the future.  In fact, I think its even more critical now that you do proper keyword research on the front end, because you will no longer have the luxury of doing research based on your analytics.
And from what I can see, both MarketingLand.com, Neil Patel, and others agree that keyword research is going to continue to be a vital part of building successful sites.
What are your thoughts on the subject?  I received several comments and emails from people asking me if this change meant the end of keyword research, so did I sufficiently answer your questions?  Let me hear your thoughts and comments below!
---