15 Toptal Alternatives To Help You Find The Right Freelancer
When you buy something through one of the links on our site, we may earn an affiliate commission.
When it comes to finding the perfect freelancer, entrepreneurs need options. They need a platform that can provide them with access to a wide range of talented professionals, all while meeting their specific needs and requirements. That's where Toptal comes in. But this isn't the only option available. There are plenty of Toptal alternatives out there (like Marketerhire for marketers) that can help you find the right freelancer for your business.
It's important to diversify your options when it comes to finding a freelancer. This is because each platform has its own unique set of benefits and drawbacks. By diversifying your options, you can be sure to find the perfect fit when it comes to the platform and the freelancer.
As a business owner, you know that time is money. To save you some time, we've compiled a list of the top Toptal alternatives. Check out these options to find the perfect freelancer for your business needs.
A Quick Toptal Review
Before we dive into the alternatives, let's take a quick look at what Toptal has to offer. Toptal is a freelancer platform that provides entrepreneurs with access to a global network of top talent. The platform vetting process is very strict, only accepting the top three percent of applicants. The company has a wide range of services, including:
Freelance software development
Design
Finance
Project management
One of the benefits of using Toptal is that you can be sure to find high-quality talent. The platform's strict vetting process ensures that only the best freelancers are accepted onto the site. This means that you don't have to waste your time sifting through low-quality applicants.
Toptal began in 2010 and was founded by CEO Taso Du Val. It's a dependable company that is mature and trusted by entrepreneurs. However, plenty of other companies have new and innovative features that can benefit your business. You may want to venture out and explore some of the other options on this list.
Get all the details to make the best hiring decision in our Toptal review here.
How Can Toptal Alternatives Help Me Find The Right Freelancer?
You'll have a much easier time finding the right freelancer for your business if you test a few different hiring platforms first. This is because each platform has a different focus when it comes to the type of freelancers they attract.
For example, if you need a software developer for a short-term project, then you'll want to look for a platform that specializes in connecting businesses with freelance software developers. By testing out a few different options, you can be sure to find the perfect freelancer for your specific needs.
The platforms themselves all manage and track freelancers in different ways. This means that you'll have access to different information and data when you use each platform. By exploring the various options, you can find the one that provides you with the most useful information and protection for your business.
And finally, each platform has a different fee structure. Some platforms charge a monthly subscription fee while others take a percentage of the freelancer's pay. By testing out a few different options, you can find the one that fits best with your budget.
15 Great Toptal Alternatives For Your Business
Here's a quick summary of 15 top-level Toptal alternatives that can help skyrocket your business and help you to get more done in less time.
Upwork
Upwork, formerly known as oDesk, is one of the largest and most popular freelancer platforms. It's been around since 1999 and continues to be a dependable option for businesses of all sizes.
One of the benefits of using Upwork is that it offers a wide range of services. You can find freelancers for just about any type of project on the platform. With over 12 million freelancers to choose from, you're sure to find the perfect fit for your business.
However, some Upwork customers have reported scams that have cost them time and money and we have a whole guide on Upwork scams and how to spot and avoid them. This is because there is a very low barrier to entry on the platform. Anyone can create a profile and start bidding on projects, regardless of their skills or experience.
If you decide to use Upwork, be sure to do your due diligence when vetting freelancers in the hiring process. Checking reviews and ratings can help you avoid scams.
Learn more about how Upwork compares to Toptal in our Upwork vs. Toptal comparison.
---
99Designs
If you're looking for a logo for your business cards or even custom T-shirts for yourself and your company, 99Designs has everything you need to get started.
99Designs offers an array of services that makes it easy and seamless to find the perfect design. From creating logos to full custom designs, they have a wide range of talented designers that can help bring your vision to life.
There are two ways to go about finding a designer on 99Designs – either through a design contest or by hiring a designer directly. With a design contest, you would first create a brief describing what you're looking for in your design. After that, you would launch the contest and designers will then start submitting their ideas. You can get over 100 submissions in just a few days.
While contests have the potential to bring in high-quality designs, not every contest will result in a favorable outcome. Plus, if you don't run what's known as a "blind contest", anticipate getting very similar designs. Some freelancers wait until the last minute to send in multiple, similar submissions with only small changes.
There are plenty of adds-ons including creative project managers who help you through the design and hiring process, faster project completion, and private contests.
---
Fiverr
Fiverr is one of the most popular freelancer platforms with over 300 categories of services. You can find everything from website design to social media marketing on Fiverr.
Plus, as the name of the platform indicates, you can find many services starting at just $5. This makes Fiverr an attractive option for businesses on a tight budget.
However, it's important to note that the quality of work on Fiverr can be quite hit or miss. Because there are so many services available at such low prices, some freelancers may cut corners or limit revisions to make a quick buck.
If you're considering using Fiverr, be sure to read the reviews carefully and only work with freelancers who have a good track record. You may have to pay a bit more, but it's worth it to get quality work that meets your standards.
Fiverr Pro also offers a higher quality of service starting at $500 per project. This is a good option if you want to be sure you're working with a reputable freelancer.
Compare Fiverr vs Upwork in our detailed breakdown of both platforms or learn more about how Fiverr works here.
---
Hubstaff Talent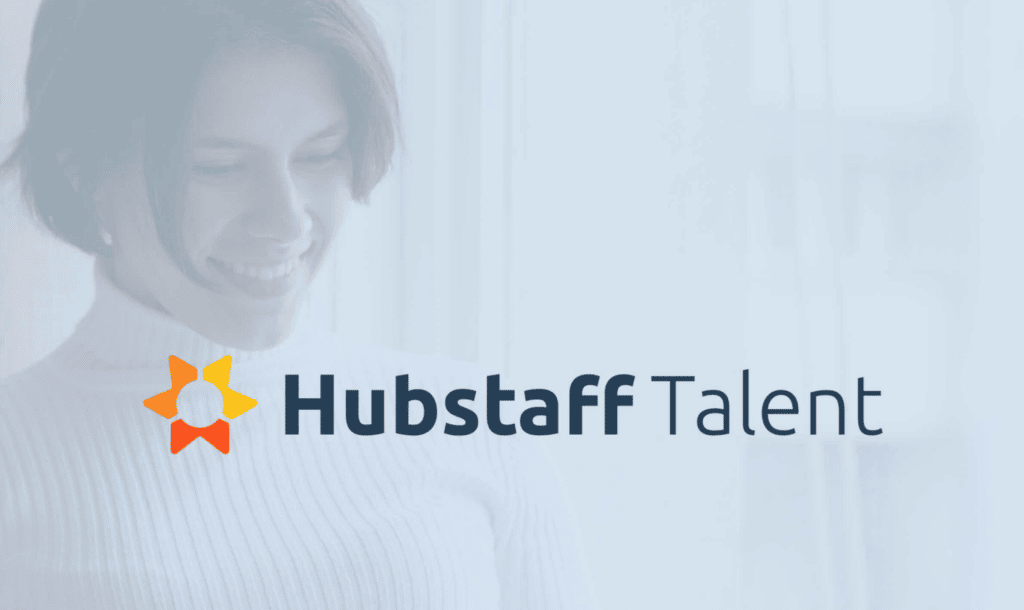 Hubstaff Talent is a newer platform that focuses on connecting businesses with remote workers. They have over 119,000 contractors and 3,400 agencies working on their platform across 205 different countries.
This platform is completely free for both the business and the freelancer. Free job postings make it easy to try it out without any risk. You can post your job directly on Hubstaff and also share it on various job boards and social media platforms for better reach to talent.
It's easy to use their cloud-based service, and you can even integrate Hubstaff with Zapier to automate your workflow.
One downside of Hubstaff is that their freelancer pool is much smaller than some of the other options on this list. This means that you may have a harder time finding the right person for your specific needs.
If you're struggling with finding the right fit, you can always reach out to the customer success team that strives to help you connect with the perfect freelancer for your business.
---
Gigster
If you're trying to start an app or SaaS product, then Gigster is a great option for finding the right freelancers.
In 2015, Gigster joined Y-Combinator in Silicon Valley. This was a major turning point for the company, and they immediately saw success. Gigster aspires to provide software development services that are easy to use, scalable, and accessible for SaaS businesses that can't afford an entire in-house developer team.
The combination of an AI-fueled software program with the guidance of a Gigster teammate can help you get quoted. Within a couple of days, you'll have an entire team of designers, developers, and a project manager assembled.
This convenient white-glove service saves you the trouble of assembling or managing a team so you can focus on your business goals. It's truly a "set it and forget it" platform.
Some clients prefer a more hands-on approach to product development than what Gigster offers. Gigster provides a complete service that takes charge of your project from the very beginning until the end. This model is more difficult for business owners who have trouble trusting others to complete tasks or relinquishing control.
---
PeoplePerHour
PeoplePerHour has been a trusted source for freelancers and remote workers in the UK for many years, and now it's a global success. It's one of the best Toptal alternatives because you can find high-quality outsourcers and contractors who are local to you or offer remote services. PeoplePerHour has helped more than 11 million people find work in 89 countries since it launched in 2007.
PeoplePerHour connects businesses with skilled remote workers from around the globe. You can post a project and receive proposals from qualified freelancers. The proposals will be sent in one bundle, which allows for a clear and easy comparison of the candidates.
The AI system on PeoplePerHour is designed to match freelancers with projects that best suit their skills and experience level. There are 15 different categories for business owners and freelancers to choose from, including design, development, writing, and marketing.
Users of this platform have mentioned that customer support is lacking and that the quality of freelancers can be hit or miss. However, if you take the time to carefully review proposals and freelancer reviews, you can find some great talent on PeoplePerHour.
---
UpStack
If you need help with technical or development tasks, UpStack is a great Toptal alternative. This platform connects businesses with remote freelance developers, designers, and other tech professionals.
The AI system on Upstack is designed to match freelancers with projects that best suit their skills and experience level.
First, you'll fill out a brief questionnaire, noting which skills and objectives you want from your developer. Afterward, you'll list specific job requirements and specs. An account manager at UpStack will then create a list of freelance software developers that are the best match for your project.
After you review your potential developers and decide on one, you'll pay a deposit fee. You then have up to two weeks to work with the selected developer and figure out if they're right for the job.
This system is great for those who don't want to spend hours looking for qualified remote developers. However, it's not ideal for those who want a completely hands-on approach when it comes to hiring freelance developers since they curate most of the process for you.
---
Lemon.io
Do you need to find freelance developers fast? Then Lemon.io may be the platform for you. They offer a 24-hour freelancer matching guarantee. Once you've accepted your freelancer, they will get started on your project as soon as 24 to 48 hours.
Each of the freelance developers on the platform has undergone a rigorous evaluation including a background check, an English exam, a coding test, and a live interview. You can rest assured that there's next to no scamming amongst the tech talent.
The platform is perfect for entrepreneurs just starting up their businesses. The freelancers specialize in constructing site tools. CodeMentor is a platform that's more useful for finding and diagnosing coding problems as opposed to simply fixing them. But if you're just getting started and need standard business development support, Lemon.io is a great option.
---
DesignBro
At DesignBro, they implement a very stringent filtering process for their designers, and only the top 5% are accepted. With this system, you won't have to worry about low-quality designers that can't hit the brief. DesignBro has two methods of operation: starting a design contest or hiring a designer.
To launch a design contest, you would first create a design brief. Then, after making your payment, you would launch the contest. Designers will then start to submit ideas that reflect the given design brief. Your design contest will last for 7 days and a handful of designers will compete for your bid.
If you prefer to find remote talent yourself, you can look through the archives of their well-qualified freelancers. After sifting through their portfolios, you can hand-pick a designer that will be perfect for your project.
These design plans can get expensive, and start at $199. But there's a money-back guarantee if you're unhappy with the service, so you know that your investment is protected.
---
Guru
Looking for software developers, project managers, software engineers, or even salespeople? Then you should check out Guru. This platform has a very user-friendly interface and hosts over 1.6 million freelance developers. They have been in business since 1998, making it one of the oldest platforms on this list. It's one of the best Toptal alternatives out there.
Guru not only makes job posting easy, but it also allows you to view resumes and quotes without having to reach out to freelancers yourself, saving you time in the hiring process.
Unfortunately, with high volume comes a high likelihood of scammers. According to the BBB website, the platform doesn't offer refunds or protection when it comes to disputes, so be wary during the hiring process when vetting freelance developers.
---
Behance
Artists can join Behance by signing up with an email, social media account, or Adobe ID. Some people say that Pinterest and Behance are alike because they both provide a space for creators to share their work and get inspired.
Behance has always been a place where people can post their works, but it wasn't until recently that the site got recognition. Adobe used to run Behance as a small scrapbook-like website, but now it's become much more complex. With features like job listings, live streams, and Moodboards, people from all around use Behance on a daily basis.
Behance is a platform that freelancers can use to connect with employers and post their work. Although it offers free job postings, it does not serve as a way for freelancers to communicate with employers after they have been hired.
For entrepreneurs who want more of a guided experience in Toptal competitors, this may not be the best platform. However, if you're comfortable sifting through freelancers on your own and want to support free agents, this site is a great choice.
---
Freelancer
If you're looking for a large number of freelancers to choose from, then Freelancer is the platform for you. They are one of the biggest Toptal competitors when it comes to providing a variety of remote workers for all sorts of projects including software developers, designers, engineers, IT techs, and beyond.
You'll undoubtedly get a lot of applications due to the size of the platform, and Freelancer offers 24/7 support as well as a well-written FAQ section for entrepreneurs. You'll be able to quickly and clearly communicate what you're looking for in a freelancer.
The only downside is that because the platform is so big, it can be difficult to avoid plagiarism and find serious freelancers that are willing to work on long-term projects. However, this can be a more affordable option if you're willing to sift through independent freelancers to find your perfect fit.
---
Popular Pays
Popular Pays is a software that makes it easy for brands to work with content creators and influencers. With a reliable search engine and a robust set of relationship management features, the platform helps companies connect to their community of 60,000+ individuals quickly.
Some strong points of the platform include a great search and filter feature, easy management of creators and projects, streamlined collaborations, and campaign support with highly skilled project managers.
This is a good option if your business needs help with content creation but doesn't want to go through the hassle of managing freelancers. Popular Pays will do that for you while also vetting out the best talent for your project.
---
CloudPeeps
On CloudPeeps, businesses post job listings that remote talent can apply to. CloudPeeps offers a unique service called the Storefront, where members can offer their services bundled into a package.
CloudPeeps offers two types of freelancers: standard and pro. Being recognized as a Pro Peep is an esteemed privilege honoring those with excellent talent who have accomplished great things. These freelancers have at least 24 months of active experience, have been paid over $5,000 on Cloudpeeps, and have a rating above 80%.
Posting a job is free, but you can also pay $150 to promote your listing and show it to Pro Peeps. This may be a good option if you want to ensure that your job is seen by the best of the best.
---
What to Look For In a Toptal Alternative
When choosing a Toptal alternative, there are a few key factors to keep in mind.
1. Make Sure the Platform is Relevant to the Services You Need
First, consider the type of services you need. Here are some common categories of freelancers you can find on Toptal alternatives:
Graphic Designers: These freelancers will create visual content for your website or marketing materials.
Hiring Developers: You can find developers with a wide range of skills, from front-end development to back-end programming.
Project Managers: If you need help staying organized and on track, consider hiring a project manager. They can help you delegate tasks, set deadlines, and stay on budget.
Software Developers: These freelancers can build custom software or apps for your business. Software development helps to establish the foundation of your business's user experience.
Content Writers: Hire a content writer to create blog posts, articles, or website copy.
Data Entry Specialist: Data specialists can help you input data, manage spreadsheets, or perform other administrative tasks.
Bookkeeping or Accounting: If you need tax help or assistance with financial reports, hire a bookkeeper or accountant (or learn how to start a bookkeeping business yourself here ;).
Search Engine Optimization (SEO): This freelancer can research, implement, and track SEO strategies to help you improve your website ranking and inbound marketing strategy.
Sales and Marketing: A sales and marketing freelancer can help you with lead generation, customer acquisition, or market research.
Customer Service Representatives: If your business interfaces with customers, this contractor can field customer questions, complaints, requests, and more (and it's one of the best paying jobs in consumer services).
Choose Toptal alternatives that have a large pool of freelancers in the categories you need. This will give you a better chance of finding the right fit for your business.
2. Consider the Cost of Freelance Hiring Platforms
There are many different ways that Toptal alternatives charge for their services. Some platforms take a percentage of the freelancer's fee, while others charge an hourly rate. Some platforms also offer subscription-based plans.
When considering the cost, think about how much you're willing to pay for each project. Then, compare the fees charged by the different platforms. This will help you find a Toptal alternative that fits within your budget.
You'll also want to consider the value that the platform offers. For example, if one of the alternatives to Toptal offers a dedicated support manager, this could save you plenty of time and money. In other words, a higher service fee may be more reasonable in this scenario.
3. Read Reviews of the Platforms You're Considering
When you're narrowing down your choices of Toptal alternatives, take the time to read reviews of each platform. This will give you insights into the pros and cons of each of the Toptal alternatives.
You should also research the company itself to see if there have been any recent news stories or complaints filed against them.
Note how long they have been in business, how many developers and designers they have on their team, the hiring process, and what type of companies they typically work with. This will give you a good idea of the Toptal competitors' experience and expertise.
The Bottom Line
The best Toptal alternative will depend on your specific needs and budget. Keep these factors in mind as you compare different platforms. With a little research, you'll be able to find the perfect freelance marketplace with tech talent that suits the needs of your business.
Want to learn step-by-step how I built my Niche Site Empire up to a full-time income?
Yes! I Love to Learn
Learn How I Built My Niche Site Empire to a Full-time Income
How to Pick the Right Keywords at the START, and avoid the losers
How to Scale and Outsource 90% of the Work, Allowing Your Empire to GROW Without You
How to Build a Site That Gets REAL TRAFFIC FROM GOOGLE (every. single. day.)
Subscribe to the Niche Pursuits Newsletter delivered with value 3X per week