MarketerHire Review: A Fresh Crop Of Marketing Talent On Demand?
When you buy something through one of the links on our site, we may earn an affiliate commission.
Are you on the hunt for a top-notch marketer? Welcome to my MarketerHire review!
So you've interviewed several active freelancers and found someone who seems perfect. They have all the qualifications you're looking for, and they promise to deliver outstanding results.
A little voice in your head says: "How do I know if this person is as good as they claim?"
Many of us have experienced this same conundrum. That is, until we found the easy way to separate the marketing wheat from the chaff: MarketerHire.
In this MarketerHire review, we'll look at what MarketerHire is and whether or not this freelance platform sources the best freelance marketers.
Ready? Let's dive in.
If you're in a rush you can check out MarketerHire here!
MarketerHire Review
Features

Value for Money

Quality of Work

Ease of Use
Summary
Marketerhire gives you easy access to indispensable marketing talent so your company can bring in more dollars as quickly as possible. Check out MarketerHire here!
Pros
Access to pre-vetted, expert marketers
Fast matching and hiring
Fast onboarding, freelancers solve problems right away
No agency fees, termination fees, etc
Freelancers can get consistent work
Freelancers set their own rate
Cons
Pricing could be more transparent
The vetting process is potentially not as selective as they say
Few clients report their matches weren't a good fit
What is Marketerhire? An Overview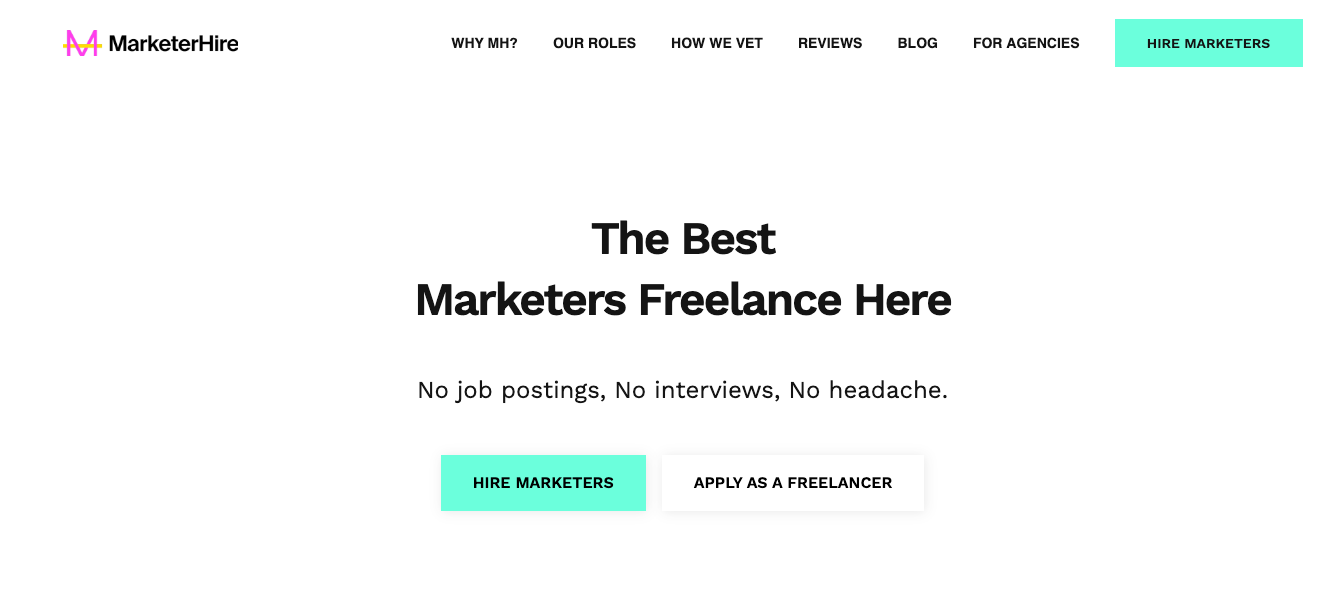 MarketerHire is a Los Angeles-based service that helps companies find marketing talent within 48 hours. They have over $4 million in funding and work with companies like Allbirds, Netflix, PUMA, and Quip. Their talent base comes from outstanding companies like Sephora, Rothy's, Facebook, Uber, and Glossie.
At its core, MarketerHire is a tool that makes it incredibly easy to find and connect with top freelance marketers. MarketerHire's niche focus on quickly finding top marketing talent has made it a key player in the current digital marketing landscape. Their rise to prominence makes sense, given the industry-wide shift away from in-house generalists toward specialized experts.

Currently, the company has a 4.5 star rating from Trustpilot.
How Does It Work?
This platform connects skilled, pre-vetted freelance marketers with businesses looking to drive results. Companies no longer need to rely on large agencies or spend time trying to recruit for hard-to-find skillsets. Instead, with MarketerHire, they can quickly and easily find the exact kind of talent they need to grow their business.
For Talent
Here's how talent can use MarketerHire to find high-quality projects:
Apply within your area of marketing expertise. Insert your details, LinkedIn profile, marketing niche, industry portfolio (at least 1 year in each role), desired rate (in USD), and current availability.
Interview with a subject matter expert. This is an opportunity to evaluate your skills and knowledge to ensure you are a good fit for the role.
Final interview with the MarketerHire team. This is where they assess your communication skills and client management ability. Again, if everything goes well, they will offer you the job!
For companies
Looking to hire a marketer? Here's how MarketerHire works:
First, describe your company, project, industry, type of marketer you need, budget, timeline, and level of engagement.
Then, MarketerHire will match you with a professional in 48 hours.
Once you've found the perfect fit, you can start working together on your project.
It's that simple!
Marketerhire Review: Vetting Process
Here's how the platform works.
Step 1: Recruitment
At MarketerHire, they know that finding the right marketer can be a tough process. That's why they've put together a foolproof vetting process to help you find marketing talent.
First, they scour Facebook groups, forums, and LinkedIn for marketers with over 5 years of channel-specific expertise. They prioritize a marketer's professional experience, as evidenced by case studies and other forms of proof.
Step 2: Skill Review
As part of the vetting process, MarketerHire will evaluate each candidate's skills and knowledge to ensure they have the right qualifications for your project.
Next, MarketerHire wants to see examples of their best work to get an idea of their creative capabilities. MarketerHire also pays attention to the results that they were able to achieve with their previous marketing campaigns.
Finally, they administer a skill-specific assessment. This test measures the candidate's proficiency in crucial marketing skills, such as market research (see our Respondent.io review) or copywriting.
Video Interview
The video interview is the final stage of the MarketerHire vetting process. It is designed to assess more of the 'softer' skills essential for success in any marketing role. In particular, they are looking for strong communication and critical thinking skills.
The interview is conducted via video link. It takes the form of a conversation between the candidate and two members of the MarketerHire team.
Test Project
After a freelancer passes the interviewing process at MarketerHire, they might be required to complete a test project (different from the skills test). This is to ensure that they can handle real-world scenarios. The test project usually lasts 1 to 3 weeks.
During this time, the freelancer will be expected to work closely with the team and complete all tasks assigned to them. At the end of the project, the freelancer will be evaluated on their performance.
Quality Control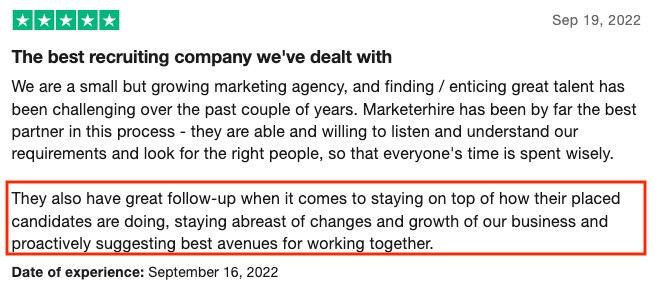 Quality control is essential to any business, and MarketerHire is no different. They have a continual feedback loop to ensure that the clients are happy with their service and that communication is clear. Equally important, this client feedback helps them identify areas where they can improve and take action accordingly.
Who Is Marketerhire Best For?
Talent
MarketerHire is excellent for freelancers who are looking for new jobs to come to them. Rather than searching through job boards or networking, they can simply sign up on Marketerhire and let the site do the legwork.
With MarketerHire finding opportunities on your behalf, you're able to keep a pulse on the marketplace. This way, you can ensure you're always getting the best work possible.
Additionally, working as a freelancer on MarketerHire is an excellent way to stay up-to-date on the latest marketing trends and techniques.
Companies
MarketerHire is the perfect solution for businesses that want to outsource their marketing activities. MarketerHire can help in the following marketing roles:
SEO
Content Writing
Social Media
Email Marketing
Paid Search
Branding
Executive-level Strategy
Marketing Manager
Team Building
You want shorter time-to-hire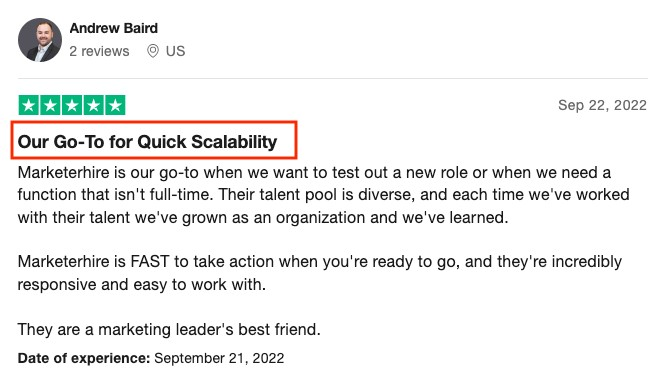 One of MarketerHire's main strengths is its focus on simplicity and speed.
Whether you're looking for digital marketing experts to assist with your launch or want to hire a full-time marketer to help grow your business, MarketerHire makes it easy to find the right fit in a matter of days.
You want talent to make an impact fast (without extensive onboarding)
MarketerHire's streamlined vetting process makes it an excellent choice for companies that want to get results quickly.
With Marketerhire, you'll be able to bring in talented marketers who can hit the ground running and help your business thrive.
Freelancers can immediately focus on solving marketing challenges rather than spending time and energy on onboarding.
You prefer agile, flexible hires
MarketerHire's flexible, agile model makes it easy to scale your marketing efforts quickly without bringing in additional full-time staff.
Let's face it – your business is facing constantly changing business needs. The ability to scale up and down quickly, at minimal cost, can be a huge advantage.
Ask yourself: will you need the same talent today vs. 3 months from now?
Executives at Clorox's direct-to-consumer division have been thrilled with the results they've seen since partnering with MarketerHire. They've quickly and efficiently found top marketing talent and scaled from 0 to 60 in just a few years.
According to their VP Jackson Jeyanayagam, hiring freelance talent allows you to meet short-term goals while also creating a foundation for the long term.
You want to scale in areas outside your organization's comfort zone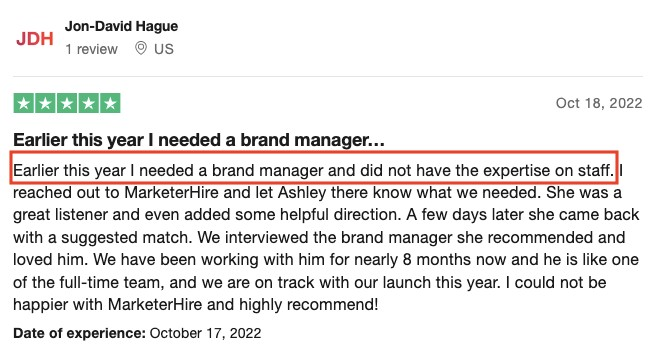 MarketerHire is an excellent resource for companies looking to fill critical skill gaps. Often, early-stage teams don't have all the skills necessary to scale.
That's where MarketerHire adds value – they can help you find the skills and expertise you need without having to worry about the hassles of traditional hiring.
Bringing in "outsiders" helps companies break out of their "echo chamber" mentality and see things from a new perspective. This can be healthy for growth, allowing for new ideas and innovation.
Superkin, a small e-commerce startup, desperately needed someone to help them scale their business. Marketerhire introduced them to Grace, who had years of experience working with direct-to-consumer brands.
Grace quickly got to work, and within a few months, she increased Superkin's organic traffic by 106%. Her expertise was essential in helping Superkin reach a wider audience and expand its business.
Marketerhire Pricing
MarketerHire offers a new pricing model that makes hiring a part-time or full-time marketing consultant more affordable than ever. Here's how it works: 
For hourly marketers, they have a tiered pricing structure based on experience level, with rates ranging from $80-$160+/hour.
Part-time marketers offer a 20% discount for a 20-hour commitment, with rates starting at $1200-$2400+/week.
And for full-time marketers, they offer a 20% discount for a 40-hour commitment, with rates starting at $2400-$4800+/week.
Marketers set their rates, and Marketerhire doesn't charge additional fees or commissions, so you can get the expertise you need without breaking the bank.
Marketerhire Review: Key Distinguishing Features
There are a few key features that distinguish MarketerHire from other similar freelance websites.
Proven Talent
First, MarketerHire only works with proven talent. All freelancers on the site have been pre-vetted by the Marketerhire team to ensure they have the skills and experience needed to deliver quality work. This ensures businesses can trust that they're getting quality results when they hire through Marketerhire.
Transparent Pricing
Second, MarketerHire offers transparent pricing. There are no hidden costs or surprises down the road, which makes it easy to budget for marketing projects and avoid overspending.
Fast-Matching
Third, MarketerHire has a fast-matching system that makes it easy to find the right freelance marketer for your needs. Simply enter your project requirements, and you'll be presented with a list of qualified marketing specialists within hours.
Dedicated Account Support
And finally, MarketerHire offers personal support throughout the entire process. A dedicated account manager will help you select the right freelancer for your project and provide ongoing support throughout the project.
Marketerhire Review: Pros and Cons
Access to pre-vetted, expert marketers
Find in-demand marketers with eclectic backgrounds and specialized skills
Freelancers solve short-term problems while coaching your in-house employees
Trial period, so you can back out without cost
Freelancers report speed and ease in winning quality clients
Zero long-term contracts required
No placement fees
Zero agency fees
No termination fees
Billing could be more transparent
Not ideal if you're looking for help "in a pinch"
Freelancers may not receive marketing jobs unless they have lots of availability
You have to provide a soft commitment of $1500/month budget
Marketerhire Alternatives
If you're looking for a marketer on an as-needed basis, Upwork might be a better choice. This platform allows you to find talented freelancers and consultants without requiring you to work with an intermediary.
Even though it doesn't provide the same "matchmaking" service MarketerHire does, you can still find quality talent there. Compared to MarketerHire, Upwork is a more flexible and convenient option for one-off projects.
Alternatively, Toptal is also a good option for hiring top-talent marketing experts full-time. Their exclusivity draws in the top marketing talent, and their support team is always available to help you find the perfect match for your business needs. More importantly, they also have a low-risk trial period to test out candidates before making a final decision.
Marketerhire Review: Final Thoughts
The big selling point for MarketerHire is that they specialize in one niche. This makes it easier to hire marketers with the exact skills you need instead of wasting time sorting through applications that may not be a good fit.
Plus, with their fast-matching system, you can find someone to start working within 48 hours. That's not an exaggeration. MarketerHire gets things moving! When I gave my information to Marketerhire on the freelancing side, they got back to me within 24 hours.
If you're looking for talent, MarketerHire is an excellent platform for those looking for more consultation and handholding. They have a very structured approach and do the vetting of the freelancers. This allows you to be put in front of the best-suited candidate in the shortest time.
In exchange for their matchmaking, you do relinquish a little bit of control in this process. You also compensate them immensely for their service.
The Big Takeaway
So what's it all mean? MarketerHire gets the stamp of approval if you're looking for a hassle-free way to find great marketing talent. So go ahead and hire away! You're only 48 hours away from finding your ideal marketer.
For related reading, check out:
Want to learn step-by-step how I built my Niche Site Empire up to a full-time income?
Yes! I Love to Learn
Learn How I Built My Niche Site Empire to a Full-time Income
How to Pick the Right Keywords at the START, and avoid the losers
How to Scale and Outsource 90% of the Work, Allowing Your Empire to GROW Without You
How to Build a Site That Gets REAL TRAFFIC FROM GOOGLE (every. single. day.)
Subscribe to the Niche Pursuits Newsletter delivered with value 3X per week