Sumo Review (Generate Traffic, Capture More Leads, Grow Your Business)
When you buy something through one of the links on our site, we may earn an affiliate commission.
Every online marketer desires to have a big list of subscribers because the money is still in the list.
But unfortunately, building an email list is very demanding especially when you're just starting, and nobody knows you. But regardless of how difficult it is, list building is still one of those things you can't ignore as a serious marketer.
Admittedly, there are still other good ways to drive traffic and promote your business such as social media and SEO, but the problem with that channel is that you have little or no control over them. Anything can happen and you'll lose your business overnight.
But with an active list of subscribers, you have total control and can always promote your business and make money on demand.
So how do you build an email list?
You've probably heard that the easiest way to achieve this is by putting a compelling, and well-placed opt-in offer before your visitors, but again, that's always easier said than done.
Nowadays, we're often inundated with different offers and deals that tend to confuse the hell out of us – and our response most time is to ignore them all.
So in a world filled with noise, how do you get people to engage and listen to you and your brand on a more personal level, and happily give you their email list?
Once you're able to answer the question above, building a list of engaged and happy subscribers will not be a problem again.
But you don't have to border yourself much because that is exactly what Sumo marketing suit will do for you.
In this Sumo review, I'll share with you:
What Sumo is and who can use it
Exactly how Sumo will help you build an email list, and connect with your readers on a deeper level
I'm typically going to tell you everything you need to know about Sumo so you can start using it to build an email list and grow your business starting from today.
That said, lets quickly get to business.
Get Sumo Here
---
Sumo Review
Ease of Use -

97

Stability -

95

Customer Service -

98

Price -

93
Summary
As a multi-purpose marketing tool, Sumo has the ability to transform and enhance a website so comprehensively. It has a remarkable advantage over single-purpose plugins out there and can give your business the traffic and lead boost you need.  Try Sumo for Free Now.
Pros
Very user-friendly
Goal types to help you decide on a form type
Fantastic design flexibility with the drag and drop editor
Manual mode offers granular control over form visibility
A robust selection of templates for each type of form
Great display rules that are also stackable
Wonderful list of helpful integrations
In-depth and straightforward A/B testing feature
Cons
The design editor took a little time to fully understand
Few integrations available on the free plan until you upgrade
Some areas are too confined in the editing interface
The Smart Mode feature is really just an exit-intent (lame)
Quick to outgrow the free plan
Premium plans are somewhat costly compared to the competition
Sumo Review | What is Sumo Software?
You're probably already familiar with Sumo (formally known as SumoMe), or maybe you've seen some of the opt-in forms designed with Sumo while surfing the web as they're pretty popular.
But if you haven't, here's a brief introduction to the Sumo software:
Founded by famous marketer "Noah Kagan," Sumo consists of a suite of marketing tools designed to boost your website traffic, build a loyal following, and keep track of your progress every step of the way.
Ideally, Sumo is not your regular WordPress plugin. It's not even a plugin so to say, but a set of cross-platform compatible set of tools, meaning you can use it on just about any website (whether WordPress-powered or not).
According to TechCrunch, "Sumo is an App Store for tools to boost your online traffic."
Noah Kagan created Sumo for internal use only at AppSumo (the popular marketing deals website) to encourage signups and promote new offers and deals at AppSumo. After attaining a phenomenal height and about a million loyal subscribers within 4-years, Noah later decided to make Sumo available for everyone.
It was formally called "SumoMe" until in 2017; the company removed the "ME" after acquiring the domain name Sumo.com for about $1.5 million.
Basically, Sumo offers three categories of marketing tools:
Email
Social sharing
Analytics
There are currently 13 marketing apps offered by Sumo, and the basic features of all the tools are available for free at the moment as Sumo follows a freemium model (more on this later).
The best way to show you the various features of Sumo is to introduce the full collection of Sumo apps:
Sumo List Building Apps
List Builder: Pop-up and opt-in forms
Smart Bar: Notification toolbar
Scroll Box: Corner-positioned optin forms displays when a user reaches a specific scroll point
Welcome Mat: a Full-screen call to action
Sumo Social Sharing Apps
Social shares: The normal social sharing buttons
Highlighter: A user can highlight a portion of your content to tweet or share
Image Sharer: Social sharing buttons for images
Sumo On-Site Analytics Apps
Google Analytics: Google Analytics in the WordPress dashboard
Content Analytics: Colored scroll maps revealing how much of your content visitors read
Heat Maps: Reveals where visitors are clicking on your website
Sumo Traffic App
Discover: Reciprocated content sharing among Sumo users
Sumo Ecommerce App
Buy Button: Awesome e-commerce functionality
Sumo Communication App
Contact Form: Allow visitors to easily email you directly from your site
Apparently, Sumo takes care of so many essential tasks in your business – these are tasks that could ordinarily require several other plugins. With such useful and powerful functionalities, the Sumo suite is not only for promoting a website but growing a whole business.
In the remaining of this Sumo review, I'll cover its full range of features to show you how this software could benefit your business.
Sumo Suits Review | Getting Started
Sumo can be used on a series of website-building software such as Weebly, Shopify, Squarespace, Tumblr, and Blogspot. However, WordPress users seem to have it easiest, as you can easily install the dedicated Sumo plugin to add it's complete functionalities to your website.
In this section, we'll be focusing more on WordPress users.
So let's get started.
To install the Sumo plugin to your WordPress blog, log in to your dashboard and navigate to the Plugins tab. Click on Add New => search for 'Sumo' => click Install Now => Activate Plugin.
After that, you'll have to connect your Sumo account with your WordPress website. You can do this by clicking on the blue crown icon located in the top-right corner of the screen, then log in with your Sumo credentials – or create a new account if you don't already have one.
Click the blue crown one more time to open the Sumo interface. This first screen displays the complete suite of Sumo apps.
Sumo apps come deactivated by default, so just select the ones you want to use by toggling the on/off button beside each app. You can still use all 13 apps simultaneously as a free user.
After you activate the apps, go ahead and configure each one by simply clicking on the app's icon.
Let's quickly see them in action:
How to Use Sumo for List Building
The first thing is the list of Sumo's building feature, which is made up of four apps:
The List Builder
Smart Bar
Welcome Mat
Scroll Box
The exciting thing is that Sumo is compatible with all the popular email marketing companies. In one single click, you can connect it with ConvertKit, Getresponse, Aweber, MailChimp, Sendgrid, and the other email marketing services you may be using.
You simply need to navigate to your chosen list building app, click on the "Services tab," and find your service. Once this is done, the next step is to input your API code into the pop-up window. It's quick, effortless, and makes Sumo accessible to any digital marketer.
Sumo List Builder App
Starting with the List Builder app, which is used for creating pop-up email opt-in forms. Once you click the "List Builder" icon, you'll see an overview of your major stats – a daily breakdown of pop-ups shown, subscribers, and the conversion rate.
To build your pop-up email opt-in form, the first step is to add a new campaign. Next, navigate to Popups and A/B Tests, before clicking on the Add New Popup tab.
Once you click the pop-up tab, the Sumo editor will be opened. This is where you can easily customize everything. The interface is incredibly intuitive to use, allowing you to select from about 37 templates before customizing the fonts, text, sizes, and colors.
Apart from that, you can equally select a goal for your pop-up – call-to-action button, collect emails or building your social media following.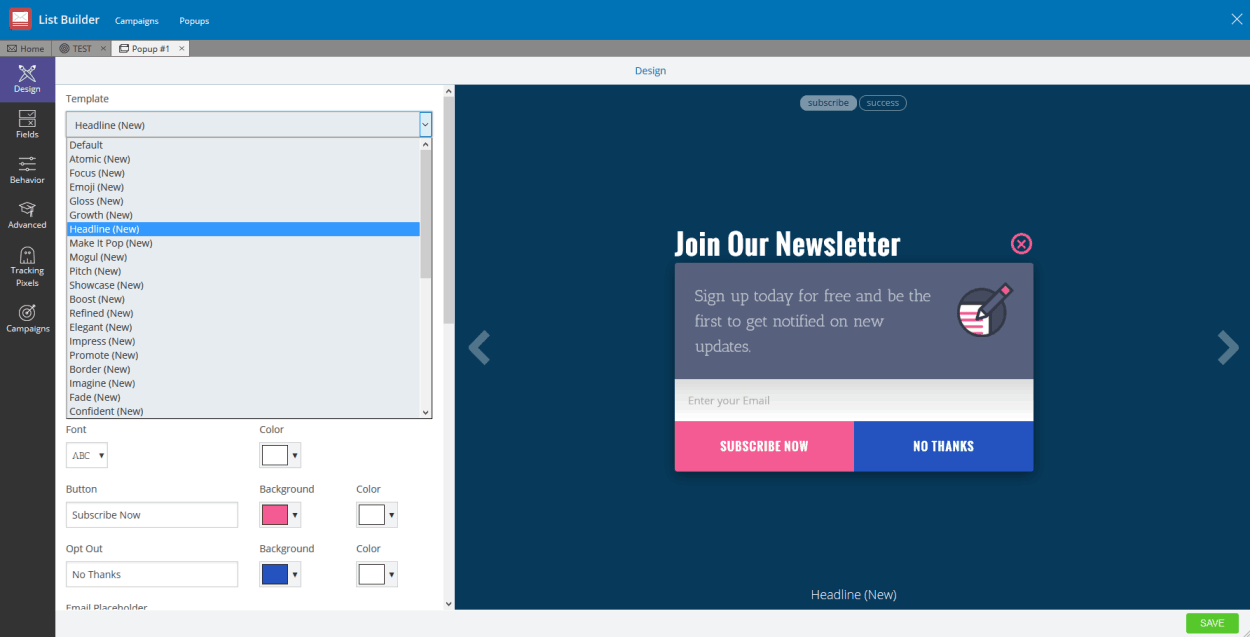 You're also able to preview your changes in real-time, and you can also flick between the "subscribe" and "success" message.
Before you conclude, ensure you work your way through every tab. You can select the fields you wish to display through the "Fields tab," and the pop-up triggers using the "Behavior tab" – With Sumo, you can select between an exit intent and time delay.
Additionally, the other tabs allow you to add custom HTML and tracking pixels to your optin form. Click on the Save button when you're done.
However, having tested several list building plugins in the past, it's worth noting that the Sumo builder lacks the complexity of similar services like Thrive Leads. But I don't really think this is alarming. While you can easily get lost with a lot of plugins, Sumo will give you rest of mind.
Sumo A/B Testing And Targeting Features
Of course, list building isn't an activity you do once and hands off. You need to keep testing, improving and refining your opt-in forms to boost conversion. Fortunately, Sumo is fortified with an inbuilt A/B testing feature.
Once you've built more than one pop-up form, the split testing feature sets in. And the simple slider, you can decide how often each pop-up is shown.
When the test has run for a little, you will be able to view each pop-up's performance, side by side. And once you've successfully picked a winner, you can get rid of the unwanted pop-up and create a new one. It's a somewhat hands-on approach, but it gives you total control of the entire process.
Aside from that, the other useful feature is the "form targeting." This allows you to narrow in on where a pop-up is shown. The good thing is that you can actually target your forms based on a big range of parameters – URLs, number of page views, user devices, referral domain, user location, etc.
Finally, you equally have the option to create a "click trigger." Click triggers allow you to add links to your content, which triggers the pop-up when clicked. This is an excellent feature if you want your pop-ups to feel less annoying to visitors (of course you should).
Sumo Plugin Review | Other List Building Apps
Good enough, the other list building apps found in Sumo use the same interface, but build different types of opt-in forms.
For instance, you can create slide-ins…
Toolbars…
Or welcome mats.
All of these are pretty easy to configure, so you can play around with different opt-ins to see which works best on your site.
How to Grow Your Website Traffic with Sumo
Do you know that you can equally use Sumo to grow your website traffic?
Oh yea, It's more than just a list building plugin.
In this section of Sumo review, we'll quickly examine the three on-site analytics apps – Content Analytics, Google Analytics, and Heat Maps – alongside the potentially traffic Discover app.
Sumo Content Analytics App
As bloggers and content marketers, we often make the mistake of assuming that because our content must be epic, our visitors will reading it from start to finish.
But are they?
Sumo's Content Analytics app is another useful tool that allows you to answer this question. It tracks how far users scroll before leaving your page.
This is a pretty useful feature because many bloggers usually place a call-to-action (CTA) beneath their content. This helps to target the most engaged readers, but if only 10 percent of your visitors get to the bottom of your blog post, wouldn't it be more reasonable to place the CTA higher up the page where it attracts more eyes?
To use this priceless tool, simply activate the "Content Analytics app," and then click on the button that says "Record New Campaign" for This Page.
After that, find your way to the "Auto Record tab," which will help you to select which pages to target – or you can just select to track all pages if that's what you want.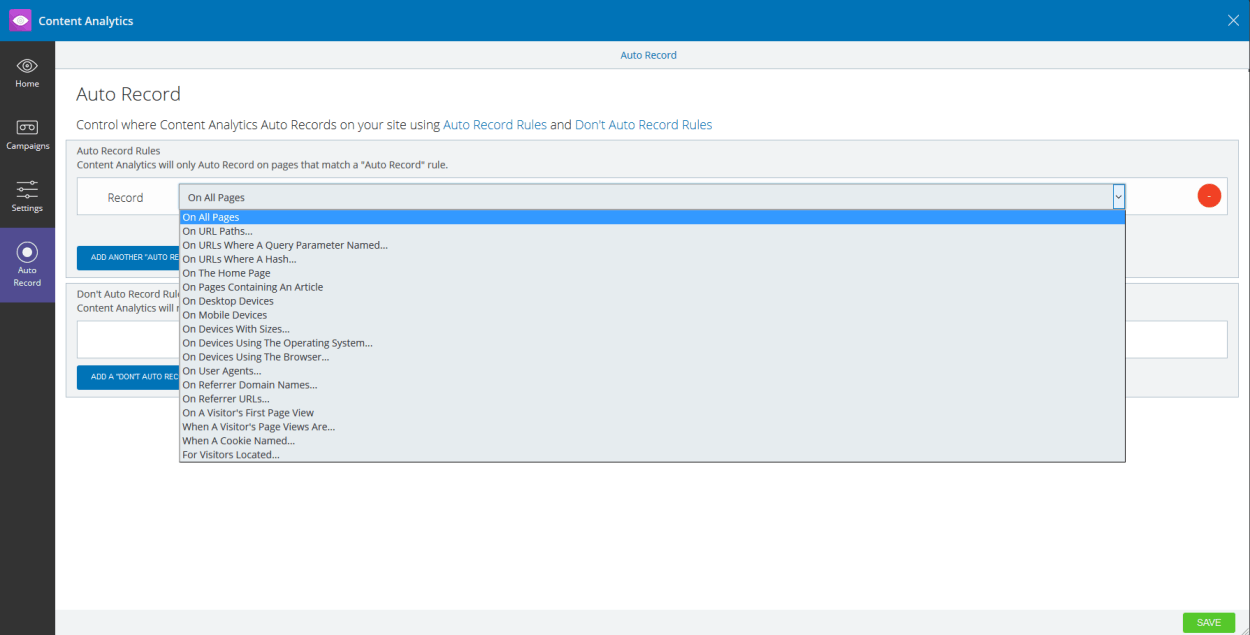 Finally, when you land on the overview screen, you can see what percentage of your blog posts your users are consuming on average.
Sumo Google Analytics App
Nowadays, the majority of webmasters are using Google Analytics to keep track of their visitors and further fine-tune their website's performance by analyzing major on-site metrics.
Indeed, Google Analytics is a fantastic tool, but it can be annoying and time wasting to keep going back and forth between your WordPress dashboard and Analytics. Excitingly, by activating the Sumo's Google Analytics feature, you'll no longer be required to as you can easily view your website's metrics directly from the Sumo interface on your WordPress dashboard.
Once you've clicked on the Google Analytics icon, the next step is to sync Google Analytics with your site by clicking the Connect button, which will open a pop-up that allows you to log in to your Google account and give Sumo the necessary permission.
Choose the website from your portfolio, and click on Next. And there you have it.
Henceforth, whenever you click the Analytics icon on Sumo, you will be able to see the Google Analytics overview – Including session duration, traffic figures, and bounce rate.
Sumo Heat Maps
With Content Analytics and Google Analytics installed and enabled, you'll perhaps have an excellent understanding of how your website visitors are interacting with your blog posts. And if you desire to take this understanding to the next level, then the Sumo's Heat Maps feature will be right there for you.
The Heat Maps feature is configured same way as Content Analytics – simply click to start monitoring, then from the Auto Record tab, you can set up which pages are tracked.
But instead of just tracking how far your visitors scroll on your site, it creates a heat map of where they are clicking.
This information is handy because it allows you to place your call-to-action in the most-clicked areas of your site to drive even more clicks.
Sumo Discover App
This one is a bit different from the data-gathering analytics apps we just discussed. The "Discover App" lets you use the Sumo user network to drive free traffic for your site.
This feature is best described as a sponsored content section. If I show other Sumo content on my site, I will earn some credits that I can use to have my content shown on another user's website – in other words, you scratch my back, and I scratch yours.
Furthermore, you can display other people's content as a scrollbox or in a grid format – the formal is perfect for widget areas. You have total control over how many listings you wish to display, and to make sure that the content is highly relevant to your audience, you're able to select the content category and language.
And if you wish to team up with specific webmasters, you can equally create a private network of content sharers.
Clicking on the Discover dashboard at any time will show you how many credits you've earned/spent.
Sumo Social Sharing Feature
There's no denying that we all know what social media is. Most importantly, we already know the enormous benefits of having our blog posts regularly shared on social media networks. Due to this fact, having enchanting, insanely clickable social sharing buttons is mandatory.
Excitingly, Sumo is loaded with social sharing functionality in separate apps – Share, Highlighter, and Image Sharer. These three apps offer just about everything you'll ever need from a social sharing plugin. As a result, it is considered to be one of Sumo's best features.
The Sumo Share App
As expected, the Share app is specifically for adding social share buttons on your site.
It has a lot of options, and there are about 70 services supported. You'll simply have to select the ones you want using a simple drag-and-drop interface, plus you can decide on the maximum number of share buttons shown.
Aside from that, you can equally configure your sharing buttons design, with a choice of three styles, three sizes, and unlimited background colors.
My favorite feature is probably button sorting. You have a choice between manual sorting and smart sorting that lets you optimize the order of your buttons for maximum clicks. You can equally decide to display share counters and set a minimum threshold to show.
That's not all, Sumo's Share app has another great feature available in the Layout tab. Here, you will see an interactive image of a mobile device and laptop showing you where your buttons can be displayed. Clicking on the white squares will let you choose the position of your button on the screen, and you can choose more than one.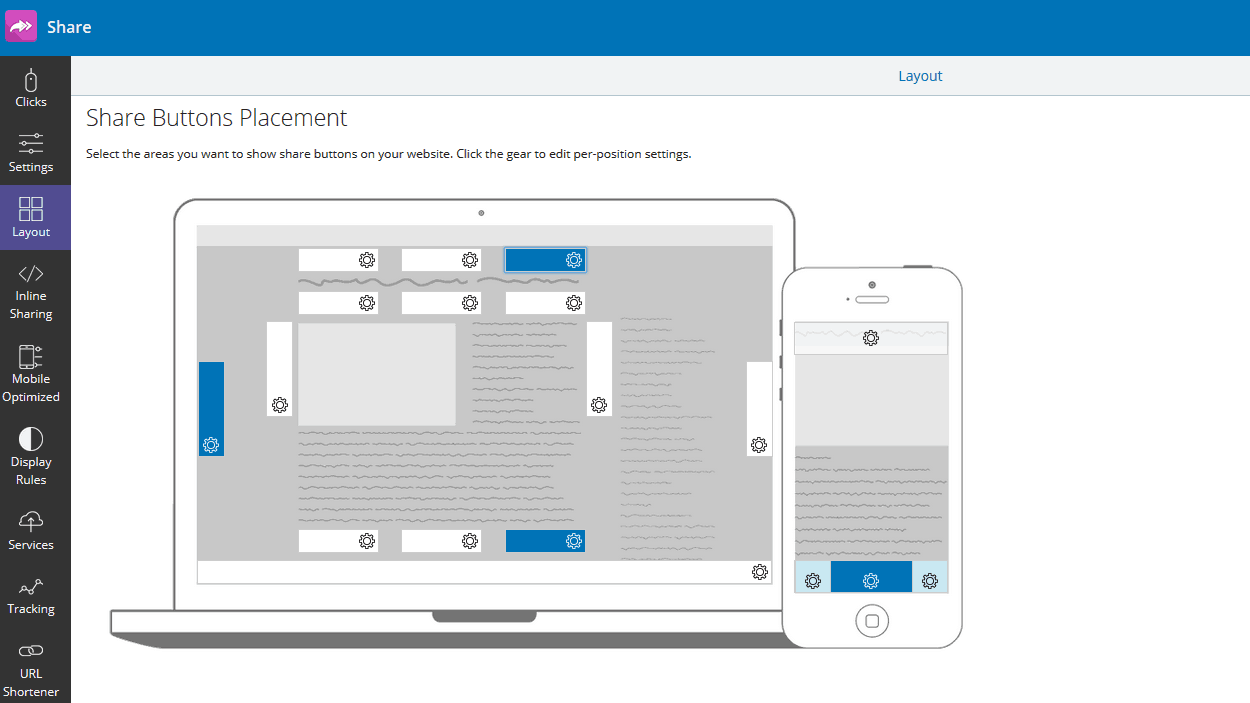 Here's a screenshot showing what the sharing buttons look like:
Sumo's Image Sharer feature adds social sharing buttons to your images, and it supports four networks. A visitor can easily share the image directly on social media by clicking on the buttons.
The final social media feature we'll talk about here is the "Highlighter app." Once activated, your website users can highlight a small portion of your blog post, and directly post it to Facebook or Twitter.
Sumo Marketing Tool | Other Interesting Features
There are two more apps to talk about before we finish.
Sumo Buy Button
The Sumo "Buy Button" lets you turn your website into a modernized e-commerce store by syncing up with Stripe's payment gateway. Although this is not as robust as services like WooCommerce, it's insanely quick and easy to configure.
To use this feature, the first step is to create a campaign, and then create a new button. Using the editor, you can create designs for every step of the process – starting from the buy button, the cart and to the checkout – and all through to the success page.
After that, the next step is to create a product, give it a relevant name, a description, upload the product image, control stock levels, and finally set a price.
Once you've gone through all these steps, you can then return to the Campaign section and the Code Snippet tab. This is where you'll copy the HTML code you'll paste into your WordPress text editor.
And when you publish your content, visitors can see a Buy button within it. When the button is clicked, it'll bring up the shopping cart, and visitors can also adjust their quantities here.
Additionally, visitors can also use this window to input their credit card details and complete their purchase. On the backend, you can track and manage all your orders from the Buy Button app's dashboard.
Sumo Contact Forms
The majority of WordPress contact form plugins out there places the forms using shortcodes. But with Sumo, you insert your forms the same way as the social media buttons – choosing your desired spot, then letting Sumo do the rest.
Ideally, you can create your contact forms with Sumo using the same builder interface we used earlier to develop our opt-in forms, with five templates and lots of customization options to play with.
Apart from the standard contact form feature, Sumo also has two really helpful functionalities.
After sending your message, the contact form will automatically change to an opt-in form for building your email list.
You can view all the received messages from within the Sumo interface. This way, you never have to leave your site to read emails, which is also a real timesaver.
Sumo Pricing | How Much is it?
As mentioned earlier, Sumo is a suite of marketing tools. Hence, when you sign up for any of their plans, you've also signed up for each of their tools.
In other words, you can't pick and select the tools – you get access to all of it. That may be a problem for some users who may already have similar tools with other service providers.
However, the good thing is that you'll end up saving lots of money in the long run as Sumo's tools will sooner or later replace the services you're already using.
That said, here are the five pricing plans that Sumo offers:
Just Starting plan (Free Forever) – best suited for small business owners and people who just want to see how Sumo works before upgrading.
Professional plan (Price – $29/month) – best suited for professional bloggers and marketers.
Ecommerce plan (Price – $79/month) – best suited for e-commerce and SaaS businesses.
Growth plan (Contact Sumo for Pricing) – best suited for bigger companies and content networks.
Interestingly, you get a 20% discount on all these plans if you choose the annual pricing plan.
Is It Worth Upgrading to Sumo Pro?
If you're truly serious about growing your website traffic, email list, and your overall business, then you'll be required to upgrade to the Professional package at some point.
However, if you've never tried Sumo before and don't know how it works, then I suggest you opt for their free version so you can test all the features mentioned above first before upgrading to the pro version.
Since Sumo uses the freemium model, you'll have access to all their tools, but there will obviously be several restrictions, such as:
Limit of 200 subscribers
Limited templates
Basic email integrations
Basic email support
Basic visitor targeting
Less control over the design
Therefore, if you're on a lean budget, then Sumo's free plan is probably the best option for you at the moment. Although, there are very few free similar tools in the market that offers the same level of features and sophistication that Sumo does. But don't forget to upgrade the moment you can.
Conclusion
We've finally come to the end of this Sumo review, and hope it has given you an insight into the value the tool can add to your website and business as a whole whether you're struggling to generate more traffic to your website, build your email list, foster more visitor engagement, monitor and track your progress, etc.
With lots of excellent tools that help industry professionals and beginners alike, there's definitely something for every marketer and webmaster to use to improve the look and function of their website.
With complete creative freedom even at the free pricing level, Sumo tools can integrate effortlessly with your site's branding, so they look like they were custom built specifically for your site.
Therefore, if you're indeed serious about rapidly boosting your website's growth, give Sumo a try today.
Get a Sumo Free Trial Here
Want to learn step-by-step how I built my Niche Site Empire up to a full-time income?
Yes! I Love to Learn
Learn How I Built My Niche Site Empire to a Full-time Income
How to Pick the Right Keywords at the START, and avoid the losers
How to Scale and Outsource 90% of the Work, Allowing Your Empire to GROW Without You
How to Build a Site That Gets REAL TRAFFIC FROM GOOGLE (every. single. day.)
Subscribe to the Niche Pursuits Newsletter delivered with value 3X per week