AppSumo Review: Is AppSumo Still Great or Should You Look Elsewhere?
In this AppSumo review, we take a thorough look at the platform and whether it's still great or not. We believe it is, but read on to see for yourself!
No time to read the whole article? Go straight to AppSumo and get 10% off your first purchase.
It's not easy to start a business from the ground up. You must construct a brand, establish a web and social media presence, nurture a following, and generate leads if you want to see long-term success. You must also maintain engagement, convert leads to sales, and manage effective marketing campaigns. And, of course, find a way to reach your target audience.
Streamlining these activities is much easier with the right business applications, resulting in a smarter, more efficient organization. Quality business software, though, isn't cheap. However, thanks to AppSumo, you can get lifetime deals on your company's tools without killing your budget.
AppSumo had a high reputation for a few years, but it started slipping slightly. Some users have recently been unhappy with AppSumo's products and customer service.
But is it worth buying the tools on offer? We believe so! In this AppSumo review, we cover (among other things):
What AppSumo is
How it works
Tips for buying on AppSumo
Pros and cons
AppSumo alternatives
By the end of this review, we are sure you'll be able to decide whether AppSumo is right for you.
Get 10% off your first AppSumo purchase here!
Get 10% off your first AppSumo purchase Here
---
AppSumo Review
Variety of Deals -

95

Deal Pricing -

95

Returns Policy -

75

Customer Service -

65
Summary
AppSumo is a daily deal website built to connect people selling digital products and services with potential purchasers, called Sumo-lings. Sumo-lings benefit from low-cost deals, and sellers benefit from new consumers, positive evaluations, and plenty of hype around their names. To entice buyers, AppSumo offers substantial discounts on its products. So yes, AppSumo is still a great place to buy software and services!
Pros
Average of 3,5 million partners selling on AppSumo
Lifetime deals
Generous and fair returns policy
AppSumo customers get 10% discount on KingSumo membership
Friendly and active AppSumo team
Very engaged community of Sumo-Lings
Cons
Some AppSumo deals change their terms and features after the sales
Refund policy can be misleading
Customer support is inconsistent and often without clear communication
User reviews are overly enthusiastic
AppSumo Review: The Best AppSumo Alternatives
In a hurry? Here are the best AppSumo Alternatives to be found.
Dealmirror – some of their deals can save you up to 97%!
StackSocial – sells over five million tangible and digital products.
PitchGround – for their own and others' SaaS products.
Dealify – a popular lifetime deals marketplace.
SaaSPirate – best for bargains in CRM, eCommerce, and Analytics software.
Read on to find out all about AppSumo and its alternatives.
What is AppSumo?
In 2010, entrepreneur Noah Kagan saw a huge gap in the market. He needed better software tools, more information, and a large community. So, he built a platform to assist fellow entrepreneurs by promoting tools at incredibly low prices.
In short, AppSumo is a daily deals site dedicated to digitally delivered goods and services.
AppSumo operates in two ways. Firstly, Companies that sell services or digital products can collaborate with AppSumo to give huge discounts on their products or services. This can attract more people to check out their offers and potentially become repeat customers.
Secondly, entrepreneurs can go through the various deals on the site. They can find reasonably priced, or even free, items or services that might help them build their businesses. Video editing services, project management software, and even social media tools are just some of the products available.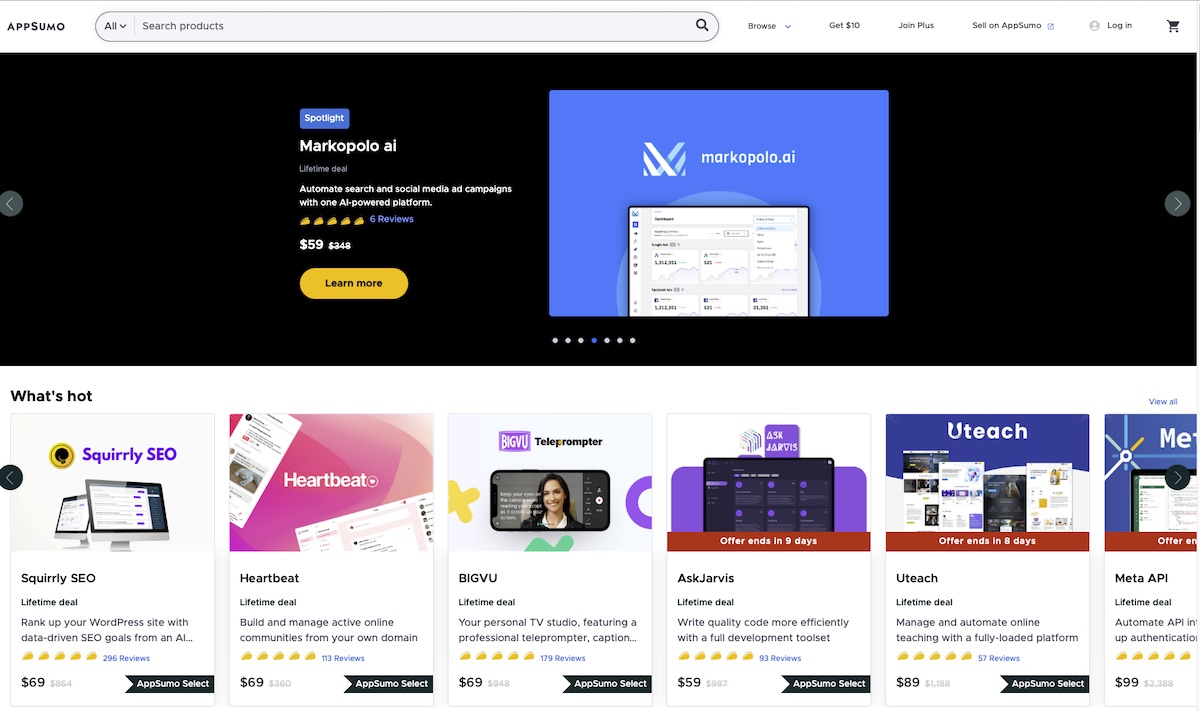 How Does AppSumo Work?
AppSumo works with digital product sellers and service providers. They must be prepared to provide their products and services at very discounted prices to facilitate the deals. AppSumo's distribution strength allows these businesses to quickly make a high number of sales. The quantity of sales makes the supplier's massive discounts acceptable.
AppSumo sends information about each deal to its huge online audience to rapidly facilitate a large number of sales to make it worthwhile. AppSumo explains possible use cases, discloses deal information, shoots a video, and shows customer reviews for each deal.
They become true collaborators in whatever they do, from crafting your copy to Beta testing your product and providing a review.
Partners get visibility and customers, and AppSumo uses a share of the proceeds to finance its own operations.
AppSumo releases roughly three new deals for Sumo-lings (people who are loyal AppSumo consumers) to enjoy every week. These packages are extremely cost-effective. You can find some lifetime deals that cost less than you would pay for the whole package for a year from someone else. AppSumo devotes a lot of time and effort to showcasing each bargain.[/quote]
AppSumo only shows the best of the best (10% of the applications they receive), so they're doing some of the most important work for you. Sellers might limit the number of bargains they make available, so you won't be able to access them once they're gone.
Sumo-lings profit from excellent AppSumo offers, and partners get their products onto the AppSumo platform, where they can be seen and sold.
The AppSumo Refund Policy
For any qualified product sale, the refund policy is a full refund of the purchase price for the number of days specified per product. This is from the date of purchase, regardless of the cause.
That means you can request a refund for a product you bought from AppSumo for any reason within the timeframe specified for each product. And you'll receive a complete refund.
You can find the return policy for any product in the Deal Terms section of the product detail page on the website. You can't return and get refunded on Digital downloads, for example. To see if a tool is suitable for our money-back guarantee, look at the Deal Terms section of each listing.
Please note that you can't return your item once the refund window has closed. It's recommended that you begin using your tool(s) as soon as possible. Then you'll have enough time to ensure it is suitable for you before the refund window closes.
This policy covers all product purchases. But once you claim the rewards from the AppSumo membership subscription, AppSumo Plus – you can't claim any refunds. You can cancel at any time (to cancel your membership at renewal.) Because the subscription is annual, there will be no charge for the following year.
Check out AppSumo's Terms of Use for more information on their returns policy.
AppSumo Plus
AppSumo Plus is AppSumo's premium rewards membership program. It includes features like 10% off deal purchases, access to KingSumo, and more.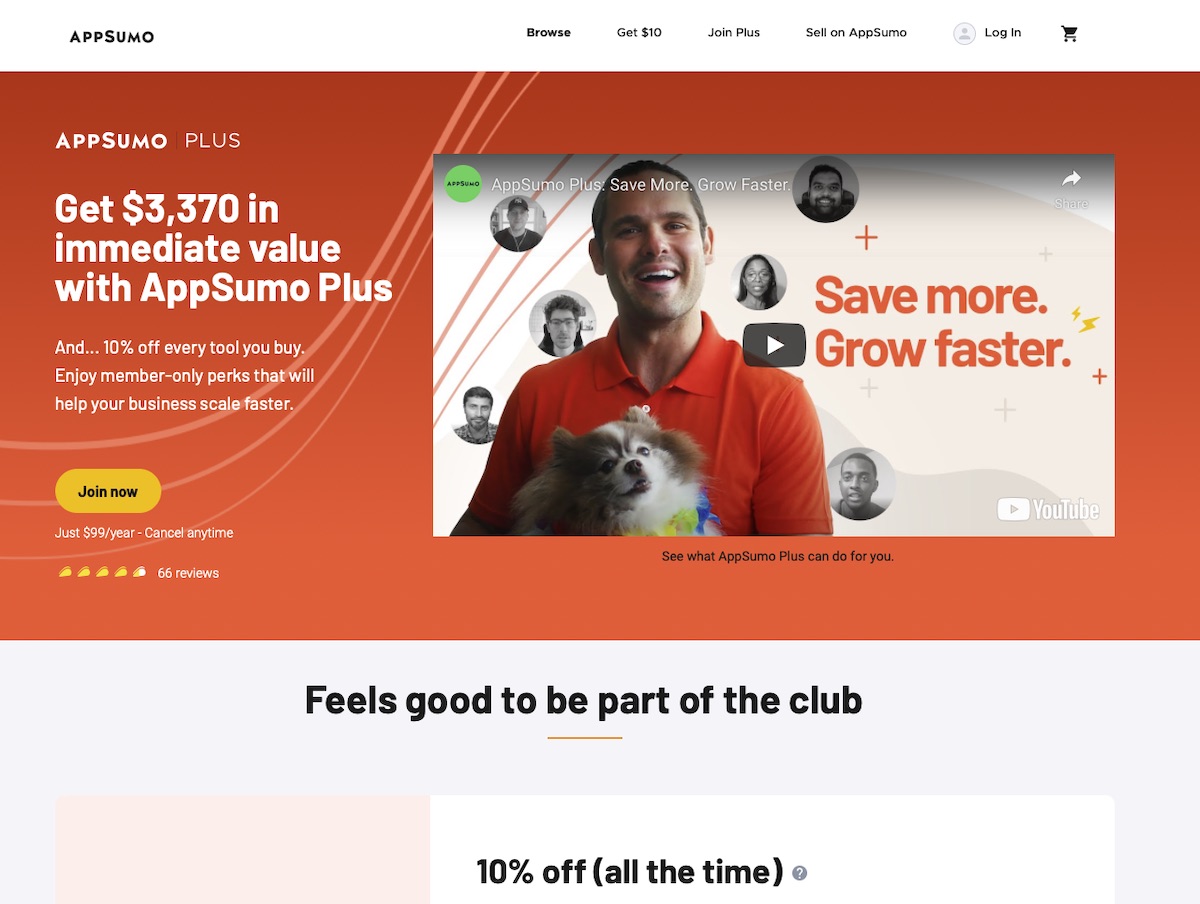 When you use your Plus membership to make a purchase, you'll save money on the item's price.
After the benefits get used up, this membership is non-refundable. Cancellations requested after buying any deals using the membership discount are not eligible for a partial discount.
AppSumo occasionally sells actual objects like conference tickets, books, etc. You can only buy these items with cash or cash-like equivalents (credits and discounts not included). But, this won't be an issue for the vast majority of AppSumo goods and AppSumo users.
AppSumo Plus Pricing
$99/year and you can cancel anytime.
KingSumo
KingSumo is an email list-building platform that allows you to give away virtual or physical products to grow your email list.
You can get leads for a fraction of the price of Instagram influencers, Facebook ads, and other marketing channels by using KingSumo. It's great for small firms and entrepreneurs who wish to use viral giveaways to produce many new leads.
This is a user-friendly platform. Create a brief description of your offer and select the number of winners you want. You'll have your first contest up and running in no time.
You can offer up a large grand prize or plenty of smaller prizes. Or your own product, partner products, real and virtual goods, a PDF, and anything else you can think of.
It usually costs $228 for a lifetime access KingSumo Pro license, but they often run amazing specials where you can buy it for $49 – lifetime too!
Now Your Giveaway is Live
Once your giveaway is live, the real fun begins. When someone enters a KingSumo offer, they can get three bonus entries by sharing it with their friends. This increases their chances of winning. And the more opportunities they have to win, the more inclined they are to share.
Your contestants become your sales crew, spreading the word about the giveaway on social media. (This is where your marketing work ends!) As a result, with KingSumo automating your outreach, you can focus on other critical business activities.
You can set up any type of social or traffic CTA (Call to Action). And launch targeted campaigns to improve your social presence, including site visits, video views, and conversions outside of the contest for free.
For example, if someone follows your Twitter handle and clicks a link to your website, subscribes to your podcast (find out how to use podcasts a marketing tool), or does a few other things, you can give away ten extra bonus entries. This is because 95% of giveaway entrants take social action.
Automatic mid-giveaway and final 24-hour reminders keep your contestants' attention on the prize and promote more sharing.
AppSumo Review: Tips For Buying On AppSumo
If you decide to buy an AppSumo deal – here's what to expect:
Many "$59 for life" apps are early-release or light-version software. To fully use the program you purchased, you may need to "stack" many of the " AppSumo offers." Stacking deals is AppSumo's phrase for purchasing multiple units of a deal. This usually unlocks a more powerful or unbranded version for you to use.
You may also expect frequent software updates, often released right after they get out of Beta.
The tutorials could be short, badly written, or completely absent. Take this into account if you aren't very tech-savvy.
A buggy tool with no product roadmap (a list of planned new features) is a clear red flag or even a sign of a company going out of business.
The learning curve is an important factor to consider when purchasing new tools. A few of the tools you buy will be quite simple to master (if you are computer literate.) Or will even be comparable to what you are already using.
AppSumo Fake Reviews
Reviews are crucial to AppSumo. But, moderation is low on the priority list. Sumo-lings submit reviews, which are then accepted. It's a vital element of the AppSumo ecosystem, but they do not influence how many tacos Sumo-lings contribute to a particular product.
The only reasons reviews get removed are: If they contain profanity, a resolved support issue, or a terrible troll post.
Disgruntled AppSumo employees or ex-employees (and you always get them, no matter how good the employment conditions may be) also write bad reviews.
The quantity of reviews submitted by Sumo-lings who purchased only one AppSumo deal or "Joined today" has been a source of contention. But, 4-5K new Sumo-lings join the group every month.
An essential aspect of belonging to this group is that users submit reviews. However, they also get carefully explained the instructions and rules for submitting a review.
AppSumo purposefully made the number of purchases a reviewer has made visible. This improves openness and allows Sumo-lings to weigh each review as they see fit. Knowing when a particular reviewer bought their deal, joined AppSumo, and how many deals they've purchased should give a buyer some confidence.
AppSumo encourages everyone to evaluate the integrity of each review and, in the end, make their own decision.
AppSumo Reviews on Reddit
For years, marketers have used Reddit as a preferred platform (and there are lots of ways for how to make money on Reddit). It's also the second-fastest-growing social media sharing site. But neither of these factors contribute to Reddit's popularity and trust among its users.
According to a new survey issued by the American Press Institute, Reddit is the second most trustworthy social media platform. Especially for consumers seeking news and information.
So, what makes Reddit so popular and credible? Authenticity.
Anyone who has spent time in a Reddit community knows that all Redditors have one thing in common: real enthusiasm for the topic. Knowledge and honesty come hand in hand with passion.
Although the review source is vital, reputation determines the story's credibility. Consumers generally trust those who are competent, authentic, and passionate. If you're interested in an AppSumo deal, have a look at what Redditors have to say about it in their AppSumo reviews.
Do A Proper Audit Of Your Existing Software Tools
AppSumo understands its customer base well, including solopreneurs, small teams, and some agencies. It's reasonable to suppose that they base the majority of their transactions on what every small business owner requires.
AppSumo junkies can tend to buy over-enthusiastically when they're on a roll. Some of the same types of lifetime deals appear on the AppSumo platform close to one another. After buying one deal and then seeing a better one appear on the market, this tends to cause a different type of FOMO (Fear Of Missing Out.)
So, consider whether this shiny new thing is truly necessary before you disrupt your current workflow and the software tools you already know how to use.
Is it innovative enough to be a part of your tech stack? But, if you have done an impulse buy on a good deal, you can try out a new software application for up to two months with the option for a refund at any moment during that period. That is if the deal includes the chance for a refund. Check carefully before you buy since some don't.
AppSumo Review: Is AppSumo Worth It?
AppSumo is a treasure chest of great deals and lifetime access to reasonably priced apps for entrepreneurs. Sometimes you win, sometimes you lose with risky investments. But a successful one can offset multiple bad ones by spreading out the basic risk of buying a once-in-a-lifetime product from an unknown firm.
You can overcome deal addiction induced by FOMO by establishing certain guidelines for when to buy a lifetime deal. Sign up for AppSumo's newsletter to stay informed about new discounts. And join the LTDFans Facebook group to discuss them.
AppSumo Review: On The Negative Side of Reputation
Unfortunately, AppSumo has been disappointing a growing number of customers in recent years. "Goodbye to the old Amazon of the SaaS; you've become (changed into) an Alibaba instead," a Trustpilot reviewer put it. It appears that several of the current AppSumo bargains aren't quite as advertised.
However, despite increasing negative reviews and dissatisfied consumers, AppSumo is a profitable company. Through the AppSumo marketplace, startups get a lot of visibility for their apps and make a lot of money. And buyers are delighted to get inexpensive subscriptions to professionally tested products needed to manage a business. So, in the final reckoning, AppSumo has a great team, and everyone is happy!
The campaigns are usually restricted to 14 days to create a sense of scarcity among purchasers.
AppSumo Pros and Cons
We have found the following pros and cons while working on this AppSumo review:
Pros
Average of 3,5 million partners selling on AppSumo
Lifetime deals
Subscription discounts on a daily, weekly, and monthly basis
There are more than 50 categories in the inventory
Generous and fair returns policy
AppSumo Plus sends out email notifications when the best deals are available
AppSumo customers can get a 10% discount on KingSumo memberships
Friendly and active AppSumo team
Very engaged community of Sumo-Lings
Cons
Some AppSumo deals change their terms and features after the sales
The refund policy can be misleading
Customer support is inconsistent and often without clear communication
User reviews are overly enthusiastic
Startup failures mean your lifetime deal may become inactive
Best AppSumo Alternatives
Our AppSumo review proves that AppSumo is still a great place to buy digital products and services. But if you're still thinking about your options or looking for other platforms similar to AppSumo, here's our list of suggestions.
1. DealMirror
One of the best AppSumo alternatives is Dealmirror. They provide similar deals and discounts to AppSumo, stating that their best deals can save you up to 97 percent.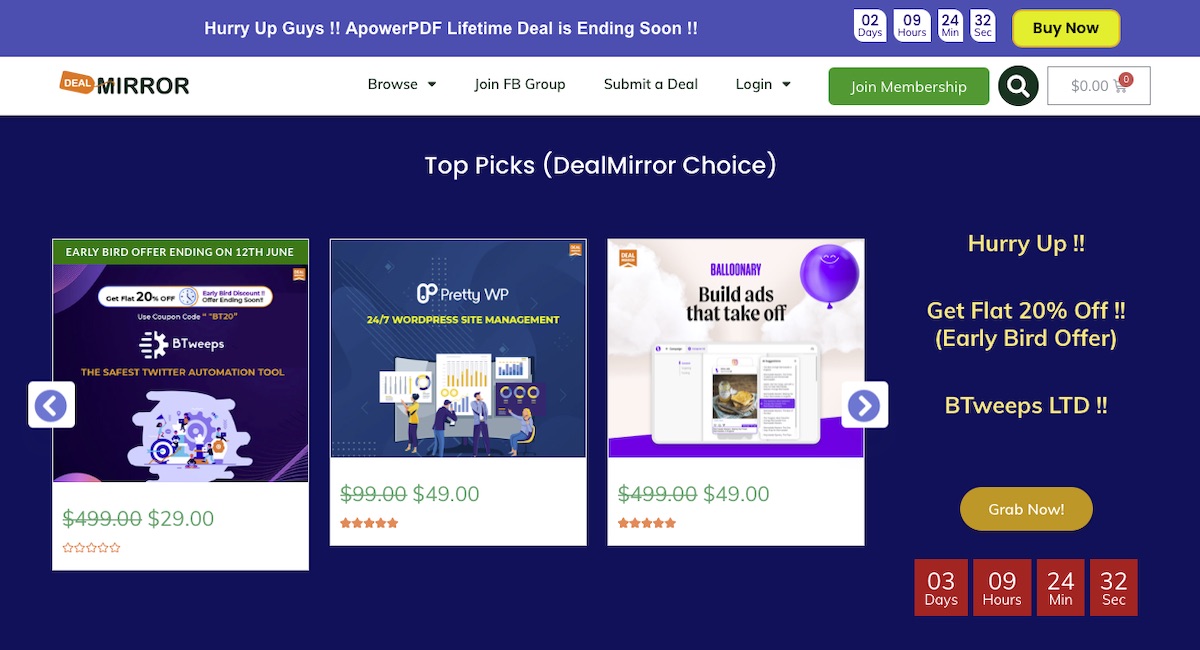 They provide a wide range of categories to sort the items, such as SEO, Social Media, Lead Generation, and even Hosting. This means that customers can find what they want with the least effort and hassle.
Dealmirror also has a handy, regularly updated Facebook group with new deals and discounts. Log in or sign up and watch for a deal that best suits you.
2. StackSocial
StackSocial, founded shortly after AppSumo, is another daily deals veteran.
This company sells tangible and digital products, including gadgets, toys, lifestyle items, etc. To date, the platform has sold over five million products.
3. PitchGround
PitchGround is more than a software-as-a-service marketplace. They offer the standard features found in other SaaS markets.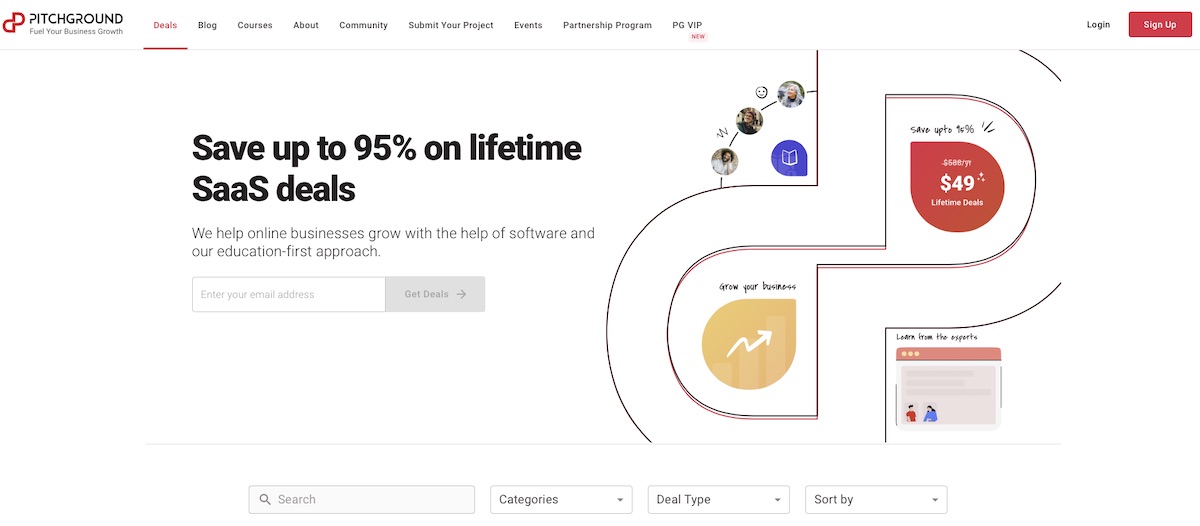 They also provide a variety of additional business solutions. Because they have their own products, PitchGround's focus is not completely devoted to selling other people's deals.
4. Dealify
Dealify claims to be the most popular lifetime deals platform for growth hackers. It's an online marketplace where growth hackers, entrepreneurs, and marketers can get great prices on digital marketing tools (find out how to make money with digital marketing).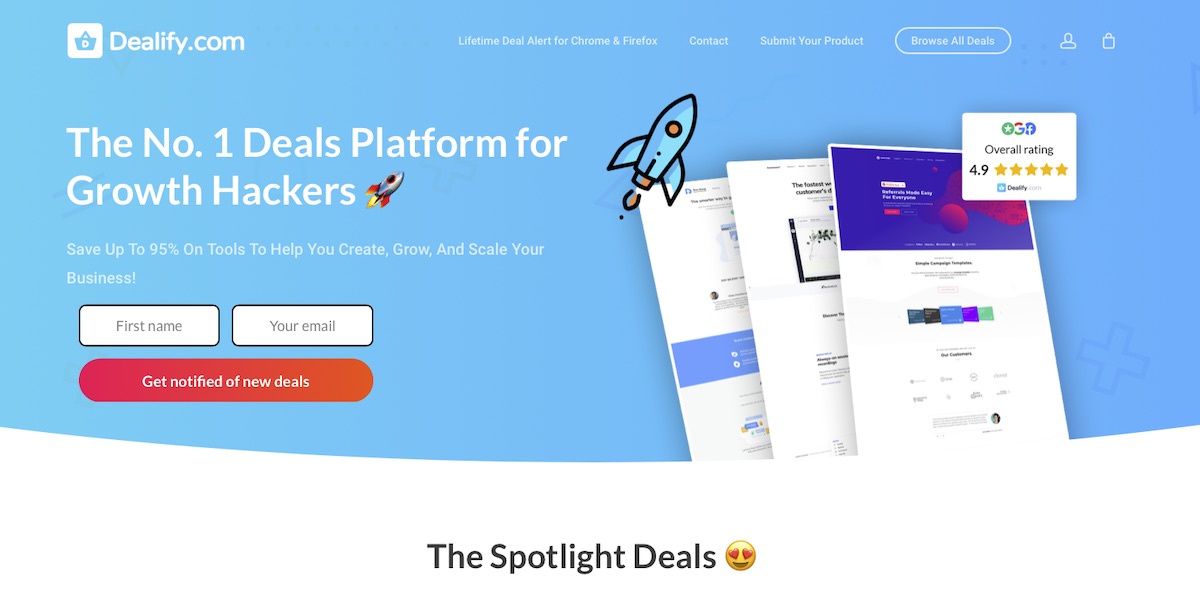 It advertises all Dealify bargains as well as a few AppSumo promotions. And it provides a money-back guarantee of 30 days. They also have a lifetime bargain alert extension for Chrome and Firefox. By just adding the extension, you won't miss any deals.
5. SaaSPirate
Another popular alternative to AppSumo is SaaSPirate. They offer lifetime software deals, with some offering discounts of up to 90%. The most popular bargains are CRM, eCommerce, and Analytics.
Over 5,000 companies and developers list on the site. That's a tiny number, especially when compared to AppSumo, but the audience they're selling their products to isn't huge either.
Concluding The AppSumo Review
AppSumo has consistently disrupted long-standing tech giants and risen to prominence in a short amount of time. By offering entrepreneurs the right tools, best deals, and solutions, AppSumo is driving the digital industry.
The products and services are cost-effective and help in achieving the desired results. The appropriate tools can help you get through the toughest portion of your business venture and benefit both beginners and pros. And the best parts are the lifetime deals which can translate into massive savings.
In this AppSumo review, we have come to the conclusion that AppSumo works, and it's still great if you're a huge fan or a careful buyer. But unless it fixes the glitches that the negative reviews and its customers are complaining about, AppSumo will lose traction quickly.
With that, let's take a last look at the best AppSumo alternatives:
With Dealmirror you can save up to 97% on some deals. They offer a wide range of product categories, like SEO, Social Media, Lead Generation, and Hosting.
StackSocial has been around almost as long as AppSumo. They sell over five million products, including gadgets, toys, and lifestyle items.
PitchGround is a SaaS marketplace that offers deals on its own software as well as other products.
Dealify is a very popular marketplace for lifetime deals and it offers a 30-day money-back guarantee. Their lifetime bargain alert extension for Chrome and Firefox means you will never miss any great deals.
SaaSPirate is the best place to find bargains in CRM, eCommerce, and Analytics software.
Happy bargain hunting!
Get 10% off your first AppSumo purchase Here
Lastly, if you are a founder of SaaS or digital products, have a look at this interesting article: KEVIN CONTI OF SOFTWARE IDEAS ON HOW TO BE A SUCCESSFUL FOUNDER.
Want to learn step-by-step how I built my Niche Site Empire up to a full-time income?
Yes! I Love to Learn
Learn How I Built My Niche Site Empire to a Full-time Income
How to Pick the Right Keywords at the START, and avoid the losers
How to Scale and Outsource 90% of the Work, Allowing Your Empire to GROW Without You
How to Build a Site That Gets REAL TRAFFIC FROM GOOGLE (every. single. day.)
Subscribe to the Niche Pursuits Newsletter delivered with value 3X per week