Printify vs Printful Review: Which is Best for Your Print-on-Demand Business?
When you buy something through one of the links on our site, we may earn an affiliate commission.
When it comes to printing your own custom products on demand, there are a lot of options available. Two of the most popular choices are Printify and Printful. Both companies offer high-quality printing services, but which one is right for you? In this article, we will compare and contrast Printify vs Printful, so that you can decide which company is the best fit for your needs.
In a rush?
It's hard to go wrong with the original platform Printful. They offer great customer service and a wide range of products to handle most needs you may have.
What Is Print on Demand?
Before we compare Printify and Printful, it is important to understand what print on demand (POD) is. POD is a printing technology and business model in which products are only printed after an order has been placed. This means that there is no need to keep inventory or worry about overproduction.
Print-on-demand companies produce a variety of products including shirts, mugs, phone cases, and more. This is one of the easiest ways to sell t-shirts online, though you can break into other markets too. Once you have designed your product, the POD company will handle production and shipping.
While the costs for POD can be higher than traditional printing methods, the benefit is that you only need to order the amount that you need.
This can make it a low-risk way to test out new product ideas or run an e-commerce shop, as you only need to order a few items at a time. This helps you to build a business faster, which in turn, can earn you money faster.
Benefits of the Print on Demand Model
No need to keep inventory or worry about overproduction
Lower risk and costs associated with starting a business
Ability to offer a wide range of print on demand products
Easy to outsource print quality control, shipping, and customer support
Run a print-on-demand business from anywhere in the world
Easier to focus on marketing and sales when you outsource production
Many print-on-demand companies integrate with e-commerce platforms such as Shopify, Etsy, and Wix.
Some print-on-demand producers handle the entire process from start to finish, while others act as a middleman between the customer and the printer. You get to choose what level of involvement you want with the production process.
These are just a few of the benefits that the print-on-demand model offers. If you are thinking about starting an e-commerce business, then print-on-demand might be a good option for you.
Now let's take a look at Printful and Printify to see how they compare.
Printful Review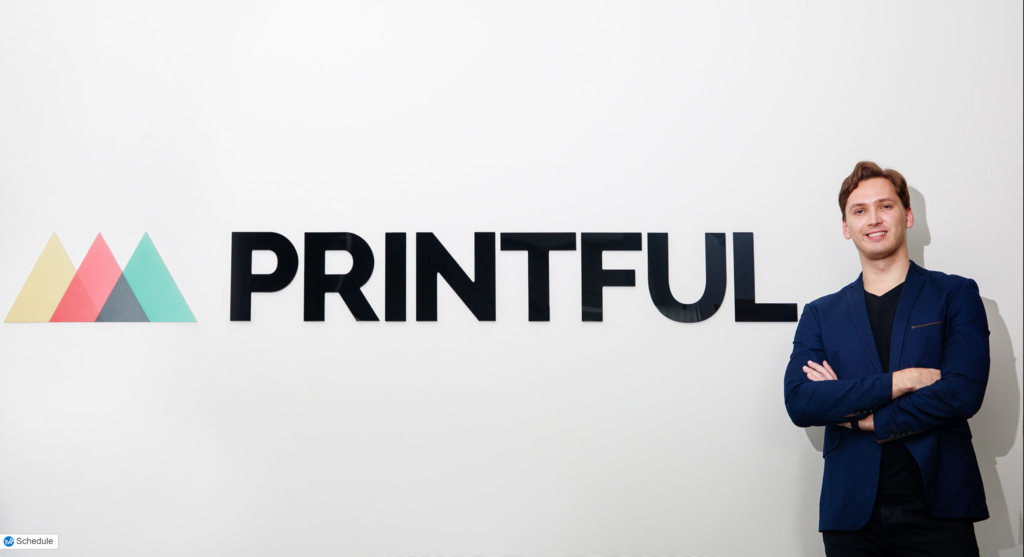 Printful began in 2013 and was created by Lauris Liberts. It's one of the leading print-on-demand companies. They offer a wide range of products including t-shirts, hoodies, mugs, tote bags, art, phone cases, pillows, posters, and more. It also offers embroidery and print services. If you want to sell art and make money online, Printful is a great way to do just that.
Printful has no minimum order requirements and offers a variety of shipping options. It also integrates with popular e-commerce platforms such as Shopify, WooCommerce, Gumroad, Etsy, eBay, and more.
While many print-on-demand companies outsource the printing process, Printful has its own production facilities. This allows them to have more control over better print quality and turnaround time.
Printful also has a strong focus on customer service. They have a team of in-house customer service representatives who are available by chat to answer any questions that you might have.
Printful offers reasonable prices for high-quality products. They have nine fulfillment centers in regions around the world including North America, Europe, and Asia. This allows them to offer fast shipping times and low shipping costs.
In addition to print-on-demand services, Printful also offers warehousing and fulfillment services for businesses that need help with inventory management. You can also use the promo maker to create custom promotional graphics. And finally, the keyword scout helps you to find tags that will help your product to rank higher on Etsy and other e-commerce platforms.
Printify Review
Printify is a print-on-demand platform that was created in 2015 by James Berdigans and Arturs Safranskis. It's one of the leading companies in the POD industry. Printify offers a wide range of products that are produced by a network of over 250 print providers.
Printify also only requires one item to be ordered before it goes into production. You can order samples of products before you commit to a larger order. This is helpful if you want to test out the print quality of the product or see how it looks in person.
It integrates with popular e-commerce platforms such as Shopify, Etsy, WooCommerce, and Wix. It also has a mobile app so that you can manage your business on the go.
One of the benefits of Printify is that they offer a wide range of products from different print providers. This gives you more options to choose from and find the perfect product for your business.
Printify vs Printful: Important Features
As you can see, each print-on-demand company has its own unique set of features. So, how do you choose the right one for your business? Here are a few things to consider:
1. Item Printing Quality
When you are selling products, the items must be printed in high-quality. Otherwise, you will end up with unhappy customers. Make sure to read reviews of each print-on-demand company before making a decision.
Printful Print Quality
Printful uses a direct-to-garment (DTG) printing process for its products. This is a newer printing technology that offers high-quality prints. However, DTG prints can be more expensive than other types of prints.
Since Printful owns its own printing facilities, it has more control over the printing process. This results in a higher level of quality control.
Many customer reviews state that it had better print quality than competitors, with a sturdy and non-cracked image as well as true to color printing.
Printful also protects customers and sellers by offering a replacement or refund for items that aren't up to par. Simply send them a picture of the less-than-perfect product and they'll take care of the rest.
Printify Print Quality
Printify uses a variety of print providers, which means that the print quality can vary depending on who is fulfilling your order. However, you do have the option to order samples before committing to a large order. This way, you can see the quality for yourself before making a decision.
Some customers have complained about the print quality of Printify. In particular, there have been issues with the ink cracking and fading over time. There are certain items that don't turn out as well as others.
However, Printify has a quality control team that reviews every order before it's shipped out. If they find that an item doesn't meet their standards, they'll possibly send you a replacement.
When it comes to print quality, Printful seems to have an edge over Printify. This is because Printful has more control over its printing process and therefore more consistency. However, both companies offer high-quality products overall.
2. White-Labeling and Custom Branding Opportunities
Printful Branding Options
Many Printful products can be branded with your logo or other custom branding options. This is a great way to make your products stand out from the competition and build brand awareness.
Printful also offers white-label packaging. This means that your products will be shipped in plain packaging with no Printful branding. This is a good option if you want your customers to only see your custom branding options. The custom packing slip can have your logo uploaded as well.
For a fee, you can send pack-ins with your orders. This is a great way to include marketing materials or other information about your brand.
You can also use custom packaging if you buy it on your own through a supplier and then send it into Printful's warehouse. Printful will then fulfill your orders in your custom packaging once it is approved.
Printify Branding Options
Printify also allows you to brand your products. You can upload your logo or design and choose from a variety of product templates.
Like Printful, Printify also offers white-label packaging. Your products will be shipped in plain packaging with no branding from Printify. However, the shipping labels will include your company's name and address.
You can't send pack-ins with your orders from Printify. However, you can use custom packaging if you buy it on your own through a supplier and then send it into Printify's warehouse.
Overall, both companies offer great branding opportunities for your products. They both offer an option to have your products shipped in plain packaging or white-label packaging. However, Printful offers more options when it comes to customized packaging and adding your logo to shipping slips.
3. Product Pricing
Pricing is one of the most important factors when it comes to your print-on-demand company. It affects your profit margins and your ability to compete in the market.
Printful Pricing
Printful doesn't require any minimum order amount and is free to set up. They also don't have any setup fees or monthly fees.
However, they do offer a Pro account that costs $49 a month (with a 14-day trial in case you want to try it out first). This Pro plan includes additional features such as background removal, hundreds of clip art options to use in your designs, a promotional graphic designer, a keyword tool, and free digitized embroidery images.
Printful also offers discounts for bulk orders. The more you order, the higher the discount. For example, if you order 15 items, you'll get a 4% discount. If you order 500 items, you'll get a 22% discount.
Printify Pricing
Printify has no monthly fees, but they do offer an upgraded plan as well. Their $29 a month plan may offer more direct value by decreasing the cost of all of their products. Savings may range from $1 to $10 dollars off per item with the premium plan.
You can also get the premium plan for as little as $24.99 a month if paid annually, providing even more savings. This is a great option for a store with high volume.
Printfify offers up to 30% off of shipping costs for bulk orders. In order to receive a quote, the company requires you to reach out through this form.
Each print-on-demand company offers a free and paid plan, making them very comparable when it comes to the cost of using the platforms.
Printify products are slightly cheaper than Printful products. The cheapest shirt in the Printify catalog is $6.56 while the cheapest shirt in the Printful catalog is $8.95. So is Printful vs Printify better? This means that Printify wins if you're looking for a higher profit margins.
4. Turnaround Time
Order fulfillment involves the printing, packaging, and processing of an item before it makes its way to your customer in the mail.
The shorter the fulfillment turnaround time, the faster your customers will receive their orders. This is important to consider because customers are more likely to be satisfied with their purchase if they receive it quickly.
Printful Turnaround Time
Printful offers a standard order fulfillment time of two to seven business days, depending on the product. Non-apparel custom products such as prints or mugs are produced slightly quicker and have a 2 to 5 business day turnaround time.
If you've sent products in to be housed at Printful's warehouse fulfillment center, the item can be shipped on the same day if the order is placed before noon.
You can store your items in a warehouse to sell in Los Angeles, CA; Toronto, Canada; Charlotte, NC; Barcelona, Spain; and Riga, Latvia.
Printify Turnaround Time
Printify outsources its product catalog to be printed at over 90 different fulfillment facilities worldwide. Because of this, the turnaround time varies depending on where the item is being produced.
Most items have a standard turnaround time of two to seven business days, but some items may take up to two weeks.
Since you can choose your own fulfillment center with Printify, you can opt for a printer that has a faster turnaround time.
Overall, both Printful vs Printify have similar turnaround times for their products. However, with Printify, you have more control over where your items are being produced and can choose a fulfillment center that has a faster turnaround time.
Printful beats out Printify with its warehousing advantages because these products can be shipped on the same day if ordered before noon. It's also a simpler platform and automatically chooses the fastest production center for your order. In this case, it's a tie where each print provider offers about the same turnaround time.
5. Shipping Policies
Shipping is another essential factor when it comes to running a print-on-demand store. Similar to processing speeds, customers are happy when shipping speeds are as fast as possible and the shipping costs involved can really eat up your profit margins.
Printful Shipping Policies
There are various different shipping estimates on Printful that can be determined on their shipping rate calculator. Shipping costs depend on the specific product and region. For example, shipping times of most shirts in the United States range from 5 to 13 business days.
When additional products are ordered and mailed together, there is a discount in shipping costs. Using the shirt example, if two shirts are ordered, the first costs $3.99 to ship and the cost of the second shirt's shipping drops to $2.00.
Printful has dynamic shipping rates, which automatically adjust for the different regions and order amounts. This makes Printful simple for those who want to charge correctly for shipping without much effort.
The platform also has an option for manual shipping pricing. This can be helpful if you want to offer flat-rate or free shipping costs in your online store.
Printify Shipping Policies
In order to determine the shipping rates for each item in Printify, you will have to browse by each print provider. However, in general, you can expect an item to take 3 to 9 days to ship in the U.S.
If you're shipping products internationally, you can expect a delivery time of about 10 to 30 business days on top of production time. However, as mentioned above, this depends on print providers.
In this case, Printful is the clear winner when it comes to a smooth shipping experience. Their sent items tend to arrive a few days quicker than Printify, and they have a more uniform experience since they don't outsource shipping.
6. Integrations
An integration connects programs to your online store so that you can increase the number of features and automations in your business. This is a critical part of using a print-on-demand service. If you can't connect your online store with your printing service, it's challenging to sell products.
Here are the eCommerce platforms and marketplaces that these two companies can integrate with:
Printful Integrations
Etsy
eBay
PrestaShop
Wix
Webflow
Ecwid
Square
Amazon
BigCartel
Magneto
Storeenvy
ShipStation
Shift4Shop
Launch Cart
Printful API
Printify Integrations
eBay
PrestaShop
Wix
Printify API
Etsy
As you can see, Printful has many more integration options, and some are with heavy-hitters such as Amazon. This means that there is more sales potential since the very same print-on-demand products can be placed on many different platforms.
While Printify offers some important integrations such as Spotify and Etsy, Printful wins!
7. Customer Service
Customer support can be a lifesaver when you have your own e-commerce store. It can help to have someone to contact when you have a question or run into an issue.
Printful Customer Service
Printful offers 24/7 support through email and live chat. They also offer a phone number for those in the US, Canada, UK, Australia, and Latvia.
All of your live chat conversations are submitted to you via email for your records once the conversation is completed. You can also respond to the archived message email if you have additional questions later on.
In addition to this, they also provide an extensive help center with video tutorials and a searchable database. They also offer plenty of valuable content on their YouTube channel.
Printify Customer Service
Printify also offers 24/7 customer support through email and chat. You can start a real-time conversation by selecting the chat bubble and choosing a topic that matches your inquiry. You can find an archive of your customer support chats in the "My Requests" section of the site.
If you're having an issue with an order, you can go directly to the order and select the "Submit Issue" option to resolve any problems.
In addition, they also have an FAQ section that covers a variety of topics such as printing methods, design templates, shipping, and more.
For those who are visually inclined, they also offer a few video tutorials on their YouTube channel.
When it comes to customer service, both companies are neck and neck! They both offer 24/7 support through email, chat, and phone. They also have an extensive FAQ section and provide helpful video tutorials. In our Printful vs Printify review, they are tied in the area of customer service!
8. Variety of Products
The more options you have when it comes to items in your online shop, the more opportunities you have for sales. So it's important to choose a service that offers a good variety of items that your target audience will love.
How Many Products Does Printful Offer?
Printful offers over 160 product options and the list is always growing. These items range from apparel to home decor and everything in between. They also offer eco-friendly options for those who are looking for a more sustainable product.
One product that stands out from other print-on-demand products is the embroidered products. These trendy items are perfect for those who are looking to add a unique touch to their product line and add increased quality to their items.
You can take a look at the full product catalog here. More items are being added (and sometimes discontinued) on a monthly basis.
How Many Products Does Printify Offer?
Printify offers over 600 product options! This includes items such as apparel, home decor, phone cases, mugs, notebooks, and more. You can find the full list of their products here.
There are many products with slight varieties such as weight, size, fabric, color, and materials. This allows you to choose the perfect item for your shop and customers, which is great for sellers that want to be discriminating when it comes to having the perfect selection in their shop.
When it comes to the sheer number of product offerings, in the Printify vs Printful battle, Printify wins! There are so many varieties that you are sure to find the perfect product for your target market.
9. Overall Ease of Use
While the nuts and bolts of a Printful vs Printify review can help you decide which is the better platform for your business, there's one more important factor to consider: ease of use.
Printful's Ease of Use
Since it's free to create an account and there are no sign-up fees, you can get started with Printful right away.
Creating products is easy and only takes a few minutes. You can either upload your own design or create one using their Design Studio.
The visual layout of the site is modern and clean, making it easy to navigate. There is a convenient search bar at the top of the site in case you can't find something that you need. However, anywhere you want to go on the site should be located in the lefthand toolbar.
Printify's Ease of Use
Like Printful, it's free to create an account with Printify. It will immediately prompt you to connect your eCommerce business upon signup.
Creating a product is also very easy and straightforward. You can either upload your own design or select from one of the many available templates.
Printify's interface is also clean and user-friendly. Everything you need should be located in the left-hand sidebar for easy navigation.
Since there are so many different producers and printers on Printify, you will have to do a bit of work to decide who you want to make your items with.
While some producers offer great item prices, they may not offer the best shipping prices. The type of printing process and quality of prints may also vary from seller to seller.
So it can take some extra time to find the perfect producer for your needs.
Both Printify and Printful are easy to use, but Printful has a slight edge because you don't have to worry about finding a producer with the perfect combination of prices and quality. So in the Printify vs Printful competition, Printful wins since they keep things simple by producing everything in their own fulfillment centers.
5 Alternatives to Printful and Printify
While Printful and Printify are the two most popular print-on-demand platforms, there are some alternatives that you may want to consider. Here are five great options to consider when starting an online store in addition to Printify vs Printful.
1. Gooten
Gooten is a print-on-demand platform that offers over 250 products, including apparel, home decor, and phone cases. They have no sign-up fees and you can connect your eCommerce store in just a few clicks.
Gooten wins when it comes to product offerings and ease of use. Their wide variety of products and simple interface make them a great option for those just starting out with print-on-demand.
Some benefits of using Gooten are that it has unique items that aren't commonly found on other print-on-demand platforms, such as cutting boards and baby bibs. They also have a great blog with tons of resources to help you get started with your online store.
Some downsides fo the platform include inconsistent quality reviews. Customers regularly report a lower overall quality from Gooten than either Printful vs Printify.
There also isn't a live chat agent available, so you'll have to rely on email support if you need help with anything.
Overall, Gooten is a great option for those just starting out with print-on-demand and are looking for an easy-to-use platform with no sign-up fees. The prices are reasonable and the product selection is impressive.
2. Teelaunch
Teelaunch is a popular print-on-demand platform that offers over 200 products, including apparel, mugs, and tote bags. They have no sign-up fees and you can connect your eCommerce store in just a few clicks.
One unique offering that is highly sought after in the e-commerce world is their laser etched cutting boards. Teelaunch is one of the only print-on-demand platforms that offer this product.
They also offer a lot of electronic items such as Bluetooth speakers and headphones.
If you're a pet lover, you'll appreciate their dog bowls and pet bandanas, allowing you to tap into the booming pet industry with print-on-demand.
The main downside to Teelaunch is their production and shipping times. Their production time is about 1 day longer than Printful and Printify on average, and it can take up to 9 to 12 days for an item to be printed around.
Unfortunately, their customer service policies have recently changed. Previously, customers were able to exchange a size up or down if an apparel item didn't fit properly, but this policy has ended.
Additionally, they are increasingly requiring more proof of printing errors, which can be hard for some sellers to obtain from their customers.
3. Spreadshirt
Spreadshirt is a print-on-demand platform that started in Germany and has been steadily gaining popularity. This platform offers approximately 200 different products that can each be customized and sold under your own brand.
Spreadshirt is committed to creating eco-friendly items that are sustainable and have a minimal footprint. This is especially important because the print-on-demand industry is part of the "fast fashion" industry, which is notorious for its wastefulness.
One nice option on the Spreadshirt platform is to sell your items directly on their online marketplace. This can save creators the time and hassle of setting up and maintaining their own eCommerce store.
However, you still have the option to sell on other platforms through integrations, or even do both.
One downside of this platform is the potentially high cost that can diminish your profit margins. Customizations to items can become pricey when they're added to the base cost of the item.
But since this shop promotes sustainable practices, it may be well worth the few extra dollars.
4. Print Aura
Print Aura is a print-on-demand platform that specializes in apparel. They offer t-shirts, tank tops, sweatshirts, and more for both men and women. They have many interesting cuts that aren't commonly found on other platforms, such as a women's crop top hoodie.
Print Aura also has no sign-up fees, and they have a straightforward onboarding process that is perfect for beginning e-commerce business owners. The mockup generator performs well and gives you a good sense of what the item will look like when it arrives for your customers.
However, with simplicity comes a lack of customer service. While Print Aura's team will help you with any order logistics, their response time is much slower than other print on demand services. This can be a challenge if your customers need questions answered right away.
Shipping also tends to be a bit more expensive than other print-on-demand companies, which can add up if you're selling a lot of items or selling internationally.
5. Teespring
Teespring has a great selection of products and a stellar reputation for making high-quality items for your customers. This platform is best for those that crave consistent and high-level quality across the board.
While Teespring is free, they do require that your items make a certain amount of sales within a given time period. If the product doesn't sell within this timeframe, the company will take your item out of their online store.
This system is beneficial because it protects against overstock and wasted products, but it can also be stressful if you're not sure how well an item will sell.
Printify Vs Printful: BOTTOM LINE:
Now that you know a little bit more about each of these platforms, it's time to decide which one is best for your print-on-demand business, Printify vs Printful.
If you're looking for a well-rounded platform with great customer service and a wide range of products, Printful is a good option. They also have the advantage of being one of the first print-on-demand companies, so they have a lot of experience in the industry.
For those that want more control over their products and branding, Printify is a good choice. This platform gives users the ability to customize their products and integrate with other eCommerce platforms.
Both services have their pros and cons, but ultimately it depends on what you're looking for in a print-on-demand company. Consider your needs and preferences before making a decision.
And remember that you can use both programs at the same time if you can't decide! This way you can split test products and services to see which one gives you the best ROI.
Get started today and sign up for Printful and Printify to get your print-on-demand business off the ground!
Want to learn step-by-step how I built my Niche Site Empire up to a full-time income?
Yes! I Love to Learn
Learn How I Built My Niche Site Empire to a Full-time Income
How to Pick the Right Keywords at the START, and avoid the losers
How to Scale and Outsource 90% of the Work, Allowing Your Empire to GROW Without You
How to Build a Site That Gets REAL TRAFFIC FROM GOOGLE (every. single. day.)
Subscribe to the Niche Pursuits Newsletter delivered with value 3X per week