The Best Way to Sell T-Shirts Online: Marketplaces, Tools, and Strategies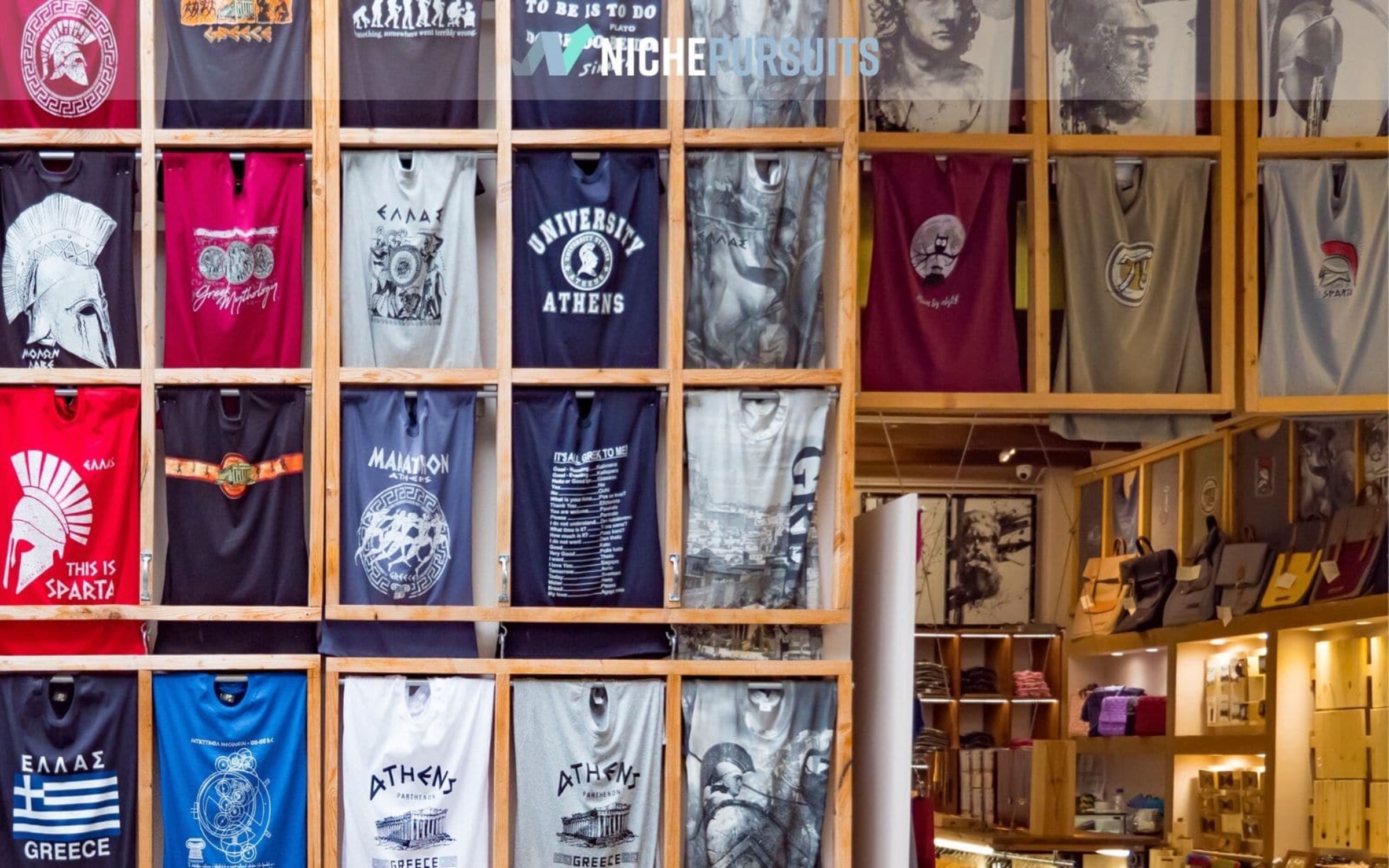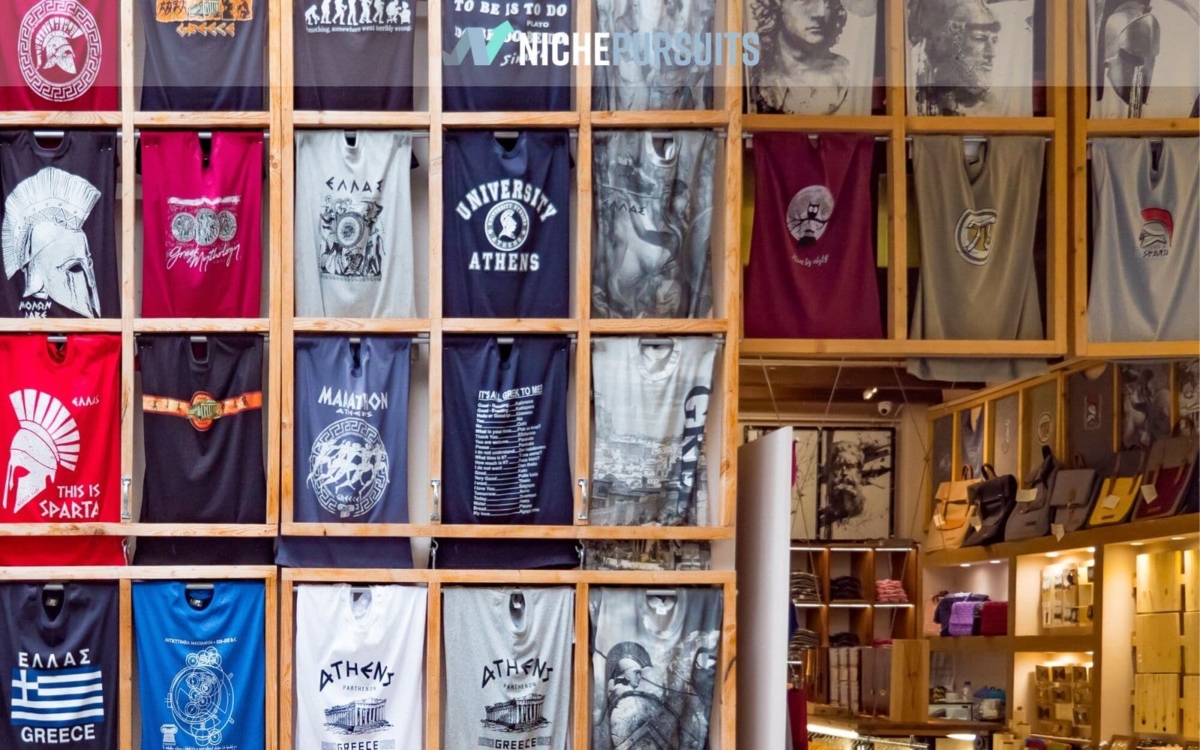 When you buy something through one of the links on our site, we may earn an affiliate commission.
If you are looking for the best way to sell t-shirts online, I think starting and running a merch business online is by far the EASIEST money that you can make on the internet. This is coming from someone who ran extensive websites for years.
The fact that you can set up and get a t-shirt business running without any money out of pocket is such a massive factor. I have already written a monster guide for everyone here on how to start a t-shirt business.
Not only can you get set up and sell t shirts online without any money out of pocket, but you can set all of this up RIGHT NOW.
That is not my favorite part about this business though.
Coming from a background of running affiliate sites, running ads, building products, and jumping from thing to thing (does this sound familiar?)…I know that one of the hardest things to do once you actually finding the best way to sell t-shirts online and getting in front of the right audience.
With affiliate websites, Amazon affiliate websites included, this means building up traffic, getting backlinks, networking, and really putting in a ton of work before you can see the fruits from your labor.
With print on demand, this is pretty much taken care of.
Because you are putting your products in front of an audience that is ALREADY on Amazon. You can test, sell, test, sell, and test again in a matter of days to know if your ideas are worth-while.
So, while starting a t-shirt business is easier, a more complicated topic is GROWING a t-shirt business online.
For this reason, I want to go over some of the ins and outs of what it takes. And how I think you can make money at a faster rate by adding this type of business to your online portfolio.
Let's get started!
Want to skip ahead and start using the all in one T shirt Design and Sales Tool? Merch Informer allows to to quickly create designs and submit those designs online!
Get a 3 Day Free Trial of Merch Informer!
(Use Coupon Code "nichepursuits" for 20% off)
The Best Way to Sell T Shirts Online and Grow
Before we get into the best way to sell t-shirts online, I highly recommend you read the guide on how to start a t-shirt business that I have written here on Niche Pursuits in the past.
This will give you all of the information you need to know to get set up on Amazon. As well as start selling pod products to their millions and millions of customers.
Once you have read through that, come back to this article. Here we are going to go over 3 ways to skyrocket your earnings past relying on organic Amazon Traffic which I like to refer to as the 3 M's.
Marketplaces
Marketing
Money
Each of these topics could be a resource guide in itself. But let's break it down in order.
Remember, you need no money up front to get started except for a little time!
Best Place to Sell Shirts Online
Amazon is the grand daddy of online traffic and is the best place to sell shirts online.
Each month they have 100's of millions of people visiting their pages, buying their products, and leaving great reviews. There is a reason so many people have started Amazon affiliate websites that turned into their full-time income.
However, in order to build up to that point, it takes serious time and work. They have to build a site, get the content, rank the content, and convert the visitors in order to sell t shirts online.
With print on demand, you can get an Amazon Merch account for free and start uploading designs. Which could be simple text as a png file, and have a product selling in front of the Amazon audience in 5-10 minutes.
That right there skips out on almost ALL of the work people go through to build Amazon affiliate sites.
So once you get set up with a Merch by Amazon account (which I go over in detail in the article above), you start creating some designs. The designs for these custom t shirts need to be 4500X5400 pixels large.
The graphic design images for these t shirts can be created in ANY design program out there.
As long as they are in those dimensions, you can upload them to Amazon. And not just on t shirts! On many different clothing products.
In fact, as of the current date, you can publish a single design on 3 different marketplaces and 20 products!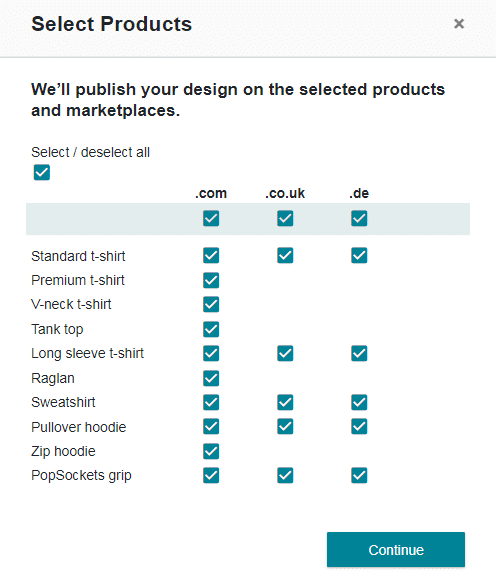 So, for setting up your little "design" studio, let's say that you set aside an hour or two and create 100 unique custom t-shirt designs that feature a funny phrase on them (or have a little bit of clip art under your phrase).
If this humor of your online store can hit a niche market (or several of them) all the better! If it's broader, don't worry.
You can find tons of examples of an online t-shirt business that has made it in a niche market. You can find just as many that made it with a broad offering.
Spend the time uploading those to Amazon giving them a title, description, and some bullet points. Then you set a price and BAM, you have 100 products up on Amazon.
Give it some time and you start to see some sales coming through. Amazon pays you a royalty for each product you sell.
You are getting paid to sell t-shirts online on THEIR platform while not spending a dime on advertising or dealing with customers, or chasing pesky backlinks all day. All of this is great!
You sit back and realize you now have 100 designs in your portfolio. You are selling t shirts online on Amazon and everything seems to be working.
However, those designs that you created?
You are only selling them on ONE eCommerce platform: Amazon. Since you are only selling t-shirts online on Amazon, you are basically leaving an entire pile of money on the table.
You see, there are TONS of other places that people buy besides Amazon. There are some people that just straight up refuse to shop on Amazon for one reason or another.
But there are other marketplaces out there where you can actually sell t-shirts online at a HIGHER price!
Marketplaces Are Only As Good As Their Traffic.
Before you rush out and start uploading your designs to every eCommerce platform under the sun, remember that uploading your own t-shirt designs is going to take something very precious from you…
Your time!
If you are going to spend your time uploading your t shirt designs to other platforms, you need to make sure that they have traffic.
If they do not have traffic and a bunch of hungry buyers, then you may end up wasting your time.
So, to save you a lot of time and headaches, let's go over some of my favorite eCommerce platform options outside of Amazon to sell t shirts online and launch your own t-shirt business.
Etsy
One of the ways that I love to judge websites is to quickly run them through similarweb.com. This will give you an IDEA of the traffic a website is getting.
It is certainly not perfect, but the numbers give you something to go off of.
One of my favorite platforms to upload your designs to and sell t shirts, is a not-so-little site called Etsy.
Etsy is actually far from a small website and is one of the best ways to sell t-shirts online.

They get hundreds of millions of visitors every month and they have the PERFECT buyer for your custom t shirts.
In fact, you can take those same t shirt designs you are uploading to Amazon, and put them on Etsy for about 2-3 times the price and they will sell all day long!
I am not sure why exactly this is, but their buyer demographic does not seem to expect 2 day shipping and is willing to pay $25 plus for custom t-shirt designs.
I have seen people on Etsy spend over $30+ on a t-shirt and never once mention the price. This is an incredible profit margin if you're going to sell t-shirts online.
In order to start uploading to Etsy to sell t-shirts online, you will first need to do a little more leg work by setting up a print fulfillment partner which can connect to the Etsy platform. If you've done dropshipping before this will be easy.
Even if you haven't, it's not that hard to do. Once you have that set up, uploading is a breeze.
I actually wrote a VERY long detailed article on how to set up that integration here.
One thing to keep in mind is that on Etsy, you WILL need to deal with some of that annoying customer service in running your t-shirt business. If you are willing to put up with a small headache, you will be rewarded with a much much higher ROI from your online t-shirt store.
Seriously, many owners of an online t-shirt store see Etsy as one of the best ways to sell t-shirts online and make a profit.
RedBubble
Redbubble at first glance does not look as large as Etsy is.
The reasoning for that is pretty simple. Etsy is a full marketplace with sellers selling everything from jewelry, to animal collars, to print on-demand goods such as t-shirts and mugs.
Redbubble is STRICTLY for print-on-demand goods and is a perfect fit for growing your t-shirt business.
In fact, t-shirts are not the best-selling product on RedBubble (from my experience). This would be reserved for stickers!
You see, when you are selling on Amazon, you are stuck with the product options that they give you.
By expanding the marketplaces which you sell on, you can sell MANY more products from companies who have been doing POD since before Amazon got into the game. Redbubble fits this criteria of print-on-demand websites and is actually a publicly traded company.
Many of the other marketplaces to sell custom t shirts that we have discussed, including Amazon, will give you a royalty based on a price you set.
Redbubble works a little bit differently. You actually set up a "markup percent" for own t shirt designs that you upload.
So, you can upload your 1 t shirt design that you created in the beginning of this article, and upload it to over 30 products with different mark-up percentages for everything.
Remember how I said stickers are one of the best sellers? You can set your mark-up percentage on stickers at 100-200% and still sell them each and every day.
My guess is that if you are from the USA, you know at least someone who has purchased a sticker from a Redbubble seller.
There is someone on the other side of that transaction making very good money!
If you're selling t-shirts with funny slogans, you will find a lot of potential customers for stickers and other products on Red Bubble.
And if this all sounds very interesting to you and you'd like to capitalize on the opportunity, check out our complete guide on how to start a sticker business.
Teespring
Teespring was one of the very first print on demand companies that I heard of when I got into internet marketing.
In fact, I remember signing up and giving it a try and not making any sales. That was then, THIS is now.

Teespring has come a LONG way since I last tried their platform. In fact, they are the ones behind many of the YouTubers selling merch integrated into their YouTube accounts.
They also have something called the "boosted" network which will advertise your t shirt store to your target audience for you… with THEIR money.
So essentially, you cannot lose by uploading to Teespring because it's a great way to sell t-shirts.
If your t shirt brand designs get into the boosted network, Teespring will spend their money to bring more eyeballs on to your products and they will pay you your royalty each time it sells.
That is a no-brainer.
They also offer WAY more products than Merch by Amazon with over 30 products and many of these are much more unique than just simple t-shirts and clothing.
Uploading to this platform is well worth your time if you have the hours to put in.
Spreadshirt
Spreadshirt is the last platform we are going to talk about because these 4 best places to sell shirts online and basically round out the marketplaces that you should be spending your time if you want follow the best ways to sell t shirts online.
They get traffic.
Even more important, they know how to make it convert into sales.
They also offer a TON of different products because these guys have been in the game for many many years!
They also offer multiple geo-locations you can sell on including the USA, Germany, and Europe.
While they may not have as much traffic as some of the other marketplaces, many people I know selling t shirts online are making just as much money on this market as they are on Redbubble. This is a testament to how good this print on demand marketplace is.
Oh, and I almost forgot. While Redbubble and Teespring both offer quality printing on over 30 products, print on demand eCommerce platform Spreadshirt is crushing all sorts of records by offering over 200 products.
If you started reading this and had 100 designs, and you uploaded them to all the products on Spreadshirt, you would have 20,000 different products for sale on a marketplace that has buyers.
This is where your mind needs to be at – in the tens of thousands!
Best T Shirt Tool to Increase Sales
Designing 100 designs is hard enough (not really, but it does take some time). If you just sit back and think about uploading to all of the above-mentioned print-on-demand service websites and e-commerce platforms, you could be spending WEEKS and thousands of hours just sitting there uploading your designs over and over again.
You know that they have buyers. And that they could add 100's if not 1,000's of dollars to your bottom line every month. But we all know time is money. Should you actually upload to those platforms?
Yep, you certainly should.
And it does not need to take you 100's of hours. In fact, it does not even need to take you ONE hour.
As you may know from the last article, we created a software company called Merch Informer for print on demand sellers.
Since the last time I wrote something for Niche Pursuits, we had plenty of customers come to us and ask if we had a solution to take their existing business assets (in this business, these would be designs), and get them creating more revenue for their businesses selling online on other platforms.
We took this request to heart and got to work to do it the right way!
We reached out for 5 months, went through phone calls, conference calls, legal departments, the whole thing until we got everything approved and just last week released a tool called the Single Upload Interface by Merch Informer.
This tool will upload your designs to ALL of these platforms in the click of a button and has been greenlighted by the companies listed above, so you can sell t shirts online with a lot less effort.
You don't HAVE to use it. But if you value your time at ALL, this will save you hundreds if not thousands of hours and get tens of thousands of your products selling online just like we talked about with very little effort on your part.
Selling t shirts online suddenly takes a lot less work than it used to!
Try Merch Informer Right Here!
(Use coupon code nichepursuits for 20% off)
Single Upload Interface – Make More With Less Time
Since uploading all of your designs on multiple platforms is by far the easiest and quickest way to grow a t-shirt business, we are going to go over EXACTLY how to set this up via the Single Upload Interface by Merch Informer.
You can grab a 3 day free trial of Merch Informer here. You will need the PRO level account to be able to access the SUI.
Make sure to use coupon code nichepursuits for 20% off. Once you click the link above and grab the trial, let's get started.
First, we need to download the software. Login to Merch Informer and go to the top menu. The Single Upload Interface will be highlighted in green.

This is the desktop software that you will want to download. So once you click the button, download either the MAC or PC version.
Once downloaded, unpack the ZIP file and install the software. The software comes bundled with the Chromium browser.
It will prompt you for some updates, and then ask you to log in with your Merch Informer credentials: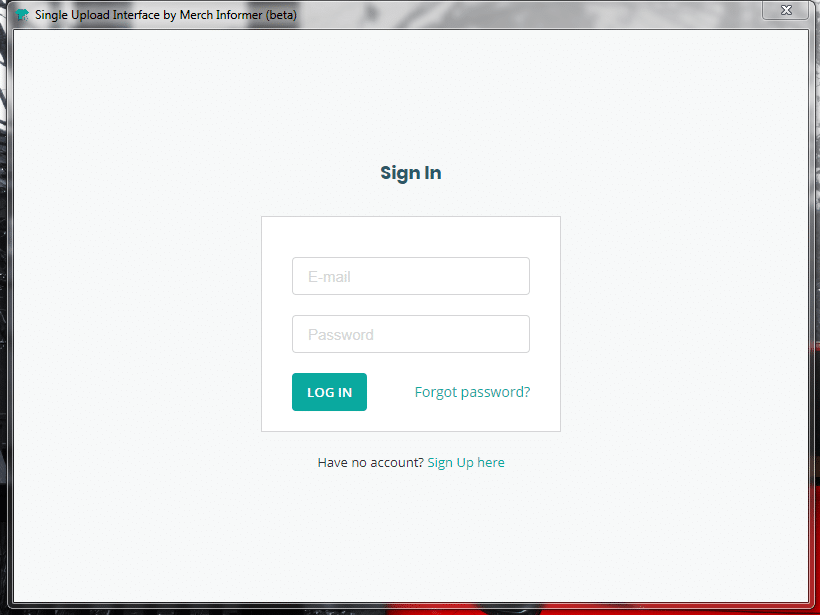 Once you log in, you are presented with the actual software that has a few tabs going across the top: CSV Table, Images Table, Services, and Uploader.
NOTE: Before you begin, PLEASE click on the help menu, and read the quick setup guides for each of these platforms. You will want to sign up for accounts on Redbubble, Teespring, Spreadshirt and Printful and those guides will tell you exactly what you need to do to make sure the uploader works properly.
Now that you are logged in, there are just a few more steps before you can begin uploading to all of these platforms easily.
Try Merch Informer Right Here!
(Use coupon code nichepursuits for 20% off)
Step 1: Create Your Design File
Remember at the beginning we talked about those 100 t shirt designs you have? They have titles, descriptions, bullet points, prices, and graphics on your computer.
This is what we want to put into a CSV file so that the software knows exactly what to upload! Start by either opening up Excel on your computer OR Google Sheets (if you do not have Excel).
Since Google Sheets is free and online, we are going to use that.
Once you have a new Google Sheets tab open, we simply need to fill it out with our design information. For this example, we are going to use the Title of the design, the description of the design, a price, some tags, and an image path.
So go ahead and add some columns to your file to include those. It will look like this:
It does not matter what columns that you put the headers in, but they must be in their own separate columns.
Now, under each column, let's start filling it out with our design information.
As you can see, I am putting in 2 designs (your file would contain all 100 of your design titles. I put the 2 titles of each design in the list, and the description. Keep filling out the columns in the CSV.
Here, I am filled out the title, the description, the tags, and the price I want to sell the products at. There is just one last step, the image path!
For the image path, you want to find the folder where your designs are on your computer. They must be on your local computer for this to work. Simply highlight the designs in the folder: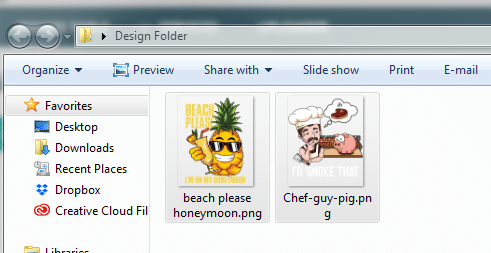 Once they are highlighted, click on the SHIFT key on your keyboard, and then right click with your mouse and select "Copy as Path." Then you can simply go back into your CSV we are making with Google Sheets, and paste it in there.
NOTE: You will want to remove the quotation marks around the image paths in your CSV.
All this step is doing is it will be telling the software WHERE the designs are located on your computer so it knows what to upload.
Now that our CSV is filled out, the rest of the process is VERY easy.
Simply go to file inside of Google Sheets, and DOWNLOAD. Make sure to save it as a CSV file (Comma-separated values):
Then, head back over to the Single Upload Interface, and upload the CSV file you just downloaded!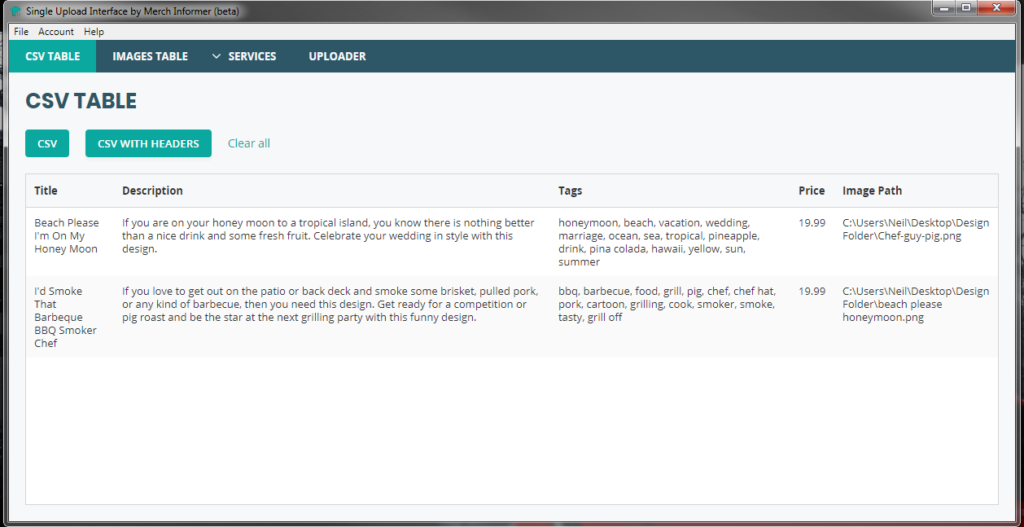 Just like that, 98% of the work is done for you!
Step 2: Set Up Marketplaces To Upload
Since we went ahead and put the image paths of our designs into the file we just created, we can go ahead and skip the images table tab at the top and head straight to services.
All we are going to do on the services tab, is pick where we want to upload, and then map the options to our CSV file.
So, since these all work the same, let's go and set up Redbubble.
Simple select Redbubble from the services drop-down. It will look like this: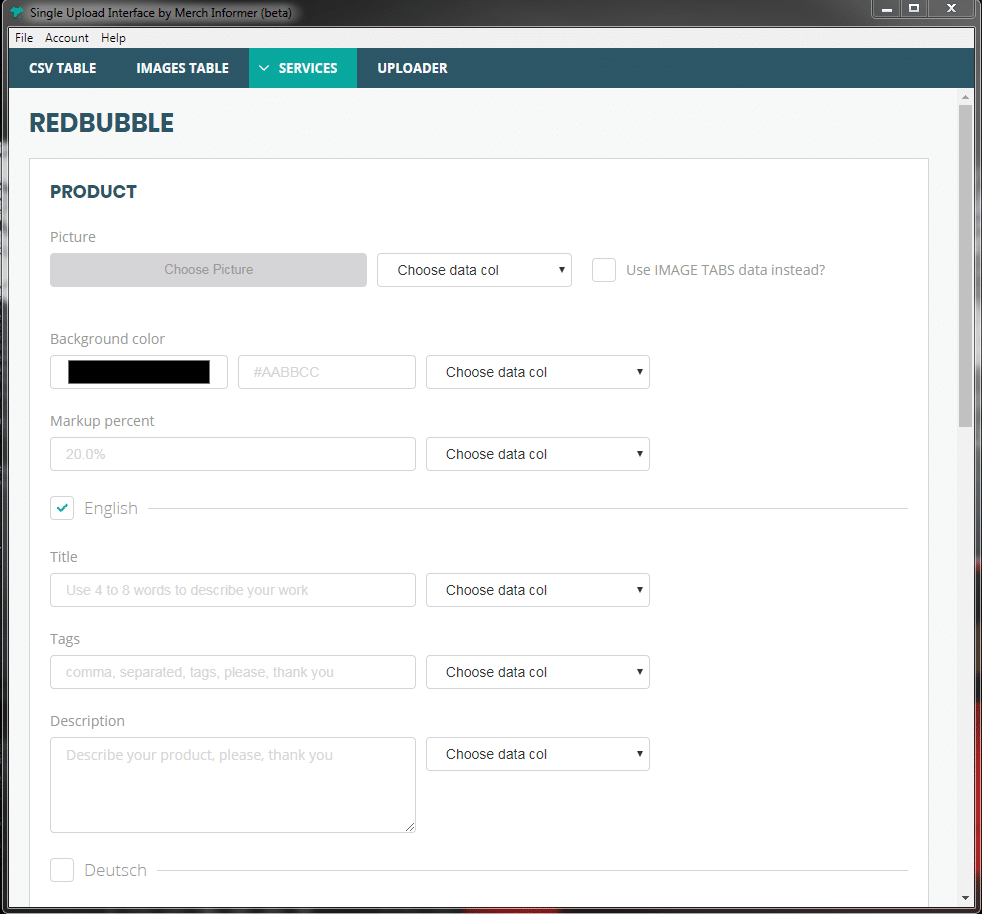 We simply need to use the drop downs for each option, and tell it what to match up with our CSV file.
So for the first "picture" option, we want to map this to our image path in the CSV file:
If something is NOT in your CSV file (such as a background color), you can simply enter in a value.
I have gone ahead and entered in a value for the background color and our markup percentage. If you make a column in your file that you upload to the software, you could use that instead.
I went ahead and mapped the title, tags, and descriptions to the right columns in the file as well!
All we are doing here is matching things up, pretty easy!
At the bottom of the screen, you can pick what products you want your designs to go on:
Remember how you have 100 designs?
Each of those 100 designs can create 33 different products on Redbubble alone.
So by using the Single Upload Interface, we are about to turn those 100 designs into 3300 products!
That is how easy it is to set up the services. Simply go through all of the marketplaces that you want to upload to and map all the different options.
Once you have all your selections mapped out, head on over to the uploader tab!
Get a 3 Day Trial to Merch Informer Right Here!
(Use coupon code nichepursuits for 20% off)
Step 3: Upload Your Designs With One Click
On this tab, simply select what services that you filled out previously. Since I only did Redbubble, I just check the Redbubble Box!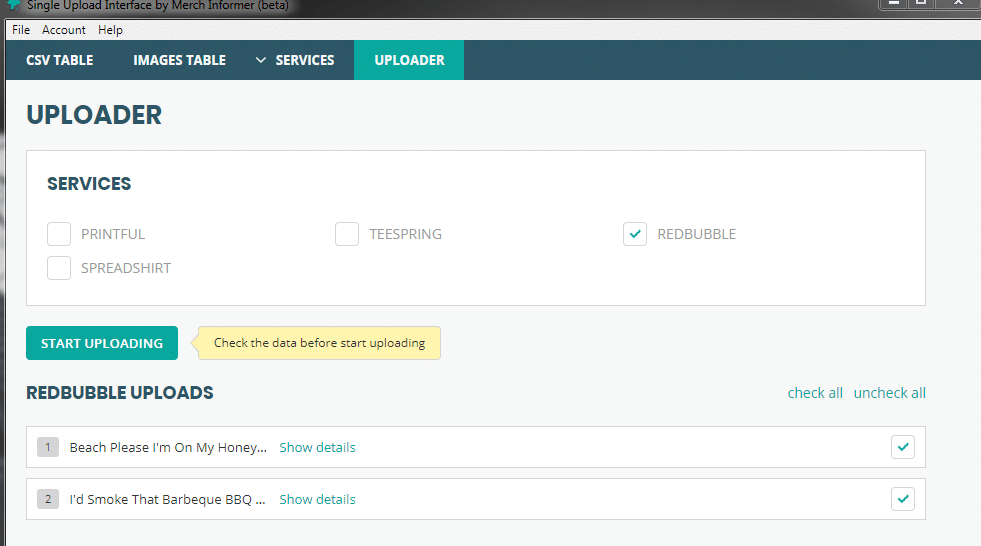 If you wanted to do all of this at once, you would select them all.
Now, all you want to do is click on show details and double check that you filled everything out correctly.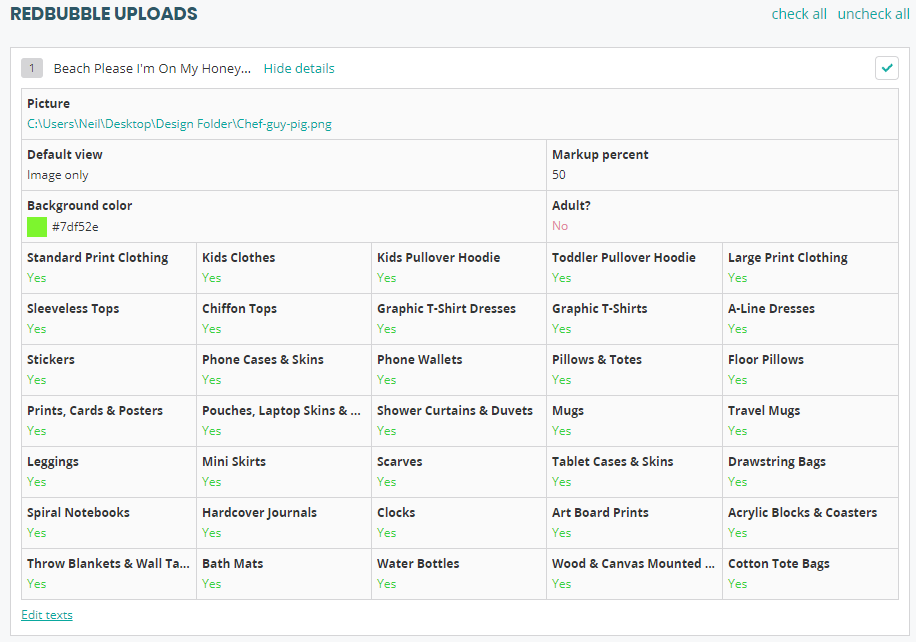 Since it looks good, you are ready to go!
Simply click on the START UPLOADING button at the top of the screen. This will prompt you to log in to a Chromium window (where the software controls the uploading).
Once you manually log in, the software will then begin ripping through your list and uploading your designs to all of the products!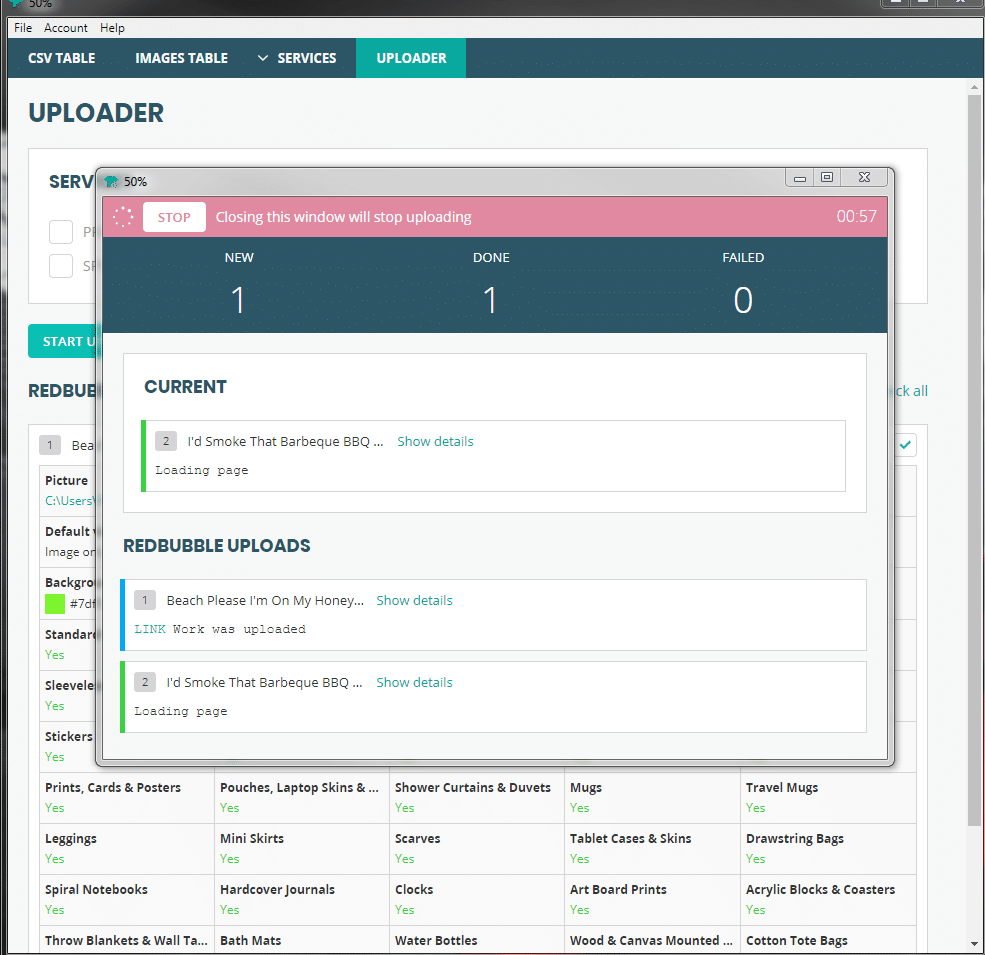 Once a product is finished uploading, the software will give you a link to click so you can go see your new products online!
Just using the Teespring, Redbubble and Spreadshirt uploader, if you took your 100 designs and uploaded them to all products, you would be taking your 100 designs and turning them into….
26,000+ products!
That is how powerful this is!
Since each of these platforms has their own organic traffic, as long as you gave them good titles and tags you should start seeing organic sales flowing into your business; thus growing your online T-shirt business with very little effort.
Marketing To Grow Your T-Shirt Business Online
Now that you have tens of thousands of products online in different marketplaces, chances are you are already making some pretty decent sales and your royalties are starting to stack up. This really is the best way to sell t-shirts online.
It is now time to bring it to the next level, so we are going to invest some time in marketing.
You can always spend money running ads, but since we are doing POD, your margins will not be as large as physical products or products that you are creating yourself.
For this reason, I like to use free methods to market your online t shirt business. We are going to focus on 2 here, Facebook and Pinterest.
Facebook for T-shirts
The easiest way to market through Facebook is through Facebook Groups. These are groups of people that congregate around general niches and interact with each other. Niche Pursuits even has a Facebook group.
Now, in order to successfully advertise in these groups, something you should NOT do, is join a group, and immediately make a post.
This is your one way ticket to getting kicked and wasting your time.
What you will want to do is join a group related to your niche, find the admin/admins, message them, and make a deal!
This is the easiest way to advertise for FREE because if you offer the admins a kickback on any sale you make, and they don't have to do a thing… who would say no to that?
You make sales, they make money, and you didn't even have to pay for any Facebook ads to do it!
So first, log in to your Facebook account, go to the top search bar, and type in your niche of some of the designs you have. For this example, let's use dogs and specifically dog training.
Click on search. You will then want to click on the groups tab at the top:

This is going to show you all of the relevant groups to your niche.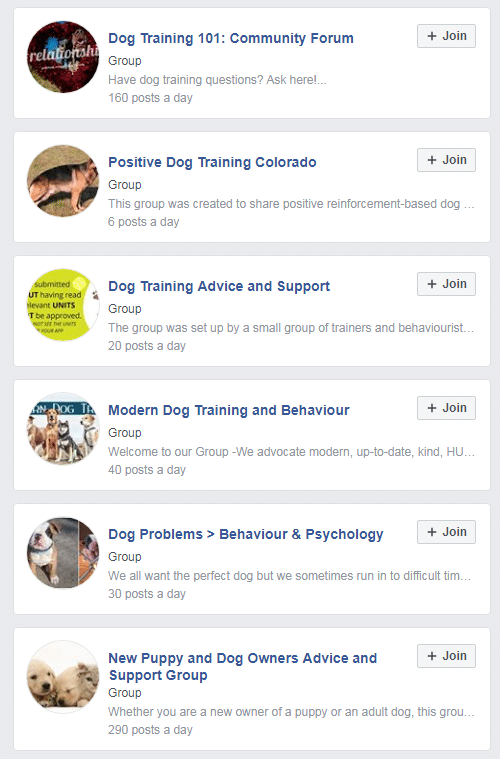 Go through these groups until you find a good fit for your shirt, or has an audience that seems engaged. If the group is public at all, you can see how many people are commenting or liking a post.
If it is a closed group, you will want to join it first.
Before you join, you can click on the group and gauge how active it is by seeing how many members and new posts they are getting.
Something like this shows that this group is very active: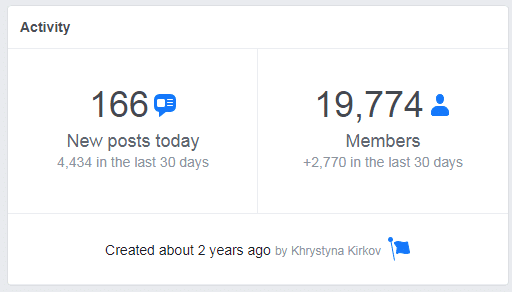 Now, once you are inside of the group, you have 2 options.
You can either make a post that is RELEVANT to the group and ask for t-shirt IDEAS (this is a great way to come up with more design ideas that people actually want to buy), OR, you can message the owner of the group and ask if it would be okay to post.
I prefer doing the second option if you are new.
Once you are in a group, go to the right side of a Facebook group until you see the members section:

Click on the amount of members the group has as this is a link. This will then show you the owner and the admins of the group!

Bingo!
Now, send them a message and negotiate a deal. It is simple as that.
This process can take some time, but once you get a post that is a hit and the admins of the group are okay with it, you can make hundreds of sales in a matter of a few hours. This is essentially influencer marketing.
All without using Instagram. In fact when it comes to using social media to hit your target audience, Facebook and Pinterest are the two you should be really looking at.
Sorry, not sorry, Twitter 🙂
Pinterest for T-shirts
My other favorite free way to get sales through marketing is through Pinterest.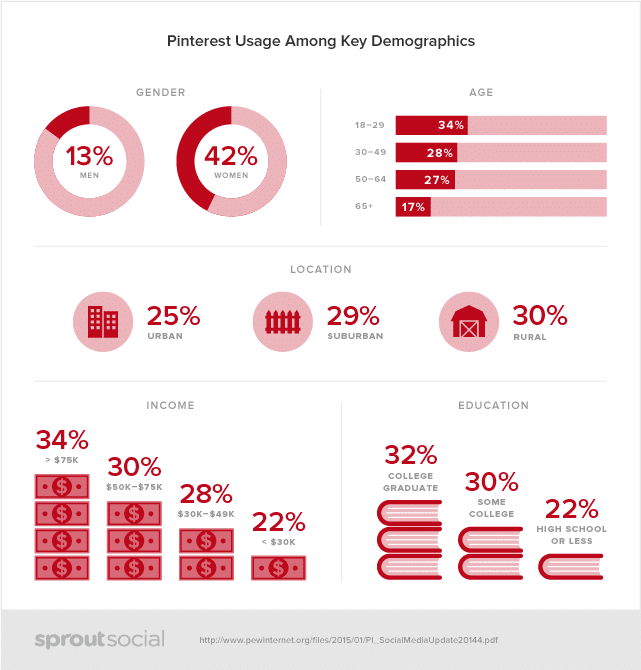 Pinterest has the PERFECT buyer demographics. They are mostly women, who make a good income each and every year and they are BUYERS. So many people go to Pinterest to find products they like, and then purchase them.
Think of Pinterest like a massive image search engine that people actually interact with.
So how are we going to get free sales from this?
Easy, by building a Pinterest Profile.
I wrote extensively on this before here.
Here is the gist of it.
You will want to get a Pinterest account. I would highly recommend that you sign-up for a business account (business accounts show analytics which is important).
Once you have an account, fill out all of the details, profile picture, link to your store… you name it!
Once you have your general account set up, you will want to start building out "boards." Think of boards as the different niches that you are in for your t-shirt designs.
I would start with 20-30 different "boards" and each day, pin 5 or so images to each board.
Do NOT post your t-shirts right away!
Instead, find interesting images that are related to your niche and pin those to your boards.
Think of this as giving value before you ask for the sale. Simply put up 20-30 "value" pins for each time you post a t-shirt design that you are selling.
If you do this long enough, you will start to get organic traffic!
The second thing you can do on Pinterest is follow other people who share the same interests that you do with your boards. If you follow them, they will check out your profile.
If they check out your profile and follow you back, each time you post, your pins will show up on THEIR feed.
This can act as a "snowball" effect. Each new group of followers leads to more people seeing your pins. And more repins.
Which all will lead to more traffic, more repins on your images, and a growing account which leads to more organic sales through your free marketing method.
There are so many other marketing methods you can use to make more sales. But both Pinterest and Facebook are free, easy to use, and can lead to sales. They are the most effective social media platforms for getting results for your online t shirt business.
Let's get to the final way to grow your t-shirt business online which is Money!
Using Money To Grow Your Online T-shirt and Merch Business
Chances are, if you got this far in the guide, you have been creating these designs yourself to sell t shirts online.
There are a ton of ways that you can use money to grow your business but hands down I would recommend that you start yourself, create your own designs, and do the work required before the business can support itself.
If you have been following along, you now have a general idea of how to market your products.
You should have a LOT of them from uploading to all of these different platforms. This should begin to produce income in your print on demand business.
So now that you have some money, it is time to use that money to increase your sales.
The easiest way to do this is…
NOT paid ads!
Nope, running ads is going to take a long time to learn. And you will most likely lose money when you start. Even the famously effective and easy to micro target Facebook ads take time, money, and experience to master.
The easiest way to spend money to make more money is simply by investing in your business and growing your pool of "assets" which in this case are designs.
If you have created 100 designs that are selling and these are text based designs with maybe a few clipart images, imagine how much money you could make if you actually had a real graphic artist bring your ideas to life.
Not only can hiring an artist explode your sales, but they are much more efficient than we are. And not at all expensive either.
You can generally get illustrations for under 10 dollars. I personally get my designs and drawings from $4-$6 each and these are hand-drawn!
I like to use Upwork.com as they have a ton of designers that will apply to your jobs and you can be picky to find the right person to work with you.
So, if you do not already, go grab an upwork.com account.
Once you have an account, fill out all your information, attach a payment source, and begin to post your first job!
Here is the EXACT script that I like to change up each time that leads to 20-30 people applying each and every time I post it:
Hello!

I am in need of 100 t-shirt designs over the time period of 1 month.

Your task will be simple. I will send you a list of ideas for t-shirts that I would like created and I would like you to be artistic and creative to recreate the idea in your own style. For example, I may send you a link or image and I would like your unique spin on the idea to create a more visually appealing design.

I am willing to leave a lot of 5 star reviews so that you will be able to land jobs easier in the future if you stick with our deadlines. I would like to hire for a long term position. Once you have completed the first batch of 100 designs, 4-5 per day, then we could continue the work if everything looks good.

I will require links to any artwork used to make sure that the artwork used in the designs is available to use for commercial use.

I look forward to doing business with you!
If you started with 100 designs in your portfolio, this will boost your designs by 100%, adding another 100. And if you are using the Single Upload Interface, another 26,000 products!
Before you start hiring the first person that applies, make sure to look through their portfolio.
One of the reasons I suggest you start on your own FIRST is so you know what kind of designs sell.
If you pick an artist that has a style that does not work on these platforms, chances of making a sale are slim.
However, if you have an eye for good design, you can find artists that will take direction. Copy the styles that work and earn a lot of extra money selling t shirts. And other pod products.
At $4-$6 per design, it only takes a sale or two to make your money back. Everything on top of that is just pure profit.
Invest in your business to grow it once you know what you are doing, and you can leverage the money you are making to buy more "time" and thus more design assets.
Once you are making a few hundred a month with your online t shirt business, you can use this method to explode your income into the thousands every month by just leveraging other platform's traffic.
Wrapping It Up
Want to try the all in one T shirt Design and Sales Tool? Quickly create designs and submit those designs online automatically!
Get a 3 Day Free Trial of Merch Informer!
(Use Coupon Code "nichepursuits" for 20% off)
This has been a LONG guide and we have covered a lot of topics to help you figure out the best way to sell t-shirts online, so congratulations if you made it this far!
I still believe that affiliate marketing is a great way to make money online. But print on demand is an easier method because you can leverage the traffic of other free platforms without spending a ton of time upfront on your online t shirt business.
Growing a t-shirt business really only requires 2 things. It requires some designs. Which you can create yourself, just funny text-based sayings/phrases is fine. And it also requires uploading them to places that already have BUYERS.
It allows you to test the market, make changes, and adapt at a speed that other businesses just do not allow.
At the end of the day, this online t shirt business can equal another income stream for you, or turn into your full-time income. The choice is yours, but you owe it to yourself to give it a shot to start your own store selling t shirts online.
Want to learn step-by-step how I built my Niche Site Empire up to a full-time income?
Yes! I Love to Learn
Learn How I Built My Niche Site Empire to a Full-time Income
How to Pick the Right Keywords at the START, and avoid the losers
How to Scale and Outsource 90% of the Work, Allowing Your Empire to GROW Without You
How to Build a Site That Gets REAL TRAFFIC FROM GOOGLE (every. single. day.)
Subscribe to the Niche Pursuits Newsletter delivered with value 3X per week