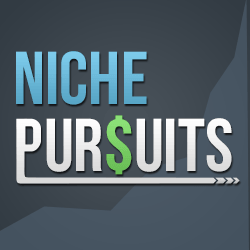 I recently wrote a blog post titled, "Why you Should NOT start a podcast".  This was an opinion piece that I wrote based on some of the frustrations of my podcast.
However, after taking a look at the data and hearing some feedback from others, my opinion has evolved a bit in regards to podcasting.  Listen in to hear what the future of the Niche Pursuits Podcast will be…along with other interesting stats about my business.
This podcast is mostly a recap of my last 2 blog posts here and here.  However, I also share some additional thoughts and viewpoints that I didn't mention in those posts.
I also mention 2 books that I've recently read:
YOUR ENTIRE YEAR OF CONTENT MARKETING DONE FOR YOU!
1 year content strategy + 24,000 words 
The Content Strategy includes keywords, volume, keyword difficulty, CPC, and optimized titles
Expert content marketing strategy combining keyword research and link building using the best SEO tools available
4 months of content creation absolutely free!
$3,000 VALUE
Now that I've re-started my podcast, I'll hope you'll check it out on iTunes, and leave me an honest rating here if you find any value!  (This really helps me know that people are still engaged with the content).
Thanks for tuning in!
---