Maybe You SHOULD Start a Podcast Afterall…
When you buy something through one of the links on our site, we may earn an affiliate commission.
About a week and a half ago, I wrote a "very raw" blog post out of my own frustrations with podcasting. I was writing how I felt in the moment about my podcast, which to put it blandly was not good.
I'm always very real and speak my mind when I blog; and in fact, I suspect that's a big reason that my blog has done so well.  But in this particular case, I may have overstepped the bounds into letting my emotions give some poor reasons for not starting a podcast.
You know, its never easy to allow your opinions to evolve.  However, after seeing all the amazing comments of people who HAVE found me through my podcast, doing some analysis on the solid numbers of my podcast, and listening to some words of wisdom from Cliff Ravenscraft, I've had a bit of a paradigm shift from my previous post.
As a result, I've decided to continue on with my podcast, but with some changes that I discuss below…
Pros and Cons of Starting a Podcast
I gave some reasons for NOT starting a podcast last week, some of those reasons were valid, but after doing some thinking, I've decided some of those reasons were not so valid.
So, I want a re-do, okay? 🙂
Here's some real reasons not to start a podcast:
You don't enjoy it at all
You genuinely don't have time
In a nutshell, if you enjoy other activities in your business more and you are already seeing the results you want…and if you truly feel like you don't have the time; perhaps starting a podcast is not right for you.
Here's some of my weaker arguments that I made about not starting a podcast:
I can't track if I'm getting new listeners, or if everyone is just my existing audience.  Turns out there are some things you can do to track things, its not perfect, but as I'll show below, its clear that I AM reaching a new audience.  In addition, even if it was only my existing blog readers, the podcast can drive a deeper relationship and build the trust that really is needed.
Podcast listeners don't take action.  I shared some stats about a sponsorship I did on a podcast, and tracking links I had podcast listeners go to.  The results were less than stellar.  While its still true that you will get less clicks from a podcast (than a blog post), the benefits of gaining true fans; far outweigh this downside.  Again, I'll share some of my own results.
I hate scheduling and conducting interviews!  Well, turns out I could get rid of this entire problem by just doing a solo podcast.  
I actually laid out some of the pros of starting a podcast pretty well in my last blog post.  Here they are again, along with a couple others:
The networking benefits are huge
You can learn for free from others by conducting interviews (if you chose to do that).
Podcast listeners engage for a longer time with your content
You can build significant trust through a podcast with your audience
You can stand out as an expert in your field
A successful podcast can lead to other opportunities
Why Was I So Frustrated?
When I wrote my last blog post, I was just plain frustrated.  You see, my podcast is 2 years old, and I wasn't seeing many results.  But in particular there were a few things that were making me question, "Is this REALLY worth my time?"
First, you have to understand that my business is already doing very well; I'm making more now than I could have ever imagined 3 years ago (when I was working a regular day job).  So, why do I need a podcast?  I'm doing fine without it.
Second, I just had my 4th child a month ago.  I'm always strapped for time…fighting between working more on my business versus spending more time with my family.  I've also been a bit sleep deprived the past few weeks, so maybe not all my decisions are rational!
Third, I had just received about 3 requests the last couple of weeks from people that were asking to be interviewed on my podcast.  I just was thinking, "Man, I have a full time business already; I have 4 kids and a wife that need attention, I'm not seeing much action from my podcast, do I have the time and energy to schedule more interviews?"
Fourth, coming up with witty banter with a guest on a podcast is not my forte.  I do well analyzing things and have plenty to share…if I can prepare ahead of time.  Conducting interviews just isn't my favorite thing in the world.
Fifth, I had for the first time ever asked to be sponsored on another podcast.  I was frustrated to learn that out of thousands of listens, I only got 7 clicks.
As you can see, all of this was building over the past month or so…and so I just wrote my post about how I was feeling in the moment.  I was viewing my podcast as something I didn't enjoy, was a time suck, and I wasn't seeing any results.
I hope you can understand a bit better now, and give me a chance to re-establish my opinion on podcasting.
What I Learned from My Readers
Within just a few minutes of publishing my now infamous blog post last week, the comments starting rolling in.  I knew there would be a few that said, "Hey Spencer, I actually DID find you through your podcast!"…but I had no idea how overwhelming those comments would be.
The very first comment stated just that, and then dozens of other people proceeded to comment that they first found me through me podcast!  What??!?  I had absolutely NO idea!
One of my biggest beefs with podcasting was that I believed most of my listeners were already readers of my blog, and I had no way to track that data.  Well, I started seeing the comments roll in, and this was data enough!
Many many people commented that they had first found me through the podcast, or that it was the trust I had built with them after they listened to my podcasts that they first purchased any of my products.  Wow!
Here's just a few of the comments left from people that had found me through my podcast.  (You can read all the comments here).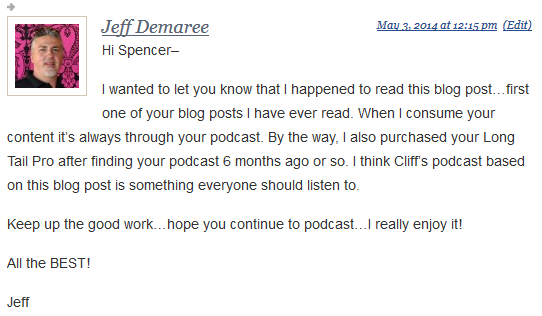 I learned a powerful lesson from all of you…so thank you!  I had no idea of the impact or reach that my podcast had until people starting leaving those comments.
That is one difficult thing about podcasts that I just need to learn to accept…its difficult to get quick feedback from listeners.  Most listeners are out doing other things (running, working, driving), and they just can't stop and click a link or leave a comment.  So, I get very few emails that ever mention my podcast, but I get a ton of emails every day from people thanking me for my blog.
However, I just need to learn that the medium is different and so the feedback will be different.  And just because people don't respond to podcasts as easily doesn't mean they haven't been impacted just or much and very possibly even more so through that medium.
What I Learned from Cliff
Cliff really is the Podcast Answer Man!  I want to give him a big shout out for taking the time to respond to my blog post last week.
In fact, he didn't just respond, he created a 2 hour audio podcast rebuttal to my reasons for NOT starting a podcast.  You can listen to the entire 2 hour tongue lashing that I got from Cliff right here. (I say that in jest; it actually was very good and did not feel it was too harsh in any way).
Obviously a lot was said in that podcast, and I couldn't help but smile the entire time I was listening to it.  I could see that I had touched on a topic that Cliff was very passionate about.
I encourage you to give his podcast response to me a listen, but here are just a couple of the main points that I thought were excellent.
Podcasts don't have to be interviews!  Wow, what a liberating thought. For some reason, I had pigeon-holed myself into thinking that my podcast needed to be an interview format.  If I simply did a solo show, this would get rid of at least 2 of my big problems with podcasting right away (1. squeezing in interviews during family time or my other business time, and 2. eliminating the stress of conducting live interviews).
If I were consistent with my podcast (rather than skipping entire months like I have), then I would see bigger results.  I suppose I already knew this, but Cliff made it crystal clear.
A podcast listener is much more valuable than a website visit.  This is indeed true; someone that listens to an hour long show is going to have more trust and know me better than someone lands on my website for a few seconds or minutes.  I was trying to compare listens to website visitors; and now I see that the comparison is really between two different things.
He made several other points, but these were the ones that really struck home for me.  Thanks again, Cliff!
What I Learned from My Own Analysis
Now I want to jump in to some interesting findings that I discovered as I dug deeper into my own podcast numbers.  As mentioned in my last blog post, I'd rather analyze spreadsheets than interview someone…well, lets just say that I really enjoyed analyzing these spreadsheets! 🙂
Actually, looking at these numbers was a HUGE eye opener for me…and I'm not sure why I hadn't done this sooner.
What I really wanted to find out was whether or not my podcast was reaching a new audience, or if all my podcast listeners were already blog subscribers.  There is no simple way to do this; however, I decided to compare a couple of numbers.
I went through each podcast episode and compared how many downloads it had received versus how many pageviews that corresponding blog post had received on NichePursuits.com.  You see, when I post a new podcast episode, I write a blog post and embed the podcast.
I was assuming that most of the listens were coming from people that saw my blog post about a new episode, and then were tuning in.  For example, here is the last blog post I did for my last podcast (episode 27).  If my theory was correct, then my blog post pageviews should almost always be higher than the amount of downloads the podcast was receiving.
So, first I looked at the total downloads all my podcasts had received individually over the past 2 years.  Here's a portion of that from my Libsyn stats:
I took all of those stats and put them next to the corresponding blog post.
So, NP 27 is a podcast, but I also published a blog post about it on my blog here.
NP 26 corresponds to this blog post.
NP 25 corresponds to this blog post.
I hope you get the idea.  Just comparing episode listens to actual pageviews.
Now here is the spreadsheet :).  In particular, pay attention to the 2 "total" columns to compare downloads vs. pageviews.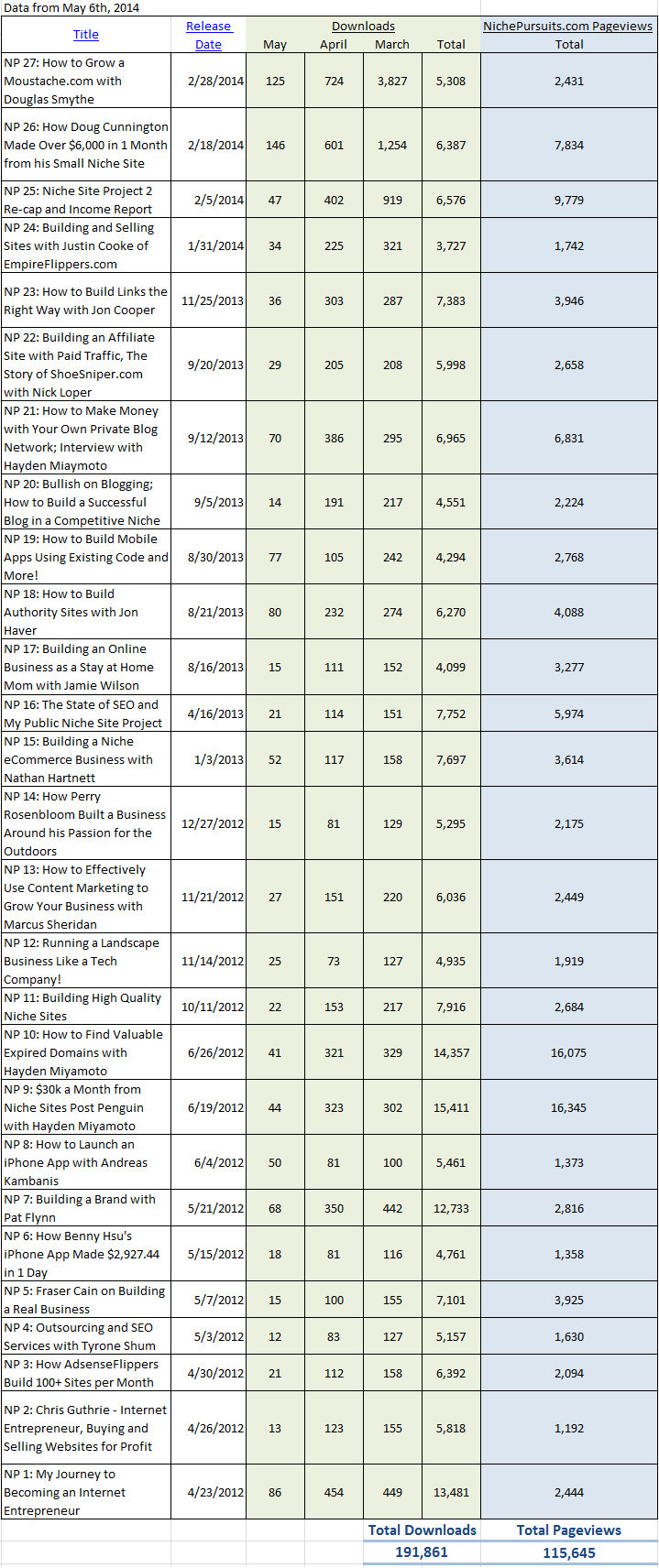 This data was a big surprise to me!  I am getting more downloads per podcast episode than I'm getting blog post pageviews per episode.  Out of 27 episodes, only 4 of the corresponding blog posts had more pageviews than downloads.
This really shoots my argument in the foot that all of my listeners were originating from my blog.  Clearly there is a good chunk of people that are listening to my podcasts only and never visit my website.
In other words, I AM reaching a new audience with my podcast episodes that I would not be reaching otherwise.  This is an eye-opener for me, and I'm glad I did this in-depth analysis.
Now to clarify, my blog as a whole gets many many times the amount of traffic that my podcast gets.  But I only have 27 podcast episodes versus approximately 300 blog posts.  If I had 300 podcast episodes, not only would my podcast be generating as much or perhaps even more downloads…I would be reaching a portion of that audience that wouldn't otherwise be reading my blog.
I've severely underestimated the reach of my podcast.  After seeing all the comments from you; and looking deeper at the data…I can see that the results have been there all along.
As I've done more research over the past week on podcasts, I've come to the realization that I should have come to long ago.  And yes, I know this will elicit a big fat, "duh!" from most of you.
Many podcast listeners only consume their content through audio; and almost never read a blog post.  On the other hand, many blog readers only consume their content through reading; and almost never listen to a podcast.
Yes, there is a big overlap; many people both read blogs and listen to podcasts.  But I'm finally seeing that many people that I want to share my story with are only listening in through my podcasts.
My Podcast Plans Going Forward
As a result of all of this, I've decided to not give up on my podcast just yet.  As mentioned, by simply focusing on doing a solo podcast rather than worrying about interviews, I should be able to get rid of many of the things I didn't enjoy about doing podcasts.
So, the Niche Pursuits Podcast will carry on primarily as a solo show!
I do expect that from time to time I will bring Perrin on as a co-host; and there will likely still be the rare interview.
As far as content, I really want to help people reach their business goals whether that's building niche sites, starting a software business, or finding other avenues to eventually quit their jobs.  So, I'll be sharing more of my own story of how I've made that possible in my own life.
In addition, I got a great comment after my last blog post asking, "Why don't you just do an audio version of your blog posts?"  Now that's an idea I really like!
As you can see, I put a lot of time and energy into creating high value blog posts, and many podcast listeners never see this information.  So, going forward I will likely be recording audio versions of my very best blog content; along with my additional opinions and tips that never make it into the written versions.
My plan is to record a weekly episode!
This is a huge stretch goal for me, and I'd love to know your thoughts.  I'm going to record a weekly episode for the next 90 days (so 12 total episodes), then re-evaluate how its going.
So, you can expect 12 new episodes from me over the next 3 months.  And hopefully for the long term if this new approach (solo show, re-purposing blog content) works out well for me.  I will judge the success of the show based more on your feedback and whether people are finding value in it, than based on download or other metrics.
But I'd also like to see if I can reverse this trend 🙂
Your Thoughts
I can already hear some of the grumblings about my complete about face from my last blog post to now.  However, I think I've made my points pretty clear…if you have the time, and you can find any enjoyment out of it, then podcasting truly is a powerful medium.
The entire reason I created a blog and podcast was to inspire and teach others.  When I take a good hard look at my business, one of the primary ways I view "success" is seeing others take what I've shared and build or grow their own business through that.
If I can inspire and teach others through my podcast than I can through my blog, then I want to make that a reality.  I really do find enjoyment in that.
And it truly is not just about number of downloads, or clicks, or sales.   I'm simply concerned about knowing if people are finding value in my podcast.
But now that I see the comments from amazing individuals and have heard the impact that my podcast has already made, I can see that I could be doing so much more with just a little bit more effort.
Overall, what are your thoughts?  Are you interested in my solo podcast that focuses more on content that is similar to my blog?  I would love to hear what you think about the pros and cons of podcasting, and anything else related to the subject.
Want to learn step-by-step how I built my Niche Site Empire up to a full-time income?
Yes! I Love to Learn
Learn How I Built My Niche Site Empire to a Full-time Income
How to Pick the Right Keywords at the START, and avoid the losers
How to Scale and Outsource 90% of the Work, Allowing Your Empire to GROW Without You
How to Build a Site That Gets REAL TRAFFIC FROM GOOGLE (every. single. day.)
Subscribe to the Niche Pursuits Newsletter delivered with value 3X per week