Legendary Marketer Review + [All You Need To Know]
Welcome to my detailed legendary marketer review.
I first heard about Legendary Marketer in 2020 when searching for how to make money online.
Most of the concerns people had then, and still have now, is that Legendary Marketer looks like the same old MLM scams that pop up every once in a while.
So, is Legendary Marketer a scam? What products do they offer? Is it worth it?
Join me as I answer all these questions based on the reviews this program has received so far from online business owners.
Join Legendary Marketer
Legendary Marketer Review
Ease of Use -

80

Stability -

60

Customer Service -

60

Price -

65
Summary
Legendary Marketer is an online training program for online businesses which includes affiliate marketing, coaching, consultancy, digital products, events, and masterminds. However, the pricing for some products is too high, and there are controversies arising from past businesses that Dave Sharpe was a part of.
Pros
Some products are reasonably priced
Awesome affiliate program
You get to learn from some of the best entrepreneurs
Cons
Too many expensive upsells
You have to buy some of the products to promote them as an affiliate
They don't teach SEO
Some products are too expensive
Little to no information from actual graduates from the program
Legendary Marketer Review – What Is Legendary Marketer?
Legendary Marketer is an online training platform for making money online.
These courses are packaged into:
Videos
One-on-one chats with industry experts
Podcasts
eBooks
Live events with the Legendary Marketer team, and
Other forms of digital courses.
Legendary Marketer was started by David Sharpe, a renowned digital marketer. Before starting Legendary Marketer, David Sharpe had built about three other multi-million dollar businesses.
As a result, he decided to start Legendary Marketer to share what he had learned when building online businesses. It has since grown to become one of the most popular online marketing courses.
Practicing what he teaches means you'll be duplicating his method on your business, a concept he calls "Duplicate Dave."
Now, I know some of the popularity is due to the affiliate program, where marketers promote it to earn a commission.
But much of its popularity results from its pricing.
While some courses cost up to $10,000, some courses cost as low as $1.99 and $7, which will be enough to teach you all you need to know about making money online.
Legendary Marketer Review – Products
Now that we know what Legendary Marketer is and what it does, let's review some of its products. Later on, I'll describe their affiliate program and how much you can earn.
Insider's Guide to Affiliate Marketing eBook ($1.99)
I know this is more of a lead magnet, but you get so much value in this $2 eBook – almost as much value as you would get from a book worth $100 or more.
As the name suggests, this eBook will give you access to David Sharpe's affiliate marketing process.
He states that if he were to start again, he would start a high-ticket affiliate marketing business, and this eBook teaches you how exactly he would do it. This includes:
Finding the right niche
Finding the right products to promote, and
How to drive traffic.
Better yet, you also get one one-on-one consultation with a qualified advisor. You'll also be invited to an exclusive Facebook group where you can learn from other Legendary Marketers. That's not all.
You'll also have free access to the 15-day Legendary Builder challenge (more on this later), which costs $7.
They'll try to upsell you to purchase their more expensive products within the eBook, but those aren't necessary for now. You will actually get everything you need to get started from this 90-page book.
15 Day Business Builder Challenge ($7)
If you think you won't get much value from the eBook, or want to expand your knowledge without spending much, then you should enroll in the 15 Day Business Builder challenge.
That's right. Dave Sharpe promises to teach you all about building an online business in 15 days. But you can go through the videos in a week or a month if you'd like.
This course comes in the form of pre-recorded videos of Dave himself. The videos are locked, and you can only watch the next one after completing the previous one.
After every video, there are quizzes that you must pass to unlock the next video. They do this to make sure you don't jump from the first one to the 7th one. That's because, by doing that, you may not grasp the concept as expected.
So, what exactly do these videos teach?
Day 1 – On this day, you'll learn the basics of marketing, how to create funnels and why you need them, the basics of email marketing and follow up, and other skills you'll need to get started.
Day 2 – Here, Dave uses 40 minutes to teach you the four main types of high-ticket businesses you can start. There are many businesses you can start, but Dave narrows it down to four and how you can get started in them.
Day 3 – In this video, Dave Sharpe will teach you how to build a business in 30 minutes. People take days, weeks, or even months to build a business. But the shorter amount of time you take, the faster the business will be out there and generating traffic. You'll also learn how to create a sales funnel and get sample funnels for affiliate marketing, events, digital products, and coaching.
Day 4 – In this step, Dave teaches you how to build wealth using your business by investing.
Day 5 – This will be a short video that teaches you how to create an action plan or business plan for your business.
Day 6 – Here, Dave will spend about 30 minutes answering any questions you may have. He will guide you to apply the knowledge you've learned in the other videos and take action.
Day 7 – If you're wondering if you should quit your job and focus on your business, then this video will clear everything up.
Day 8 –In this video, Dave introduces the high-income skills you should focus on to make money online, which he will go into detail on one by one in the following videos.
Day 9 – The first high-income skill he teaches in this video is lead generation. For you to even convert a sale, you need to have a high-quality lead. This video will teach you how to get them.
Day 10 – In this video, he teaches the second high-income skill: copywriting. This will teach you the language to use in your emails and landing pages to make sure they convert.
Day 11 – In this video, Dave teaches the third skill: sales and representation. Once you have generated the leads, you need to package the product or service in a presentable way to increase the conversion rate.
Day 12 – In this video, he teaches the fourth skill: what to outsource. It's always advisable to do everything yourself at first so that when you outsource, you'll know what to expect. This video will teach you what to outsource and some ways to get freelancers.
Day 13 – This video will teach you how to leverage other people's money to build your business, just like Elon Musk, Warren Buffett, and other top investors do. Doing this helps you grow a business faster without spending all of your savings.
Day 14 – This video will help you transition from a "wantprenuer" to an entrepreneur. There's a lot that people want to do, but they don't actually do it. This video helps you take action based on what you've already learned from the other videos.
Day 15 – This is more of a recap and motivational video to remind you of what you've learned so far and how to take action.
As you can see, this is the most value you can get for just $7. And as I mentioned earlier, you can also get it for $1.99 if you choose to buy the Insider's Guide to Affiliate Marketing eBook.
Copywriter's Playbook ($1)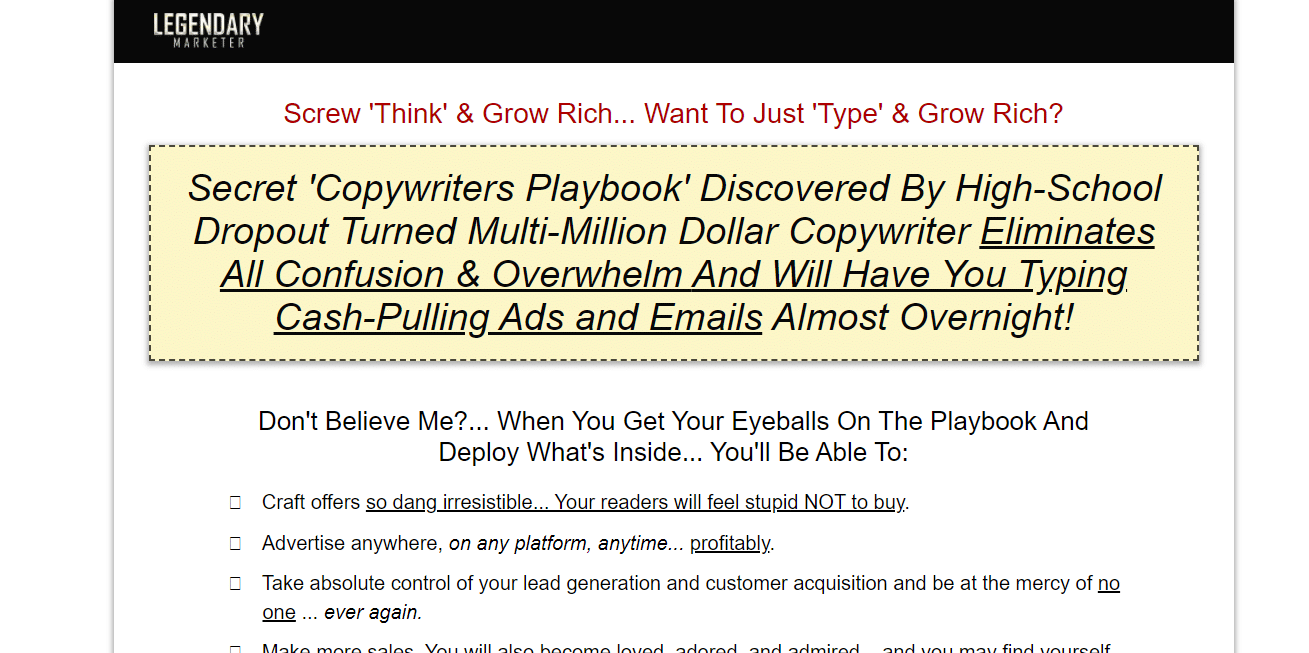 This is an eBook designed to make you a better copywriter.
Copywriting is one of the most dynamic skills. What works today may not work next year. And what works for one product may not work for another product.
Nevertheless, this eBook contains all the information you'll need to write copy for any product.
It comprises:
45 pages of information
PMES formula (Problem, Message, Empathy, Solution)
5 secret value triggers for higher conversions
13 seeds to "sow" into your copy so you can harvest sales
The components of an offer
Mistakes to avoid
How to focus on benefits and not the features, and
The best way to understand your offer to make sure you present it appropriately.
This Playbook also comes with the following bonuses:
Access to the 15-day online business builder challenge
Dave Sharpe's CliffsNotes
Templates for ads, emails, sales letters, and webinars
250-headline email swap file
How to write copy for clients
Watch Dave and his team critique a client's copy and offer better ways to do it.
You get all this for just $1. I know it sounds too good to be true, but it doesn't hurt to try it.
15-Second Free Leads ($1)
TikTok is one of the fastest-rising social media networks. However, most people only used it to record and share funny videos until some marketers realized that it's actually an untapped source of leads.
After trying it for some time, Dave Sharpe collaborated with Jake Thornhill, Mark Steinman, Jonathan Montoya, Don Bavaro, and Matt Heltzel to teach you how to leverage TikTok for affiliate marketing by generating content ideas and creating 15-second videos.
Jake teaches how to generate more than 100 video topics
Mark will teach you how to optimize your TikTok profile.
Jonathan Montoya will show you how to get TikTok's algorithm to share your videos.
Dom Bavaro has a case study of how he generated more than 1,000+ followers and 5 sales in 2 weeks.
Matt Heltzel will teach you how to use the tools that already exist on the platform.
Dave also shows you how he generated more than 800,000 views in just 28 days.
Like most of the other low-priced products, you also get bonuses such as access to the 15-day challenge and templates.
Legendary Marketer's Club ($30 per month)
Now, this is where things get exciting and slightly more expensive. Also dubbed as the "Netflix of market training," the Legendary Marketer's club is a subscription service that consists of videos, interviews, and webinars about marketing.
Some of the notable people you'll learn from include Dave Sharpe, Nathan Lucas, and former Shark Tank investor Kevin Harrington.
For instance, Nathan will show you how he grew his YouTube channel from scratch to 250,000 subscribers.
Webinars and Q&A sessions are held weekly by Legendary Marketer's CMO and other members of the LM team, such as Matt HeltzelThose give you a chance to ask questions and get instant feedback.
All this makes the $30 per month or $179 annually seem like a steal.
Better yet, if you purchase any of the other products I've mentioned so far, you might get a discount on the subscription service.
Traffic University ($1497)
As the name suggests, this course is designed to help you master the art of generating traffic, mainly through paid ads. Not that organic traffic, YouTube, or free traffic sources are ineffective, but paid traffic is known for faster returns.
However, it's not that easy. And when you do it wrong, you end up spending thousands of dollars without making any sales.
Traffic University is a compilation of nine courses comprising:
How to create landing pages for every platform
Strategies on how to dominate the most common advertising platforms, and
Everything else you need to learn about advertising online.
Unlike the other courses, Traffic University costs $1500, which is quite expensive. If your business is already making thousands of dollars every month, then you can consider this course to improve your ad campaigns.
But if you're just a beginner, I think $1500 is too much to spend. It's best to start with the cheaper products and implement what you learn.
Affiliate Marketing Business Blueprint ($2500)
Passive income is one of the most sought-after business models in the digital age. I mean, who wouldn't love to make money when asleep or on vacation?
And one of the ways to achieve that is through affiliate marketing, where you promote other people's products and earn a commission.
The Affiliate Marketing Business Blueprint promises to teach you all you need to know about affiliate marketing, including:
Signing up to a network
Finding products people will buy, and
Driving traffic.
The only downside of this course is it costs $2500.
While it helps to learn from people who have had a lot of success in this industry, the price is too steep considering you can get started with affiliate marketing for free using YouTube videos.
Plus, there are courses that go for less than $1,000 that will teach you the same concepts.
Digital Products Business Blueprint ($2500)
Selling a digital product is one of the high-income business models that Dave Sharpe highly recommends. The Digital Products Business Blueprint explains that unlike physical products, where you must factor in staff, a strategic location, warehouses, logistics, and other factors, digital products present an easier route.
With just a laptop and internet, you can package a course about a hobby or a skill you have and sell it for thousands of dollars. You won't have to worry about it getting depleted, shipping costs, and any other issues that face physical products.
But it's not as easy as it sounds.
You need to learn how to find out:
What people really want
How to package it in a way that people will love, and
How to market it.
And that's where the Legendary Marketer's Digital Products Business Blueprint comes in.
It teaches you the whole process of turning your passion into a fully-packaged course.
Again, the price of the Digital Products Business Blueprint from Legendary Marketer is a bit intimidating. But if the testimonials are anything to go by, it's worth a try.
Coaching and Consulting Blueprint ($2500)
Coaching and consultancy are rapidly gaining popularity as people move away from consuming information to learning from the industry experts themselves.
However, since there are so many coaches out there, it becomes difficult to find a legitimate coach. If you've thought of venturing into this line of business but that it was too saturated, then think again.
The world could always use more trainers who are willing to share their knowledge. Legendary Marketer can help you realize that dream through the Coaching and Consulting Business Blueprint.
Plus, coaching and consulting are very lucrative, more lucrative than affiliate marketing and selling digital products.
And no, you won't have to find an expensive office. You can start with a simple website and hire remote freelancers to deal with the various aspects of the business.
The Coaching and Consulting Business Blueprint course from Legendary Marketer teaches you how to find your niche, package it, and deliver it to your clients.
Events and Masterminds Business Blueprint ($2500)
Events and meetups still play a significant role in the digital world. It's human nature to meet up, share knowledge, and network.
This explains why people will travel to conferences and new product releases when they could just attend them live through webinar software like Zoom.
Legendary Marketer acknowledges this. That's why they introduced the Events and Masterminds Business Blueprint course that teaches how you organize these events and even make money from them.
You can even offer event organizing as a service. By doing this, you get to make money and help your clients organize successful launches.
Legendary Marketer Mastermind
If you're still doubting if Legendary Marketer is legit, here's a chance to meet them in person.
Legendary Marketer Mastermind is in-person live training. There, you meet Dave Sharpe and his team and learn more about online businesses.
There isn't much information available from anyone who has attended these events except for what's on their website. So we'll have to take their word for it.
They also don't indicate a price. All you do is apply, and they'll get back to you about the venue and what to expect.
Private Client Coaching Program with Dave Sharpe
This is another chance to meet Dave Sharpe and his team in person. As a matter of fact, this program allows you to make Dave Sharpe your CMO for a year.
Upon signing up, you'll receive a welcome call from Dave and his team, where you discuss the way forward.
Then, during the course of the program, Dave and his team will guide you on your ad campaigns and other aspects of your online business.
You'll also join the Legendary Marketer Mastermind I mentioned above. Instead of just reading an eBook or taking a course, you'll have the whole Legendary Marketer team immersed in your business. This program is also offered on an application basis.
Who Is Legendary Marketer For?
Legendary Marketer contains relevant information for beginners and intermediates in building online businesses. When researching, sometimes you come across too much information, some of which contradicts each other.
And we all know information overload can prevent you from ever taking any action towards building your business.
Legendary Marketer:
Breaks everything down
Shows what exactly you need to learn
Shows you which businesses are more profitable, and even
Teaches you the skills you need to start your online business.
Legendary Marketer Affiliate Program
Now that you know the products they offer, let's look at how you can benefit from them as an affiliate marketer.
Legendary Marketer offers two versions of an affiliate program. They include:
Legendary Basic Affiliate Account – This plan is free to join, and you'll earn between 10 and 30% of the courses you promote through your affiliate link.
Legendary Pro Affiliate Account – This plan costs $29.95, and it gives you a chance to earn commission rates ranging from 20 to 60%.
Here are the compensation plans for each of the courses:
Subscriptions – Up to 60%
Courses – Up to 40%
Masterminds and Coaching – Up to 30%
Considering the cheapest product is the $30 per month subscription, and the other products cost more than $1,000, I'd say these affiliate commission rates are quite impressive.
Here is how much you can expect to earn when in the Basic plan and Pro plan for each product:
Legendary Marketers Club – $9 per month with Basic and $18 per month with the Pro plan. If they choose to pay for a whole year, you'll earn $53 with the Basic plan and $107 with the Pro plan.
Info Products – 10% with Basic and 40% with the Pro plan.
Traffic University – $149 with Basic and $598 with the Pro plan.
Affiliate Marketing Blueprint – $250 with Basic and $1000 with Pro.
Digital products Blueprint – $250 with Basic and $1000 with Pro.
Business Blueprints Starter Package – $250 with Basic and $1000 with Pro.
Events and Mastermind blueprint – $250 with Basic and $1000 with Pro.
Business Blueprint Mastermind ($4500 one-time fee) – $450 with Basic and $1350 with Pro.
Business Blueprints with Coaching ($9500 one-time fee) – $950 with Basic and $2850 with Pro.
You also get marketing tools and skills to generate traffic.
Better yet, to keep their affiliates motivated, Legendary Marketer also offers bonuses and gifts once you hit a milestone. They are categorized as follows:
Affiliate – This is anyone who has signed up for the affiliate program but has not made any sales.
Bronze – These are affiliates who've earned at least $100 on the Legendary Marketer Program. They get a 3-figure certificate.
Silver – Affiliates who've earned at least $1,000 on LM are in this category. They get a 4-figure certificate.
Gold – To become a gold member, you have to earn at least $10,000. You'll also get a 5-figure plaque.
Platinum – The threshold for this category is earning $100,000. You also get a Diamond 6-figure ring and a 6-figure plaque.
Diamond – This is the highest category. It's achieved by earning at least $1,000,000 on LM. Here you get a Rolex 7-figure watch and a 7-figure plaque.
Legendary Marketer Review – Cons
Now let's look at some of the complaints people have about Legendary Marketer.
It Does Look Like an MLM
Even though Legendary Marketer is not exactly an MLM, the website, some promotion methods, and some parts of the business model make it look like an MLM (Multiple Income Funnel is similar).
Like most MLMs, Legendary Marketer is more focused on getting more people to purchase their products. That's why you'll find that most of the information you'll find is actually from their affiliates.
While they don't state it on their affiliate page, it appears that you have to purchase a product to promote it. MLMs work similarly where one has to achieve a particular milestone to start making money.
That also makes it quite expensive since you have to invest between $2500 and $4500 if you want to earn a considerable income, and there's no guarantee you'll earn your money back.
While this maintains the quality of their affiliates, it locks out many people who would want to promote their products.
Too Many Expensive Upsells
Once you purchase any of the lower-priced products, you'll constantly get bombarded with the more expensive product upsells, which makes it quite annoying.
Not to mention, even as an affiliate, you still have to pay $30 to unlock higher commissions.
It's Not Available in Most Countries
This is one of the most significant deal-breakers. Legendary Marketer is not available in 100 countries. If you're in any of these countries, you can't buy their products, and you can't join them as an affiliate.
It becomes worse for you as an affiliate since if anyone from these countries lands on your content, it will be a total waste since they can't complete the sale for you to earn a commission.
They Don't Teach SEO
Legendary Marketer primarily trains on paid traffic. Most of the tools they provide for promoting their products are focused on paid traffic.
While this kind of traffic has faster returns, it's more expensive and needs a wide range of skills.
Organic traffic is more sustainable in the long run, and you can leverage both types of traffic to earn more.
Considering how expensive their courses are, it's a little disappointing that they didn't include anything related to SEO.
Scarce Information from Actual Students
When researching the legitimacy of a product, some of the sites I go to are Trustpilot and Reddit.
It's surprising that I only found one Legendary Marketer review on Trustpilot. Here's what the reviewer had to say:
He seems to have experienced some success from the Legendary Marketers Club, but he had to rely on free traffic. As I mentioned earlier, paid traffic is expensive and not the best for a beginner.
However, I did come across a couple of threads on Reddit, but they expressed the same concerns I've mentioned above: joining LM is expensive, it's more focused on creating affiliates for their courses, and they're inclined to one traffic source.
Legendary Marketer Review – Pros
Despite the controversies, here are some of the reasons I think you should consider at least one of the courses from LM.
They Know What They're Doing
When it comes to building online businesses, Dave Sharpe really knows his stuff. You can tell from the landing pages, videos, and how he packages the courses.
Spending a few minutes on the website shows that he knows what he's doing. This helps him build trust among prospects.
Some Products Are Reasonably Priced
Don't let high-ticket products make you dismiss LM. You can get started with the cheaper products, and you'll have all you need to start your business. The high-ticket products can come later.
For instance, the 15-Day Business Builder challenge is packed with information about various types of online businesses and how to get started.
The copywriting eBook has most of the info you'll need to run your ads. Additionally, the 15-Second Free Leads program includes all you need to generate traffic and sales on TikTok.
The Legendary Marketer's Club is great since they hold a weekly live event. Considering how fast the digital world changes, these webinars can help you stay updated with the trends for just $30 a month or $179 per year.
The Affiliate Program
Joining a program for the sole purpose of promoting it is not always the best approach. That's why I think having to buy the product so you can promote it makes sense to some extent.
Think about it. If they allowed anyone to promote their products, this would dilute the affiliates' pool.
But LM gives you a chance to learn the course materials and use the same knowledge to build your affiliate marketing business to sell the same product if you choose to do so.
Most affiliates who used this approach, like the one in this video, were quite successful. The commission rates are also pretty great.
Is Legendary Marketer A Scam?
No, Legendary Marketer is as legit as they come.
There are controversies surrounding Legendary Marketer, which stem from Empower Network, a business started by Dave Sharpe and David Wood.
Empower Network was a blogging community that offered training products for blogging and affiliate marketing.
However, it later turned into an MLM since, as it turns out, they never really offered any products.
Nevertheless, it's worth mentioning that everything went downhill after Dave Sharpe had stepped down. The products offered didn't really make sense, and it didn't take long before it was declared bankrupt.
Legendary Marketer isn't an MLM, and it's an entirely different program compared to Empower Network.
Legendary Marketer is a single-level affiliate compensation model where you earn by promoting the courses or affiliate programs.
However, they make it sound easier than it is. In general, affiliate marketing takes time and skills, and there's never any guarantee of how much you can earn.
Other than that, you can trust Legendary Marketer and Dave Sharpe.
Legendary Marketer Alternatives
If you want to compare the prices and features with other affiliate marketing courses, here are some of the best Legendary Marketer alternatives you can check out.
Income School's Project 24
As I mentioned earlier, Legendary Marketer is more inclined to paid traffic.
Income School was started by Rick and Jim, and their YouTube channel is one of the best resources for learning blogging, content writing, affiliate marketing, and turning those things into a full-time income, find out more in our Income School review. However, Jim later left Income School to focus on personal projects.
Unlike Legendary Marketer, they offer lots of this information for free. Project 24, though, is an in-depth course that will guide you from creating your first blog to making a full-time income in 24 months or less.
They will guide you in:
Finding a niche
Conducting search analysis
Keyword research
Writing the content, and
Monetizing the blog.
Two years may seem like a long time compared to the paid traffic approach. Still, SEO takes time, and if you write the content yourself, you save a lot of money in the process.
How about the pricing? Income School costs $499 for a year.
After that, you can evaluate the results.
If you want to continue, you'll pay $249 for every extra year.
This is cheaper, has a reasonable timeframe, and there's a large community of graduates and people who've succeeded using Income School's strategies you can reach out to.
Check Out Income School's Project 24
Wealthy Affiliate
Wealthy Affiliate claims to be one of the best places to learn affiliate marketing.
To summarize that review, we confirmed that Wealthy Affiliate is not great, but not a scam.
It does have some detailed training modules that teach you how to earn money promoting other affiliate products or by promoting Wealthy Affiliate itself.
When compared to Legendary Marketer, Wealthy Affiliate is also reasonably priced. Their plans include:
Starter Membership – Free
Premium – $19 for the first month and $49 per month in subsequent months
Premium Plus – $49 per month and $99 in the consecutive months
Authority Site System 3.0
Authority Site System 3.0 was built by Gael Braeton and Mark Webster, the people behind the Authority Hacker website. We have an Authority Site System review you can check out as well.
Through their website and YouTube channel, they teach people the best SEO practices that can help build authority websites.
These are sites that have gained the trust of search engines, users, and other websites.
While they offer a lot of free information, the Authority Site System 3.0 takes a more hands-on approach. They'll guide you from scratch until you are a successful affiliate and your authority site is up and running.
Some of the skills they teach in detail include:
Market Research
Keyword Research
Site setup
Design and Branding
Content Creation
Link Building
Hiring and Outsourcing
Monetization
Analytics and Tracking
Compared to Legendary Marketer, the Authority Site System 3.0 provides all relevant information in one package for a relatively cheaper price ($997 one-time fee).
There are no upsells, and you'll be learning from some of the most trusted people in the niche site-building world.
Check Out Authority Site System 3.0
Legendary Marketer Review: Conclusion
And there you have it. When writing this Legendary Marketer Review, I did my best to sift through the information and reviews available.
Should you join it? You can start with the lower-priced products and use those to build your business before going for the high-ticket products.
Some people earned a lot from Legendary Marketer because they already had established a source of free traffic to whom they could recommend this program.
But it will be challenging to start a successful online business from scratch and make considerable income with Legendary Marketer.
Fortunately, I have mentioned other alternatives that focus on SEO and organic traffic.
I wouldn't rule out LM yet, but combining knowledge from different sources wouldn't hurt before choosing the business blueprint that works for you.
Want to learn step-by-step how I built my Niche Site Empire up to a full-time income?
Yes! I Love to Learn
Learn How I Built My Niche Site Empire to a Full-time Income
How to Pick the Right Keywords at the START, and avoid the losers
How to Scale and Outsource 90% of the Work, Allowing Your Empire to GROW Without You
How to Build a Site That Gets REAL TRAFFIC FROM GOOGLE (every. single. day.)
Subscribe to the Niche Pursuits Newsletter delivered with value 3X per week