Income School Review [Project 24 and 5 of Their Best Free Videos]
When you buy something through one of the links on our site, we may earn an affiliate commission.
Starting an online business can feel like a shot in the dark. You're investing time and money into something that you hope will pay off, but you're not quite sure where to start or what exactly you need to do. And this is where our Income School review is here to help you decide whether the Project 24 course is right for you.
Income School Project 24 is designed to take you from being an online business newbie to a full-time income earner in 24 months or less through content creation. The course splits into modules covering different aspects of building a successful online business.
But what exactly is Income School Project 24, and how can it help you achieve your goals?
In this article, we'll take a closer look at the company, their flagship blogging course on Project 24, and some helpful resources they offer for free. By the end, you'll better understand what their course entails and whether or not it's right for you.
An amazing wealth of knowledge brought to you by successful and genuine bloggers who are eager to help you make the most of your blogging journey!
---
An Introduction to Income School and the Project 24 System
Income School is a course created by two successful online entrepreneurs, Ricky Kesler and Jim Harmer.
It aims to teach people how to build profitable websites that can be run from anywhere in the world.
To do this, they created Project 24, a step-by-step course that walks you through the process of building and growing a successful online business by creating and monetizing niche sites. Niche sites are small websites focused on a specific topic, typically with low competition and the potential to generate a lot of traffic and revenue.
The Income School Project 24 system comprises of four simple steps:
Find your niche and research topics in demand
Build your site and write blog posts
Attract visitors by ranking on Google
Make money from your site through affiliate marketing and other monetization methods
Each of these steps is further broken down into smaller tasks, making it easy to follow along and make progress with your online business.
Here are some general specs about Project 24:
Program Length: Self-guided, estimated at 2 years
Cost of Program: $449 in the first year, $249 each consecutive year
Amount of Courses: 27 online courses available in the dashboard
Additional Resources: 2 Members' podcasts, private forum, virtual masterminds, content warrior challenges, free Acabado theme
Age of the Course: Established in 2018
Primary Topics: Affiliate marketing, blogging, search engine optimization, traffic generation, YouTube marketing
A great way to get a good idea of what Project 24 entails is to watch content from the Income School YouTube Channel.
This popular channel offers a tremendous amount of free content for online business owners and has over 207,000 subscribers. Their YouTube videos offer many of the same lessons found in the Income School Project 24 course, but for those who prefer to learn how to make money online on a shoestring budget.
Income School Project 24 Review: Who Is It For?
The Income School program is for those who want to build a profitable online business that can semi-passively generate income after the initial work has been put in.
This business model is perfect for people who want the freedom and flexibility to work from anywhere in the world. And also those who want to supplement their income or eventually replace their 9-to-5 job by making money online.
Income School Project 24 is also a great option for retired people or stay-at-home parents who want to make some extra money.
The program is designed to help anyone. Whether it's beginners, those who have failed at starting an online business, or those who have had successful niche websites and want to round out their knowledge.
It does require some technical skills and knowledge, such as the ability to buy a domain name and set up hosting, but these can be learned easily with their YouTube channels free tutorials.
Other than that, there are no major requirements or prerequisites for the course.
Is Income School Legit for an Online Business?
Various online resources and reviews indicate that Income School's Project 24 is a legitimate resource for learning how to build niche sites while earning online income.
While there are no guarantees that you'll make money with your online business model, the Project 24 system provides a clear and concise path to follow that has helped many people achieve their goals.
They also have an A+ rating with the Better Business Bureau (BBB), indicating that they are a reputable company.
Moreover, the company creates free content that gives you a reasonable idea of what metrics and timelines to expect, such as page views needed for earnings when working through the Project 24 system to build a successful online business. Many other online courses will charge you for this type of information upfront.
Some Income School students have criticized the program though. Some of these complaints include its lack of refunds, gaps when it comes to advanced SEO techniques, additional expenses needed to start an online business, and an overwhelming workload.
If you're unsure if Project 24 is right for you, the free content available from the guys is a great way to get your feet wet and see if this type of online business is a good fit.
How Much Does Income School Cost?
Income School's Project 24 costs $449 in the first year and $249 in each consecutive year. The course is self-paced, so there's no need to worry about completing it within a certain timeframe.
The price may seem steep initially, but when you compare it to other online business courses, it's quite reasonable. For example, Pat Flynn's Smart Passive Income course costs $699, and the Authorit Hacker TASS course costs $997 (although, as a Niche Pursuits reader, you do get 40% off).
Income School Review: Do They Offer a Refund?
Unfortunately, Income School does not offer refunds for their course. This is fairly standard, as they are digital products and can be copied and pirated.
In fact, the company reported that when they previously offered a refund policy, they had a high number of people who would sign up for the course, consume all the content, reveal sensitive information, and then request a refund.
The only exception to this policy is if a Project 24 member forgets to cancel their account, and it automatically renews. If the user reaches out to customer support within 30 days of being charged, they will issue a refund.
Income School Review: What Will I Find Inside the Project 24 Program?
There are plenty of resources available. Here are some of the perks you can expect when you sign up for a membership:
My Story Page
In this section, you can track how much content you should be creating over the course of the 2 years of the program with a list of tasks you can expect to complete every month.
You can also customize the dashboard with your income and traffic metrics from your YouTube channel and see how you compare to the projected timeline. You can add multiple projects, which is great for those who want to work on many different projects at once.
You'll receive milestone badges when you make your first $5, $100, $1000, and $4000 per month online in earnings.
The Course Dashboard
Two main tracks are available in the Project 24 dashboard—the Niche Site Course and the YouTube Channel Course. These programs have the most video lessons and can help you earn money online as quickly as possible with the course.
There are plenty of additional courses, including marketing, monetization, how to create info products, win snippets, and use Patreon, and older courses for reference.
All courses come with video lessons, worksheets, and other materials to help you along the way. These are regularly updated and constantly evolving, which is why members are expected to pay an annual fee. This helps to keep customers updated on current methods for making money online.
Member's Community
This very active community is primarily meant for specific user questions. People ask questions ranging from technical issues to how to interpret the data in their Google Analytics accounts.
The community is a great way to connect with other people working on their own sites and get feedback and advice from more experienced members.
A vast majority of questions you may have about Income School online courses have probably already been answered on this platform, so it's a great way to search for answers before reaching out to customer support.
More aspirationally, the members' community celebrates wins when people's niche websites turn into successful blogs. The company sends a plaque out when a member hits $4000 of income in a month, which is the program's income-replacement level.
This helps to keep morale and motivation high, which is needed for a program that takes a couple of years to master.
Member's Only Podcast
Two podcasts are available to members - one for those developing niche websites and another for those focusing on YouTube channels.
Each podcast releases three episodes a month and features new concepts in the internet marketing world that Income School is testing and considering integrating into the online courses.
Members can use this new information to test out techniques on their platform before they are widely spread, keeping them ahead of the curve.
Masterminds
For those who want more accountability and support, masterminds are available. These discussions range from coming up with ideas for info products, Q&As, certain demographics such as women in the Income School program, and other areas of focus.
There are several masterminds each week, and you can watch recordings of the sessions if you cannot attend live. This is a great way to connect with other people in the program and get additional support from mentors.
Content Warrior Challenge
Twice a year, Income School Project 24 members can join a challenge and try to create 60,000 words of content for their niche site in a single month or create the same amount of content on a YouTube channel or podcast.
This helps to jumpstart the blogging creation process and get people in the habit of producing content regularly.
Whether or not members reach the 60,000 goal, they have given their platform a nice boost that will likely reflect increased traffic or even more money.
Those who hit the 60,000 goal are given a badge to commemorate their achievement, which is a great way to stand out on the platform.
Acabado Theme
The Acabado theme is a WordPress theme that Income School Project 24 members can use to give their websites a professional look.
The theme is designed to be fast and easy to use, which is important for those who are just starting out with building a website. It's easy to follow alongside the video lessons and get your site up and running in no time when you use it.
Acabado is free for all Income School Project 24 members and can be used on an unlimited number of websites.
Here's what it looks like on one of their sites to give you an idea:
Affiliate Database
This library was constructed by members of the Income School community who are willing to share their affiliate relationships with other members.
This is actually a massive selling point and something most other courses don't have.
It's a great way to start with affiliate marketing without having to build those relationships from scratch. The database is searchable by niche and platform, making it easy to find the right affiliates for your website.
This is a great way to hear how these programs work for members so you know that you're making the right decision for your website.
Project 24 Glossary
This resource is especially important for beginners who are new to niche sites. The glossary is designed to help you understand the different concepts that are covered in the video lessons.
If you're ever feeling lost or confused, this is a great resource to have on hand. You can search for key terms or browse through the entire list of definitions.
A Free Copy of Work Energy by Jim Harmer
This is a book written by the founder, Jim Harmer. In it, he covers the basics of how internet marketing works and how to make money online.
While it's not required reading for the course, it's a great resource to have if you're new to the world of online marketing. It includes Jim's personal story of running an online business and also provides helpful motivational and mindset content that can help you succeed.
The audio version of this book is available for free to Income School Project 24 members through the website and app.
It's a great and inspiring read.
Income School Review: A Quick Rundown of Each Module in their Blogging Course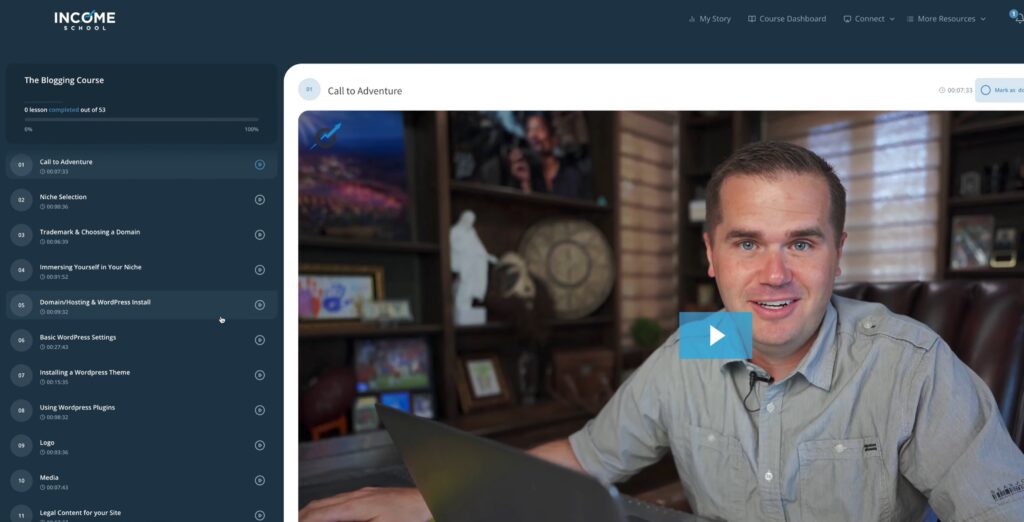 1. The 60-Step Action Plan
The first module is designed to give you a high-level overview of everything involved in building a successful niche website.
You'll learn about picking a niche, finding keywords, and creating content that ranks on Google. This module also includes a helpful checklist that you can use to keep track of your progress.
It will guide you step-by-step, so you feel confident about building online income when you write blog posts.
2. Search Analysis
In the second module, you'll get your feet wet with preliminary research. You'll research brand elements, site structure, and keywords to get familiar with the process.
3. Learning How to Pick a Niche
The third module provides you with a spreadsheet that has hundreds of niche ideas for you to choose from. You're then provided with a video tutorial that will help you understand how to evaluate a niche idea.
4. SEO Optimization
The fourth module is designed to help you understand how to find profitable keywords that you can rank for on Google.
Income School focuses on using organic methods for finding keywords rather than expensive keyword research tools, making it accessible to all budgets.
5. Social Media Marketing
The fifth module is all about getting traffic to your website. This will eventually create a traffic snowball that will help you rank higher on Google.
6. Implementing Email Marketing
The sixth module introduces the basics of email marketing and explains why it's an important component of any online business.
You'll learn how to build email lists, how to funnel people into your sales process, and how to write emails that convert.
7. Myth Busters
Module 7 shares the keyword golden ratio (KGR) which is a helpful tool for finding low-competition keywords. This module also debunks some common myths about SEO and what you can expect to achieve with your site outside of conventional knowledge.
8. Hiring Writers
The 8th module is all about outsourcing content creation. You'll learn how to find and hire writers, manage them, and get the most out of your investment.
You'll also learn the nuts and bolts of providing your contracted workers access to WordPress and best practices for giving feedback on drafts.
9. Photography Skills
Module 9 helps you to improve your photography skills through 22 lessons. This helps you to learn how to take high-quality pictures that will have a competitive edge amongst the stock photos that have over-saturated the web.
10. Reviews of Student Sites
Module 10 provides you with feedback and critiques from Income School's staff on websites that course members have created.
These detailed reviews provide insight into what's working well and what could be improved for each site. This is a great module for getting ideas on how to improve your own website.
11. Improving Your Writing Speed
The 11th module is designed to help you improve your writing speed. This is a valuable skill for anyone who wants to stick to a consistent writing schedule while still having time for other aspects of their life.
12. Placing Ads On Your Website
Using ads on your website is a good way to monetize your site and generate additional income without needing to sell products. You will learn about the different types of ads, how to place them on your website, when to start using them, and how to optimize them for maximum earnings.
13. Mindset Work
Building and monetizing a blog is not a fast or easy process. This module is designed to help you stay focused and motivated throughout the ups and downs that come with any journey so that you can stay on track.
14. Pinterest Marketing Strategies
The final module is all about getting traffic from Pinterest. You'll learn how to set up your account, how to find and join group boards, and how to create pins that drive traffic to your website.
Income School Review: How to Make It Work For You
While the idea of Income School Project 24 is simple, the execution is not. This course requires dedication, consistency, and a willingness to learn new things.
If you manage your expectations and pace yourself appropriately, you'll have the best chance of success. Here are a few things to keep in mind that will help you make the most out of this course:
1. This is Not a Get-Rich-Quick Scheme
Income School is not a magic pill that will make you rich overnight. It's a real, actionable course that will teach you how to build a sustainable online business.
With this being said, it's important to get your financial ducks in a row to make sure that you can afford the transition to a full-time blogger or internet entrepreneur.
This may mean building up savings beforehand, moonlighting so that you can maintain your full-time job, or finding other ways to supplement your income until your blogging business is generating enough to support you.
2. You Need to Put in the Time
Building an online business takes time, and there is no way around that. The Income School course is designed so that you can do it part-time while still maintaining your full-time job, but it can easily become a full-time job in and of itself.
The key is to be realistic about how much time you can commit to working on your blog or website each week. If you only have a few hours, that's okay! Just remember that it will take longer to see results.
It's better to go a bit slower and stay consistent than to try to do everything at once and burn out quickly. Over time, a slower and steady pace will lead to better results.
3. You Need to Be Willing to Learn New Skills
Income School will teach you everything you need to know to be successful with your online business, but it's important to remember that you'll also need to be willing to learn new skills along the way.
You're likely to get frustrated with things that don't work and feel like you're in over your head at times, but it's important to push through and keep learning.
The more you learn, the better equipped you'll be to handle any challenges. You must never stop learning if you intend to continue growing your business.
4. There Will Be Extra Expenses
Building an online business requires some initial investment, and additional expenses will likely be along the way.
You may need to purchase a domain name, web hosting, and even some design elements. You may also want to invest in plugins, courses, or other resources that will help you grow your business.
So make sure to save a few extra hundred dollars for these expenses if you're ready to start a serious business.
---
Income School Review: 5 Best Free Videos From their YouTube Channel
1. The Complete Guide to SEO
If you're completely new to the world of SEO, this video is a great place to start. It covers the basics of what SEO is and how it can benefit your business.
You'll also learn about some of the most common misconceptions about SEO and why they're not true. This video is a must-watch for anyone who wants to learn more about the Income School program. It also helps you to get started for free.
2. Stop Using Keyword Research Tools (And Do This Instead)
Many people think that you have to use pricey research tools to write blog posts that rank. But the guys teach keyword research methods that don't require anything more than a free Google account.
3. How to Write a Perfect Blog Post in One Hour
Are you looking for a way to write blog posts more quickly? This video will show you how to do just that.
You'll learn how to plan your posts so they're easier to write, and you'll also get tips on what to do if you get stuck. This is a great video for anyone who struggles with writer's block or feels like they're taking too long to write each post.
4. Link Building is Worthless. Do This Instead
Link-building campaigns are often seen as a huge commitment with time and money, but Income School's method is different. In this video, you'll learn how to build links the right way so that they actually improve your SEO and people naturally link back to your work.
5. The Complete Guide to Affiliate Marketing
Affiliate marketing is a great way to make money off of products without having to produce them yourselves and a common way that beginner bloggers monetize their work.
In this video, you'll learn everything you need to know about affiliate marketing, from finding programs to join to creating links and driving traffic.
---
Alternatives to Income School
Although Income School is a great option for those looking to start an online business, it's not the only one. Here are a few other affiliate marketing courses that can help you get started:
1. Authority Site System 3.0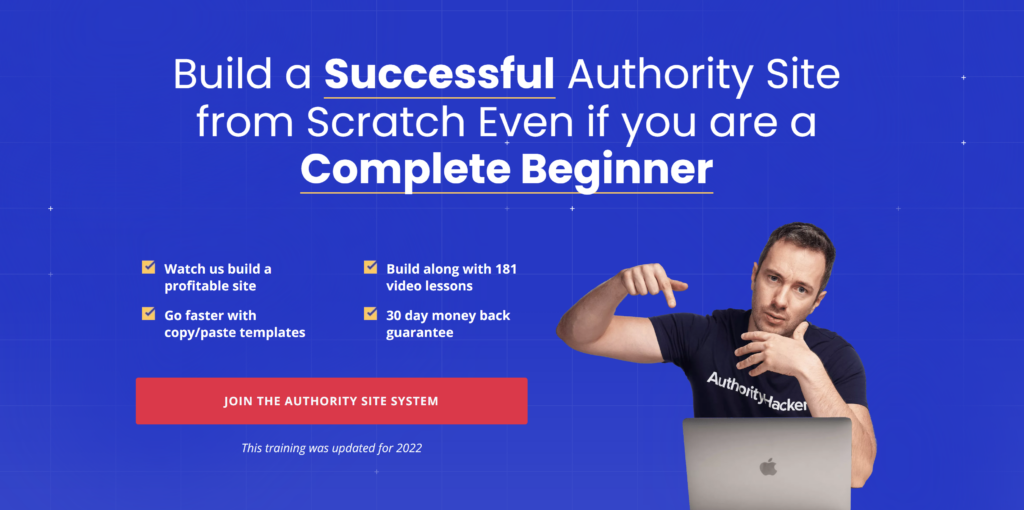 Firstt on our list of alternative affiliate marketing courses, The Authority Site System is a course created by two well-known internet marketers, Gael Breton, and Mark Webster. The course covers everything from choosing a niche to building an audience and monetizing your site.
They're known for their white-hat search engine optimization approach to building sites that dominate a specific niche and can be monetized through affiliate programs. This program primarily focuses on creating commercial content and creating informational content to use to build backlinks.
It's a very comprehensive program that is regularly updated, and since it is a one-time purchase, you receive indefinite updates. Learn more in Authority Site System review!
Price: One-time payment of $997 (but you'll also get a big discount as a Niche Pursuits reader!)
---
2. The Affiliate Lab
The Affiliate Lab is an affiliate marketing course by the hugely successful and popular SEO Matt Diggity. The course covers everything you need to get started building, growing, and even flipping your niche site.
With over 160 videos totaling over 24 hours of content, The Affiliate Lab provides a truly in-depth guide into the world of both affiliate marketing and search engine optimization.
Members also get access to a variety of SOPs and checklists, plus exclusive access to their private Facebook group.
Price: One-time payment of $997 or 2 installments of $597. But as a Niche Pursuits reader you'll receive $200 off the total price!
---
3. Wealthy Affiliate
Wealthy Affiliate is an online marketing community that provides training, tools, and resources for people looking to start their own online businesses. It was created by Carson Lim and Kyle Loudon and has been on the market since 2005.
The community is active and provides support and guidance for those starting their businesses from scratch. You can also get help with things like website creation, traffic generation, and more.
There is also a monthly membership fee that gives you access to all the training materials and other features like webinars and live chat.
Price: $49/month (billed monthly), or $359/year (billed yearly)
---
4. Savage Affiliates
Franklin Hatchett created Savage Affiliates, a training course covering everything from choosing a niche to monetizing it through ClickFunnels and ClickBank, which Hatchett is an undisputed expert at.
The course is updated regularly, and the course is very comprehensive and covers everything you need to know to be successful. Franklin Hatchett also has one of the best YouTube Channels for learning plenty of affiliate marketing techniques for free.
Price: One-time payment of $197
---
5. Spark By ClickBank
Last on our list of alternative affiliate marketing courses, Spark by ClickBank is a course created by Justin Atlan and Robby Blanchard, who are both well-known internet marketers. If you want to use ClickBank to monetize your site, this is the course for you.
You also study how to develop your own goods to sell, list them on ClickBank, and have hundreds of affiliates market them to create residual income. This alternative to affiliate marketing is a great option if you want more control over the products you sell.
---
Income School Review: Final Thoughts on Project 24
If you're wondering whether or not Income School Project 24 is worth your time and money, the answer is a resounding yes!
The course is great for those who are looking to start their own online business and want to learn how to do it the right way. The course is also regularly updated so you can always access the latest information and resources for building niche websites and creating content.
It may not always be easy, but if you're willing to do the work, Income School Project 24 is a great way to achieve your goal of making money by monetizing a blog.
So what are you waiting for? Get started with Income School today!
Want to learn step-by-step how I built my Niche Site Empire up to a full-time income?
Yes! I Love to Learn
Learn How I Built My Niche Site Empire to a Full-time Income
How to Pick the Right Keywords at the START, and avoid the losers
How to Scale and Outsource 90% of the Work, Allowing Your Empire to GROW Without You
How to Build a Site That Gets REAL TRAFFIC FROM GOOGLE (every. single. day.)
Subscribe to the Niche Pursuits Newsletter delivered with value 3X per week