Kinsta Hosting Review: Powerful Managed Hosting Solution For WordPress
When you buy something through one of the links on our site, we may earn an affiliate commission.
When choosing a web host for your website, there are lots of factors to consider such as ensuring the hosting company offers: 
A super-fast and secure host
Automatic database backup
Top-notch customer support
100% website uptime
A very affordable pricing structure
Etc.
If you're able to find a web host that has these qualities and more, then you won't have any problem going with them. 
However, it's not always easy to find such hosts especially when you don't even know exactly what you're looking for. Hence, the reason for this Kinsta hosting review.
In my review of Kinsta web host, I'll tell you everything you need to know about this revolutionary web hosting solution to enable you to make the right buying decision. 
Boost your site's speed by up to 200% when you go with Kinsta
Try Kinsta Web Hosting For A Faster Website Today
---
Kinsta Hosting Review
Ease of Use -

93

Stability -

95

Customer Service -

97

Price -

92
Summary
If you're looking for a reliable and trusted managed hosting solution for your business, I'm sure you'll love Kinsta. Among all the web hosting solutions I've tried in the past, Kinsta is undeniably one of the best. Try Kinsta We Hosting Today!
Pros
Real-time malware monitoring
Daily automatic backups
Effective security
Performance optimized
Advanced developer features
Cons
No email hosting provided
No domain purchase
The limitation of some WordPress plugins
Kinsta Hosting Review | An Overview of the Company
Kinsta Hosting Features | What Do You Get With Them?
For most people, fast loading time, fewer website management of tasks and less downtime aren't negotiable. Interestingly, if you think you have seen it all, then wait for the unfolding of other mouthwatering features of the Kinsta Hosting.
Although, there are limitations to these features depending on the particular plan you choose. Nevertheless, if you want to enjoy all the features, you have to subscribe to its enterprise plan.
1. Amazing fast Servers
Speed is the first consideration for any website owner. This is crucial because it may determine the success or failure of your site, and it also contributes to the overall search engine ranking of a site.
Although this is depended on other factors such as the quality and efficiency of the themes, plugins, and external scripts running on your site, but a fast server equally plays a critical role.
2. Automatic Backup
The automatic backup feature of Kinsta Hosting is available for all plans. You can set it for a minimum of 14 days for its entry-level plans. Nevertheless, the higher the subscription plan, the longer the time to perform a backup.
Restoring your backup involves a smooth and swift process, which comes with the choice of installing it on a live site or test environment. Furthermore, you perform daily backups on an hourly basis but with an additional monthly fee.
3. Google Cloud Platform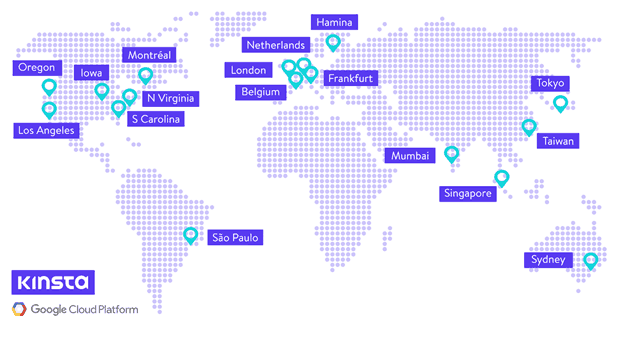 The Google Cloud platform is another essential feature of Kinsta Hosting. Most of the hosting providers out there don't have this feature, which is the significant thing that differentiates them from Kinsta. The Google Cloud Platform allows you to host and maintain your website with the help of Google.
4. Free Site Migration
Site migration is a major issue considering the cost that comes with it. But with Kinsta, you have a free migration of your WordPress site. After signing up, migration is possible through the Kinsta dashboard.
However, you have to fill the migration form before the Kinsta team schedules a migration. There is nothing like downtime during this migration period, and everything will go as planned when migrating using the Kinsta migration platform.
5. Staging Site
With Kinsta, you can create a duplicate of your live site in a test environment. Every change can be enforced through this process.
First, the developer will make changes on the staging site while the changes are approved immediately and transferred to the live state.
Kinsta Managed Hosting Technical Details
In this section, we will enlist some of the technical details of the Kinsta managed WordPress hosting. This includes:
PHP – At the touch of a button, you can switch between PHP 5.6, 7, 7.1, and 7.2.
Content Delivery Network (CDN) – on Kinsta entry-level plan, you'll get 50 GB of KeyCDN usage/month; and more on the bigger plans.
Website Caching – Kinsta has four types of caching (in-house WordPress caching plugin and server-level caching).
Database access – You'll use phpMyAdmin to access the WordPress site database via a browser.
Sever file manager – Online file manager is not enabled; you'll only get FTP access to the server space.
SFTP – You'll have secure FTP access to your web space to upload and edit files.
SSL – Install your own SSL certificate or get a free one from Let's Encrypt.
Email service – No Kinsta plans have an email service; G Suite is the only recommended option.
Staging sites – All their plans have access to a staging site with one-click deployment to the live website.
Data center locations – 17 server locations to choose from, including options in South America and Australia, and multiple locations in Europe, USA, and Asia.
Security measures – Kinsta puts lots of measures to keep your website secure, including DDoS scanning, GeoIP blocking, and tactically stopping malicious code entering the network.
Plugin restrictions – Kinsta has a list of banned plugins, including some security, caching, and optimization WordPress plugins that can affect your website performance.
WordPress website management – You can update plugins via the "My Kinsta account dashboard," but you can't update plugin or WordPress core software automatically.
Post-hack cleanup services – If your website that's hosted by Kinsta is hacked, they'll fix it for free
WordPress website migration – Not available on their entry-level Starter plan, except you pay $100 for the migration service add-on. But available for free on their Pro plans and above.
Support channels – You'll get a 24/7 ticketing system and live chat channel, but no telephone support.
Visitor analytics – You can easily view data on your blog traffic via the "My Kinsta."
Uptime checks – Your website status is checked every 5-minutes to let the support team respond to any detected downtime.
Boost your site's speed by up to 200% when you go with Kinsta
Try Kinsta Web Hosting For A Faster Website Today
Kinsta Account Management Dashboard
Kinsta has its own customized dashboard that enables you to manage your account. The portal is easy to navigate and enable you to perform various tasks such as managing backups, updating any plugins installed on your site, and creating new WordPress websites.
The dashboard allows you to view resource usage statistics to see the consumption of your allocated plan. That's not all; you can also see your website visitor analytics on the same dashboard.
Installing WordPress on Kinsta
After signing up with Kinsta, you have to log into the custom control panel. From there you can create your WordPress Website. It involves a straightforward process, and within a few clicks, your WordPress installation is set up.
However, if you are hosting multiple sites through Kinsta one account, you can manage your sites through the Kinsta dashboard. From the image above, you can see the "add site" button on the upper right-hand side. With that, you can add the number of sites you want.
Logging into your Kinsta account, from the dashboard, you can see other necessary actions to perform on the left-hand side. You can contact the support staff through its live 24/7 chat service. However, Kinsta doesn't provide telephone support, but you can leverage its ticket or messenger option to contact the help desk and get instant assistance.
Founded in 2013, Kinsta is a managed WordPress hosting solution that takes care of everything related to website management. With top-notch services and cutting-edge technology, Kinsta takes their support seriously.
With Kinsta's hosting solution, hosting and scaling a website no longer needs to be difficult – no wonder Kinsta has become a hosting provider for many WordPress users. Users who are looking beyond low price, marketing campaigns, and secure host rely on Kinsta for hosting their site.
Though it has a low entry level plan of $30 per month, that doesn't mean that Kinsta isn't competitive in the market. Using Kinsta as your host means they take care of hosting your site in an environment that is well optimized as well as taking care of your WordPress website management.
Furthermore, Kinsta has experienced support staff to provide technical support for its users. These staffs specialize at solving problems that users may face. The platform offers a managed WordPress hosting, which means they are responsible for handling your administrative tasks like speed, security, WordPress updates, website uptime, daily backups, and installing WordPress.
This is different from using a shared plan that comes with its limitation.
For a more understanding, the table below shows the key differences between managed and shared web hosting solutions.
Managed Hosting

Shared Hosting

 

Automatic website updates

Updates are performed manually

Daily or weekly backups

A third-party plugin is required to perform backup

Inbuilt speed optimization through CDN network and caching

Speed optimization possible through third-party plugins

Inbuilt security mechanism optimized for WordPress

Security is added through third-party plugins. General security mechanism on the server

Server settings are optimized for WordPress software only

Works on various platform website and platforms

Inbuilt database optimization

No additional database optimization available
When Does One Need A Managed WordPress Hosting?
You may require a managed WordPress hosting if:
Your website is experiencing a spike in traffic
Your website is growing rapidly
You are an individual, blogger, or business without much technical knowledge and want a hassle-free process of using WordPress
You want quick support to any issue you may face
You are looking for growth
You don't want to go offline even for a second
Kinsta Hosting Pricing
One thing that is a major catch when shopping for a quality managed WordPress hosting for any site owner is the price. Kinsta offers a different hosting plan for a various set of webmasters. They typically have four different plans – Starter, Pro, Business, and Enterprise plans.
Below is a summary of Kinsta hosting plans and pricing:
Starter Plan – The starter plan goes for $30 per month for a single WordPress install, 20,000 website visits, and 3 GB disk space.
Pro Plan: This plan goes for $60 per month for 2 WordPress installs, 40,000 websites visits, and 6 GB disk space.
Business Plans: Kinsta Business plan starts from $100 to $400 per month for 3 WordPress installs, 100,000 website visits, and 10 GB disk space.
Enterprise Plans: This plan starts from $600 per month for 60 WordPress installs, 1,000,000 website visits, and 80 GB disk space.
When you pay annually for any of the above plans, you are given two months bonus, which applies to any of its plans and comes with a free Let's Encrypt SSL certificate. Additionally, these plans have a 30-day money-back guarantee.
Overall, I think that Kinsta offers incredible value for the price. It's the host that the guys over at Authority Hacker use for all their sites and Kinsta does an amazing job at uptime and giving you a fast website.
Boost your site's speed by up to 200% when you go with Kinsta
Try Kinsta Web Hosting For A Faster, More Secure Website
What is included in all Kinsta plans?
Choosing Your Data Center – The Kinsta platform enables you to choose from 20 Google Cloud Platform regional data centers for each website. These data centers include Belgium, Frankfurt, Hamina, Iowa, Hong Kong, London, Los Angeles, Montreal, Mumbai, Netherlands, Northern Virginia, Oregon, Sao Paulo, Singapore, South Carolina, Sydney, Taiwan, and Tokyo.
Expert Support – The Kinsta WordPress developers provide help to any issues encountered during the process of using the platform
Highly Secure Network – there is active and passive security protocols, uptime checks, daily backups, firewalls and much more for all plans. Who said hosting is unsafe?
Staging Areas – All plans have a staging area for development, testing, tweaking, or tuning of your website with a single click.
Powerful Administration – The custom Kinsta admin is loaded with great features, which is very easy to use.
Free Premium Migration – Kinsta will help you move from any other hosting company. This is a cool feature to keep your website running, prevent you from losing visitors, and to make a smooth transition. They include free account migration with all of their hosting plans.
Multiple Data Centers – One thing I love about Kinsta is that they function as a baby CDN. They make your website faster all across the world by helping you to serve your site wherever your visitors may be. And they're adding data centers all the time; a couple of years ago they just had 18. Now it's 20. Soon it will be more.
Kinsta Hosting Performance
One reason many people choose premium managed WordPress hosting is because of its fast loading time. However, with various web hosting companies offering WordPress optimized services, choosing a managed WordPress hosting doesn't mean that the speed of your site will be impressive. 
But no matter the case, Kinsta delivers a high level of performance when the various test is conducted.
Why You Should Consider Kinsta Web Hosting Solution
Apart from the fact that brands such as Intuit, Ubisoft, GE, Asos, FreshBooks, and TripAdvisor host their websites on Kinsta, there are lots of other robust features of Kinsta WordPress Hosting that I'm sure you'll find impressive.
1. Kinsta completely manages your WordPress site for you
Kinsta is simply amazing. It gives you access to an entirely dedicated dashboard for every task you have to complete on your WordPress account. You also need not to border yourself about switching the dashboards of various hosting providers.
Furthermore, you get an optimized hosting environment that tremendously improves your website's performance. Constant monitoring and patches for security updates also guarantee the security of your website. This is a bigger plus for companies that store customers' sensitive data.
And finally, Kinsta provides top-notch support. Whenever you get stuck; you're sure you have experts to instantly help out.
2. Kinsta provides a well-managed cache for WordPress sites
Caching minimizes the total work required for generating a page view. Cache decreases server load and makes WordPress much faster. That is why it's always advisable to use as much caching as possible.
Excitingly, Kinsta manages caching at all levels via 4 different types of caching:
Object Cache
Bytecode Cache
CDN Cache
Page Cache
If your website is hosted on Kinsta, you don't need to worry about using any of the complicated cache plugins out there because Kinsta already has caching implemented and ready to use on your site.
3. Kinsta is developed to perform with speed
Yes, you heard that right.
Apart from the fact that Kinsta is built for security (more on that below) and ease, it can also be super-fast for the users. This is because the web hosting solution uses elements such as MariaDB, Nginx, PHP 7, and LXD containers to improve the speed of work.
All these elements are insanely fast because they make use of secondary memory and can withstand higher loads of website traffic. They also make the Kinsta platform more mobile friendly, a platform that boasts of limited browsing features. You are totally mistaken if you think Kinsta isn't environmentally friendly enough.
Additionally, MariaDB, Nginx, PHP 7, and LXD containers also help in energy conservation because they can take care of the load with same server resources. Now talking about Nginx specifically, it has an incredibly simple installation and configuration.
Nginx equally offers the best way to serve static files such as png, jpeg, pdf, .zip, mp4, HTML, AVI, etc. All the popular websites out there including Instagram, Yahoo Inc!, YouTube, Pinterest, and others use Nginx as it helps them achieve the maximum website speed; not to mention that these are all visually intensive sites.
Finally, Nginx equally helps to boost the websites ranking on Google.
4. Kinsta has a high-security network
Another wonderful thing I love about Kinsta web hosting solution is their highly secure system, which means your site is monitored 24/7 and is secured via robust firewalls. Strict software restrictions, regular malware scans, and firewalls help to ensure that your website remains very secure.
Additionally, Kinsta scans your site every 60-seconds to ensure that all the security features are in place and there are no cyber-attacks.
5. Kinsta is also created for developers
Yes, that's correct.
Kinsta is an impressive option for hardcore developers. Whether they have to scale an existing website or design a test server or build a complete website for a client – developers will undoubtedly have a good time experimenting with Kinsta hosting.
Aside from that, Kinsta also provides a staging area which is a big plus!
With the staging area, you can easily build a playground of themes, plugins, features, code modifications, and many more so that once you're fully satisfied, you can apply the changes to the site with a single click.
But you'll be required to access SSH to enable WP-CLI to be put into use to carry out updates and other functions. Kinsta equally offers secure tunneling into databases that are stored in the cloud. Finally, websites hosted on Kinsta can run on PHP5.6, PHP7, and you can easily switch between them.
Frequently Asked Questions about Kinsta Hosting [FAQs]
1. What type of hosting plans does Kinsta offer? — Kinsta offers managed WordPress hosting, with Enterprise and WooCommerce support.
2. Does Kinsta offer free SSL certificate? — Yes, Kinsta offers free SSL certificate to its users. Every Kinsta customer gets free Let's Encrypt SSL certificates for their websites. All their hosting plans come with one-click free SSL integration
3. What payment options do they support? — Kinsta accepts all the major credit cards; MasterCard, Visa, American Express, Discover. But they do not accept PayPal
4. Does Kinsta provide a website builder? — No, they do not offer an inbuilt website builder. But since it's hosting for WordPress, any website builder, such as Thrive Architect, Divi builder, Elementor, Visual Composer, or Beaver Builder will work with your site.
5. Do they host an email account? — No, they do not host email accounts for its users.
6. What kind of control panel is available? — Kinsta uses their custom MyKinsta dashboard, which has all the features of Plesk, cPanel, etc.
7. Do they guarantee uptime and refund for downtime? — Kinsta backs their 99.9% uptime guarantee by a service level agreement (SLA), which guarantees you a 5% credit from your subscription in case they do not provide a 24/7 service availability. Apart from that, they equally have a 30-minutes first-time response in case of emergency.
8. Does Kinsta provide free domain name registrations? — No, you'll have to secure a domain name with a 3rd-party such as Namecheap and connect it to your Kinsta account after you've signed up for one of their hosting packages.
9. What kind of customer support does Kinsta offer? — Kinsta offers you 24/7 access to live chat support via your MyKinsta dashboard. You can equally submit a support ticket, which is usually answered within 5-minutes of submission by a team of WordPress experts designed to give you fantastic Kinsta hosting and WordPress support.
10. What's their money-back guarantee? — Kinsta's money back guarantee is simple…
…Cancel your hosting account during the first 30-days of service, and they'll issue a full refund of your money.
11. What makes Kinsta different from other managed WordPress hosts? — Kinsta has lots of advantage over most web hosting providers out there, and I've already mentioned all these features above.
Kinsta Hosting Review Conclusion – Should You Choose Kinsta?
We have kept to our words by providing the best-detailed review on Kinsta Hosting. From the review, you can see that the managed WordPress hosting of Kinsta comes with an impressive uptime and capacity to handle multiple visitors.
Furthermore, Kinsta gives you a whole lot of compelling features like security monitoring, automatic backups, and a flexible staging environment. Aside from that, their support staff is also impressive with a responsive reply through its 24/7 live chat service. Dealing with issues faced by customers isn't something Kinsta takes for granted.
Leaving the support system, the pricing offered by Kinsta is very good compared to what you get in return.
If you are at the crossroad of choosing a fast and reliable host for your WordPress website, Kinsta is an option to consider, and if you're just launching your website for the first time, Kinsta is highly recommended because of its unique service for first-timers.
Try Kinsta Web Hosting Today
Have you used Kinsta before? We do love to hear your experience.
Want to learn step-by-step how I built my Niche Site Empire up to a full-time income?
Yes! I Love to Learn
Learn How I Built My Niche Site Empire to a Full-time Income
How to Pick the Right Keywords at the START, and avoid the losers
How to Scale and Outsource 90% of the Work, Allowing Your Empire to GROW Without You
How to Build a Site That Gets REAL TRAFFIC FROM GOOGLE (every. single. day.)
Subscribe to the Niche Pursuits Newsletter delivered with value 3X per week