The 8 Most Trusted WordPress Management Services To Handle Your Needs
When you buy something through one of the links on our site, we may earn an affiliate commission.
If you're like most business owners, you don't have time to manage your website on a day-to-day basis. That's why it's important to find WordPress management services that can take care of all of the nitty-gritty details for you.
In this blog post, we will discuss the eight most trusted WordPress management services and how they manage all aspects of your website. We will also provide information on how much these services cost and all the features you'll get from each one.
Iridium Hosting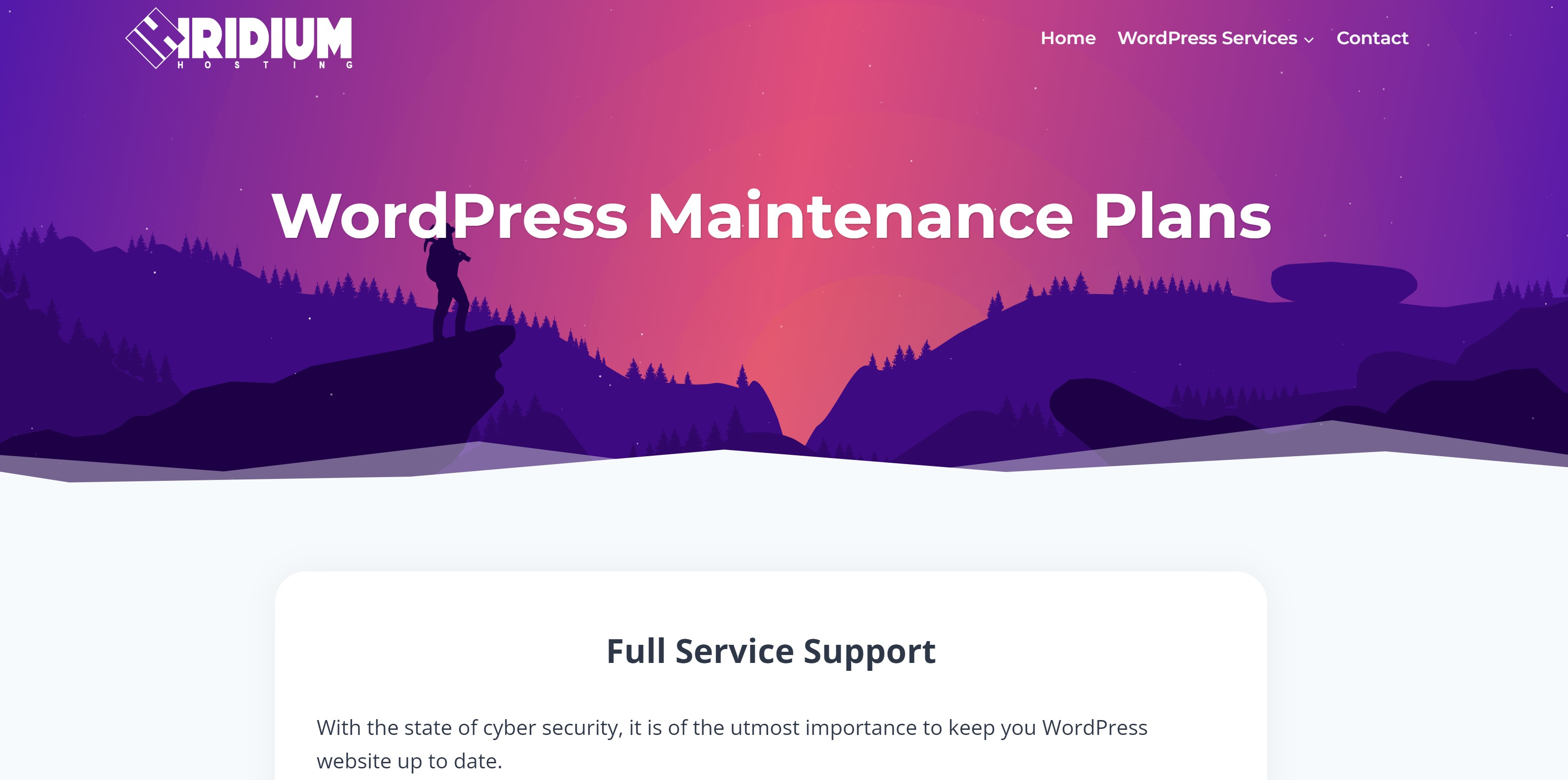 The latest and greatest on this list, Iridium Hosting offers the same core features you'll find in most other WordPress maintenance services.
Automatic theme and plugin updates keep your site current with the latest features and security fixes. Backups are stored off-site so if something happens to your hosting account, you can always restore your site. Uptime monitoring alerts you when your site goes down so you're kept up-to-date on solutions.
If your site happens to get hacked while on the upgraded plans, the company restores backups for free.
The upgraded version of WP Maintenance Plans includes expanded offerings for website customization using custom code or new plugins.
Hosting options are also available but not part of the monthly WordPress maintenance plans. The hosting options are a shared environment that offers split software licensing costs with other people who use the platform.
That won't sacrifice security though. WP Maintenance Plans uses Cloud Linux to segregate websites so that your site is protected even though it's on the same server as other WordPress sites.
If you only need one issue fixed, the company offers one-off solutions so you're not stuck in a monthly subscription. Services for simple fixes cost $120 per hour, and the team will consult with you on the estimated time to complete the project.
Anything from hack fixes and website speed optimization to domain email setup and WordPress fixes is included.
The pricing plans are relatively inexpensive compared to other platforms but Iridium Hosting still has an impressive number of features. Entrepreneurs running small- to medium-sized businesses should consider these WordPress Maintenance Plans for their website needs (and we also made a full guide to website maintenance cost that can help).
Features
Domain email configuration
Google Analytics integration with your website
Fix display issues
Update fonts sitewide
Remove old database tables
Optimize images
Reconfigure caching plugin
Implement ads manager code
Work on Google Search Console indexing issues
Content strategy consultation
Email opt-in form installation
Pricing: Maintain for $50/mo, Manage for $100/mo, One-Off Job for $120/hr
---
WP Buffs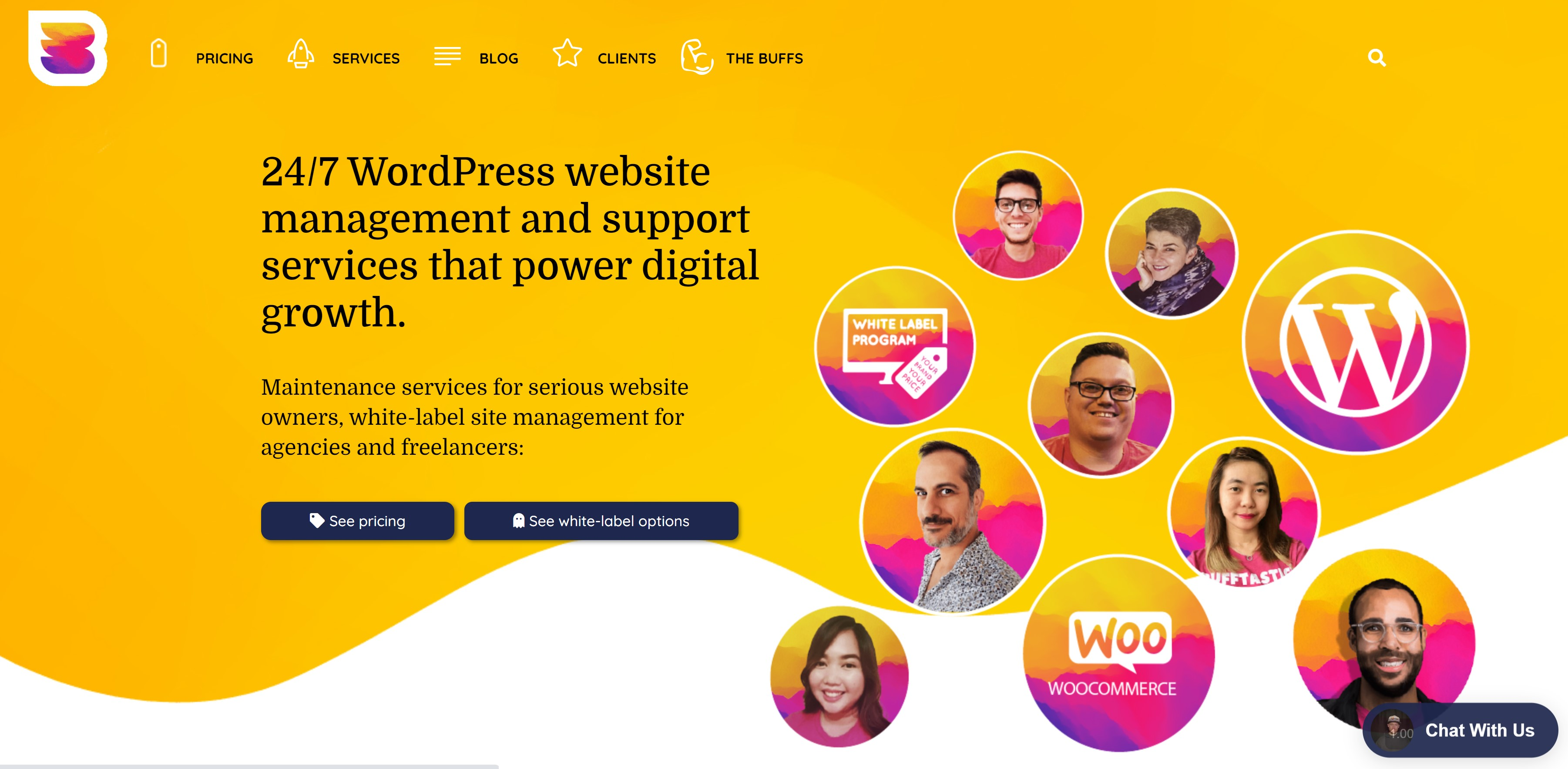 Few would argue over the advantage WP Buffs has over other WordPress maintenance services. Not only does WP Buffs manage individual websites that need maintenance, but they also white-label their services for other agencies.
Agencies have access to email support 24/7 for white-label customers and a ticket dashboard. The dashboard lets you see the inner workings of the support team and where you are in the queue. You and your customers would also receive weekly reports on changes to the site along with any other activity.
The company monitors all sites 24/7 and performs regular WordPress maintenance checkups to ensure that your website is always running smoothly. They also offer a wide range of features including:
Under the highest-paid plan, WP Buffs is able to work with complex online stores that require more attention. Entrepreneurs can even use WP Buffs to host client websites through the platform.
Even if you don't end up choosing WP Buffs, it's worth checking out the website for helpful advice and education. Virtual summits, podcasts, and an entire series of free eBooks are available to consume at any time.
WP Buffs has multiple price plans to fit any budget. Anyone with a WordPress site or any agency working on WordPress sites will enjoy the features that come with WP Buffs.
Features
Speed optimization
Security management
Unlimited 24/7 website edits
Plugin, theme, and core file updates
24/7 support
WordPress core file and database backups
Mobile and tablet responsiveness
Malware removal
Membership site support
Multilingual site support
Advanced integrations
Price:
Maintain for $79/mo
Protect for $159/mo
Perform for $219/mo
Custom for $347/mo
Custom Pro for $447/mo
---
FixRunner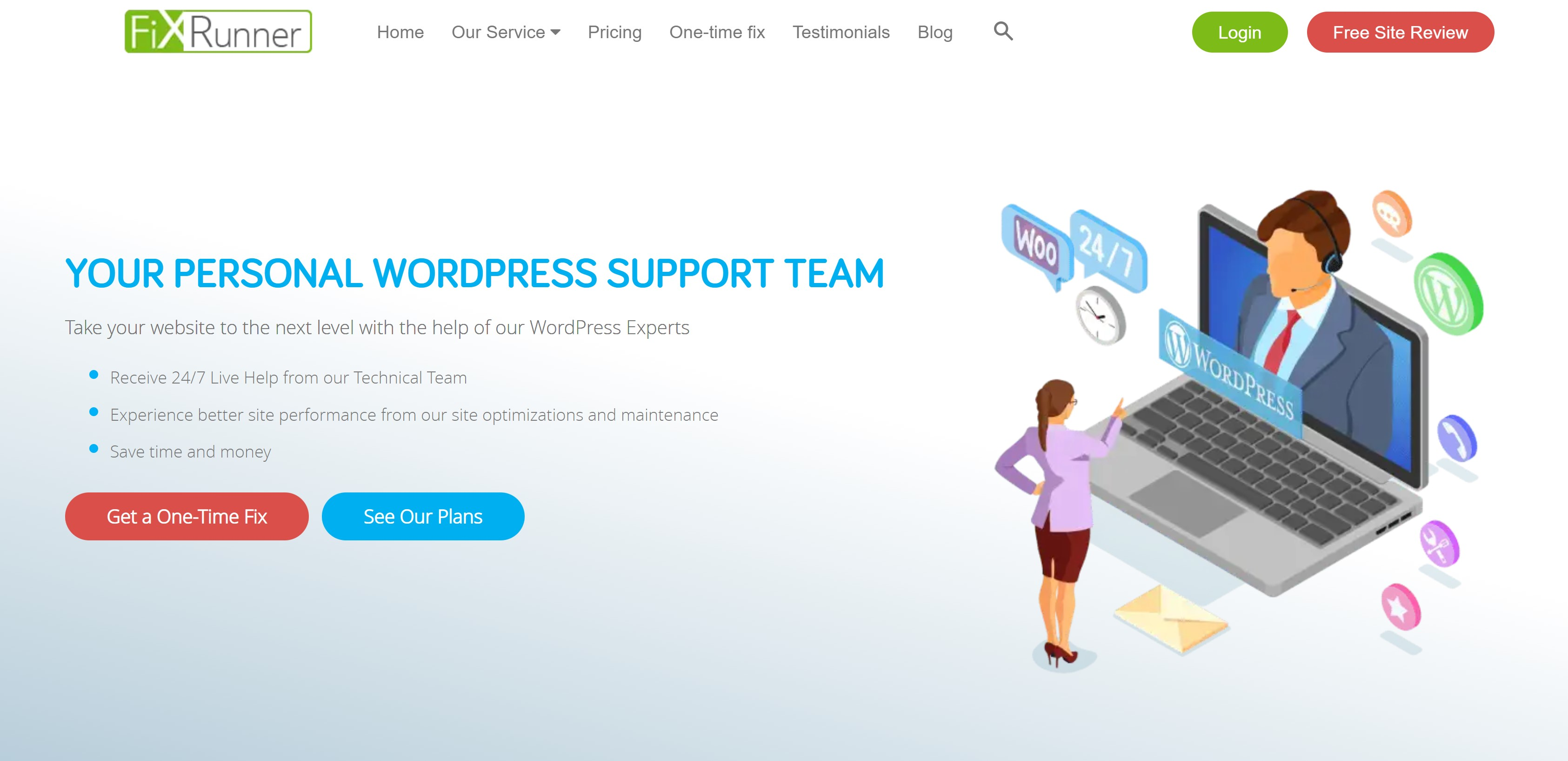 Individuals that don't have large budgets for expensive WordPress maintenance services but still want a reliable team can find help in FixRunner. The company is one of the most popular and trusted services for small- to medium-sized businesses.
For the price, you'll get a wide range of features to help manage your WordPress site. To make the offer even more appealing, FixRunner has excellent customer service that can attend to your site in just a few minutes.
There is 24/7 live WordPress maintenance and support from the technical team to help solve your issues at any time. They'll be able to perform cloud backups, uptime monitoring, security, and more. There's also a ticketing system, live chat, phone, or help through the dashboard.
Instead of being locked into a monthly payment for a few WordPress needs, users can opt for a one-time payment instead.
This will lower prices and help you get the exact problem you need fixed without putting up a large investment.
The company even offers a unique free trial that includes one free simple request. No fee is charged and satisfied customers can upgrade to 30 minutes of unlimited fixes for $49.
To make the deal even sweeter, FixRunner offers a free website review for any business. All you have to do is fill out a short form with an email, your name, and your website URL to submit a request. The FixRunner team receives your submission and contacts you for a full one-on-one consultation.
Features
Personal WordPress maintenance and support
Secure updates
Speed optimization
Cloud backups
Uptime monitoring
24/7 security
Pricing: Premium for $69/mo, Rocket for $99/mo, Advance for $179/mo
Although the pricing plans for FixRunner align more with individuals, agencies are still able to white-label the services for their own companies. There's a 30-day satisfaction guarantee for all WordPress users if they aren't happy with the work provided.
---
GoWP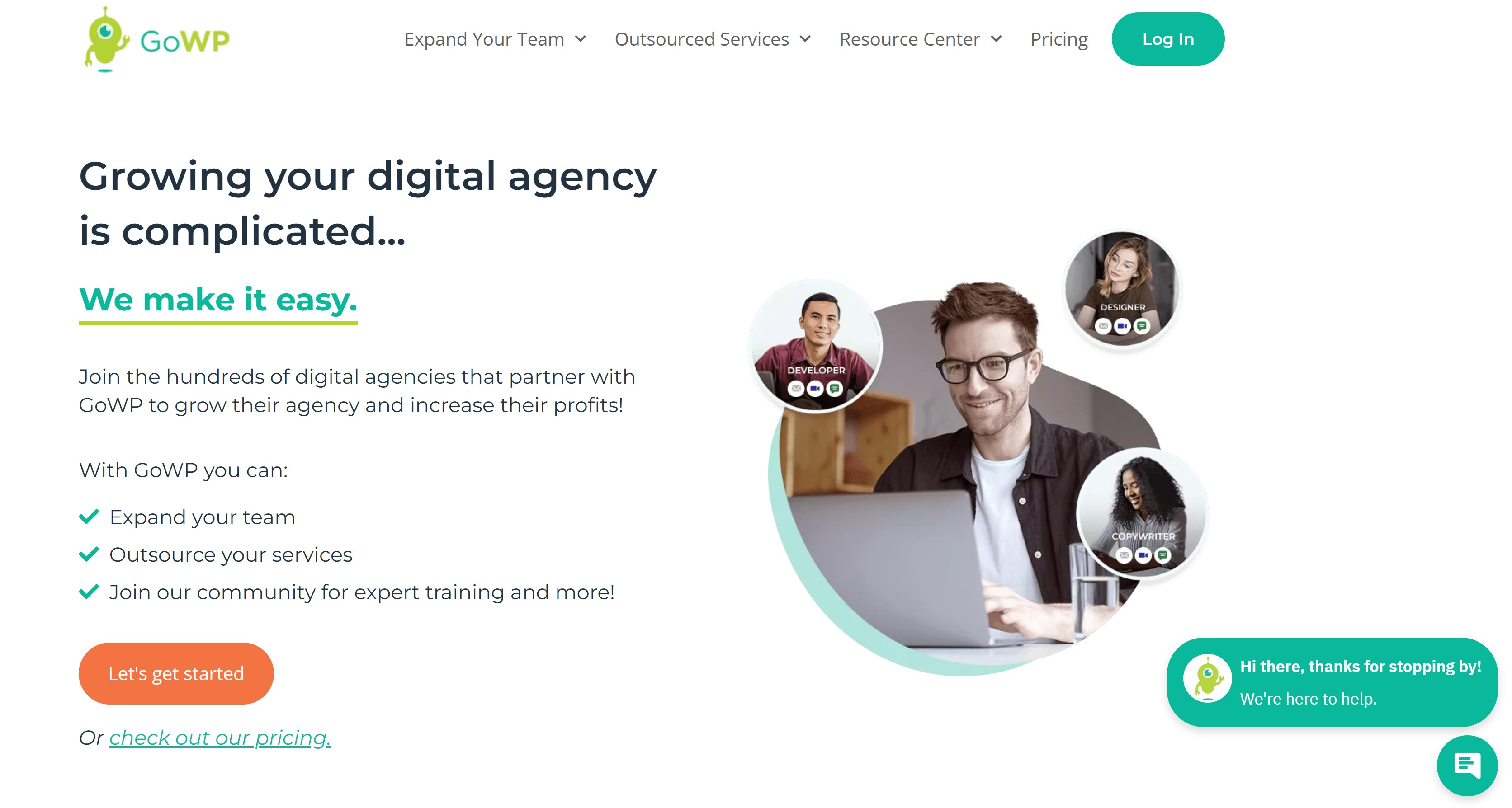 GoWP markets its WordPress maintenance services to freelancers and agencies who work with multiple WordPress clients. Individuals may still pay for GoWP, but they won't get as much out of the service as agencies who work with multiple sites.
The Visual Validator software helps maintain the functionality of your site whenever you install new plugins. The program automatically takes pictures of different pages within your site and compares them to previously taken pictures. If there are any discrepancies, the software sends you an immediate alert.
You'll get access to reliable developers, training for agency growth, and a number of services that can help you scale. There's even a resource center that includes helpful content like:
Webinars
Case studies
Blogs
Podcasts
Large community
On the top tier plan, there are unlimited page builds and at least two hours of daily dev time dedicated to your account. Entrepreneurs looking to scale their business should use GoWP as their go-to WordPress management service.
Features
Landing page builds
WordPress maintenance
24/7 content edits
Blogging service
Case studies
Dedicated developer
Dedicated copywriter
Pricing:
Dedicated Developer for $1299/mo
Dedicated VA for $1099/mo
Dedicated Copywriter for $1299/mo
Dedicated Designer for $1299/mo,
Maintenance for $39/mo per site
Content Edits for $99/mo per site
Landing Page Builds for $1299/mo
---
Maintainn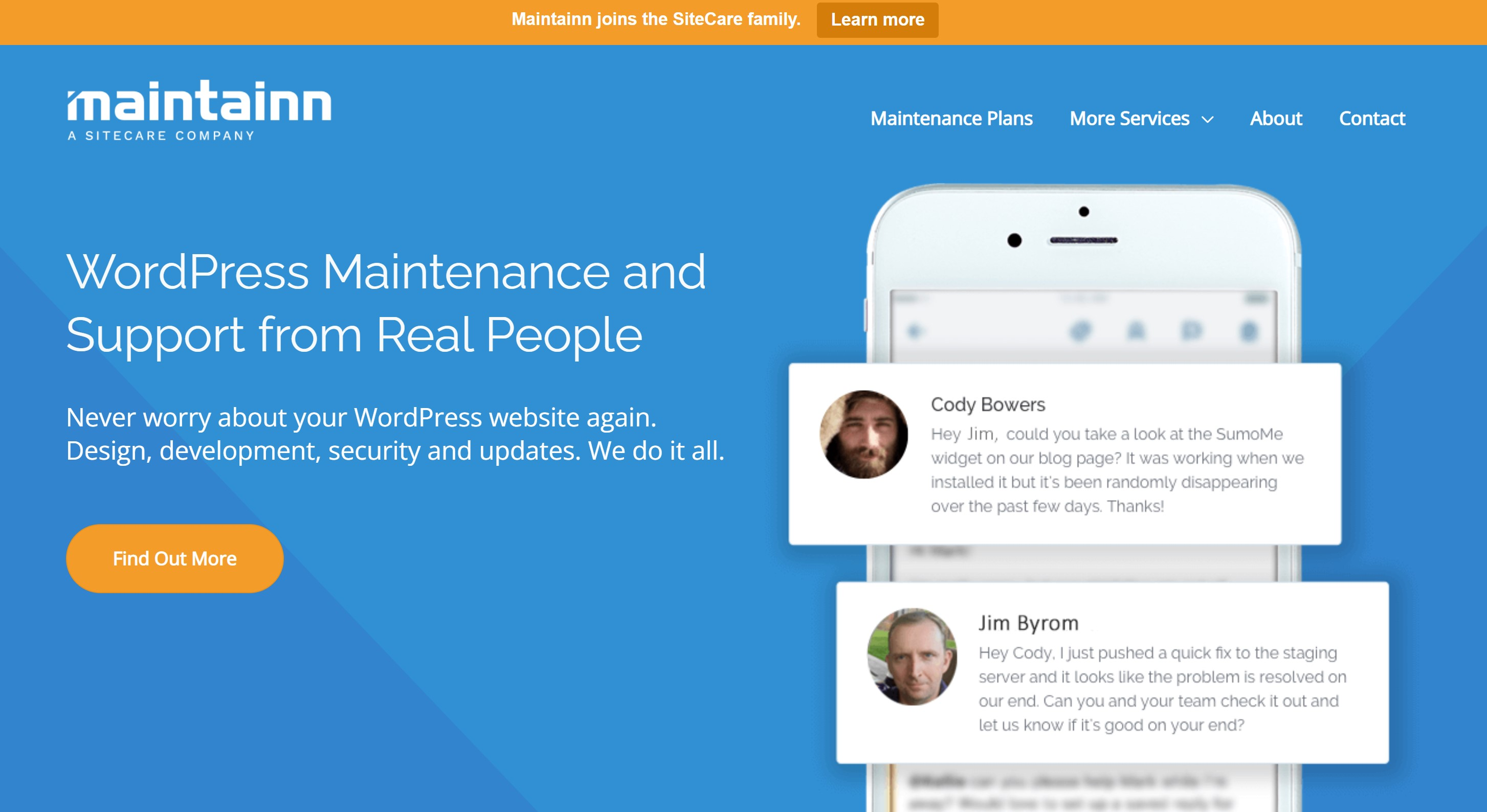 You'll get proper and regular WordPress maintenance for your sites with Maintainn. The team will take care of all the necessary updates, repairs, and security features to keep your website running without issues.
Maintainn offers multiple pricing plans depending on what your business needs. The core of their offering includes security management, offsite backups, and routine updates to the WordPress core, themes, and plugins.
The company isn't just a WordPress service though. They work with a number of hosting companies, themes, and plugins that all integrate with WordPress. Just like WP SiteCare, Maintainn offers digital marketing services on top of its WordPress maintenance services.
Maintainn was acquired by SiteCare in July of 2022, so digital marketing services like SEO, search engine marketing, and email marketing are all included.
Instead of having to use multiple platforms to organize work on your WordPress site, Maintainn makes it easy by creating a dashboard plugin. This simplifies the process to check your WordPress core files, turn on available tools, and gain access to WordPress maintenance and support with helpful resources.
Features
Weekly updates
24/7 security monitoring
Hacked website repair
Offsite backups
Uptime monitoring
Performance checks
Ecommerce support
Project manager
Staging updates
Pricing: Standard for $49/mo, Professional for $149/mo, Enterprise for $249/mo
---
WP Site Care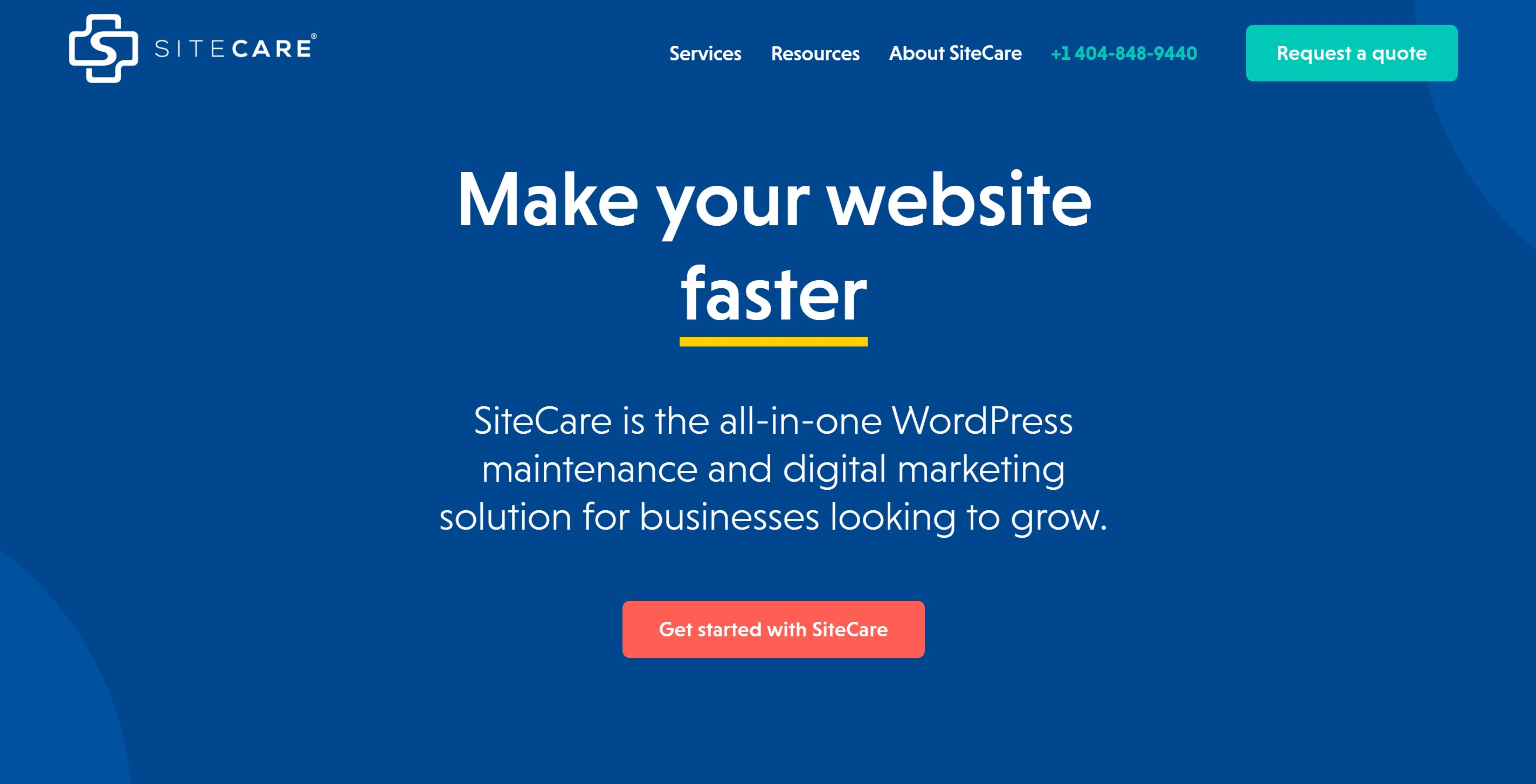 WP Site Care combines complete WordPress management services with professional digital marketing services. The company is filled with knowledgeable digital marketers with extensive experience using WordPress.
They also have professionals who can handle the technical aspects of your WordPress website performance and manage security protocols to protect your site from online threats. Higher plans include customized CSS and plugin configurations to get the exact type of website your business needs.
You'll get crucial WordPress maintenance features like:
Site optimization
Regulatory updates
Added security
World-class customer support
Entrepreneurs looking to grow their businesses quickly can take advantage of the company's marketing services. You'll be able to use on-page SEO, improve your WordPress website ranking, and create targeted content to attract new customers. Full services include PPC advertising, email marketing, and email lead generation.
Part of the digital marketing service also includes access to a digital marketing professional whom you can meet with on a weekly or monthly basis to strategize and plan marketing goals. The consultations will identify marketing needs and you'll check in regularly to review past performances.
When meeting with your digital marketing expert, here is some information on a one-page marketing plan that may help.
Features
WordPress core update
Plugin updates
Audit logging
Rapid resolution assistance
Hack remediation
Site restore
Email and phone support
Version control
Quality assurance testing
Page speed testing
Mobile testing
Account manager
Site coach
Pricing:
Standard for $990/year
Plus for $2,990/year
Pro for $4990/year
Premier for $12,000/year
---
WP Butler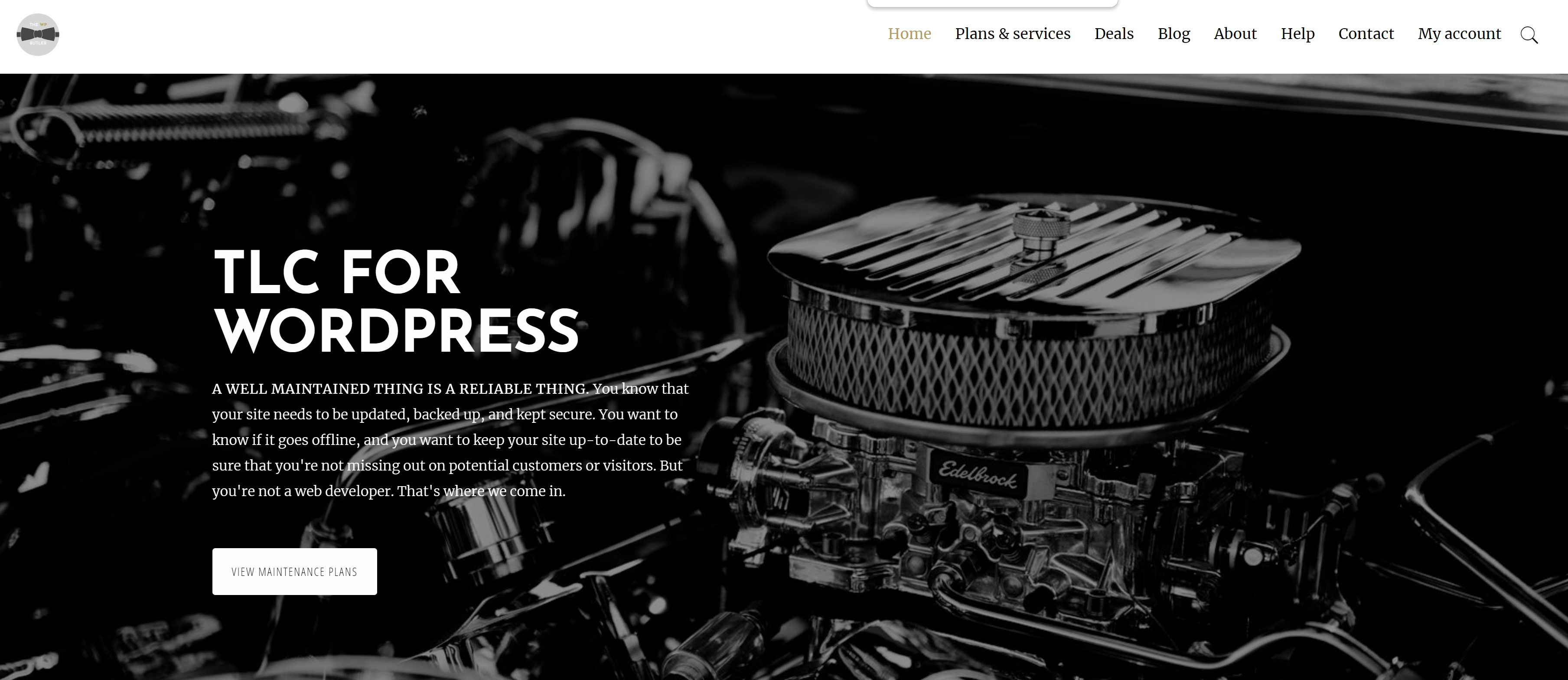 Where WP Butler stands out from the competition is the ability to customize your own plan to fit the needs of your business. You can start with the basics like WordPress website updates, security monitoring, and performance optimization. From here, you can choose the advanced features you need.
The team behind WP Butler has years of strategic experience working with WordPress websites. You can tell them what you'd like to get done, and they'll conduct a consultation with you about the solutions.
This is a full-service agency that will take care of your site for you so you can concentrate on growing your business. They have five different payment plans that fit any budget. Site owners can even opt for a one-off service if they are having specific issues with their site.
The company is owned by the WordPress development agency, The UK Edge, which was started in 2010. After seeing owners fumble through site maintenance and updates, founder Dave Clements realized there was a need for WordPress management services for entrepreneurs and started WP Butler.
Features
Full daily backups
Daily database backups
Weekly updates
Malware scans
Uptime monitoring
Site reviews
Dedicated development time
Version control
Website reviews
Pricing:
Basics for $39/mo
Solopreneur for $69/mo
Small Business for $129/mo
Company for $299/mo
Enterprise for $599/mo
---
Valet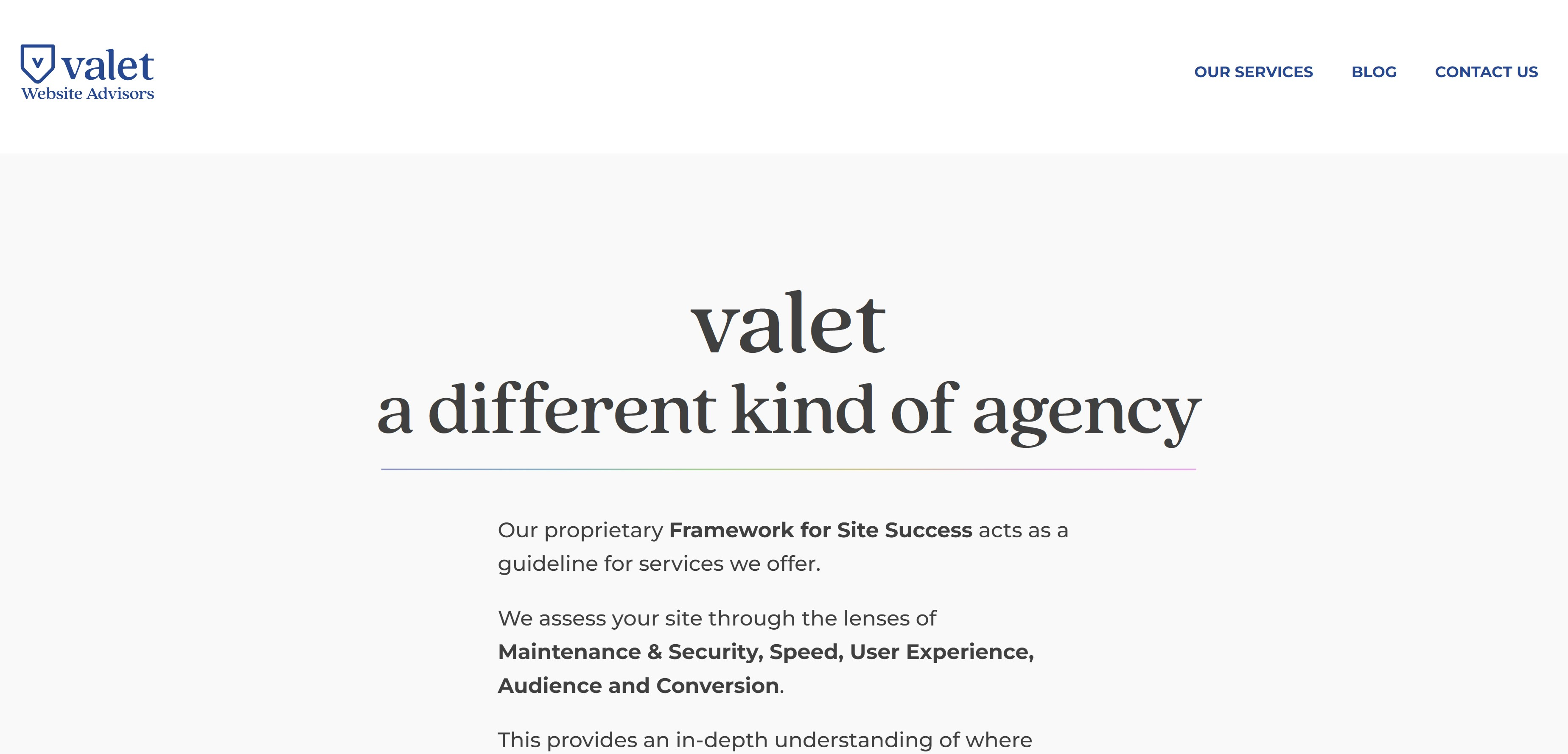 Valet has developed their own proprietary Framework for Site Success they follow to ensure your WordPress website is always up-to-date and running smoothly. The checklist includes:
Regular updates
Monitoring security threats
Performance tests
The company has a full team of developers and designers that can help with almost any task. They can even build entire sites and handle all the design. Their experience with digital marketing helps them implement conversion-focused elements as they build your site.
Once the team takes a look at your site, they are able to make a diagnosis and come up with a plan for you. Unfortunately, you aren't able to see any pricing plans on their website. They make it intentionally vague so you have to give them a call for more information.
To get in contact and get a quote estimate, you'll need to fill out the contact form on their website. Give the best information you can on what you're looking for and a site representative will get back to you in a day or two.
Features
Full maintenance
Security support
Dedicated designers
Dedicated developers
Regular health checkups
SEO
Strategy
Site migration
Pricing: Contact sales team for more information
---
What to Look for in A Website Management Service
Most of the support services above offer beneficial features that help develop, maintain, and market your site, but you'll find more value in the support you receive from your service.
Here are the key qualities to look for when you're ready to make a purchase and have it narrowed down to two or three choices.
Security
The number one priority for a company that counts on a website as a substantial revenue source is security. A WordPress website that's constantly under attack or taken down by malware can ruin an entire company.
According to Cybersecurity Ventures, in 2021, one business will be affected by ransomware every 11 seconds.
The cost of managing cyber threats once they have already happened could be catastrophic for your business. Large amounts of resources will need to go into damage control which could have been used for more significant areas of business.
You'll want a WordPress management service that performs routine checks for malware and has a plan in place to be proactive against attacks rather than simply reacting to them.
The best support services will have around-the-clock security monitoring to make sure your site is always up and running. They should also offer DDoS protection which can block malicious traffic from ever reaching your site.
Maintenance Support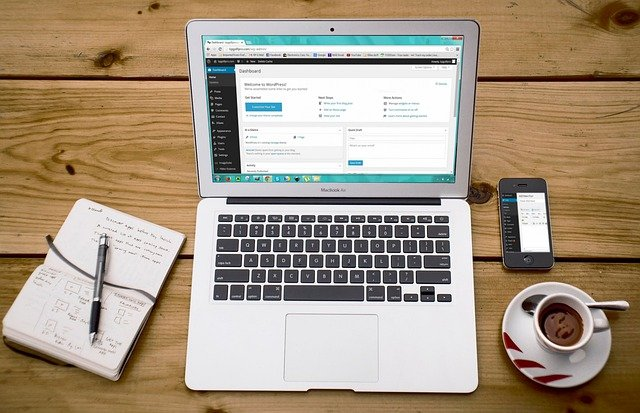 The entire reason you're going with a website service is to manage the daily tasks that keep your site running. You shouldn't have to worry about updates, backups, and performance issues. That's what you're paying for.
The best support services will make sure all the content on your site is backed up every day. In the event that something does happen to your site, you'll have a recent backup you can rely on.
Updates are also crucial to keep your site secure and running properly. As WordPress releases new updates, your management service will install them for you as soon as possible. They will also test the updates on a staging site before pushing them live to make sure there aren't any compatibility issues.
Here are some foundational maintenance features you'll want to see from each management service:
Security optimization
Basic repair services
Weekly or monthly health checks
Backup management and restoration
Themes and plugins management
You'll often find one or two features in one platform that you won't see in another. To get the most return on your investment, make a list of business goals first. Then, compare the goals to the features of the WordPress management service to determine a perfect fit.
Backups Management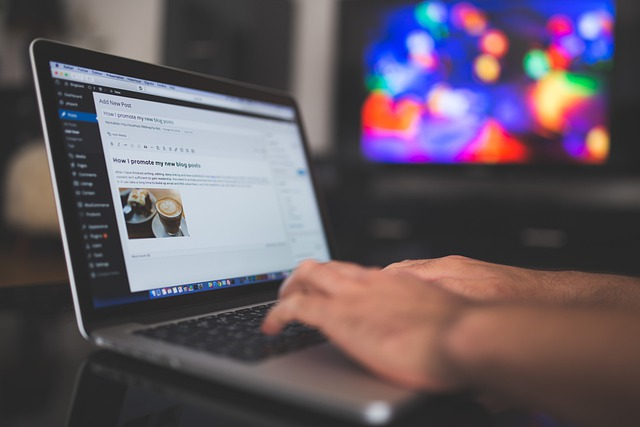 No website is completely safe from data loss. Even with the best security measures in place, there's always a possibility that something could happen to your site. That's why having routine backups is essential.
The most reliable WordPress management services will take care of backing up your site every day and storing the backup off-site. That way, if something ever happens to your primary website, you can restore the backup and be up and running again in no time.
Managing backups and navigating backend computer systems are complicated. Knowledge of coding and how networks communicate with each other is essential to keeping a website running properly.
Gaining the skills to become proficient in WordPress management and managing your own backups is unrealistic for any busy entrepreneur.
Ask yourself some of the following questions to determine if the backup management services are right for your company:
How quick is the restore process?
How many backups are created?
Where are the backups being stored?
Are there different server locations?
Can you select the files you want to be restored?
By choosing a WordPress management service, you have a reliable company handling the complicated process of backups. Any unintended changes to your website can be fixed when your management service restores a previous backup.
Customer Support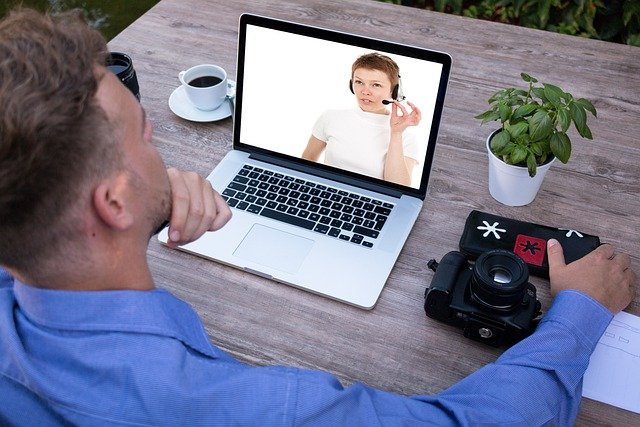 Working with a WordPress management service means that you'll have weekly and possibly daily communication. You'll need to count on their customer support to be responsive and helpful.
Choose a service that is available 24/7 in case something happens to your website outside of normal business hours.
It's also important to have a management service that can provide customer support in multiple languages.
If you're running a global operation, you don't want language barriers to get in the way of quickly resolving an issue.
Most companies offer premium customer support for their higher-tiered plans. The more expensive plans offer more availability and more ways to contact the support team. Some options will even assign a dedicated account manager, designers, or developers to your account.
Customer reviews are the best way to scout a new WordPress management service. Look for customer reviews on popular review sites or the company website itself. You'll get insights into what other customers deem useful and what they feel doesn't bring value.
Having the Best WordPress Website Management Services
A management service handles the WordPress core functions of your site on a routine basis. These support services are important for your website to run smoothly, increase security, have frequent backups, and receive updates. The options above are trusted, experienced, and vetted so your company can confidently outsource website management and focus on growing the business.
Want to learn step-by-step how I built my Niche Site Empire up to a full-time income?
Yes! I Love to Learn
Learn How I Built My Niche Site Empire to a Full-time Income
How to Pick the Right Keywords at the START, and avoid the losers
How to Scale and Outsource 90% of the Work, Allowing Your Empire to GROW Without You
How to Build a Site That Gets REAL TRAFFIC FROM GOOGLE (every. single. day.)
Subscribe to the Niche Pursuits Newsletter delivered with value 3X per week