11 SEO Enterprise Tools & How To Choose The Best One For Your Business
When you buy something through one of the links on our site, we may earn an affiliate commission.
Search engine optimization (SEO) enterprise tools perform a host of functions. These tools can be invaluable in your marketing slack, from keyword research to site error detection.
But which among the platforms available in the market suits your organization's unique digital marketing needs?
Answering this question as part of a large organization is important. You need a platform that considers your company's size to help you launch and implement a well-coordinated SEO campaign.
So, if you're facing the same problem in your organization, this post is for you!
It lists the enterprise SEO tools that can help you create a well-developed SEO plan from the ground up, no matter how big your company is.
Semrush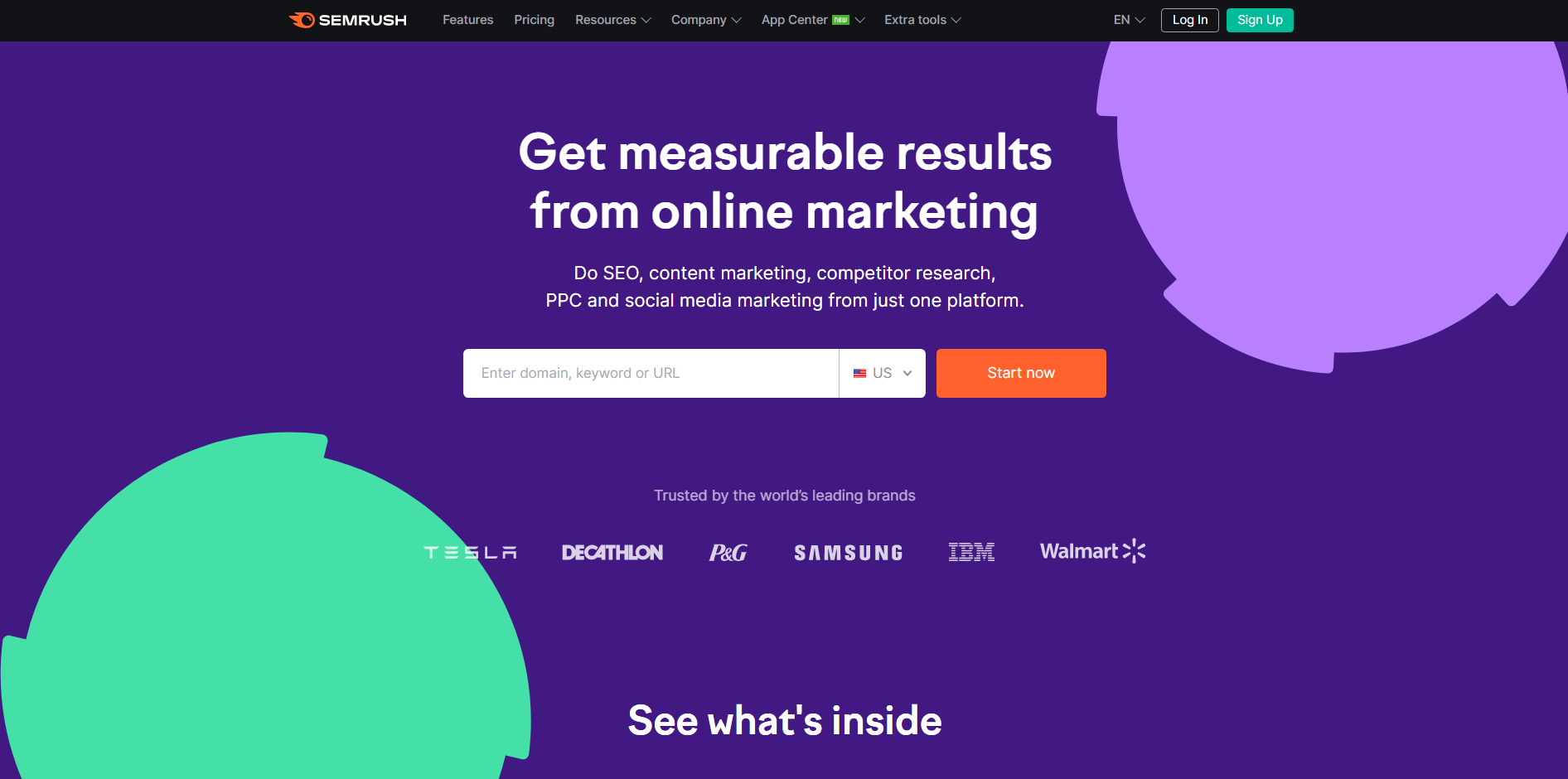 Semrush is one of the most recognizable names in the SEO industry, and it's easy to see why.
Its vast array of highly versatile enterprise SEO features will help solidify your digital marketing strategy. But don't take our word for it. PCMag ranked it as "excellent." And actual users on TrustRadius, have given it a cumulative score of 9 out of 10.
Features
With the Semrush enterprise SEO platform, you get immediate access to 55+ nifty tools that have been carefully designed to accomplish various tasks, such as:
Keyword research - It helps you find the best and most relevant keywords. Next, filter them according to search volume, difficulty, and others. You can also see which keywords your competitors are ranking for.
On-page SEO - Run a website audit to spot issues so you can fix them immediately. It also tells you how to improve the SEO score of your site pages to improve their rankings.
Competitor analysis - Find out how much organic traffic your competitors are getting. Also, monitor how the competition leverage paid search and social media to their advantage. Then use the gathered data to help you make better marketing decisions.
Content marketing - Brainstorm content topics and create optimized content for each. Then manage your content strategy by filling out your editorial calendar with these topics.
Local SEO - Automatically distribute your business data to reputable local online directories. And optimize your Google Maps listings for local search.
Pricing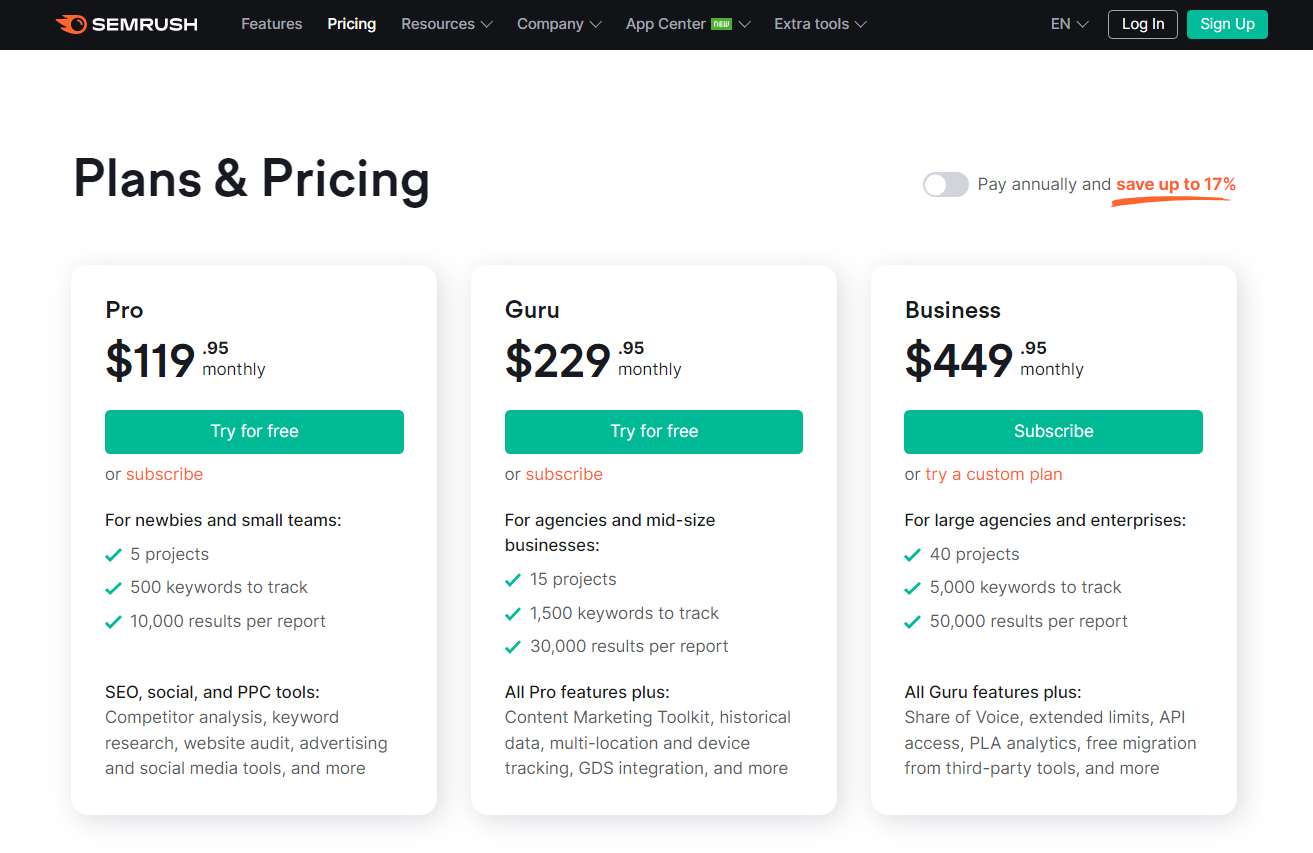 Subscription to Semrush starts at $119.95/month. The enterprise SEO Business plan, priced at $449.95/month, is available to large enterprises and agencies. It includes 40 projects, 50,000 results per report, and 50,000 keywords to track.
---
Frase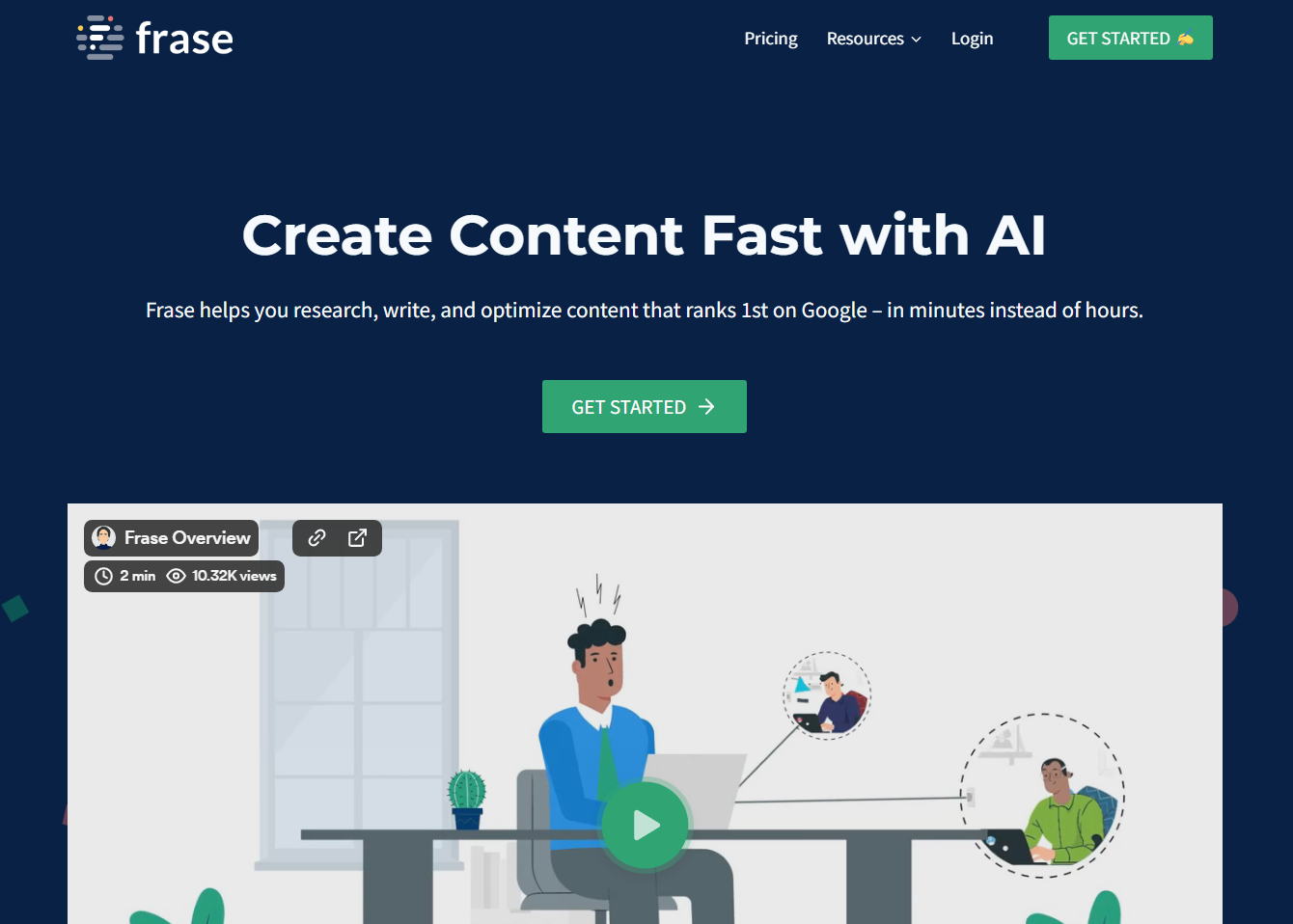 Frase is an AI-powered enterprise-grade SEO platform allowing content creators to create briefs and optimize content quickly and easily.
This enterprise SEO software also helps content teams create SEO-focused content in half the time. This is because its AI content features expedite the research, writing, and optimization process for you.
Features
Frase helps teams amplify the effectiveness of their enterprise SEO efforts with these features:
Question research - Frase removes the need to spend hours researching questions on Reddit, Quora, forums, search engines, and other resources. You type in a keyword, and Frase returns a list of questions within seconds.
AI-generated content briefs - Unwilling to spend copious amounts of time creating briefs? Don't know how to create a content brief? No problem! Frase can automatically create a content brief based on your search queries in seconds.
Templates - Frase offers various templates to help expedite the writing process. These include Content Brief, Best Post, Listicle, Alternatives, and more.
Answer engine - Frase Answers is a chatbot that helps deliver content to site visitors asking questions on your website. It crawls and analyzes all your site's content and shares them as answers to their questions.
Pricing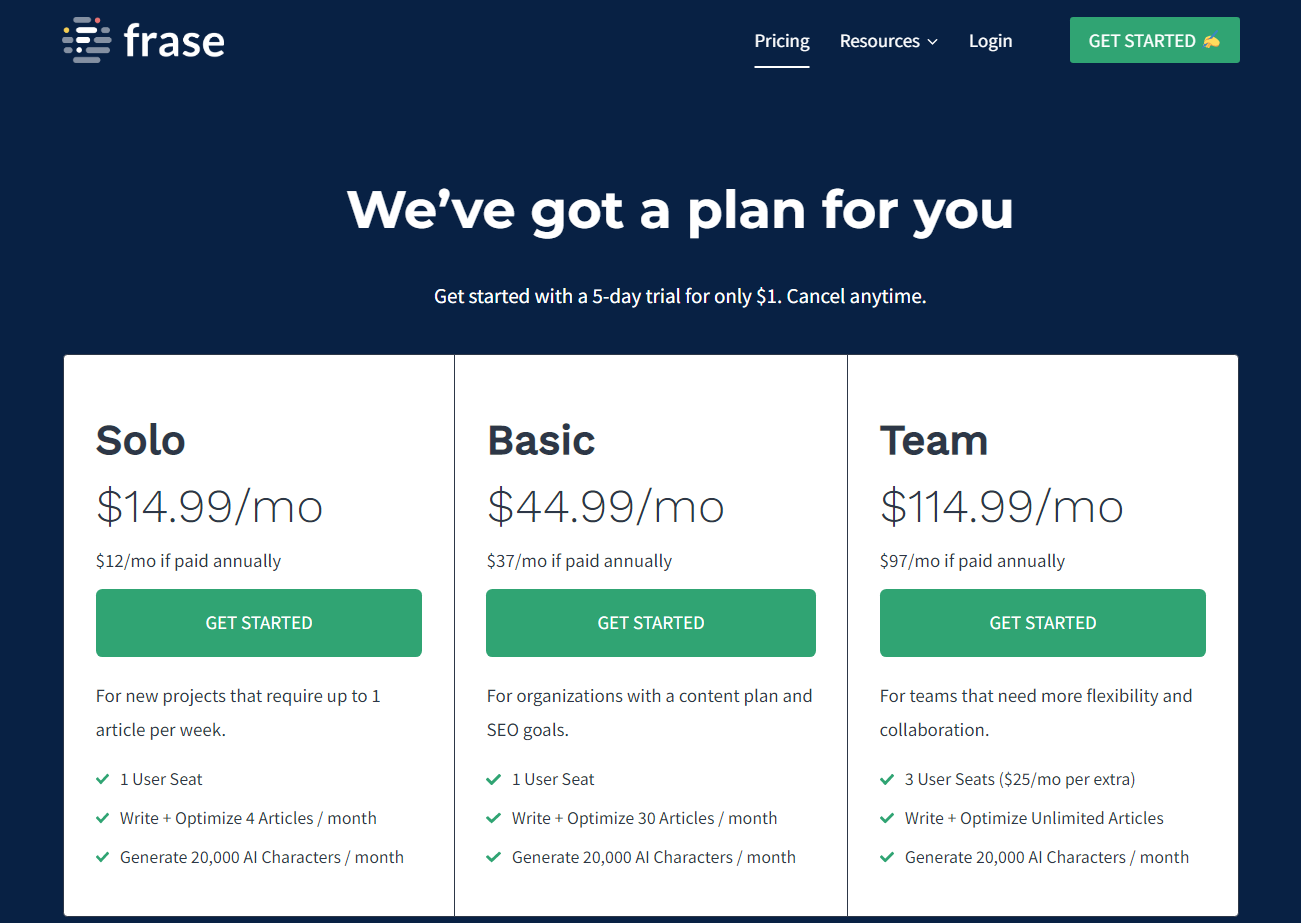 Frase has three pricing tiers. All three include an AI writing plan that can generate up to 20,000 characters per month:
Solo - $14.99/month, one user seat with the ability to write and optimize four articles.
Basic - $44.99.month, one user seat with the ability to write and optimize 30 articles.
Team - $114.99/month, three user seats with the ability to write and optimize unlimited articles. Each extra user seat is an additional $25/month.
You can also get the Pro add-on for $35/month to unlock more features, such as:
Keyword search volume
Search engine results page (SERP) data enrichment
Unlimited access to the Frase AI writer
---
MarketMuse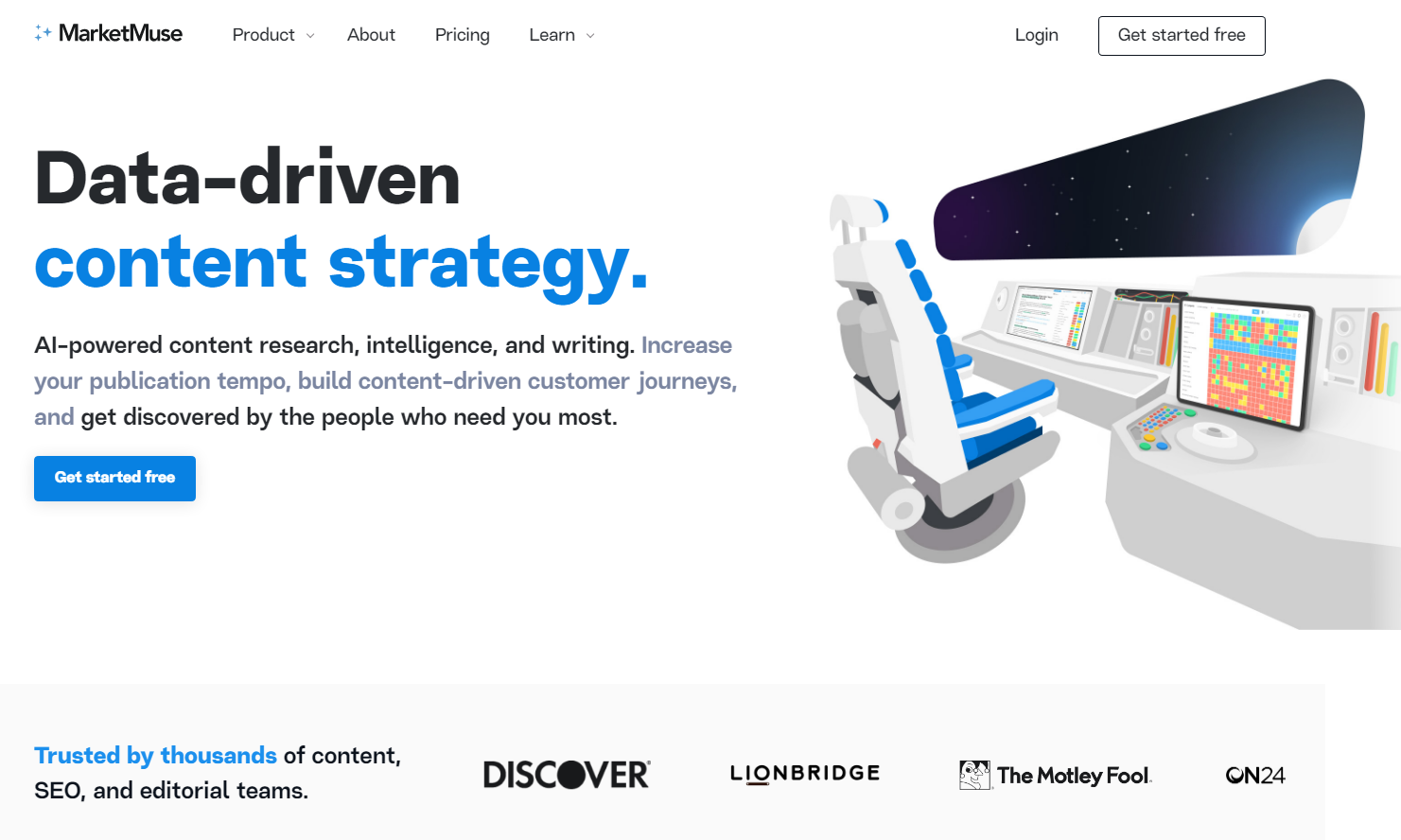 MarketMuse is an enterprise SEO platform that boosts website ranking in search engines through data-driven content optimized for your target audience. It uses patented artificial intelligence (AI) technology to accelerate content research and development.
Features
To help your SEO team create remarkable content, MarketMuse offers the following features:
Automated inventory collection and audit - You can automatically collect, organize, and analyze your pages for better accessibility.
Content metrics - MarketMuse offers AI-powered metrics such as Authority, Content Score, User Intent, and Personalized Difficulty. These help enterprise SEO and content teams identify and leverage the best content opportunities.
Content briefs - No more guessing which types of content get the most search traffic. With MarketMuse's content briefs, your team can confidently produce comprehensive content that addresses user pain points.
Optimization - With MarketMuse's AI-powered text editor, content creators get real-time feedback on content quality and how well they cover a topic. This way, you produce content that search spiders would want to index.
Pricing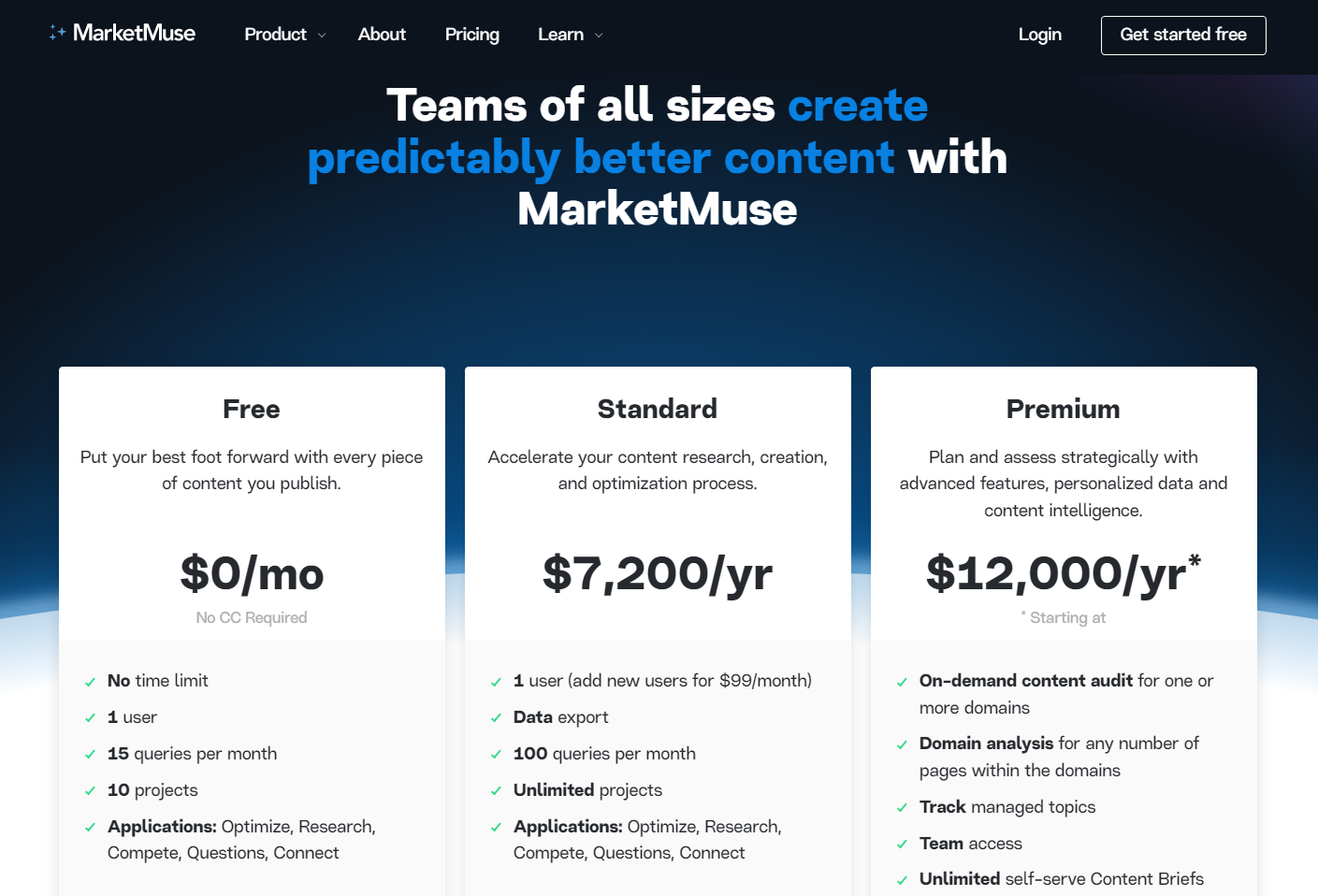 MarketMuse has three subscription tiers. And Optimize, Research, Compete, Questions, and Connect are available applications for all tiers.
Free - At $0/month, one user can execute 15 queries per month and work on 10 projects. A query happens whenever you enter a URL or focus topic into a MarketMuse application and press "Run."
Standard - Priced at $7,200/year ($600/month), this subscription plan allows one user to export data, perform 100 queries per month, and complete an unlimited number of projects. Each additional user costs $99/month.
Premium - This plan starts at $12,000/year ($1,000/month). It comes with on-demand content audit capabilities, managed topics tracking, domain analysis, unlimited queries, unlimited projects, a dedicated account manager, and workflow/platform training for teams.
---
Botify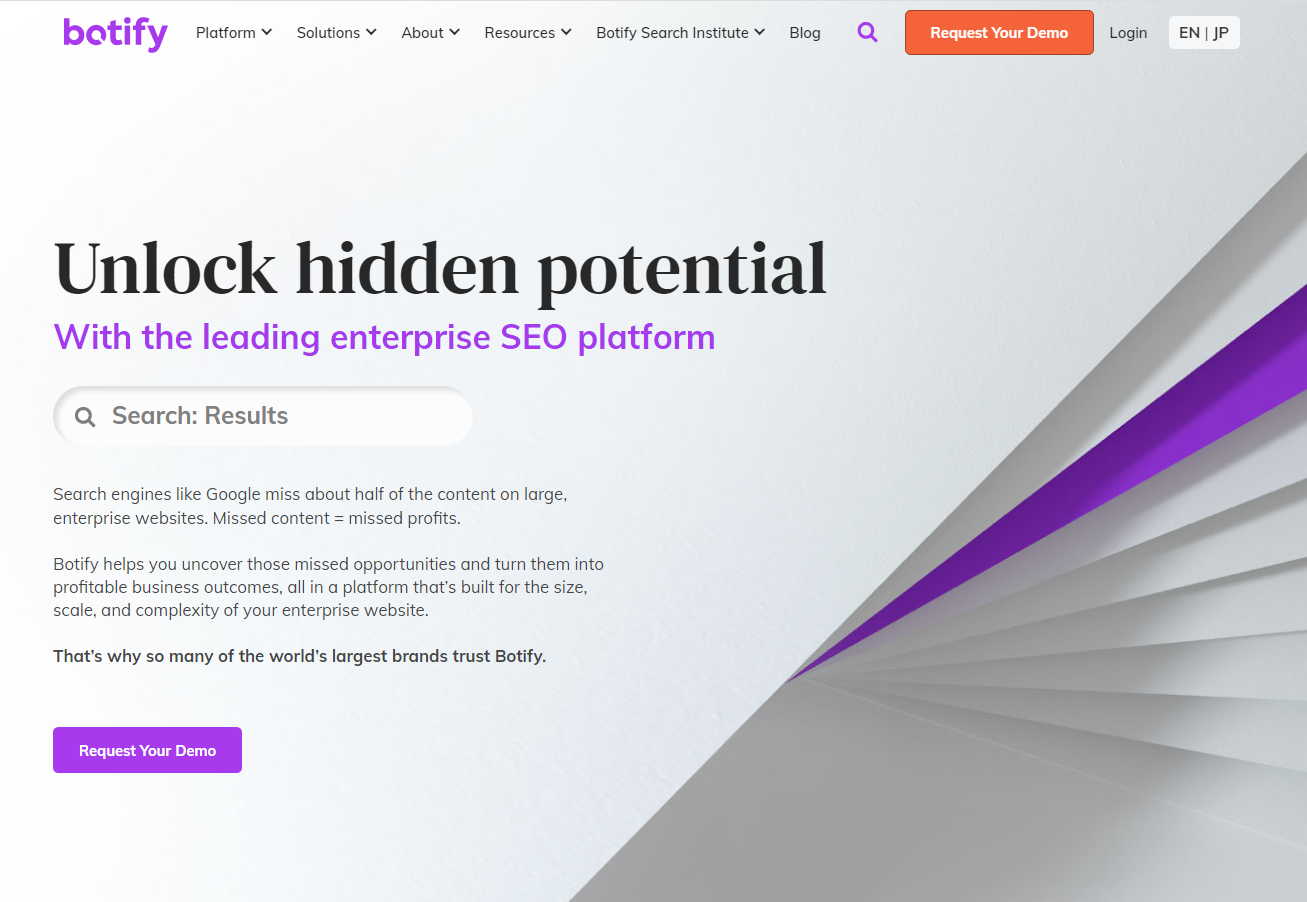 Botify is another enterprise SEO platform worth considering. It enables executives, content teams, and technical SEO professionals to prioritize the SEO tasks that yield the most impact. It can be leveraged for various use cases, including:
Keyword research
Keyword tracking
Site migrations
Mobile SEO
JavaScript SEO
Content analysis
Features
Botify offers essential enterprise SEO features that can maximize the potential of your online assets:
Botify Analytics - All the data you need about your websites from various search phases—crawl, render, index, rank, and convert—is available here. There's also an option to import log files for additional crawl insights. From here, you can analyze your site's bounce rate, conversions, and other SEO metrics.
Botify Intelligence - Powered by machine learning, the tool lets you identify technical SEO and content opportunities prioritized by impact. It also has an early warning system for catching SEO issues before they become real problems.
Botify Activation - Faster, autonomous implementation of SEO initiatives such as quick and easy submission of new and updated pages. This allows for faster content indexing.
Professional Services - Need help making the most of Botify to power your SEO strategy? You can tap its SEO professionals for various enterprise SEO services, such as site migration, understanding how JavaScript impacts your website, and more.
Pricing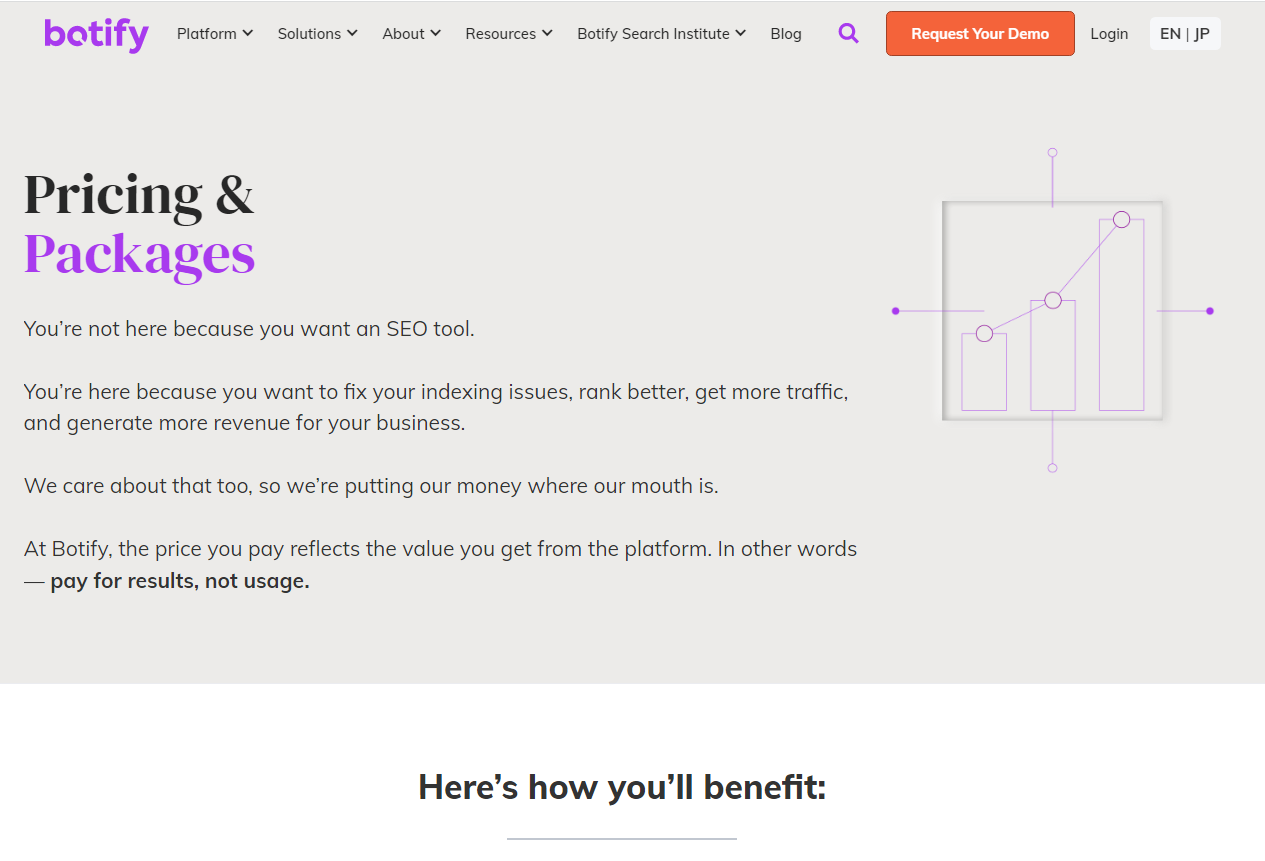 Botify offers three subscription plans:
Essential - For websites that want end-to-end SEO data plus prescriptive recommendations for better performance
Pro - For organizations that get the bulk of their revenue from organic search
Enterprise - For organizations with complex, large, or multiple websites
Botify doesn't list pricing on its website, as each package is unique to each customer's needs. Reach out to their sales team for a custom quote.
---
Conductor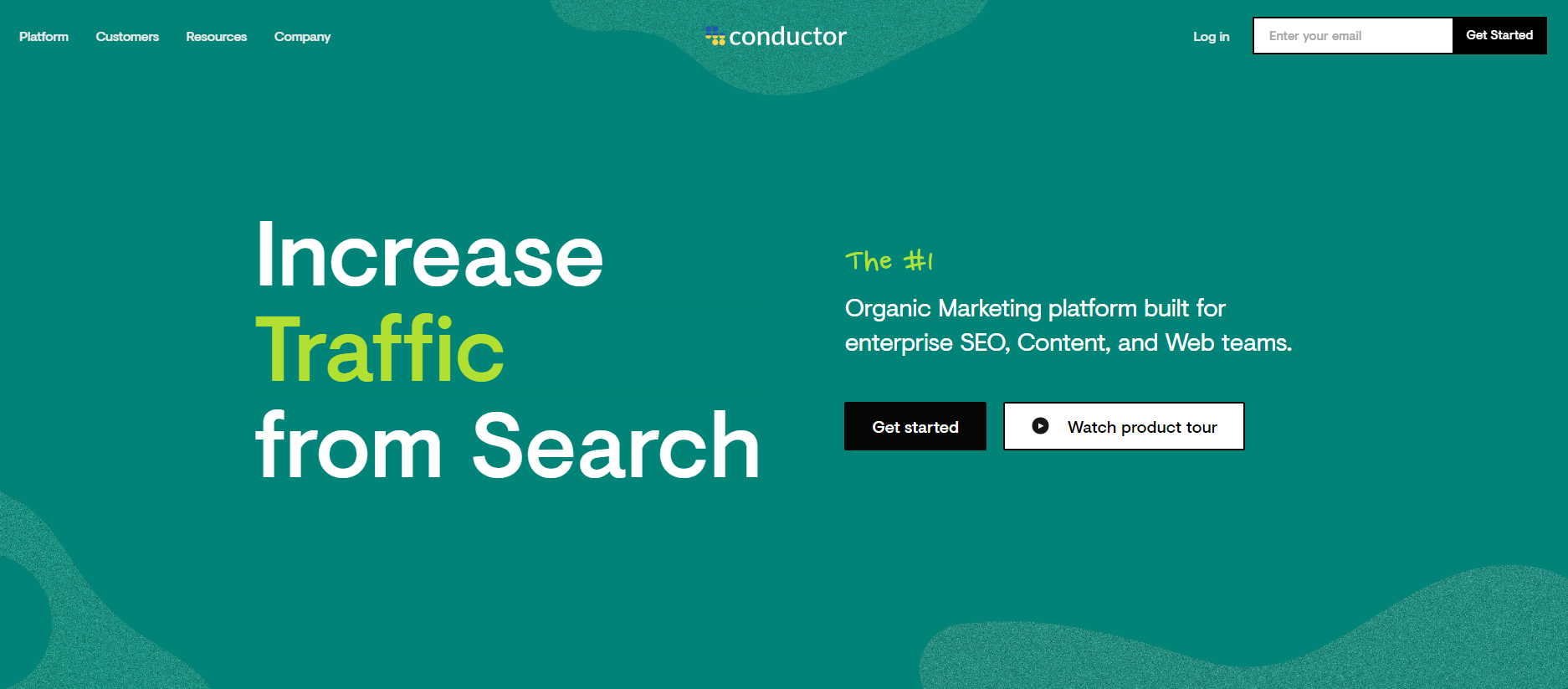 Built for enterprise SEO, web, and content teams, Conductor tracks search and content performance. It is a search engine optimization tool that integrates with a wide range of technology tools, including:
Analytics tools such as Google Analytics and Adobe Analytics.
Project management platforms such as Asana or ClickUp.
Consumer intelligence tools like Talkwalker.
Other SEO tools, such as Semrush.
And so many others!
Features
This enterprise SEO software offers powerful features such as:
Keyword explorer - Helps with research into keywords (organic and paid), topics, demographic insights, audience sentiment, competitive research, social insights, etc.
Content guidance - Provides AI-powered recommendations for creating content that resonates with your target audience.
Digital presence tracking - Monitors the visibility of your digital assets across channels. This includes search engines, social media, press coverage, owned content, and earned media.
Technical SEO - Assists with ensuring your website is technically sound and provides the best user experience possible. Choose between ContentKing or Lumar for real-time technical monitoring.
Chrome extension - Free SEO tool that delivers advanced SEO intelligence about any page. Insights include page fundamentals such as metadata, media, technical SEO, and many more.
Pricing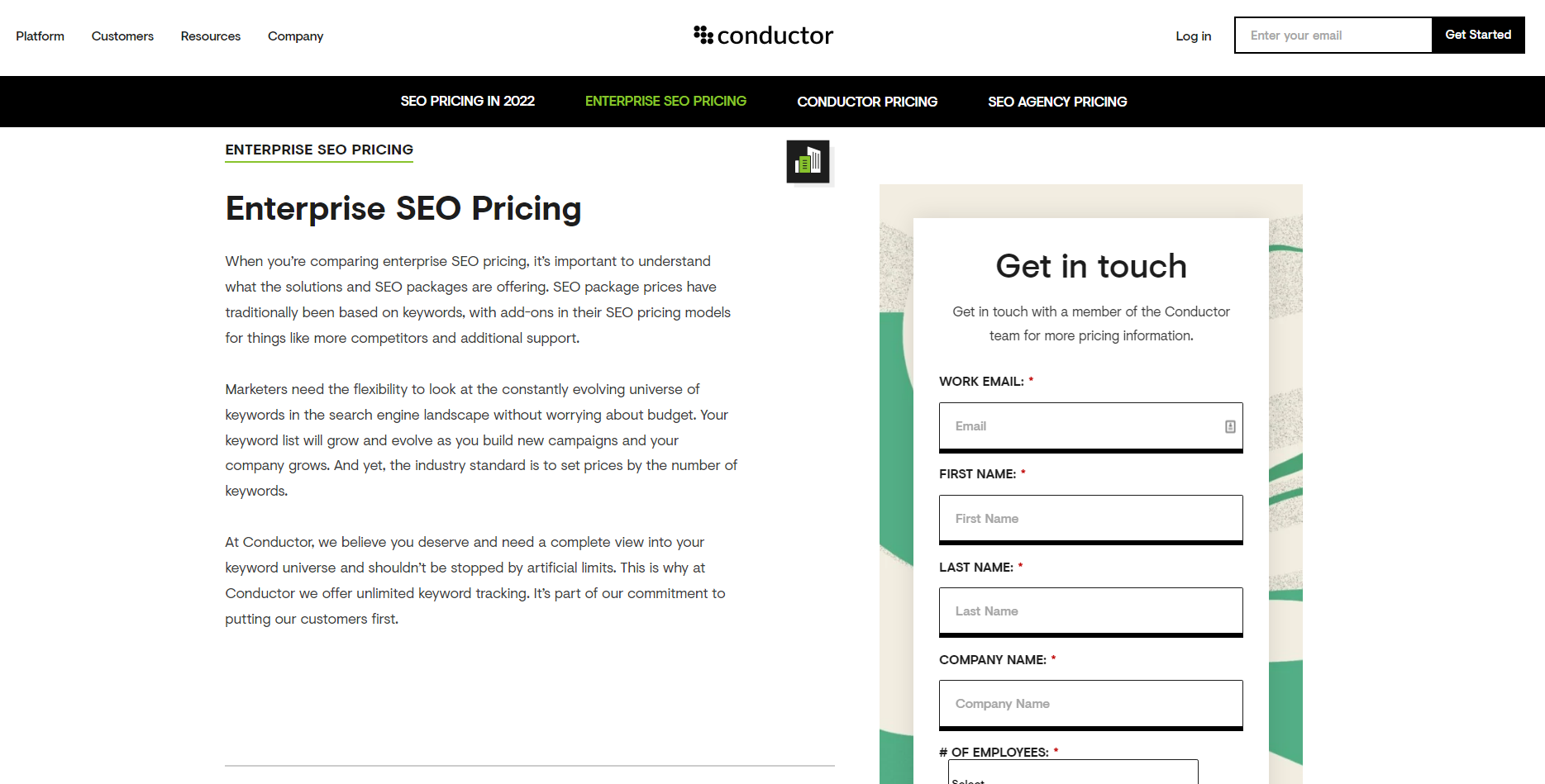 Conductor builds unique enterprise SEO subscription packages according to your needs and budget. Contact their sales team for a custom quote.
---
BrightEdge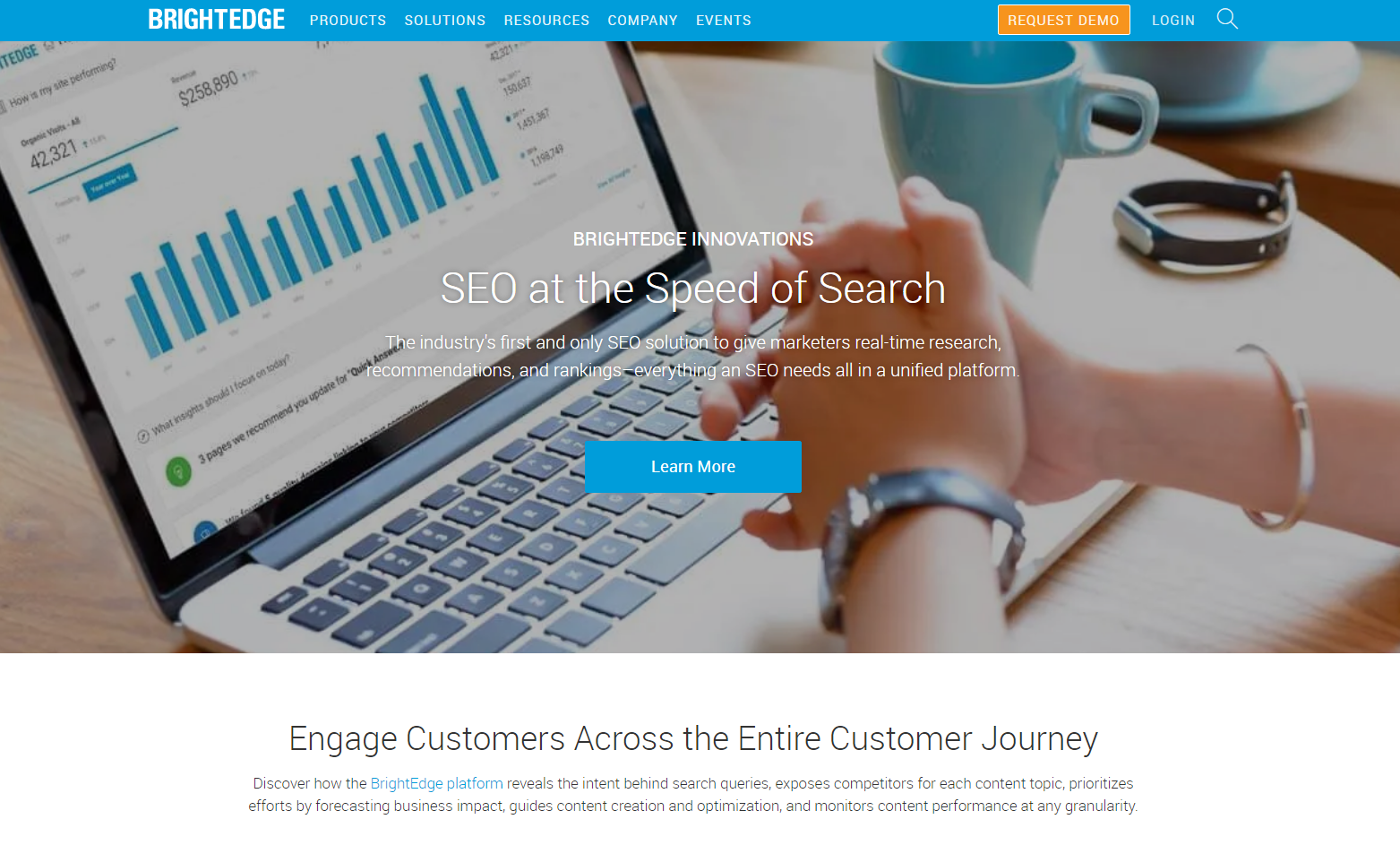 BrightEdge is a comprehensive enterprise SEO tool offering an impressive set of features from search, content, social, and local. It provides SEOs and digital marketers with the actionable insights necessary to boost website visibility and increase search traffic.
Features
This enterprise SEO software provides the tools your SEO team needs to more effectively and quickly optimize website content. Below are other things it can do:
Demand discovery - Create a list of target keywords that delivers the best results. You can then determine which search queries generate the most organic traffic to your site.
Content creation and optimization - Receive SEO suggestions on boosting content relevance and visibility. And you can monitor existing pages for potential errors and fix them before they become critical issues.
Content performance prediction - Identify which content type ranks for a search term before writing it. Then estimate the impact of your content initiative so you can better prioritize tasks and campaigns.
Results measurement - Generate website performance reports to help communicate to stakeholders for high-value keywords and best-performing content.
Pricing
Pricing information is not available on the BrightEdge website. Call their sales hotline to get a custom quote.
---
Linkdex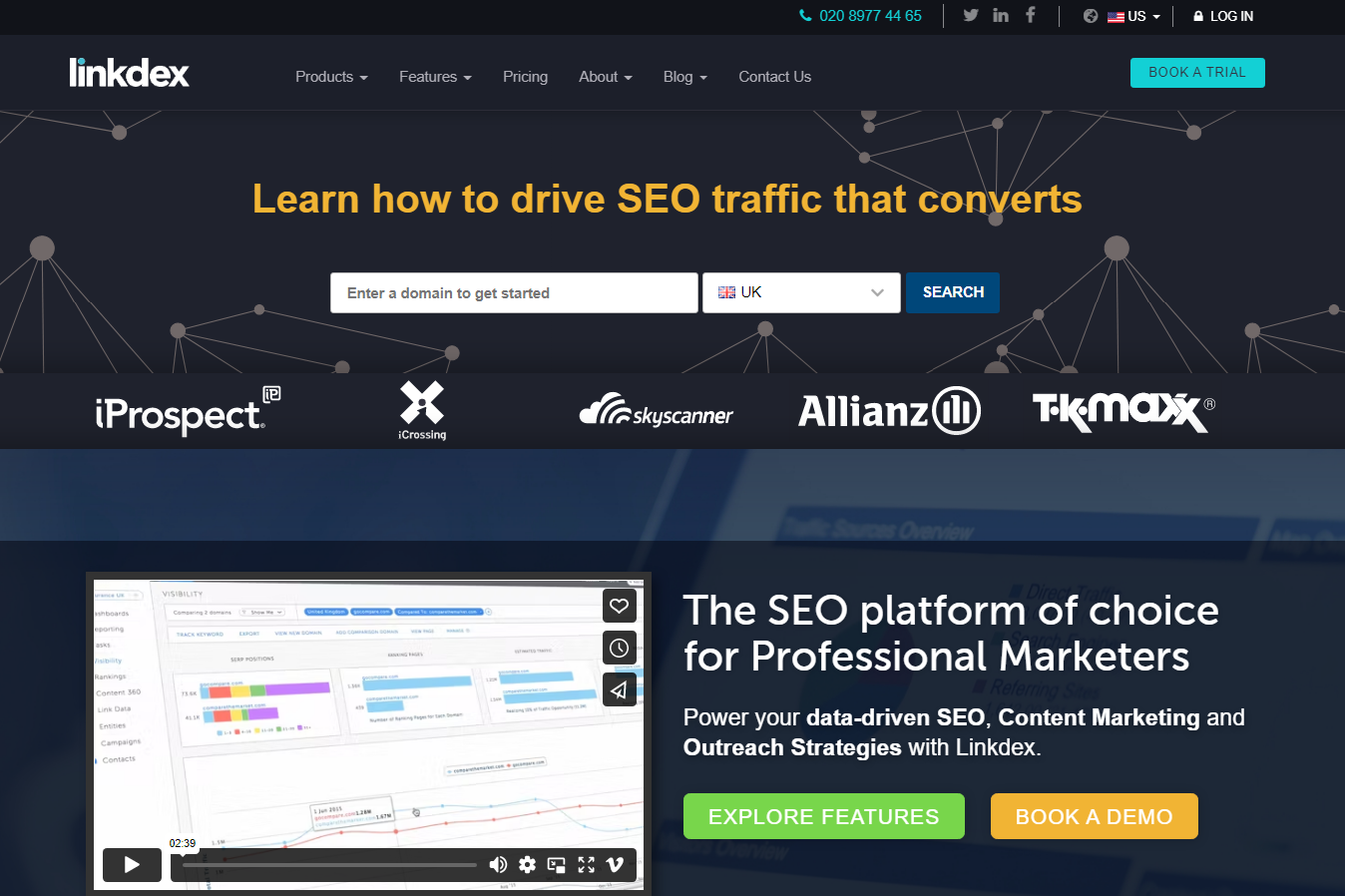 Another enterprise SEO tool that deserves its place on this list is Linkdex. It aggregates insights from various channels like search engines, social networks, and influencer marketing. This way, all the data you need is available via a centralized enterprise SEO platform.
Features
Linkdex carries many features to help enterprise SEO and marketing teams maximize their SEO efforts. These include:
Visibility and crawl analytics - Compare multiple domains using domain and keyword filters. Crawl thousands of pages, even your competitors, to uncover performance issues and opportunities to optimize your pages.
Ranking intelligence - Get better insights into your (and your competitors') keyword rankings. Then analyze the search traffic value and ranking of any page to gauge how you're faring against competitors.
SEO reporting and forecasting - Using Linkdex data, create smart, insightful SEO reports with just a few clicks. Next, turn data into smart forecasts to better communicate your content marketing and SEO efforts.
Author discovery - Using targeted keywords, find influencers and the people behind high-ranking content. Reach out and build relationships with topical influencers to boost your website's authority.
Content strategy - Comb through various SEO data like technical SEO, analytics, social, rank, and link. This way, you can create content that's highly shareable and link-worthy.
Smart SEO alerting - Create custom alerts through email or in-app so you know immediately when to take action. Fix lost or broken links, investigate significant traffic drops, enact appropriate changes, etc.
Pricing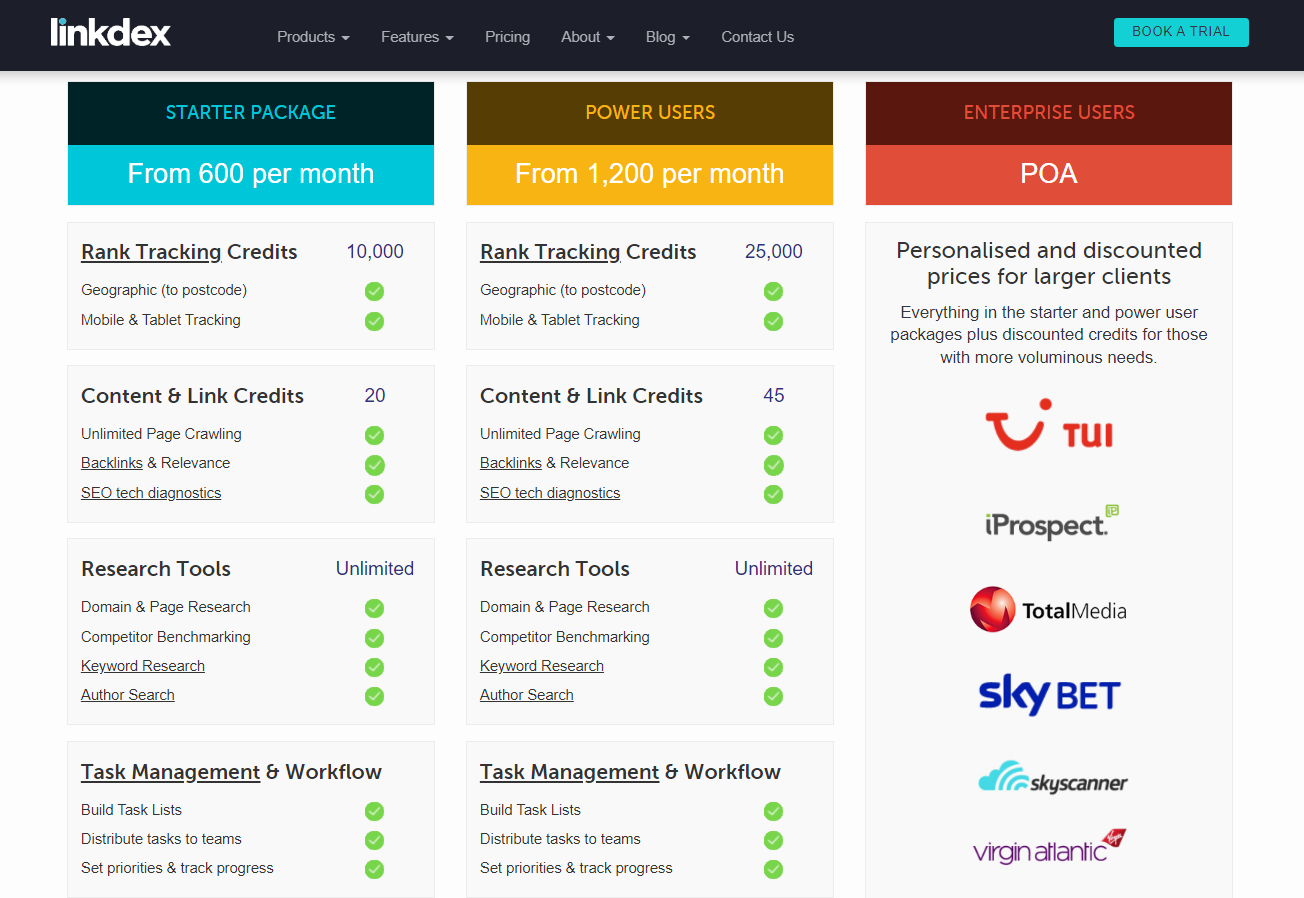 Linkdex offers three subscription plans:
Starter Package - For $600/month, you get 10,000 rank tracking credits and 20 content and link credits. Linkdex SEO tools for research, task management, and workflow engine are also unlimited.
Power Users - This plan has the same features as the Starter Package but with more credits. It includes 25,000 rank tracking credits, 45 content, and link credits. Starting price is $1,200/month.
Enterprise Users: Discounted custom plans are available for enterprise users. Contact the sales team for more details.
---
Pitchbox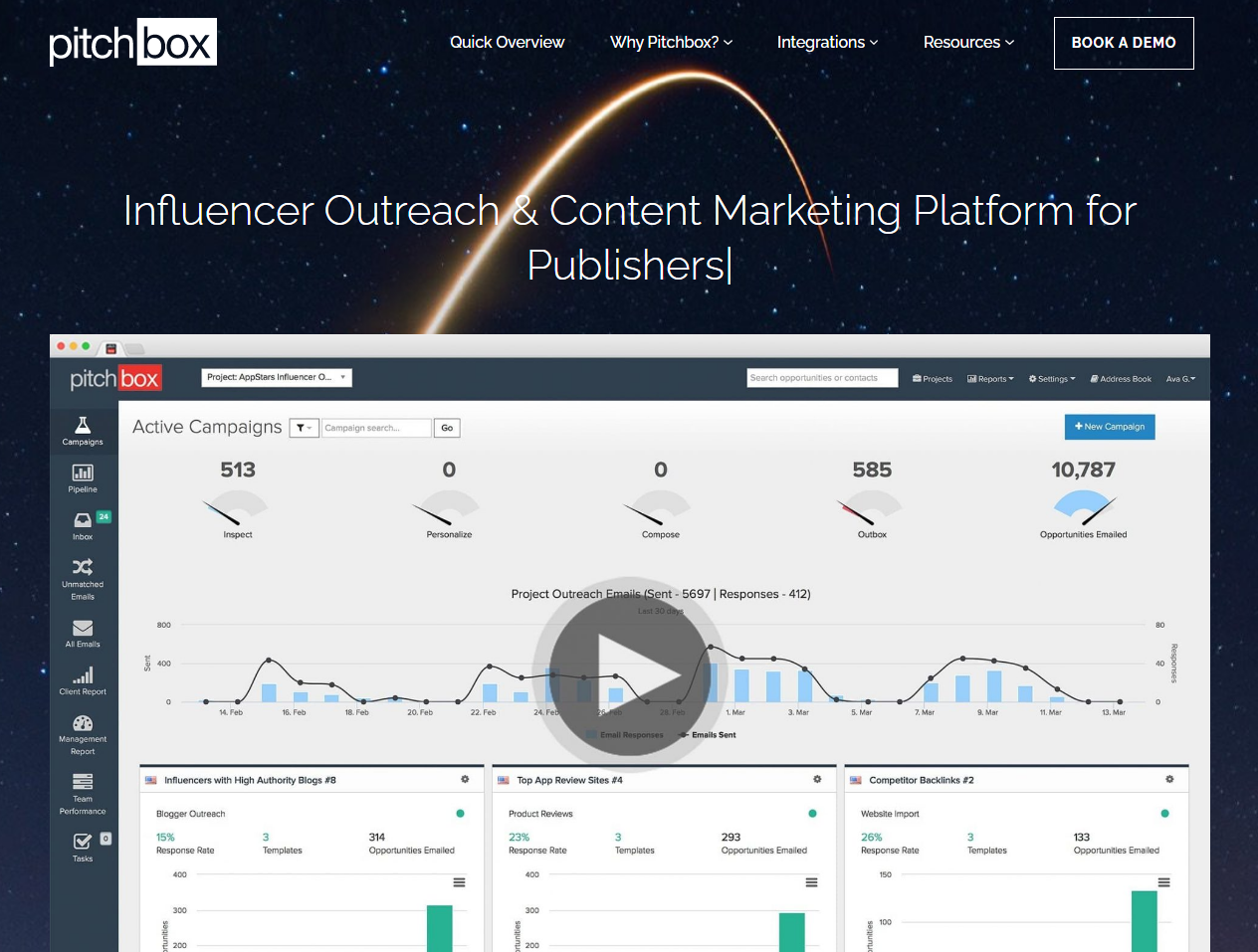 Looking for an enterprise SEO platform to help you build quality backlinks, boost visibility, and increase credibility? Then, Pitchbox is for you.
Pitchbox is an email outreach platform for building backlinks using various link building strategies more effectively.
It's an end-to-end link-building and prospecting tool that increases team productivity.
Features
Pitchbox enables enterprise SEO teams to build links at scale through the following features:
Prospecting - Take advantage of built-in targeting and prospecting features to identify the best link building opportunities in less time. Find relevant blogs and articles in any niche. You can also import domain lists and other data from other SEO tools.
Outreach and follow-up - Reach out to prospects at scale using smart templates. You can also schedule your messages and follow-ups to reach prospects' inboxes at the right time. This way, you receive more responses and close more deals.
CRM - Aggregate all link-building and prospecting data and information in one place. Segment leads by relationship status, SEO metrics, age, etc. This allows you real-time visibility into your pipeline, making it easier to turn opportunities into wins.
Reports - Pitchbox reports provide deep-dive insights into the performance of your campaigns and how they're progressing. Track team activity and identify monthly, quarterly, and yearly trends.
Pricing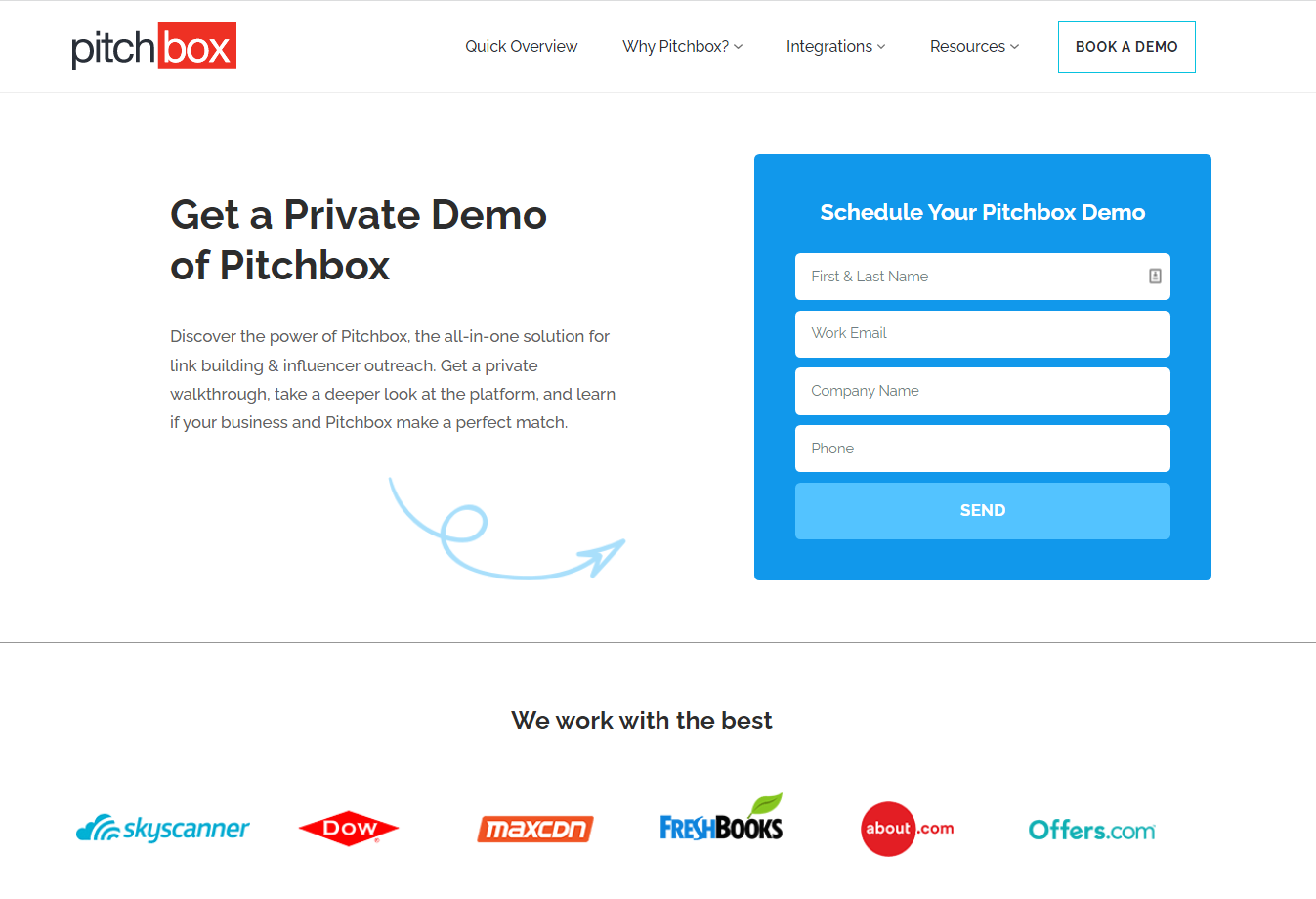 Pitchbox doesn't provide pricing details on its website, but some review sites say plans start at approximately $500/month. Contact their sales team for more information and a private walkthrough.
Quattr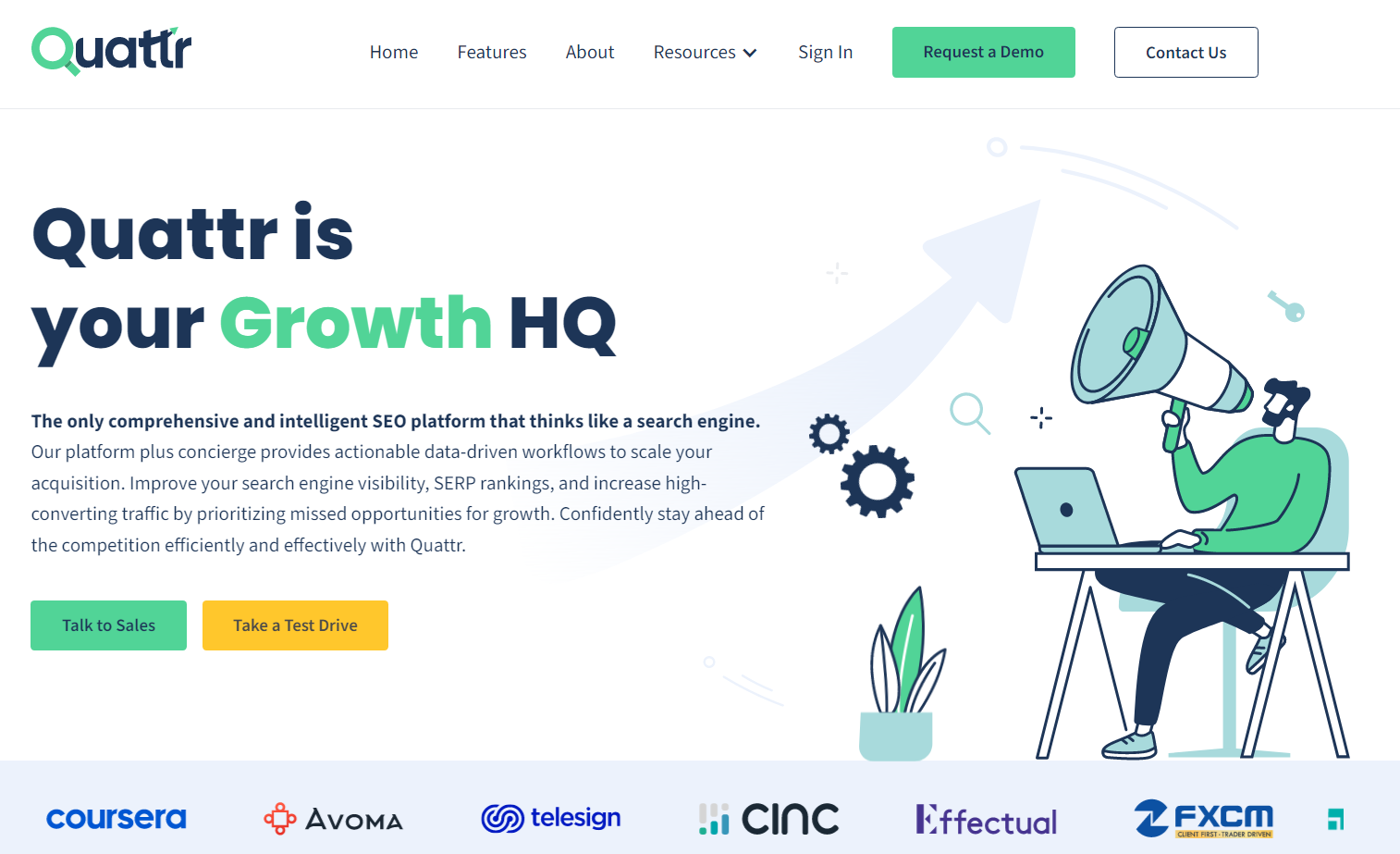 Quattr is an AI-driven enterprise SEO tool that empowers digital marketing teams. With it, they can leverage data-driven SEO insights to boost their search rankings and capture highly targeted traffic.
If you need help maximizing the tool's power, Quattr's SEO Concierge team is available for personalized consulting.
Features
Features you get when you subscribe to Quattr include:
Competitive trends - Quattr identifies which pages on your website are underperforming and provides optimization suggestions. It gives you real-time visibility into your market share and how much traffic competitors are getting.
Ranking factors - This enterprise SEO platform tracks your site's ranking based on various SEO factors. Plus, it shows how you're doing against competitors. And if you identify any problems, you can fix them directly from the Quattr platform.
Prioritized keyword recommendations - Quattr's recommendations let you optimize your content to rank them higher in SERPs. You can then preview how your changes improve your site's search performance. If the results are positive, only then should you implement them.
Usability recommendations - Unlock the technical insights necessary to improve your site. To do this, fix any issues surrounding accessibility, performance, and mobile-friendliness.
Pricing
Quattr has not provided any pricing details. The amount you pay will vary greatly depending on your enterprise SEO requirements. Contact their sales team for more information.
SearchMetrics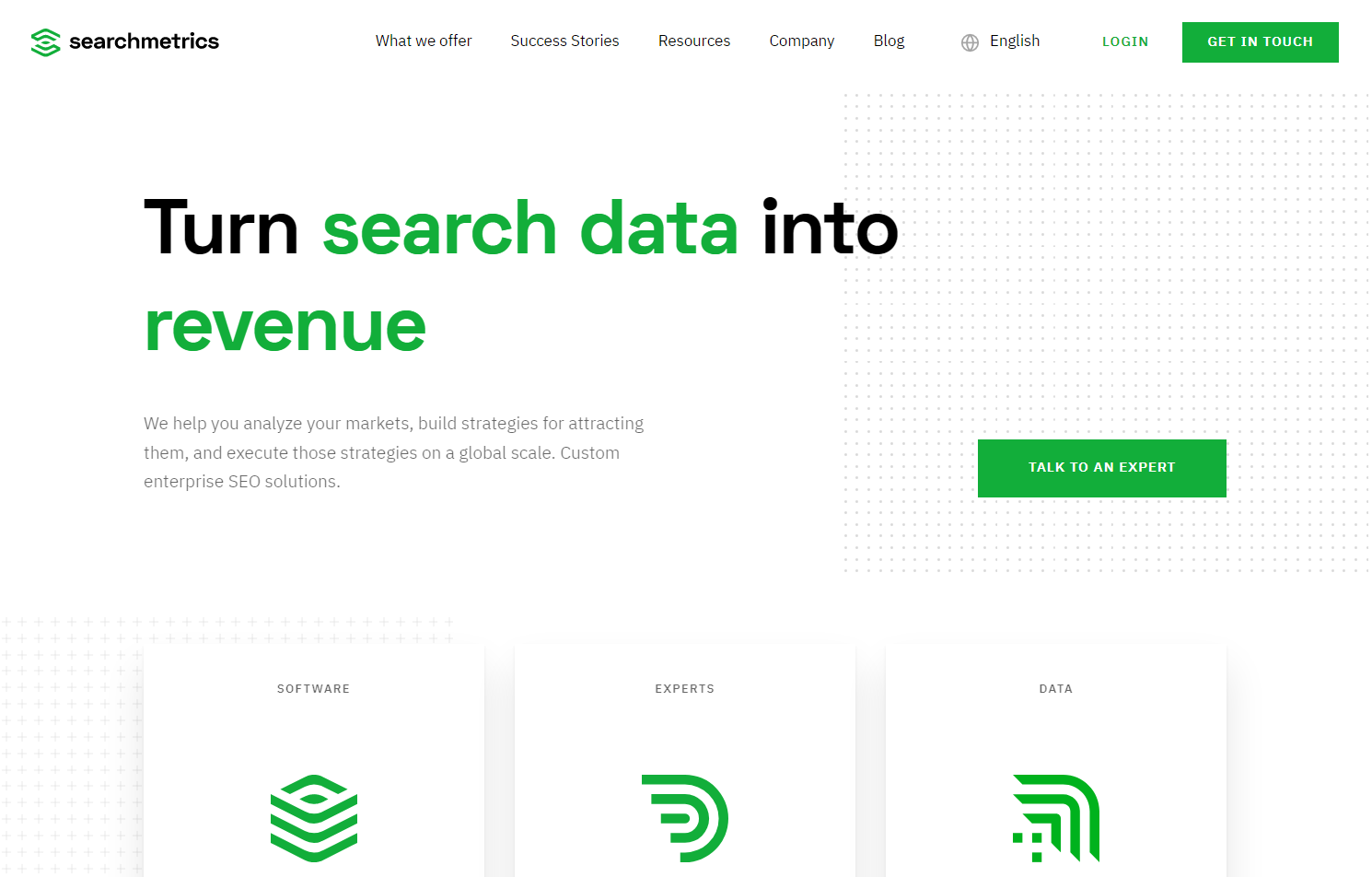 Another notable contender on this list of enterprise SEO tools is SearchMetrics. It helps enterprises:
Identify market opportunities to increase sales from organic search using actual data from the search engines.
Build comprehensive plans tailored to boost search engine rankings and visibility.
Implement and monitor those plans.
Perform competitor analysis for benchmarking and outranking them.
Track performance and tweak as needed.
Create reports for management to justify SEO spending (and get funding increases, if necessary).
Features
The SearchMetrics Suite allows organizations to take control of their search revenue via features such as:
Research Cloud - Run a competitive analysis to identify content gaps and factors enabling winning content. Then launch real-time ranking performance monitoring and search visibility auditing to uncover more SEO opportunities.
Content Experience - You can create topic-aligned briefs to help write your content. Refer to its real-time Content Score to further optimize your content. There's also Topic Explorer, a WordPress plugin to help you identify the topics people are searching for.
Search Experience - Enterprise SEO users like yourself can track top-performing keywords and ranking dips and analyze URL performance and competitor search features.
Site Experience - This web crawler alerts you and other enterprise SEO agencies to risks and opportunities for improving site performance.
Pricing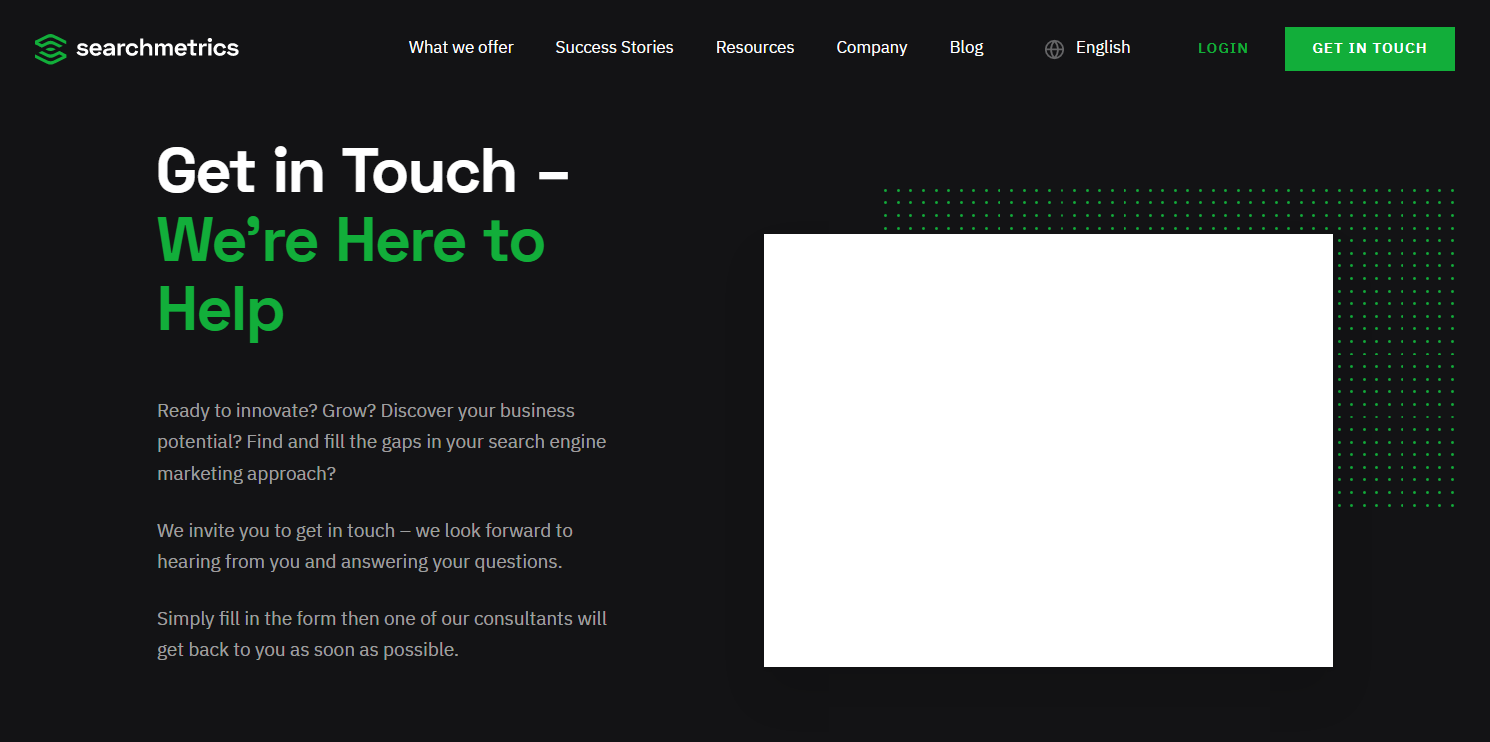 The SearchMetrics website doesn't provide pricing details. A PCMag review, however, says their plans start at $69/month. But this was from 2019, so the amount may no longer apply. Contact the SearchMetrics sales team for more details.
seoClarity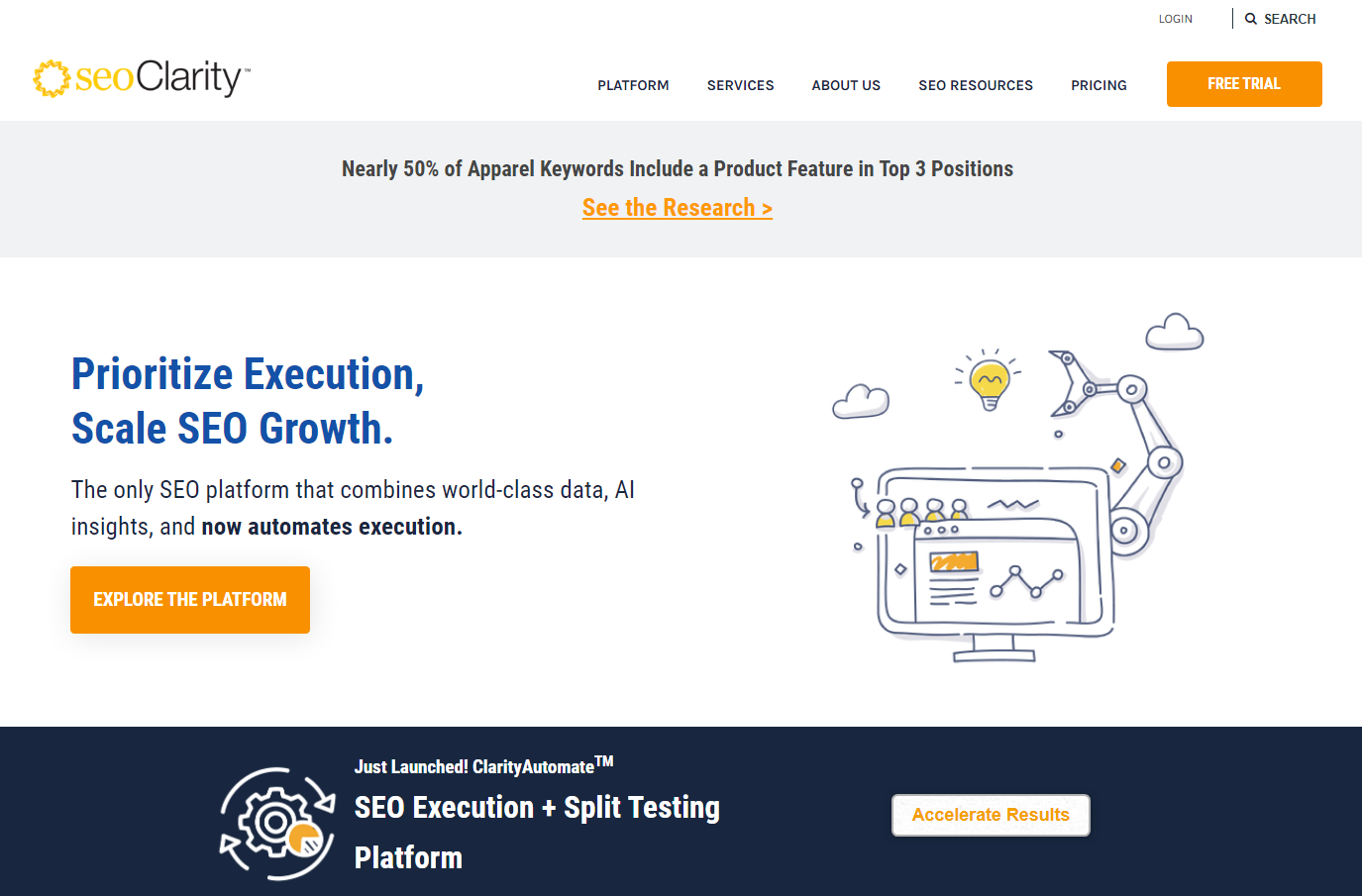 Last but not least on our list of market-leading SEO platforms is seoClarity. As its name suggests, it provides clarity and visibility into your SEO efforts through AI-powered insights.
It does the following:
Crawl data
Deliver ranking and search demand insights
Provide content optimization recommendations
Perform technical SEO analysis
One-click automated SEO execution
Create and send automated reporting
Features
Get the following features and capabilities when you subscribe to seoClarity:
Daily rankings - Manage site performance on organic search by knowing where your site ranks for its target keywords. You can also find insights on securing the Google featured snippet to position your website on top of SERPs.
Technical and on-page optimization - Crawl pages to identify and remedy site errors. Analyze log files to get the bigger SEO picture about performance, rankings, and search bots. From here, you can optimize your web pages to improve their crawlability and indexability.
Insights from real-time analysis - Leverage advanced AI analysis to help you provide actionable items. You can also compare your sites with competitors based on SEO metrics to benchmark their performances. Finally, determine if you have a healthy link profile through constant link analysis and monitoring.
Content ideas and gaps - Identify content gaps and opportunities using People Also Ask datasets. From here, you can write compelling, authoritative content to answer their questions using seoClarity's AI writer.
Pricing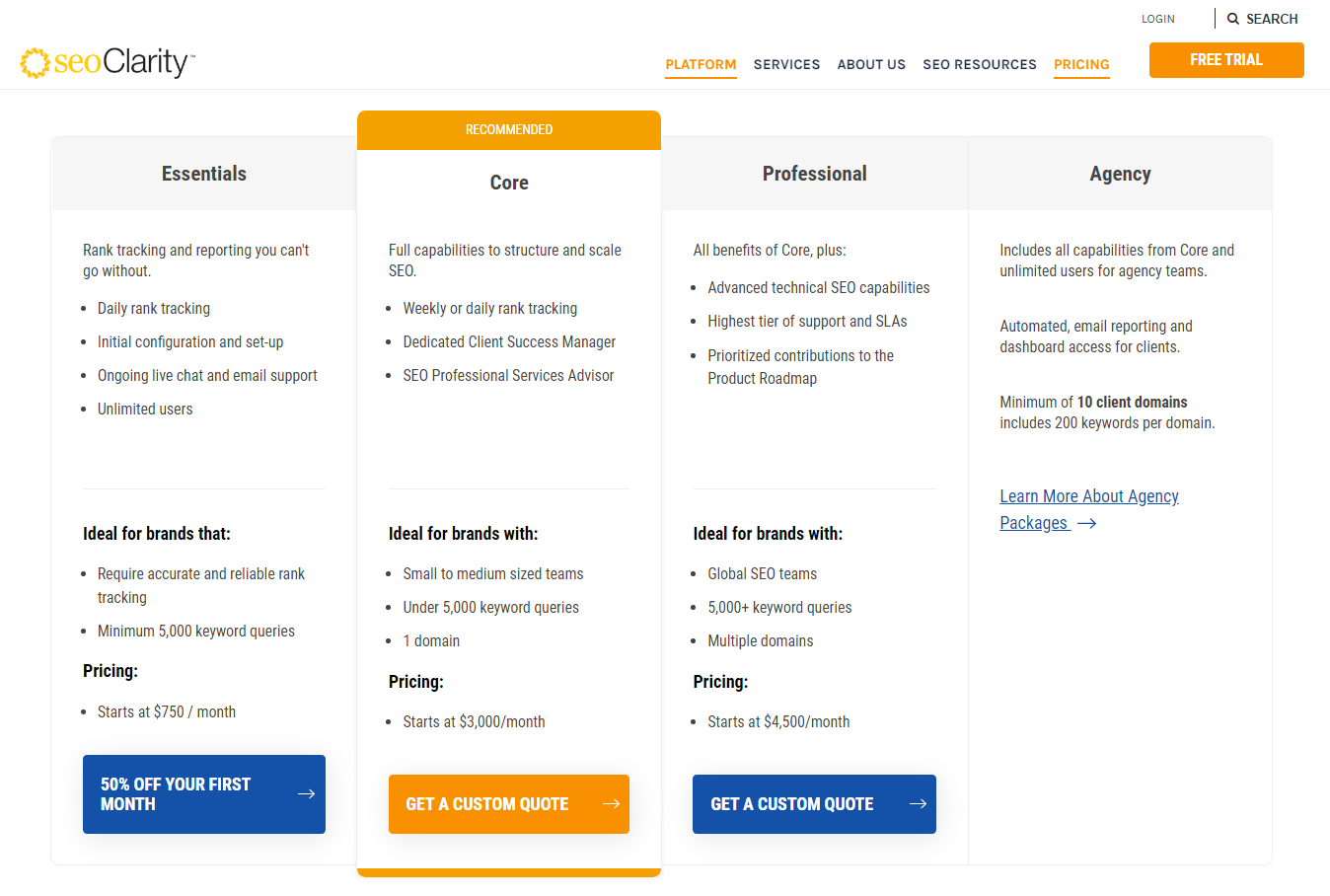 seoClarity offers multiple subscription options:
Essentials - Price starts at $750/month. Essentials provide daily rank tracking, live chat, and email support.
Core - Price starts at $3,000/month. Core offers daily and weekly rank tracking, a dedicated success manager, and an SEO advisor.
Professional - Price starts at $4,500/month. It gives you everything Core provides, advanced technical SEO tools and the highest level of support.
Agency: This subscription tier includes all the elements of Core plus an unlimited number of users. Get a custom quote by contacting the seoClarity sales team.
How to Choose an Enterprise SEO Tool from the List Above
There's a lot of feature overlap among the SEO enterprise software above. This makes choosing the right one for your corporation much more difficult.
But to help with the selection process, below are the things you must do:
Determine Your Needs
Start by looking at what you expect from an enterprise SEO platform based on the needs of the business. Create a list of all the features you want, the must-haves and nice-to-haves.
Any vendor that doesn't offer the features your SEO and digital marketing strategies can't live without is not a good fit.
Schedule Demos with Applicable Vendors
Once you're ready with a shortlist of vendors, it's time to schedule demos. When on the demo call, ask questions if something isn't clear. And be sure to watch out for the following:
Presence of critical features.
The vendor's understanding of your marketing and business needs.
Ease of use.
The type of after-sales support you'll be getting.
Negotiate Contract
Enterprise SEO software providers generally don't advertise that they're amenable to negotiating contracts.
Not only can you get the best pricing and discounts for multi-year contracts. But you can also negotiate the support facilities available, warranties, backups and recovery plans, service level agreements (SLA), etc.
Which Among the Enterprise SEO Tools do I Recommend?
So there you have it—our list of some of the best enterprise SEO platforms on the market today.
And since we know you're expecting us to suggest a tool or two, here are our top picks:
Semrush: It's an all-in-one solution and, therefore, ideal for large SEO and content teams. Plus, it's a household name in the SEO industry—meaning it's reliable.
Conductor: Want high-performing content? Take Conductor with you. Most tools on this list help drive content that converts, but Conductor's ability to integrate with various business tools makes it stand out.
As mentioned above, however, the needs of your business come first. Determine your must-haves, and choosing the best fit should be smooth sailing.
Want to learn step-by-step how I built my Niche Site Empire up to a full-time income?
Yes! I Love to Learn
Learn How I Built My Niche Site Empire to a Full-time Income
How to Pick the Right Keywords at the START, and avoid the losers
How to Scale and Outsource 90% of the Work, Allowing Your Empire to GROW Without You
How to Build a Site That Gets REAL TRAFFIC FROM GOOGLE (every. single. day.)
Subscribe to the Niche Pursuits Newsletter delivered with value 3X per week