I Quit! I'm Never Going to Sell Another Online Course…
When you buy something through one of the links on our site, we may earn an affiliate commission.
I'm quitting.
I've been selling online courses and training off and on for the past 7 or 8 years and I'm just about to throw in the towel.
I'm serious.  Don't make me step back from this ledge.  My wife approves, so you couldn't stop me if you wanted to.
So, here's the dilemma: Do I continue to sell online courses (which are very profitable) or do I give it up and pursue other ventures that I'm more passionate about?
I want to dive into what's going on inside my entrepreneurial brain and hopefully some of my gibberish will turn out to not be gibberish and will be something that you can actually apply in your online business.
To Guru or Not to Guru
I hate the term "guru", but you know what I mean.  The guru is the guy that hopefully has gained valuable experience is some area and then at some point decides to teach others; through online courses in our example.
There are LOTS of "gurus" out there selling online training like: Tony Robins, Tai Lopez, Dean Graziosi, and Brendan Buchard.
Then of course there are lots of others selling courses in the SEO or online marketing niche that are a little closer to me like Brian Dean, Pat Flynn, John Lee Dumas, and many others.
As you get further down the rabbit hole of the type and variety of people selling online courses, you start to run into some pretty suspect characters.  Did these people REALLY make money before they started selling their training?
As I read through the biography or even Wikipedia pages of some of the best known "gurus" out there, the only conclusion I can come to is that a few of them never really made any money until they started coaching others or selling training.
And that's the core of the problem for me.  I don't want to be lumped in with people that make more selling courses than they do by actually doing what they teach in the course.
This sort of rule only applies to a very small sub-section of online courses.  Obviously if you sell a course on how to do paper mache or how to organize your closet…you BETTER be making more money by selling the course than actually doing paper mache or cleaning your closet.
However, if you sell a course that is supposed to teach someone how to start a local SEO agency and you don't actually make very much money running a local SEO agency, then I would call your business pretty suspect.
I think you get the picture.  Sometimes people promise to teach you how to make millions, but they've never actually made millions themselves. (Or if they have, they only made millions by selling you a course on how to make millions).
Phew…thanks for letting me get this off my chest!  I told you there would be a lot of gibberish here.
The bottom line for me is that I'm not comfortable selling a course because then someone might lump me in with these other "suspect" gurus.  I don't want to be a part of that crowd, even if it can be extremely profitable.
What Are You Giving Up – $$$,$$$?
Selling online information is profitable.  You create a course once and you can sell it an unlimited number of times.  
So, I want to be clear that I think selling online courses is a great business model.  I'm not trying to discourage anyone from creating and selling a course, I'm just trying to explain in a really long-winded way why I've come to the conclusion to stop selling courses.
I won't judge anyone (at least publicly 🙂 ) if they decide to become a guru, that's your decision to make.
I simply wanted to share some numbers to let you know that is not an easy decision.  I'm giving up very real income by shutting down my online courses.  
In the past 12 months, I've made over $100,000 selling my online courses.  (For the record, YES, I made more money with my other business ventures during the same time period than I did selling courses).
Giving up six figures is a very real decision.
"No thanks, I don't want $100k because well, I don't feel like it right now."  My wife's shopping habits might not like that decision very much.
Anyway, I'm giving up over six figures a year with this decision, it's not easy, but I think it's the right thing to do for me.
What Are You Doing Instead?
So, you may be wondering, if I don't hone my Guru capabilities, what will I be doing instead?
The model for many bloggers is pretty clear: get popular online, then sell training to people.  It's a pretty clear cut strategy that has grown many multi-million dollar businesses.
So, what's a blogger to do if they don't feel like Guru'ing today?
Well, for me I'm going to continue to grow the content and traffic on NichePursuits.com like crazy.  I also have a couple of software products (Table Labs and Link Whisper) and a couple more ideas in the hopper.
Over the past few months, I decided to really start focusing on the traffic and earnings (affiliate earnings) growth of Niche Pursuits and some pretty impressive things have happened.  I hired a full-time writing about 3 months ago, and I'm about to hire another one.
Turns out when I spend more time DOING what I've been teaching in my courses I start to see results.
In addition, I just launched Link Whisper (WordPress plugin for making internal linking much faster and easier), and let's just say that the business has legs.
(I also happen to have another Niche Site doing pretty well)
The bottom line is that I have other business ventures that I want to focus on and grow.
Here's the quick plan (just so you know what I'm working on…I like to pretend you care):
Add lots of new well-written and in-depth content that ranks in Google to NichePursuits.com
Much of this content will earn me affiliate commissions
As traffic increases, so will my email subscribers
As my email list grows, I'm more likely to sell more of my software products
Grow OwnTheYard.com as much as possible…because everyone needs a "side hustle".
The model is fairly simple, and it's not terribly different than what I've done since I started Niche Pursuits 9 or 10 years ago.  I just won't be selling courses.
Oh, and I plan to scale like crazy.
Are You Limiting Your Growth Potential?
I think a lot of people probably think the best way for a blogger to scale their business is to sell information products.  In some cases, this may be true.
However, when I was browsing the Inc. 5000 list recently I noticed something interesting.
I didn't notice alot of online course sellers on that list (Tai Lopez did make the list, fyi).  There were a lot of education companies, but most were not what I would call a "guru" business.  (For example, my cousin Jon Haws owns NRSNG.com, which is an education company that is on the Inc. 5000 list…but it's not a "guru" business). 
But I did notice a TON of content/ad revenue businesses.
In other words, the really large content sites (blogs) are scaling quickly.  The best part is that they make money through affiliate and ad revenue.  They aren't selling courses, training, or consulting for the most part.
Here's just 3 small examples that are fairly related to NichePursuits.
FitSmallBusiness.com – Affiliate and Ad Revenue
They make their money through ads on their site and affiliate income when they refer a product.  They are in the business space; similar to Niche Pursuits.
They just happened to make $7.1 million last year.
Bigger Pockets – Advertising, Affiliate, MarketPlace, and Information Sales
Bigger Pockets does have books and courses you can buy.  They also have several other revenue streams and I don't have any insight into how much each of those makes.  However, it's safe to say that their income outside of strictly training products is significant.
Overall, they are a massive content business that has grown quickly over the last few years (hence the Inc. 5000 listing).
G2 – Affiliate and Advertising Content Business
G2 is obviously a massive company that has raised all kinds of money.  At the core though, they are a content business that makes money through affiliate and advertising revenue.
Their user generated software reviews are a major part of their business.  But it's interesting that I do compete on some of the same terms (like Long Tail Pro Review or SEMrush Review).  
We have a very tiny sliver of crossover in similar targeted keywords.
I have no intention of directly competing with G2 and these other big players.  I'm simply just trying to make the point that I have PLENTY of growth opportunity on Niche Pursuits by growing the content, affiliate, and advertising side of the business.
I don't need to be messing around with courses; there's, plenty of growth opportunities elsewhere.
When You Focus on Something…
In order to focus on one thing, you often have to give up another.  I plan on no longer focusing on courses and training.
I'm focusing on growing the content, traffic, and earnings on NichePursuits.com and creating related software products for my audience.  
The results have been phenomenal.
Check out the traffic growth on NichePursuits.com over the past few months.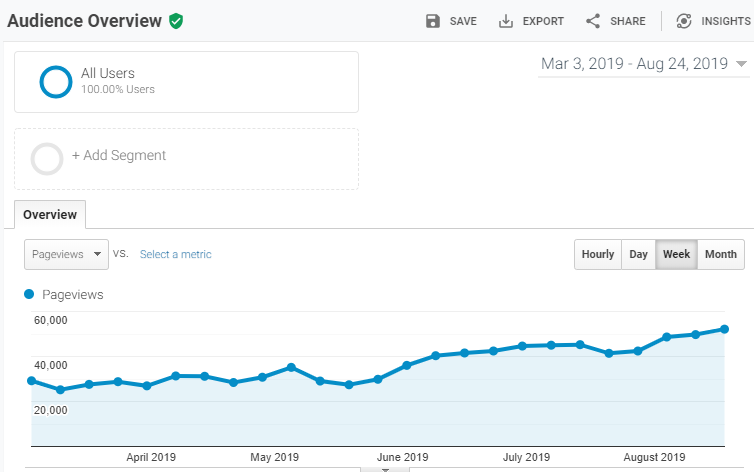 (The lowest point to the highest point on the graph is double…double!)
Traffic has essentially doubled to NichePursuits.com in the past few months.  It's crazy because the strategies I'm implementing are things that I always knew I should be doing, I just never had time to do them myself.
The strategies include updating TONS of old content, better optimizing posts, and writing new keyword focused content.  That sentence sounds fairly simple, but there's lots of nuances to those strategies.
Bottom line is that now that I'm focusing on growth (and I can grow because I'm hiring and not trying to do it all myself) and the results are definitely appearing.
But what about earnings?
I'm happy to report that both affiliate/ad revenue is up significantly for NichePursuits.com as well.  Please note that the below graph does not include any of my software products or training courses – this is just affiliate/ad revenue.
Yes, I removed the actual dollar values so you don't know exactly how much the site is earning.  I simply wanted to show the growth trend, especially the last few months.
In fact, 3 of the 4 highest months this year have been the last 3 months (as shown on graph).  And the earnings spike in April is only due to a big affiliate affiliate promotion I did that month, so it's more of an anomaly.
Overall, the traffic is up and earnings are up significantly now that I've been focusing on Niche Pursuits a bit more over the past few months.  I'm hiring more and have a plan in place to continue growing the traffic and earnings.
Those plans do not include selling training courses anymore.
This REALLY is a major shift in my business – I really won't be selling online courses anymore.  And when I make a major shift in my business, I like to blog about those things.
"Never" is a long time and I don't take it lightly.  However, I've been known to stick to my guns.
In fact, 5 years ago I wrote an epic post titled, "Alright Google, You Win…I'll Never Use Private Blog Networks Again!"  In the 5 years since that blog post, I have never used a PBN.
I really am getting out of the business of selling online courses.
I'm hanging up my hat.
I'm retiring.
I'm done.
In Summary
Overall, I think I've shared where I stand pretty clearly.  I don't think there is necessarily anything wrong with selling online courses; however, I've made the decision to focus on other aspects of my business.
Here's a few quick recap of why I won't be selling online courses anymore:
I'm not very passionate about it.
I don't want to mistakenly be grouped together with other online gurus that sometimes give the online marketing world a black eye.
I feel much better about selling tools and products that people actually use to improve their business; as opposed to courses, where a very high percentage of buyers never even go through the course material (and therefore get no real benefit).
Content, advertising, and affiliate revenue has just as much growth potential as selling online courses.
I love coming up with ideas and growing software products.  I'm sticking with this area where I'm more passionate.
What do you think of my decision?  Am I crazy to give up selling online training courses?
I'd love to hear your thoughts on this new direction in my business.
Want to learn step-by-step how I built my Niche Site Empire up to a full-time income?
Yes! I Love to Learn
Learn How I Built My Niche Site Empire to a Full-time Income
How to Pick the Right Keywords at the START, and avoid the losers
How to Scale and Outsource 90% of the Work, Allowing Your Empire to GROW Without You
How to Build a Site That Gets REAL TRAFFIC FROM GOOGLE (every. single. day.)
Subscribe to the Niche Pursuits Newsletter delivered with value 3X per week