Niche Site Project 4 Monthly Income Report for July 2019
When you buy something through one of the links on our site, we may earn an affiliate commission.
Now that my niche site has been revealed, I'm happy to share that the site has continued to grow and progress.
In full disclosure, I didn't focus very much on my site, OwnTheYard.com, because of other things I was focused on during July.  I launched Link Whisper in early/mid July which took a lot of time.  Then I was on vacation at the end of July.  
Despite my lack of focus, it was great to see the site achieve another record month in terms of earnings and traffic!
While the site did have a record month, I have some concerns that August won't be a bigger month than July.  I'll share those concerns in a bit, but please rest assured that I don't think anything "bad" is going to happen to my site, I just think there are some improvements that I need to make to keep it growing.
Let's jump into the report!
Earnings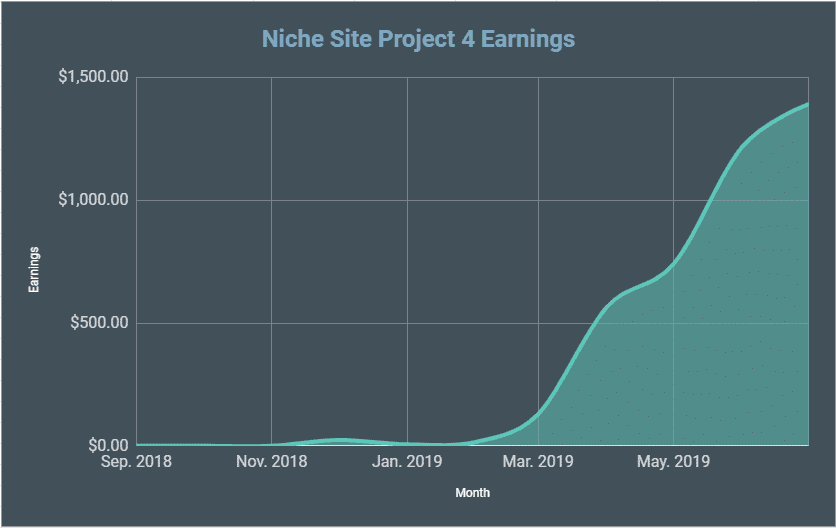 During the month of July, OwnTheYard.com earned a total of $1,392.11!  As you can see from the chart above, that's another record month.  The site is now about 11 months old, and I'm very happy with the results that I've seen.
The site made $692.16 from Amazon Associates and $699.95 from Ezoic ads. 
Amazon Earnings
Please note that the above screenshot is for Amazon US only.  I finally got around to setting up Amazon UK and Amazon Germany last month, so I had a little bit of earnings there as well.  About $7.45 in Amazon international earnings.  It's not much, but I'll take it!
I have some ideas to increase my Amazon earnings, which I discuss in my revenue concerns below.
Ezoic Earnings
As you can see, the earnings from Ezoic continued to grow rapidly!  In total, I made nearly $700 from Ezoic display ads alone.
While I'm excited with the Ezoic growth and earnings, as I take a deeper look it raises some concerns about how it's impacting my Amazon earnings and site speed.
Revenue Concerns
My primary way of monetizing OwnTheYard.com has always been Amazon Associates.  However, you can see that I actually made more from Ezoic display ads than Amazon (just barely) in July.
While initially, that sounds nice, I think I may have too many ads on my site, which is causing my Amazon Associates earnings to be lower than it could be.
So, here's my 3 concerns with the monetization on the site and how I plan to fix these issues:
I have too many display ads, specifically on posts monetized with Amazon Associates.  So, in the next few days, I plan to go through all my articles that are primarily monetized by Amazon and will remove the Ezoic display ads.  This will allow people to focus on clicking over to Amazon and buying.  This will result in lower Ezoic earnings, but will hopefully be made up by even more earnings from Amazon.
I believe a combination of Cloudflare, WPRocket, and Ezoic is causing caching issues with my Table Labs tables (Amazon product comparison tables).  As you can see from the screenshot below, my tables are not showing up!  This has been an ongoing issue for a few months.  The Tables will show up…and then not.  Once I clear the Ezoic cache and Cloudflare cache, they show up again.  I have tables across several other sites (on the same hosting account) and NEVER have issues with those.  As a result, I am going to try disabling the WP Rocket plugin to see if that helps them "stick".  I just disabled the plugin, and hopefully that improves the situation.
I need to improve the site speed, I'm likely losing revenue because people are bouncing off my site before it fully loads.  A few months ago, I had hired someone to speed up my site (from Upwork).  I'm going to go back and have them do it again.  I believe that a big reason my site is slower now is due to the Ezoic ads.  However, I'm hopeful I can figure out a solution that keeps my site blazing fast in addition to having ads on my site.
Tables Not Showing Up
The fact that none of my tables are showing up is a big deal, obviously.  These tables are all near the top of my posts, just below the introduction.  In other words, these are the first things that readers are supposed to see and it's their first (and usually best) opportunity to click through to Amazon.
So, the fact that they aren't showing up is definitely costing me Amazon commissions, I just don't know how much.
Seasonality
Now, there is definitely going to be some seasonality to my niche.  Spring and Summer are most likely the highest traffic months for "yard" related content.  As summer winds down, I expect that traffic will decline individually for some keywords – even if my rankings improve or stay the same.  This is just seasonality.
We will see how big of an issue this ends up being in fall and winter.  I don't know yet.
I do have additional content either out already or coming out soon that should perform well in fall and winter months (snow gear, etc). 
Costs
As you can see from the Profit and Loss statement above, the site is doing well!
Revenue is growing and EBITDA finally hit a positive number in July!  I'll take the $600 in profit.
My content costs were quite a bit lower this month because I only published 6 articles during the month.  However, my Pinterest management expense went up to $190, since that is what I'm paying my new Pinterest manager.  I'll discuss in detail how Pinterest is going.
Overall, I've spent a little over $19,000 on the site in total and made a little over $4,000 in revenue.  As a result, I'm still in the "hole" $15,800.
As mentioned before, I'm not concerned by this at all.  This is a long term investment that will simply get more valuable over time as it continues to grow.  If I were to try and sell the site today (which I'm not going to), I would expect to sell it for somewhere between $30 to $40k.  
I've outsourced nearly every aspect of the site, as a result, my expenses are much higher than yours might be.  If you don't have this much money to invest, but you can write articles, do your own outreach, and do your own pinterest management, you would have had to spend very little money.
I plan to publish this detailed P&L statement for one more month so that the entire first year is documented.  After that, I will update it less frequently.
Traffic
I continue to see positive trends in terms of traffic.  In fact, July was another record month for overall traffic!
Most of the traffic continues to come from both Google and Pinterest.  OwnTheYard.com had just over 47,000 sessions for the month of July, and as you can see from the graph above, that is trending quite nicely!
Google Traffic
Traffic from Google continues to be the largest single source of traffic.  As you can see, a little over 20,000 sessions came directly from Google during the month of July.
Keyword rankings continue to either hold steady or improve generally speaking.  The only concern (as mentioned previously) is that there could be some seasonality that starts kicking in during August.  As a result, it's very possible that Google traffic may level off, even though rankings improve.
Pinterest Traffic
After a small decline during June, Pinterest had a huge jump up during July!
As mentioned, I've been working with a different Pinterest Manager over the past few months, and he really delivered in July. Pinterest is so fickle though.  The spike is mostly due to a couple of pins that really just took off.
In particular, my enclosed patio ideas article did really well on Pinterest, as did the  back patio ideas article.
Overall, I'm happy to see nearly 14,000 sessions from Pinterest! (Which is over double last month by the way).
Content
I'm not happy with the amount of content I got published during July.  However, it's all my fault as usual :).  I was simply focused on Link Whisper and then vacation during July, so I didn't get as much content reviewed and published.
Overall, I added 6 new articles to the site during July.  I hope to increase that back closer to the 15 or 20 article range in August and September.
Here's a quick summary of the total articles added:
I have another 50 or so keywords that I've found that I just need to get assigned to an author to write.  I did have a couple of my authors basically dry up.  So, I have one solid author that can do 2 or 3 a week, but I'd like to get more in the queue as well.
I will likely place another order with Content Pit to help complete some of those 50 pending article ideas that I have.
Link Building
Here's a shocker…I didn't really put much effort into link building again!  
I did hire someone to do some outreach for me in June and I was able to land 2 guest posts in early July, so it wasn't a 100% hands off month.  I used Loganix to do the outreach for me.
The links landed were solid and I have some seen some movement with the keyword I was targeting.  One keyword has gone from ranking 32 to 26th in Google.  The other keyword has gone from ranking over 100 to now 47 in Google.
I imagine as that article ages, it will continue to improve.
Tools I'm Using for My Site
In case you are wondering what I've used to build my site, what plugins I have, or other tools or services I've been using to grow, I've created this list for you below.
WHAT'S NEXT?
My original plan is workings well, I just need to continue to focus a bit more on the site to see continued growth.  In a nutshell, here is my continued plan over the next 12 months:
Continue to add 15 to 20 articles a month, focusing on low competition keywords that either low authority competitors are rankings for or other opportunities I notice.
Make site speed improvements.
Make minor monetization tweaks (I specifically mentioned those tweaks above like removing Ezoic ads from Amazon focused posts, etc.)
Try to get a couple more solid authors in place so that my keyword plans and spreadsheets get completed and updated on a regular basis.
Focus a bit more on internal linking now that my site has reached over 150 posts – lots of internal linking opportunities.  Link Whisper will make this quick and easy.
Try to get a few more white hat links through outreach here and there.  Maybe every other month, I may try to get a couple of links.  
Overall, that's the plan!  It's fairly simple, but it's been pretty effective up until now.  I've been able to build an asset that is making $1,300 a month in the first 11 months.  The first year is definitely the hardest.
Now that I have a site with a little bit of authority and it's growing, going from $1,300 to $3,000 a month should be much easier than going from $0 to $1,000.  
I also don't want to get ahead of myself, but the end goal is not to make $2k or $3k a month.  I know this kind of site has the potential to make $5k or $10k or much more each month.  So, I'll keep growing this site for at least the next 12 months and see where I end up.
I'm excited to have you along the journey with me!
Niche Site Project 4 Participant Reports
Below you will find the reports from other people that have been building a niche site right alongside me.  I have to admit that I gave really short notice to get these reports in, so I'm sure a few people just didn't have time to get their reports in.  I'll update the reports below if I hear from more participants.
Real Name or Nickname
Number of articles TOTAL published on your site since inception?
Number of Total "Sessions" your site received in July 2019?
Earnings for July 2019?

What was accomplished in July 2019 for your site? Feel free to link to your niche site 

Ryan K
81
367
12.65

No new articles. Added internal links using mostly Link Whisper.

bill
72
17563
196.5

I have made 2 site since February and one of my niche site that I worked in my native language was incredible move!. In July it beating 10,000 pv per month within last 7 days. Actually in August it beating 3,000 pv per day and can made around 60 usd per day.

Justin
12
22
0
Nothing this month
Christina
38
2076
22.43

Got more articles completedand a good workflow.

Owais Shah
73
4000
197

Setting up systems for content writers and link building to scale it.

Arun
50
790
28

This was a good month. Added 10 more articles making it reach 50 articles. I built some quality profile links to my homepage. I outreached to blogs in my niche and successfully received 3 links. Also earnings achieved a growth of 50% compared with March. The site is growing and I think I will hit the 100$ mark by the end of December. Fingers crossed.

Rohan
19
46
0.23

Kept those Adsense ads…Written 1 article only

Ryan K
81
367
12.65

No new articles. Added internal links using mostly Link Whisper.

Dave Clifton
50
1616
28.29

I published 11 articles, the most I've managed in a month so far.

Liam
9
97
0

Its a month old. I have so far published 9 articles that are live and a few more in draft mode.

Here is my site: https://liamrock.com

samd
134
12000
1400

Just adding more content and links. I'll spend the next few months adding more links and trying to get more keywords ranking.

Ismail blogger
134
22037
1412

The july month was good in term of revenue but bad in ranking. i don't know why our website is not performing well after last google update. we are figuring out the issue and hopefully will recover it in upcoming month.

Ben Doyle
76
15442
198.76

– Published 6 new product reviews
– Edited 4 massive articles and broke them down into smaller articles
– Built a few links
– Applied for Ezioc but had a few issues with it so I was unable to get set up

Don Modekali
110
613
88

I've been working on increasing the content. Published about 50 articles. Also got banned from pinterest. Details here: https://www.nichesitevault.com/100k-project-episode-4/

Alex
44
8497
225.37

Keep writting 7 articles per month, linkbuilding in forums pointing to the home and on of the cluster page. Changing some text among the pages trying to avoid cannibalization.

Umair
22
23334
445
No
Ryan Faucher
137
3177
71.91

Implemented link whisper, started promoting products in my broad niche, worked on backlink profile. Details here: http://bit.ly/2YNE7uh

mouad lekdech
30
1177
170

i was sick i didnt do nothing this month

Luis Hdz
9
2
0

No accomplishments on this month, my site artefactoselectronicos.com started back in May, hopefully it will start getting traction soon.

JAC
1
924
2.66

Created a new page for a specific lead I contacted personally. We will test for 2 months, if it works for them it will be a recurring advertising page for a monthly fee.

Chelle
17
2267
68.79

Site is doing pretty good considering I haven't touched it since April and spent most of the month of July in the woods with no wifi or cell reception. Site earned $95.68 in June.
Want to learn step-by-step how I built my Niche Site Empire up to a full-time income?
Yes! I Love to Learn
Learn How I Built My Niche Site Empire to a Full-time Income
How to Pick the Right Keywords at the START, and avoid the losers
How to Scale and Outsource 90% of the Work, Allowing Your Empire to GROW Without You
How to Build a Site That Gets REAL TRAFFIC FROM GOOGLE (every. single. day.)
Subscribe to the Niche Pursuits Newsletter delivered with value 3X per week