1,015 Creative & Unique Sticker Business Name Ideas to Stick With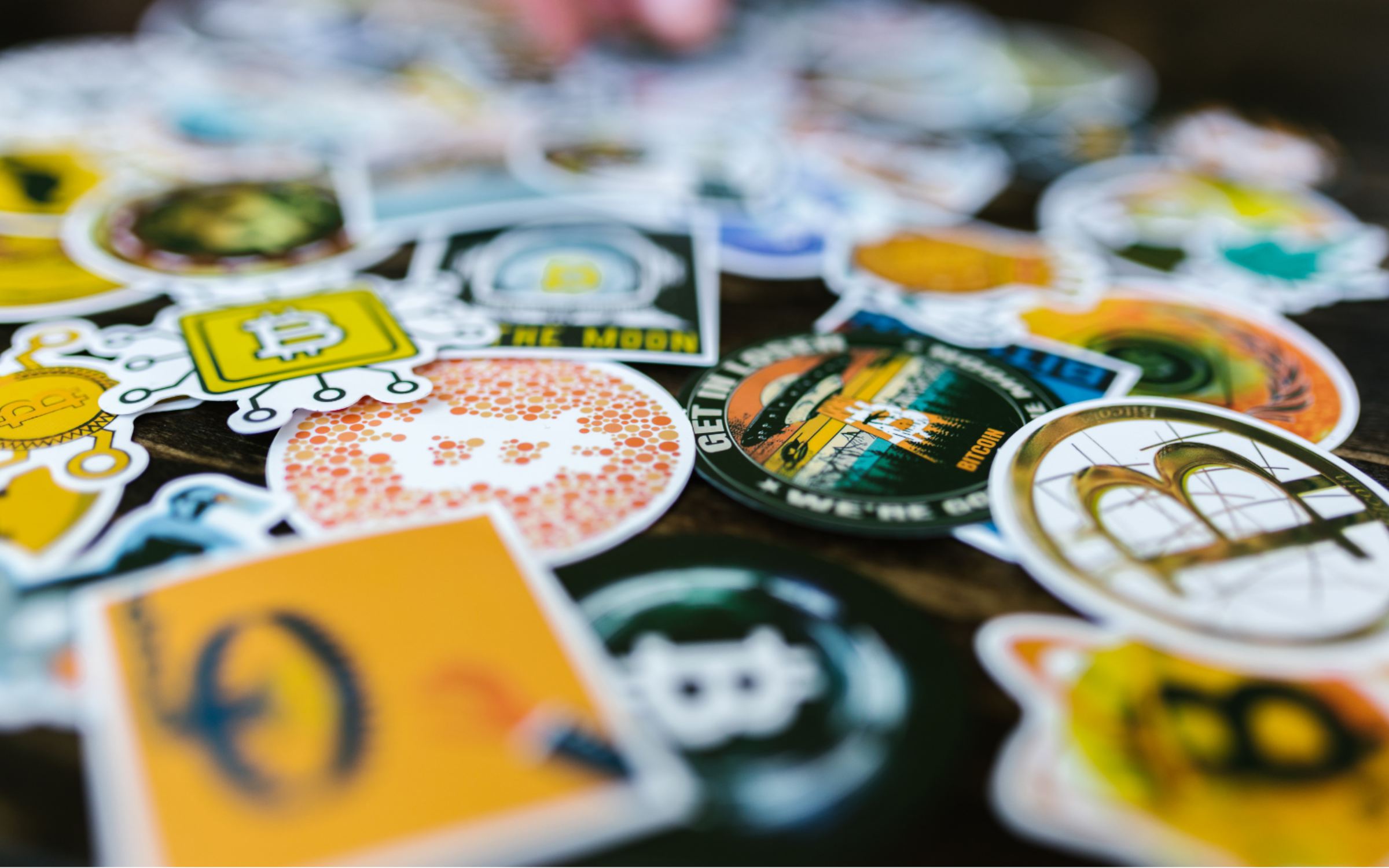 When you buy something through one of the links on our site, we may earn an affiliate commission.
Are you ready to embark on a creative journey and give life to your dream sticker business? If you're stuck on finding the perfect name for your sticker empire, look no further! In this stickerlicious blog post, we've curated an exclusive list of 29 catchy and unique sticker business name ideas to make your brand shine like never before.
We've also got essential naming tips to help you craft the perfect name that speaks volumes about your business and leaves your customers stuck on you. From whimsical wonders to classy creations, these carefully chosen names will spark your imagination and set you on the path to sticker success.
So grab a coffee, sit back, and dive into our treasure trove of sticker business names and expert advice. Your perfect name awaits, so let's unleash the adhesive on your sticker empire together!
Artsy Sticker Business Name Ideas
ArtisticAdhesives
StickerCanvas
CreativeCuts
ColorfulClings
QuirkySticks
CraftyDecals
ImaginativeInk
FunkyFusions
WhimsyWalls
DoodleDots
ExpressiveStickies
VibrantVinyls
MindfulMemos
GraffitiGrips
PlayfulPastes
EclecticExpressions
PopArtPeels
InspireSticks
UrbanArtLabels
WhimsicalWonders
KaleidoscopeStix
AbstractAdhesives
HipsterHues
DelightfulDecals
ArtisanalStickers
BoldBrushSticks
HappyStickyArt
SplatterSnap
ImaginaryInk
Best Sticker Business Name Ideas
WhimsyWritings
VinylVibrance
EnchantingEmblems
ArtfulAdhesions
The Sticker Atelier
PeculiarPeels
QuirkyQuips
InkedExpressions
ChromaCuts
StickySpectrum
CleverClings
EclecticEphemera
ArtisticAffixes
ColorSplashStickers
WittyWallWords
ImaginativeImpressions
DoodleDelights
BoldBonds
VisionaryVignettes
WhimsicalWritables
Stixology
ArtisanAdheres
GraphicGrips
CraftyChromatics
InspiredInkings
MarvelousMemos
ChromaticCuriosities
QuirkItUpStickers
KaleidoKuts
Bumper Sticker Company Names
RoadArt Decals
Bold Bumper Prints
Streetwise Stickers
Cruisin' Creations
DriveBy Design
AutoExpressions
Wanderlust Wraps
MotorMagic Stickers
Freeway Graphics
Boldly Bumpered
Driftwood Decals
Highway Heroes
AutoCanvas Co.
Mobile Masterpieces
Roadworthy Wraps
DriveTime Designs
Caravan Clings
StickerPilot
Speedy Signs & Stickers
Highway Hues
Vehi-Art Graphics
Bumper2Canvas
Asphalt Adornments
On-the-Go Graphics
BumperWise Artistry
DriveArt Studio
AutoVibe Stickers
RoadRover Designs
Curbside Canvas
Car Window Sticker Business Names
WindowWonders
AutoAdorn
GlassArtistry
DriveBy Decals
VehiVision Stickers
ClearView Creations
DriveTime Decor
GlassCanvas Co.
Roadside Reflections
Mobile Mural Masters
AutoPane Art
StreetSide Stickers
CarGlaze Graphics
Transparent Treasures
WindowWrap Wizards
AutoGlimpse Designs
RoadRays Stickers
See-Through Stix
Drive-In Designs
CarGrafx
ClingOn Creations
GlassyGallery
Windshield Whimsy
CarScape Stickers
AutoFrost Decals
WindowSketch Studio
DriveSafe Designs
CrystalClear Art
AutoVista Vinyls
Catchy Sticker Business Name Ideas
StickAround Studios
SnapStickers
StickyFingers Design
LabelLovin'
StickerFusion
Tagline Treasures
PeelIt Pretty
StickyCharm Creations
Labelicious
StickerHive
TagMasters
PeelPerfect Prints
StickerCraze
TagTastic
SnapBack Stickers
LabelLush
StickerVerse
TagTrove
SnapArtistry
StickerPop Shop
Tagline Trinkets
SnapWorthy Stickers
StickerGenius
TagCrafters
LabelLuxe
StickerScape
TaglineTribe
SnapStick Art
LabelLion Designs
Clever Sticker Company Name Ideas
StuckOnIt Studio
PunnyPeels
AdhesiveAlchemy
StickerWit
ArtfulAffix
StickerMuse
WittyWrap
SmartStickies
DecalDexterity
StickerScribe
BrainyBond
AdornIQ
StuckGenius
ThinkInk Stickers
CleverClings Co.
StickyInnovations
QuipWrap
CraftyConvey
WitStick Studio
IngenuityInk
StickerSage
BrainwaveBonds
AstuteAdheres
DecalDeft
StuckSmart Designs
WitfulWraps
StickerGenuity
InklingsIQ
ArtfulInsights
Cool Sticker Business Name Ideas
UrbanDecals
ChillCuts
StickerWave
FunkyFusion Stickers
CoolVibe Adhesives
StreetStyle Stickies
ArtisticAura
RetroRevive Stickers
ChillInk Designs
BoldBlend Decals
CoolFactor Sticks
FreshArt Adhesives
Radically Retro Stickers
ChillZone Clings
EpicEdge Decals
InkedCool Stickers
GroovyGraphics
ChillCraft Studio
VibeVivid Stickers
UrbanArtsy Adhesives
CoolCanvas Creations
EdgyExpressions
StickerHype
FreshFusion Decals
ChillGraffix
FunkyFrames Stickers
ArtisticAdrenaline
StreetwiseStickies
ChillXpressions
Creative Sticker Business Names
Inkful Impressions
DazzleDecals
Stickeropolis
SparkleStickies
CraftyVibes
EnchantInks
ArtisticAdherents
StickerSymphony
ImagineIt Stickers
WhimsyWrap Studio
SparkInk Creations
StickerVerse Designs
CurioClings
Craftopia Stickers
WittyWonders
ChromaCharms
StickerSparrow
DreamyDecals
MosaicMemos
GlitterGems
VibeValet Stickers
InkEscapades
StickerWhirl
FusionFantasy Stickers
EurekaExpressions
GleamCraft Studio
StickerSynthesis
QuestArt Adhesives
CollageCove Stickers
Cute Sticker Company Name Ideas
SweetStickyArt
AdorbsDecals
TinyTreasures Stickers
CuddleCuts
CharmingChromatics
StickerPanda
DarlingDecals
PetitePrints
SnuggleStickies
KawaiiKuts
PurrfectPeels
CuteCritter Clings
BuzzyBee Stickers
DelightfulDoodles
SnazzySmiles
CutesyCreations
HappyHeart Hues
BubblyBonds
PawPrintPeels
DreamyDrops Stickers
LittleLamb Labels
WhiskersWrap
CuddleBuds Clings
ChirpyCharm Stickers
LovelyLeaflet
BunnyBounce Decals
SweetPeaStix
CupcakeCuts
HuggableHues
Die Cut Sticker Business Name Ideas
PrecisionCuts
DieCrafty Stickers
CutAbove Creations
FineCut Vinyls
SharpEdge Stickers
DieMasters Studio
ExactCut Decals
ProCut Prints
CustomDie Clings
ShapeCraft Studio
PerfectCuts Stickers
EliteDie Artistry
CleverCut Designs
DieLine Decals
BeyondBorders Stickers
DieCast Creations
FormFit Stickers
ArtisanDie Cuts
BeyondBlades Studio
DieDreams Stickers
CraftyContours
MasterDie Prints
DieCarve Creations
PrecisionPeels
SignatureShape Stickers
DieElite Studio
PrimeCut Decals
CraftyCutouts
DieVerse Stickers
Exclusive Sticker Business Names
EliteEmblems
PrestigePrints
SignatureSticks
PrimePastes
LuxeLabels
BespokeBond
PrivilegePeels
ExquisiteExpressions
LimitedEdition Stickers
OpulentAdheres
SelectiveSeals
DeluxeDecals
UniqueUnions
AristocraticArt
PrestoSticks
HighSociety Stickers
RegalReminders
RarePrints
GrandeurGraphics
ChoiceClings
NobleNotices
PrestigiousPeels
FinestFusions
CustomConnoisseur
UpscaleUprints
ExclusivoStickers
PremiumPastes
HandpickedHues
SelectStickyArt
Floor Sticker Company Name Ideas
FloorAdorn
WalkableArt
StepOnDesigns
FloorCanvas
TreadMaster Stickers
FloorFusion
FootprintArtistry
WalkwayWonders
FloorMagic Decals
TreadTapestry
WalkOnArt
FloorVibe Stickers
StepWise Designs
FloorImprints
TreadTracks
WalkableWritings
FloorGrafx
StepSense Stickers
FloorStory Studio
TreadTales
WalkwayWhimsy
FloorSketches
StepDecor
FloorVerse Stickers
TreadTrax
WalkArt Creations
FloorSymphony
StepByStep Art
FloorInk Designs
Foreign-Language Inspired Sticker Business Names
ArtePegatinas (Spanish for "Art Stickers")
ÉclatAdhésifs (French for "Sparkle Stickers")
MeisterAufkleber (German for "Master Stickers")
BellaAdesivi (Italian for "Beautiful Stickers")
Kawaiiシール (Japanese for "Kawaii Stickers")
ArtisanalCollants (French for "Artisanal Stickers")
AlegriaAdesivos (Portuguese for "Joy Stickers")
BellezzaAdesivi (Italian for "Beauty Stickers")
MeisterhaftKleber (German for "Masterful Stickers")
Arteetiquetas (Spanish for "Art Labels")
IncantevoleStickers (Italian for "Enchanting Stickers")
CréatifAutocollants (French for "Creative Stickers")
MagnifiqueCollants (French for "Magnificent Stickers")
ÉtoileAdhésifs (French for "Star Stickers")
KunststickerMeister (German for "Art Sticker Master")
BelleStickers (French for "Beautiful Stickers")
AdesiviArmonia (Italian for "Harmony Stickers")
CréationAutocollants (French for "Creation Stickers")
BonitoPegatinas (Spanish for "Pretty Stickers")
StickersBellezza (Italian for "Stickers Beauty")
FreudeAufkleber (German for "Joy Stickers")
ÉclatantCollants (French for "Brilliant Stickers")
AdesivosBrilhantes (Portuguese for "Shiny Stickers")
KunstvolleAufkleber (German for "Artful Stickers")
BellesÉtiquettes (French for "Beautiful Labels")
AdesiviCreativi (Italian for "Creative Stickers")
EstrelaAdesivos (Portuguese for "Star Stickers")
JoyeuxCollants (French for "Joyful Stickers")
GlänzendeAufkleber (German for "Shiny Stickers")
Fun Sticker Business Name Ideas
StickerMania
PlayfulPeels
JoyfulJots
FunkyFlix Stickers
WhimsyWrap
StickerGalaxy
HappyDoodle Decals
FunTastic Sticks
CheeryChromatics
SmileStick Studio
SparkleSprites
JollyInk Designs
CartoonCuts
FunkifyStickers
GleeGraphix
QuirkyQuest Stickers
WackyWhimsies
AdorableAdhesives
LivelyLabelers
ChuckleCharm Stickers
FunkyFiesta
AmusingArtistry
PlaytimePastes
DazzleDots
GiggleGrafx
FunLore Stickers
FrolicFrames
SmirkNStick
ZanyZest Studio
Glow in the Dark and Fluorescent Sticker Company Names
GlowFX Stickers
FluoroGrafx
LumoLites
RadiantStix
GlowArtistry
NeonNights Studio
LuminousLuxe
GlintGrafix
FluoroFusion
GlowVibe Stickers
EerieIlluminations
LuminousLagoon
FluoroFantasy
GlowWonders
PhosphoPrints
FluoroFlair
IllumiCraft Studio
RadiateRays
GlowScape Stickers
FluorescentFlickers
LuminescentLoft
FluoroFables
GlowingGraphics
NeonNovelties
Gloworama Stickers
FluoroFiesta
LumoLegacy
RadiantRealm
FluoroWhimsy
Good Sticker Business Name Ideas
StickMaster Designs
PrecisionPeels
ArtfulAdhesives
GraphicGrips
StickerWorks Studio
CraftyClingers
PerfectPaste Prints
CreativeCanvas Co.
InkedExpressions
CustomCut Stickers
BoldBond Creations
WhimsicalWraps
PrimePrinted Sticks
CleverCollants
ImaginativeInks
DazzleDecals Studio
EliteEmblems
ArtisanalSticks
Craftopia Creations
SignatureStickies
InspireInk Designs
SmartSeals Studio
ProPaste Prints
StellarStickers
Craftsmanship Clings
DreamyDesigns
PrecisionPeels Studio
FineArt Adhesives
PictorialPastes
Great Sticker Business Name Ideas
StellarStick Studio
PrimePrints Creations
ArtisticAffix
Craftopia Stickers
PrecisionPeel Prints
CreativeChroma
ProPaste Studio
InkedIdeas
SignatureSeals
MasterfulMarkings
EliteExpressions
ArtisanAdheres
CraftMuse Stickers
WhimsyWritables
DreamyDecals Studio
DazzleDesigns
SparkleScribes
FineArtFusion
CleverCuts
InspireInk Studio
ImagineIt Sticks
SmartStamp Creations
Craftsmanship Clings
ArtfulArcade
PictorialPrints
ProStix Studio
WhimsicalWonders
ImaginativeImpressions
StellarStampede
Kids Sticker Company Name Ideas
KiddieKuts Stickers
FunTastic Stickies
PlayfulPastes
ImaginativeInk Kids
CheeryChromatics Stickers
WhimsyWonders Studio
SparkleSprites Kids
JoyfulJots Stickers
DazzleDoodles Kids
CreativeCritters Studio
GiggleGrafx Stickers
DreamyDecals Kids
HappyHearts Studio
CartoonCuts Stickers
SmileyStix Kids
WackyWhimsies Studio
CuteCrafts Stickers
BubblyBonds Kids
SillySketch Studio
PlaytimePastes Stickers
GleeGraphix Kids
SnazzySmiles Studio
WhimsicalWildlife Stickers
KiddyCraft Studio
FunLore Stickers
AdorableArt Kids
ZanyZest Studio
JoyfulJungle Stickers
ImagineIt Kids
Lapel Sticker Business Name Ideas
LapelExpressions
PinPerfect Stickers
ChicCharm Adhesives
SmartLapel Studio
EliteEmblems
DapperDecals
LapelFusion
ArtfulAffixes
ClassyClings
LapelVibe Stickers
SignatureStickies
EleganceEphemera
LapelMaster Studio
PinFusion
CustomCharm Prints
LapelGrafx
LapelLuxe Stickers
LapelArtistry
StylishSeals Studio
PolishedPrints
LapelCraft Creations
DistinguishedDecals
LapelPride Stickers
ChicChroma Studio
LapelWhimsy
RegalReminders
SmartLapel Adhesives
LapelWonders
ArtisanalAdheres
Large Format Sticker Business Names
GrandGraphix
OversizeArtistry
MegaPrints Studio
JumboStick Creations
BigScale Stickers
GiantGraphic Works
LargeVision Stickers
MaxiMural Studio
SupersizeSeals
BigImprint Creations
HugeHues Stickers
MagnumMaster Studio
XLPrints
BigArt Adhesives
GiantGrafx Studio
MaxPrint Stickers
ColossalCanvas
GrandioseGraphics
WideFormat Studio
SuperScale Stickers
GiantGlimpse
MaxiMatrix Studio
LargeLore Stickers
JumboJet Printworks
MegaMural Studio
BigPrint Banners
GreatGraphix Stickers
SuperSizeIt Studio
MaxiMarvel Prints
Membership Sticker Company Names
ClubCard Creations
MemberMarks Studio
PremiumPass Prints
EliteEnroll Stickers
ClubCrest Graphics
ExclusiveID Stickers
V.I.P. Labels
MembersOnly Studio
ClubBadge Prints
PremiumPerks Stickers
InsiderInk Graphics
ClubClique Creations
EliteEntrance Stickers
MemberMerit Studio
GoldStatus Prints
ClubCharm Graphics
SelectAccess Stickers
SignatureStatus Studio
ClubInsignia Prints
EliteEdge Stickers
MemberMemento Graphics
PrestigePassport Stickers
ClubVantage Studio
PlatinumProof Prints
MemberSeal Graphics
SelectSociety Stickers
ClubAdorn Studio
PrimePrivilege Prints
ExclusiveElegance Stickers
Metallic Sticker Business Name Ideas
ShimmeringArt Studio
MetallicGleam Graphics
SilverLuxe Stickers
GoldenGlimpse Prints
MetalFX Creations
RadiantReflect Stickers
GildedGrafx Studio
ChromeCraft Prints
LustrousLuxe Stickers
PreciousPrintworks
GleamingArtistry
MetallicMaster Studio
GoldInk Graphics
SilverLinings Stickers
MetalMarvel Prints
DazzlingDesigns
MetallicAllure Studio
LuxeMetal Creations
CopperCraft Prints
ShinyElegance Stickers
MetallicWhimsy
ReflectiveGraphix
SilverGlow Studio
GoldLeaf Prints
GleamingExpressions
MetallicMuses Stickers
LuminescentLuxe
PlatinumPastes Studio
FoilCraft Creations
Reflective Sticker Business Name Ideas
ReflectiveGrafx
ShineOnStickers
GlowWonders
RadiantPrints
BeamingArtistry
LuminousLuxe
ReflectiCraft Studio
SparkleSparks Stickers
GleamGlimpse Prints
ShimmerScribes
IllumiDesigns
ReflectoGraphics
DazzleDrive Studio
LumoPrints
SparklingStix
LightUpCrafts
ReflectiveRealm
GlowfulGrafx
ShinyExpressions
RadianceArtistry
TwinkleTale Stickers
LuminareCraft Studio
ReflectoShine Prints
SparkCraft Stickers
GleamingGraphics
RadiateVibe Studio
LightGlint Stickers
ShineFusion Prints
BeamingBrush Stickers
Retro Sticker Company Name Ideas
VintageVibe Studio
RetroRays Stickers
NostalgicPrints
ClassicChroma
ThrowbackGrafx
OldSchool Studio
TimelessStix
RetroRevival Prints
VintageArtistry
GroovyGraphics
RetroWonders
VintageVerse Stickers
NiftyNostalgia
RetroFusion Studio
RetroGlamour Prints
FunkyFlashbacks
VintageVoyage Stickers
RetroRebirth Studio
TimeWarp Prints
VintageVisions
RetroReel Stickers
RetroRendezvous Studio
VintageVista Prints
RetroRetrograde
ClassicChronicle Stickers
VintageVortex Studio
RetroRecollect Prints
CoolCasette Stickers
VintageVoyager Studio
Screen Printed Sticker Business Names
ScreenPrintPro
InkCraft Studio
PrintWizards
ScreenArtistry
InkGenius Stickers
PressItPrints
BoldScreen Studio
InkWorks Stickers
PrintPulse
ScreenCraft Creations
InkMasters Stickers
VibrantPrint Studio
PrintWise Stickers
ScreenSense
InkScape Studio
PressCraft Prints
ScreenDream Stickers
InkPulse Studio
PrintNexus
ScreenStory Stickers
InkXpert Studio
PressWorks Prints
PrintBliss Stickers
ScreenSpark Studio
InkCanvas Creations
PressingPrints
PrintVista Stickers
ScreenVibe Studio
InkVoyage Prints
Seasonal Sticker Business Name Ideas
SeasonalScribbles
FestiveFusion
HolidayHues Studio
SeasonalSplendor Stickers
CelebrateCrafts
WinterWonderPrints
SpringtimeSpritzers
SummerSizzle Studio
AutumnArtistry Stickers
FestiveFoliage
SeasonalSparkle
JoyfulJingles Studio
HolidayHue Prints
SeasonalSpectra Stickers
WhimsicalWinters
SpringBling Studio
SummerVibes Prints
FallFrenzy Stickers
SeasonalShine
MerryMoments Studio
SeasonalBreeze Prints
HolidayHarmony Stickers
SeasonalSerenade
VibrantVacations Studio
WinterWhimsy Prints
SpringtimeStickers
SummerSunrise Studio
AutumnArtisan Prints
FestiveFrolic Stickers
Special Occasion Sticker Company Names
OccasionExpressions
MemorableMarks
CelebrationCrafts
EventEmblems
FestiveFusion Studio
SpecialStix
MomentousPrints
JoyfulJots Stickers
MilestoneArtistry
MemorableMoments Studio
FestivityFables
CommemorativeCrafts
OccasionArt Stickers
CelebrationChroma
UniqueUnions Studio
CherishedPrintworks
OccasionGlow Stickers
PreciousProof Prints
WhimsicalWonders
FestiveVibes Studio
MomentoMaster Prints
JoyfulJingles Stickers
SpecialScribe Studio
RemarkableReminders
FestiveAffix
CelebrationCraft Studio
OccasionWonders
MemorableInk Stickers
RemarkableRays
Specialty Sticker Business Name Ideas
StickerSavants
CraftyCustoms
ArtisticAdhesives
MasterpieceSticks
UniqueUnions Studio
SpecialtyScribe Stickers
EliteExpressions
WhimsyWonders Prints
SpecialFusion Studio
SignatureSeals
SpecialtySparkle Stickers
ArtisanalAffix
CustomCraft Studio
SpecialtySense Stickers
ImaginationInk
PrecisionPastes
SpecialtyShine Studio
FinestFusion Stickers
Craftopia Creations
SpecialtySplendor Prints
CraftyCollants
BoldBlend Studio
SpecialtySwirl Stickers
CreativeCraftworks
ArtfulAffix Studio
SpecialtySymphony Prints
DazzleDesigns
MasterpieceMemos
SpecialtySpectrum Stickers
Sticker Business Names Using Alliteration and Puns
Sticker Spectacles
Punny Prints
Sticker Sparklers
Crafty Critters
Dazzle Doodles
Whimsical Wonders
Artful Adhesives
Happy Hippo Stickers
Curious Cats Creations
Precise Pictorials
Crafty Cuties
Jazzy Jots
Creative Canvases
Funky Fusions
Joyful Jingles
Stellar Stix
Witty Whimsy
Sparkling Scribes
Dreamy Decals
Clever Clingers
Kooky Kritters
Snazzy Sparkles
Funky Fusion Studio
Playful Paws Prints
Whimsy Walruses
Curly Crafters
Artsy Antics
Dapper Doodles
Precious Paws Stickers
Sticker Sheets Company Name Ideas
SheetfulScribbles
StickSheet Studio
CraftyCuts Stickers
VersatileVinyls
SheetArtistry
MultiSheet Marvels
CustomCling Studio
WhimsicalWraps
SheetSwap Stickers
MegaSheet Masters
Craftopia Creations
StickySwirls Studio
SheetSense
ArtisticAdhesives
PatchworkPastes
SheetfulSplendor
PrecisionPeels Studio
DreamyDesigns
SwatchSheet Stickers
CraftyContours
SheetShowcase Studio
MasterSheetPrints
DazzleDoodles
SheetSpectrum
CraftyCanvas Studio
Kaleidosheet Stickers
SmartStamp Creations
SheetfulSpectrum
FunkyFusions
Transparent Sticker Business Names
ClearCanvas Studio
TranslucentPrints
CrystalClear Stickers
See-ThroughArtistry
TransparentFusion
ClearVision Prints
CrystalCraft Studio
Translucence Stickers
ClearDreams
GlassyGraphics
ClearImpressions
TranslucentTales Studio
TransparentTouches
ClearEssence Prints
CrystalVibe Stickers
GlassCanvas Studio
TranslucentTrends
ClearGlow Prints
See-ThroughScribbles
GlassyGrafx Studio
TransparentWonders
CrystalHue Stickers
ClearSpectrum Prints
GlassEdge Studio
TranslucentWhimsy
ClearFramed Stickers
CrystalPastes
GlassyArtistry Studio
See-ThroughSplendor
Unique Sticker Business Name Ideas
QuirkyQuips
UncommonPrints
EccentricExpressions
NoveltyStix
WhimsyWinks
OutlandishArtistry
SingularSeals
CurioCrafts Studio
PeculiarPastes
ExceptionalEmblems
OddityOasis Stickers
UnconventionalInk
AvantGardeGraphics
UnusualAdheres
BizarreBlends Studio
DistinctiveDecals
WhimsicalWonderWorks
UniqueVerse Stickers
ExtraordinaryInk
UncommonFusion
EccentricEdge Studio
SingularScribbles
OddityOutpost Stickers
CuriousCraftworks
UnconventionalVibe
PeculiarPalette Studio
RemarkableRemnants
QuirkyQuest Stickers
WhimsicalWildcrafts
Vinyl Sticker Company Name Ideas
VinylVerse Studio
AdhesiveArtistry
VinylVibes
CraftyClingers
PrecisionPrintworks
VinylVortex
VibrantVinyls
ArtfulAdhesives
VinylVision Studio
BoldBond Stickers
VinylVoyage Prints
StickySpectrum
VinylFusion
WhimsyWraps Studio
ExpressiveVinyls
CustomCuts Stickers
VinylVista Prints
DazzleDecals Studio
VinylVault
ArtisanalAdheres
VinylBloom Studio
VersatileVinyls
VinylRevolution Stickers
Craftopia Creations
VinylPalette Studio
VinylWonders
KaleidoscopePrints
VinylWhimsy Studio
MasterfulMarks
Wheelie Bin Sticker Business Names
BinArtistry
WheelieWrap Studio
TrashTrend Stickers
BinDesigns
WheelieWonder Prints
GarbageGrafx
StickerBin Studio
EcoChic Stickers
BinBranding
WheelieWhimsy
GreenGraffiti Studio
WasteWrap Stickers
BinBling
WheelieWonderland Prints
EcoExpressions
TrashTransfers Studio
BinBeautifiers
WheelieWonders
RecycleRender Stickers
BinArtisan Studio
TrashToTreasure Prints
BinGlamour
WheelieWraparounds
EcoCraft Studio
GreenGlow Stickers
BinVibrance
WheelieWonderworks
ReusableRender Prints
EcoEdge Studio
Window Sticker Business Name Ideas
WindowWonder Studio
ClearVision Stickers
GlassyGraphics
WindowWhimsy Prints
PanoramaPastes
GlassGlimpse Studio
WindowWonders
ClearCanvas Stickers
ReflectiveRealm
GlassArtistry Studio
WindowVibe Prints
WindowGrafix
CrystalClear Stickers
VisionaryVinyl Studio
WindowWhispers
TranslucentTales
GlassMasters Studio
WindowFusions
SeeThroughArtistry Stickers
GlassEdge Studio
WindowSpectrum Prints
CrystalCanvas
WindowExpressions Studio
VisionVista Stickers
WindowElegance
GlassyCrafts Studio
WindowPanorama Prints
PanoramicPastes
GlassGlitz Studio
For more naming suggestions, check out our list of print shop name ideas.
Check out our list of sticker business slogan ideas for help with the next step of your branding.
Do's and Don'ts
Choosing the perfect name for your sticker business is an exciting step in establishing your brand identity. Here are some key do's and don'ts to help you make a confident and inspiring decision:
Do's:
Be Unique and Memorable: Aim for a name that stands out from competitors and is easy for customers to remember. A unique name can help create a lasting impression.
Reflect Your Brand: Your business name should reflect the essence and values of your sticker business. Consider words or phrases that evoke creativity, fun, and quality.
Consider Relevance: Choose a name that is relevant to stickers and the type of stickers you offer. This helps potential customers understand what your business is all about.
Check Availability: Before falling in love with a name, ensure that it is not already in use or trademarked by another business in the same industry. Check domain names with Namecheap and social media handles as well.
Test the Pronunciation and Spelling: A name that is easy to pronounce and spell will make it easier for customers to find and share your business with others.
Think Long-Term: Choose a name that will remain relevant and timeless as your business grows. Avoid trends that may fade quickly.
Get Feedback: Seek input from friends, family, or potential customers to gauge their reactions to the name. Fresh perspectives can help you refine your choices.
Don'ts:
Avoid Hard-to-Spell Words: Unusual or overly complex spellings can confuse customers and make it difficult for them to find your business online.
Steer Clear of Generic Names: Common or generic names may make it challenging for your business to stand out and be remembered.
Stay Away from Lengthy Names: Lengthy names can be difficult to remember and might not fit well on marketing materials or packaging.
Avoid Confusing Abbreviations: While abbreviations can be catchy, they might not always convey the essence of your business.
Don't Box Yourself In: Avoid using a name that only represents a narrow aspect of your sticker business. You want a name that can encompass potential future expansions.
Skip Overused Terms: Trendy terms that are widely used may not make your business stand out and might become dated quickly.
Avoid Legal Issues: Ensure your chosen name does not infringe on trademarks or copyrights to prevent legal troubles in the future.
Final Thoughts
Remember, your sticker business name is a vital part of your brand identity. Take your time to explore options and find a name that resonates with your business goals and target audience. Stay motivated, stay creative, and have fun in the process! Your perfect sticker business name is just around the corner. Best of luck on your entrepreneurial journey!
Check out our post on how to start a sticker business for help with your next steps.
Want to learn step-by-step how I built my Niche Site Empire up to a full-time income?
Yes! I Love to Learn
Learn How I Built My Niche Site Empire to a Full-time Income
How to Pick the Right Keywords at the START, and avoid the losers
How to Scale and Outsource 90% of the Work, Allowing Your Empire to GROW Without You
How to Build a Site That Gets REAL TRAFFIC FROM GOOGLE (every. single. day.)
Subscribe to the Niche Pursuits Newsletter delivered with value 3X per week