How to Start a Podcast and Actually Make Money from Your Show
When you buy something through one of the links on our site, we may earn an affiliate commission.
You're here to find out how to start a podcast and make money in the process. We've got you covered.
Podcasting is an excellent way to share your voice and opinions with the world and make money.
In this step-by-step guide, you'll learn how to start a podcast from scratch and turn it into a successful business.
We'll cover everything you need to get started, including getting a concept, naming your podcast, getting the right tools, picking software, creating artwork and writing descriptions, getting listeners, and monetizing your show.
Here's all we'll be covering in this how to start a podcast and make money guide, so you can quickly navigate to what interests you the most.
Ready? Let's go! But before that, let's answer some common questions on this topic.
Do Podcasters Make Money Podcasting?
Yes! Many podcasters make a full-time living from their podcasts. So you're in good company thinking about how to start a podcast and make money.
Some great examples are:
Joe Rogan: $30 million
Karen Kilgariff & Georgia Hardstark: $15 million
Dave Ramsey: $10 million
There are plenty of ways to monetize your podcast which we'll cover later in this guide.
How Do I Launch a Podcast?
Launching a podcast is relatively easy. You'll need some basic tools and equipment, but overall it's an affordable endeavor. We'll walk you through each step of the process in this guide.
What Is a Podcast?
In short, podcasts are audio files that can be streamed or downloaded by listeners on their computer or mobile device. They're like radio shows but listeners have more control over what they listen to.
What Kinds of Podcasts Are There?
There are a ton – the possibilities are endless! So when considering how to start a podcast and make money, know that your options are limitless.
The easiest way to start is by choosing a topic you're already interested in.
You can also choose a subject related to your business and talk about it in each episode.
For example, if you own an affiliate blog, you could create a podcast called "Affiliate Marketing for Beginners" where listeners get advice from affiliate marketers that started small just like them.
Getting Started
Here are the steps for how to start a podcast and make money.
Step 1: Get a Concept
The first step in starting a podcast is coming up with an idea for the show. This can be anything from discussing current events or sharing personal stories, to teaching people about a specific topic.
Before you get started, ask yourself:
What kind of content will my podcast have?
Will my content be relevant to my audience?
How often do I want to publish new episodes? (It's recommended you release one at least once a week.)
Which format should the show take on? (For example, interview or solo discussion)
Step 2: Name Your Podcast
Once you've picked an idea for your podcast and decided how often it'll be released, it's time to give the concept a name.
Think about what would sound good as part of the title.
Remember that this is something people will identify your brand with, so don't pick anything confusing!
Here are some examples:
A Daily Talk Show about Email Conversions
The Money in Affiliate Marketing – A How-to Guide for Everything Affiliate
Choosing the name for your show is one of the most crucial steps when starting a podcast. So, take some time to think this through before moving forward.
Think about how your target audience will search for your show and how you want to be perceived.
Check out our list of podcast name ideas and podcast slogan ideas for help with branding your show.
Step 3: Get the Basic Tools Needed to Start Podcasting
Now that you have a concept and a podcast name, it's time to get the basic tools needed to start podcasting.
This includes:
A Microphone
When it comes to microphones, there are a lot of different options.
The type you need depends on your budget, the environment you'll be recording in, and what type of podcast content your show will have.
If you're just starting then we recommend either getting a USB microphone or an XLR microphone with an audio interface.
Headphones
Quality headphones will help you hear the audio coming out of your microphone and prevent echo. You can check them by recording yourself speaking into a mic with no other sounds to see if there's any feedback or low volume levels.
That said, headphones aren't absolutely necessary but they can help improve your recordings.
Editing Software
Editing software is used for combining multiple tracks, adding music and sound effects, removing unnecessary parts from an episode, and more. If you're just starting then we recommend using Audacity as it is free and relatively easy to use once you get the hang of it!
A Podcasting Hosting Service
This is where all your episodes (public and private) reside on the internet. This allows your audience to download them to their computer/phone/tablet whenever they feel like listening to your podcast. Common options include Libsyn, Spotify, and SoundCloud.
Internet Connection (for Uploading Your Podcast)
You'll need a stable and fast internet connection to upload your episodes.
Here are some important considerations when picking the right tools for your podcast:
Before buying anything, make sure it's compatible with the platform you want to host your show on.
If you use Windows, don't forget about Skype! It can function as an input source for some microphones.
Pick Your Editing and Recording Software
Now that you've got the basics for equipment, it's time to pick software for editing and recording your podcast episodes. This is where it gets tricky because there are so many options!
The good news, though, is that there's free software you can use to start your podcast alongside affordable paid options.
Here are some popular choices:
Adobe Audition
This professional-grade software can be used for recording, editing, and mixing. It is the most popular one on this list! It has a free trial after which you'll have to opt for a paid plan by subscribing monthly or yearly.
GarageBand
This is a free, simple audio editor/recording studio that comes preloaded on Apple devices like iPhones and iPads. GarageBand has a ton of easy-to-use features which make it great for people just starting with podcasting! The premium version of the tool, Logic, costs $200.
Audacity
This is an open-source multi-track audio editor program. The tool is very powerful when combined with encoders such as LAME MP Converter. Its best feature is its simplicity: anyone can use it without much trouble!
Audacity is also a great option for those who are starting on a budget and want something easy to use. It can be downloaded for free online and runs on Windows, Mac, and Linux operating systems.
Logic Pro
This is a professional recording software made by Apple that comes with a wide range of features such as audio editing, MIDI sequencing, synthesizing sounds, and more.
If you're looking for something more advanced, then Logic Pro may be the right choice for you!
It has a monthly subscription fee but offers a lot of features that other software doesn't. The good news is, they offer a free trial if you want to test the tool out first before committing.
Step 4: Copyright and Trademark
Before starting your podcast, it's important to understand copyright law.
Basically, as the creator of a work, you hold exclusive rights to it. This means that no one can use your content without permission from you.
There are some exceptions to this rule, like using limited amounts of copyrighted material for educational, research, or critical purposes when properly cited.
On the flip side, to protect yourself from infringing on other people's copyrights, don't use their content like music without permission. Instead, hire someone who will compose original background tracks for you! Or can do this yourself with free software like GarageBand.
Trademarks are another way to protect your intellectual property (IP). This is where logos come in – they help identify companies and products so no one confuses them with others.
That said, keep trademarks out of the titles and descriptions of your show since that may confuse listeners about what belongs to whom.
Step 5: Podcasting Format
There are tons of different formats you can choose from when starting your podcast. For example, solo discussions on a topic with one person or an interview series with different people covering different topics. The possibilities are endless!
But before picking out what kind of format to use, it's important to consider your audience and who will resonate best with them.
This will make them more likely to stick around for future episodes which means higher sales down the line too!
Some popular formats include:
Solo discussion shows
Interviews
Talk shows
Informative shows
Comedy
Games
Educational shows
Product reviews
News/culture updates
Spoken word poetry
Music
Radio-drama style
Storytelling
Specialty topics like healthy living
Step 6: Record the First Podcast
Now that you have everything set, it's time to record your first podcast!
To make things less stressful, try and set some ground rules for yourself before hitting the record button.
For example, decide how long each episode will be and what kind of intro and outro you'll use. This can help keep consistency throughout your series.
When recording, speak slowly and clearly into the microphone – this will help with editing later on. Also, be sure to take breaks between sentences to avoid any audio distortion.
Since people mostly listen to podcasts offline, make sure to include important show notes like links or resources mentioned in the episode description.
This helps keep listeners engaged even when they're not able to listen to the episode in full.
Step 7: Create a Podcasting Schedule
Now that you have all the basics down, it's time to start planning out your podcasting schedule!
This can be tricky since most podcasters are used to releasing episodes on a sporadic basis. But try and give listeners some idea of when they can expect new content. This will help keep them coming back for more.
There are a few different ways to structure your show:
Release one episode a week
Or, release two episodes a week with different topics
Release every other day with shorter segments
Or, go wild and post daily! (but this might be a lot of work)
Step 8: Choose a Podcast Host
After deciding what type of format to use and when your podcast is going to release, it's time to choose a hosting service. This is a crucial step in how to start a podcast and make money.
Your podcast host will be where listeners can find all of your content whenever they want and listen to them wherever they please, once you upload each episode.
The last thing you want is for people not to be able to hear the full show. So, picking a host with enough bandwidth and storage space is crucial!
While most host services offer free trials, for most you'll need at least one month's worth of experience under your belt before they allow you to upload more than three episodes.
The most popular options include:
Libsyn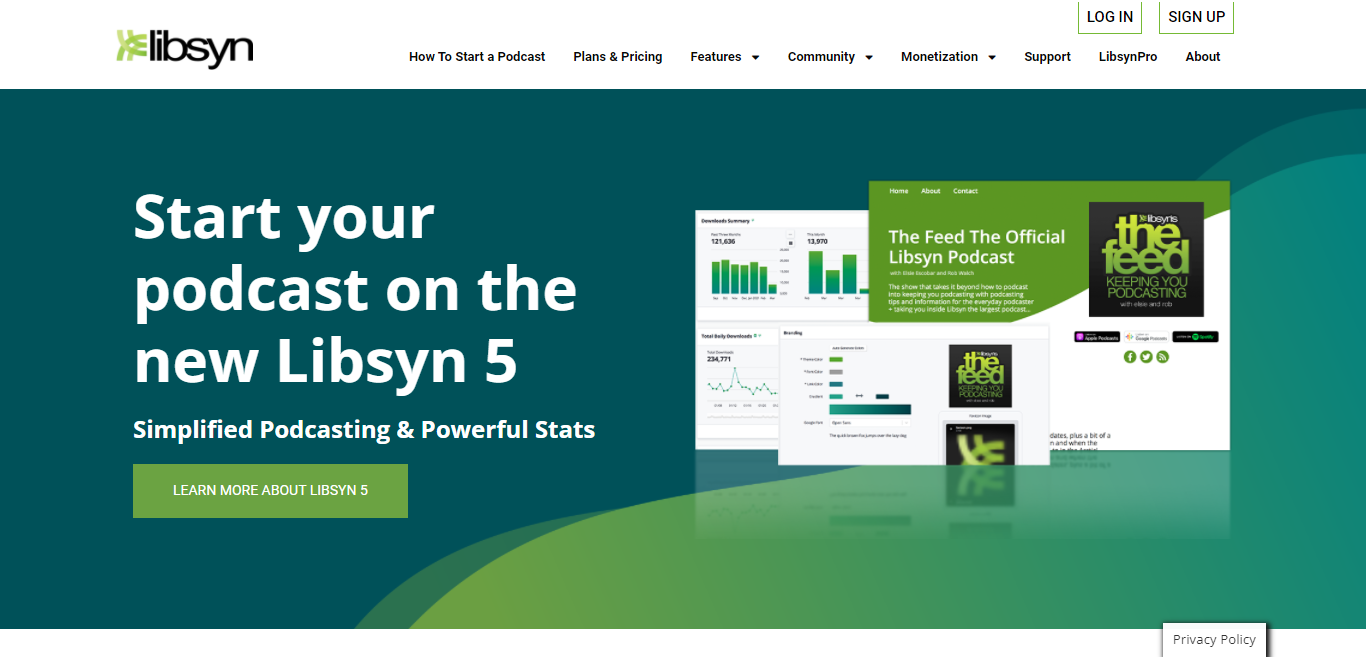 This is a U.S.-based company that offers both monthly and annual plans with up to 5 hours per day of storage (unlimited bandwidth).
They also have great analytics for those who are looking to learn about their audience. Libsyn has been around since 2004 which makes it one of the oldest companies out there in this space! Its starting price point is $5 per month.
Podbean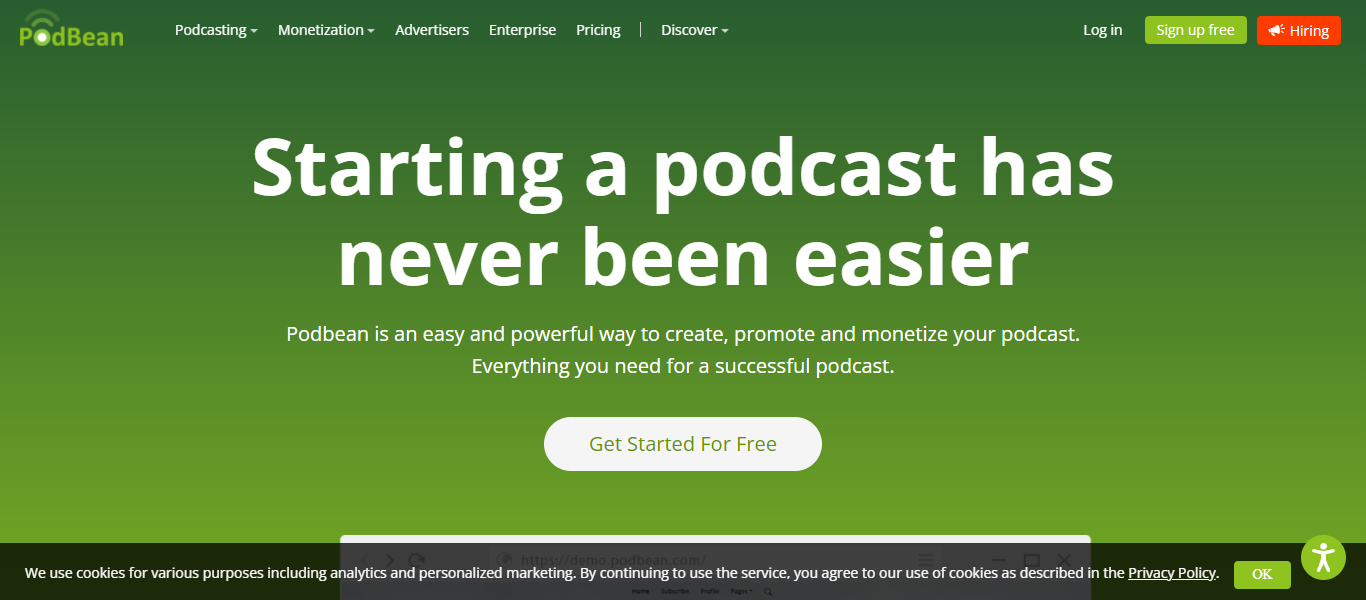 This is a global podcast hosting company that offers a free tier with 100MB of storage space and 5 hours per month of bandwidth.
Paid plans start at $9 per month and go up to $99/month for the business plan. Podbean has been around since 2006, which makes it one of the newer companies in this space!
It also offers some great features like transcription and automatic posting to social media.
Buzzsprout
This U.S.-based hosting service offers a free plan. Their paid packages start at $12/month for unlimited storage and up to 3 hours of uploads every month.
They also have a built-in ad network that can help monetize your show!
Step 9: Curate Your Podcast Artwork and Write a Description
Now that you have all your content planned out, it's time to start working on the aesthetics of your podcast. This includes designing a logo and selecting cover art for each episode.
Your artwork should be eye-catching and reflect the tone of your show. It's also important to write a catchy description that will move listeners to click the 'play' button.
Here are some tips:
Keep the text short and sweet – people usually scan through descriptions before deciding if they want to listen or not.
Include search keywords in your title and make sure they're included in your description as well.
Use humor or pop culture references sparingly – not everyone will understand them
Make a great first impression!
Step 10: Get Listeners
Now that you understand the basics of how to start a podcast and make money, it's time to get some listeners!
The hard part is getting started.
Once word gets out about how awesome your podcast is, there should be no trouble attracting new fans and influencing others into listening as well.
Here are a few ways you can increase visibility:
Submit to Directories
There are plenty of places on the internet where people go looking for podcasts like Apple Podcasts or Google Play Music (just make sure they're relevant to your audience!) Start by submitting your RSS podcast feed to them.
Make sure to keep in mind their specific guidelines when doing so!
Social Media
This one's a no-brainer. Platforms like Twitter and Facebook can be great ways to get the word out there as well as connect with other podcasters.
You can also join or create communities like a Facebook group specifically built for podcasters!
Guest Appearances
If you have a friend who also has a podcast, ask if they'd be interested in having you on as a guest. This is a great way to not only promote your show but also learn from someone else's experiences!
Step 11: Monetize Your Podcast
Now that you have everything in place, it's time to make some money from all your effort! There are plenty of ways to do this. It really depends on the type of content you're putting out there.
Here are a few options:
Sponsorships
If relevant brands are approached correctly (and at the right time), sponsorship deals can be extremely rewarding in ad revenue.
But, it's important to note that not all brands will want to be associated with your podcast.
Just like how exclusivity is key for advertisers, most brands want their sponsorship messages to reach a specific audience. That said, there are ways to entice potential sponsors.
Here are a few methods:
Have exclusive spots reserved for podcast advertising (preferably at the beginning or end of each episode) and let relevant brands know
Mention/feature sponsored products and services in your content
Create custom artwork or jingles mentioning the sponsor(s)
Reach out to companies who you think would be a good fit for your show
Just be sure that the content of your show isn't compromised by the addition of these ads and always disclose which brands are sponsoring you.
People don't like feeling like they're being sold to, so be transparent about it.
Affiliate Programs
If you're already mentioning products and services in your content, why not take advantage of affiliate marketing and link out directly?
Affiliate marketing involves promoting other brands' services and products in exchange for commissions under an affiliate program.
The commissions are tracked using a special affiliate link (URL) or code, so you'd want to use them in any written material or show notes for your podcast.
There are so many affiliate marketing programs out there that you can choose from. There's Amazon, Rakuten, and HostGator, to name a few that offer referral fees!
The commissions vary depending on the vendor but in general, expect anywhere between 15-25% for affiliate sales.
Donations
There's no denying that donations are a popular go-to when monetizing podcasts. It all depends on the type of audience your show attracts and how big they are.
Though donations aren't a great way of monetizing your podcast in terms of making money directly from them, they're still a great source of income for podcasters who want to make their podcasts free (or don't want to charge viewers).
You can get set up on various donation platforms like Patreon or Ko-fi, which will allow the podcast listener to donate any amount they'd like whenever they feel inspired by your work.
Paid Downloads
People love getting things for free but if you're putting out great content, why not charge for it?
If you're putting out a podcast with high-quality content, people will be willing to pay for it!
Just take a cue from all the "premium" membership blogs that allow certain visitors access to exclusive content in exchange for them paying a monthly fee.
For a bit more creativity, give away free episodes every once in a while. People love getting things for free, so if they like what they hear on that episode, chances are they'll stick around and opt for paid downloads.
Consulting Deals
Podcasters can also offer consulting deals to help businesses with various aspects of their marketing (learn more in podcasting for business). This usually entails a one-time meeting or a series of meetings, depending on what the business wants.
You can either charge an hourly rate or a flat fee for your services. Not only is this a great way to make some extra money, but it's also great for building relationships with potential clients.
Partnerships
Another way to monetize your podcast is by forming partnerships with other brands, organizations, or individuals. In return for promoting their products and/or services on your show, they'll do the same for you!
This type of arrangement is mutually beneficial so both parties must be clear about what they're expecting from one another. You can even create specific segments on your podcast specifically for promoting partners' products/services!
There are multiple ways to monetize your podcast and start making money from it. Just think about what works best for you and go from there!
Start Your Podcast Today!
Now that you've read this comprehensive guide on how to start a podcast and make money, there's no reason not to launch your very own podcast.
It can be a lot of work but the results are worth it. Not to mention, it's a great way to establish yourself as an expert in your field. So what are you waiting for? Get started today!
As a recap, here are the steps we covered in this step-by-step guide on how to start a podcast and make money:
Get a Concept
Get the Basic Tools Needed to Start Podcasting
Pick Your Editing and Recording Software
Copyright and Trademark
Develop a Podcast Format
Record the First Podcast
Create a Podcasting Schedule
Choose a Podcast Host (see Buzzsprout vs Podbean for ideas)
Curate Your Podcast Artwork and Write a Description
Get Listeners
Monetize Your Podcast
The most important step is taking action, so look into the hosting services listed in this guide to get started. Just about anyone can do this as there's little effort involved in creating a profitable podcast!
And you can get one step closer to your goal by checking out our list of the best podcast production companies!
Want to learn step-by-step how I built my Niche Site Empire up to a full-time income?
Yes! I Love to Learn
Learn How I Built My Niche Site Empire to a Full-time Income
How to Pick the Right Keywords at the START, and avoid the losers
How to Scale and Outsource 90% of the Work, Allowing Your Empire to GROW Without You
How to Build a Site That Gets REAL TRAFFIC FROM GOOGLE (every. single. day.)
Subscribe to the Niche Pursuits Newsletter delivered with value 3X per week