100 Podcast Name Ideas List for Your New Podcast
When you buy something through one of the links on our site, we may earn an affiliate commission.
Coming up with a podcast name can be a challenge sometimes. That's why I've put together this podcast name ideas list to make it easier to pick the perfect name for your show.
The process for picking your podcast name should be fun, but instead, a lot of podcast creators find it stressful and overwhelming.
You don't want to pick random names to title your podcast. It's important and there's a process you can follow to make it all a lot easier.
In this article, you'll learn some tips for how to pick a clever, cool podcast name that makes sense for your show. We'll go over:
How to name your podcast
The 5-step process for choosing the right name
100 podcast names for your podcast show
Let's go!
How to Name Your Podcast
A tricky question, huh? When coming up with your podcast name ideas list, you want to consider a few factors. The process can feel daunting but, it doesn't have to be. Try to make it fun and enjoy the process of using your creativity to name your show.
Choosing a podcast name is important because it's going to be the label tied to your podcast.
Your podcast name should be clever and go along with your show.
Once you pick your name, it should stick with your podcast for the life of the show, preferably. Nothing is more confusing than a podcast that has gone through name changes.
Here are 5 tips for picking the right podcast name.
5 Tips for Picking the Perfect Podcast Name
There's no perfect system for choosing your podcast name, but these tips can help the process be more stress-free. Take a look!
1. Pick a Unique Name
First, you want to pick a unique podcast name. The word or words used should be memorable and draw a connection tying the name with the content you produce on your show.
If you can find a name that's clever or catchy but still makes sense for the content of your show, that's the perfect mix!
Pro Tip: Consider using the host's name for branding purposes
For example, The Joe Rogan Experience is an example of using the host's popularity to drive traffic. At the same time, it doesn't tell you what the show is about. Even with this, fans of Joe Rogan will likely enjoy this podcast if they like his other content.
There's a trick to this though.
Some podcasts like Apple don't let you get away with tacking your name onto the end of the podcast. For example, Apple Harvesting with Joe Platt wouldn't work but The Joe Platt Show or The Joe Platt Harvesting Show would.
So, you'll start by jotting down your thoughts in your podcast name ideas list. Then you'll move to the next step.
2. Make Sure Your Name Relates to the Podcast
Your podcast name should relate to your podcast.
Your podcast name doesn't have to match your show's topic precisely. If you plan on podcasting about fashion trends, the words fashion and trends don't necessarily need to be in your show title.
You could use one word that relates to fashion and a second word that's broader, leaving you open to discuss other things.
An example of this would be the Wardrobe Crisis podcast. They talk about fashion but also include more serious topics like mental health, sustainability, and ethics.
To get inspired, you can search podcast show names in directories like Stitcher or Apple Podcasts. This will allow you to browse the names of existing shows to get a feel for how the name goes with the podcast. It can also spark some inspiration, helping you name your own podcast.
3. Keep the Name Short and Sweet
Your podcast name should be a word or phrase that's short and sweet. A shorter name usually always wins over a long name.
You want your podcast name to be easily remembered by your ideal listener. A long name can be complicated to recall so it's better to keep it simple.
4. Use Creativity
Pick a creative podcast name. Have fun with being creative and let your imagination go wild while thinking of a good name for your show.
Here are some examples of creative names:
The Lazy Genius
Swipe Right Podcast
Clever Cast
Morning Muse
Prolific Podcast
Beautiful Anonymous
Real Talk
WTF with Marc Maron
Each word in the podcast name has meaning. Combined, you get a creative, catchy show title.
5. Choose a Name that Works with All Platforms
Lastly, think of the big picture when picking a podcast name. Consider your digital footprint including all the platforms your show could appear on:
The name you pick for your podcast should work well for all platforms including being used as a blog name and/or domain name.
How to Come Up with a Podcast Name
You will keep all of the above in mind to come up with a podcast name:
Picking a podcast name that's unique, short, and sweet
Make sure it works well on all platforms
Choosing a creative name that's relatable
Here are some other tips shared by Anchor podcast hosting…
Think About Your Show's Content
When naming your podcast, keep your content in mind. If you had to close your eyes, think about:
What kind of topics your podcast would feature?
What questions would you ask or answer?
Will those questions be open-ended to encourage discussion or close-ended?
Your vision should help guide you to a name that's a good fit for your show. Anchor gives a great example: Kombucha Brew vs. Fermentation Nation
You can see how the first show name is more specific. The audience knows that they'll be getting content about kombucha whereas the second show name is broader. It's about fermentation which could be kombucha, beer, or other fermented drinks.
Choose a Short Show Title
Next, keeping your show name shorter will make it easy to remember. The average podcast name on Anchor is 3-4 words.
Short names roll off the tongue. They're easier to remember and more convenient to say out loud.
Shorter names can also help with searchability.
Also stay away from:
Misspellings
Special characters
Abbreviations
And, check to make sure the name you're considering isn't already taken.
Test the Name Publicly
Then lastly, test the name before you make a final decision. Consider conducting a user test where you can poll an audience on the name or compare two names to see which one performs better.
100 Podcast Name Ideas List
Now, to get you started, we've compiled a podcast name ideas list showing 100 cool and clever podcast names. If you find a name you like, don't forget to check if it's available including the domain name.
This list should serve as an example of how to name your show and inspire you. Let's go.
Marketing and Social Media Podcast Name Ideas List
Get Visible
Marketing World
B2B Unfiltered
Digital Marketing Tomorrow
Influence Talk
Starter Social
Speak Media
Overtime Social
Digital Talk
Response Table
Webmaster Warriors
Let's Talk Digital
Sociable
Marketing Overdrive
Be a Digital Ninja
Instant Media
Marketing Mantra
Agency Builders Podcast
Hashtag It All
Food and Travel Podcast Name Ideas List
Chat Coffee

Project Coffee

Girlpacker
Foodie Friday
Absolute Brewing
Behind the Fork
Farm to Fork
Jetlagged
Radio Chef
Gourmand Podcast
What's Cooking
What the Foccacia
Central Brewing
Chat Coffee
Waffles & Noodles
Women Who Cook
Parenting, Marriage, and Life Podcast Name Ideas List
Our Marriage Journey
Accessible Adventures
Dad to Be
In the Real World
In My 20s
Huxtable Moments
Parenting Unscripted Podcast
Dadvice
Parents at Play
Dad's Garage
Dad's in the Shed
Sports Podcast Name Ideas List
Basketball Dads
Three Man Weave
Backyard Talk
Bench Talk
Runner Episodes
Hoops and Culture
Baller Gossip
Budgeting, Money, and Finance Podcast Name Ideas List
Zero Balance
One Dollar a Day
We Went Budgeting
The Three Car Garage
Budget Cuts
Success Money
Catch This Wealth
GOAT Money
Generation Money
Your Money Sucks

I Have A Million Dollars

Deep Crypto
Project Green

Fearless Money

Crypto Culture
Career and Job Podcast Name Ideas List
CareerDay
Unemployed
Career Junction
We Need to Pivot
Career Tea
Career Bytes
The Techpreneur's Podcat
Career Meets Life
Miscellaneous Podcast Name Ideas List
Behind the Tweens
Eat Wander Laugh
Pitch Lazy

Mixed Understanding

Dancery
Push Media
Ghost Episodes
Music Pod
Crunch Time Studio
Killer Pop Culture
Zillennialz
Baby Boomers Meet
No Thanks, I'm Single
I Love Japan!
We Used to Work Together
Uncool Millennials
Savvy Squad
Buzz Talk
Chat Studio
Young & Hungry
Talk Thirty
Founders in Tech
Search Life
Inhaled
What are Podcast Name Generators?
As the name implies, it's a generator of podcast names. It's a tool you use to help come up with names for your podcast show.
Here are 3 podcast generator tools you can check out:
Business Name Generator
Business Name Generator helps you come up with a unique name for your podcast using their name generator (great if you're podcasting for business). The output it produces is based on the keywords you use. They also offer an app name generator, business name generator, and store name generator, among other tools.
Check out Business Name Generator
Riverside.FM

To use Riverside.FM's podcast name generator, you'll use some words to describe your podcast like "show about cat training."
In their best practices, they share that shorter names produce more original podcast name ideas and longer names lead to more specific names.
Visit Riverside.FM to get started
BizNameWiz
With BizNameWiz, you start by typing words into the name field, then click Generate.

I typed the word Finance to get these results…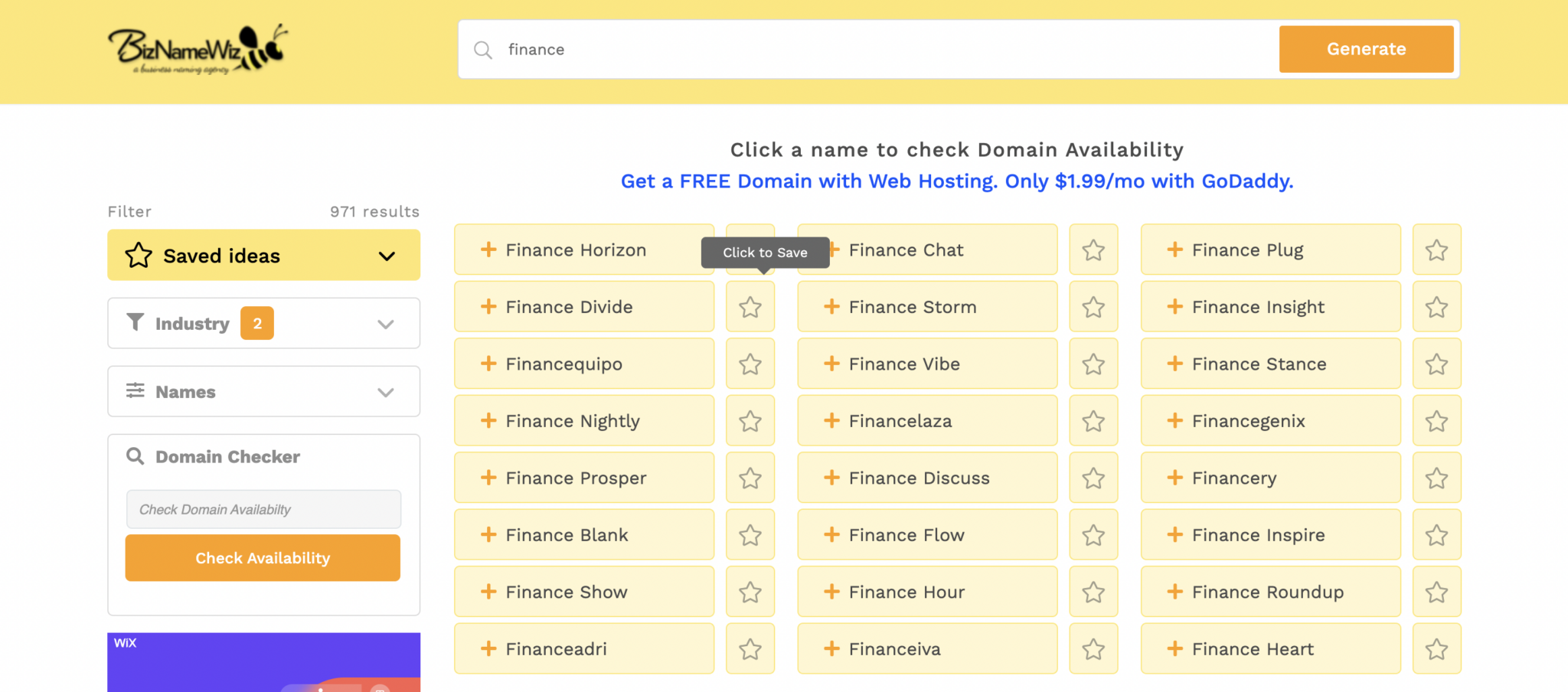 The tool churned out dozens of quality names that can be used for a finance podcast.
You can also pick an industry and use some of their other features to get a more diverse list of podcast names. And just like that, you have a ton of names to choose from for your podcast!
Check out BizNameWiz
Things to Consider When Naming Your Podcast
Here are some quick points to remember when naming your podcast show:
Do:
Say your podcast name out loud before making a decision
Think about word-of-mouth referrals
Check for the domain name and blog name availability
This is something not everyone does, but it's important. Say your podcast name out loud. Do this a few times before making a final decision on your podcast name.
Get comfortable saying it:
Does it roll off your tongue?
Does it sound like the name of a professional podcast?
Think about how you'll introduce your show and speak the name out loud in an introduction.
Saying your show's name out loud will help you uncover potential pitfalls in the name. For example, if you stumble over your words when speaking them out loud or the flow isn't natural, then the name might not be a fit.
Word-of-mouth referrals can be the backbone of your podcast's growth. Will listeners have a hard time saying your podcast show name? Will it be easy for them to remember? Is there difficult spelling?
The goal should be to get rid of any roadblocks that exist here so word of mouth discoverability can happen seamlessly.
Lastly, check the domain name and blog name availability.
You can do this for free using a tool like GoDaddy. You may want to have your own website for your podcast one day and if so, you'll want to reserve the domain name. Checking the availability is important so you ensure it's available to purchase so it can go along with your podcast.
Don't use:
Offensive words
Jargon or abbreviations in your name
Overly keyword-stuffed names
Offensive words are never a good idea when naming your podcast. You can offend your audience. It also may work against you in other ways, like if you get rejected from podcast networks because of the offensive show name.
Using jargon or abbreviations, however catchy you might think it is, may not be understood by everyone. You want your name to be memorable and easy to share. Jargon and abbreviations can prevent this.
Lastly, it might feel like using a lot of keywords in your title is a smart choice but it's not. First, podcast networks are smart. They can recognize a heavily keyword-stuffed podcast name and they'll reject you from their network.
Using a lot of keywords can also make your podcast name longer and more difficult to remember so avoid this.
Common Questions About Picking a Podcast Name
1. How do you check your podcast name availability?
Checking podcast name availability is critical. You want to make sure you don't have the same name as another podcast.
To check if your name is available, you can use a podcast name generator like Business Name Generator. You'll be able to search availability across platforms like YouTube, Soundcloud, Buzzsprout, and others.
2. What happens if your podcast name is taken?
If your podcast name is taken, you should pick an alternative name. However, your desired name might be worth pursuing. You can check if the podcast with your name is active or not. If they're not active, you can get permission and use the name.
For finding an alternative name, an easy way to do this is using synonyms.
3. Should you use your real name while podcasting?
It's up to you. Some podcasters use their real name. Others don't.
It boils down to privacy and your level of comfort using your real name. There are pros and cons to both. Using your name can open up potential privacy and security issues.
If you choose to use a stage name, then some credibility might be lost because listeners like to tie a real person/identity to the show.
4. What makes a good podcast name?
Using the tips talked about in this article, you can come up with a good podcast name.
Make it unique and creative but, short and easy to remember. Plus, make sure it's available, relates to your content, and can be used across various platforms.
What Should My Podcast Name Be?
I hope this article has helped provide some direction with how to name your podcast.
Choosing a podcast name is important because it will brand your podcast show. The process can be stressful, so take your time and try to enjoy it.
Remember that the most important thing to your listeners is your podcast content and not necessarily the name. Make a decision, pick a name that resonates with you, and then move on to build a successful podcast. Good luck!
Check out our list of podcast slogan ideas for help with the next step of branding your show.
Interested in learning how to start a podcast and make money?
If so, you may also want to find out what your best podcast hosting options are!
Want to learn step-by-step how I built my Niche Site Empire up to a full-time income?
Yes! I Love to Learn
Learn How I Built My Niche Site Empire to a Full-time Income
How to Pick the Right Keywords at the START, and avoid the losers
How to Scale and Outsource 90% of the Work, Allowing Your Empire to GROW Without You
How to Build a Site That Gets REAL TRAFFIC FROM GOOGLE (every. single. day.)
Subscribe to the Niche Pursuits Newsletter delivered with value 3X per week