25 Unique Ways to Make Money Reading Books
When you buy something through one of the links on our site, we may earn an affiliate commission.
If you could pick your dream job, what would it be? Astronaut? Police officer? Third baseman for the Boston Red Sox? (Okay, that last one is mine).
What about becoming a professional book reader? Imagine spending all day, every day, sitting in your armchair and devouring the latest books to come off the printing press. Best of all, you're not paid to edit these books, just to read them and give your professional opinion.
Sounds idyllic, doesn't it?
While you may not actually be able to make a full-time living as a reader, you can certainly earn enough to make it a decent side hustle.
Some publishing houses pay hundreds of dollars per book. All you need to do is get matched up with the right genre for you.
If you've ever wondered how to make money reading books, you've come to the right place. All of the options on this list actually pay you to read (instead of just shipping you a free book). They're serious about making sure their books are right for their market, and they're willing to pay to get it right.
Become a Book Reviewer
Regardless of the stature of the author, every new book needs social proof. Before people will spend their hard-earned cash on a novel, they want to know what everyone else thinks first.
That's where review sites come in. They receive a truckload of books from an author or a publishing house, then send those books out to book lovers in exchange for honest feedback.
While some believe simply receiving the book is enough, many reputable sites also pay their readers.
Kirkus Media
One of the most widely used review sites on the planet, Kirkus Media serves thousands of authors with concise, professional reviews.
Reviewers are expected to be detail-oriented and quick. Turnaround time for each book is less than two weeks. Payment varies per contract.
Any Subject Books
For authors, Any Subject Books is about as good as it gets. Not only do they hire reviewers on a book-by-book basis, but they also send books in the genre of the reviewer's choice. Readers who are staunchly genre-loyal will never be at a lack of reading material.
Any Subject pays per project but requires in-depth and serious reviews. They pride themselves on hiring professional reviewers who can remain objective about the subject matter.
Online Book Club
While some other book review sites hide their rates behind a paywall, Online Book Club is very open about its payment options.
Every review is worth between $5-60, and you'll also get to keep the book that you review. Sign-up is easy, and review books are sent regularly.
But let those who think they can quit their 9-5 and work exclusively as a book reviewer beware. Online Book Club is emphatic that reading for them is not a "get rich quick scheme." It's a side hustle for dedicated readers only.
U.S. Review of Books
The sign-up process for U.S. Review of Books is a little more formal than most. Not only do you need to submit a resume and sample writing, but also two professional references.
If you get accepted, you then have access to a list of books that you can request to review. You'll only receive the book if you're chosen from available candidates to write a 300-word honest review.
U.S. Review of Books publishes a monthly newsletter that is extremely popular. It reaches readers all over the U.S. If you're chosen by them as a reviewer, you're in pretty rare company.
Women's Review of Books
Women's Review has been around for nearly half a century, and with that comes a reputation for professionalism and service.
Most of the books that you will read as a reviewer are written by academics with a lot of experience in their field, so they'll expect to be treated with the utmost respect.
As far as published rates, Women's Review of Books has one of the more generous rates. For every review, you'll receive $100.
Upwork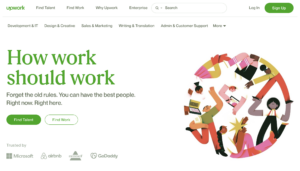 Alongside sites like Fiverr and Guru, Upwork is a service marketplace where you can bid on projects and interface with clients directly.
Whether you're new to book reviewing, or you have an already existing portfolio that you can show off, there's work to be found there.
A word of warning, though. In some cases, you'll come across listings where people are advertising for reviews when in reality, they're wanting to buy a positive review from you.
Paid book reviews go against many marketplaces' terms of service (including Upwork), and can get you banned as a reviewer from other sites. If you see it, flag it immediately.
Check Out Upwork
New Pages
As their name states, New Pages is a review site that specializes in books from small or unknown publishers. With most of their attention dedicated to their website instead of a print magazine, New Pages is looking for reviewers who can write very concise reviews (fewer than 200 words).
The pay changes depending on the book, and they have a wide variety of literary styles for you to choose from.
Publisher's Weekly
Although you won't get books sent to you regularly, as a reviewer for Publisher's Weekly, your reviews will reach an international audience.
Plus, they work with both large publishing houses and independent authors, so you'll have the chance to read a wide assortment of books.
Booklist Publications
The pay for writing for Booklist is relatively low compared to some of the other review sites on this list.
The pay range is between $12.50-$15 per book, and the reviews have a hard cap of 175 words.
So what's the appeal for writing for Booklist? For starters, their network is enormous. Booklist is a well-regarded journal for librarians that also publishes a magazine.
Write well enough, and there's a chance your work can appear as a review or even a blog post read by thousands of dedicated readers.
Instaread
For non-fiction readers who can pile through books and pull out key insights at the same time, Instaread is worth a look.
They have an ongoing call for reviewers who can craft summaries of 1000-1500 words each, and pay $100 per review.
getAbstract
getAbstract is another review site that isn't interested in reviews as much as it is in summaries of new and popular books.
They have just about every genre under the sun available for reviews but specialize in technical and academic books. 
They already have summaries for nearly 20,000 books already and are actively looking for experienced readers/writers that can help them with more.
Reedsy Discovery
Already known as a one-stop shop for indie publishers, Reedsy added a new review program to their software suite with Reedsy Discovery.
Writers can pay to have their books listed on the marketplace, where reviewers can pick them up for free and start reading immediately.
It's up to the author to pay the reader, though, which is accomplished through a tipping system. If the author likes your review, you may receive a few bucks as compensation. It's not much, but at least you'll get exposed to a wide array of new authors for free!
Writerful Books
Though there's no guarantee that you'll get a steady income with Writerful Books, their application process is one of the easiest of the bunch. Instead of assigning books to readers, they compensate you for books you've already read and have written a review for.
They prefer contemporary authors to the classics, but if you're a competent writer with an eye for detail, chances are good that they'll respond to your query.
Book Browse
For the more casual book lover, Book Browse offers books that are exciting, with strong characters and riveting plot lines.
More specifically, they offer books that challenge the way we look at the world. That makes for pretty interesting reviews as well.
Their rates aren't published, but the ultimate payoff with Book Browse is the opportunity to read great books and contribute to them getting in more hands.
Your Own Blog or Podcast
Why write for someone else when you can establish yourself as the authority in your genre? If you have the technical know-how to start a blog or podcast and are willing to learn some basic marketing and SEO tactics, you can set up your own book review platform.
It might take longer to start getting paid for your work, but the payoff, in the end, will be far greater.
Become an Audiobook Narrator
The audiobook sector is exploding, and it's only expected to grow even more in the future.
Talented narrators that can take a story and make it come alive for the listener are in high demand.
Top narrators not only have an opportunity to make thousands of dollars upfront for a recording, but also a portion of the royalties down the road.
But becoming an in-demand audiobook performer isn't just about having a great voice. These days, you're also expected to know how to edit and cut a recording, as well.
This will involve an initial expense in equipment and some time gaining experience, but it's much easier than it used to be.
As long as you have a good voice, you should be able to find work.
People wondering how to make money reading books can do a lot worse than audiobook narration. It may feel a bit like theater training, but many narrators love the feeling of helping others emotionally connect to a book.
ACX
It's no secret that Amazon has established itself as the world's number one bookseller. Every day, thousands of books find their way onto its platform, joining the millions that are already there. 
And for every one of these books, there's an opportunity to have an audio version for sale on the same product page.
ACX is the audiobook wing of Amazon that operates as a virtual marketplace between authors and narrators. Writers list their books, and in exchange for either a flat fee or a percentage of future profits, narrators can apply to read their book for them.
The best part is that narrators can start their careers on ACX with virtually no experience.
To apply, you'll need to set up an account, sort through the available books, and record the designated audition piece. The author will look through the samples and pick which one they like the most.
Findaway Voices
Another site that bills itself as an intersection between writers and narrators, Findaway Voices has a similar setup to ACX.
Readers can create an account, audition to narrate a book, and receive payment in return. Most narrators get paid between $150-300 per audio hour (which includes editing).
The biggest difference between Findaway and ACX is that the audition process is a little more tailored.
Instead of the author sorting through dozens of audition pieces, Findaway Voices recommends certain narrators they think would be a good fit for that specific book.
If you're recommended to audition, you're only auditioning against a few other narrators.
Furthermore, Findaway acts as an escrow service between the two parties. You won't have to worry about an author refusing to pay you or asking for limitless revisions.
You have the option to decline any project and are guaranteed payment once the contract is in place. Any issues that may arise are taken care of through the in-house customer service.
Voices
Even though the vast majority of people perusing this list are looking for how to make money reading books, there's no shame in making some extra money reading other things, is there?
Voices.com is one of the most reputable marketplaces for narrators — not just for books, but for documentaries, podcasts, and even voice assistants. 
The pay for jobs you would find on Voices.com is much higher than on other marketplaces. It's not unheard of to receive a few thousand dollars for voicing a character in an animated cartoon, or $300 per audio hour for a book.
While a guest membership is free on Voices.com, if you want the ability to create a portfolio and apply for jobs directly, you'll need to pay for a membership.
Fiverr
For beginning narrators who want to dip their toes in the water and find out if voice acting is right for them, Fiverr is a great place to start. Once you create an account, you can set your rates and get hired for any kind of reading that tickles your fancy.
The biggest issue with online marketplaces like Fiverr (especially ones with thousands of freelancers), is the temptation to charge rock-bottom prices.
Set your rates high enough that you get paid a respectable wage, but low enough that you don't lose out on work. Finding that happy medium can be challenging, especially in the beginning.
Check Out Fiverr
Offer a Professional Book Service
Another way to get paid to read books (and sometimes, very well), is to offer a professional service to aspiring authors who may be self-publishing a book on Amazon.
Self-publishing is currently taking off like a rocket — almost half of the top-selling books on Amazon come from self-published authors. And you can be a part of it.
If you have any of the skills below or want to cultivate them, you can make yourself indispensable to an entire legion of next-generation Hemingways.
Copyediting
If you can't read a book for five minutes without noticing all the glaring spelling and grammar mistakes, copyediting is your jam.
Authors who are trying a "quick-release" schedule (releasing books as fast as possible) need an objective eye to proof their work.
Often, they'll employ a couple of different copyeditors just to make sure their book is as solid as possible.
But copyediting is more than just a professional grammar check. The best editors will constantly look for ways that the book can be improved.
Although the story isn't necessarily their focus (that's what developmental editors are for), they may suggest ways to improve continuity. A good copyeditor may also identify possible copyright issues and factually incorrect statements.
The best editors have a close working relationship with their authors, and will usually stay employed for years at a time once that trust is built. If you find an author you enjoy working with, you'll have a job for a long time.
Check Out Editing Jobs On Upwork
Proofreading
Unlike copyediting, which takes a more holistic approach to your book manuscript, proofreaders check the book for spelling and grammar issues. If a punctuation mark is missing or a word is misplaced, it's the proofreader's job to find it (check out our list of proofreading jobs you can do from home).
Since even the best proofreaders can miss very important errors, authors usually have several proofreaders look through their work before it's published. Proofreading is a great way to get paid for reading, without having to commit a lot of time to formal education and professional copyediting certifications.
Create a Proofreading Gig On Fiverr
Translator
Besides audiobooks, the next great frontier for Amazon Kindle publishers is international markets. Amazon has platforms in 13 different countries, including Germany, France, Italy, and Spain, all of whom have readers hungry for new books.
Unfortunately, the process of converting your book into another language can be extremely difficult. Not only will you need to find someone who speaks the language, but also someone who can determine the nuances of different cultures.
Determining how words are technically used versus the everyday slang of a region is a skill that only experienced translators have. Services like Babelcube and Translate.com can be helpful, but finding a reliable translator can be hit or miss.
If you are someone who is steeped in two languages, offering translation services can be extremely lucrative. Some translators make more than $0.13 per word, which translates (no pun intended) to nearly $8,000 for an a 60,000 word book.
Check Out Translating Jobs On Upwork
Formatting
Taking a book from concept to reality is one thing, but putting it in a readable format is whole other beast entirely. Online services like Reedsy offer free formatting tools, but if you really want your book to stand out, you'll need professional tools. 
Authors that don't have the capital to invest in software like Vellum may turn to professional formatters to convert their books into acceptable formats. Print books have different formatting rules than electronic books; legitimate formatters will offer both.
Find Formatting Jobs On Upwork
Summary Writer
Proponents of book summaries will tell you that reading concise explanations of popular books will give the core concepts you need without committing hours at a time. Others will tell you that it is a waste of time.
Regardless, there's no doubt that many people would rather read a 1,000-word book summary than wade through 100,000 words.
Readers who can grasp the major takeaways from a book and then explain them well enough can make a few hundred bucks per book, on average.
It's not going to replace your main source of income anytime soon, but if you were going to read those books anyway, why not get paid while you're at it? And if you weren't going to read them because you just haven't gotten around to it, the thought of being paid may just be the incentive you need.
Get Paid to Write On Hire Writers
Conclusion
Figuring out how to make money reading books sounds like a pipe dream, but it's very doable. Even if you don't ever leave your 9-5 as a professional editor or summary writer, it doesn't hurt to make extra money online from a hobby you love. Isn't that the real dream anyway?
Want to learn step-by-step how I built my Niche Site Empire up to a full-time income?
Yes! I Love to Learn
Learn How I Built My Niche Site Empire to a Full-time Income
How to Pick the Right Keywords at the START, and avoid the losers
How to Scale and Outsource 90% of the Work, Allowing Your Empire to GROW Without You
How to Build a Site That Gets REAL TRAFFIC FROM GOOGLE (every. single. day.)
Subscribe to the Niche Pursuits Newsletter delivered with value 3X per week