How to Become an Amazon Reviewer in 5 Steps
When you buy something through one of the links on our site, we may earn an affiliate commission.
Have you been wondering about how to become an Amazon reviewer? When you're an Amazon reviewer, you get the best of both worlds: get free Amazon stuff to enjoy and keep!
Some opportunities even pay you!
I've been seeing more and more people reviewing Amazon products online lately.
It's got to make you wonder if becoming an Amazon reviewer is something to pursue. At the very least, you could write reviews as a side hustle or a way to score free products!
In this article, you'll learn about 5 ways to become an Amazon reviewer.
We'll talk about:
Why you might want to become an Amazon reviewer
How Amazon reviewers get started
Many ways to review Amazon products including paid opportunities, and more
Let's go!
Why would you want to be an Amazon reviewer?
Being a reviewer gives you access to Amazon products to test, try out and keep! It's a cool way to get free stuff that you can keep or resell.
There are many options available to review Amazon products and they come with perks like free stuff and money.
Who wouldn't want to get paid to shop, right?
Do reviewers get paid on Amazon?
Amazon does pay reviewers that successfully refer products to customers. This is affiliate marketing and it happens through the Amazon Associates program.
A successful referral results in the customer buying the Amazon product. When that happens, you will earn a small commission on the sale.
That's how Amazon pays you.
For example, you could write a blog post about the best holiday gifts for teens and link each gift to an Amazon product. Then, someone reads your blog post and clicks on your affiliate link. If they buy an Amazon product, you earn a commission.
That's one way that blogging can help you make money reviewing Amazon products.
Amazon is a huge marketplace with tons of different products available, good for bloggers in many niches, including:
Food
Travel
Fashion
Beauty
Sports like skiing or golf
Hobbies like hunting, camping, forestry, and more
The Amazon Associates program can be a good fit for bloggers, Amazon reviewers and anyone wanting to start an Amazon affiliate website.
What is Amazon Associates?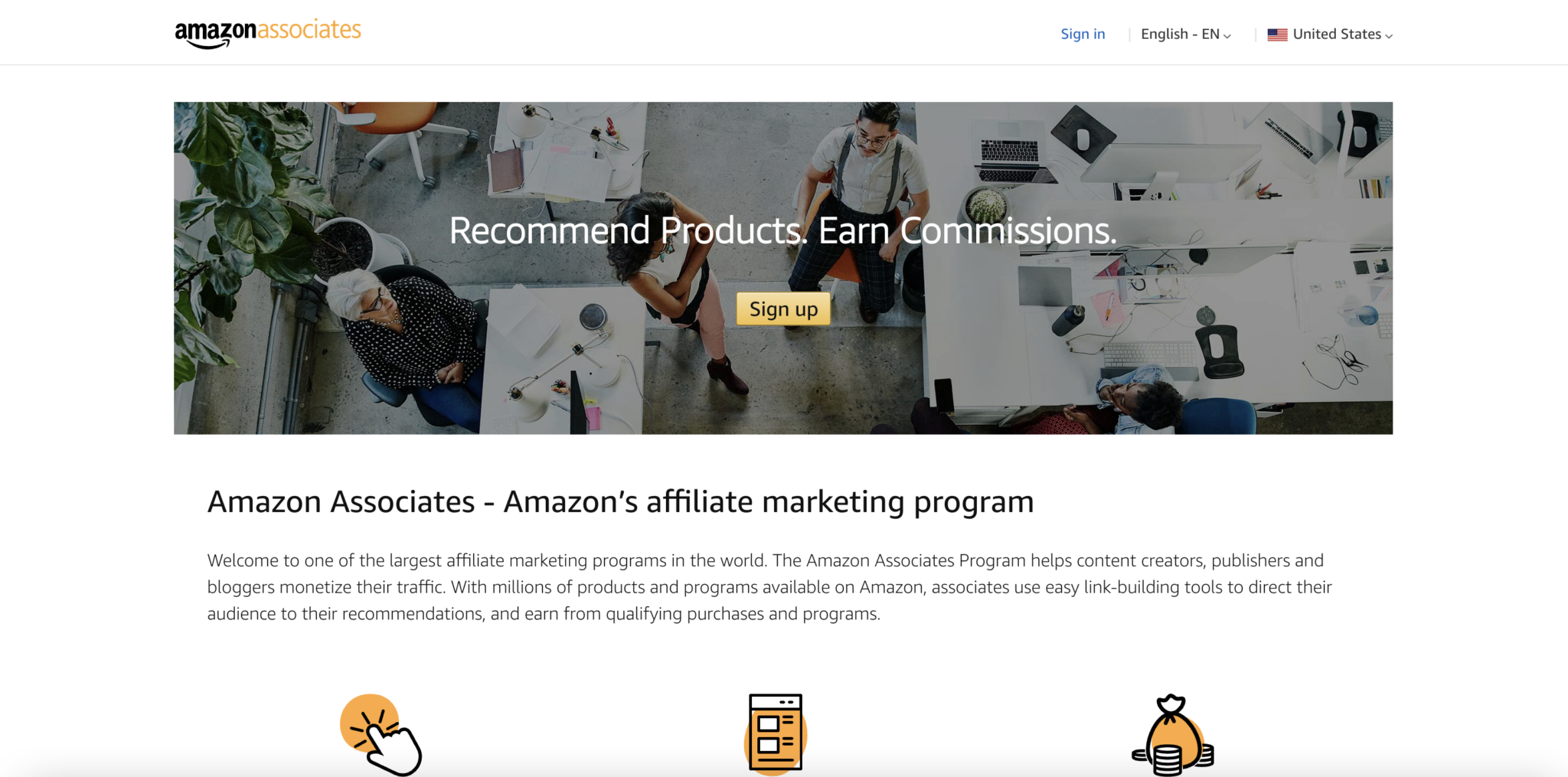 The Amazon Associates program is Amazon's affiliate program. Publishers and creators can join Amazon Associates to monetize their traffic using affiliate marketing.
By linking to Amazon's products as an affiliate, you can create an extra income stream. Web visitors click your links and buy, making you eligible to earn a commission.
To join Amazon Associates, first, you'll sign up to join the program. Next, you can start sharing products with your audience and make money when your referral results in a sale.
You can earn up to 10% commissions on Amazon product referrals.
This is one of the ways you can get paid to review Amazon products.
How to become an Amazon reviewer
Becoming a reviewer is easier than you might think. If you love to write reviews, here are 5 steps you can take to start reviewing Amazon products.
1. Set up your Amazon profile
First, you'll want to set up a free Amazon account. Your Amazon profile will give you access to the Amazon marketplace so you can buy products. Then, you'll be able to review Amazon products!
Pro Tip: Get Amazon Prime
Amazon Prime isn't required to shop on Amazon but the paid membership offers a lot of perks:
Exclusive member deals
Free same-day, one-day, and two-day delivery
Free grocery delivery (available in select areas)
Amazon Day Delivery
Prime Video
Amazon Music
Save on your prescriptions at thousands of pharmacies
There's a free 30-day trial to try Amazon Prime.
After that, the price is $12.99/month or $119 annually. You can get Amazon products faster if you're an Amazon Prime member. So, if you're buying products to post reviews, at a discount or not, Amazon Prime will save you time.
Start your 30-day free trial for Amazon Prime
2. Choose one category to focus on
Pick a niche to focus on, so you're not the jack of all trades, but master of none.
As an Amazon reviewer, it's best to pick one niche category to focus on. That way, you can get to know that category very well rather than reviewing Amazon products in all categories.
It's good because:
You will communicate in the language of the industry
You will become labeled as a professional, writing quality reviews instead of an amateur reviewer
Consider choosing a category to review products for based on your interests or passions. You can also go for a category that has higher-paying commissions. It's your choice.
3. Review your current and previous purchases
Start reviewing products. This begins with reviewing your own current and previous purchases.
Even if your former purchases aren't in the same category, write good-quality reviews for them anyway. You can get some practice under your belt by producing helpful reviews.
This is a good way to start being comfortable reviewing Amazon products. Then, moving forward, it's better to focus on one category for your Amazon reviews.
4. Become an Amazon influencer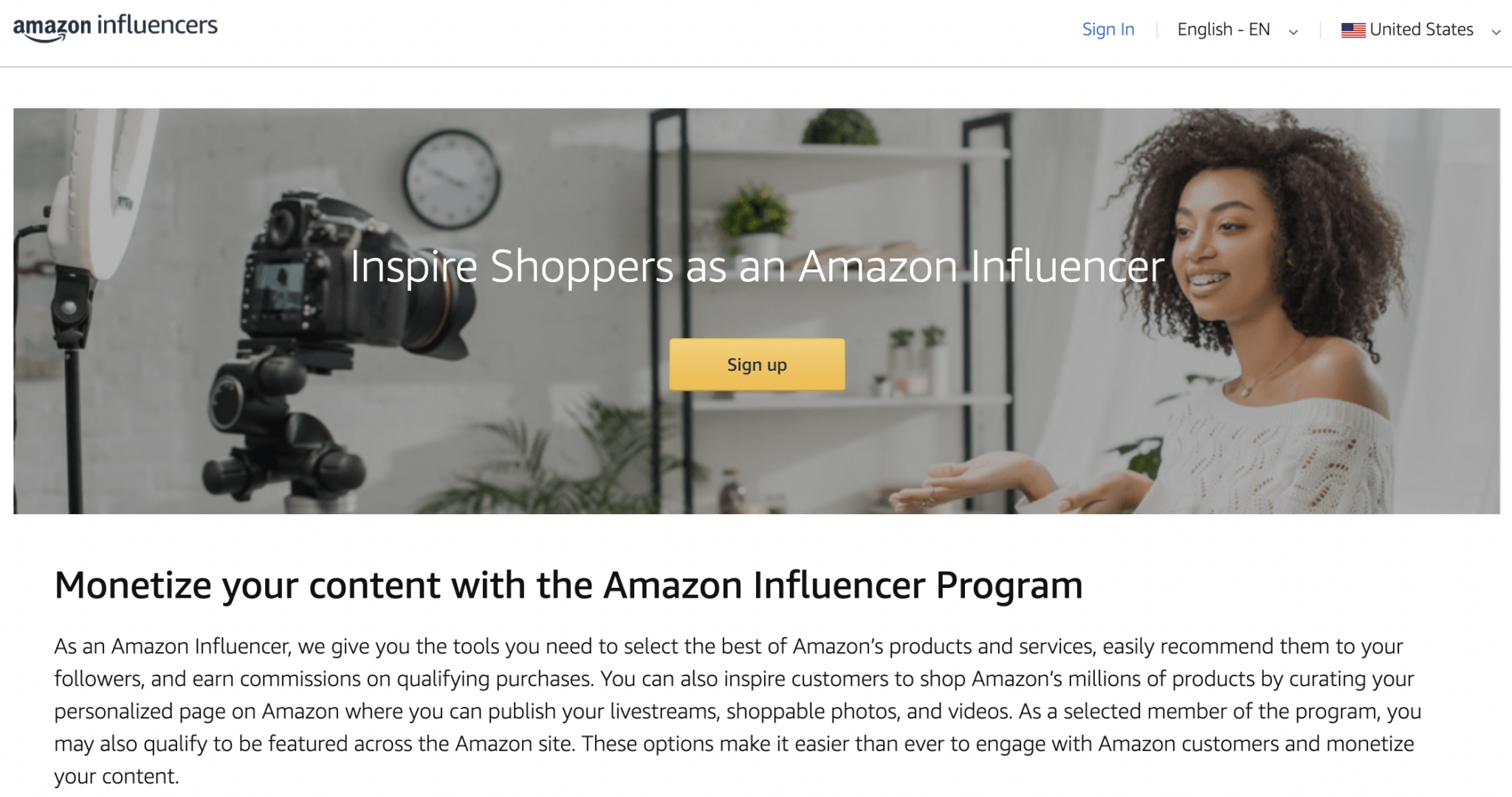 The Amazon Influencer Program is for influencers that create content around Amazon products. To qualify to join, you should be on YouTube, Instagram, TikTok, or Facebook.
The idea is to share Amazon products with your existing audience on social media. It's also a way to earn money through Amazon affiliate marketing.
Amazon influencers aren't expected to create only positive reviews. You can share your honest opinion and give an unbiased review of the Amazon products you're featuring in your content.
How to use TikTok as an Amazon influencer
Here are some examples of influencers promoting Amazon products on TikTok:
They do short-form video reviews of products they find on Amazon using TikTok. Then, they link to their Amazon shop in their bio.
Your Amazon shop can house tons of different Amazon affiliate products. It's a great way to share your favorites from Amazon in one spot.
When customers view the TikTok videos, they can click the influencer's bio. It will lead them to the Amazon shop so they can buy products.
Amazon can be very fruitful for creators.
By sharing an honest review, creators can appeal to their audience and earn commissions.
This article talks about creators making up to $1,500 per month with Amazon Associates and TikTok. However, with influencers' growing popularity and audience, I think the income potential can be a lot higher.
How to use YouTube as an influencer
With YouTube, it's almost the same process as TikTok. You can make short-form and long-form videos. You'll publish them online and promote Amazon products in the video description.
Many YouTubers are referring Amazon products.
Check out these examples:
Everyone with an internet connection has access to YouTube.
Why refer to Amazon products on YouTube?
It's free and easy:
Creating a YouTube channel is free
No startup costs
You can film videos using your phone or screencast your computer screen with free software. So, you don't need startup money to get started.
Once you make videos, you'll publish them to the platform.
The video description is where you'll link to relevant Amazon links.
You can join many affiliate programs. Using video content (making the best use of video marketing tools) is a great way to make money with affiliate marketing. You can promote physical and digital products, software, and more.
How do you become an Amazon Influencer?
First, you'll apply to the Amazon Influencer program (we have a full guide on how to become an Amazon influencer to help).
Next, after you're approved, you'll be an Amazon influencer. You'll have your own Amazon storefront to feature the products you share with your audience (and you can learn how to make an Amazon storefront here).
To see if you qualify, click here to apply to the Amazon Influencer program.
5. Check out an Amazon review site
There are many Amazon review websites online that you can join to get free and steeply discounted Amazon products.
The idea behind these sites is to help Amazon sellers get reviews for their products. What makes Amazon stand out from competitors are its reviews, among other things.
A customer review is very valuable to Amazon sellers.
New Amazon sellers are competing for sales against seasoned sellers.
A new seller with zero reviews is going to have a harder time going up against a long-standing seller with plenty of Amazon reviews.
That's where Amazon review websites come in!
They connect Amazon sellers with buyers that are looking for free and cheap Amazon goods for them to write reviews.
How to join Amazon review sites
These are the steps you follow to join Amazon review websites:
1. Join the site for free
2. Pick your products
3. Check out and await delivery
Some sites require Amazon reviews, while others encourage them.
Either way, it's a neat way to:
Score free Amazon products, and/or
Receive deeply discounted Amazon products
Here are some Amazon review sites you can check out:
What is the Amazon Vine program and how do you join?
The Amazon Vine program is an invitation-only program provided by Amazon. They reach out to customers who they'd like to review current and pre-release products.
For the Vine Voices program, Amazon looks at the reviewer rank as a determining criterion.
How do you join Amazon Vine?
Amazon Vine is by invitation only.
Amazon says:
Customers who consistently write helpful reviews and develop a reputation for expertise in specific product categories are most likely to be invited into the program.
It's an interesting program. People are interested in becoming a Vine reviewer for free Amazon products, and be sure also to check out how to get free products for review for more ideas.
Keep in mind, Amazon Vine is unpaid. Amazon Vine reviewers don't make money to review Amazon products. However, they do get access to free Amazon products.
Learn more about Amazon Vine.
How many reviews do you need to be an Amazon reviewer?
There isn't a minimum number of reviews you need to be an Amazon reviewer.
Amazon influencers should have a social presence on:
Facebook
Instagram
TikTok, or
YouTube
Amazon associates should have an audience that they can sell Amazon products to. So, if you have a social media presence on Instagram, then joining Amazon Associates could earn you money.
Amazon review websites are open to the public. There are no special requirements to participate.
Final word
There are plenty of ways how to test Amazon products and become a reviewer.
The best reviewers are:
People who are consistent
Reviewers that give honest, unbiased reviews – not just positive reviews!
If you're interested in becoming an Amazon product tester, these options might be for you.
Plus, some of them even pay you!
You can follow the steps above to start your path to becoming an Amazon reviewer but this is just one of many ways how to get free stuff on Amazon.
What category of products will you be reviewing?
Want to learn step-by-step how I built my Niche Site Empire up to a full-time income?
Yes! I Love to Learn
Learn How I Built My Niche Site Empire to a Full-time Income
How to Pick the Right Keywords at the START, and avoid the losers
How to Scale and Outsource 90% of the Work, Allowing Your Empire to GROW Without You
How to Build a Site That Gets REAL TRAFFIC FROM GOOGLE (every. single. day.)
Subscribe to the Niche Pursuits Newsletter delivered with value 3X per week