How To Become an Amazon Product Tester: 5 Websites To Help You Start
When you buy something through one of the links on our site, we may earn an affiliate commission.
Working as an Amazon product tester is something a lot of people strive for. Not only do you get to test Amazon products, but some of the opportunities you come across will even pay you!
So, you get to score free Amazon stuff to test and get paid!
Win-win, right?
There are many ways to land Amazon product testing gigs.
In this article, I'm going to share 5 websites you can get started with to launch your journey into testing Amazon products. Discover what these websites are about, their requirements, your income potential, and more!
So if you're up for getting free stuff from Amazon and making some extra money on the side, keep reading.
In a rush?
We highly recommend checking out Rebaid. Not only will it give you up to 100% off Amazon deals and other online shops, but you'll also get the chance to win cash prizes in sweepstakes.
You can browse through to easily find featured deals and sweepstakes and new deals are added each day. The company has already issued $5 million in rebates and it has a 4.6 out of 5 on Trustpilot from nearly 1000 reviews. Plus no credit card is required! What more could you ask for?
What is an ?
An Amazon product tester or Amazon reviewer is someone that tests and reviews Amazon products. This can be a paid or unpaid role and it can come with benefits like:
Free products

Compensation
Product testing is a side hustle that might be worth pursuing for shoppers who enjoy sharing their opinions and providing unbiased reviews about the products they try.
While Amazon does not pay you directly for reviewing products, there are plenty of websites you can go to that will.
Recurring paid opportunities to review Amazon products might not be abundant. Still, it's a fun way to get rewarded for sharing your opinion and bagging some free or discounted products.
Do you get paid to be a ?
There are ways to get paid for product testing. While all options are rewarding, not all of them will pay you.
If your goal is to make the most money possible, you'll want to go this route.
What's an influencer?
An influencer is someone that has an audience online that they can influence.
You can usually find influencers on social media. They have a loyal, engaged audience of fans that they've cultivated over time. So when they recommend a product, often their fans will look into their suggestion and buy.
Brands know this and that's why they partner with influencers to share their products.
An influencer can make money by mentioning products to their audience, like a makeup palette or a blender, for example. This can result in tons of sales for that product.
In exchange, the brand will pay the influencer for that mention. 
And, that's one way you can get paid to be an Amazon product tester. You partner with Amazon product brands that pay you to mention their product to your audience.
To find opportunities to test products and get paid as an Amazon influencer (check out our guide on how to become an Amazon influencer), you can visit influencer networks like:
After joining the influencer network for free, they will help match you with companies that will reward you for sharing their products with your audience, either through free product, compensation, or both.
What's a content creator?
A content creator is similar to an influencer. This is someone who creates content online, whether that's social media content, blog posts, video content, etc.
Content creators can have an audience just like influencers and this is valuable to Amazon sellers.
So, there's an opportunity for content creators to be paid for testing free or discounted products from Amazon, including:
video

Social media shout out
Creators can find paid product Amazon reviewer gigs on influencer networks like those shared above. They can also partner with companies through creator programs they may be a part of.
For example, TikTok has a creator marketplace that content creators can join.
Interested brands contact creators for work.
These are two ways you can become an Amazon product tester with an audience.
However, there are other ways to test Amazon products without being an influencer or content creator.
Check out these 5 websites you can join to start testing Amazon products.
5 Websites to Become an
These websites can connect you with opportunities to test Amazon products. They are all free to join and you can choose to visit them all or start with one or two of your favorites.

1. Rebaid
Rebaid can get you deals for up to 100% off. Woohoo – free stuff!
To use Rebaid, you start by browsing their deals, finding the product you want, and clicking to buy, where you'll be routed to Amazon to complete checkout.
Then, Rebaid will send your rebate payment. And you'll get free and discounted products delivered to your door. 
Step 1: Redeem your rebate
Find a product you want to buy and click Redeem Offer. You can pick which rebate method you want, like direct deposit, for example.
Step 2: Confirm your purchase
Complete your Amazon purchase. Then, paste your order number in the box that appears on the page. Rebaid will confirm and schedule your payment!
Step 3: Receive your rebate payment
The payment is issued, and a notification is sent to you. You can receive payment by check or direct deposit.
And you can also get free stuff by reverse engineering this video below showing sellers how to set up influencer campaigns!
2.
Amazon Vine program is an invitation-only giveaway service led by Amazon. They find trusted reviewers online to send products to for unbiased reviews.
The Amazon Vine program (or Vine Voices) invites customers to join based on their reviewer rank.
So, these are customers that are already leaving reviews on their product purchases to help other consumers make an informed purchase decision.
If you're invited to join and accept, Amazon will send you free products from Amazon sellers participating in the program.
Free products come from:
Publishers

Studios

Labels

Manufacturers

Other vendors
Vine Voices members should leave honest reviews. Amazon is not looking for all positive reviews, either. They want you to share your opinion, positive or negative, so it can be helpful to consumers.
This is something to strive for if you want to get free products from Amazon to review (and you can also learn how to get free products for review from other related companies). While there's no shortcut to getting invited to the Vine customer review program, leaving helpful reviews on your current or former purchases is a good way to start building a history as a reliable Amazon consumer reviewer.
This might help increase your chances of landing an invitation to the Amazon Vine Program in the future.
3. Vipon
Vipon is an Amazon-focused site that lets sellers raise awareness by giving customers coupon codes. Steeply discounted deals of 50% off or more on products are available in a bunch of categories like:
Women's clothing

Baby

Office products
To start, all you have to do is join Vipon. Then, shop the site for your favorite deals on Amazon.
Click Get Coupon on the product page to copy the code and visit Amazon where you can check out.
You can visit this page for a step-by-step walkthrough.
While Vipon doesn't pay you to test Amazon products, you can use their coupons to get great deals on Amazon merchandise to test and review.
An Amazon review is not required to use Vipon.
If you want to join Vine Voices by Amazon, leaving an unbiased review on your purchases would be a product testing opportunity to build up your reviewer rank and possibly snag an invitation in the future! Vipon can help you get discounts on those Amazon purchases (check out our Vipon review).
4. Snagshout
Snagshout helps you get discounts on your Amazon purchases so you can get the best deals and save money. It works like some of the other Amazon deal competitors except they pay you via PayPal.
Here are what some of their product deals look like:
Shopping through Snagshout presents a cool opportunity to get free and deeply discounted stuff from Amazon.
It's another product testing opportunity to leave reviews for your product purchases which could open up opportunities in the future to become a Vine Voices member.
5. Associates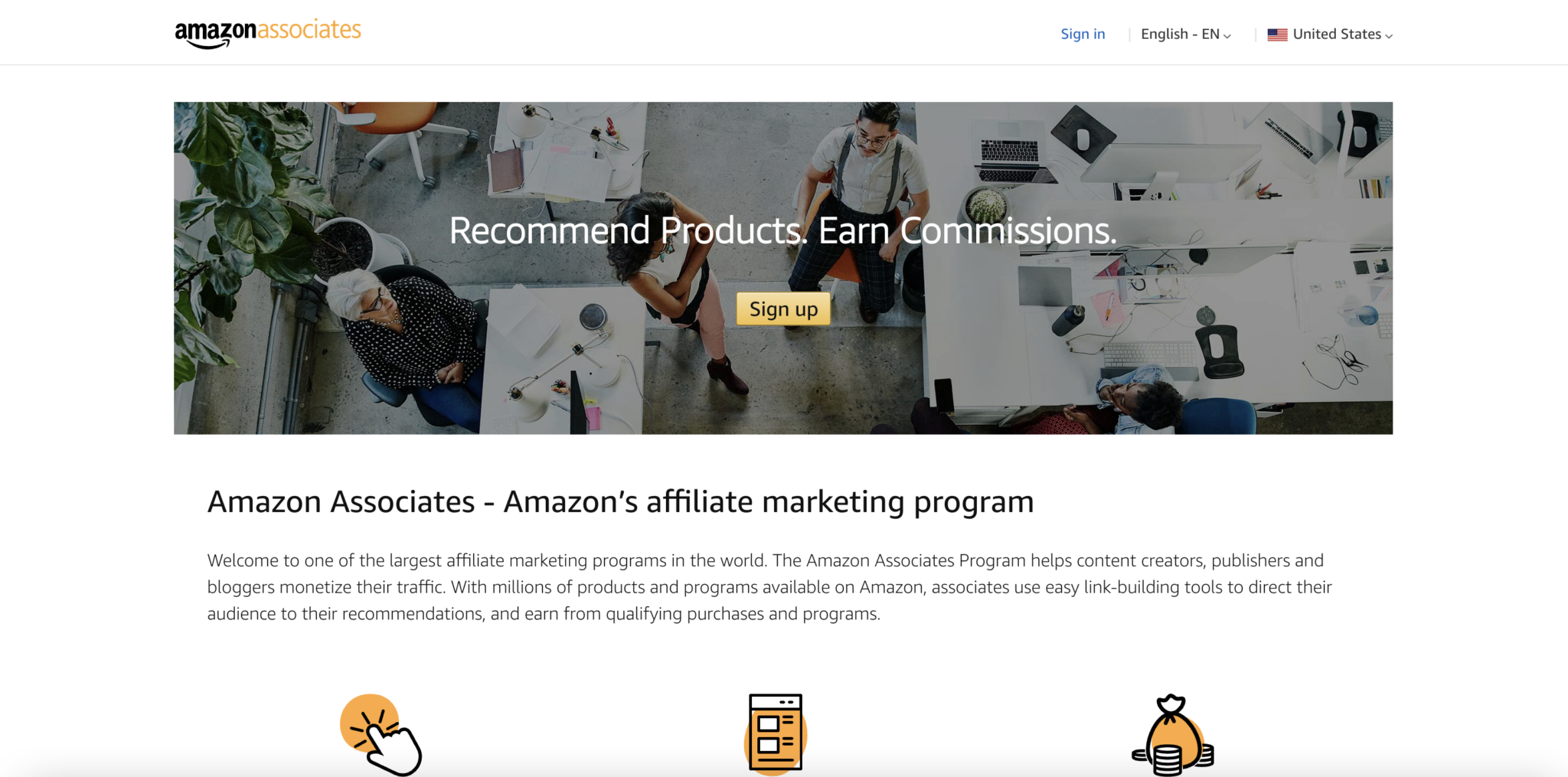 The Amazon Associates program is Amazon's affiliate program. As an Amazon affiliate, when you refer to Amazon products that result in a sale, you will earn a commission.
There are tons of Amazon review sites on the web – it's usually one of the first affiliate programs people join when they get into blogging.
How much can you make from commissions?
This table shows you the commission available for Amazon products you refer to:
You can earn up to 20% commission on select Amazon products.
How to promote products
There are many ways to earn Amazon affiliate commission from reviewing Amazon products on your blog or social media and other ways.
Top affiliates take advantage of platforms like TikTok and other social networks to share their favorite Amazon finds with their audience, like the creator behind Top Online Finds who has over 2 million followers and gets between 30,000 to 3+ million views per TikTok video.
You can start by reviewing the Amazon products you already have in your home. Then, use some of the deals you find on the sites above to snag discounts on your purchases for newly reviewed products.
You can make this an entire business out of this, like this Amazon influencer who grew his review business on YouTube to $16,000/month!
Learn more about Amazon Associates
Can I get from ?
Yes, you can get free products from Amazon.
From joining Vine Voices by Amazon where they send you free products to review to getting deep discounts up to 100% off select products from some of the sites above, there's an opportunity to score free Amazon products.
How much does an make?
Amazon doesn't offer a paid product tester job. However, there are creative ways to make money testing Amazon products:
Start a blog
Launch a YouTube channel
products on Instagram or TikTok
Use Live
Here are some examples of how much Amazon product testers make:
Carla

from @beautybycarla on

YouTube

makes money

on

Live

Influencer

Kim Pratt

making up to $6,000 from

This

influencer

makes six figures from doing live streaming
This is how you can make money testing products from Amazon…
Start an blog
This guide will show you how to start a blog. Once your blog is created, you start writing blog post reviews about your favorite Amazon products.
You may choose to review any products that come your way, your favorites, or niche-specific products like running an electronics review blog, for example.
Whichever direction you take, the work you do on your blog can attract an audience. That web traffic can convert Amazon product sales, earning you a commission! Check out our guide on how to write a product review.
If you decide to start an Amazon review blog, you can speed up the process big time by simply following the step-by-step videos in the Authority Site System (TASS) by the team at Authority Hacker.
They'll teach you everything you need to start and grow a successful affiliate blog and Amazon associates is usually the first program to join! And they'll guide you throughout the Entire process.
You can check out our full TASS review for more details but it's definitely helped a ton of people grow sites successful affiliate sites with full walkthroughs, blueprints, and templates at your disposal.
Check out TASS and get 40% Off Today!
Launch an YouTube channel
Going with YouTube is a similar concept to running a blog, except your focus will be on video content.
You can create YouTube video reviews sharing Amazon products with your audience. Link the products in your video description and with the traffic you attract, people can buy, making you Amazon affiliate commissions.
Starting on social media like Instagram or TikTok is another avenue you can take to make money as an Amazon product tester (and there are lots of other cool ways for how to make money on Instagram).
Use short-form video and/or static posts to share Amazon products, create interest and make money.
Does hire testers?
Yes, Amazon does hire product testers but the job is unpaid. It's through their Vine Voices program.
This invitation-only program is available to select individuals that have developed a history of writing product reviews in the past. If you are selected to join, Amazon will send you free products to review.
Final word
If you are interested in becoming an Amazon product tester, there are plenty of ways to do this. Check out one or more of the Amazon review sites shared above to start your journey into Amazon product testing.
Which website will you start with?
Want to learn step-by-step how I built my Niche Site Empire up to a full-time income?
Yes! I Love to Learn
Learn How I Built My Niche Site Empire to a Full-time Income
How to Pick the Right Keywords at the START, and avoid the losers
How to Scale and Outsource 90% of the Work, Allowing Your Empire to GROW Without You
How to Build a Site That Gets REAL TRAFFIC FROM GOOGLE (every. single. day.)
Subscribe to the Niche Pursuits Newsletter delivered with value 3X per week