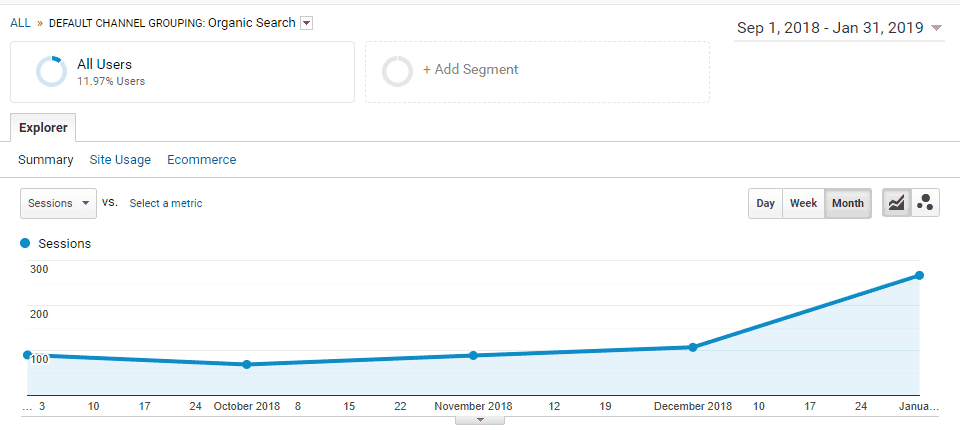 When I started Niche Site Project 4, I knew that there would be both good and bad moments to share along the way.  As much as it pains me a little share some of the things that don't go as planned, I also know that is why people find some value in these projects.
I'll simply report what happens and try not to hold anything back.
Overall, there are definitely some positive things happening with my site.  However, there are also some things that are concerning (but in the end should be fixable).  And as the title suggests, I appear to be attracting a ton of spammy links.  More on that in a minute.
Finally, I'll share the updates from several other participants in the niche site project below as well.
The Good
The good news is that the site continues to grow in terms of traffic.  The site has increased in traffic by quite a bit in both social media traffic and organic traffic.
Traffic
As you can see, January is by far the highest traffic month!  More people are coming to my site each month and that's great.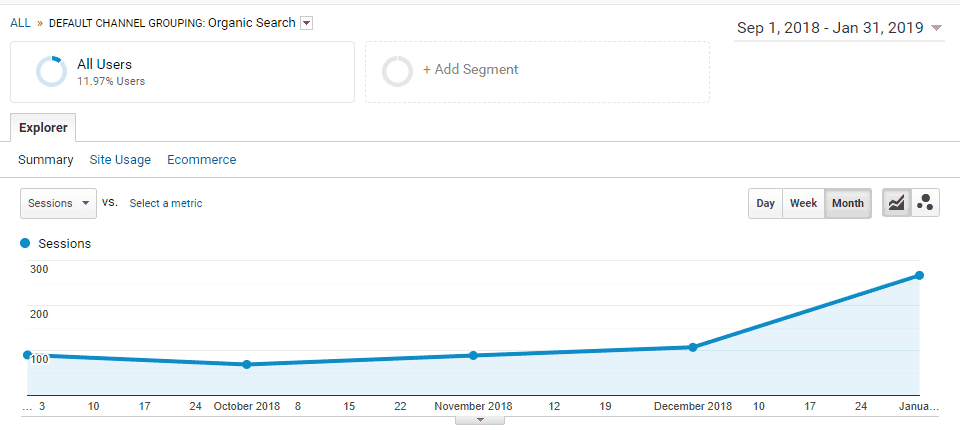 The above screenshot is organic traffic only.  The trend is moving in the right direction; more than doubled the organic traffic from Dec to Jan!  However, I feel like this traffic source should be much higher and will discuss my plans below to improve this.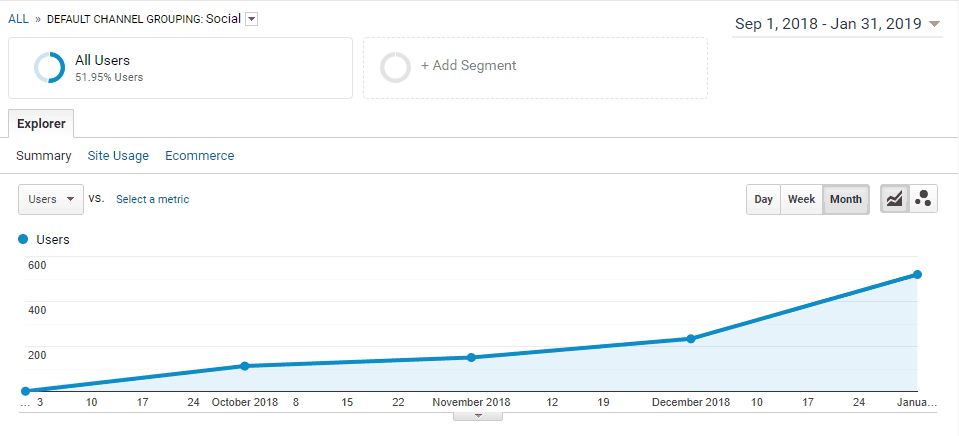 The above screenshot is from social traffic.  And most of this is from Pinterest.  The traffic from Pinterest more than doubled and there is no slow down.
My Pinterest account is also starting to get more followers; which leads to more repins and traffic.

(Pinterest screenshot showing monthly viewers for my account).

(Pinterest screenshot showing how many followers my account has…not bad!).
I don't have a magic bullet for Pinterest, but here's what I do.  For each post written, I create 2 pins (1 short and 1 long) and upload them to Pinterest using keyword related hashtags and descriptions.
The pins are scheduled and rotated using Tailwind and I'm a part of a few Tailwind tribes as well.  That's about it.
Overall, the good news is that the traffic is trending in the right direction. 
Content
During January, I was able to pick up the pace in publishing new content on the site.  In fact, I was able to publish a total of 32 articles!
That brings the total published articles on the site to 82.  Part of that was just me publishing about 12 or so articles that were sitting in draft since mid-December.  But my biggest focus in January was also just ramping up the content.
I utilized Content Pit for some of the content published in January, and I've been very happy with their service.  The writers are trained specifically in writing for affiliate sites and do a great job.  They will even find images and format and add your article in WordPress for you if you want.
Niche Pursuits readers can get 20% extra content from Content Pit for free by using this affiliate link.
As the traffic and content indicate, many things are moving in the right direction.
However, not everything has gone as planned.
The Bad
With the increased traffic from both organic and social sources, my earnings must have really ramped up as well, right?   Well, unfortunately, that didn't happen.
Earnings
I only earned $6 from the site in January.  And to rub salt in the wounds, one of the products from December was returned and so I had to give $0.40 back in commissions.  I mean we are not talking a lot of money, but it still hurts.
The overall conversion rate was WAY down from December.  So, I attribute much of the decrease in earnings to the holiday season just being really good.   As much as I would like the earnings to increase each month on the site, apparently that was not meant to be going from December to January.
Site Speed and Indexing Issues
We all know that site speed is important for both users and Google.  However, despite doing my best using Shortpixel to optimize images and using a CDN, I was still not satisfied with the speed of my site.
Here's a screenshot from Google PageSpeed Insights, before any improvements were made.
Mobile Speed
Desktop Speed
55 on mobile is not good.  88 on desktop is decent, but has room for improvement.
After doing what I knew how to personally do, I hired someone on upwork to go through the site and improve a few other things.  Here's the site speed now, definitely an improvement.
Mobile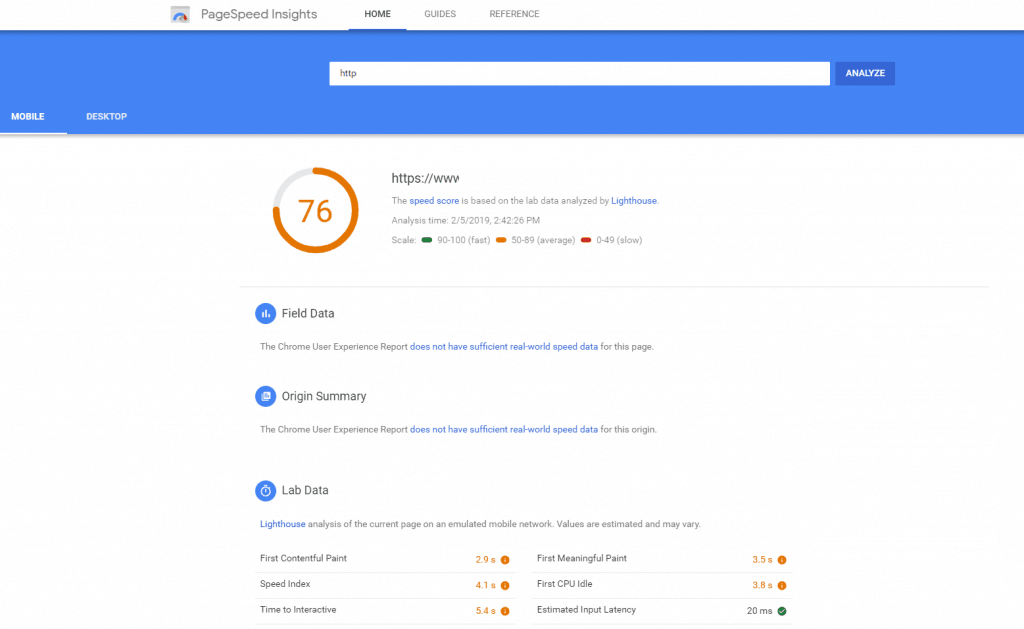 The site went from a 50 to 76, a nice improvement on mobile.
Desktop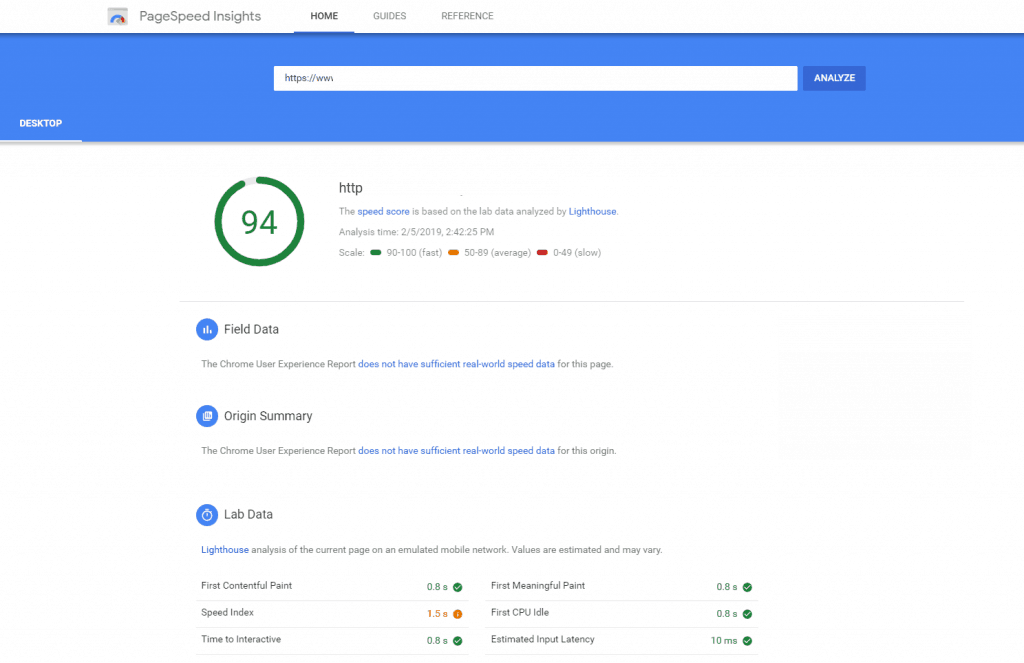 The desktop speed went from an 88 to a 94, in the fast zone!  
I'm going to continue tweaking things, especially for mobile, to try and improve the overall speed and optimization of the site.  Hopefully, this will lead to good things in terms of ranking in Google.
Indexing Issues
I've been watching Google Search Console for a while and have noticed that several of my pages are taking way longer than normal to get indexed.  At this point, I still don't know why.  However, with as much content as I've published on my site, I would expect more traffic from Google.
Here's what I'm seeing that is concerning.  First, AMP (Accelerated Mobile Pages)
Want To Build Smart & Relevant Internal Links...Quickly?
Link Whisper makes it simple to boost your site's authority in the eyes of Google. You can use Link Whisper to:
Bring out your orphaned content that isn't ranking

Create smart, relevant, and fast internal links

Simple yet effective internal links reporting: what has lots of links and what pages need more links? 
Click here to revolutionize your site's way of doing internal links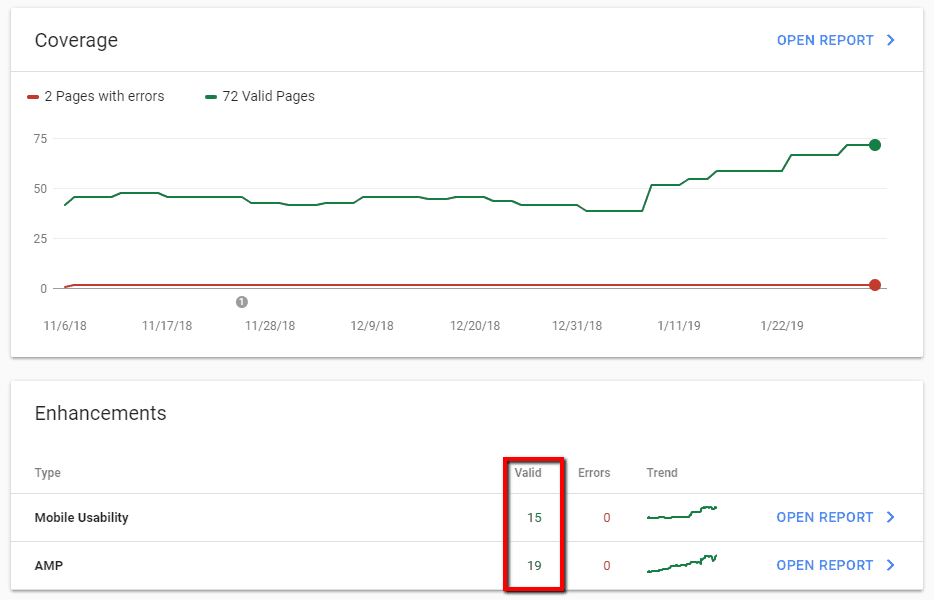 Notice that my site has 72 valid pages in Google Search Console, but only 19 Valid AMP pages.  That's not good.  In other words, Google is not indexing the AMP version of my site very well.
I don't know all the reasons.  I've been using the official AMP plugin from WordPress in partnership with Google (and others).  However, since things clearly aren't going that well with AMP, I found a higher rated AMP plugin called, AMP for WordPress here.
I don't know if this will improve things or not, I'll let you know next month (or if I see significant improvement before then).
In addition to AMP indexing issues, I have a bunch of articles that are "Crawled, but not indexed".  This is also quite concerning as some of them are a few months old.
Now, as I look at the affected pages, many of them are AMP pages, but many of them are just regular pages that should have been indexed months ago (in some cases).  Initially, I was patient because my site was so new; however, it's now been a few months.  My new content gets indexed in a couple of days, so I'm not sure what's going on.
However, this week I plan to tackle this issue with the following 2 prong strategy:
I'm going to go through each of these URLs one by one and use the Fetch as Google tool to request indexing.
I'm going to re-publish these articles so they show up on my homepage as fresh content with a new date.  I figure Google is clearly crawling and indexing my new content, maybe it was just having a hard time when my site was new finding some of the articles.
Overall, I'm hopeful that Google will get all of this content indexed so that I can start ranking for all these keywords I'm targeting!
Update:  About 30 minutes after I wrote this, I went ahead and "fetched as Google" on one of my un-indexed URLs.  I also updated the date on 3 of my articles (so they were on the homepage).  The one I fetched as Google is now indexed (after less than 24 hours)!  The other 2 that I updated the dates on are still not indexed.  Looks like the solution is to fetch as Google.  I'll be doing the other URLs today.
The Spammy Links
I've shared the good and the bad, now it's time to check out my ugly spammy links!
This one baffles me.  I have not done any link building other than a few blog comments (on very real blogs) and some outreach I tried last month that didn't work out.
However, as I've been checking the links on Ahrefs, I started to notice lots of foreign language links coming to my site.  But none of the links are pointing directly to my homepage or any particular articles, they are all pointing to random search results pages that don't exist.
For example, they point to something like: mynichesite.com/search?q=안동출장미인아가씨
Above is just a small sample of the spammy links I'm seeing to my site.  There has to be at least 100 different domains all linking to my site using these foreign characters, that are clearly spammy.  In addition, the far right column in this screenshot shows how many links that domain has to my site.  The top one shows that it is linking 360 times to my site…ouch!
So in aggregate, I now have thousands of spammy links and I have no idea where they came from.
How I Built A Niche Site That Makes $2,985 Per Month
At this point, it's difficult to tell if they are having any impact on my site.  The number of impressions my site is receiving has leveled off in the second half of January, so that does have me concerned.
The silver lining is that I can see that lots of these links are marked as "lost: link removed".  So, part of me wonders if all of these links will just disappear on their own, since they clearly appear to be some automated spam.
The other part of me wonders if I should take aggressive action and start submitting a disavow file through Google search console for these links.  I am strongly leaning towards submitting a disavow file, because I hate seeing these new spammy links pop up each day.  (Yes, more are being added everyday).
Is my site getting some sort of negative SEO attack?  I don't know.  This is what happened to me last time I did a public project.  And none of my sites that I've built in private have ever had a negative SEO attack.  
So, is it possible that someone discovered my site and wanted to have "some fun" by sending tons of spammy links?  I have no idea.
However, I'm hopeful that Google is smart enough to know that I have nothing to do with these links and to just ignore them.  However, I may go ahead and take the more drastic step of disavowing all of these links as I see them come in.
Phew, what a journey this has been!  And we are only getting started…
Report from Other Niche Site Project 4 Participants
As usual, I requested an update from all the participants in the project and I was not disappointed.  Please read the reports and see the progress being made by all the Niche Site Project 4 participants.
It's great to see more and more people starting to earn money!
Real Name or Nickname
Number of articles TOTAL published on your site since inception?
Number of Total "Sessions" your site received in January 2019?
Earnings for January 2019?

What was accomplished in January 2019 for your site? 

Simon
30
2000
65

Found some great writers, hit 5k insta following, got about 6 good links (total 15 now) hit first page for a couple good "best keyword" terms.

Kevin
17
46
0

5 Articles and few backlinks.

Manuel
8
941
115

I've launched the site on 7th of January with a 250+ pages eBook. I've written a total of 8 blog posts so far. The aim of the site is to help people build not just niche sites but mainly how to start making

money online

with blogging and creating authority sites. The site also has an amazon affiliate case study itself which is documented every month.

slipperx
11
25
0

I spent the entire month dealing with phishing hackers increasingly saving malicious files in the filesystem at siteground and disabling all my sites. I upgraded to Wordfence and had a hard time getting security to the full because of technical issues. So content creation is suspended whilst that scenario continues to play out.

bill
50
167
0

Adding some content. Re-edit old content by adding

internal link

, I've spent my time watching incomeschool,doug cunnington, neil patel on YouTube to find idea to optimize my website.

Lucio
7
36
0
One article.
Owais
6
0
0

I started my site in January. i know i am 3 months behind 😛 I did extensive

keyword research

and hired 2 writers to work part time for me. I'll be editing and publishing the article myself. In jan i posted 6 articles. In feb, i plan to post 20 more articles.

Chelle
14
540
3.2

Absolutely nothing. Site is where it should be. Traffic doubled. Made $3.20.

Arun
4
66
0

Scrapped the old website since I was unable to target "best x" keywords since the niche was competitive. Started a new website and targeted less competitive keywords.

Rohan
60
50
0

Nothing much…I combined the similar articles into 1 so that the SEO would increase. It didn't impact much.

Mouad Real
30
510
18

i dont do a lot of work this month , i post 1 post that all i do

endre
0.5
0
0

I get distracted all the time. Have 3 different, the 3 first, articles in draft. The website looks good, but miss content. Hope to get a writing wibe soon….

Nen
4
0
0

I wrote 1 long article and 3 short ones. I had website there with Divi Theme but when I updated to the latest version of WordPress, it became unworkable, it took me some time to figure out what to do next. I removed Divi with the intention to change it to another theme, but it's taking a lot of time for me to learn another theme. Maybe I'll go back to Divi; I don't know what to do. I'm still thinking about it. I'm stuck.

Moris
0
7
0

Stopped working on it. The site I'm working on was registered before NSP4, and that wouldn't be with the rules expected 🙂

Ben Doyle
48
121
23.53

– Hired ContentPit to write 2 articles but I really wasn't impressed so I had to re-write them myself.

– I found a branded expired domain (completely by accident) with 490 referring domains in exactly the same niche as my site. Looked into the history of te domain and it was someone's personal blog but he died. So I won the domain on backorder and transferred all of the content from my old domain to the new one and 301 re-directed my old site. Hopefully that'll give me a massive boost in the serps!

– Worked on the new site structure and internal linking campaign.

– Redirect some of the new sites backlinks to my articles.

Towfiquir Rahman
29
388
39.68

The first month of 2019 was a total productive month for the site. Published total 8 article in this month. Total Session and earning both increased this month.

Violeta
3
13
0

It started to rank in top 100 for a bunch of keywords.

smshs
27
153
0
na
Kutluay
5
2531
56.62

Please check my site http://PinterestMakesRich.com/ for the details of my public experiment site

Andrew Courtney
75
11484
7.07

Wrote 15 articles and kept up Pinterest strategy. Only starting to monetize site now, so hope earning will improve next month.

Chris
8
10
0

8 articles posts, 1 article scheduled, 4 Youtube videos published, 1 scheduled, no outreach or link building yet. No earnings but only a month old.

Jesse
50
400
7.9

Started guest posting outreach, traffic is starting to pick up

Ryan Faucher
86
1551
26.52

Added a new product comparison page. A couple of Pinterest pins really took off. Read the details including the discovery of a celebrity's amazon affiliate site!: https://bit.ly/2WArzSZ

Justin
4
0
0

Completed another article

Steve Allen
13
68
0

Not a lot of progress for January and being completely honest, my attension was elsewhere, albeit a good elsewhere. Only three articles published, but I have two in draft and five others currently being written for me.

I have a big project I'm working on right now so I'm setting the bar low for the niche site throughout Feb but once I have this project done I'll be able to invest more time with the niche site.

You can check out my updates on my blog coffeeshopblogger.com. Cheers!

Shane
16
188
0

Cleaned up site for Google. No index peripheral pages and improved pagespeed index. Published 4 articles.

Jobe
28
258
0.54

My first sales (2 items shipped)!!. This happened after 3 months and 3 weeks after publishing my first article so the 3-4 months timeline to get the first sale is a good indicator to see if you are doing things well. Other than that I only published a few articles.

Y77DJS
20
220
21.98

Slow month, gradual growth. I've been busy with other projects and so this has taken a bit of a back burner this month.

Hassane
10
13
0

I didn't write any new articles

JA
28
207
3

eBook launched and Facebook ad campaign's running. Over 80 sales, ROI increasing up to 25% from last 7 days.

Jules
15
5557
23.25

I created an email opt-in and my subscriber conversions quadrupled, so that was exciting! At this point I know I need more content, it's just finding the time and/or a writer I really like. I tested one out and it wasn't a great fit, so I'm going to try again in February. I joined a new

affiliate program

with a company I feel like is a perfect fit and I can write a ton of content around. My niche site is www.JoyfulArtJournaling.com

Seb van Dort
3
7
0

I finished

keyword research,

I started the site properly, I wrote several articles and I published some of the the written articles.

Rachel
15
705
6

No progress in January. Focus for upcoming month on creating content. Organic traffic increasing despite lack of new content on the site during January.

Mike
11
454
0.78

Polished up the Homepage, Contact, About, and other relevant pages. Published 2 articles. Built 5 links. Did more keyword research. found 20 keywords to target in February.

Ismail blogger
58
1320
67.27

This is the second month of my Niche Blog. My main focus is on adding new KGR (Keyword with 4-6 words Low searches) content with 4 experienced team members. I shifted my blog from A2hosting to Wpxhosting (Highly recommended) for better speed & also got few authority links via outreaching. for Detailed casestudy you can check ismailblogger.com

Hasan
40
200
3

I was not able to do any work for this week

azonwiki
20
581
8.08

I haven't done much in January as I'm lacking motivation. I'll do more keyword research in Feb to come up with more posts in the next few months. My goal is to have 30+ posts ready before this May.

Katha
36
321
2.8

This is my first update since October. I haven't added content to the original site since then, but Google traffic has picked up in January nevertheless. I would like to add an affiliate storefront to the site in the upcoming months. I decided to start another site in November. Ramp up has been much faster. I have 53 articles published on the site as of now. My goal is to get to 100 articles by the end of February.

Jae Jun
0
911
1789.38

Financially, Jan was a drop in net revenue. Could be due to Jan effect where people signed up in Dec for business expense reasons. Could also be due to the increase in price where we eliminated the cheapest tier to get more qualified and targeted customers. Wasn't able to work on the site due to other business projects and business trip with higher priority. Did make inroads in getting the blog theme updated so that emails can be reused. Dev team is close to finishing up our advanced feature as we aim to move up market for our software. Also trying to get more users to use the Gorilla ROI addon for free. So if you are reading this and run an Amazon FBA business, check it out. Free to use for any 3 sku's and you'll be able to get the data and pulse of your fingertips straight to a spreadsheet. Templates included for free for you to get started 🙂

Angela Lewis
16
115
36.38

I am focusing on keywords that will rank in my niche.
---