Is My Niche Site a Victim of Negative SEO?
When you buy something through one of the links on our site, we may earn an affiliate commission.
If you have been following along with my public niche site project, you know that it has started to rank on the first page of Google, and is doing very well.  The site is currently ranking #3 or #4 in Google for its primary keyword and traffic continues to climb for related keywords as well.
I should be ecstatic, right?  Well, I am very happy and hope that the site only continues to improve as I add more content and try to gain the #1 spot in Google.
But I'm worried about Negative SEO.
However, I have recently been noticing some links pointing to my site that are causing me concern.  These are links that I did NOT build or ask for, and I have no idea how they got there.  But in my post today, I want to make some educated guesses about where these links are coming from and why they are cause for concern.
How Did I Find the Bad or Negative SEO Links?
I first noticed odd links pointing to my site when going through my Google Analytics.  I looked at my referral traffic and noticed I got a couple of hits from totally unrelated domains.  (Things not even close to knife or outdoor related).
That's odd.
So, I took a look at these domains and all I could do was shake my head.  I found 3 or 4 sites that were linking to my niche site using my exact match anchor text…in the sidebar!  And these were pretty obvious spammy domains as well.  The content was all probably auto generated, and other sidebar links were pointing to casinos or other types of sites often associated with spam.
Again, I want to re-iterate, that I had NOTHING to do with these links!  I did not ask for these links and certainly did not want these links.  Here is a couple of images of the types of links I am seeing:
My conclusion is obviously that someone reading my blog here is responsible for creating these links.  Stuff like this does not normally occur when building a website.  Either the person or persons responsible for these links either think they are helping me, or they know that these links could cause damage to my site.
So, am I a victim of negative SEO?
First, lets take a deeper look at the links pointing to my site.  When I went to Ahrefs, I saw an astonishing large amount of links pointing to my site.  As you can see from the images below, Ahrefs has found nearly 1,500 backlinks coming from 74 different linking root domains!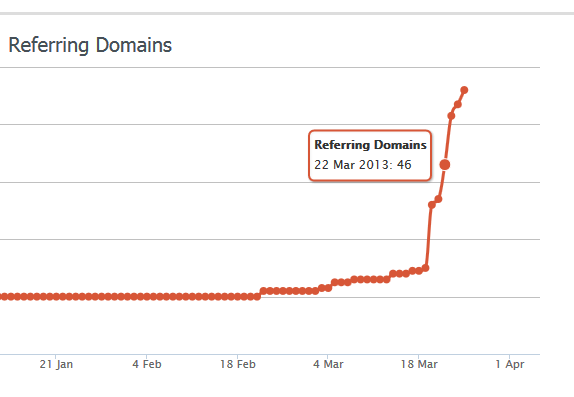 Notice the large spike in number of referring domains between March 19th or so to March 25th.  Someone obviously decided to suddenly add a bunch of links to my site…and I'm not happy about it!  You see, my site was going as planned before these links ever arrived.  I was ranking in the top 10 already by March 15th, so I only view these links as possibly damaging.
And what is perhaps even worse than the sheer number of links, is the fact that ALL of them are using my exact match anchor text (as far as I can tell).  According to Ahrefs, 86% of the links pointing to my site are using my exact match anchor text.  Not good.
Again, these links are not from me, as I would NEVER recommend anyone using this much anchor text to their site.  In fact, you can see my link building and anchor text recommendations here.
Why am I worried?
Google has made it clear with their Penguin update, that they do not like these types of links that I just explained (from spammy domains all using exact match anchor text).  So, I'm clearly worried that Google is going to start noticing all these links and will no longer feel like a top 10 ranking is warranted for my niche site.
This is obviously one of the big risks that I had to consider when building a public niche site.
Again, this could be someone that actually thinks they are helping my site; however, more likely its coming from someone doing Negative SEO.  I personally feel like most people will never ever have to deal with negative SEO, but because my blog is so public and because I've been so open about my niche site…I'm much more likely to be attacked negatively by someone.
So, the chances of the average person dealing with negative SEO are extremely rare.
What is negative SEO?
Negative SEO is essentially where someone intentionally sabotages your SEO efforts to make your site rank lower in Google.
This is a scary thought.
Suddenly, its possible to not only do good to your site by building links, but its possible for someone else to damage your SEO efforts by building poor quality links to your site.
The argument has been made both for and against the existence of negative SEO; however, we do have some clues that it exists.  First is the Penguin update itself.   This update was all about Google penalizing sites that used over-optimized anchor text and overall using poor quality links to their sites.
I hate to say it, but my niche site is looking like a good candidate to get penalized by Google Penguin at this point.  But I had nothing to do with it!
The second piece of evidence that suggests that negative SEO works, is the Google disavow tool.  In other words, if  bad links couldn't cause a penalty, Google wouldn't have created a tool specifically to remove penalties caused by links.
And obviously, anyone can build links to any site.  So, a malicious person can certainly build poor links to your site just as well as they can to their own site.
How to Combat Negative SEO?
So, now that I've established that I personally feel like someone can indeed hurt your site through negative link building; what can you do to combat this issue?
Well, its VERY difficult to stop.  However, most people will never have to deal with this.  I personally think my site is a target simply because my blog is well-known and someone wants some attention.  Its highly unlikely that the average person reading this will ever be a target of negative SEO.
The first thing I did, was to email the site owner of the links I found and asked them to remove the links immediately.  I only found contact info on a couple of sites and have received no response.  This is likely a dead end for me.  However, contacting the site owners and asking them to remove links is a viable option in some circumstances.
If you get an unnatural links warning in your Google Webmaster tools, you can use the Google disavow link tool.  Others have claimed that this can be effective in removing a Google penalty.  This is not an easy process and is a manual review of your site from Google.  So, you would need to provide VERY clear evidence that you have done everything you can to remove links on your own and make a case to have the penalty manually removed.
Build more high quality links to your site.  Building more quality links to your site may help if your site has not actually been penalized yet.  My site has NOT been penalized yet, even though I'm noticing lots of poor quality links.  Ideally, Google will just not "count" these links and will only view the higher quality links that I build on my own.  This in and of itself is not likely to actually "remove" a penalty however.
A Few Good Signs?
Despite the fact that I'm seeing lots of unwanted links pointing to my site, there has been no negative impact on my rankings just yet.  I hope that this remains the case.  In the meantime, I would ask whoever is linking to my site to PLEASE STOP!  And please REMOVE all the links!
I have been checking my Google Webmaster tools and have not received any sort of unnatural links warning, so that's a good sign.  Is it possible that Google is just ignoring these links?  At this point, I am only seeing quality links point to my site in Google Webmaster Tools (here's a few):
The links that Google is showing me in my webmaster tools appear to be the quality and relevant links that I've set out to get.  So, is it possible that Google is only recognizing my quality links and not taking into consideration the poor quality links that someone else is building to my niche site?  At this point, that appears to be the case.
In addition, Open Site Explorer is only showing a few links pointing to my site.  Now granted SEOmoz only updates their index every few weeks, so it wouldn't show any of the newer links.  But they do update tomorrow, according to their calendar…so I'll be checking back.  You can get a free trial to Open Site Explorer right here.
The other good sign is obviously that my site is still ranking well in Google.
So, at this point I am seeing no ill effects from all the poor quality links coming to my site.  I hope it stays that way, but I'm quite nervous about it.  Honestly, it really just hurts you the reader of the case study more than anything else.  This is a newer site for me, and is not my "bread winner", so the income impact is basically non-existent.
The only real negative impact would be if I can't complete this case study because of a link penalty caused by negative SEO.  Either way, I plan on fully documenting and sharing what happens with this site.
Your Thoughts
As always, I look forward to hearing your thoughts and discussion below about negative SEO.  Perhaps some of you out there would be better than me at researching who has done this and getting them to take down these links.  If anyone would like to try, be my guest.
Overall, its unfortunate that I have to experience and share the darker side of SEO, but I suppose it comes with the territory of doing a public case study.  I'll keep you posted on any updates.
Want to learn step-by-step how I built my Niche Site Empire up to a full-time income?
Yes! I Love to Learn
Learn How I Built My Niche Site Empire to a Full-time Income
How to Pick the Right Keywords at the START, and avoid the losers
How to Scale and Outsource 90% of the Work, Allowing Your Empire to GROW Without You
How to Build a Site That Gets REAL TRAFFIC FROM GOOGLE (every. single. day.)
Subscribe to the Niche Pursuits Newsletter delivered with value 3X per week