17 Ways to Get Paid to Listen to Music in Your Spare Time
When you buy something through one of the links on our site, we may earn an affiliate commission.
For all the music lovers out there, did you know you can get paid to listen to music? Sounds like a dream job. Music is entertaining, it's enjoyed by many, and it can provide health benefits, too, including boosting mood, lowering anxiety, and decreasing fatigue, among others.
Most of these websites to get paid to listen to music are a chance to make extra money so you can listen to music in your free time as a side hustle, but there are some full-time and stable jobs on the list, too!
Here's a list of some of the best platforms, apps, and websites to make money listening to music.
Let's go!
17 Ways to Get Paid to Listen to Music
Whether you're a music hobbyist or you just have a love for good music, you can listen to music online and get paid for it with these 17 websites.
Check it out…
1. Playlist Push
Playlist Push will pay you to be a music curator. You'll earn money listening to music online and reviewing songs while discovering new recording artists to add to your music playlist.
They work with nearly 1,000 curators on their platform, helping artists take their music to the next level.
You'll make $12 per song review and you can request payout instantly whenever you want.
Learning about new music and supporting the independent recording artist community are some of the things you can look forward to reviewing music with Playlist Push.
Learn more about Playlist Push
2. Radio Earn
Radio Earn is a way to earn extra cash by listening to the radio. If you're a website owner, you can also insert Radio Earn's API onto your site and make money when other users listen to the radio.
The longer you listen to Radio Earn, the more you can make.
You get paid out in points every 15 minutes and the points can be redeemed for money the following month through Amazon gift card, bank wire transfer, or Bitcoin payout.
Radio Earn is free to join and it's open for users worldwide.
Visit Radio Earn to get started
3. HitPredictor
HitPredictor is really interesting way to make money listening to music in the way it works, helping you use your influence to directly impact new music before it's even released. Music lovers can help the music industry predict the next hit!
You'll earn points by rating music online. You can also earn points by referring your friends to join HitPredictor.
When you're ready to redeem your points, you'll go to their Prize Store, where you can cash in your points for weekly and monthly e-card raffles for Amazon.
Join HitPredictor
4. SlicethePie
SlicethePie calls itself the largest paid review site online. They pay you for your opinion on music, clothing, and more. Your review goes to unsigned recording artists as feedback so they can get an unbiased review of their music.
They have paid out over 6.8 million dollars to reviewers!
Once you signup for free, you can pick the category you want to review. For example, you might choose music.
For song reviews, you'll need to listen to at least 90 seconds of the music, and then you'll rate what you heard on a scale of one to ten.
SlicethePie works on a rating system that measures your reviews against other reviewers. The higher your star rating, the more you can make per review.
Once your balance reaches $10, you can withdraw via Paypal.
Visit SlicethePie to get started
This is a great way to get paid for reviewing music.
5. Current Rewards
Current Rewards pays you to play music. Search from over 100,000 radio stations and earn points when you play them. The points you earn can be redeemed for gift cards, electronics, physical products, or donations to charity.
This is one of the easiest ways to earn extra money listening to music. You just play curated music provided by Current Rewards, and the more you play, the more you earn.
According to Current Rewards, you can make up to $600/year.
Visit Current Rewards
6. Research.fm
Research FM is a music research company that will pay you for your opinion on music. In turn, they use that consumer opinion to advise radio stations.
The site doesn't have a form to apply for work, but you can visit the Contact page to send a message to learn more about opportunities.
Visit Research FM
7. Cash4minutes
Cash4minutes pays you to listen to the internet radio.
You earn extra cash by making phone calls, and your unused phone minutes at the end of the month are monetized. Here's more on how it works:
First, you sign up and set up your profile. You'll add the phone numbers you will be dialing from. Next, choose a phone number to dial and perform a test call. Then, get started and get paid. You'll dial a number to listen to an internet radio station and earn for every minute you listen. Cash4minutes pays you to play music.
There are several options to choose from to get paid, including PayPal, Bitcoin, Bank Transfer, and others. If you use multiple phone numbers to dial, you can increase the amount you earn even faster.
Cash4minutes has paid out millions since 2014, and their site has tons of positive testimonials from happy users.
To learn more visit Cash4minutes
8. Swagbucks
Swagbucks is a multifaceted site that connects you with opportunities to make money by doing online tasks like:
Listening to music
Watching videos
Online shopping
Taking surveys
Swagbucks will pay you to listen to music online, and you can take advantage of other ways to earn extra cash on the side, like those shown above.
Right now, they're offering a $10 bonus when you sign up!
After joining Swagbucks, you'll get instant access to the entire site where you can pick your favorite opportunities and start earning cash on the spot.
Each task you complete earns you SB, which is Swagbucks' currency. Think of these as reward points. Accumulate points in your balance, and then you can cash out for rewards like gift cards or PayPal cash.
Visit Swagbucks to claim $10 free when signing up
9. Inbox Dollars
Inbox Dollars, like Swagbucks, is a website that pays you to do tasks including listening to music. You can sign up for free and get access to the website where you can pick the tasks you want to work on like listening to music online. For each task that you do, you'll get paid money.
The main difference between Swagbucks vs Inbox Dollars is that Inbox Dollars pays you in cash, not in points (learn all about it in our review on whether Inbox Dollars is legit).
They even give you a $5 bonus for joining the platform!
Get your free $5 bonus at Inbox Dollars
10. Music Xray
Music Xray offers music reviewer opportunities for music composers and new artists. After you sign up and you're approved, you'll be able to participate in the opportunity marketplace, where you can select music review opportunities to make money.
You make money providing music reviews and cash out your balance to PayPal once it reaches $20.
You'll see requests for things like:
Music critiques
Radio playlisting
Career advice
Song placement
Music Xray is looking for industry professionals to provide music reviews for the above.
When you sign up, they mention that they're looking for experts that already get paid for their ears. If that's you, opportunities to make money listening to music online are here.
Click here to visit Music Xray
11. Music Gateway
Music Gateway pays you to become a music curator making up to £800 per month. You earn money through your music submissions.
This opportunity is designed for people that have social influence and a large following for people to send them music to be considered for the platform.
You'll be a paid music curator, receiving music submissions from your audience that you can use to build a playlist and submit to Music Gateway.
Music Gateway shares that an income ranging from £20,000 to £40,000 per year is within reach.
Visit Music Gateway to get started
12. Earnably
Earnably pays you to complete small tasks like watching videos and listening to music. Each offers you complete rewards you with points that you can then redeem for cash, gift cards, wallet codes, and more.
The concept seems pretty straightforward. Do tasks, earn points then redeem those points for rewards. You can also earn for referring your friends and family.
Visit Earnably to get started
13. Unique Rewards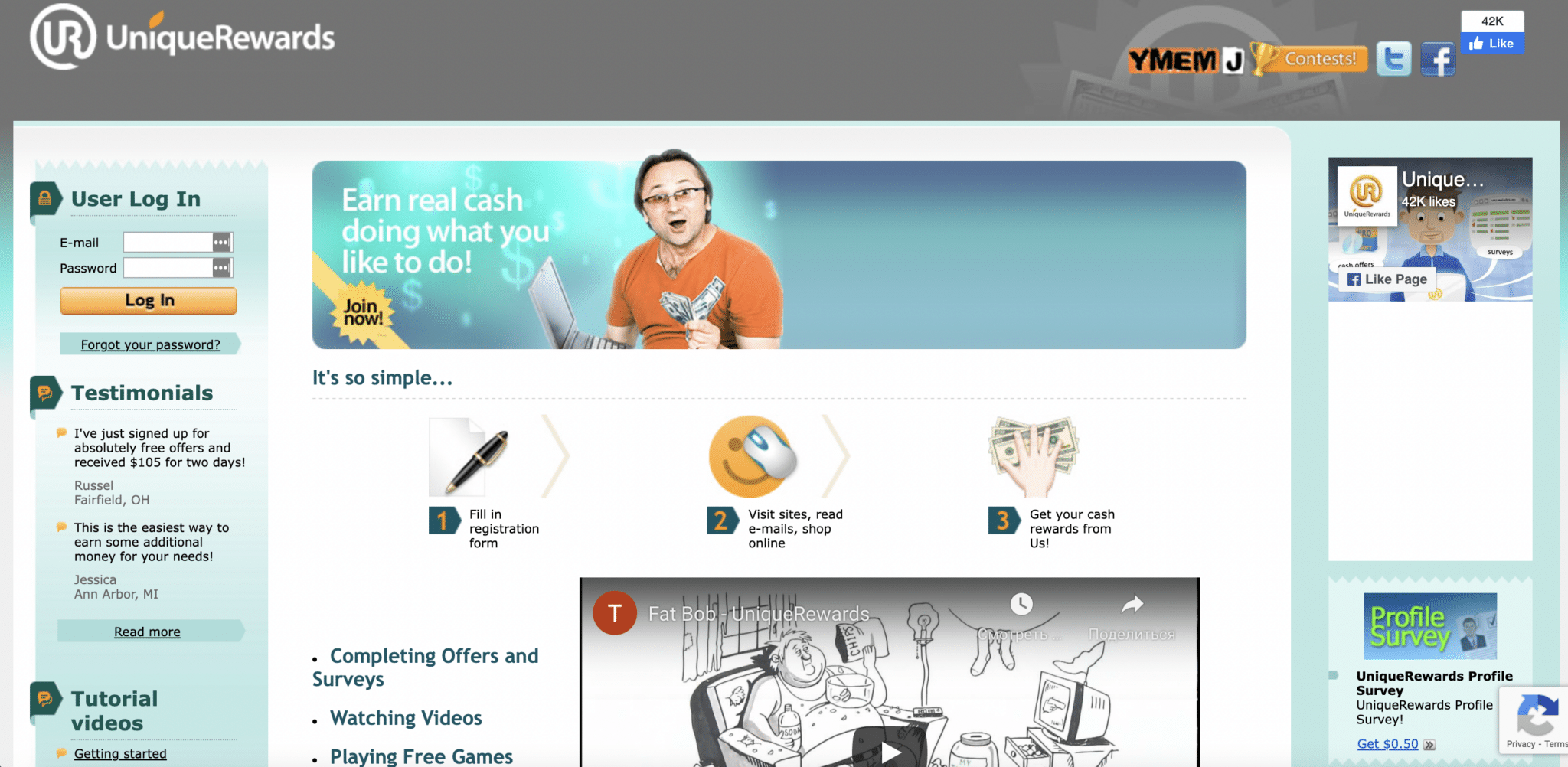 Unique Rewards offers their users opportunities to make extra cash online by offering small tasks that they pay you to do. These tasks include:
Listening to music
Watching videos
Signing up to free trials
Visiting websites
Reading emails
These are super simple tasks that you can do in your free time. Sites like Unique Rewards are great as a side hustle to make money in your spare time. You can work as much or as little as you want, making money online.
There are tons of testimonials on the site from users making over $100 in just a few days completing tasks for Unique Rewards.
If you need some guidance after signing up for Unique Rewards, they offer tutorial videos that show you how to use the platform, how to cash out, etc.
You will make money listening to music from the radio offers available on Unique Rewards. You just listen to music and complete the CAPTCHA every 30 minutes to log your time. These radio offers, along with other opportunities available on the site, will keep you occupied without getting bored, which can help you earn online.
Visit Unique Rewards
14. Work in a music shop
If you're looking for stable and/or full-time income listening to music, there is no better opportunity than to work in a music shop.
Not only will you get paid to listen to music that's probably playing on the overhead speaker, but you might be able to listen to new music samples throughout the day.
It'll be to your advantage to know music genres well so you can recommend music artists and albums to customers. As a result, listening to music while working might be encouraged.
To find work in a music shop, check out job classified sites like Craigslist or online job banks like Indeed, CareerBuilder, or Monster Jobs.
15. Become a music reviewer
Working as a music reviewer or music critic is a job many people have the opportunity to get. People like this because you don't need a degree or specialized background most of the time.
Here are some ideas on how you can get paid to review music:
Start a new music blog
Launch a music review YouTube channel
Launch a music-related social media account like Instagram or Tik Tok
Blogging is an outlet where you can express yourself and share your criticism about the music you review. The startup costs with starting a blog are low and top bloggers are making up to $100,000 or more per month. Learn how to start your own blog.
Launching a music review YouTube or social media account gives you the opportunity to talk openly about your opinion on various music genres.
Starting a YouTube, Instagram or Tik Tok account is free to do. Most other social media networks are also free to join. Once you're registered, you'll create content around music to earn money.
In 2020, YouTube paid $4 billion dollars to the music industry, mostly going to user-generated content.
Be consistent, connect with your audience, and have fun. This could be a fun, creative outlet that could turn into a very lucrative endeavor.
16. Become a DJ
Know how to use music and audio equipment?
You could get paid to listen to music, performing as a DJ for events like weddings, parties, and conferences.
According to the Musician's Institute, 5 ways to become a DJ include:
Choosing a music medium to work with and building up that collection
Exposing yourself and learning about different kinds of music
Study basic DJ skills
Study DJ tools and software used by top DJs
Join a music program that can help fine-tune your technique and help you develop your skills to be a DJ
Depending on the success of your career, DJs can make millions getting paid to listen to music. However, the median income for a DJ is around $49/hour.
17. Work from home
Working from home is one of the easiest ways to get paid to listen to music.
Regardless of what industry you work in, there will probably be an opportunity to listen to a radio station or your favorite music streaming platform while you're working in your home office.
Not to mention, some employers where you report to work in person may also let you listen to your favorite music while you work.
As mentioned earlier in the article, music is great for improving mood, according to this source.
If you're not already working from home, you can find some of the best work from home jobs in these places:
Sign Up for Upwork Now
Can You Get Paid to Listen to Spotify?
Spotify doesn't directly pay you to listen to music unless you're working for Spotify as an employee or contractor in a music-listening role.
But there may be opportunities to work alongside Spotify for playlist curation and related work, like the gig Playlist Push offers.
Ready to Get Paid to Listen to Music?
This is probably one of the most fun ways to make extra cash. If this sounds interesting to you, check out the sites above to earn money from listening to music.
What do you think about making money listening to music? Check out this article for more unusual business ideas that can make you money
Want to learn step-by-step how I built my Niche Site Empire up to a full-time income?
Yes! I Love to Learn
Learn How I Built My Niche Site Empire to a Full-time Income
How to Pick the Right Keywords at the START, and avoid the losers
How to Scale and Outsource 90% of the Work, Allowing Your Empire to GROW Without You
How to Build a Site That Gets REAL TRAFFIC FROM GOOGLE (every. single. day.)
Subscribe to the Niche Pursuits Newsletter delivered with value 3X per week