Is Inbox Dollars Legit? Find Out If It Can Help You Earn Real Money From Home
When you buy something through one of the links on our site, we may earn an affiliate commission.
If you have been looking into ways to earn money online in your spare time, then chances are you've already come across Inbox Dollars. Known as a survey site and so much more, many people are hesitant to sign up for that initial $5 bonus because it seems too good to be true. Is Inbox Dollars legit, and what can you expect to earn?
The good news is that Inbox Dollars is indeed legit, and you can earn more than just a few dollars!
In our InboxDollars review, we'll cover just what you need to know about the "free money" you can make in your free time!
Learn more about Inbox Dollars here.
---
What is Inbox Dollars?
Inbox Dollars is a great way to make a few dollars in exchange for some mindless activities. It won't take much to earn money here through online surveys, reading emails, registering for new offers, and more. The company has been around since 2000, founded by Daren Cotter, and claims to have given out more than $80 million in payments to users on the site.
Despite their history starting in 2000, they were acquired by a new parent company in 2019 - Prodege. It makes sense that Inbox Dollars would be folded under their umbrella, as Prodege specializes in consumer insights and data-driven marketing.
Is Inbox Dollars Legit?
For those who want to make as much money as possible in their spare time, it begs the question: Is Inbox Dollars legit, and can you earn real money? The short answer is yes, you can definitely trust the site, and there's a lot of social proof out there.
Trustpilot scores are resoundingly positive for Inbox Dollars. With more than 33,000 reviews, 65 percent of them are five stars!
While many people were able to get their cash rewards without a whole lot of stress, common complaints centered around:
Not receiving credit for actions they took
Issues with not qualifying for surveys after a screening process
Poor customer service with little follow-through
Length of time it takes to accumulate funds
Difficulty transferring funds to a PayPal account
Unfortunately, the Better Business Bureau doesn't have much good news. Inbox Dollars is not a BBB-accredited business, but the ranking it currently receives is an F.
Keep in mind that it only has 30 reviews on here with a 1.4-star rating. Complaints are much the same as they are on Trustpilot.
If you need to contact InboxDollars, be prepared to be patient and over-communicate to get your issue resolved.
Plus, I have personal experience and can attest to the fact that Inbox Dollars is a legit way to earn cash. I've used the survey site as a side hustle in college and was able to successfully request payment and redeem rewards. It was a quick and easy transaction, but it did take some time for my earnings to stack up.
How to Make Money Online with Inbox Dollars
The good news is that there are tons of ways to make extra cash with an InboxDollars account. Here are a few of the top ways that people are using this site to earn a little extra money:
Surveys
Inbox Dollars is perhaps most associated with surveys. This is one of the fastest ways to rack up cash rewards, but remember that you won't qualify for every survey they throw your way. Many people struggle to complete surveys unless they fall into a sought-after demographic.
You could spend a lot of time being screened for surveys without being paid for that time.
Online surveys pay quite a bit, though, so be sure to spend some time exploring this aspect of the site.
Registering for Offers
Like many rewards sites, Inbox Dollars strives to link up customers with companies that need a boost in sales and revenue. As a result, those companies are willing to pay nominal amounts to get more leads in the door. If you notice a few campaigns that you're particularly interested in, register for the offers and reap the rewards.
Some of these may require a cell phone or require you to list a phone number. This can open you up to telemarketing, so just be aware of the consequences.
Online Shopping
If you're already doing some online shopping, why not make a few dollars at the same time? Shopping online allows you to earn cash back for purchases that you would have made anyway. To use this service, look at the list of partnered retailers and select where you would like to shop.
Inbox Dollars receives a commission from each sale, and they transfer a portion of their earnings back to you.
Watch Videos and Play Games
You also get paid to watch videos and play games with your InboxDollars account. They have their own games that you can play, including fan favorites like Mahjong Solitaire and Candy Jam.
If you love to gamble, you can get into playing games with GSN, where you'll earn a whopping 18 percent cash back for money spent on the platform.
Watching online videos also qualifies you to earn a few cents for inundating yourself with marketing materials from Inbox Dollars' brand partners.
Scratch and Win
Are you feeling lucky? If so, it might be time to take advantage of the scratch and win function to get paid a cash prize.
For every action that you complete on the site, you fill the meter until you are eligible for a scratch and win card worth more than just a few cents. You can win cash prizes of $10, $25, or $100, which makes hitting that payment threshold easier than ever.
Actions that contribute to your scratch and win InboxDollars account include:
Spin and Wins
WinIts
Learn and Earn
Search using InboxDollars search engine
Watching videos
In the meantime, you can still focus on taking online surveys and reading emails.
Printing Coupons
Another way to earn money toward git cards is through printing coupons. Earn a penny for each coupon you print, but earn a few cents more for redeeming them at the store. It's an incentive to only print the coupons you intend to use. Earning money is easy, even while saving money on items you would have purchased anyway.
Reading Emails
Last but not least, Inbox Dollars gets its name from one of the easiest ways to earn money: reading your email. They will send you marketing emails from their partners, and all you have to do is open the email and read it.
The payout for this is minimal (usually just a few cents), but it can be a mindless way to make extra money online.
Pro tip: Create a separate email address for your Inbox Dollars account and use the same PayPal email address. The volume of emails they send you can be overwhelming in your personal email, and it clutters up your inbox with spam.
How to Get Paid on Inbox Dollars
The good news is that getting paid is simple, though it may not be easy. Here are the steps you need to follow to get your easy cash:
Verify that your email address (and the same PayPal email address) or physical mailing address is up to date.
Select "Redeem" and then "Request Payment."
Decide whether you want to be paid to your PayPal, gift card (find out where to sell gift cards here), or prepaid Visa card.
PayPal and gift card payments will take roughly three business days to process.
Keep in mind that you don't get to cash out each time you earn a few dollars. The initial payout threshold is $15, but you can meet this at your own pace. After your first payment, you can request your money for every $10 increment.
Once you submit for payment, note that you cannot stop the process or alter it. This is why it's essential to make sure that your information is up-to-date before you head to the checkout.
Is InboxDollars legit? The answer is yes, but you have to be sure to have your ducks in a row before you request payment!
Getting Started on Inbox Dollars
Signing up for an account is relatively easy. It could be just what you need to start making money online. While it won't pay your mortgage, it's great if you have some spare time to do a few mindless activities - plus, signing up gives you a way to earn some easy cash. They give you a $5 bonus just for setting up a new account.
All you have to do is enter your email address, a password, and a password confirmation. It takes less than 30 seconds to get started with their online tasks.
To get your bonus, all you have to do is check your email. You'll get your first Paid Email. Once you confirm that you have received it, you'll get a $5 bonus, much more than the amount that you usually earn for the same activity.
From here, you can start taking surveys and get paid as soon as you hit the threshold for a check.
Inbox Dollars Alternatives
Because Inbox Dollars isn't exactly going to have you rolling in money, you might want to supplement the cash rewards earned here with other options. Here are some of the best alternatives that allow you to earn more money from the comfort of your couch.
Swagbucks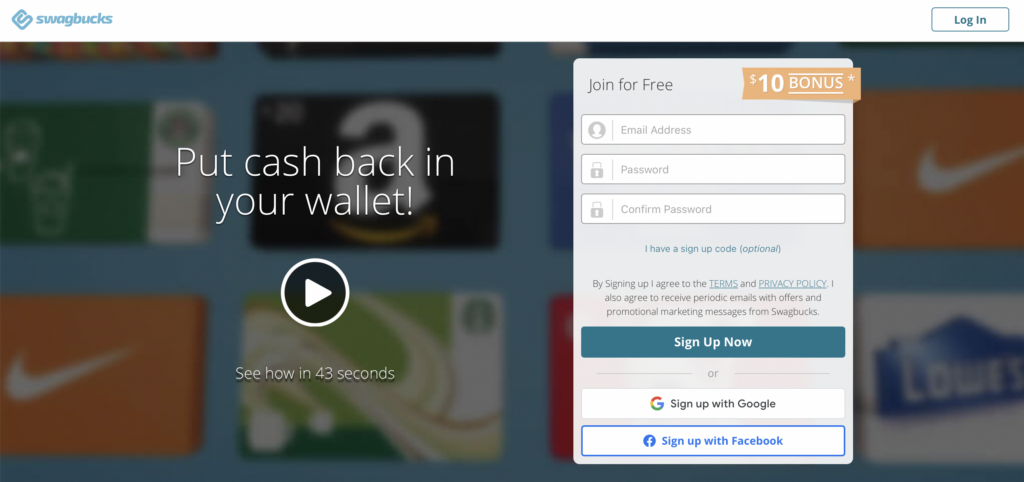 Swagbucks is extremely similar to Inbox Dollars in the way it functions. It's known for helping people earn some extra money with a variety of fun online tasks like:
Shopping online
Playing games
Searching the web
Completing surveys
Payments can be redeemed via gift card or directly to a PayPal account.
When compared to an InboxDollars review, it's important to note that Swagbucks offers a more robust site. It has a wider array of brands that it partners with, giving you access to more opportunities to earn cash. However, the amount that you earn for each action is very comparable to Inbox Dollars.
In other words, Swagbucks is a great way to supplement the income you earn on Inbox Dollars and pad your bank account.
---
Online Survey Sites
If you really want to commit yourself to completing online surveys, chances are that you'll be better off with other survey sites that specialize in this type of activity. Many survey sites will allow you to create a profile with your demographic information, making it more likely that you will qualify for the surveys offered to you.
This saves you time and effort when it comes to completing screenings that you won't ultimately be paid for on the Inbox Dollar website.
If you're looking for a good place to complete surveys, you can't go wrong with some of these best survey sites:
One requirement for most of these survey sites is that you must be at least 18 to qualify. If you're a teen who wants to make money online, you might want to check out our guide here.
But if you're over 18 and ready to make quick and easy cash - then sign up for Survey Junkie today!
Cashback Sites

If online surveys aren't the way you want to spend your spare time, then you may want to look into cash rewards for spending money on sites that you already use. Cashback sites require you to log in and click a specific link to get to the retailer of your choosing.
Once here, you can shop the same as you always would - except you'll earn money for doing so! Money can be cashed out to your bank account, PayPal account, or via gift cards to your favorite retailer.
One of the most well-known cash back sites is Rakuten. They've paid out more than $2 billion with 15 million members.
You can also earn money the same way by making good use of credit card offers that make cash back even easier.
Final Verdict: Is Inbox Dollars Legit?
We have definitive proof that Inbox Dollars is indeed a legit company that will help you to make money through online surveys, cash back shopping, reading email, and even playing games and watching videos. InboxDollars pays out with real money, giving you extra cash in exchange for a few surveys.
If you're thinking about signing up, make sure to take advantage of the $5 signup bonus to help you reach that initial $15 payout faster!
For those who are interested in making money online, be sure to check out our related articles:
Want to learn step-by-step how I built my Niche Site Empire up to a full-time income?
Yes! I Love to Learn
Learn How I Built My Niche Site Empire to a Full-time Income
How to Pick the Right Keywords at the START, and avoid the losers
How to Scale and Outsource 90% of the Work, Allowing Your Empire to GROW Without You
How to Build a Site That Gets REAL TRAFFIC FROM GOOGLE (every. single. day.)
Subscribe to the Niche Pursuits Newsletter delivered with value 3X per week