WebinarJam Review: Is It the Best Webinar Software Tool?
When you buy something through one of the links on our site, we may earn an affiliate commission.
Welcome to our WebinarJam review. Did you know that according to Google Trends, overall interest in webinars in the US has been growing over the last decade?
The explanation for this trend is that broadcasting webinars can literally transform your business.
It is no joke.
With the right marketing and communication strategy, you can engage with your audience in a more real and direct way. Webinars give you the opportunity of interacting with your consumers directly, getting feedback immediately from them, and understanding more in-depth what their problems and desires are.
With all these invaluable insights, you can later create new products, or tweak your existing ones, to match your customer needs and expectations.
Basically, a webinar is a pre-scheduled online workshop or a web conference, that can be either live or recorded.
They are very effective in building brand credibility, and strengthening your customers' trust and loyalty. With the right strategy and content, you can convert webinars into a lot of sales.
In fact, thousands of companies, entrepreneurs, marketers, and coaches utilize webinars to promote their businesses, products, online courses or even provide training to millions of people in every corner of the world.
So, it is not big news that a well-done webinar can significantly bring a lot of value, making it a business tool worth considering.
A quick Google search will show you a lot of webinar-hosting services, both paid and free, making it harder to pick the best webinar software for your needs.
But finding a good webinar tool shouldn't be that overwhelming.
So, in this article, I am going to be reviewing WebinarJam, one of the most powerful, complete, and easy-to-use webinar software available on the market right now.
Try WebinarJam Right Here
WebinarJam Review
Ease of Use -

90

Customer Service -

95

Price -

90
Summary
WebinarJam is a webinar hosting software that is compatible with all browsers, operating systems, and devices. It can stream through Facebook Live, YouTube Live, and WebinarJam's own private network. It is a feature-rich tool, easy to use and ideal for marketing/selling your products and services. If you are serious about doing webinars, I would definitely recommend trying WebinarJam right here.
Pros
Price tag (among the least expensive paid options available in the market)
Intuitive to use
Facebook Live and YouTube live casting
Feature-rich software, intended for multiple professional uses
SMS/call reminders to join webinar
Customer Service friendliness
Possibility of turning attendees into presenters
Easy to manage different time zones if your business is global
No need to download anything
Integrated email system which can be synched with your email provider
Analytics: analyze different metrics (registrations, visitors, people leaving, no-show)
Co-presenting (present live with up to 6 presenters)
Can handle large volumes of attendees in a same session
Cons
No free-trial (although they offer 30-days money return)
No monthly subscription options
The are no cheaper subscriptions options in case you do not want so many features
WebinarJam review: what is it about?
Webinarjam is a webinar hosting software that proposes an integral and innovative solution for live casting, event streaming, and webinar broadcasting. It is compatible with all operating systems, browsers, and mobile device platforms. Additionally, it can stream directly through Facebook Live and YouTube Live, or broadcast to JamCast (WebinarJam's own private network).
So basically, the tool allows its users to target any customer they wish, regardless of their location and the devices they use.
Lots of functions
Webinarjam webinar software promises:  "Unmatched flexibility coupled with high tech precision offered at a value yet to be equaled…".
Hoping to be useful for every type of user, here are some of Webinarjam coolest features:
Present with a preloaded video, PowerPoint, Keynote, or PDF
Flexible presentation controls
Available in many languages
Up to six co-presenters
Built-in chat to answer attendees' questions
Send exclusive offers to attendees during the webinar
Make annotations directly on the screen
Fully integrated email system: reminders, follow up and targeted emails
Analytics to measure the webinar's performance
Built-in templates
By signing up you get all these features without requiring you, and especially your audience, to install anything!
Who is the ideal user for WebinarJam?
WebinarJam strives to make the tool for everyone. The truth is that the webinar software has a lot of flexibility and functions, so everyone can actually use the software as long as doing a webinar is relevant to their business and audience.
Personally, I think that online entrepreneurs looking to drive more sales, attract new customers, and grow their businesses are the ones who will benefit the most from using WebinarJam. Suppose you flip shoes online, you may want to consider making a live webinar to explain to your audience how to replicate your strategy!
It is an ideal webinar platform for:
Small and medium companies
Online entrepreneurs selling products or services
Coaches
Influencers
Teachers and educators
HR professionals
Project Managers
Niche sites builders 😉
However, if you are thinking of going live or broadcasting webinars occasionally, this tool is definitely not for you. In such cases, I would suggest going for free alternatives such as YouTube Live, Facebook Live or Google Hangouts.
WebinarJam Review: how to set up your first webinar on WebinarJam
Once you log in, you can watch the intro video that explains to you how to get started in less than 60 seconds. Don't worry, it will always be there every time you enter the webinar platform.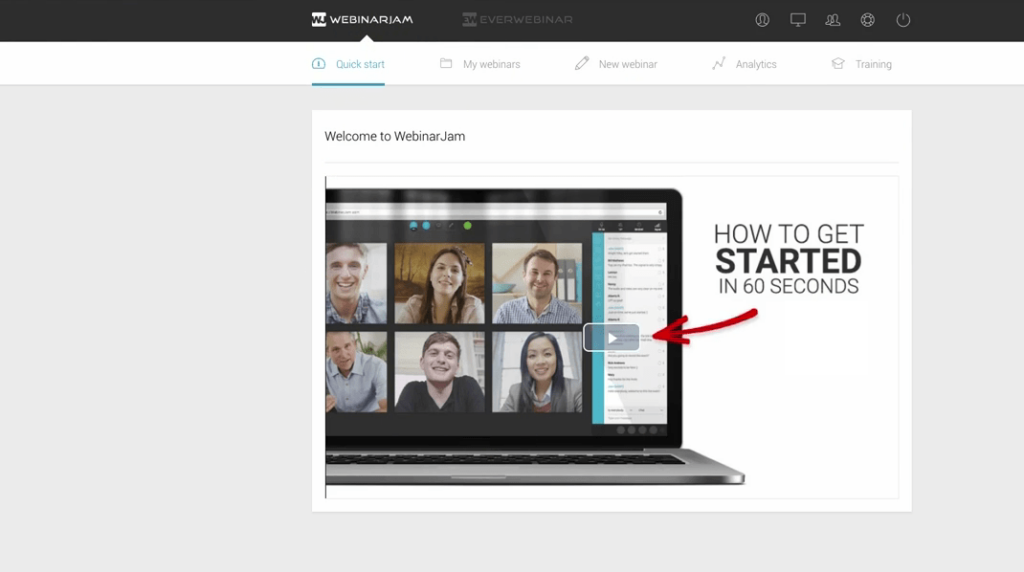 There is also a Training section which can teach you more about setting up your webinars. However, following the steps below you will be good to start your webinar right away!
First, go to "New webinar".
After you click it, a pop up will emerge allowing you to choose between "Express Configuration" (if you want to go live immediately) or "Full Configuration" (complete set up).
Let's choose Full Configuration.
Full Configuration process
The configuration process is divided into the following sections: Initial Configuration, Schedules, Registration, Notifications, Integrations, Thank You page, Live, and Replay.
I am going to review each.
Initial configuration
As you can see in the image above, this part is divided into three subsections.
Basic configuration: Here basically, you choose your webinar's name (for your reference means that only you see the name), the title (this is public and intended for your audience), the description, and the language in which it is going to be held. Later on, you have the option of opting to be listed on the OnDemand section (WebinarJam's internal webinar streaming services).  Hit confirm once you are done
Webinar presenters: Who is presenting the webinar? Set it up here
Webinar provider: Choose on which platforms you want your webinar to be broadcast. If its going to be YouTube or Facebook live, you will need to link your accounts and grant WebinarJam permission to access them.
Schedules
Simply schedule when your webinar will be broadcasted.
Right now means going live RIGHT NOW, no pun intended. When you choose to Schedule it you need to define whether you are planning to do only one or several. Then choose your dates and times.
Registration
The Registration is divided into four different subsections:
Registration page and process: Here you can design the registration page for your attendees. You can choose from several templates which you can customize or choose to use your own design on your own website. If you opt for the latter, you simply put your site's URL and then you get a personalized link to join the webinar. In case you want to use a template, first take a look at the lower right circles which show success rate.
The last three subsections basically ask you to input what personal info you want your attendees to provide, indicate whether it is a free or paid webinar, and lastly, if it is going to be private or public.
Notifications
In the notifications subsections, you are setting up how you want to notify your audience when the webinar is about to start and how you will follow up.
After registration is completed, what you need to set is the following:
Welcome message
Pre-webinar reminder (can be both email and SMS text or call)
Last-minute reminder
You can edit every single email by clicking on the pencil. This will open the email editor:
On the email editor, you can see the email layout, and you have the shortcuts to add the webinar's title, description, presenter's name, and so forth.
If you choose to go live, from the Notification section, you can also set up how many hours later you want to send the follow-up email to the attendees.
As a personal tip, try not to overwhelm people with too many emails. Emailing excessively is spamming, so please don't do it!
Integrations
This is a very useful part of the configuration journey. Here you can add your email marketing provider (there are several providers which you can choose from, like Mailchimp), put any affiliate links (such as Amazon's, which you may already have), and integrate third-party tracking system (for adding any tracking code you need, like Facebook's Pixel).
Thank You Pages
As with the registration page, you get the chance to choose some templates and customize them if you need.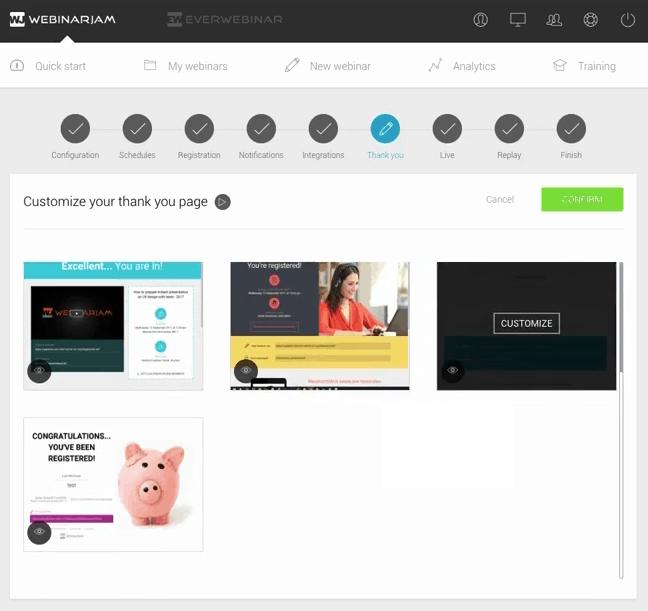 In this section, you can also set up any polls and questions you wish to ask your customers. I recommend this feature since it can provide valuable insights into customers you can later leverage on.
Live
In Live you will add all the documents and file that you will use for your presentation. WebinarJam wants you to pre-configure the webinar polls, any offer you wish to sell to your webinar attendees, video injections, file sharing, or slide decks. Just upload any file you need.
Here is an example of a template you could use for your countdown page:
I seriously recommend trying the active offer functionality. To configure it you will need to upload a headline, a picture of your product, set the price, add the links, and the CTA button with its corresponding text. You can also apply urgency and show sales as they occur in real time.
This is a very useful tool that will increase your chances of monetizing your attendees if done correctly.
We are almost finishing setting up our first webinar!
Replay
Enable or disable webinar replays, define how much of the content you will allow being repeated, set expiration times and determine whether your audience can ask questions or not
Great, the webinar is not set up!
Once you are done you can see the webinar you have just created (and all of them) at "My webinars".
Are there any extra steps? Only if you need to…
Add more advanced integrations
Select the webinar and click the pencil to edit and open the advanced integrations pop-up
The advanced integrations pop-up will show
Goal tracking: if you used active offers, here you can add the embedded code for sales tracking.
One-click registration: if you are using other email system services, you can add code here to make a one-click invitation (this is intended for more advanced users)
API Custom integrations: if you are linking WebinarJam to other software services make sure you put the code here (requires programming knowledge)
Get access to your webinar links
Choose the webinar and then click on "Your Links" button
The following pop-up will emerge:
Invite people to your webinar: copy the link to the registration page and share it. You can also copy the HTML code and paste it on your website, or directly copy the link to the webinar room without needing any registration
Presenter login links: both the presenter/s and moderator/s get a private link to access the webinar and give the presentation. You also have the option of sending those links to their email address
Replay recording: get the link to the replay, even if it wasn't broadcasted yet
WebinarJam killer features review
One of the most useful and distinguishing features of WebinarJam is being multi-platform and highly versatile. Anyone using any device running on any OS can access your webinars at any time, which saves you a lot of frustrations about accessibility beforehand.
However, in my opinion, one of the main pros of WebinarJam is being feature-rich so that anyone can literally use this webinar platform.
Let's go into more details:
Automated email system within WebinarJam
There are several built-in templates that you can customize to fit your needs. WebinarJam offers something called "point and click converter", which allows you to edit and design registration pages through drag-and-drop capabilities without knowing any code.  This can be handy if you don't want to hire a designer and prefer to handle it yourself.
Also, the integrated email system allows you to manage all your communications before and after the webinar. You can sync your email marketing platform too. It is possible to send reminders before the webinar via SMS, and follow-up emails after it ends. The tool additionally offers an auto-response function which enables you to provide your audience with all the materials they need to have (cheat-sheets, PDFs, files, etc.) before your webinar even starts.
Another very cool feature of the email sister is customizing the email journey according to what your audience does. This is called Boolean-logic (if X is the cause, then Y is the effect).  For instance:
if they registered for the webinar and did not attend, they will receive a specific email
If they registered and made a purchase, you can send them another specific follow-up email
Those who attended but didn't make any purchase will receive another email
… and so forth.
Of course, you can control all your campaigns and webinars through the scheduling management. With this tool, you can schedule webinars in a daily, monthly and yearly basis. This function is even more useful if you are communicating from the USA to the rest of the world (like Asia, Europe or New Zealand/Australia).
Since WebinarJam adjusts its notification system to display the local time of your event according to your attendee's location, there is no need to worry about those 12 hours of time difference.
Options for presenting creatively
Every person has their own style and needs to use what they know it works for them. That's okay. Not everyone in your team has to be comfortable with live streaming, for example.  Some may feel more comfortable speaking on top of a slide-show presentation; others prefer sharing their screens and explaining everything from there while their web camera is enabled.
WebinarJam gives you every option imaginable. It allows screen sharing, both solo and simultaneously, injecting a PowerPoint/Keynote presentation and even to upload a fully recorded video that can be broadcasted during the webinar. So, if you have a pre-recorded video, you could also automate the whole webinar by "plug and play".
They also offer something called "The Whiteboard" tool, which is very useful. Basically, it is a canvas that has, by default, a white background. You can draw, add text, shapes, and lines to it (like ol' good Microsoft Paint!) and share it directly on the webinar. The most interesting part of The Whiteboard, though, is that the background opacity (transparency) can be easily adjusted. So, you could write and add text and shapes on top of your sideshow/screen sharing/video presentation very easily if you set the opacity to 0.
So, if you use WebinarJam, it doesn't matter really what kind of presenter you are because you will have all the options you need to be yourself and present comfortably.
Make active offers to your audience
Remember that at the very beginning of this article we told you that webinars are a great way of boosting your sales? You might have thought that this is one of many online marketing efforts that indirectly bring revenue to your business.
But what if I told you that you could SELL DIRECTLY TO YOUR ATTENDEES? That is a killer, isn't it?
WebinarJam Active Offers allows you to create calls to action that appear on your attendees' screens whenever you want them to take Instant Action, like buying your stuff!
Take the case of an entrepreneur on the Amazon FBA business. She could use an active offer while in a  product demonstration, giving a direct purchase link to the audience as they are watching the webinar!
But it doesn't end there. Notice the countdown clock and the available units? WebinarJam also allows you to play with this sense of scarcity and urgency, which can raise the ROI of this tool significantly.
Besides, you can both automatically and manually update the units left if you wish so.
Engaging interactions with your attendees
The WebinarJam Chat enables you to fully manage communications to improve engagement. There are several features like public announcements, many-to-many conversations, and even private-to-moderator messages. So, you can allow your attendees to ask questions and comment and even to speak and share their screens, while controlling everything that happens. You decide when you give that permission and when to revoke it. And yes, you can  also kick out anyone who spams or misbehaves.
This is a fantastic resource for coaches who want their attendees to share their experiences regarding any subject or if you want to hold a Q&A session with your customers who want to know how your product will help them.
And last but not least, we have the Jam Polls and surveys. While your audience is watching your webinar, you can deliver polls and ask questions to them, thus collecting first-hand, high-quality data in real-time. This means that you have a golden opportunity to know your customer base better, what are their wants, their problems, and their fears. If you are smart enough, you can later adjust your content and business strategy based on these insights and increase your chances of success!
WebinarJam Pricing: How much does WebinarJam cost?
The WebinarJam pricing structure consists of these options:
Starter – from $39/mo (billed annually): offers various features such as a maximum of 100 attendees, host unlimited webinars, 1 host, 1-hour max duration, live chat, replica replay, flexible scheduling, fully customizable pages, email, and SMS system. In addition to that, there are also live webinar offer displays, polls and surveys, attendee handouts, on-screen whiteboard, video injections, custom backgrounds, broadcast to Facebook and YouTube, the option to add one more team member, a bad words filter, registration notification, and A/B split testing.
Basic – from $79

/mo

(billed annually): host unlimited webinar sessions, everything included in the Starter plan, plus 500

attendees,

includes 2 hosts, 2 hours

max duration,

5 additional team members, a

ttendee spotlight, and create automated webinars

.

Professional – from $229/mo (billed annually): everything included in the Basic plan, plus 2000 attendees, includes 4 hosts, 3 hours max duration, 10 additional team members, always-on live webinar room, and panic button.
Enterprise – $379/mo (billed annually): everything included in the Professional plan, plus 5000 attendees, includes 6 hosts, 4 hours max duration, 25 additional team members, control panel.
As of now, they do offer a free 14-day trial, which is great – but you have to sign up with a credit card, and you'll be charged on day 15. (And just between you and me, you only get the option for this 14-day trial if you move to close your browser window while on WebinarJam's pricing page – they'll throw up an exit popup before you go with the offer).
WebinarJam also has a 30-day money-back guarantee by just requesting a refund to their customer service email.
WebinarJam Review: Frequently Asked Questions
Yes, it is. You can basically combine slide presentations/injected video/screen sharing with your webcam stream (which can be enabled or disabled to your will).
Remember that you can also use the whiteboard tool (by setting the opacity to 0) to add annotations and shapes on top of whatever you are streaming. There are simple controls in the user interface that let you switch between display modes.
You'll never forget to hit the record button during a live webinar session with WebinarJam. Once you start an event, all live broadcasts, including chats, announcements, offers, surveys, or polls, are automatically recorded.
How long does it take to set up a webinar?
It can take up to a minute using the ExpressJam feature, if you wish to go live immediately. Or if you use the complete configuration that we reviewed previously (Registration and Thank You Pages, Multiple Email Notifications, Pre-Loaded Videos for Live Playback, Customized Offers, Polls, Surveys, Replica Replays, etc.) it can take you up to 10-15 minutes easily.
What are the system requirements to run WebinarJam?
WebinarJam recommends a 2.2GHz Intel Core i5 with 8Gb of RAM (or better), an HD WebCam, and a wired internet connection with minimum upstream of 4Mb/sec.
Up to how many attendees can WebinarJam handle?
WebinarJam doesn't disclose a specific number, but they affirm they were close to breaking the Guiness World Record for the largest live webinar ever (around 11k attendees). Unless you have more than a couple of thousand live attendees, you shouldn't have any issues with the volume.
Is WebinarJam secure?
Yes. Users can protect their webinars by setting up passwords and keeping them private inside WebinarJam's private network. Attendees will be given a link and a password to access the webinar.
You can also visit the official WebinarJam FAQ page here.
Final Thoughts on my WebinarJam Review:
Is it really for everyone?
Yes.
Of course, it is important to consider that a webinar may serve different purposes depending on who is using the tool.
For instance, a business entrepreneur might want to exploit the active offers functionality way more than an HR analyst who is just creating an introduction webinar for new employees or a coach hosting a coaching session.
In any case, WebinarJam users will find many tools at their disposal to communicate with their audiences effectively, regardless of who they happen to be.
This is what I like about WebinarJam:
It's packed with features. In my opinion, this is WebinarJam's core strength. The features are what makes it stand out from the more expensive options out there, what makes it "for everyone." You have everything that you could ask for – now it's up to you to create!
It's easy to use. Setting up a webinar takes some time. A lot of variables need to be configured, and to do it correctly, you will need 10-15 minutes. It's not instant.
However, WebinarJam does a great job of splitting the process into different sections, which flow progressively from setting up the basic webinar configuration to editing the replay.
In addition, the interface is well-designed and user-friendly, so you can understand intuitively what each tool does.
It's versatile. The ability to broadcast a successful webinar without worrying whether your audience will be able to see it brings a lot of peace of mind. This scores extra points with WebinarJam as well.
This is what I don't like about WebinarJam:
Honestly, there's not too much to complain about here. Our WebinarJam review found it incredible value for the money compared to other webinar platforms.
Check Out WebinarJam today!
Have you ever used WebinarJam before? What are your thoughts about it? Let us know more about your experience in the comment section.
Want to learn step-by-step how I built my Niche Site Empire up to a full-time income?
Yes! I Love to Learn
Learn How I Built My Niche Site Empire to a Full-time Income
How to Pick the Right Keywords at the START, and avoid the losers
How to Scale and Outsource 90% of the Work, Allowing Your Empire to GROW Without You
How to Build a Site That Gets REAL TRAFFIC FROM GOOGLE (every. single. day.)
Subscribe to the Niche Pursuits Newsletter delivered with value 3X per week