7 Bluehost Alternatives and What They Are Best For
When you buy something through one of the links on our site, we may earn an affiliate commission.
If you are a beginner researching web hosting services and wondering if there are any alternatives to Bluehost, the answer is YES. We will present a few from a vast pool of available web hosting services.
We think you have only to gain from reading this article!
But before we get into Bluehost alternatives, though, let's cover some of the basics.
We can define web hosting as an essential element of building a website. It refers to the place where your website's files (including all your page files and media content) are stored so that your site visitors can easily access them. Web hosting is provided as a service by web hosts who manage and maintain physical servers that house websites for their clients.
What Types of Hosting Are There?
Web hosting comes in a few flavors. It is important to understand the different types of web hosting.
With shared hosting, multiple websites are hosted on the same physical server by one provider. Many users utilize the resources on a single server, which keeps costs low for everyone involved. Users each get their own special directory in which they're able to store all of their website's information.
Virtual Private Server (VPS) Hosting
A virtual private server is an online service that has been divided into individual virtual spaces. Each space maintains its own administrative, physical, and network independence. The end-user purchases access to any of these independent spaces via the cloud or hosting provider. VPS hosting can be installed on a single system or within another cloud platform.
Dedicated Hosting
Dedicated web hosting provides you with your own server, which is solely at your disposal and gives you the ability to fully optimize your storage, network, and CPU power by choosing an operating system (OS) based on your specific needs.
Cloud Hosting
Cloud hosting makes applications and websites accessible for customers using cloud resources. Unlike traditional hosting, solutions are on a network of connected servers that hosts the application or website. This ensures greater flexibility and scalability.
WordPress Hosting
WordPress-optimized hosting deploys software at the server level that is best suited to your needs as a pro-level website builder. Some providers will even have one-click WordPress installs for you to start using WordPress right away, meaning you can get up and running in an instant with little work on your part. And of course, most top WordPress hosts will be happy and ready to support you along the way by keeping your site secure and updated.
Understanding Important Hosting Terms
White label hosting is also known as reseller hosting. Reseller hosting allows the selling of other hosting companies' services, bandwidth, and equipment as if you own them. Selling web host accounts as a reseller can be profitable for web hosting providers.
CDN – Content Delivery Network refers to geographically distributed servers that work together to provide fast delivery of internet content.
SSD Storage – This is a type of storage device used in computers. It is similar to a traditional hard drive but uses flash memory instead of magnetic platters. The performance of these devices dramatically exceeds that of an HDD (Hard Disk Drive).
Staging – In simple terms, a staging site is an un-public clone of your live website. It lets you test any changes or significant new features that you plan to implement with the added safety net of knowing that you can revert back to an earlier version should anything go awry. Developers typically use staging sites to test changes and fix bugs before going live on the production version of a website.
WAF – an intelligent Web Application Firewall.
Bluehost Hosting
Many people choose Bluehost for their hosting needs. A big reason for this is often brand recognition. After all, it has been serving the online community for several decades with few problems so far.
It also comes with a free domain name, making it a decent choice for your first website launch.
Please make no mistake about it; Bluehost is one of the most popular hosting companies and is always considered among the top choices when looking to host a beginner website.
However, just because something is so popular doesn't mean that it is automatically the right host or a good option for your personal needs.
Why is Bluehost a Success Story?
First, for people who are just getting started, Bluehost is affordable and easy to set up. And it may be a decent option for newcomers.
Second, they pay a high commission to affiliate marketers so Bluehost tends to get more exposure and positive reviews than other hosting companies.
Bluehost Pros and Cons
Pros
Wide range of affordable shared, VPS, and dedicated hosting plans
It is one of the few WordPress-recommended hosting services
Beginner-friendly and easy to set up
Easy WordPress integration
Free domain name for the first year
Free SSL certificate (depending on the plan)
One-click staging solution
Cons
Bluehost is owned by Newfold Digital (formerly Endurance International Group). Newfold Digital owns 80+ hosting names and is known for aggressive cost-cutting at the expense of service and customer support. Bluehost is not known to have good support. After improving lately, they still only have a score of 3.1 out of 5 on TrustPilot.
Bluehost has a low number of data centers around the world. Depending on user location, this could affect your website speed and TTFB (Time To First Byte).
To get the low prices advertised by Bluehost, you have to sign a contract of 1-3 years. If your site grows or the traffic to your site increases, you will need more server resources. In other words, you will have to upgrade.
Bluehost is not known for having good uptimes.
Criteria to Consider When Evaluating Bluehost Alternatives
Here are a few important points worth considering:
If speed is important to you, consider a host with known fast TTFB. Most shared hosting has slow TTFB. Tests done using KeyCDN show that the further you are from your hosting server, the longer TTFB is, with an average of 1 second. For your information, PageSpeed Insights will flag a site that has a TTFB longer than 600mSec.
When your site uses too much CPU time, some hosting services will use "CPU Protection". This can make your site slower and you may be forced to upgrade.
Some web hosting services have a low number of data centers around the world. Data centers save copies of your site and serve them to users in an environment close to them. The further your user is from one of those centers, the longer the TTFB and loading time of your site will be.
Customer support really matters when it comes to hosting companies. When you are having difficulties with your site the last thing you need is sluggish or unhelpful support.
Performance, Obviously you want your website to be available as close to 100% of the time as possible.
Read some unbiased feedback about any web hosting service on the FaceBook group WP Speed Matters Facebook Groups.
7 Bluehost Alternatives
There are many web hosting services that seem promising, but it's hard to know which one will deliver the most reliable service at an affordable price for your business.
This is where we come into the picture, trying to put some of the puzzle pieces into place. But be warned – you will have to read many reviews to get a clear and objective picture.
IRIDIUM Hosting
Iridium Hosting is the new kid on the block. As such, it is near impossible to find any information about their performance yet.
Iridium is a managed WordPress hosting provider promising a speed that is 20 times faster than a host running Apache. The Iridium Hosting tech stack uses Solid State Disk Drives, state-of-the-art PHP, and a LiteSpeed Web Server.
It also promises exceptional support, security, and reliability. Iridium uses the Cloudflare CDN.
IRIDIUM Features
The familiar cPanel for control
Up-to-date software
SSD for speed
Notification before any maintenance
Manual migration
Free WordPress setup
A++ Support promised
IRIDIUM Pricing
The Solo plan costs $20/mo and allows for one website, two databases, and 10GB SSD. You can have five websites with the Go plan for $25/mo, one cPanel per site, and 15GB SSD. The Pro plan costs $30/mo for ten websites and includes one cPanel per site and 30GB SSD.
VPS Hosting
VPS hosting can be set up in any country Iridium hardware partners are servicing. For now, they have VPS servers in Australia, France, Germany, Japan, Korea, Netherlands, Singapore, and the United Kingdom, just to mention a few.
VPS hosting plans: The 2GB plan costs $40/mo and features two CPUs, 2GB RAM, 80GB SSD, and 3TB bandwidth. The 4GB plan is $50/mo and offers two CPUs, 4GB RAM, 128GB SSD, and 3TB bandwidth. With the 8GB plan, which costs $90/mo, you get three CPUs, 8GB RAM, 256GB SSD, and 4TB bandwidth. The 16GB plan costs $150/mo and offers four CPUs, 16GB RAM, 384GB SSD, and 5TB bandwidth.
Iridium also offers the VPS Hosting add-ons depicted here: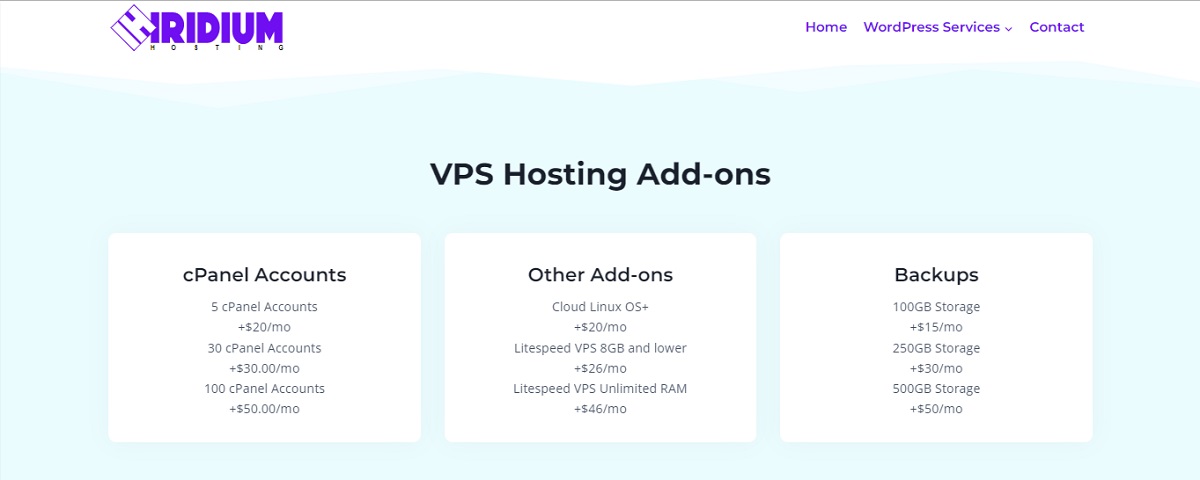 IRIDIUM Pros and Cons
Pros
Speed
Support for hosting, WordPress, and email issues
Offers manual migration
Excellent WordPress hosting services
Cons
As it is so new, Iridium has not yet built a track record in terms of performance and support
Iridium is best for managed and self hosting. Plus, the company supports e-commerce stores.
As they are so new let's wish Iridium success and good luck!
Check Out Iridium Hosting Today
---
SiteGround Hosting
SiteGround offers you high-performance managed WordPress hosting. It's the perfect provider if you care about security, speed (please read "SiteGround Cons" to understand the speed issue better), and superb customer support. This hosting service is reliable for websites ranging from simple to complex WooCommerce stores.
SiteGround Features
Here are some of SiteGround's best features:
Multiple plans, including shared hosting, cloud hosting, managed WordPress hosting, reseller hosting, managed WooCommerce hosting, enterprise hosting, dedicated server hosting, and VPS hosting
Free SSL certificate "Let's Encrypt"
Siteground CDN
Free site transfer
Fast loading servers powered by Google Cloud Platform
SSD storage
Daily backup
Staging tool
White-labeling
Custom web application firewall (WAF)
Dynamic caching
Data centers on four continents
SiteGround Performance
Siteground promises an uptime of 99.99%. They don't achieve that but they get very close to it.
SiteGround Ease of Use
Yes, Siteground is easy to use with good support for WP sites, daily backups, a big selection of knowledge articles, ebooks, and the promise of fast and reliable customer support. Bring your own domain and pay attention to add-ons before you pay.
Check out our list of ways to get a free domain here.
SiteGround Customer Support
SiteGround supports its users in several ways including Knowledge Base articles where they can go to find answers to questions they have regarding specific topics such as hosting and cPanel among other things.
Some ebooks can come in handy when people have similar issues that need to be addressed.
SiteGround provides phone and live chat support for individual users and trouble tickets for more specific customer concerns. Phone support is available 24/7 with a response time of 10 minutes, according to the site.
SiteGround Pricing
Generally, you will find their plans more expensive than Bluehost. However, in comparison to Bluehost, they offer many more features.
SiteGround offers a number of plans to suit your needs and budget.
Web hosting packages cost between $3.99 and $10.69 per month during the first year paid in advance annually. After the one-year mark, it costs $14.99 and up to $39.99 per month.
You can get managed cloud hosting from $100 to $400 a month.
SiteGround Pros and Cons
Pros
Free automated daily backups
Automatic WordPress installation
30 day money-back guarantee
99.97% server uptime
Military-grade security
Excellent knowledge base pages, and Ebooks
Cons
During our research, we discovered problems with the hosting speed. This is problematic knowing the importance given by Google to page speed. You will find here articles that investigate those issues much deeper than we can in this article.
I think there is enough material to read and make up your own mind.
Bluehost Alternatives: Is SiteGround the Right Choice for You?
As we learned from our research, Siteground is fast and a good alternative to Bluehost. Now you have to consider the pros against the cons and decide if you would like to host your site with Siteground (and don't miss our full Siteground review to help you decide). There are other options out there if you have the budget.
Subscribe to SiteGround Here
---
Cloudways Hosting
Cloudways have an out-of-the-ordinary method for hosting websites. Instead of providing infrastructure themselves, they use five different cloud hosting providers – DigitalOcean, Vultr, Linode, AWS, and Google Cloud. Cloudways then uses this technology to deliver unparalleled speed and site optimization.
As a result, you can get exceptional performance without having to spend a lot of money, making them perfect for small businesses just getting their start online!
Cloudways Features
Free SSL certificates
Staging sites
Site cloning
Built-in content delivery network (CDN)
Automatic server-level backups
On-demand single-site backups
Bot protection
Cron job management
Basic server monitoring
Option to add team members for collaboration
A free WordPress performance plugin called Breeze
Cloudways Performance
All of the hosting resources will stay online virtually 100% of the time, and when you test it out for yourself, you'll notice that the speed is very good. On top of that, performance is excellent and ideal for websites with a lot of traffic. Cloudways has excellent uptime, and this is due to them using reliable data centers from providers such as DigitalOcean, AWS (from Amazon), and Google Cloud.
Cloudways Ease of Use
Some people are scared that using a service provider like Cloudways means they have to know how to administer and set up their own server on their own hardware.
Ok, we can't say that it is a walk in the park; there are a few choices to make:
Which server to use
Which CDN service to implement
Choosing the best plugin for caching
But there are many resources on the internet and YouTube videos that will take you step by step through the different setup procedures. We are going to list some of them at the end of the article.
Cloudways Customer Support
The Cloudways team wants to set itself and its users apart from other hosting companies on the market. As a premier PaaS (platform as a service) provider, not only does Cloudways want its servers to be robust for your applications, but also for their support systems to be strong. Besides being available by phone 24/7, Cloudways will always strive to tackle problems and queries as soon as possible.
However, Cloudways does not provide support for custom applications by default. That is to say, they don't officially offer support for any applications you install on your server including WordPress.
Cloudways Pricing
The most basic price structure from Cloudways is:
$12/mo: 1GB RAM 25GB Storage 1TB Bandwidth.
$26/mo: 2GB RAM 50GB Storage 2TB Bandwidth.
$50/mo: 4GB RAM 80GB Storage 4TB Bandwidth.
$96/mo: 8GB RAM 160GB Storage 5TB Bandwidth.
Cloudways Pros and Cons
Pros
3-day free trial
Variety of servers – DigitalOcean, Vultr, Linode, Amazon Web Service (AWS), or Google Computing Engine (GCE) cloud infrastructure
SSD hosting, Nginx/Apache servers, Varnish/Memcached caching, PHP8, Redis support
1-click unlimited WordPress installations
Staging and cloning
Free site migration service for the first site, free automated backups, free SSL certificate, Cloudways CDN & dedicated IP address
Responsive and friendly support team available 24/7
Fast-loading Vultr High-Frequency servers
Cons
The company really deserves to grow, especially because it offers a great and reliable service. Still, there are a few flaws that need fixing. One of them is the support: it's far from being bad, but there are complaints about the way they use tiered support.
The backend of their management panel isn't the most intuitive either – it is definitely more technical than cPanel, for example, although it does look better and has a lot more options.
There are too many options available with them, so Cloudways might end up causing users to suffer from decision paralysis.
Bluehost Alternatives: Is Cloudways the Right Choice for You?
If you've been confused by any of the more technical terms in this review, such as CDN, staging, or server customization, you should probably look elsewhere.
If you're after WordPress hosting, Cloudways is good. Still, there are alternatives like WPEngine or Kinsta, where you get support and infrastructure built especially for WordPress. There are also cheaper WordPress hosts.
Now, Cloudways is probably one of the better options for managing and getting the most out of a hosting stack.
Check Out Cloudways Here
---
WPEngine Hosting
WPEngine is a web hosting provider that has been in the WordPress space since its earliest days. They are known to have a solid support team who is knowledgeable about using WordPress.
The company also has a great infrastructure, which they make sure they use with strict security measures to provide the best possible experience that anyone would expect from WordPress hosting services.
WPEngine Features
The main WPEngine features are:
Automatic WordPress updates
Staging environment
Server-level caching by using Varnish and Memcached
Built-in CDN
Free SSL certificates
WooCommerce tools
WPEngine Performance
WPEngine is the premier WordPress hosting platform. They have a reputation for being able to speed up WordPress websites and make them handle heavy loads of traffic with little more than a few clicks from the admin panel!
WPEngine is in the middle among CMSs (content management systems) tested for mobile page loading speed, and among the top for TTFB on tests run by BACKLINKO.
WPEngine Ease of Use
Installing WordPress
Just find the name of your site and click the right button. The installation will start automatically, and in a few minutes, you will be notified that your site is ready.
Installing a StudioPress Theme
Download one of the 35 themes from StudioPress and upload it to your dashboard. Each of the themes comes with documentation that will help you launch the website quickly.
Website Management
Website management features are accessed in your account area on the WPEngine website. There you can manage all aspects of your website, from CDN, staging, and backups to monitoring the number of visitors and storage.
WPEngine Customer Support
Plans come with live chat on all premium plans, while 24/7 phone support is available on every premium plan, except for the entry-level STARTUP plan. The 24/7 ticket first tier of customer service is reserved for the top-tier enterprise deals.
WPEngine Pricing
Startup: $32/mo, one website, 50 GB/mo bandwidth, 10 GB storage, 25k visitors.
Professional: $67/mo, three websites, 125 GB/mo bandwidth, 15 GB storage, 75k visitors.
Growth: $126/mo, up to 10 websites, 200 GB/mo bandwidth, 20 GB storage, 100k visitors.
Scale: $315/mo, for 30 websites, 500 GB/mo bandwidth, 50 GB of storage, 400k visitors.
WPEngine Pros and Cons
Pros
WPEngine offers valuable tools like the Genesis framework for optimized code and smart design.
Cons
Bluehost Alternatives: Is WPEngine the Right Choice for You?
If you want to build a top-notch WordPress website, then you should use a reliable and high-quality service like WPEngine. The costs are above average, but the benefits are many.
One of the reasons why developers and legitimate business owners appreciate using the service so much is because they know that whatever happens, they have an experienced web host on their side.
Subscribe to WPEngine Here
---
Kinsta Hosting
Kinsta is an independent, cloud-based, managed WordPress hosting provider that only offers WordPress hosting solutions to its clients. They have much more experience in the WordPress industry than other seemingly similar companies.
Kinsta is a full-blown WordPress specialist. They are able to deliver top-of-the-line performance and reliability on a dedicated server environment designed specifically around boosting visitors' overall user experience. Meanwhile, they provide customer support whenever customers need it.
Kinsta Features
The company currently has ten different plans, each offering the same basic features. Starting with the Free plan and going all the way up to Enterprise, these plans offer additional services in terms of support tickets, daily backups, SSL, CDN, etc.
However, differences among the various tiers are related to the number of WordPress installs an account can manage per plan and/or how many simultaneous requests a site running on any given plan is able to handle at once.
Plans progress from Starter to Business to Enterprise. Each plan comes with a 30-day free trial period wherein one may upgrade or downgrade their hosting plan without penalty; this applies to those on the Free tier right up through Enterprise.
Kinsta Performance
Kinsta is the very best high-performance WordPress host we've come across so far, with superb server uptime and rock-solid customer service available 24/7 worldwide. Server performance is impressive indeed, and the security is incomparable to any other provider. They have 34 data centers, so you'll always have the optimal level of bandwidth wherever you are!
Kinsta Ease of Use
With the Kinsta Dashboard, you can easily find your way through managing separate aspects of your site. The intuitive design makes it easy to feel at home from day one. Finding what you're looking for is made simple with a number of shortcuts.
If you prefer to do things hands-on, Kinsta has also provided a range of online resources for beginner users to get started. In addition, support has always been helpful whenever we have had any questions regarding specific features or operations.
Kinsta Customer Support
They have great customer support agents available 24/7 via chat, plus excellent online resources and tutorials.
Kinsta Pricing
Kinsta has several plans available.
Starter: 1 site, visitors 20k, SSD storage 10GB, CDN storage 50GB, Backup retention 14 days, PHP workers per site 2, $35/mo.
And at the other end: Enterprise 4, visitors 3M, SSD storage 250GB, CDN storage 1000GB, backup retention 30 days, PHP workers per site 16, $1650/mo.
Kinsta Pros and Cons
Pros
Solid speed: Kinsta's loading speed is fast. Check here.
Uptime: Kinsta runs virtually 100% of the time.
Support: It's via chat only but is some of the best.
Servers in 25+ locations worldwide to host your site close to your users
Ease of use: easy navigation with a great user experience
Your Team: unlimited users; you can define permissions.
Backups: 14 days of automatic backups on the lower plans. Manual backups and cloud backups are available. You can download the backups.
WordPress support: The support team is excellent, optimized for the CMS, and full of valuable resources on plugins and WordPress-specific tools.
Free migrations: A WordPress plugin for you to automatically migrate a site into Kinsta.
Cons
WordPress only: no other CMS on a Kinsta server.
Limits: limited storage, CDN, or monthly visits.
Higher prices: you pay more for the value that you get.
Banned WordPress plugins: due to security and performance reasons.
Bluehost Alternatives: Is Kinsta the Right Choice for You?
If you have the budget and intend to run only WordPress, Kinsta is your best Bluehost alternative, a one-stop solution for reliable, fast, and secure WordPress hosting! Say goodbye to slow site speeds and crashing software!
Subscribe to Kinsta Here
---
InMotion Hosting
InMotion Hosting, a US-based web host and domain registrar, has been around for over a decade. It makes hosting affordable and straightforward to manage. With state-of-the-art technology and an extensive range of user-friendly features, InMotion Hosting provides top security for your site.
It offers round-the-clock monitoring through its 24/7 support services and by keeping an eye on data centers. By the way, these data centers are the most secure and environmentally friendly in the industry! If you're looking for cheap web hosting with high performance, then InMotion Hosting is a good choice.
InMotion Features
Unlimited bandwidth
A free drag-and-drop website builder
Free domain name for life
Free SSL certificate
Daily backups are free
Easy and free site migration
UltraStack Optimized Performance
90-day full money-back guarantee
Excellent customer support via multiple channels
InMotion Performance
InMotion Hosting's up-time rating is currently at 99.97%, which means your site will be up, accessible, and working correctly more than almost all other shared hosting companies out there in the same space.
The company prides itself on its server speed with two U.S-based data servers located on the east and west coast, each home to thousands of servers. You can expect the fastest server response times if you're based in the US.
InMotion Ease of Use
Their system is pretty user-friendly, particularly if you are used to using cPanel-based web hosting.
cPanel hosting is probably the easiest way for you to get started with web hosting. Everything about their cPanel-based platform is fairly straightforward and easy to get used to.
InMotion Customer Support
InMotion Hosting has multiple channels through which you can receive support, including a knowledge center, live chat, email, phone, and support tickets. Like so many other companies, it also offers one-on-one support. Despite this impressive array of ways for customers to get help when they need it, InMotion sometimes fails to impress its customers.
InMotion Pricing
The Core plan starts at $2.29/month, but this offer is only available to those who commit to a three-year plan. If you select the annual plan, it takes you up to $4.99/month.
The Power plan retails at $4.99/month for three-year signups and $15.99 after that. With this plan, you get the best value for money. You can host an unlimited number of websites with 12x faster performance.
Check renewal prices. You don't want any surprises. We found that the price of the free domain can be steep on renewal.
In any case, don't forget you can try it for 90 days – InMotion has a 90-day, full money-back guarantee.
InMotion Pros and Cons
Pros
Many features are included for free such as:
Website transfer
Automatic daily backups
SSD drives included with all hosting plans
Free domain name for one year
Your site will be optimized for WordPress and you'll get auto-updating of core WordPress, plus free backups.
Cons
No instant account setup. New customers are manually verified for security purposes, so the account setup takes some time.
Bluehost Alternatives: Is InMotion the Right Choice for You?
InMotion is a good solution if you are a WordPress user and the majority of your users are on the US West Coast where they have a data center. Not many other hosting providers have one there.
Read all the reviews that you can find including the Facebook group WP Speed Matters.
---
NameHero Hosting
NameHero is a website hosting company that utilizes the LiteSpeed web server on all of its plans. It's not the most budget-friendly option, but it is well-known for providing excellent performance and reliability. NameHero offers some great additional features that other hosts don't have.
NameHero Features
Have a look at all the features in the image below.
NameHero Performance
NameHero had a downtime of 2 days in 2021 – unacceptable! But it happened.
Read their CEO's reaction to the incident. You will have to form your own opinion on whether or not to trust him with your website. As a result of our research into NameHero, we trust that he is doing his best.
NameHero Ease of Use
It should be easy to use with top speed, great support, free training to get the maximum performance out of your hosting plan, and top reviews on TrustPilot.
NameHero Customer Support
24/7 support is always available by phone, live chat, email, or message. A submitted ticket will receive a reply within about 15 minutes. NameHero also has a knowledge base to give you answers and instructions on issues you may encounter.
From over 800 reviews, NameHero gets 4.6/5 on Trustpilot.
NameHero Pricing
We can definitely say that you will get value for your money.
NameHero Pros and Cons
Pros
LiteSpeed server on all plans; that means a faster site and fewer CPU problems.
LiteSpeed Cache, LiteSpeed's more efficient answer to Apache mod_cache and Varnish. LSCache is built from the ground up and integrated into all LiteSpeed server products. It can speed up dynamic website content by improving the website's cache efficiency. It is a great cache plugin.
QUIC.cloud – .QUIC.cloud is a content delivery network (CDN) that can cache dynamic WordPress content as well as transfer information using HTTP/3 with QUIC. This will help make your website faster while also improving security.
QUIC.cloud lowers the TTFB from around 200msec to 40msec – a reduction of around 500% in TTFB.
More CPU and RAM compared to other hosting services
NVMe storage, MariaDB, PHP-FPM on all managed cloud plans
Great support
Free domain from Turbo Cloud upwards, free SSL, and email hosting.
Cons
Data centers are only in the US and the Netherlands,. If your customers are around Asia, it may not be for you.
NVMe only from the Turbo Cloud plan upwards.
1-3 year contract with higher renewal prices (standard practice with shared hosting)
Bluehost Alternatives: Is NameHero the Right Choice for You?
If you are looking for great support, top value for money and you don't mind that NameHero is not the cheapest hosting provider on the market, then NameHero is for you.
---
Additional Resources and References
Facebook group WP Speed Matters
Which factors impact page speed?
Fastest Web Hosting
Performance testing tools:
GTmetrix (desktop & mobile)
Pingdom (several countries)
Google Page Speed Insights (desktop & mobile)
WebPageTest (desktop & mobile)
Bitcatcha (check only TTFB from several countries), This test is important to establish how fast your website will load in different parts of the world.
Bluehost Alternatives – Our Conclusion
There are many Bluehost alternatives out there. This list is merely a small sample of the options available to you but we are sure that each of them can be an excellent Bluehost alternative for your needs.
Out of the alternatives presented here:
IRIDIUM is a new company, known for speed and excellent support.
Cloudways is in many ways the top, but some will find its weak point in "Ease of Use".
WPEngine is one of the top alternatives for hosting WordPress CMS and according to speed tests, they are faster than Kinsta.
Kinsta is better than WPEngine at customer support, advanced tools, and scalability.
SiteGround will give you what you pay for.
InMotion is the service provider for you if most of your customers are on the West Coast.
NameHero stands for speed and support.
So there you have it!
In this article, we pointed out some features that you should pay attention to, provided some articles and tools you can use, and tried to help you carry out your research in case none of the Bluehost alternatives mentioned here suit your needs.
We hope this article has been helpful to you!
P.S. If you are wondering how GoDaddy compares to Bluehost, read our Bluehost vs GoDaddy comparison here!
Want to learn step-by-step how I built my Niche Site Empire up to a full-time income?
Yes! I Love to Learn
Learn How I Built My Niche Site Empire to a Full-time Income
How to Pick the Right Keywords at the START, and avoid the losers
How to Scale and Outsource 90% of the Work, Allowing Your Empire to GROW Without You
How to Build a Site That Gets REAL TRAFFIC FROM GOOGLE (every. single. day.)
Subscribe to the Niche Pursuits Newsletter delivered with value 3X per week