SiteGround Review: Still a Great Blogging Host, Or Are There Better Alternatives?
When you buy something through one of the links on our site, we may earn an affiliate commission.
Are you looking for great web hosting? In this SiteGround review, we'll share our thoughts on the historically popular web host and help you decide whether you're better off with an alternative.
SiteGround is a popular shared hosting provider serving more than 2.8 million domains. With a wide range of features and flexible pricing, it's no wonder so many people choose SiteGround as their hosting provider.
Siteground also offers cloud hosting and reseller hosting plans.
In this SiteGround review, we will look at:
An overview of SiteGround
Features
Plans and pricing
Pros and cons
SiteGround alternatives
This review will help you determine if SiteGround hosting services are the best option for you. There are many alternatives, and maybe one of the hosts we discuss would suit you better.
No time to waste?
Despite SiteGround being an adequate hosting service for beginners with a small budget, at the end of the day a service like Cloudways will provide you with more bang for your buck. It's faster and you'll receive better service, with comparative pricing, plans, and greater control!
Features

Ease of Use

Performance

Customer Support

Price
Summary
SiteGround is a popular website hosting company that offers shared and cloud hosting plans. It's a favored choice for personal projects and small businesses, offering average pricing and some good resources. Pricing in the first year on a shared hosting plan is particularly attractive, but after that, costs jump significantly. SiteGround is a good choice for beginners. Try SiteGround out here!
Pros
Many hosting plans
Good price for the first year
Good security features
Free SSL
Use SSD storage
Cons
Price – you can find more affordable alternatives
CPU Limits
Speed – average to low
Very aggressive attitude on Facebook groups
Support can improve a lot
SiteGround Overview

SiteGround is a hosting provider that is very popular within the WordPress community. It promises:
Speed
Security
Best 24/7 support
Automatic upgrades
Daily backups
Built-in WP caching
Free CDN
Free SSL
One-click staging
Siteground also offers location-specific hosting. Its data centers are in the USA, Europe, Asia, and Australia.
No time to read this article? You can go straight to SiteGround here.
SiteGround Review - The Best Alternatives
SiteGround Features
As mentioned above, SiteGround promises a lot. In most reviews you will read online, their rating is very high, but maybe less in Reddit and Quora reviews. So let's try to find the truth.
SiteGround Uptime, TTFB, Speed, and CPU limits
Most of the above metrics depend on various unrelated factors and influence the results presented in multiple tests and reviews. Here is an example of two elements: distance from the server and affiliation (leading to over-positive reviews).
Uptime
SiteGround promises 99.9%, which I am happy to believe, but not 99.99%, as you may read in more than one SiteGround review.
TTFB
TTFB stands for Time to First Byte; SiteGround comes close to the bottom of the list in tests done by Backlinko and Shay Toder.
Speed
Again, based on Backlinko and Shay, SiteGround is at the bottom. But there is hope, as you can see (from Reddit).

Use "UltraFastPHP," available only on SiteGround higher plans, and you can increase speed by 30%.
CPU Limits
CPU throttling on shared hosting plans is expected (which is why they're so cheap). If your website uses too much CPU, it may get throttled to prevent affecting other websites sharing the same server.
This can result in a slow website, admin penalty, and even 5xx server errors. Before you upgrade, reach out to your host and see if they can provide you with some additional resources while you use this tutorial to optimize your site.
And here is SiteGround warning you:
There is a big chance that the problem will hit you at some stage.
This was posted on Reddit two years ago, so you may think the problem does not exist today, but it does.
Here it is, about one month ago. If it becomes your problem, refer to the article mentioned above.
High CPU usage problem on SiteGround from Facebook.

The answer from a reader is:
SiteGround may have all kinds of excuses, such as optimization, plugins, your developer, and many more.
CDN Network
SiteGround's CDN is a simple on/off service with intelligent defaults and excellent server performance. It was carefully developed to include all related services needed to get the best results possible.
SiteGround CDN offers a free and premium plan for your website, depending on which suits your needs best.
You must set your domain to SiteGround centralized DNS to use their CDN service. In other words, your domain should point to its name servers.
Be aware: the Google bot could not crawl websites using SiteGround DNS and blocked their DNS for four days in 2021. SiteGround implemented a fix and crawling resumed. Are you prepared to take the chance?
SiteGround's Site Tools
The Dashboard is your Site Tools homepage. Underneath the Dashboard, there is a section for Pinned Tools. You can change which tools are pinned by clicking "Edit Pinned Tools" at the bottom-right of that section.
Here are the sub-sections of the Dashboard.
Website management - includes tools like File Manager, FTP Accounts, MySQL, and PostgreSQL.
Security - includes backups, SSL manager, HTTPS Enforce, protected URLs, blocked IPs, and SG Site Scanner.
Speed - the speed section controls optimized speedy delivery of data from the site using caching, SiteGround CDN, and Cloudflare.
WordPress - the section is for WP installation, staging, migration, and site updates.
Domain - deals with parked domains, subdomains, redirects, and DNS.
You can also find tools for emails, statistics, and some development aspects.
SiteGround Security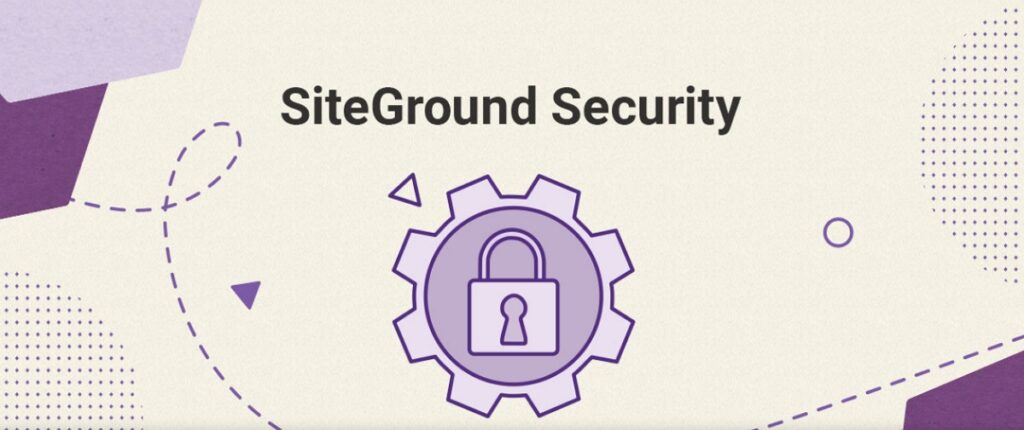 The SiteGround Security plugin is perfect for anyone who wants to secure their website and prevent common threats such as brute-force attacks, compromised login, data leaks, and more.
With its carefully selected and easy-to-configure functions, the plugin provides everything you need to keep your website safe.
Protection against attacks - The Site Security section of the plugin offers a variety of features to help harden your website security and prevent common malware, brute force, and other security issues. Setting some switches "on" will enable several security rules to help keep your site safe and secure.
Enhance your login security - You can apply several methods to protect your login from unauthorized access. One of the most recommended methods is 2-factor authentication, which adds an extra layer of security to your login. Some simple yet very effective protection measures, like changing your login URL and not allowing "admin" to be used as a username, can also be easily set here. Limit the number of login attempts from the same IP, which will block attackers from trying to guess your password through brute force.
Monitor admin area - With this feature, you'll get a comprehensive activity log to help identify potential threats. Things like wrong IP addresses trying to access your website and registered users who may be doing something they're not supposed to.
If your site has been attacked, you can log out all users and force them to change their passwords. As a result, you can prevent malicious access through a compromised account.
What Types of Hosting Does SiteGround Offer?
SiteGround provides five types of hosting.

SiteGround Web Hosting
Web Hosting is the basic shared hosting, and they have three plans, StartUp, GrowBig, and GoGeek. A more detailed explanation will follow under "SiteGround Pricing Plans - Shared Hosting."
SiteGround WordPress Hosting
With this option, you don't need to install WordPress; it is automatically included. This is the only difference from the SiteGround Web Hosting, and the price is the same.
SiteGround WooCommerce Hosting
Easily start and manage a website with an online store. Pricing is the same as for SiteGround Web Hosting.
SiteGround Cloud Hosting
If you need more resources for your website, it may be time to move to cloud hosting. SiteGround's cloud offering gives you dedicated scalable resources optimized for performance. See "Scalable Cloud Hosting Plans - Options and Pricing" below.
SiteGround Reseller Hosting
Reseller Hosting is available for any SiteGround plans that allow the hosting of unlimited websites. Pricing is similar to the relevant plans.
Siteground Plans and Pricing
The SiteGround plans fall into three categories: shared hosting, cloud hosting, and reseller plans.
SiteGround has three shared plans. Some of the important features common to all three are listed here:
Free CMS install
Free email accounts
30-day money back guarantee
Servers on four continents
SSD storage
Free CDN with each account
24/7 amazingly fast support
StartUp
This startup hosting plan is perfect for hosting one website with all the essential features you need, including:
10 GB disk space,
1-click WordPress installation,
Free setup,
Website transfer,
Daily backups,
Built-in caching (SuperCacher),
Free CDN,
Free SSL, and more...
And with support for up to 10,000 monthly visitors, it's perfect for small businesses or personal websites.
Price: $3.99/mo ($14.99/mo after the first year).
GrowBig
The GrowBig plan allows you to host unlimited websites. You'll have access to 20 GB of disk space, and it can handle hosting websites that receive up to 25,000 monthly visits.
You'll also get all the features of the Startup plan, plus premium features like ultrafast PHP for even faster speed, on-demand backups, an easy Staging tool, and the option to add collaborators to your sites.
Price: $6.69/mo ($24.99/mo after the first year).
GoGeek
The GoGeek plan is the best option for eCommerce websites expecting up to 100,000 monthly visitors.
Not only will you have access to all of the features included in the GrowBig plan, but you'll also get priority support, more server resources, and advanced features that aren't available with other plans.
One-click git repo creation is a breeze, and you'll also have the option to manage white-label clients without any issues.
Price: $10.69/mo ($39.99/mo after the first year).
Scalable Cloud Hosting Plans - Options and Pricing

Jump Start
This plan will give you 4 CPU cores, 8GB Memory, 40GB SSD, and 5TB data transfer at $100/mo.
Business
This plan will give you 8 CPU cores, 12GB Memory, 80GB SSD, and 5TB data transfer at $200/mo.
Business Plus
This plan will give you 12 CPU cores, 16GB Memory, 120GB SSD, and 5TB data transfer at 300/mo.
Super Power
This plan will give you 16 CPU cores, 20GB Memory, 160GB SSD, and 5TB data transfer at 300/mo.
Configure Your Own
You may still have CPU limit problems.
You may find the same plans on Cloudways at a much better price.
The Backlinko article about page speed (mentioned earlier in this SiteGround review) is a must-read. You will learn a lot.
SiteGround Reseller Pricing Plans
As mentioned, the reseller option is available on all plans that support multiple websites.
GrowBig plan, unlimited websites, 20 GB of disk space costs $6.69/mo.
GoGeek plan, unlimited websites, 40 GB disk space costs $10.69/mo.
The Cloud plan looks similar to Jump Start. For your information, the number of CPU cores and memory is not mentioned. You get 40GB plus SSD, which costs $100/mo. (A few points are not very clear here.)
SiteGround Review: Customer Support
SiteGround has to say about their support: "Our support team is famous for being fast, friendly, and helpful. Every year, our customers confirm this fact by giving us many five-star reviews and satisfaction rates close to 100%."
My personal experience was different; they did not want to help because my issue was out of the support "scope," and when I complained on their Facebook group. I got banned immediately. Their employees are administrators and moderators on many Facebook groups, so be careful if you don't want to get banned.
And it seems other folks have also experienced support problems.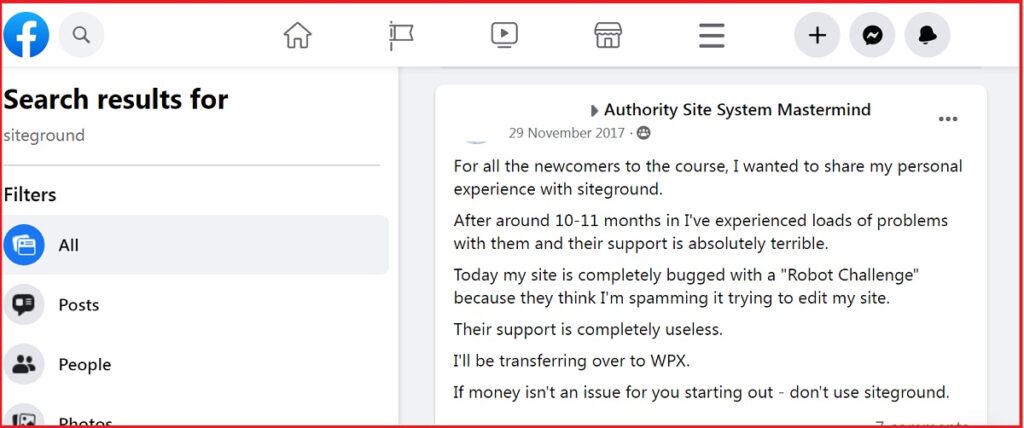 SiteGround Review: Pros & Cons
Many hosting plans

Good price for the first year 

Good security features
Price – you can find more affordable alternatives

CPU Limits

Speed – slow to average

Very aggressive attitude on Facebook groups controlled by SiteGround employees

Support can improve a lot
SiteGround Alternatives
Cloudways
Cloudways was founded in 2011 as a cloud service provider for small businesses to host managed WordPress websites. It offers five cloud providers and aims to help businesses in various industries, including entrepreneurs, e-commerce stores, and agencies. All plans include unlimited WordPress websites, 24/7 live chat support, free website migration, an in-house cache plugin (which helps with faster loading times), and team collaboration features.
Cloudways offers five top cloud service providers: DigitalOcean, Google Cloud, Amazon Web Services, Linode, and Vultr. These providers are strong enough to meet the needs of small businesses, with cloud-based servers that offer varying options for processing power, memory, and storage space. You can choose the provider that best meets your business needs.
Since this is a SiteGround review, I will tell you why Cloudways is better than SiteGround.
Customer Service is superior, and their support team will often help even when the query is "out of scope." You will not find this with SiteGround!
Faster page speed and shorter TTFB.
Lower prices on cloud hosting than SiteGround's full price for shared hosting. When you start paying the full SiteGround price after the first year, you can find a cheaper cloud-based option on Cloudways.
A choice of five Cloud platform providers.
Cloudways Pricing for Cloud Hosting Using Digital Ocean
First plan - RAM 1GB, CPU 1 core, Storage 25 GB, Bandwidth 1TB, at $12/mo
Second plan - RAM 2GB, CPU 1 core, Storage 50 GB, Bandwidth 2TB, at $26/mo
Third plan - RAM 4GB, CPU 2 core, Storage 80 GB, Bandwidth 4TB, at $50/mo
Fourth plan - RAM 8GB, CPU 4 core, Storage 160 GB, Bandwidth 5TB, at $96/mo
Cloudways is an excellent managed cloud-based hosting provider for small businesses and WordPress users. If you are a small business owner who wants a specialized provider for your hosting needs, Cloudways is worth considering.
To get the full picture, have a look at our Cloudways review.
---
IRIDIUM Hosting
Iridium is an affordable managed WordPress hosting alternative. Unfortunately, as the company is very new, it is practically impossible to find performance reviews.
Iridium promises speeds up to 20 times faster than a host running Apache. Its tech stack makes use of Solid State Disk Drives, state-of-the-art PHP, and a LiteSpeed Web Server. It uses the Cloudflare CDN.
With Iridium, you get:
The familiar C-panel
Security with its up-to-date software
Constant monitoring of your site's health
Speed provided by its SSD servers
Maintenance notifications
Manual migrations
Free WordPress set-up, including a theme and plugins
Support that also covers WordPress and email
Iridium offers a Solo plan that costs $20/mo and allows for one website, two databases, and 10GB SSD. With the Go plan, you can have five websites for $25/mo, one cPanel per site, and 15GB SSD. The Pro plan allows for ten websites and costs $30/mo. It includes one cPanel per site and 30GB SSD.
Iridium also offers VPS hosting in any country its hardware partners are servicing. They currently have VPS servers in Australia, France, Germany, Japan, Korea, Netherlands, Singapore, and the United Kingdom, just to name a few.
---
Kinsta
If you're looking for a web host that boasts fast loading times, fewer website management tasks, and less downtime, then Kinsta could be a perfect choice.
Kinsta has been working hard since its launch in 2013 to become the top choice for WordPress users who want fast loading times and a secure website infrastructure.
Although the Kinsta plans are pricier, they are still in line with what other premium-managed WordPress host companies charge. For example, the entry-level plan from Kinsta starts at $35 a month.
Considering what you get in return, this price is more than fair. Not only does Kinsta take care of many aspects involved in managing a fast and secure WordPress site, but it also hosts your site in an optimized environment for WordPress websites. On top of that, it's powered by the industry-leading Google Cloud Platform.
Tasks such as securing, caching, and backing up your WordPress website are taken off your hands. You can also host your website in one of 29 locations worldwide to get you closer to your audience.
Performance-wise, Kinsta will provide a short TTFB, a fast load time, and an uptime of 99.9%.
If you want to learn more about users' experience with Kinsta, join Facebook groups like WordPress Hosting and WP Speed Matters.
To find out more about this hosting provider, read our Kinsta Hosting review.
---
A2 Hosting
For more than 20 years, A2 Hosting has been a leading web host with servers in Arizona, Michigan, Amsterdam, and Singapore. Founded in Ann Arbor in 2001, the team comprises more than 200 employees in 20 countries.
A2 Hosting has a wide range of hosting solutions. Whether you need shared, virtual private server (VPS), or dedicated hosting, A2 will probably have what you need. They also offer specialized solutions such as email, reseller, and WordPress hosting. Plus, they have specific hosting plans for businesses, e-commerce stores, agencies, and blogs. So no matter your needs, A2 is sure to have a solution that's right for you.
A2 Hosting is one of the most affordable web hosting providers, with their cheapest shared plan starting at just $2.99 per month (if you commit yourself to three years; in case you want to pay monthly, it costs $10.99). This plan supports a single website and includes 100 GB of solid-state (SSD) storage.
New users also get free guided migrations and other great features, such as 24/7 support and a 99.9% uptime guarantee. In addition to web hosting, A2 Hosting offers other products and services, including a website builder, domain name, SSL certificate, and more.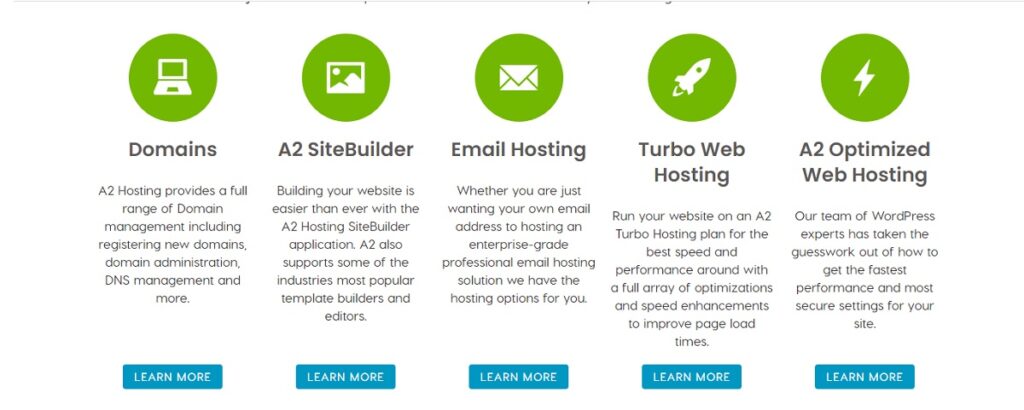 ---
WPEngine
WordPress is a versatile and popular content management system (CMS) that powers millions of websites. So it's no surprise that many web hosting services like WPEngine center their efforts on WordPress. They offer high-quality, managed hosting with excellent uptime, WordPress-oriented security, cloud platform flexibility, daily backups, and other great features.
WP Engine is a hosting company specializing in managed WordPress hosting. This means they don't offer other web hosting plans, such as email, reseller hosting, etc. Let's just recap the four basic concepts to understand the WPEngine better:
WordPress is the most popular content management system on the Internet.
Web hosting is space allocated on a server that runs web applications and serves data to browsers. Web hosting can come in various setups. The most common is shared hosting, where a single server runs PHP, MySQL, and Linux and is "shared" among different hosting accounts.
WordPress hosting is explicitly configured to help WordPress software run more efficiently.
Cloud Hosting is a network of data centers that allow customers to lease computing power and storage for web applications on demand. Amazon, Google, Microsoft, Digital Ocean, IBM, and Oracle run the most extensive cloud networks.
WPEngine promises that your WordPress website will run efficiently as everything is tuned for that purpose.
At the end of the day, it's not about what's best for everyone in general - it's about what's best for you and your specific needs. The features offered by this company are geared more towards WordPress website developers or high-traffic sites that want to avoid hosting problems. If that sounds like you, this is probably the better option for you.
WPEngine's Startup plan costs $23 per month for a 12-month subscription and includes a single installation. It can handle around 25,000 visits per month.
---
HostGator Web Hosting
HostGator has been a reliable and affordable web hosting company since 2002. In 2012, they were acquired by Endurance International, which made them a sister company to other hosting companies such as Justhost, Bluehost and Hostmonster.
With a large customer base, it's evident that they are doing something right. They offer various web hosting solutions, from personal to business sites.
HostGator provides the following hosting services:
Shared hosting
WordPress hosting
VPS hosting
Dedicated hosting
Website builder
Reseller hosting
HostGator's pricing is designed to give you a big discount in the first year, with a free domain included.
However, be aware that the renewal costs are much higher. There are some basic plans, but unfortunately, it follows a discouraging pattern:
Overpriced
Disappointing support
Missing features
Aggressive marketing
Hidden fees and expensive add-ons
Performance-wise, HostGator is one of the hostings with the slowest load time and quite a lousy uptime. Backups are only one per week and $25 for each extra one. Their support is not known to be top as well.
However, if you want to try them, you can get a 45-day free trial.
---
DreamHost Web Hosting
DreamHost is a vast and well-known hosting company that's been around since 1997. With a customer base of 1.5 million websites, they're one of the most successful and best hosting options.
They are employee-owned and operated, and they're also one of the longest supporters of open source and community-built software - like WordPress, for example.
DreamHost offers a comprehensive range of hosting solutions to fit any need, from Shared (most common) to VPS to Cloud. DreamHost has a unique plan for WordPress users, complete with complementary services like email and domain management.
Performance-wise, DreamHost falls between SiteGround and HostGator.
If you have shopped for hosting in the past, you would know that comparing one hosting company to another is challenging. One host may offer unlimited storage space, another may limit the number of websites you can host, and another may limit the number of databases. Some hosts provide additional features, while others don't.
In general, DreamHost's pricing is affordable, and there's no "bait and switch" with deep discounts where you get a super cheap first year and then have to renew at a very high price.
DreamHost is a good hosting company that could be ideal for you. If you're looking for good brand recognition, independence, simplicity, and average speed at a reasonable price, you can try DreamHost.
Here is an interesting comparison for you: SiteGround vs DreamHost.
I am sure you will find the right plan from the vast hosting options available.
As an example, Shared Starter costs $4.95/mo for one website, and Shared Unlimited website hosting costs $8.95/mo for unlimited websites.
---
Bottom Line: SiteGround Review
After doing extensive research, reading many SiteGround reviews, reading many posts on Facebook and Reddit.com, and getting banned from their FB group, my conclusion is that:
SiteGround has many hosting plans to choose from
They have good security features
SiteGround offers average to poor support
Speed is under average
SiteGround may surprise you, for good or for bad - there are many mixed reviews
I can't say that they offer "the best web hosting" or "value for money"
I would be happy to take the Authority Hackers' approach. In their course, they suggest SiteGround to their students. So if you are a beginner or money is an issue, use SiteGround for one year only.
Actually, I am now using Cloudways and suggest you do the same if you have doubts about SiteGround. I am quite sure you will not regret it!
But if you want to explore more options, read this article: 28 Free Trial Web Hosting Programs [+ 5 Bonus Paid Trial Alternatives].
Want to learn step-by-step how I built my Niche Site Empire up to a full-time income?
Yes! I Love to Learn
Learn How I Built My Niche Site Empire to a Full-time Income
How to Pick the Right Keywords at the START, and avoid the losers
How to Scale and Outsource 90% of the Work, Allowing Your Empire to GROW Without You
How to Build a Site That Gets REAL TRAFFIC FROM GOOGLE (every. single. day.)
Subscribe to the Niche Pursuits Newsletter delivered with value 3X per week