There was a time when buying and selling domain names was a very big business. In the very early Wild West days of the Internet finding domain names that would be worth a lot of money in the future was much easier. If you knew where to look and new the best place to sell your domain name. While domaining isn't dead by a long shot, things have changed quite a bit.
The idea of making great money buying and selling domain names without having to actually build websites, learn affiliate marketing, or build a business can be a tempting one.
However, this is not a way to make passive income. Being able to do this full-time is going to be a major challenge.
Even as a side hustle, there's a lot of work, research, and a little bit of luck in making good money selling domains. A major factor that helps determine whether you succeed or fail will be figuring out the best place to sell your domain name for your specific situation.
Receiving Direct Offers
One of the easiest ways to get paid for a domain name you're not using is to receive a direct offer. This has actually happened to me three times over the past decade. While granted that's not much, I don't own many domain names and I really don't spend time looking for a "sellable" domain name. These three instances just ended up being extra money in the pocket.
Receiving a direct offer happens when a potential domain buyer gets an idea for the perfect domain name for their website…and then finds out someone else owns it. There is one crucial step to this: you can't have privacy on your WHOIS information. If you do, they have no way of contacting you. Many people don't like having some of their information public, and this can definitely increase the number of spam emails you get, but you need at least one email address you keep public.
This is where anyone looking to buy your domain name will be able to find information to contact you and start the process.
There are a few things to keep in mind if you are receiving a direct offer.
Always get a written contract
Always get paid before transferring the domain
If you get a weird feeling about this, don't do the deal
This is pretty standard stuff. It can be low key but you need to have this information. I've never had a problem with a buyer trying to cancel payment after receiving the domain, but others I know have had this issue. The written contract is what stops PayPal, Stripe, or a bank from refunding the money you were paid leaving you without pay and without the domain name. This is just good business, anyway. You need to be covered legally.
The next is to confirm payment. This shouldn't be a tripping point. You don't get to take something out of a store before paying for it. You pay, then you get the item. Same transaction setup here. You get the money into your account and then release the domain name.
If you're not tech-savvy, get someone you trust to help the transfer. This isn't hard at all in most cases, but it can vary a bit depending on who you bought the domain name from.
Once you receive payment, get the ball rolling to transfer the domain as quickly as possible. This is a two to four step process in most cases, so be sure to follow through so everyone is happy at the end.
Domain Name Marketplaces
If you're not dealing with a large number of potential buyers knocking on your door then it's time to look at your next best option: domain name marketplaces. These are places that are actually designed for the buying and selling of domain names. If you're looking to sell domain names this is often the best option for turning a domain name into cash since this is where many domain name buyers can be found.
GoDaddy (Auction)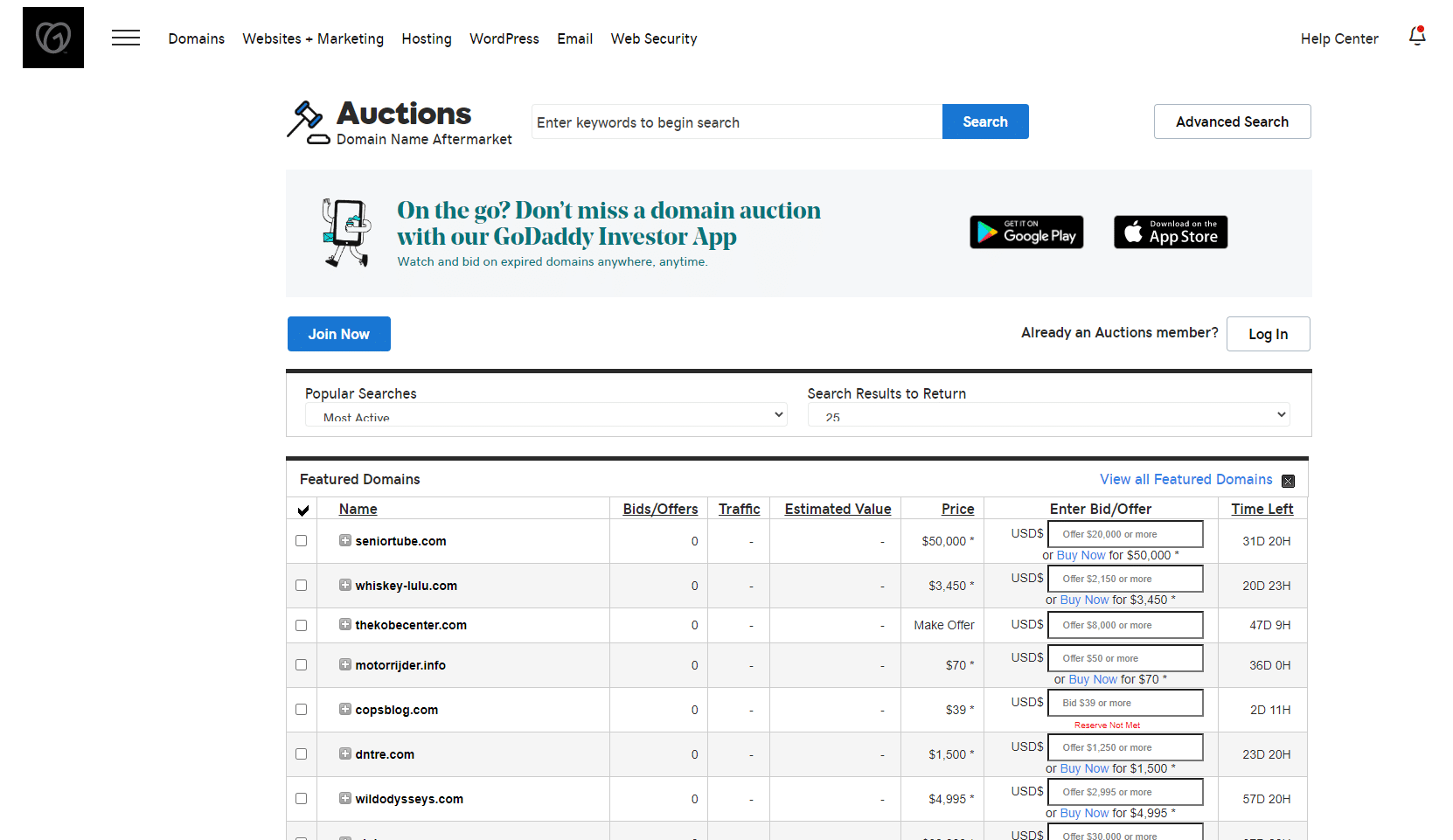 GoDaddy Auctions are one of the best domain name marketplaces where you can buy or sell your domain name. Listing domains for auction allows them to be open up for bidding but you are allowed to set a minimum price, as well.
Some of the benefits of going through GoDaddy is the name recognition of their Auction services, their bidder verification process to help protect everyone in the transaction and minimize fraud, as well as their famous customer support team backing them up if anything does go wrong.
You may also have the ability to list a domain name as a "Premium Domain Name." These are domain names where the value is obvious. 99% of the time any name falling under this umbrella was likely bought by a company or domaineer years ago, but sometimes one slips through. High prices can set for these with the option of being open for negotiation on the price.
If you go this route, keep in mind that the specialists at GoDaddy will have a say in determining the value of your domain as it gets listed and goes up for sale.
To participate in GoDaddy Auctions you do need to buy a membership, which runs $4.99 a year.
Sedo
Sedo is one of the most popular domain marketplaces for selling your domain names you're not using. The Sedo marketplace really emphasizes the selling of domain names and giving sellers as many options as possible. Selling can be done via marketplace auction, direct auction, direct offers, or if you have a high enough value domain then you can even consider their broker services.
This versatility means you have plenty of options. One mechanic of Sedo that sellers seem to particularly like is the ability to set a domain up for auction as soon as soon as a first offer in the "Make Offer" section of the site is made. The domain can be sold for that price or the seller can choose to put it up for auction with that offered price as the minimum bid. This opens up the possibility to getting into a bidding war to get a higher price for your domain.
Flippa
Flippa is known for selling a wide number of online properties. Online businesses, long-established websites, and even domain names. Buyers can split up their search by price, age, extension, or ending time. While this definitely is a positive buying feature it also helps sellers by encouraging a large number of potential buyers who like these tools to use Flippa over other sites.
Because of the large number of already established domains or created sites, it can be a bit more difficult to stick out. Especially if you're domain names aren't overly special. However, with the large traffic numbers and reputation for selling online assets, there's no denying Flippa's place as a potential best option for selling any domain names you have sitting around.
Afternic
Afternic makes no bones about what they are. They are a domain marketplace focusing on making the buying and selling experience as smooth as possible. Especially for premium domains and new listings. This is a site that has a lot of action going on and does a great job of rotating which domains are on the front page of the site.
Afternic is free to join and they do a great job of making sure listings on their site are also picked up by other sites and forums that sell domain names. This allows them to throw a wide net. Their sales page brags of the "highest average sale" in the industry – but this would be hard to prove.
However, Afternic is considered to be the world's largest domain marketplace and the free listing is a great bonus. Afternic gives sellers plenty of options for selling their domain. There's a reason many consider it one of the best places to sell your domain.
NameCheap Marketplace
NameCheap has worked to become a major competitor of GoDaddy. They are set up to sell a wide variety of online services new. Because of this they don't always jump into your mind as a great place to sell an owned domain name. However, that write-off would be a major mistake!
The NameCheap Marketplace is a great option for selling a domain name. They group many domain names together by category, as well as price. This makes it much easier to find niche-specific names, which are often the domain names still available that have a high demand. The NameCheap Marketplace's reputation continues to grow as a fantastic option for both buyers and sellers.
As this reputation grows, the results you get from selling domain names on this platform will only continue to grow.
eBay Marketplace
Everyone is familiar with eBay. However, many are surprised to learn that eBay is a very good place to sell your domain names. The domain name services of the eBay marketplace is another option for you to list your domain as a seller. In fact many domain owners looking to find an eager buyer for their domains list them for sale here. Minimum bids are allowed, and while this option isn't solely focused on domain sales it is a place where you can get some interesting attention from buyers looking for a deal.
Want To Build Smart & Relevant Internal Links...Quickly?
Link Whisper is a revolutionary tool that makes internal linking much faster, easier, and more effective.  It makes it simple to boost your site's authority in the eyes of Google. You can use Link Whisper to:
Bring out your orphaned content that isn't ranking

Create smart, relevant, and fast internal links

Simple yet effective internal links reporting: what has lots of links and what pages need more links? 
Click here to revolutionize your site's way of doing internal links
Online Domain Forums
Aside from the major domain marketplaces, there are a couple forums that have sections known for domain buying and selling. This would be the NamePros Forums and the DNForum. These can both also be excellent options when it comes to finding a motivated buyer for domain names that you want to sell for a profit.
NamePros Forums
NamePros Forums are all about the domain names. Millions of people come here to buy and sell domains. You can find discussion on every topic under the sun that are related to domain names. There are sections for buying and selling domains, as well as getting appraisals. You tend to have a large group of smart buyers here, but if you have a domain name that really does have a lot to offer then you are likely to find some serious  buyers right there.
DNForum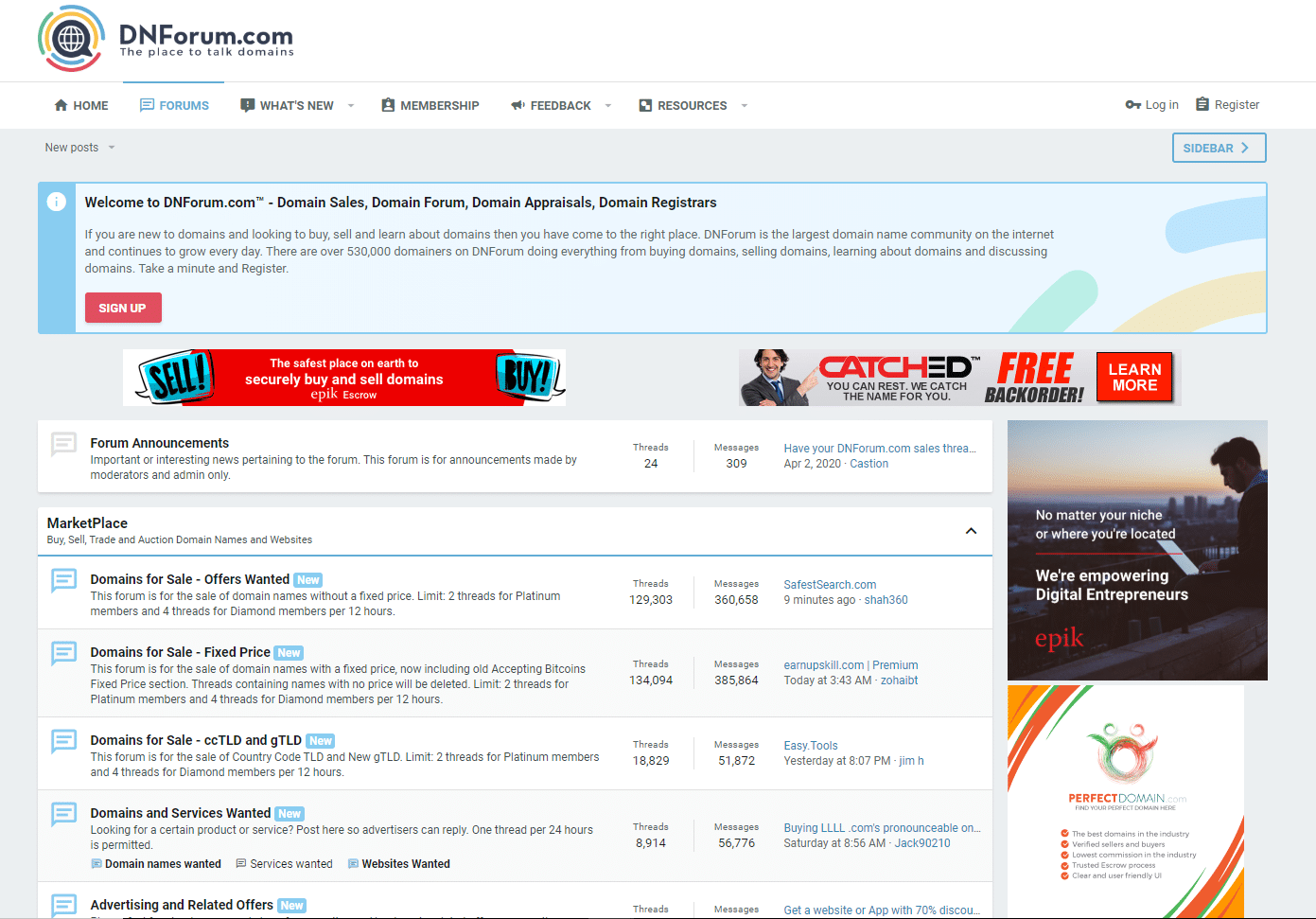 The top four forums in the Marketplace in DNForum are "Domains for Sale – Offers Wanted," "Domains for Sale – Fixed Price," "Domains for Sale – ccTLD and gTLD" and "Domains and Services Wanted." In other words, there is absolutely no shortage of domain buyers at this location. This is a great place to learn about domains in detail and get more confidence before selling to a knowledgeable audience.
Beware New TLD Promises
Every time new TLD extensions are released, there tends to be a feeding frenzy of buying new domain names. TLD refers to the back part of the address like .com, .net, or .org. While there are often going to be some winners with every new batch, many people drastically overestimate how much a new TLD domain name is actually going to be worth.
This is a case of since there are so many different extensions now, they're really worth less and less. After so much time the .com is the gold standard with some sites cutting out a .net or .org reputation. Although even those last two are far less common now than they were even ten or fifteen years ago.
Most people don't care about owning a domain name of their brand with .xyz or .increasinglyobscurelocation. Unless you have dibs on a really unusual one that you know there might be interest in, it's best to stay away from these. There's way more hype with these than actual value to follow up.
Why Domain Value Tools Are Wrong
One of the worst tools out there are the "domain value tools." These estimate the value of your domain name using keywords and some equation that never gets released to the public. These are generally offered from anyone who sells domain names like GoDaddy.
The trouble is these tools are almost always completely wrong. For one thing, you'll find that even ridiculous domain names will often be valuated by these tools as being worth several hundred dollars. This brings up a really interesting common sense question. If all these domain names you're buying are worth hundreds of dollars, why are they all available for $15 a year? Or less, if on sale.
A domain name is worth what someone will pay for it. Period.
These companies have a financial interest in claiming high values, but it's like the old baseball card guides that said all "common" cards were worth a nickel. Except no one ever wanted the common cards, so in reality they weren't worth anything.
Don't trust these tools at all. They don't even work for general guidance.
Steps to Sell Your Domain
The process of selling your domain name is going to go through several pretty basic and standard steps. Sometimes this is partially handled by a marketplace who acts as escrow, sometimes you need to handle these directly.
That being said, the steps don't change no matter what platforms you use.
Step 1: Decide to Sell
This is sort of an obvious one, but it is the starting point. Look at what domain names you want to sell. Also consider which ones you might be able to sell.
Step 2: Choose a Marketplace
Sometimes listing at one place means your domain auction will be listed at other places, as well. Other options want the auction listing to only be there. You need to decide where you want your domain to be auctioned or listed at. You might end up choosing multiple areas, which often can be an effective way to get the most eyes on your sale.
Step 3: Set a Price
This can be a tough spot. You want a realistic price but you don't want to undersell yourself, either. Domain value tools tend to be useless however if the site offers free appraisal from actual people that might be worth a look.
Step 4: Create the Best Possible Listing
This is crucial. Point out what makes your domain name stand out. Point out any history the name has that might help. Set up your domain name for success using whatever tools at your disposal depending on where you list this. Have at least a basic graphic to catch the eye.
Step 5: Have a Safe Payment Setup (Escrow Service)
Make sure you are protected. That means having the payment setup so it can't be pulled from you after the transfer. Most of these platforms will serve as an escrow service for the protection of both parties. This is generally the ideal solution.
Step 6: Make the Sale
Once an interested party purchases the domain there usually isn't an extra step, but sometimes you will need to approve of the price. If you're being made a counter-offer to the list price this might be a necessary step.
Step 7: Transfer the Domain
This is always the last step. Payment should be in escrow or in hand before you even start the transfer process. Then pay attention to the process. This is simple but it often involves a little bit of back and forth before it is finished. Then once this is done enjoy your money!
In Conclusion
There is still plenty of potential when it comes to making money selling domain names. That being said, make sure you set realistic expectations. Selling domain names can be an interesting side hustle. In some rare cases there are big paydays left. Learn the ins and outs of how this works, get some experience, and before long you'll develop an expert's eyes for which domain names have serious potential and which ones do not!
---